How much coins do you get in each division ? Find here all the FIFA 14 Ultimate Team seasons rewards.



UPDATES
February 5th, 2014
Added the Entry Requirements to the Single Player Tournaments
FIFA 14 Ultimate Team Seasons Rewards
Seasons is the most popular game mode in FUT 14. You start in division 10 and try win the most games possible in order to reach the division 1. Each season has 10 games and your progress will be shown in the current season box with the points required for promotion, for the title and to avoid relegation to the division below.
In your seasons history you can also see your all-time record (W-D-L), your titles won and your last match results. By clicking on the current season box you get to see, in addition to the stuff on the screen before, how many matches remain of your season, your current form (last five games), your rewards for the division and your last three results with opponent and score across the bottom.
You can play seasons on line or in single player mode. When you play on line you have only one league at each division to choose from. In single player mode, you have 4 to 7 leagues to choose. Single player seasons may have entry requirements.
In this article we will show you the FIFA 14 Ultimate Team seasons rewards for on line and for single player mode.
FIFA 14 Ultimate Team Seasons Rewards – On Line
Here are the FIFA 14 Ultimate Team seasons rewards for on line mode:
| | | | |
| --- | --- | --- | --- |
| DIVISION | | | |
| | | | |
| 10 | TITLE | >= 12 points | 2,000 coins |
| | PROMOTION | 9 to 11 points | 1,600 coins |
| | HOLDING | <= 8 points | 1,000 coins |
| | | | |
| 9 | TITLE | >= 13 points | 3,000 coins |
| | PROMOTION | 10 to 12 points | 2,400 coins |
| | HOLDING | 6 to 9 points | 1,900 coins |
| | RELEGATION | <= 5 points | 1,300 coins |
| | | | |
| 8 | TITLE | >= 15 points | 4,000 coins |
| | PROMOTION | 12 to 14 points | 3,200 coins |
| | HOLDING | 8 to 11 points | 2,500 coins |
| | RELEGATION | <= 7 points | 1,600 coins |
| | | | |
| 7 | TITLE | >= 17 points | 5,000 coins |
| | PROMOTION | 14 to 16 points | 4,000 coins |
| | HOLDING | 8 to 13 points | 2,800 coins |
| | RELEGATION | <= 7 points | 1,800 coins |
| | | | |
| 6 | TITLE | >= 19 points | 6,000 coins |
| | PROMOTION | 16 to 18 points | 4,800 coins |
| | HOLDING | 10 to 15 points | 3,400 coins |
| | RELEGATION | <= 9 points | 1,900 coins |
| | | | |
| 5 | TITLE | >= 19 points | 7,000 coins |
| | PROMOTION | 16 to 18 points | 5,600 coins |
| | HOLDING | 10 to 15 points | 3,900 coins |
| | RELEGATION | <= 9 points | 2,200 coins |
| | | | |
| 4 | TITLE | >= 19 points | 9,000 coins |
| | PROMOTION | 16 to 18 points | 7,200 coins |
| | HOLDING | 10 to 15 points | 5,000 coins |
| | RELEGATION | <= 9 points | 2,900 coins |
| | | | |
| 3 | TITLE | >= 21 points | 11,000 coins |
| | PROMOTION | 18 to 20 points | 8,800 coins |
| | HOLDING | 12 to 17 points | 6,200 coins |
| | RELEGATION | <= 11 points | 3,100 coins |
| | | | |
| 2 | TITLE | >= 21 points | 13,000 coins |
| | PROMOTION | 18 to 20 points | 10,400 coins |
| | HOLDING | 12 to 17 points | 7,400 coins |
| | RELEGATION | <= 11 points | 3,400 coins |
| | | | |
| 1 | TITLE | >= 23 points | 15,000 coins |
| | HOLDING | 14 to 22 points | 10,500 coins |
| | RELEGATION | <= 13 points | 4,500 coins |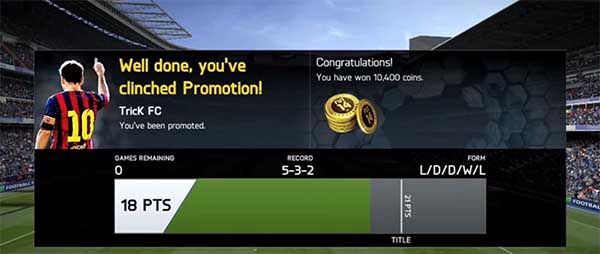 FIFA 14 Ultimate Team Seasons Rewards – On Line
FIFA 14 Ultimate Team Seasons Rewards – Single Player
Here are the FIFA 14 Ultimate Team seasons rewards for single player mode:
TITLE
PROMOTION
HOLDING
DIVISION
NAME
ER
DIFFICULTY
POINTS
REWARD
POINTS
REWARD
POINTS
REWARD
10
World Tour
A
1 star
12
1,900 coins
9
1,500 coins
300 coins
Ultimate League
2 star
12
3,800 coins + Bronze Pack
9
3,200 coins
300 coins
Airtricity League
0,5 star
12
800 coins
9
600 coins
300 coins
Football League 2
0,5 star
12
800 coins + Bronze Pack
9
700 coins
300 coins
9
World Tour
B
1 star
14
2,100 coins
11
1,700 coins
7
1,300 coins
Ultimate League
2 star
14
3,700 coins + Premium Bronze Pack
11
3,300 coins
7
2,500 coins
Campeonato Petrobras
C
2 star
14
1,400 coins + Bronze Contracts Pack
11
1,000 coins
7
800 coins
A-League
D
0,5 star
14
1,400 coins + Bronze Contracts Pack
11
1,000 coins
7
800 coins
8
World Tour
E
1 star
16
2,900 coins + 1 Bronze Pack
13
2,500 coins
9
1,900 coins
Ultimate League
2 star
16
4,500 coins + 1 Jumbo Bronze Pack
13
3,900 coins
9
3,000 coins
ALJ League
F
2 star
16
1,600 coins + Silver Pack
13
1,400 coins
9
1,100 coins
K League
G
1 star
16
1,800 coins
13
1,400 coins
9
1,100 coins
7
World Tour
H
1,5 star
18
3,500 coins
15
2,800 coins
10
2,100 coins
Ultimate League
2,5 star
18
4,800 + Jumbro Premium Bronze Pack
15
4,400 coins
10
3,200 coins
A. Bundesliga
I
0,5 star
18
1,900 coins + Silver Contracts Pack
15
1,700 coins
10
1,200 coins
Liga Postobon
J
1,5 star
18
3,000 coins
15
2,400 coins
10
1,800 coins
SPFL
K
1 star
18
2,700 coins+ Premium Bronze Pack
15
2,400 coins
10
1,800 coins
6
World Tour
L
1,5 star
20
3,500 coins + Jumbo Bronze Pack
17
3,100 coins
12
2,300 coins
Ultimate League
2,5 star
20
4,900 coins + Silver Pack
17
4,800 coins
12
3,500 coins
Football League 1
M
1 star
20
2,400 coins
17
1,900 coins
12
1,400 coins
Polska Liga
N
1 star
20
2,900 coins + Premium Bronze Pack
17
2,600 coins
12
1,900 coins
Superliga
O
1 star
20
3,500 coins
17
2,800 coins
12
2,100 coins
5
World Tour
P
2 star
22
4,100 coins
19
3,300 coins
13
2,300 coins
Ultimate League
3 star
22
5,000 coins + Consumables Pack
19
5,200 coins
13
3,600 coins
Ralffelsen SL
Q
1 star
22
2,600 coins + Bronze Pack
19
2,200 coins
13
1,500 coins
Allsvenskan
R
1,5 star
22
3,500 coins
19
2,800 coins
13
2,000 coins
Tippeligaen
S
1,5 star
22
3,900 coins
19
3,100 coins
13
2,200 coins
Rest of the World
T
2 star
22
3,500 coins + Premium Bronze Pack
19
3,000 coins
13
2,100 coins
4
World Tour
U
2 star
24
4,600 coins
21
3,700 coins
14
2,500 coins
Ultimate League
3 star
24
5,500 coins + Premium Silver Pack
21
5,800 coins
14
3,900 coins
Ligue 2
V
1,5 star
24
3,900 coins
21
3,100 coins
14
2,100 coins
Serie B
W
2 star
24
3,700 coins + Jumbo Premium Bronze
21
3,500 coins
14
2,300 coins
Liga Adelante
X
2 star
24
4,400 coins
21
3,500 coins
14
2,300 coins
FC Championship
Y
2 star
24
2,400 coins
21
3,800 coins
14
2,500 coins
3
World Tour
Z
2,5 star
26
4,300 coins + Silver Pack
23
4,400 coins
15
2,800 coins
Ultimate League
3,5 star
26
5,800 coins + Jumbo Silver Pack
23
6,200 coins
15
3,900 coins
MLS
AB
2 star
26
4,400 coins
23
3,500 coins
15
2,200 coins
Pro League
AC
2 star
26
3,300 coins + Consumables Pack
23
3,800 coins
15
2,400 coins
Liga Bancomer MX
AD
2 star
26
5,000 coins
23
4,000 coins
15
2,500 coins
Primera Division
AE
2,3 star
26
5,300 coins
23
4,200 coins
15
2,700 coins
2
World Tour
AF
3 star
26
5,500 coins + Premium Silver Pack
23
5,800 coins
14
3,500 coins
Ultimate League
4 star
26
7,100 coins + Gold Pack
23
7,700 coins
14
4,600 coins
Eredivisie
AG
2,5 star
26
4,100 coins + Silver Pack
23
4,200 coins
14
2,500 coins
Liga Portuguesa
AH
2,5 star
26
6,100 coins
23
4,900 coins
14
2,900 coins
Russian League
AI
2,5 star
26
6,500 coins
23
5,200 coins
14
3,100 coins
Liga do Brasil
AJ
3 star
26
5,700 coins + Consumables Pack
23
5,800 coins
14
3,500 coins
1
World Tour
AK
3,5 star
28
5,600 coins + Premium Silver Pack
15
5,300 coins
Ultimate League
5 star
30
7,500 coins + Jumbo Gold Pack
15
7,000 coins
Ligue 1
AL
3 star
28
5,700 coins + Jumbo Silver Pack
15
4,400 coins
Bundesliga
AM
3,5 star
28
5,900 coins + Gold Pack
15
4,800 coins
Liga BBVA
AN
3,5 star
28
6,000 coins + Gold Pack
15
4,800 coins
Serie A
AO
4 star
28
5,800 coins + Jumbo Premium Silver Pack
15
5,400 coins
Barclays PL
AP
4,5 star
28
6,400 coins + Premium Gold
15
5,700 coins
ER – Entry Requirements
A – Min number of nationalities: 3 in the squad's starting 11 and subs
B – Min number of leagues: 3 in the squad's starting 11 and subs
C – Min. Team Chemistry: 90
D – Max player quality: Silver in the squad's Starting 11 and Subs
E – Min number of nationalities: 4 in the squad's starting 11 and subs
F – Max. player quality: Silver in the squad's starting 11 and subs, Min. number of players from ALJ League: 2 in the squad's starting 11
G – Max. team star rating: 4 stars, Min. number of players from K LEAGUE: 2 in the squad's starting 11
H – Min number of leagues: 4 in the squad's starting 11 and subs
I – Max. team star rating: 2.50 stars, Min. number of players from A. Bundesliga: 2 in the squad's starting 11
J – Max. team star rating: 3 stars, Min. number of players from Liga Postobon: 2 in the squad's starting 11
K – Max. team star rating: 3 stars, Min. number of players from Scottish Prem: 2 in the squad's starting 11
L – Min number of nationalities: 5 in the squad's starting 11 and subs
M – Max. team chemistry: 70, Min. number of players from Football League 1: 2 in the squad's starting 11
N – Min. team star rating: 3 stars, Min. number of players from Ekstraklasa: 2 in the squad's starting 11
O – Max. player quality: silver in the squad's starting 11 and subs, Min. number of players from Superliga: 2 in the squad's starting 11
P – Min. number of leagues: 5 in the squad's starting 11 and subs
Q – Min. team star rating: 2.50 stars, Min. number of players from Raiffeisen: 2 in the squad's starting 11
R – Min. number of players from one club: 3 in the squad's starting 11 and subs, Min. number of players from Allsvenskan: 2 in the squad's starting 11
S – Min. number of players from one club: 3 in the squad's starting 11 and subs, Min. number of players from Tippeligaen: 2 in the squad's starting 11
T – Min. number of clubs: 7 in the squad's starting 11
U – Min. number of leagues: 2 in the squad's starting 11 and subs, Min. number of nationalities: 2 in the squad's starting 11 and subs
V – Min. number of players from France: 3 in the squad's starting 11 and subs, Min. number of players from Ligue 2: 2 in the squad's starting 11 and subs
W – Min. number of players from Italy: 3 in the squad's starting 11 and subs, Min. number of players from Serie B: 2 in the squad's starting 11 and subs
X – Min. number of players from Spain: 3 in the squad's starting 11 and subs, Min. number of players from Liga Adelante: 2 in the squad's starting 11 and subs
Y – Min. number of players from England: 3 in the squad's starting 11 and subs, Min. number of players from FL Championship: 2 in the squad's starting 11 and subs
Z – Min. number of nationalities: 3 in the squad's starting 11, Min. number of leagues: 3 in the squad's starting 11
AB – Min. number of players from United States: 1 in the squad's starting 11 and subs, Min. number of players from MLS: 2 in the squad's starting 11
AC – Exact number of players from one club: 3 in the squad's starting 11 and subs, Min. number of players from Pro League: 2 in the squad's starting 11
AD – Max. team star rating: 3.50 stars, Min. number of players from Liga Bancomer MX: 2 in the squad's starting 11
AE – Min. player quality: Silver in the squad's starting 11 and subs, Min. number of players from Primera Division: 2 in the squad's starting 11
AF – Min. number of nationalities: 4 in the squad's starting 11, Min. number of leagues: 4 in the squad's starting 11
AG – Min. number of players from Eredivisie: 2 in the squad's starting 11
AH – Min. number of players from Liga Portuguesa: 2 in the squad's starting 11
AI – Min. number of players from Russian League: 2 in the squad's starting 11
AJ – Min. number of players from Liga do Brasil: 2 in the squad's starting 11
AK – Min. number of leagues: 5 in the squad's starting 11, Min. number of nationalities: 5 in the squad's starting 11
AL – Min. number of players from France: 5 in the squad's starting 11, Min. Number of players from Ligue 1: 2 in the squad's starting 11
AM – Min. number of players from Germany: 5 in the squad's starting 11, Min. Number of players from Bundesliga: 2 in the squad's starting 11
AN – Min. number of players from Spain: 5 in the squad's starting 11, Min. Number of players from Liga BBVA: 2 in the squad's starting 11
AO – Min. number of players from Italy: 5 in the squad's starting 11, Min. Number of players from Serie A: 2 in the squad's starting 11
AP – Min. number of players from England: 5 in the squad's starting 11, Min. Number of players from Barclays PL: 2 in the squad's starting 11

FIFA 14 Ultimate Team Seasons Rewards – Single Player