Are you looking for FIFA 14 Ultimate Team Tournaments ? You are in the right place.


UPDATES
There is no new tournament at this moment

Coming Tournaments (to be confirmed):
–
Last Update: August 22nd, 2014
FIFA 14 Ultimate Team Tournaments – How they work ?
You can play FIFA 14 Ultimate Team Tournaments in single player mode or on line.
For both modes, tournaments are played in 16-team knock-out format with drawn games going to extra time and penalties. The team that wins goes through to the next round whilst the team that loses gets knocked out. You need to win the four rounds to get the cup. The only difference between single player and on line mode is against who you play: computer-controlled teams in the first case; other on line players, in the second one.
Each tournament has a reward to the winners. Most of the tournaments also have entry requirements. One of these requirements is the number of cups won.
The FIFA 14 Ultimate Team Tournaments may have an expiration date, the feature tournaments, or may be always available, the fixed ones.
FIFA 14 Ultimate Team Tournaments – Featured Tournaments
Gold and Goals
Date: 6pm 22 August – 6pm 29 August 2014
Reward for On line: 10,000 coins + Jumbo Premium Gold Pack
Reward for Single Player: 8,000 coins + Jumbo Premium Gold Pack
Difficulty (Single Player): Professional
Entry Requirements:
Gold in the squad's starting 11 and subs
Exact Team Chemistry 100
BPL Kick Off
Date: 6pm 15 August – 6pm 22 August 2014
Reward for On line: 10,000 coins + Jumbo Premium Gold Pack
Reward for Single Player: 8,000 coins + Jumbo Premium Gold Pack
Difficulty (Single Player): Professional
Entry Requirements:
18 BPL players in the squad's starting 11 and subs
MLS All-star Cup
Date: 6pm 6 August – 6pm 13 August 2014
Reward for On line: 10,000 coins + Jumbo Premium Gold Pack
Reward for Single Player: 8,000 coins + Jumbo Premium Gold Pack
Difficulty (Single Player): Professional
Entry Requirements:
18 MLS players in the squad's starting 11 and subs
MLS Cup
Date: 6pm 1 August – 6pm 6 August 2014
Reward for On line: n.a.
Reward for Single Player: 4,000 coins + Silver Gift Pack
Difficulty (Single Player): Professional
Entry Requirements:
11 MLS players in the squad's starting 11
Season Warm-Up
Date: 6pm 25 July – 6pm 1 August 2014
Reward for On line: 7,500 coins + Jumbo Premium Gold Pack
Reward for Single Player: 5,000 coins + Jumbo Premium Gold Pack
Difficulty (Single Player): Professional
Entry Requirements:
18 gold players all from the same nationality
Up and at Them
Date: 6pm 13 June – 6pm 13 July 2014
Reward for On line: n.a.
Reward for Single Player: 1 Bronze Pack
Difficulty (Single Player): Professional
Entry Requirements:
18 players all from the same nationality
More than a Vote
Date: 6pm 30 May – 6pm 14 July 2014
Reward for On line: n.a.
Reward for Single Player: 4,000 coins
Difficulty (Single Player): Professional
Entry Requirements:
18 players from MLS
EAS FC Cup
Date: 6pm 28 May – 6pm 30 May 2014
Reward for On line: 5,000 coins
Reward for Single Player: 4,000 coins
Difficulty (Single Player): Professional
Entry Requirements:
Exact Team Chemistry of 100
Best of the Rest
Date: 23 May – 26 May 2014
Reward for On line: n.a.
Reward for Single Player: 4,000 coins
Difficulty (Single Player): Semi-Pro
Entry Requirements:
Maximum Team Star Rating of 3 stars
Minimum Team Chemistry of 85
Spanish Year End
Date: 21 May – 28 May 2014
Reward for On line: 5,000 coins
Reward for Single Player: 4,000 coins
Difficulty (Single Player): Professional
Entry Requirements:
18 Liga BBVA – Liga Adelante players in the starting 11 and subs
French Italian Cup
Date: 14 May – 21 May 2014
Reward for On line: 4,000 coins
Reward for Single Player: n.a.
Difficulty (Single Player): n.a.
Entry Requirements:
18 Ligue 1 players in the starting 11 and subs or 18 Serie A players in the starting 11 and subs
French Year End
Date: 14 May – 21 May 2014
Reward for On line: n.a.
Reward for Single Player: 3,000 coins
Difficulty (Single Player): Semi-Pro
Entry Requirements:
18 Ligue 1 players in the starting 11 and subs
Italian Year End
Date: 14 May – 21 May 2014
Reward for On line: n.a.
Reward for Single Player: 3,000 coins
Difficulty (Single Player): Semi-Pro
Entry Requirements:
18 Serie A players in the starting 11 and subs
German Year End
Date: 07 May – 14 May 2014
Reward for On line: 5,000 coins
Reward for Single Player: 3,000 coins (premium gold pack in the second win)
Difficulty (Single Player): Professional
Entry Requirements:
18 Bundesliga and Bundesliga 2 players in the starting 11 and subs
England Year End
Date: 30th Apr – 07 May 2014
Reward for On line: 5,000 coins
Reward for Single Player: 4,000 coins
Difficulty (Single Player): Professional
Entry Requirements:
18 BPL players in the starting 11 and subs
Community Cup
Date: 23rd Apr – 30th Apr 2014
Reward for On line: 5,000 coins
Reward for Single Player: n.a.
Difficulty (Single Player): n.a.
Entry Requirements:
Maximum Team Star Rating: 3,5 starts
Minimum Team Chemistry: 80
Community Gold Cup
Date: 23rd Apr – 30th Apr 2014
Reward for On line: n.a.
Reward for Single Player: 4,000 coins
You also win a gold pack after the first win
Difficulty (Single Player): Semi-Pro
Entry Requirements:
Exact player quality: Gold in the squad's starting 11 and subs
Min. Team chemistry: 85
Community Silver Cup
Date: 23rd Apr – 30th Apr 2014
Reward for On line: n.a.
Reward for Single Player: 3,000 coins
You also win a silver pack after the first win
Difficulty (Single Player): Semi-Pro
Entry Requirements:
Exact player quality: Silver in the squad's starting 11 and subs
Min. Team chemistry: 85
Community Bronze Cup
Date: 23rd Apr – 30th Apr 2014
Reward for On line: n.a.
Reward for Single Player: 2,000 coins
You also win a bronze pack after the first win
Difficulty (Single Player): Semi-Pro
Entry Requirements:
Exact player quality: Bronze in the squad's starting 11 and subs
Min. Team chemistry: 85
Eggcellent
Date: 16th Apr – 23rd Apr 2014
Reward for On line: 10,000 coins + Premium Gold Pack
Reward for Single Player: 5,000 coins + Gold Pack
Difficulty (Single Player): Professional
Entry Requirements:
There are no entry requirements
Three Nations Cup
Date: 11th Apr – 18th Apr 2014
Reward for On line: 3,000 coins + Premium Gold Pack
Reward for Single Player: 1,000 coins + Gold Pack
Difficulty (Single Player): Professional
Entry Requirements:
Exact number of nationalities: 3 in the squad's starting 11 and subs
Bronze Bombers
Date: 04th Apr – 11th Apr 2014
Reward for On line: 7,500 coins
Reward for Single Player: 5,000 coins
Difficulty (Single Player): Professional
Entry Requirements:
Exact player quality: Bronze in the squad's starting 11 and subs
Min. Team chemistry: 85
Champions Showcase
Date: 28th Mar – 04th Apr 2014
Reward for On line: 7,500 coins
Reward for Single Player: 5,000 coins
Difficulty (Single Player): Professional
Entry Requirements:
Min. number of playes from FC Bayern: 1 in the squad's starting 11,
Exact number of playes from Bundesliga: 11 in the squad's starting 11
Golden Goals
Date: 21st Mar – 28th Mar 2014
Reward for On line: 2,500 coins + 1 Premium Gold Pack
Reward for Single Player: 2000 coins + 1 Gold Pack
Difficulty (Single Player): Semi-Pro
Entry Requirements:
Exact player quality: Gold in the starting 11 and subs
FUT 5 Years
Date: 19th Mar – 23th Mar 2014
Reward for On line: 5000 coins + 1 Gold Premium Pack
Reward for Single Player: 5000 coins + 1 Gold Pack
Difficulty (Single Player): Semi-Pro
Entry Requirements:
Exact Team Star Rating: 5 stars
Silver Classic
Date: 14th Mar – 21th Mar 2014
Reward for On line: 2500 coins + 1 Premium Silver Players Pack
Reward for Single Player: 1500 coins + 1 Silver Players Pack
Difficulty (Single Player): Professional
Entry Requirements:
Exact number of silver players: 11 in the squad's starting 11 and 7 in subs
Min. Team Chemistry 90
St. Patrick's Day
Date: 14th Mar – 17th Mar 2014
Reward for On line:
15000 coins + 1 Premium Gold Jumbo Pack (first win)
10000 coins (second win)
5000 coins (future wins)
Reward for Single Player:
10000 coins + 1 Gold Premium Pack (first win)
5000 coins (second win)
2000 coins (future wins)
Difficulty (Single Player): –
Entry Requirements:
18 Players from Rep of Ireland
or 18 Players from Northern Ireland
or 18 Players from the Airtricity League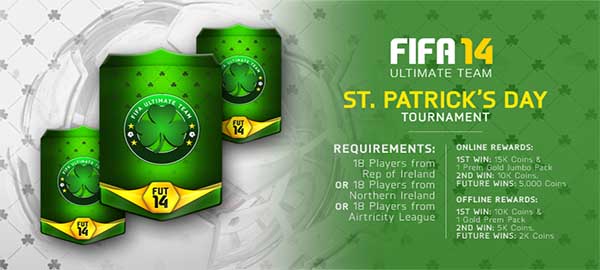 MLS Kick-off
Date: 07th Mar – 14th Mar 2014
Reward for On line: 2500 coins + 1 Premium Gold Pack
Reward for Single Player: 2500 coins + 1 Gold Pack
Difficulty (Single Player): Professional
Entry Requirements:
Exact number of players from MLS: 11 in the squad's starting 11
English Legends Cup
Date: 07th Mar – 28th Mar 2014
Reward for On line: n.a.
Reward for Single Player: 3000 coins + 1 Premium Gold Players Pack
Difficulty (Single Player): Professional
Entry Requirements:
Min. number of players from Legends: 1 in the squad's starting 11 and subs,
Exact number of players from England: 11 in the squad's starting 11
Legends Week Cup
Date: 28th Feb – 07th Mar 2014
Reward for On line: n.a.
Reward for Single Player: 1 Premium Gold Players Pack
Difficulty (Single Player): Professional
Entry Requirements:
Min. number of players from Legends: 1 in the squad's starting 11,
Exact team star rating: 5 stars
Carnival Cup
Date: 28th Feb – 07th Mar 2014
Reward for On line: 2000 coins + 1 Premium Gold Pack
Reward for Single Player: 1000 coins + 1 Gold Pack
Difficulty (Single Player): Professional
Entry Requirements:
Min. Team Chemistry: 90 (offline),
Exact player quality: Gold in the squad's starting 11 and subs (online)
FUT United Cup
Date: 21st Feb – 23rd Fev 2014
Reward for On line: 2000 coins + 1 Premium Gold Pack
Reward for Single Player: 1000 coins + 1 Gold Pack
Difficulty (Single Player): Professional
Entry Requirements: Min. Team Chemistry: 90
Silver Showcase
Date: 21st Feb – 28th Fev 2014
Reward for On line: 2000 coins + 1 Silver Pack
Reward for Single Player: 1000 coins + 1 Silver Gift Pack
Difficulty (Single Player): Semi-Pro
Entry Requirements: Exact player quality: Silver in the squad's starting 11, Min. Team Chemistry: 90
Cupid's Cup
Date: 13th Feb – 21st Fev 2014
Reward for On line: 5000 coins + 1 Gold Pack
Reward for Single Player: 2000 coins + 1 Gold Gift Pack
Difficulty (Single Player): Professional
Entry Requirements: Min. number of players from one league: 11 in the squad's Starting 11 & Subs
Chairman's Cup
Date: 7th Feb – 14th Fev 2014
Reward for On line: 2500 coins + 1 Gold Gift Pack
Reward for Single Player: 1250 coins + 1 Gold Gift Pack
Difficulty (Single Player): Professional
Entry Requirements: Max. number of players from one league: 3 in the squad's starting 11 and subs
Max. number of players from one nation: 3 in the squad's starting 11 and subs
Min. team chemistry: 90
Legendary Chemistry Cup
Date: 4th Feb – 1st Mar 2014
Reward for On line: n/a
Reward for Single Player: 5000 coins + 1 Jumbo Premium Gold Pack
Difficulty (Single Player): Legendary
Entry Requirements: Min. number of players from Legends: 1 in the squad's starting 11
Exact Team Chemistry: 100
10 Trophies
Association Shield
Date: 4th Feb – 7th Feb 2014
Reward for On line: 1000 coins + 1 Jumbo Gold Pack
Reward for Single Player: 1 Gold Pack
Difficulty (Single Player): Semi-Pro
Entry Requirements: Min. Team Star Rating: 4 stars
The Finalists Cup
Date: 17th Jan – 24th Jan 2014
Reward for On line: 1 Premium Gold Pack
Reward for Single Player: 1 Gold Pack
Difficulty (Single Player): Professional
Entry Requirements: Min. number of players from Real Madrid: 1 in the squad's starting 11
Min. number of players from FC Barcelona: 1 in the squad's starting 11
Min. number of players from FC Bayern: 1 in the squad's starting 11
One-Club Cup
Date: 10th Jan – 17th Jan 2014
Reward for On line: 3000 coins
Reward for Single Player: 1500 coins
Difficulty (Single Player): World Class
Entry Requirements: Exact number of players from one club: 11 in the squad's starting 11
Copa del BBVA
Date: 3rd Jan – 10th Jan 2014
Reward for On line: 2000 coins + 1 training item(s)
Reward for Single Player: 1000 coins + 1 training item(s)
Difficulty (Single Player): Semi-Pro
Entry Requirements: Exact number of players from Liga BBVA: 11 in the squad's starting 11
Jack Frost Invitational
Date: 29th Dec – 29th Dec 2013
Reward for On line: 4000 coins + 1 Ball + 1 All Players Pack
Reward for Single Player: 500 coins + 1 Ball + 1 All Players Pack
Difficulty (Single Player): Semi-Pro
Entry Requirements: Min. Team Chemistry: 80, Min. Team Star Rating: 4 Stars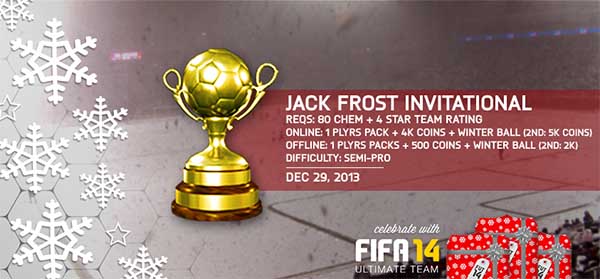 Serie A Invitational
Date: 27th Dec – 3rd Jan 2014
Reward for On line: 2000 coins + 1 training item(s)
Reward for Single Player: 1000 coins + 1 training item(s)
Difficulty (Single Player): World Class
Entry Requirements: Exact number of players from Serie A: 11 in the squad's starting 11
Nutmeg Classic
Date: 22nd Dec – 22nd Dec 2013
Reward for On line: 500 coins + 1 Premium Gold Players Pack
Reward for Single Player: 500 coins + 1 Premium Gold Pack
Difficulty (Single Player): Legendary
Entry Requirements: Exact Team Chemistry: 100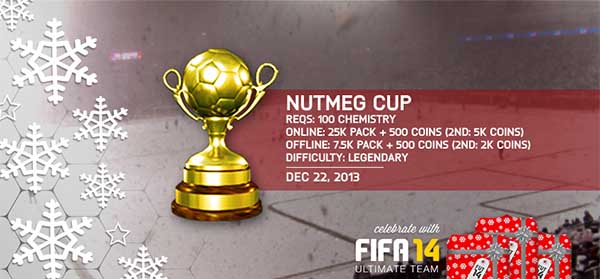 Bundesliga Cup
Date: 20th Dec – 27th Dec 2013
Reward for On line: 2000 coins + 1 training item(s)
Reward for Single Player: 1000 coins + 1 training item(s)
Difficulty (Single Player): Semi-Pro
Entry Requirements: Exact number of players from Bundesliga: 11 in the squad's starting 11
Legends Cup
Date: 19th Dec – 1st Jan 2014
Reward for On line: n/a
Reward for Single Player: 5000 coins + 1 Premium Gold Pack
Difficulty (Single Player): Professional
Entry Requirements: Min. number of players from legends: 1 in the squad's starting 11
BPL Cup
Date: 13th Dec – 20th Dec 2013
Reward for On line: 4000 coins
Reward for Single Player: 2000 coins
Difficulty (Single Player): World Class
Entry Requirements: Exact number of players from Barclays PL: 11 in the squad's starting 11
Nations United Cup
Date: 6th Dec – 13th Dec 2013
Reward for On line: 3500 coins + 1 Gold Pack
Reward for Single Player: 2000 coins + 1 Silver Pack
Difficulty (Single Player): Professional
Entry Requirements: Min. number of nationalities: 4 in the in the squad's starting 11, Min. Team Chemistry: 90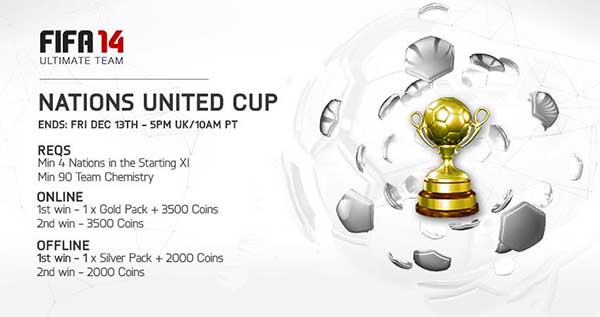 Crown of Allies
Date: 29th Nov – 6th Dec 2013
Reward for On line: 2500 coins
Reward for Single Player: 2000 coins
Difficulty (Single Player): Professional
Entry Requirements: Exact number of leagues: 11 in the squad's starting 11, Exact number of nationalities: 11 in the squad's starting 11
The Gravy Boat
Date: 28th Nov – 3rd Dec 2013
Reward for On line: 3500 coins + 1 Consumables Pack
Reward for Single Player: 2000 coins + 1 Consumables Pack
Difficulty (Single Player): Professional
Entry Requirements: Min. number of players from United States: 1 in the squad's starting 11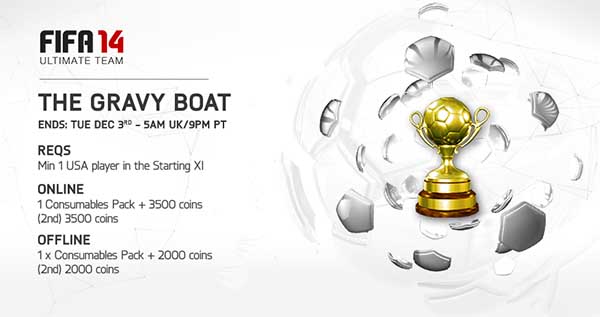 Club International Cup
Date: 22nd Nov – 29th Nov 2013
Reward for On line: 1500 coins + 1 Gold Pack
Reward for Single Player: 1000 coins + 1 Gold Pack
Difficulty (Single Player): Professional
Entry Requirements: Exact number of clubs: 11 in the squad's starting 11, Min. number of nationalities: 4 in the squad's starting 11
Qualification Cup
Date: 15th Nov – 22nd Nov 2013
Reward for On line: 2000 coins + 1 Gold Pack
Reward for Single Player: 1500 coins + 1 Gold Gift Pack
Difficulty (Single Player): World Class
Entry Requirements: Exact number of players from one nation: 18 in the squad's starting 11 and subs, Max. team star rating: 4 stars
Silver Classic
Date: 8th Nov – 15th Nov 2013
Reward for On line: 2000 coins + 1 Silver Pack
Reward for Single Player: 1000 coins + 1 Silver Gift Pack
Difficulty (Single Player): Semi-Pro
Entry Requirements: Exact player quality: Silver in the squad's starting 11 and subs, Min. team chemistry: 90
Championat Cup
Date: 8th Nov – 10th Nov 2013
Reward for On line: 5000 coins
Reward for Single Player: 2000 coins
Difficulty (Single Player): Professional
Entry Requirements: Min. number of players from Russian League: 4 in the squad's starting 11
Movember Cup
Date: 1st Nov – 8th Nov 2013
Reward for On line: 1 Premium Gold Pack
Reward for Single Player: 1 Gold Pack
Difficulty (Single Player): Professional
Entry Requirements: Exact Team Chemistry: 100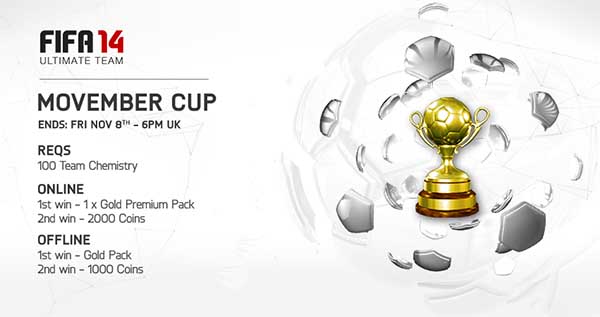 El Classico
Date: 25th Oct – 1st Nov 2013
Reward for On line: 2000 coins + 1 Gold Gift Pack
Reward for Single Player: 2000 coins
Difficulty (Single Player): World Class
Entry Requirements: Min. number of players from Barcelona: 1 in the squad's starting 11 or Min. number of players from Real Madrid: 1 in the squad's starting 11
European Classic
Date: 18th Oct – 25th Oct 2013
Reward for On line: 2000 coins + 1 Gold Gift Pack
Reward for Single Player: 1000 coins + 1 Silver Gift Pack
Difficulty (Single Player): Professional
Entry Requirements: Min. team chemistry: 90, Min. number of leagues: 4 in the squad's starting 11
International Challenge
Date: 11th Oct – 18th Oct 2013
Reward for On line: 2200 coins + 1 Gold Gift Pack
Reward for Single Player: 1500 coins + 1 Gold Gift Pack
Difficulty (Single Player): World Class
Entry Requirements: Min. team chemistry: 80, Max. number of nationalities: 4 in the squad's starting 11, Max. team star rating: 4 stars
French Classique
Date: 4th Oct – 11th Oct 2013
Reward for On line: 1800 coins + 1 Club Customisation Pack
Reward for Single Player: 1000 coins + 1 Mixed Contracts Pack
Difficulty (Single Player): Professional
Entry Requirements: Min. number of players from Ligue 1: 5 in the squad's starting 11, Min. number of players from France: 2 in the squad's starting 11
FIFA 14 Ultimate Team Tournaments – Fixed Tournaments
Starter Cup
Mode: Single Player
Reward for First Win: 500 coins + 1 Club Customisation Pack
Reward for Subsequent Wins: 300 coins + 1 Bronze Contracts Pack
Unlock: 0 Trophies
Difficulty: Amateur
Entry Requirements: There are no entry requirements
Midlands Invitational
Mode: Single Player
Reward for First Win: 600 coins
Reward for Subsequent Wins: 500 coins
Unlock: 0 Trophies
Difficulty: Semi-Pro
Entry Requirements: There are no entry requirements
Gold Challenge
Mode: Single Player
Reward for First Win: 1000 coins
Reward for Subsequent Wins: 700 coins
Unlock: 0 Trophies
Difficulty: Professional
Entry Requirements: There are no entry requirements
Quad-League Classic
Mode: Single Player
Reward for First Win: 700 coins
Reward for Subsequent Wins: 600 coins
Unlock: 1 Trophy
Difficulty: Semi-Pro
Entry Requirements: Max number of leagues: 4 in the squad's starting 11
Managers Cup
Mode: Single Player
Reward for First Win: 700 coins + 1 Silver Gift Pack
Reward for Subsequent Wins: 700 coins
Unlock: 1 Trophy
Difficulty: Professional
Entry Requirements: Min. Team Chemistry: 80
Bronze International Shield
Mode: Single Player
Reward for First Win: 1000 coins + 1 Gold Gift Pack
Reward for Subsequent Wins: 1,000 coins
Unlock: 2 Trophies
Difficulty: World Class
Entry Requirements: Max. player quality : Bronze in the squad's Starting 11 and Subs, Min. number of nationalities: 3 in the Squad's starting 11
Trio Showcase
Mode: Single Player
Reward for First Win: 1 Silver Contracts Pack
Reward for Subsequent Wins: 1 Silver Contracts Pack
Unlock: 2 Trophies
Difficulty: Semi-Pro
Entry Requirements: Max. number of clubs: 3 in the squad's Starting 11
Unified Cup
Mode: Single Player
Reward for First Win: 1250 coins
Reward for Subsequent Wins: 1000 coins
Unlock: 2 Trophies
Difficulty: Professional
Entry Requirements: Max. team star rating: 4 stars, Min. number of players from one league: 11 in the squad's Starting 11
Pyramid Invitational
Mode: Single Player
Reward for First Win: 1000 coins + 1 Mixed Contracts Pack
Reward for Subsequent Wins: 1000 coins
Unlock: 3 Trophies
Difficulty: World Class
Entry Requirements: Exact number of leagues: 11 in the squad's Starting 11, Max. team star rating: 2.50 stars
Silver Links Cup
Mode: Single Player
Reward for First Win: 1000 coins
Reward for Subsequent Wins: 700 coins
Unlock: 4 Trophies
Difficulty: Professional
Entry Requirements: Min. team chemistry: 90, Max. player quality: Silver in the squad's Starting 11 and Subs
Federation Cup
Mode: Single Player
Reward for First Win: 2000 coins
Reward for Subsequent Wins: 200 coins
Unlock: 4 Trophies
Difficulty: World Class
Entry Requirements: Exact number of players from one nation: 18 in the squad's Starting 11 and Subs
Champions Trophy
Mode: Single Player
Reward for First Win: 2500 coins
Reward for Subsequent Wins: 2500 coins
Unlock: 4 Trophies
Difficulty: Legendary
Entry Requirements: Min. team chemistry: 95, Min. number of leagues: 3 in the squad's Starting 11 and Subs
Premier Clash
Mode: Single Player
Reward for First Win: 1500 coins
Reward for Subsequent Wins: 1200 coins
Unlock: 5 Trophies
Difficulty: Professional
Entry Requirements: Exact team star rating: 5 stars
Ultimate Cup
Mode: Single Player
Reward for First Win: 3000 coins + 1 Gold Pack
Reward for Subsequent Wins: 3000 coins
Unlock: 10 Trophies
Difficulty: Professional
Entry Requirements: Exact team chemistry: 100
Bronze Classic
Mode: On Line
Reward for First Win: 2000 coins + 1 Jumbo Premium Bronze Pack
Entry Requirements: Max. player quality: Bronze in the squad's Starting 11 and Subs
Silver Clash
Mode: On Line
Reward for First Win: 2000 coins + 1 Silver Pack
Entry Requirements: Max. player quality: Silver in the squad's Starting 11 and Subs
Champions Shield
Mode: On Line
Reward for First Win: 2000 coins + 1 Gold Pack
Entry Requirements: There are no entry requirements