Suarez have a new card ! And he is not the only one with an improved rating.
Check out the complete list of FIFA 14 Ultimate Team Upgraded Players Cards.


UPDATES
Last update: March 6th, 2014
17 new cards
UP Cards – FIFA 14 Ultimate Team Upgraded Players Cards
The upgraded players card, also known as UP cards, are usually launched in January or February with the goal of adjust the players' rating and players' attributes to the reality. Only players that have played much better than their FIFA 14 Ultimate Team rating have the chance to get an UP version.
There are some new rules about these UP cards that you should know.
As usually, upgraded players cards will be released in packs from this point forward but if someone have a card with a old overall it will not be updated. Cards with old overall no longer will be available in packs.
What is different this year has to do with the IF cards. Now, if an upgraded player already has one or more in-forms, all of his IF's will be upgraded respectively. This is true to new cards released in packs but also for all existing cards. There is only one exception: if a player is upgraded to the next category, his IF cards stays on the same category.
Visually the cards are similar to their regular versions.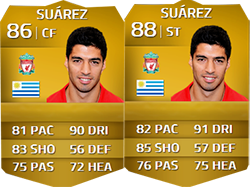 Suarez is probably the most popular player to get a new card
Complete List of FIFA 14 Ultimate Team Upgraded Players
Only 87 players got UP cards. Here it is the complete and final list of FIFA 14 Ultimate Team upgraded players cards:
| | | | | | | | | | |
| --- | --- | --- | --- | --- | --- | --- | --- | --- | --- |
| NAME | CLUB | POSITION | OLD OVR | NEW OVR | UP | 1ST IF | 2ND IF | 3RD IF | BATCH |
| | | | | | | | | | |
| Luis Suárez | Liverpool | ST | 86 | 88 | 2 | 87-89 | 88-90 | | 1 |
| Eden Hazard | Chelsea | LM | 85 | 88 | 3 | 86-89 | 87-90 | 88-91 | 2 |
| Arturo Vidal | Juventus | CM | 85 | 86 | 1 | 86-87 | | | 2 |
| Álvaro Negredo Sánchez | Manchester City | ST | 83 | 84 | 1 | | | | 2 |
| Diego Costa | Atlético de Madrid | ST | 83 | 84 | 1 | 84-85 | | | 2 |
| Medhi Benatia | Roma | CB | 82 | 84 | 2 | 83-85 | 84-86 | | 1 |
| Oscar | Chelsea | CAM | 82 | 84 | 2 | | | | 2 |
| Laurent Koscielny | Arsenal | CB | 81 | 83 | 2 | | | | 1 |
| Jérôme Boateng | Bayern München | CB | 81 | 83 | 2 | | | | 1 |
| Giuseppe Rossi | Fiorentina | ST | 81 | 82 | 1 | 82-83 | | | 2 |
| David Alaba | Bayern München | LB | 81 | 82 | 1 | 82-83 | | | 2 |
| Per Mertesacker | Arsenal | CB | 80 | 82 | 2 | 81-83 | | | 1 |
| Felipe Melo | Galatasaray SK | CDM | 80 | 82 | 2 | 81-83 | | | 1 |
| Gonzalo Rodríguez | Fiorentina | CB | 80 | 82 | 2 | 81-83 | | | 1 |
| Daniel Sturridge | Liverpool | ST | 80 | 82 | 2 | | | | 1 |
| Antoine Griezmann | Real Sociedad | LW | 80 | 82 | 2 | 81-83 | 82-84 | | 1 |
| Simon Mignolet | Liverpool | GK | 80 | 81 | 1 | | | | 2 |
| Olivier Giroud | Arsenal | ST | 80 | 81 | 1 | 81-82 | | | 2 |
| Christian Benteke | Aston Villa | ST | 79 | 81 | 2 | | | | 1 |
| Kevin Strootman | Roma | CM | 79 | 81 | 2 | | | | 1 |
| Paul Pogba | Juventus | CM | 79 | 81 | 2 | 80-82 | | | 1 |
| Aaron Ramsey | Arsenal | CM | 77 | 81 | 4 | 79-82 | 80-83 | | 1 |
| Loïc Rémy | Newcastle United | ST | 79 | 80 | 1 | | | | 2 |
| Wojciech Szczęsny | Arsenal | GK | 79 | 80 | 1 | | | | 2 |
| Miralem Pjanić | Roma | CM | 78 | 80 | 2 | 80-81 | | | 1 |
| Romelu Lukaku | Everton | ST | 77 | 80 | 3 | 79-81 | | | 1 |
| Emanuele Giaccherini | Sunderland | LM | 77 | 80 | 3 | | | | 1 |
| Kossi Agassa | Stade de Reims | GK | 76 | 80 | 4 | | | | 1 |
| Adam Lallana | Southampton | CAM | 78 | 79 | 1 | 80-81 | | | 2 |
| Max Kruse | Borussia M'gladbach | CF | 78 | 79 | 1 | | | | 2 |
| Dejan Lovren | Southampton | CB | 78 | 79 | 1 | 80-81 | | | 2 |
| Vincent Enyeama | LOSC Lille | GK | 76 | 79 | 3 | 78-80 | 80-81 | | 1 |
| José Callejón | Napoli | CAM | 75 | 79 | 4 | | | | 1 |
| Adrián Ramos | Hertha BSC | ST | 76 | 78 | 2 | 78-80 | | | 1 |
| Raheem Sterling | Liverpool | RW | 76 | 77 | 1 | 78-79 | | | 2 |
| Jordan Henderson | Liverpool | CM | 75 | 77 | 2 | | | | 1 |
| Lucas Piazon | Vitesse | LW | 73 | 77 | 4 | 74 | | | 1 |
| Ross Barkley | Everton | CAM | 72 | 77 | 5 | 73 | | | 1 |
| Alessandro Florenzi | Roma | RW | 74 | 76 | 2 | | | | 1 |
| Séamus Coleman | Everton | RB | 72 | 76 | 4 | 73 | | | 1 |
| Domenico Berardi | Sassuolo | RW | 72 | 76 | 4 | 73 | 74 | | 1 |
| Jesé Rodríguez | Real Madrid | LM | 72 | 76 | 4 | | | | 2 |
| Andros Townsend | Tottenham Hotspur | RM | 72 | 74 | 2 | 73-74 | | | 1 |
| William Carvalho | Sporting CP | CDM | 69 | 74 | 5 | | | | 1 |
| Jay Rodriguez | Southampton | LM | 69 | 74 | 5 | | | | 2 |
| Ravel Morrison | West Ham United | CAM | 68 | 74 | 6 | | | | 1 |
| Maximilian Arnold | VfL Wolfsburg | CAM | 68 | 74 | 6 | | | | 1 |
| Davy Klaassen | Ajax | CAM | 67 | 74 | 7 | 71-74 | | | 1 |
| Luke Shaw | Southampton | LB | 70 | 73 | 3 | | | | 1 |
| Joël Veltman | Ajax | CB | 69 | 73 | 4 | | | | 1 |
| Fabinho | AS Monaco | RB | 67 | 73 | 6 | | | | 1 |
| Maximilian Meyer | FC Schalke 04 | CAM | 65 | 73 | 8 | | | | 1 |
| Adnan Januzaj | Manchester United | LM | 61 | 73 | 12 | 64 | | | 1 |
| Óscar Trejo | Toulouse FC | CM | 66 | 72 | 6 | | | | 1 |
| Jonathan Fabbro | River Plate | CAM | 65 | 72 | 7 | | | | 1 |
| Andreas Samaris | Olympiacos CFP | CDM | 65 | 72 | 7 | | | | 1 |
| Chancel Mbemba | Anderlecht | CB | 65 | 72 | 7 | | | | 1 |
| Marco Pérez | Independiente Medellín | ST | 64 | 72 | 8 | | | | 1 |
| Yoel | RC Celta de Vigo | GK | 64 | 70 | 6 | | | | 1 |
| Serge Gnabry | Arsenal | RW | 67 | 69 | 2 | | | | 1 |
| Antonino Ragusa | Pescara | LW | 61 | 69 | 8 | | | | 1 |
| Bryan Cristante | Milan | CM | 61 | 69 | 8 | | | | 1 |
| Timo Werner | VfB Stuttgart | LM | 61 | 69 | 8 | 64 | | | 1 |
| Alan Ruiz | Gremio | CAM | 58 | 69 | 11 | | | | 1 |
| Erik Durm | Borussia Dortmund | LB | 62 | 68 | 6 | | | | 1 |
| Jonathan Tah | Hamburger SV | CB | 60 | 68 | 8 | | | | 1 |
| Luca Antei | Sassuolo | CB | 59 | 68 | 9 | | | | 1 |
| Paul Nardi | AS Nancy | GK | 54 | 68 | 14 | | | | 1 |
| Jon Flanagan | Liverpool | RB | 63 | 64 | 1 | 64-64 | | | 1 |
| Niklas Süle | 1899 Hoffenheim | CB | 61 | 64 | 3 | | | | 1 |
| Cristian Herrera | Elche CF | ST | 60 | 64 | 4 | | | | 1 |
| Saido Berahino | West Brom | ST | 60 | 64 | 4 | | | | 1 |
| Henri Anier | Motherwell | ST | 57 | 64 | 7 | | | | 1 |
| Philipp Zulechner | SC Friburg | ST | 55 | 64 | 9 | | | | 1 |
| Lionel Zouma | FC Sochaux | CB | 57 | 63 | 6 | | | | 1 |
| Maciej Gostomski | Lech Poznań | GK | 53 | 63 | 10 | | | | 1 |
| Pavels Šteinbors | Górnik Zabrze | GK | 54 | 62 | 8 | | | | 1 |
| Stephen Buyl | Cercle Brugge | LW | 54 | 62 | 8 | | | | 1 |
| Oliver Kragl | SV Ried | LB | 53 | 61 | 8 | | | | 1 |
| Sondre Løvseth Rossbach | Odds Ballklubb | GK | 52 | 60 | 8 | | | | 1 |
| Ryan Brobbel | Middlesbrough | LM | 49 | 60 | 11 | | | | 1 |
| Jordan Cousins | Charlton Athletic | CM | 47 | 59 | 12 | | | | 1 |
| Rasmus Festersen | FC Vestsjælland | LM | 50 | 58 | 8 | | | | 1 |
| Rafea Al Ruwaili | Al Orubah | GK | 49 | 58 | 9 | | | | 1 |
| Lorenz Höbarth | SV Ried | GK | 49 | 57 | 8 | | | | 1 |
| Mikkel Jensen | FC Nordsjælland | LW | 48 | 57 | 9 | | | | 1 |
| Nicholas Gotfredsen | Viborg FF | CM | 48 | 56 | 8 | | | | 1 |