It is time to hear the community about what they want. Let's build a FIFA 14 Whishlist with the most wanted players' ratings updates.
FIFA 14 WishList
This is the time of the year in which everyone has an opinion. Everyone dreams with the perfect FIFA. This time we will do it in a different way. We will not show to you our whishlist. You can check HERE what we asked to FIFA 13, last year. We still want better servers and a stronger fight against cheaters.
This year, it is the FIFA community who have the chance to tell us what they want. We will publish three subjects to discuss: new leagues, new stadiums and players' ratings. We asked in our social channels what the community want to FIFA 14. Now, we bring here the results. Today, we will talk about the new players' ratings.
Which New Players' Ratings the Community Want ?
We have asked to our community which new players' ratings they want to see in FIFA 14 and now we bring here the results.
The results are unequivocal. There is a group of four leagues which appear to be the most desired. The most wanted is the Brazilian League Serie A. Even to the second division there are many players interested. Also from the South America, the Argentine league is one of the favourites to the community. The League from Turkey and the league from Ukraine are the other two from this group of four.
But the community wants more. They also want other new leagues, as the Japanese and the Colombian.
Will the EA satisfy the community wishes? Continue reading to find out…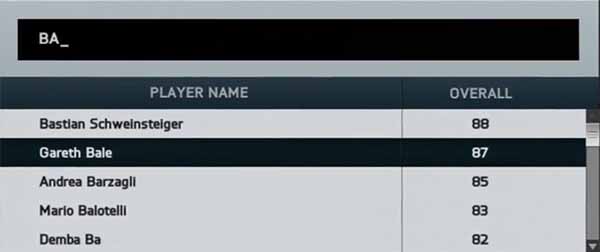 The improvement of Bale's rating is one of the most requested
Which Players' Ratings Will Be Updated in FIFA 14
Depending on the progression that had the previous season, it is natural that some players are overvalued and others undervalued. In that cases theirs ratings should be updated. Which new players' ratings may we expect to FIFA 14 ?
Everyone agrees that Gareth Bale was amazing last season. His old rating (85) is too low for what he play right now. After being the player with the most IF cards in FUT 13, he will be reward with two extra points. But what will happen with the other players' ratings ?
According to EA Sports, the players ratings that we can see on screenshots and on the trailer are not final. But they could be. Here are the potential ratings changes of the most popular players:
| | | | | |
| --- | --- | --- | --- | --- |
| NAME | POS | FUT14 | FUT13 | |
| | | | | |
| Falcão | ST | 90 | 89 | +1 |
| Robin Van Persie | ST | 89 | 88 | +1 |
| Zlatan Ibrahimovic | ST | 89 | 88 | +1 |
| Iniesta | CM | 89 | 90 | -1 |
| Antonio Di Natale | CF | 87 | 85 | +2 |
| Wayne Rooney | CF | 87 | 89 | -2 |
| Gareth Bale | LM | 87 | 85 | +2 |
| Robert Lewandowski | ST | 86 | 83 | +3 |
| Gianluigi Buffon | GK | 86 | 87 | -1 |
| Vincent Kompany | CB | 86 | 85 | +1 |
| Xabi Alonso | CM | 86 | 87 | -1 |
| Andrea Pirlo | CM | 86 | 87 | -1 |
| Andrea Barzagli | CB | 85 | 84 | +1 |
| Hernanes | CAM | 85 | 83 | +2 |
| Giorgio Chiellini | CB | 85 | 84 | +1 |
| Arturo Vidal | CM | 85 | 84 | +1 |
| Santi Cazorla | CAM | 85 | 84 | +1 |
| Eden Hazard | LW | 85 | 87 | -2 |
| Karim Benzema | ST | 85 | 87 | -2 |
| Hugo Lloris | GK | 84 | 86 | -2 |
| Diego Milito | ST | 83 | 84 | -1 |
| Mario Balotelli | ST | 83 | 84 | -1 |
| Mikel Arteta | CM | 82 | 81 | +1 |
| Stephan El Shaarawy | LW | 82 | 81 | +1 |
| Antonio Candreva | RM | 82 | 81 | +2 |
| Steven Gerrard | CM | 82 | 84 | -2 |
| David Alaba | LB | 81 | 77 | +3 |
| Frank Lampard | CM | 81 | 83 | -2 |
| Thomas Vermaelen | CB | 81 | 82 | -1 |
| Xherdan Shaqiri | RM | 80 | 78 | +2 |
| Philippe Mexès | CB | 80 | 81 | -1 |
| Micah Richards | RB | 79 | 80 | -1 |
| Ignazio Abate | RB | 79 | 81 | -2 |
| Federico Balzaretti | LB | 76 | 80 | -4 |