Know here who moved to another club and got a new card with the help of our complete list of FIFA 15 Ultimate Team Summer Transfers.
UPDATES
Septemer 4th, 2015
111 new cards
August 27th, 2015
108 new cards
August 19th, 2015
115 new cards
August 14th, 2015
125 new cards
August 7th, 2015
146 new cards
July 30th, 2015
137 new cards
July 29th, 2015
9 new cards
July 24th, 2015
96 new cards
July 23rd, 2015
70 new cards
July 22nd, 2015
846 new cards
July 16th, 2015
122 new cards
July 10th, 2015
77 new cards
July 9th, 2015
172 new cards
July 8th, 2015
79 new cards
July 7th, 2015
210 new cards
July 3rd, 2015
75 new cards
TIP
Use CTRL+F or Command+F to find a specific player
The New FUT 15 Cards of the Summer Transfers Season
Many players find a new direction for their career during the winter transfers window.
In order to keep the game updated, EA release new cards to these players in their new clubs. These cards replace the old ones into packs. The cards with the old clubs are not updated and are no longer released in packs. That is, the same player can have cards from two different clubs at the same time but can be found in packs only with the new club.
The new cards allow you to build more teams with good chemistry.
The first batch of new cards was released at July 3rd.
You can find a full explanation about how FIFA 15 Ultimate Team Summer Transfers works clicking here.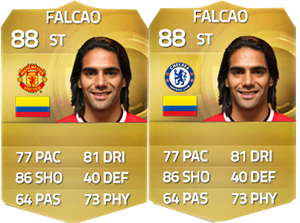 Complete List of FIFA 15 Ultimate Team Summer Transfers
| | | | | | |
| --- | --- | --- | --- | --- | --- |
| NAME | RATING | POSITION | COUNTRY | NEW CLUB | LEAGUE |
| | | | | | |
| Bastian Schweinsteiger | 88 | CM | GER | Manchester Utd | Barclays PL |
| Falcao | 88 | ST | COL | Chelsea | Barclays PL |
| Robin Van Persie | 88 | ST | NED | Fenerbahce | Super Lig |
| Ángel Di María | 86 | CAM | ARG | PSG | Ligue 1 |
| Arturo Vidal | 85 | CM | CHI | FC Bayern | Bundesliga |
| Carlos Tévez | 85 | ST | ARG | Boca Juniors | Primera Divis.. |
| Petr Cech | 85 | GK | CZE | Arsenal | Barclays PL |
| Andrea Pirlo | 84 | CM | ITA | NY City FC | MLS |
| Arda Turan | 84 | RM | TUR | FC Barcelona | Liga BBVA |
| Sami Khedira | 84 | CDM | GER | Juventus | Serie A |
| Edin Džeko | 83 | ST | BOS | Roma | Serie A |
| Juan Cuadrado | 83 | RM | COL | Juventus | Serie A |
| Kevin De Bruyne | 83 | CAM | BEL | Manchester City | Barclays PL |
| Mario Mandžukić | 83 | ST | CRO | Juventus | Serie A |
| Miranda | 83 | CB | BRA | Inter | Serie A |
| Pedro | 83 | LW | ESP | Chelsea | Barclays PL |
| Dante | 82 | CB | BRA | VfL Wolfsburg | Bundesliga |
| Filipe Luís | 82 | LB | BRA | Atlético Madrid | Liga BBVA |
| Hernanes | 82 | CAM | BRA | Juventus | Serie A |
| Jakub Błaszczykowski | 82 | RM | POL | Fiorentina | Serie A |
| Mario Balotelli | 82 | ST | ITA | Milan | Serie A |
| Mario Gomez | 82 | ST | GER | Beşiktaş JK | Süper Lig |
| Nani | 82 | LM | POR | Fenerbahçe SK | Süper Lig |
| Nicolás Otamendi | 82 | CB | ARG | Manchester City | Barclays PL |
| Stevan Jovetić | 82 | ST | MON | Inter | Serie A |
| Steven Gerrard | 82 | CDM | ENG | L.A. Galaxy | MLS |
| Carlos Bacca | 81 | ST | COL | Milan | Serie A |
| Didier Drogba | 81 | ST | IVC | Montreal Impact | MLS |
| Dimitar Berbatov | 81 | ST | BUL | PAOK | Hellas Liga |
| Felipe Melo | 81 | CDM | BRA | Inter | Serie A |
| Giovani dos Santos | 81 | ST | MEX | L.A. Galaxy | MLS |
| Javier Hernández | 81 | ST | MEX | Manchester Utd | Barclays PL |
| Javier Hernández | 81 | ST | MEX | Bayer 04 | Bundesliga |
| Llorente | 81 | ST | ESP | Sevilla FC | Liga BBVA |
| Mathieu Valbuena | 81 | CAM | FRA | Olympique Lyon | Ligue 1 |
| Rafael van der Vaart | 81 | CM | NED | Real Betis | Liga Adelante |
| Roberto Firmino | 81 | CAM | BRA | Liverpool | Barclays PL |
| Soldado | 81 | ST | ESP | Villarreal CF | Liga BBVA |
| Yohan Cabaye | 81 | CDM | FRA | Crystal Palace | Barclays PL |
| André-Pierre Gignac | 80 | ST | FRA | Tigres | LIGA Bancomer.. |
| Antonio Cassano | 80 | CF | ITA | Sampdoria | Serie A |
| Artem Dzyuba | 80 | ST | RUS | Zenit | Russian Leagu.. |
| Aymen Abdennour | 80 | CB | TUN | Valencia CF | Liga BBVA |
| Ciro Immobile | 80 | ST | ITA | Sevilla FC | Liga BBVA |
| Dimitri Payet | 80 | CAM | FRA | West Ham | Barclays PL |
| Douglas Costa | 80 | CAM | BRA | FC Bayern | Bundesliga |
| Frank Lampard | 80 | CM | ENG | NY City FC | MLS |
| Gonzalo Castro | 80 | CM | GER | Bor. Dortmund | Bundesliga |
| Iraola | 80 | RB | ESP | NY City FC | MLS |
| Julian Draxler | 80 | LM | GER | VfL Wolfsburg | Bundesliga |
| Morgan Schneiderlin | 80 | CDM | FRA | Manchester Utd | Barclays PL |
| Raheem Sterling | 80 | CAM | ENG | Manchester City | Barclays PL |
| Salomón Rondón | 80 | ST | VEN | West Brom | Barclays PL |
| Simon Kjær | 80 | CB | DEN | Fenerbahçe SK | Süper Lig |
| Stephan El Shaarawy | 80 | LW | ITA | AS Monaco | Ligue 1 |
| Xherdan Shaqiri | 80 | CAM | SUI | Stoke City | Barclays PL |
| Adel Taarabt | 79 | CAM | MOR | SL Benfica | Liga Portugue.. |
| Adil Rami | 79 | CB | FRA | Sevilla FC | Liga BBVA |
| Alberto Aquilani | 79 | CM | ITA | Sporting CP | Liga Portugue.. |
| Alex Sandro | 79 | LB | BRA | Juventus | Serie A |
| Alexandre Song | 79 | CDM | CAM | FC Barcelona | Liga BBVA |
| Balázs Dzsudzsák | 79 | LM | HUN | Bursaspor | Süper Lig |
| Cristian Rodríguez | 79 | LM | URU | Independiente | Primera Divis.. |
| Dame N'Doye | 79 | ST | SEN | Trabzonspor | Süper Lig |
| Danilo | 79 | RB | BRA | Real Madrid | Liga BBVA |
| Deulofeu | 79 | RM | ESP | Everton | Barclays PL |
| Fábio Coentrão | 79 | LB | POR | AS Monaco | Ligue 1 |
| Gabriel Paletta | 79 | CB | ITA | Milan | Serie A |
| Gabriel Paletta | 79 | CB | ITA | Atalanta | Serie A |
| Gökhan Inler | 79 | CDM | SUI | Leicester City | Barclays PL |
| Illarramendi | 79 | CM | ESP | Real Sociedad | Liga BBVA |
| João Pereira | 79 | RB | POR | Sporting CP | Liga Portugue.. |
| Joleon Lescott | 79 | CB | ENG | Aston Villa | Barclays PL |
| Jonathan Biabiany | 79 | RW | FRA | Inter | Serie A |
| Jonny Evans | 79 | CB | NIR | West Brom | Barclays PL |
| Lassana Diarra | 79 | CDM | FRA | Marseille | Ligue 1 |
| Mario Suárez | 79 | CM | ESP | Fiorentina | Serie A |
| Memphis Depay | 79 | LW | NED | Manchester Utd | Barclays PL |
| Raúl García | 79 | CAM | ESP | Athletic Bilbao | Liga BBVA |
| Rémy Cabella | 79 | CAM | FRA | Marseille | Ligue 1 |
| Roman Shirokov | 79 | CM | RUS | FC Krasnodar | Russian Leagu.. |
| Valon Behrami | 79 | CDM | SUI | Watford | FL Championsh.. |
| Vedad Ibišević | 79 | ST | BOS | Hertha BSC | Bundesliga |
| Younès Kaboul | 79 | CB | FRA | Sunderland | Barclays PL |
| Aaron Hunt | 78 | CAM | GER | Hamburger SV | Bundesliga |
| Adrián | 78 | ST | ESP | Villarreal CF | Liga BBVA |
| André Ayew | 78 | LM | GHA | Swansea City | Barclays PL |
| Arribas | 78 | CB | ESP | RC Deportivo | Liga BBVA |
| Bryan Ruíz | 78 | CAM | COS | Sporting CP | Liga Portugue.. |
| Davide Astori | 78 | CB | ITA | Cagliari | Serie A |
| Davide Astori | 78 | CB | ITA | Fiorentina | Serie A |
| Emir Spahić | 78 | CB | BOS | Hamburger SV | Bundesliga |
| Emre Belözoğlu | 78 | CM | TUR | İstanbul BB | Süper Lig |
| Esteban Cambiasso | 78 | CM | ARG | Olympiakos CFP | Hellas Liga |
| Etienne Capoue | 78 | CDM | FRA | Watford | FL Championsh.. |
| Gastón Ramirez | 78 | CAM | URU | Southampton | Barclays PL |
| Georginio Wijnaldum | 78 | CAM | NED | Newcastle Utd | Barclays PL |
| Goran Pandev | 78 | CAM | MAC | Genoa | Serie A |
| Hatem Ben Arfa | 78 | RM | FRA | OGC Nice | Ligue 1 |
| Héctor Moreno | 78 | CB | MEX | PSV | Eredivisie |
| Ikechukwu Uche | 78 | ST | NIG | Tigres | LIGA Bancomer.. |
| Ivan Perišić | 78 | LM | CRO | Inter | Serie A |
| James Milner | 78 | RM | ENG | Liverpool | Barclays PL |
| Joaquín | 78 | RM | ESP | Real Betis | Liga Adelante |
| Juan Fernando Quintero | 78 | CAM | COL | Stade Rennais | Ligue 1 |
| Konstantinos Mitroglou | 78 | ST | GRE | Fulham | FL Championsh.. |
| Konstantinos Mitroglou | 78 | ST | GRE | SL Benfica | Liga Portugue.. |
| Lars Stindl | 78 | CAM | GER | Bor. M'gladbach | Bundesliga |
| Lazar Marković | 78 | RM | SRB | Fenerbahçe SK | Süper Lig |
| Manuel da Costa | 78 | CB | MOR | Olympiakos CFP | Hellas Liga |
| Max Kruse | 78 | CF | GER | VfL Wolfsburg | Bundesliga |
| Michu | 78 | ST | ESP | Swansea City | Barclays PL |
| Ola Toivonen | 78 | ST | SWE | Sunderland | Barclays PL |
| Pablo Daniel Osvaldo | 78 | ST | ITA | FC Porto | Liga Portugue.. |
| Patrick Ebert | 78 | LM | GER | Rayo Vallecano | Liga BBVA |
| Rolando | 78 | CB | POR | Marseille | Ligue 1 |
| Stefan Reinartz | 78 | CDM | GER | Eint. Frankfurt | Bundesliga |
| Stefan Savić | 78 | CB | MON | Atlético Madrid | Liga BBVA |
| Toby Alderweireld | 78 | CB | BEL | Spurs | Barclays PL |
| Toby Alderweireld | 78 | CB | BEL | Atlético Madrid | Liga BBVA |
| Varela | 78 | LW | POR | FC Porto | Liga Portugue.. |
| Víctor Ibarbo | 78 | RW | COL | Watford | FL Championsh.. |
| Yann M'Vila | 78 | CDM | FRA | Sunderland | Barclays PL |
| Yannick Ferreira Carrasco | 78 | LM | BEL | Atlético Madrid | Liga BBVA |
| Angelo Ogbonna | 77 | CB | ITA | West Ham | Barclays PL |
| Anthony Modeste | 77 | ST | FRA | 1. FC Köln | Bundesliga |
| Christoph Kramer | 77 | CDM | GER | Bayer 04 | Bundesliga |
| Cristian Ansaldi | 77 | LB | ARG | Zenit | Russian Leagu.. |
| Cristian Ansaldi | 77 | LB | ARG | Genoa | Serie A |
| David Abraham | 77 | CB | ARG | Eint. Frankfurt | Bundesliga |
| Didier Ya Konan | 77 | ST | IVC | F. Düsseldorf | Bundesliga 2 |
| Diego Capel | 77 | LM | ESP | Genoa | Serie A |
| Eduardo Vargas | 77 | ST | CHI | Napoli | Serie A |
| Eduardo Vargas | 77 | RM | CHI | 1899 Hoffenheim | Bundesliga |
| Emanuele Giaccherini | 77 | LM | ITA | Bologna | Serie B |
| Emiliano Insua | 77 | LB | ARG | VfB Stuttgart | Bundesliga |
| Emiliano Insua | 77 | LB | ARG | Atlético Madrid | Liga BBVA |
| Fernando Belluschi | 77 | CM | ARG | Cruz Azul | LIGA Bancomer.. |
| Florian Thauvin | 77 | RM | FRA | Newcastle Utd | Barclays PL |
| Giampaolo Pazzini | 77 | ST | ITA | Hellas Verona | Serie A |
| Ivelin Popov | 77 | CAM | BUL | Spartak Moskva | Russian Leagu.. |
| Josip Drmić | 77 | ST | SUI | Bor. M'gladbach | Bundesliga |
| Kevin Kampl | 77 | RM | SVN | Bayer 04 | Bundesliga |
| Kim Källström | 77 | CM | SWE | Grasshopper | Raiffeisen SL |
| Lorik Cana | 77 | CB | ALB | FC Nantes | Ligue 1 |
| Lukas Podolski | 77 | LM | GER | Galatasaray SK | Süper Lig |
| Marko Marin | 77 | LM | GER | Chelsea | Barclays PL |
| Marko Marin | 77 | CAM | GER | Trabzonspor | Süper Lig |
| Mateo Kovačić | 77 | CM | CRO | Real Madrid | Liga BBVA |
| Mattia Destro | 77 | ST | ITA | Milan | Serie A |
| Mattia Destro | 77 | ST | ITA | Bologna | Serie B |
| Maximiliano Pereira | 77 | RB | URU | FC Porto | Liga Portugue.. |
| Mevlüt Erdinç | 77 | ST | TUR | Hannover 96 | Bundesliga |
| Micah Richards | 77 | RB | ENG | Aston Villa | Barclays PL |
| Montoya | 77 | RB | ESP | Inter | Serie A |
| Papy Mison Djilobodji | 77 | CB | SEN | Chelsea | Barclays PL |
| Rafael | 77 | RB | BRA | Olympique Lyon | Ligue 1 |
| Shinji Okazaki | 77 | ST | JAP | Leicester City | Barclays PL |
| Stewart Downing | 77 | CAM | ENG | Middlesbrough | FL Championsh.. |
| Sylvain Distin | 77 | CB | FRA | Bournemouth | FL Championsh.. |
| Tranquillo Barnetta | 77 | CAM | SUI | Philadelphia | MLS |
| Vladimir Darida | 77 | CM | CZ | Hertha BSC | Bundesliga |
| Abou Diaby | 76 | CDM | FRA | Marseille | Ligue 1 |
| Adem Ljajić | 76 | LW | SRB | Inter | Serie A |
| Admir Mehmedi | 76 | CF | SUI | Bayer 04 | Bundesliga |
| Alfreð Finnbogason | 76 | ST | ICE | Olympiakos CFP | Hellas Liga |
| Allan-Roméo Nyom | 76 | RB | CAM | Watford | FL Championsh.. |
| Andreas Ivanschitz | 76 | LM | AT | Sounders FC | MLS |
| Benjamin Stambouli | 76 | CDM | FRA | PSG | Ligue 1 |
| Brown Ideye | 76 | ST | NIG | Olympiakos CFP | Hellas Liga |
| Bruma | 76 | RM | POR | Real Sociedad | Liga BBVA |
| Bueno | 76 | CAM | ESP | FC Porto | Liga Portugue.. |
| Casemiro | 76 | CDM | BRA | Real Madrid | Liga BBVA |
| Cédric | 76 | RB | POR | Southampton | Barclays PL |
| Charles | 76 | ST | BRA | Málaga CF | Liga BBVA |
| Christian Noboa | 76 | CDM | ECU | FC Rostov | Russian Leagu.. |
| Denis Cheryshev | 76 | LM | RUS | Real Madrid | Liga BBVA |
| Didier Digard | 76 | CDM | FRA | Real Betis | Liga Adelante |
| Dirk Kuyt | 76 | RM | NED | Feyenoord | Eredivisie |
| Éder | 76 | ST | POR | Swansea City | Barclays PL |
| Eljero Elia | 76 | LW | NED | Feyenoord | Eredivisie |
| Fernando | 76 | CDM | BRA | Sampdoria | Serie A |
| Fernando Navarro | 76 | LB | ESP | RC Deportivo | Liga BBVA |
| Glen Johnson | 76 | RB | ENG | Stoke City | Barclays PL |
| Heung Min Son | 76 | LM | KOR | Spurs | Barclays PL |
| Iago Aspas | 76 | ST | ESP | Celta Vigo | Liga BBVA |
| Ibrahim Afellay | 76 | LW | NED | Stoke City | Barclays PL |
| Idrissa Gueye | 76 | CM | SEN | Aston Villa | Barclays PL |
| Johannes Geis | 76 | CDM | GER | FC Schalke 04 | Bundesliga |
| John Heitinga | 76 | CB | NED | Ajax | Eredivisie |
| Jordy Clasie | 76 | CDM | NED | Southampton | Barclays PL |
| Juan Manuel Vargas | 76 | LM | PER | Real Betis | Liga Adelante |
| Kevin Kuranyi | 76 | ST | GER | 1899 Hoffenheim | Bundesliga |
| Koo Ja Cheol | 76 | LM | KOR | FC Augsburg | Bundesliga |
| Layvin Kurzawa | 76 | LB | FRA | PSG | Ligue 1 |
| Lucas Digne | 76 | LB | FRA | Roma | Serie A |
| Lucas Piazon | 76 | LM | BRA | Chelsea | Barclays PL |
| Lucas Piazon | 76 | LM | BRA | Reading | FL Championsh.. |
| Luciano Vietto | 76 | ST | ARG | Atlético Madrid | Liga BBVA |
| Luiz Adriano | 76 | ST | BRA | Milan | Serie A |
| Mapou Yanga-M'Biwa | 76 | CB | FRA | Olympique Lyon | Ligue 1 |
| Marco van Ginkel | 76 | CM | NED | Stoke City | Barclays PL |
| Marco van Ginkel | 76 | CM | NED | Chelsea | Barclays PL |
| Matt Jarvis | 76 | LM | ENG | Norwich City | FL Championsh.. |
| Mauricio Isla | 76 | RB | CHI | Juventus | Serie A |
| Mauricio Isla | 76 | RB | CHI | Marseille | Ligue 1 |
| Michaël Ciani | 76 | CB | FRA | Sporting CP | Liga Portugue.. |
| Michaël Ciani | 76 | CB | FRA | RCD Espanyol | Liga BBVA |
| Miguel Angel Britos | 76 | CB | URU | Watford | FL Championsh.. |
| Mohamed Salah | 76 | RM | EGY | Roma | Serie A |
| Mohammed Abdellaoue | 76 | ST | NOR | Vålerenga | Tippeligaen |
| Mubarak Wakaso | 76 | LM | GHA | Rubin Kazan | Russian Leagu.. |
| Mubarak Wakaso | 76 | LM | GHA | UD Las Palmas | Liga Adelante |
| Nathaniel Clyne | 76 | RB | ENG | Liverpool | Barclays PL |
| Nelson Valdez | 76 | ST | PAR | Sounders FC | MLS |
| Niklas Moisander | 76 | CB | FIN | Sampdoria | Serie A |
| Papa Kouli Diop | 76 | CDM | SEN | RCD Espanyol | Liga BBVA |
| Ricardo Álvarez | 76 | RM | ARG | Inter | Serie A |
| Rickie Lambert | 76 | ST | ENG | West Brom | Barclays PL |
| Rômulo | 76 | CM | ITA | Hellas Verona | Serie A |
| Steven Caulker | 76 | CB | ENG | Southampton | Barclays PL |
| Sulley Muntari | 76 | CDM | GHA | Al-Ittihad | ALJ League |
| Tomáš Sivok | 76 | CB | CZ | Bursaspor | Süper Lig |
| Vlad Chiricheş | 76 | CB | ROM | Napoli | Serie A |
| Walter Gargano | 76 | CDM | URU | Monterrey | LIGA Bancomer.. |
| Youssouf Mulumbu | 76 | CDM | DRC | Norwich City | FL Championsh.. |
| Adnan Januzaj | 75 | LM | BEL | Bor. Dortmund | Bundesliga |
| Aleix | 75 | RM | ESP | FC Barcelona | Liga BBVA |
| Alessandro Matri | 75 | ST | ITA | Milan | Serie A |
| Alessandro Matri | 75 | ST | ITA | Lazio | Serie A |
| Alex López | 75 | CM | ESP | Sheffield Wed | FL Championsh.. |
| Andreas Bjelland | 75 | CB | DEN | Brentford | FL Championsh.. |
| Antonio Nocerino | 75 | CM | ITA | Milan | Serie A |
| Bekir İrtegün | 75 | CB | TUR | İstanbul BB | Süper Lig |
| Candeias | 75 | RM | POR | Granada CF | Liga BBVA |
| Candeias | 75 | RM | POR | SL Benfica | Liga Portugue.. |
| Candeias | 75 | RM | POR | FC Metz | Ligue 1 |
| Charles Kaboré | 75 | CDM | BUR | FC Krasnodar | Russian Leagu.. |
| Christian Atsu | 75 | LW | GHA | Chelsea | Barclays PL |
| Christian Atsu | 75 | LW | GHA | Bournemouth | FL Championsh.. |
| Claudio Beauvue | 75 | ST | FRA | Olympique Lyon | Ligue 1 |
| Clément Chantôme | 75 | CM | FRA | Bordeaux | Ligue 1 |
| Corominas | 75 | LM | ESP | RCD Mallorca | Liga Adelante |
| Daniel Wass | 75 | RM | DEN | Celta Vigo | Liga BBVA |
| Daniele Bonera | 75 | CB | ITA | Villarreal CF | Liga BBVA |
| David Pizarro | 75 | CDM | CHI | Wanderers | Camp. Petrobr.. |
| Diogo Figueiras | 75 | RB | POR | Genoa | Serie A |
| Divock Origi | 75 | ST | BEL | Liverpool | Barclays PL |
| Douglas | 75 | CB | NED | Trabzonspor | Süper Lig |
| Fabian Delph | 75 | CM | ENG | Manchester City | Barclays PL |
| Fabian Schär | 75 | CB | SUI | 1899 Hoffenheim | Bundesliga |
| Fernandão | 75 | ST | BRA | Fenerbahçe SK | Süper Lig |
| Filip Đuričić | 75 | CAM | SRB | SL Benfica | Liga Portugue.. |
| Franck Tabanou | 75 | LB | FRA | Swansea City | Barclays PL |
| Franco Di Santo | 75 | ST | ARG | FC Schalke 04 | Bundesliga |
| Geoffrey Kondogbia | 75 | CDM | FRA | Inter | Serie A |
| Giannelli Imbula | 75 | CDM | FRA | FC Porto | Liga Portugue.. |
| Hajime Hosogai | 75 | CDM | JAP | Bursaspor | Süper Lig |
| Heiko Westermann | 75 | CB | GER | Real Betis | Liga Adelante |
| Ioannis Fetfatzidis | 75 | RM | GRE | Al-Ahli | ALJ League |
| Izet Hajrović | 75 | RM | BOS | SD Eibar | Liga BBVA |
| Jean-Paul Boëtius | 75 | LM | NED | FC Basel | Raiffeisen SL |
| Joey Barton | 75 | CM | ENG | Burnley | Barclays PL |
| Jonathan Schmid | 75 | LM | FRA | 1899 Hoffenheim | Bundesliga |
| Josué | 75 | CAM | POR | FC Porto | Liga Portugue.. |
| Juan Forlin | 75 | CB | ARG | Querétaro | LIGA Bancomer.. |
| Juraj Kucka | 75 | CM | SVK | Milan | Serie A |
| Lucas Barrios | 75 | ST | PAR | Spartak Moskva | Russian Leagu.. |
| Marquinho | 75 | RM | BRA | Roma | Serie A |
| Marquinho | 75 | RM | BRA | Udinese | Serie A |
| Maxime Lestienne | 75 | LW | BEL | PSV | Eredivisie |
| Michaël Essien | 75 | CDM | GHA | Panathinaikos | Hellas Liga |
| Michael Krohn-Dehli | 75 | CM | DEN | Sevilla FC | Liga BBVA |
| Miloš Jojić | 75 | CM | SRB | 1. FC Köln | Bundesliga |
| Nabil El Zhar | 75 | CAM | MOR | UD Las Palmas | Liga Adelante |
| Nabil Ghilas | 75 | ST | ALG | Levante UD | Liga BBVA |
| Nabil Ghilas | 75 | ST | ALG | FC Porto | Liga Portugue.. |
| Salvatore Bocchetti | 75 | CB | ITA | Milan | Serie A |
| Saphir Taïder | 75 | CM | ALG | Inter | Serie A |
| Saphir Taïder | 75 | CM | ALG | Bologna | Serie B |
| Sebastián Domínguez | 75 | CB | ARG | Estudiantes | Primera Divis.. |
| Sebastian Prödl | 75 | CB | AT | Watford | FL Championsh.. |
| Serge Gakpé | 75 | RM | TOG | Genoa | Serie A |
| Sergio Sánchez | 75 | CB | ESP | Panathinaikos | Hellas Liga |
| Simone Pepe | 75 | RM | ITA | Chievo Verona | Serie A |
| Steven N'Zonzi | 75 | CDM | FRA | Sevilla FC | Liga BBVA |
| Tabaré Viúdez | 75 | RM | URU | River Plate | Primera Divis.. |
| Teófilo Gutiérrez | 75 | ST | COL | Sporting CP | Liga Portugue.. |
| Tomáš Necid | 75 | ST | CZ | Bursaspor | Süper Lig |
| Valère Germain | 75 | ST | FRA | OGC Nice | Ligue 1 |
| Victor Moses | 75 | LM | NIG | Chelsea | Barclays PL |
| Victor Moses | 75 | LM | NIG | West Ham | Barclays PL |
| Víctor Pérez | 75 | CM | ESP | Real Valladolid | Liga Adelante |
| Víctor Pérez | 75 | CM | ESP | Córdoba CF | Liga BBVA |
| Víctor Rodríguez | 75 | RM | ESP | Getafe CF | Liga BBVA |
| Virgil van Dijk | 75 | CB | NED | Southampton | Barclays PL |
| William Kvist | 75 | CM | DEN | FC København | Superliga |
| Yohan Benalouane | 75 | CB | TUN | Leicester City | Barclays PL |
| Zdravko Kuzmanović | 75 | CM | SRB | FC Basel | Raiffeisen SL |
| Aderlan Santos | 74 | CB | BRA | Valencia CF | Liga BBVA |
| Albin Ekdal | 74 | CM | SWE | Hamburger SV | Bundesliga |
| Aleksandar Mitrović | 74 | ST | SRB | Newcastle Utd | Barclays PL |
| Allan | 74 | CDM | BRA | Napoli | Serie A |
| Álvaro González | 74 | CM | URU | Atlas | LIGA Bancomer.. |
| Aly Cissokho | 74 | LB | FRA | FC Porto | Liga Portugue.. |
| André André | 74 | CM | POR | FC Porto | Liga Portugue.. |
| Andreas Beck | 74 | RB | GER | Beşiktaş JK | Süper Lig |
| Anthony Mounier | 74 | LW | FRA | Bologna | Serie B |
| Antolín Alcaraz | 74 | CB | PAR | UD Las Palmas | Liga Adelante |
| Antonio Rüdiger | 74 | CB | GER | Roma | Serie A |
| Aron Jóhannsson | 74 | ST | USA | Werder Bremen | Bundesliga |
| Aurtenetxe | 74 | LB | ESP | CD Tenerife | Liga Adelante |
| Bakary Sako | 74 | LM | MAL | Crystal Palace | Barclays PL |
| Benjamin Moukandjo | 74 | RM | CAM | FC Lorient | Ligue 1 |
| Benoît Assou-Ekotto | 74 | LB | CAM | Saint-Etienne | Ligue 1 |
| Blerim Džemaili | 74 | CM | SUI | Genoa | Serie A |
| Bryan Rabello | 74 | CAM | CHI | Santos Laguna | LIGA Bancomer.. |
| Cani | 74 | LM | ESP | RC Deportivo | Liga BBVA |
| Cédric Makiadi | 74 | CDM | DRC | Çaykur Rizespor | Süper Lig |
| César Navas | 74 | CB | ESP | FC Rostov | Russian Leagu.. |
| Damien Duff | 74 | RW | IRL | Shamrock Rovers | Airtricity Le.. |
| Daniele Gastaldello | 74 | CB | ITA | Bologna | Serie B |
| Davy Pröpper | 74 | CM | NED | PSV | Eredivisie |
| Elustondo | 74 | CM | ESP | Athletic Bilbao | Liga BBVA |
| Eric Bauthéac | 74 | LM | FRA | LOSC Lille | Ligue 1 |
| Eric Botteghin | 74 | CB | BRA | Feyenoord | Eredivisie |
| Fabio Borini | 74 | ST | ITA | Sunderland | Barclays PL |
| Federico Cartabia | 74 | RM | ARG | Valencia CF | Liga BBVA |
| Federico Cartabia | 74 | RM | ARG | RC Deportivo | Liga BBVA |
| Felipe Pardo | 74 | RW | COL | Olympiakos CFP | Hellas Liga |
| Fernando Amorebieta | 74 | CB | VEN | Middlesbrough | FL Championsh.. |
| Filip Hološko | 74 | RM | SVK | Sydney FC | A-League |
| Giampiero Pinzi | 74 | CDM | ITA | Chievo Verona | Serie A |
| Hans Vanaken | 74 | CAM | BEL | Club Brugge | Pro League |
| Héldon | 74 | LM | CVI | Rio Ave FC | Liga Portugue.. |
| Jelle Vossen | 74 | ST | BEL | Burnley | Barclays PL |
| Jelle Vossen | 74 | ST | BEL | Club Brugge | Pro League |
| Jesús Corona | 74 | RW | MEX | FC Porto | Liga Portugue.. |
| Jimmy Briand | 74 | RM | FRA | EA Guingamp | Ligue 1 |
| Joselu | 74 | ST | ESP | Stoke City | Barclays PL |
| Kader Mangane | 74 | CB | SEN | GFC Ajaccio | Ligue 2 |
| Leo Baptistao | 74 | ST | BRA | Villarreal CF | Liga BBVA |
| Leonardo Bittencourt | 74 | LM | GER | 1. FC Köln | Bundesliga |
| Luca Rossettini | 74 | CB | ITA | Bologna | Serie B |
| Lucas Pérez | 74 | CAM | ESP | PAOK | Hellas Liga |
| Luis Fariña | 74 | CAM | ARG | SL Benfica | Liga Portugue.. |
| Luis Fariña | 74 | CAM | ARG | Rayo Vallecano | Liga BBVA |
| Marco Andreolli | 74 | CB | ITA | Sevilla FC | Liga BBVA |
| Marco Borriello | 74 | ST | ITA | Carpi | Serie B |
| Mariano | 74 | RB | BRA | Sevilla FC | Liga BBVA |
| Mathieu Dossevi | 74 | RM | FRA | Standard Liège | Pro League |
| Matteo Darmian | 74 | RB | ITA | Manchester Utd | Barclays PL |
| Mattia Cassani | 74 | RB | ITA | Sampdoria | Serie A |
| Max-Alain Gradel | 74 | LW | IVC | Bournemouth | FL Championsh.. |
| Maximilian Beister | 74 | RM | GER | 1. FSV Mainz 05 | Bundesliga |
| M'Baye Niang | 74 | ST | FRA | Milan | Serie A |
| Miguel Lopes | 74 | RB | POR | Granada CF | Liga BBVA |
| Miralem Sulejmani | 74 | LM | SRB | BSC Young Boys | Raiffeisen SL |
| Modibo Diakité | 74 | CB | FRA | Frosinone | Serie B |
| Modibo Diakité | 74 | CB | FRA | Cagliari | Serie A |
| Moi Gómez | 74 | LM | ESP | Getafe CF | Liga BBVA |
| Moritz Leitner | 74 | CM | GER | Bor. Dortmund | Bundesliga |
| Nathan Dyer | 74 | RM | ENG | Leicester City | Barclays PL |
| Nicolás Spolli | 74 | CB | ARG | Carpi | Serie B |
| Nolan Roux | 74 | ST | FRA | Saint-Etienne | Ligue 1 |
| Ola John | 74 | LM | NED | Reading | FL Championsh.. |
| Óliver Torres | 74 | CM | ESP | Atlético Madrid | Liga BBVA |
| Omar El Kaddouri | 74 | CM | MOR | Napoli | Serie A |
| Omar Ramos | 74 | LM | ESP | CD Leganés | Liga Adelante |
| Papá Babacar Diawara | 74 | ST | SEN | C. Funchal | Liga Portugue.. |
| Paulo Dybala | 74 | ST | ARG | Juventus | Serie A |
| Piotr Trochowski | 74 | CM | GER | FC Augsburg | Bundesliga |
| Rafael Martins | 74 | ST | BRA | Moreirense | Liga Portugue.. |
| Raúl Jiménez | 74 | ST | MEX | SL Benfica | Liga Portugue.. |
| Ravel Morrison | 74 | CAM | ENG | Lazio | Serie A |
| Renato Civelli | 74 | CB | ARG | LOSC Lille | Ligue 1 |
| Robbie Kruse | 74 | RM | AUS | VfB Stuttgart | Bundesliga |
| Rubén Pérez | 74 | CDM | ESP | Atlético Madrid | Liga BBVA |
| Rubén Pérez | 74 | CDM | ESP | Granada CF | Liga BBVA |
| Ryad Boudebouz | 74 | CAM | ALG | Montpellier HSC | Ligue 1 |
| Sadio Mané | 74 | LM | SEN | RB Salzburg | A. Bundesliga |
| Sebá | 74 | RW | BRA | Olympiakos CFP | Hellas Liga |
| Simone Zaza | 74 | ST | ITA | Juventus | Serie A |
| Suso | 74 | RM | ESP | Milan | Serie A |
| Tom Cleverley | 74 | CM | ENG | Everton | Barclays PL |
| Valentin Eysseric | 74 | CAM | FRA | Saint-Etienne | Ligue 1 |
| Verza | 74 | CDM | ESP | Levante UD | Liga BBVA |
| Volkan Şen | 74 | RM | TUR | Fenerbahçe SK | Süper Lig |
| William Vainqueur | 74 | CDM | FRA | Roma | Serie A |
| Yekta Kurtuluş | 74 | CM | TUR | Sivasspor | Süper Lig |
| Zakaria Labyad | 74 | RW | MOR | Sporting CP | Liga Portugue.. |
| Abraham | 73 | LB | ESP | Real Zaragoza | Liga Adelante |
| Adrián Colunga | 73 | ST | ESP | Granada CF | Liga BBVA |
| Alex Telles | 73 | LB | BRA | Inter | Serie A |
| Ali Adnan | 73 | LB | IRQ | Udinese | Serie A |
| Álvaro Saborío | 73 | ST | COS | D.C. United | MLS |
| Andreas Weimann | 73 | CF | AT | Derby County | FL Championsh.. |
| Bébé | 73 | ST | POR | Rayo Vallecano | Liga BBVA |
| Bruno Zuculini | 73 | CM | ARG | Manchester City | Barclays PL |
| Carlos Eduardo | 73 | CAM | BRA | FC Porto | Liga Portugue.. |
| Carlos Eduardo | 73 | CAM | BRA | Al-Hilal | ALJ League |
| Carlos Valdés | 73 | CB | COL | Ind. Santa Fe | Liga Postobó.. |
| Casado | 73 | LB | ESP | Bolton | FL Championsh.. |
| Chris Mavinga | 73 | LB | FRA | Rubin Kazan | Russian Leagu.. |
| Chris Mavinga | 73 | LB | FRA | ES Troyes | Ligue 2 |
| Christian Fuchs | 73 | LB | AT | Leicester City | Barclays PL |
| Cicinho | 73 | RB | BRA | CD Numancia | Liga Adelante |
| Cristian Pellerano | 73 | CM | ARG | Monarcas | LIGA Bancomer.. |
| Cristian Zaccardo | 73 | CB | ITA | Carpi | Serie B |
| Damián Suárez | 73 | RB | URU | Getafe CF | Liga BBVA |
| Daniel Halfar | 73 | LM | GER | 1. FC K'lautern | Bundesliga 2 |
| Daniele Baselli | 73 | CM | ITA | Torino | Serie A |
| Diego Vera | 73 | ST | URU | Independiente | Primera Divis.. |
| Dorado | 73 | CB | ESP | Rayo Vallecano | Liga BBVA |
| Duván Zapata | 73 | ST | COL | Udinese | Serie A |
| Emanuele Calaió | 73 | ST | ITA | La Spezia | Serie B |
| Enzo Roco | 73 | CB | CHI | Uni. Católica | Camp. Petrobr.. |
| Enzo Roco | 73 | CB | CHI | RCD Espanyol | Liga BBVA |
| Erick Torres | 73 | ST | MEX | Houston Dynamo | MLS |
| Ezequiel Schelotto | 73 | RM | ITA | Inter | Serie A |
| Fayçal Fajr | 73 | CAM | FRA | RC Deportivo | Liga BBVA |
| Federico Carrizo | 73 | LW | ARG | Cruz Azul | LIGA Bancomer.. |
| Filip Daems | 73 | LB | BEL | KVC Westerlo | Pro League |
| Francesco Lodi | 73 | CDM | ITA | Catania | Serie B |
| Gaël Kakuta | 73 | LM | FRA | Sevilla FC | Liga BBVA |
| Gilberto | 73 | ST | BRA | Chicago Fire | MLS |
| Gotoku Sakai | 73 | LB | JAP | Hamburger SV | Bundesliga |
| Hugo Rodallega | 73 | ST | COL | Akhisarspor | Süper Lig |
| Igor de Camargo | 73 | ST | BEL | KRC Genk | Pro League |
| Ilori | 73 | CB | POR | Liverpool | Barclays PL |
| Ilori | 73 | CB | POR | Aston Villa | Barclays PL |
| Insua | 73 | CB | ESP | CD Leganés | Liga Adelante |
| Isaac Cuenca | 73 | LM | ESP | Bursaspor | Süper Lig |
| Iván Ramis | 73 | CB | ESP | SD Eibar | Liga BBVA |
| James McClean | 73 | LM | IRL | West Brom | Barclays PL |
| Jan Kirchhoff | 73 | CDM | GER | FC Bayern | Bundesliga |
| Jannick Vestergaard | 73 | CB | DEN | Werder Bremen | Bundesliga |
| Javi Guerra | 73 | ST | ESP | Rayo Vallecano | Liga BBVA |
| Javier Aquino | 73 | RM | MEX | Tigres | LIGA Bancomer.. |
| Javier Saviola | 73 | CF | ARG | River Plate | Primera Divis.. |
| Jonas Hofmann | 73 | RM | GER | Bor. Dortmund | Bundesliga |
| Jordan Ayew | 73 | ST | GHA | Aston Villa | Barclays PL |
| Juan Carlos | 73 | LB | ESP | Málaga CF | Liga BBVA |
| Juan Manuel Martínez | 73 | ST | ARG | Real Salt Lake | MLS |
| Kara Mbodji | 73 | CB | SEN | RSC Anderlecht | Pro League |
| Karim Haggui | 73 | CB | TUN | F. Düsseldorf | Bundesliga 2 |
| Karim Rekik | 73 | CB | NED | Marseille | Ligue 1 |
| Kolbeinn Sigþórsson | 73 | ST | ICE | FC Nantes | Ligue 1 |
| Konstantin Rausch | 73 | LB | GER | Darmstadt | Bundesliga 2 |
| Laurent Ciman | 73 | CB | BEL | Montreal Impact | MLS |
| Liassine Cadamuro | 73 | LB | ALG | Real Sociedad | Liga BBVA |
| Licá | 73 | RM | POR | FC Porto | Liga Portugue.. |
| Licá | 73 | RM | POR | Vit. Guimarães | Liga Portugue.. |
| Luc Castaignos | 73 | ST | NED | Eint. Frankfurt | Bundesliga |
| Luca Caldirola | 73 | CB | ITA | Darmstadt | Bundesliga 2 |
| Macnelly Torres | 73 | CAM | COL | Atl. Nacional | Liga Postobó.. |
| Marc Janko | 73 | ST | AT | FC Basel | Raiffeisen SL |
| Marçal | 73 | LB | BRA | SL Benfica | Liga Portugue.. |
| Marçal | 73 | LB | BRA | Gaziantepspor | Süper Lig |
| Marco Marchionni | 73 | CM | ITA | Latina | Serie B |
| Matěj Vydra | 73 | ST | CZ | Reading | FL Championsh.. |
| Matos | 73 | CF | BRA | Carpi | Serie B |
| Matthew Lowton | 73 | RB | ENG | Burnley | Barclays PL |
| Maynor Figueroa | 73 | LB | HON | Colorado Rapids | MLS |
| Mehdi Carcela-Gonzalez | 73 | RM | MOR | SL Benfica | Liga Portugue.. |
| Michael Turner | 73 | CB | ENG | Sheffield Wed | FL Championsh.. |
| Mounir Obbadi | 73 | CM | MOR | LOSC Lille | Ligue 1 |
| Mounir Obbadi | 73 | CM | MOR | AS Monaco | Ligue 1 |
| Nemanja Gudelj | 73 | CM | SRB | Ajax | Eredivisie |
| Niki Zimling | 73 | CM | DEN | 1. FSV Mainz 05 | Bundesliga |
| Nikica Jelavić | 73 | ST | CRO | West Ham | Barclays PL |
| Park Joo Ho | 73 | LB | KOR | Bor. Dortmund | Bundesliga |
| Paul-José Mpoku | 73 | LM | BEL | Chievo Verona | Serie A |
| Pedro Obiang | 73 | CM | ESP | West Ham | Barclays PL |
| Pedro Tiba | 73 | CM | POR | Real Valladolid | Liga Adelante |
| Pelegrín | 73 | CB | ESP | Deport. Alavés | Liga Adelante |
| Philipp Hosiner | 73 | ST | AT | 1. FC Köln | Bundesliga |
| Raphael Martinho | 73 | LW | BRA | Carpi | Serie B |
| Răzvan Raţ | 73 | LB | ROM | Rayo Vallecano | Liga BBVA |
| Ricardo Kishna | 73 | LW | NED | Lazio | Serie A |
| Roman Pavlyuchenko | 73 | ST | RUS | Kuban Krasnodar | Russian Leagu.. |
| Rubén Botta | 73 | CF | ARG | Pachuca | LIGA Bancomer.. |
| Ryan Taylor | 73 | LB | ENG | Hull City | Barclays PL |
| Salvador Agra | 73 | RW | POR | Real Betis | Liga Adelante |
| Salvador Agra | 73 | RW | POR | CD Nacional | Liga Portugue.. |
| Sami | 73 | LM | GBI | FC Porto | Liga Portugue.. |
| Sami | 73 | LM | GBI | Akhisarspor | Süper Lig |
| Santiago Vergini | 73 | RB | ARG | Getafe CF | Liga BBVA |
| Sener Özbayrakli | 73 | RB | TUR | Fenerbahçe SK | Süper Lig |
| Shaun Maloney | 73 | CAM | SCO | Chicago Fire | MLS |
| Shaun Maloney | 73 | CAM | SCO | Hull City | Barclays PL |
| Stefano Okaka Chuka | 73 | ST | ITA | RSC Anderlecht | Pro League |
| Sylvain Marveaux | 73 | CAM | FRA | Newcastle Utd | Barclays PL |
| Takashi Inui | 73 | LM | JAP | SD Eibar | Liga BBVA |
| Thievy Bifouma | 73 | ST | FRA | RCD Espanyol | Liga BBVA |
| Thievy Bifouma | 73 | ST | FRA | Granada CF | Liga BBVA |
| Tom De Sutter | 73 | ST | BEL | Bursaspor | Süper Lig |
| Tomer Hemed | 73 | ST | ISR | Brighton | FL Championsh.. |
| Vadis Odjidja-Ofoe | 73 | CM | BEL | Rotherham Utd | FL Championsh.. |
| Vincent Bessat | 73 | LM | FRA | SM Caen | Ligue 1 |
| Wellington Silva | 73 | RM | BRA | Arsenal | Barclays PL |
| Wellington Silva | 73 | RM | BRA | Bolton | FL Championsh.. |
| Aaron Hughes | 72 | CB | NIR | Melbourne Heart | A-League |
| Adam Le Fondre | 72 | ST | ENG | Bolton | FL Championsh.. |
| Adam Le Fondre | 72 | ST | ENG | Wolverhampton | FL Championsh.. |
| Adam Matthews | 72 | RB | WAL | Sunderland | Barclays PL |
| Adrián González | 72 | CDM | ESP | SD Eibar | Liga BBVA |
| Ahmed Kantari | 72 | CB | MOR | Dijon FCO | Ligue 2 |
| Ahmed Kantari | 72 | CB | MOR | Toronto FC | MLS |
| Alessandro Rosina | 72 | CAM | ITA | Bari | Serie B |
| Alessio Sestu | 72 | RM | ITA | Chievo Verona | Serie A |
| Alex Pearce | 72 | CB | IRL | Derby County | FL Championsh.. |
| Anders Konradsen | 72 | CDM | NOR | Rosenborg BK | Tippeligaen |
| Andrea Bertolacci | 72 | CM | ITA | Milan | Serie A |
| Andrea Coda | 72 | CB | ITA | Sampdoria | Serie A |
| Andrea Costa | 72 | CB | ITA | Empoli | Serie A |
| Andrea Lazzari | 72 | CDM | ITA | Carpi | Serie B |
| Anele Ngcongca | 72 | LB | SAF | ES Troyes | Ligue 2 |
| Anthony Ujah | 72 | ST | NIG | Werder Bremen | Bundesliga |
| Aydın Yılmaz | 72 | RM | TUR | Kasimpaşa SK | Süper Lig |
| Benoît Pedretti | 72 | CM | FRA | AS Nancy | Ligue 2 |
| Bertrand Traoré | 72 | ST | BUR | Chelsea | Barclays PL |
| Carlos Cuéllar | 72 | CB | ESP | UD Almería | Liga BBVA |
| Chancel Mbemba | 72 | CB | DRC | Newcastle Utd | Barclays PL |
| Charlison Benschop | 72 | ST | NED | Hannover 96 | Bundesliga |
| Connor Wickham | 72 | ST | ENG | Crystal Palace | Barclays PL |
| Cristián Chávez | 72 | CAM | ARG | Arsenal | Primera Divis.. |
| Cristóbal Jorquera | 72 | CAM | CHI | Bursaspor | Süper Lig |
| Danilo | 72 | CDM | POR | FC Porto | Liga Portugue.. |
| Danilo Avelar | 72 | LB | BRA | Torino | Serie A |
| David Rozehnal | 72 | CB | CZ | KV Oostende | Pro League |
| Davide Brivio | 72 | LB | ITA | Atalanta | Serie A |
| De las Cuevas | 72 | CAM | ESP | La Spezia | Serie B |
| Delvin Ndinga | 72 | CDM | CON | Lokomotiv | Russian Leagu.. |
| Delvin Ndinga | 72 | CDM | CON | AS Monaco | Ligue 1 |
| Diego Reyes | 72 | CB | MEX | Real Sociedad | Liga BBVA |
| Domi Kumbela | 72 | ST | DRC | Greuther Fürth | Bundesliga 2 |
| Edenílson | 72 | RM | BRA | Udinese | Serie A |
| Ezequiel Cirigliano | 72 | CDM | ARG | FC Dallas | MLS |
| Fabian Frei | 72 | CM | SUI | 1. FSV Mainz 05 | Bundesliga |
| Fabián Rinaudo | 72 | CDM | ARG | Gimnasia | Primera Divis.. |
| Fabien Camus | 72 | CAM | TUN | KRC Genk | Pro League |
| Fabien Camus | 72 | CAM | TUN | ES Troyes | Ligue 2 |
| Facundo Roncaglia | 72 | CB | ARG | Fiorentina | Serie A |
| Felipe Baloy | 72 | CB | PAN | Atlas | LIGA Bancomer.. |
| Gabriel | 72 | CB | BRA | Arsenal | Barclays PL |
| Gabriel Torje | 72 | LM | ROM | Udinese | Serie A |
| Gabriele Angella | 72 | CB | ITA | QPR | Barclays PL |
| Geoffrey Mujangi Bia | 72 | LM | BEL | FC Sion | Raiffeisen SL |
| Gianluca Sansone | 72 | ST | ITA | Bari | Serie B |
| Giovanni Sio | 72 | ST | IVC | Stade Rennais | Ligue 1 |
| Guillaume Gillet | 72 | CM | BEL | RSC Anderlecht | Pro League |
| Guillermo Burdisso | 72 | CB | ARG | Club León | LIGA Bancomer.. |
| Hedwiges Maduro | 72 | CDM | NED | FC Groningen | Eredivisie |
| Iago Falqué | 72 | RW | ESP | Roma | Serie A |
| Issa Cissokho | 72 | RB | SEN | Genoa | Serie A |
| Jairo | 72 | RM | ESP | Sevilla FC | Liga BBVA |
| Jamie Ward | 72 | LW | NIR | Nott'm Forest | FL Championsh.. |
| Jan-Arie van der Heijden | 72 | CB | NED | Feyenoord | Eredivisie |
| Jasmin Kurtić | 72 | CDM | SVN | Atalanta | Serie A |
| Jason Shackell | 72 | CB | ENG | Derby County | FL Championsh.. |
| Javier Pinola | 72 | LB | ARG | Rosario Ctral. | Primera Divis.. |
| Jérémy Morel | 72 | CB | FRA | Olympique Lyon | Ligue 1 |
| Jérémy Perbet | 72 | ST | FRA | Sp. Charleroi | Pro League |
| Jonathas | 72 | ST | BRA | Real Sociedad | Liga BBVA |
| Jordan Veretout | 72 | CM | FRA | Aston Villa | Barclays PL |
| Jose Holebas | 72 | LB | GRE | Watford | FL Championsh.. |
| Júnior Díaz | 72 | LB | COS | Darmstadt | Bundesliga 2 |
| Kieran Trippier | 72 | RB | ENG | Spurs | Barclays PL |
| Kyle Ebecilio | 72 | CM | NED | Nott'm Forest | FL Championsh.. |
| Kyle Naughton | 72 | RB | ENG | Swansea City | Barclays PL |
| Lazaros Christodoulopoulos | 72 | CM | GRE | Sampdoria | Serie A |
| Lucas Melano | 72 | ST | ARG | Portland | MLS |
| Luis Alberto | 72 | CF | ESP | RC Deportivo | Liga BBVA |
| Luis Pedro Cavanda | 72 | RB | BEL | Trabzonspor | Süper Lig |
| Marco Matias | 72 | LW | POR | Sheffield Wed | FL Championsh.. |
| Marko Vejinović | 72 | CM | NED | Feyenoord | Eredivisie |
| Massimo Bruno | 72 | RM | BEL | RB Leipzig | Bundesliga 2 |
| Mathieu Duhamel | 72 | ST | FRA | Le Havre AC | Ligue 2 |
| Matthew Upson | 72 | CB | ENG | MK Dons | Football Leag.. |
| Mikkel Diskerud | 72 | CM | USA | NY City FC | MLS |
| Modibo Maïga | 72 | ST | MAL | West Ham | Barclays PL |
| Modibo Maïga | 72 | ST | MAL | Al-Nassr | ALJ League |
| N'Golo Kanté | 72 | CM | FRA | Leicester City | Barclays PL |
| Nicolas López | 72 | CF | URU | Udinese | Serie A |
| Nicolas López | 72 | CF | URU | Granada CF | Liga BBVA |
| Nikola Đurđić | 72 | ST | SRB | Malmö FF | Allsvenskan |
| Olivier Veigneau | 72 | LB | FRA | Kasimpaşa SK | Süper Lig |
| Oriol Romeu | 72 | CDM | ESP | Chelsea | Barclays PL |
| Oriol Romeu | 72 | CDM | ESP | Southampton | Barclays PL |
| Oscar Hiljemark | 72 | CM | SWE | Palermo | Serie A |
| Pablo Velázquez | 72 | ST | PAR | Monarcas | LIGA Bancomer.. |
| Pablo Velázquez | 72 | ST | PAR | Atl. Nacional | Liga Postobó.. |
| Paul Baysse | 72 | CB | FRA | OGC Nice | Ligue 1 |
| Ricky van Wolfswinkel | 72 | ST | NED | Norwich City | FL Championsh.. |
| Ricky van Wolfswinkel | 72 | ST | NED | Real Betis | Liga Adelante |
| Rodri | 72 | ST | ESP | Real Valladolid | Liga Adelante |
| Rolando Bianchi | 72 | ST | ITA | Bologna | Serie B |
| Sami Allagui | 72 | RM | TUN | Hertha BSC | Bundesliga |
| Samuel Holmén | 72 | CDM | SWE | Konyaspor | Süper Lig |
| Sérgio Oliveira | 72 | CM | POR | FC Porto | Liga Portugue.. |
| Souleymane Bamba | 72 | CB | IVC | Leeds United | FL Championsh.. |
| Stefan Mitrović | 72 | CB | SRB | KAA Gent | Pro League |
| Steven Berghuis | 72 | RW | NED | Watford | FL Championsh.. |
| Steven Vitória | 72 | CB | POR | Philadelphia | MLS |
| Sven Schipplock | 72 | ST | GER | Hamburger SV | Bundesliga |
| Thomas Ince | 72 | RW | ENG | Derby County | FL Championsh.. |
| Tjaronn Chery | 72 | CAM | NED | QPR | Barclays PL |
| Tolgay Arslan | 72 | CM | GER | Beşiktaş JK | Süper Lig |
| Toquero | 72 | ST | ESP | Deport. Alavés | Liga Adelante |
| Valentin Roberge | 72 | CB | FRA | Sunderland | Barclays PL |
| Vincent Pajot | 72 | CM | FRA | Saint-Etienne | Ligue 1 |
| Abdelhamid El Kaoutari | 71 | CB | MOR | Palermo | Serie A |
| Abdou Razack Traoré | 71 | RM | BUR | Konyaspor | Süper Lig |
| Abdoulaye Ba | 71 | CB | SEN | Fenerbahçe SK | Süper Lig |
| Abdul Majeed Waris | 71 | LW | GHA | FC Lorient | Ligue 1 |
| Adam Matuschyk | 71 | CDM | POL | Braunschweig | Bundesliga 2 |
| Afriyie Acquah | 71 | CM | GHA | Torino | Serie A |
| Ahmet İlhan Özek | 71 | RM | TUR | Çaykur Rizespor | Süper Lig |
| Aleksandar Pantic | 71 | CB | SRB | SD Eibar | Liga BBVA |
| Alen Halilović | 71 | CM | CRO | FC Barcelona | Liga BBVA |
| Alen Halilović | 71 | CM | CRO | Sporting Gijón | Liga Adelante |
| Alessio Romagnoli | 71 | CB | ITA | Roma | Serie A |
| Alessio Romagnoli | 71 | CB | ITA | Milan | Serie A |
| Álex Fernández | 71 | CM | ESP | Reading | FL Championsh.. |
| Alexander Scholz | 71 | CB | DEN | Standard Liège | Pro League |
| André Santos | 71 | CM | POR | FC Metz | Ligue 1 |
| Ángel | 71 | ST | ESP | Real Zaragoza | Liga Adelante |
| Aquino | 71 | LM | ESP | CD Numancia | Liga Adelante |
| Ariel Rojas | 71 | LM | ARG | Cruz Azul | LIGA Bancomer.. |
| Aurélien Collin | 71 | CB | FRA | Orlando City | MLS |
| Bobby Zamora | 71 | ST | ENG | Brighton | FL Championsh.. |
| Brayan Perea | 71 | ST | COL | Lazio | Serie A |
| Brayan Perea | 71 | ST | COL | ES Troyes | Ligue 2 |
| Callum McManaman | 71 | RW | ENG | West Brom | Barclays PL |
| Carl Jenkinson | 71 | RB | ENG | Arsenal | Barclays PL |
| Cédric Mongongu | 71 | CB | DRC | Eskişehirspor | Süper Lig |
| Chris Baird | 71 | CDM | NIR | Derby County | FL Championsh.. |
| Christian Bekamenga | 71 | ST | CAM | RC Lens | Ligue 1 |
| Christian Brüls | 71 | LM | BEL | Standard Liège | Pro League |
| Christian Stuani | 71 | ST | URU | Middlesbrough | FL Championsh.. |
| Cisma | 71 | LB | ESP | Córdoba CF | Liga BBVA |
| Cristian Pasquato | 71 | LW | ITA | Juventus | Serie A |
| Daniel Opare | 71 | RB | GHA | FC Augsburg | Bundesliga |
| Daniel Torres | 71 | CM | COL | Indep. Medellín | Liga Postobó.. |
| Danny Guthrie | 71 | CM | ENG | Blackburn Rvrs | FL Championsh.. |
| Danny Ings | 71 | ST | ENG | Liverpool | Barclays PL |
| Dany Nounkeu | 71 | CB | CAM | Evian Thonon FC | Ligue 1 |
| Dany Nounkeu | 71 | CB | CAM | Bursaspor | Süper Lig |
| Darío Bottinelli | 71 | CAM | ARG | Toluca | LIGA Bancomer.. |
| Darryl Lachman | 71 | CB | NED | Sheffield Wed | FL Championsh.. |
| David Ferreira | 71 | CAM | COL | Atlético Huila | Liga Postobó.. |
| David Nugent | 71 | ST | ENG | Middlesbrough | FL Championsh.. |
| Denis Suarez | 71 | CAM | ESP | Villarreal CF | Liga BBVA |
| Diego Lopes | 71 | CAM | BRA | SL Benfica | Liga Portugue.. |
| Diniyar Bilyaletdinov | 71 | CAM | RUS | Rubin Kazan | Russian Leagu.. |
| Dmitriy Torbinskiy | 71 | LM | RUS | FC Krasnodar | Russian Leagu.. |
| Edgar Barreto | 71 | CM | PAR | Sampdoria | Serie A |
| Ezequiel Muñoz | 71 | CB | ARG | Genoa | Serie A |
| Filip Helander | 71 | CB | SWE | Hellas Verona | Serie A |
| Francesco Pisano | 71 | RB | ITA | Bolton | FL Championsh.. |
| Francisco Silva | 71 | CDM | CHI | Chiapas | LIGA Bancomer.. |
| Franco Arizala | 71 | ST | COL | Atlas | LIGA Bancomer.. |
| Franco Brienza | 71 | CAM | ITA | Bologna | Serie B |
| Frédéric Bulot | 71 | LM | GAB | Stade Reims | Ligue 1 |
| Frederik Sørensen | 71 | CB | DEN | 1. FC Köln | Bundesliga |
| Frederik Sørensen | 71 | CB | DEN | Juventus | Serie A |
| Gabriel Silva | 71 | LM | BRA | Carpi | Serie B |
| Gaëtan Bong | 71 | LB | CAM | Brighton | FL Championsh.. |
| Garrido | 71 | LB | ESP | UD Las Palmas | Liga Adelante |
| Gonzalo Bergessio | 71 | ST | ARG | Atlas | LIGA Bancomer.. |
| Gonzalo Castellani | 71 | CM | ARG | Lanús | Primera Divis.. |
| Hernán Pérez | 71 | RM | PAR | RCD Espanyol | Liga BBVA |
| Ibrahim Sissoko | 71 | RM | IVC | Konyaspor | Süper Lig |
| Igor Bubnjić | 71 | CB | CRO | Carpi | Serie B |
| Ivan Cavaleiro | 71 | LM | POR | AS Monaco | Ligue 1 |
| James Chester | 71 | CB | WAL | West Brom | Barclays PL |
| Jean Barrientos | 71 | LM | URU | Wisła Kraków | Ekstraklasa |
| Jeff Louis | 71 | CAM | HAI | SM Caen | Ligue 1 |
| Jérémy Pied | 71 | RM | FRA | OGC Nice | Ligue 1 |
| John Boye | 71 | CB | GHA | Sivasspor | Süper Lig |
| John Guidetti | 71 | ST | SWE | Celta Vigo | Liga BBVA |
| Joseph Akpala | 71 | ST | NIG | KV Oostende | Pro League |
| Juan Manuel Insaurralde | 71 | CB | ARG | Chiapas | LIGA Bancomer.. |
| Juanfran | 71 | RB | ESP | Watford | FL Championsh.. |
| Jürgen Damm | 71 | RM | MEX | Tigres | LIGA Bancomer.. |
| Kasper Kusk | 71 | RM | DEN | FC København | Superliga |
| Kevin Wimmer | 71 | CB | AT | Spurs | Barclays PL |
| Kris Boyd | 71 | ST | SCO | Kilmarnock | Scottish Prem |
| Kris Boyd | 71 | ST | SCO | Kilmarnock | Scottish Prem |
| Leandro Rinaudo | 71 | CB | ITA | Bari | Serie B |
| Lombán | 71 | CB | ESP | Granada CF | Liga BBVA |
| Luca Siligardi | 71 | RW | ITA | Hellas Verona | Serie A |
| Lucas Andersen | 71 | CAM | DEN | Willem II | Eredivisie |
| Lucas Castro | 71 | LW | ARG | Chievo Verona | Serie A |
| Luis Páez | 71 | ST | COL | Itagüí | Liga Postobó.. |
| Luna | 71 | LB | ESP | SD Eibar | Liga BBVA |
| Luna | 71 | LB | ESP | Aston Villa | Barclays PL |
| Marcin Robak | 71 | ST | POL | Lech Poznań | Ekstraklasa |
| Massimo Gobbi | 71 | LB | ITA | Chievo Verona | Serie A |
| Matías Silvestre | 71 | CB | ITA | Inter | Serie A |
| Matteo Mancosu | 71 | ST | ITA | Bologna | Serie B |
| Mbaye Leye | 71 | ST | SEN | Zulte-Waregem | Pro League |
| Mervan Celik | 71 | CF | SWE | Akhisarspor | Süper Lig |
| Michele Pazienza | 71 | CDM | ITA | Vicenza | Serie B |
| Migjen Basha | 71 | CM | ALB | FC Luzern | Raiffeisen SL |
| Miguel Caneo | 71 | CAM | ARG | Arsenal | Primera Divis.. |
| Modou Sougou | 71 | RM | SEN | Marseille | Ligue 1 |
| Modou Sougou | 71 | RM | SEN | Sheffield Wed | FL Championsh.. |
| Moestafa El Kabir | 71 | ST | NED | Gençlerbirliği | Süper Lig |
| Mosquera | 71 | CDM | ESP | RC Deportivo | Liga BBVA |
| Naif Hazazi | 71 | ST | SAR | Al-Nassr | ALJ League |
| Oliver Kirch | 71 | CDM | GER | SC Paderborn | Bundesliga |
| Oliver Sorg | 71 | RB | GER | Hannover 96 | Bundesliga |
| Paolo Hurtado | 71 | LM | PER | Reading | FL Championsh.. |
| Peniel Mlapa | 71 | ST | GER | Bor. M'gladbach | Bundesliga |
| Peniel Mlapa | 71 | ST | GER | VfL Bochum | Bundesliga 2 |
| Rene Krhin | 71 | CDM | SVN | Granada CF | Liga BBVA |
| Robbie Brady | 71 | LWB | IRL | Norwich City | FL Championsh.. |
| Ruben Schaken | 71 | RW | NED | ADO Den Haag | Eredivisie |
| Sadio Diallo | 71 | ST | GUI | SC Bastia | Ligue 1 |
| Sastre | 71 | CDM | ESP | CD Leganés | Liga Adelante |
| Sergi Darder | 71 | CDM | ESP | Olympique Lyon | Ligue 1 |
| Sławomir Peszko | 71 | LM | POL | Lechia Gdańsk | Ekstraklasa |
| Veroljub Salatić | 71 | CDM | SUI | FC Sion | Raiffeisen SL |
| Waldemar Sobota | 71 | RW | POL | FC St. Pauli | Bundesliga 2 |
| Wason Rentería | 71 | ST | COL | La Equidad | Liga Postobó.. |
| Yann-Erik de Lanlay | 71 | RM | NOR | Rosenborg BK | Tippeligaen |
| Zakaria Bakkali | 71 | RW | BEL | Valencia CF | Liga BBVA |
| Abdoulay Diaby | 70 | ST | FRA | Club Brugge | Pro League |
| Adrian Stoian | 70 | LW | ROM | Chievo Verona | Serie A |
| Adrian Stoian | 70 | LW | ROM | Crotone | Serie B |
| Adryan | 70 | CAM | BRA | FC Nantes | Ligue 1 |
| Ahmed Hassan | 70 | ST | EGY | SC Braga | Liga Portugue.. |
| Alban Meha | 70 | LM | ALB | Konyaspor | Süper Lig |
| Albentosa | 70 | CB | ESP | Derby County | FL Championsh.. |
| Albentosa | 70 | CB | ESP | Málaga CF | Liga BBVA |
| Alejandro González | 70 | RB | URU | Terni | Serie B |
| Alen Stevanovic | 70 | RM | SRB | Torino | Serie A |
| Alexandre Coeff | 70 | CB | FRA | Udinese | Serie A |
| Alexandre Coeff | 70 | CB | FRA | Royal Mouscron | Pro League |
| Alexandre Coeff | 70 | CB | FRA | GFC Ajaccio | Ligue 2 |
| Alexy Bosetti | 70 | ST | FRA | Tours FC | Ligue 2 |
| Andy Delort | 70 | ST | FRA | SM Caen | Ligue 1 |
| Anthony Knockaert | 70 | RM | FRA | Standard Liège | Pro League |
| Benjamin De Ceulaer | 70 | ST | BEL | KVC Westerlo | Pro League |
| Bilal Kısa | 70 | CAM | TUR | Galatasaray SK | Süper Lig |
| Billy Sharp | 70 | ST | ENG | Sheffield Utd | Football Leag.. |
| Borja López | 70 | CB | ESP | Arouca | Liga Portugue.. |
| Chris Herd | 70 | CB | AUS | Wigan Athletic | FL Championsh.. |
| Claudio Terzi | 70 | CB | ITA | La Spezia | Serie B |
| Cristian Herrera | 70 | ST | ESP | UD Almería | Liga BBVA |
| Crivellaro | 70 | CAM | BRA | Wisła Kraków | Ekstraklasa |
| Crivellaro | 70 | CAM | BRA | Wisła Kraków | Ekstraklasa |
| Dani Estrada | 70 | RB | ESP | Deport. Alavés | Liga Adelante |
| Dani Pacheco | 70 | LM | ESP | Deport. Alavés | Liga Adelante |
| Daniele Corvia | 70 | ST | ITA | Latina | Serie B |
| Dariusz Dudka | 70 | CB | POL | Lech Poznań | Ekstraklasa |
| David Pollet | 70 | ST | BEL | Sp. Charleroi | Pro League |
| Dean Whitehead | 70 | CM | ENG | Huddersfield | FL Championsh.. |
| Emmerson Boyce | 70 | RB | BAR | Blackpool | FL Championsh.. |
| Ervin Zukanović | 70 | LB | BOS | Sampdoria | Serie A |
| Erwin Hoffer | 70 | ST | AT | Karlsruher SC | Bundesliga 2 |
| Escudero | 70 | LB | ESP | Sevilla FC | Liga BBVA |
| Essaïd Belkalem | 70 | CB | ALG | Watford | FL Championsh.. |
| Everton Santos | 70 | LW | BRA | Ulsan Hyundai | K LEAGUE |
| Fabrizio Cacciatore | 70 | RB | ITA | Chievo Verona | Serie A |
| Fehmi Emre Güngör | 70 | CB | TUR | Eskişehirspor | Süper Lig |
| Felipe | 70 | CB | BRA | Udinese | Serie A |
| Felix Klaus | 70 | RM | GER | Hannover 96 | Bundesliga |
| Fernando Barrientos | 70 | CM | ARG | Lanús | Primera Divis.. |
| Francesco Tavano | 70 | ST | ITA | Avellino | Serie B |
| Franco Jara | 70 | ST | ARG | Olympiakos CFP | Hellas Liga |
| George Elokobi | 70 | CB | CAM | Colchester | Football Leag.. |
| George Elokobi | 70 | CB | CAM | Colchester | Football Leag.. |
| Gilles Sunu | 70 | RM | FRA | Angers SCO | Ligue 2 |
| Gino Peruzzi | 70 | RB | ARG | Boca Juniors | Primera Divis.. |
| Gohi Bi Cyriac | 70 | ST | IVC | KV Oostende | Pro League |
| Hernán Grana | 70 | RB | ARG | Columbus Crew | MLS |
| Hervé Kage | 70 | RM | DRC | KV Kortrijk | Pro League |
| Hugo Droguett | 70 | LM | CHI | CD O'Higgins | Camp. Petrobr.. |
| Isaac Cofie | 70 | CM | GHA | Genoa | Serie A |
| James Perch | 70 | RB | ENG | QPR | Barclays PL |
| Jean Michaël Seri | 70 | CM | IVC | OGC Nice | Ligue 1 |
| Jean-Christophe Bahebeck | 70 | ST | FRA | Saint-Etienne | Ligue 1 |
| Jem Karacan | 70 | CDM | TUR | Galatasaray SK | Süper Lig |
| Joel Obi | 70 | CM | NIG | Torino | Serie A |
| Jos Hooiveld | 70 | CB | NED | AIK Fotboll | Allsvenskan |
| Jos Hooiveld | 70 | CB | NED | Millwall | FL Championsh.. |
| Josh McEachran | 70 | CM | ENG | Brentford | FL Championsh.. |
| Josh McEachran | 70 | CM | ENG | Chelsea | Barclays PL |
| Kevin Doyle | 70 | ST | IRL | Colorado Rapids | MLS |
| Khaleem Hyland | 70 | CDM | TRI | KVC Westerlo | Pro League |
| Kian Hansen | 70 | CDM | DEN | FC Midtjylland | Superliga |
| Lewis Buxton | 70 | RB | ENG | Rotherham Utd | FL Championsh.. |
| Lorenzo Crisetig | 70 | CM | ITA | Inter | Serie A |
| Lorenzo Crisetig | 70 | CM | ITA | Bologna | Serie B |
| Lorenzo Faravelli | 70 | CAM | ARG | Gimnasia | Primera Divis.. |
| Luca Marrone | 70 | CDM | ITA | Carpi | Serie B |
| Luís Carlos | 70 | LM | BRA | Moreirense | Liga Portugue.. |
| Mads Winther Albæk | 70 | CM | DEN | IFK Göteborg | Allsvenskan |
| Magnus Wolff Eikrem | 70 | CM | NOR | Malmö FF | Allsvenskan |
| Manquillo | 70 | RB | ESP | Atlético Madrid | Liga BBVA |
| Manquillo | 70 | RB | ESP | Marseille | Ligue 1 |
| Mario Pašalić | 70 | CDM | CRO | AS Monaco | Ligue 1 |
| Mathías Riquero | 70 | CDM | URU | Depor. Iquique | Camp. Petrobr.. |
| Matteo Ardemagni | 70 | ST | ITA | Atalanta | Serie A |
| Matteo Ardemagni | 70 | ST | ITA | Perugia | Serie B |
| Matteo Brighi | 70 | CM | ITA | Bologna | Serie B |
| Mauro Dos Santos | 70 | CB | ARG | SD Eibar | Liga BBVA |
| Mauro Formica | 70 | CAM | ARG | Newell's | Primera Divis.. |
| Michael Eneramo | 70 | ST | NIG | İstanbul BB | Süper Lig |
| Michael Liendl | 70 | CAM | AT | 1860 Munich | Bundesliga 2 |
| Mike Havenaar | 70 | ST | JAP | ADO Den Haag | Eredivisie |
| Mišo Brečko | 70 | RB | SVN | 1. FC Nuremberg | Bundesliga 2 |
| Nabil Bahoui | 70 | LM | SWE | Al-Ahli | ALJ League |
| Naldo | 70 | CB | BRA | Udinese | Serie A |
| Naldo | 70 | CB | BRA | Sporting CP | Liga Portugue.. |
| Nico Schulz | 70 | LM | GER | Bor. M'gladbach | Bundesliga |
| Nicolás Aguirre | 70 | LM | ARG | Lanús | Primera Divis.. |
| Nicolás Bertolo | 70 | LW | ARG | River Plate | Primera Divis.. |
| Nicolás Castillo | 70 | ST | CHI | 1. FSV Mainz 05 | Bundesliga |
| Nill De Pauw | 70 | RM | BEL | EA Guingamp | Ligue 1 |
| Orlando Sá | 70 | ST | POR | Reading | FL Championsh.. |
| Panagiotis Tachtsidis | 70 | CDM | GRE | Genoa | Serie A |
| Pape Malikou Diakhaté | 70 | CB | SEN | Erciyesspor | Süper Lig |
| Pedro Mendes | 70 | CB | POR | Stade Rennais | Ligue 1 |
| Pedro Ríos | 70 | RM | ESP | Córdoba CF | Liga BBVA |
| Peter Niemeyer | 70 | CDM | GER | Darmstadt | Bundesliga 2 |
| Ramón Fernández | 70 | CAM | ARG | CD O'Higgins | Camp. Petrobr.. |
| Richard Stearman | 70 | CB | ENG | Fulham | FL Championsh.. |
| Rodrigo Millar | 70 | CM | CHI | Monarcas | LIGA Bancomer.. |
| Rogelio Funes Mori | 70 | ST | ARG | Monterrey | LIGA Bancomer.. |
| Sam Ricketts | 70 | RB | WAL | Coventry City | Football Leag.. |
| Sam Ricketts | 70 | RB | WAL | Coventry City | Football Leag.. |
| Sebastián Prediger | 70 | CM | ARG | Belgrano | Primera Divis.. |
| Serge Gnabry | 70 | RM | GER | West Brom | Barclays PL |
| Sergey Tkachev | 70 | CAM | RUS | Kuban Krasnodar | Russian Leagu.. |
| Shaun Wright-Phillips | 70 | LM | ENG | NY Red Bulls | MLS |
| Simon Makienok | 70 | ST | DEN | Charlton Ath | FL Championsh.. |
| Simone Bentivoglio | 70 | CM | ITA | Chievo Verona | Serie A |
| Stefan Ishizaki | 70 | RM | SWE | AIK Fotboll | Allsvenskan |
| Steve De Ridder | 70 | ST | BEL | Zulte-Waregem | Pro League |
| Stoppila Sunzu | 70 | CB | ZAM | LOSC Lille | Ligue 1 |
| Theofanis Gekas | 70 | ST | GRE | Eskişehirspor | Süper Lig |
| Tim Hoogland | 70 | RB | GER | VfL Bochum | Bundesliga 2 |
| Toni Šunjić | 70 | CB | BOS | VfB Stuttgart | Bundesliga |
| Tozé | 70 | CAM | POR | Vit. Guimarães | Liga Portugue.. |
| Trujillo | 70 | CB | ESP | Levante UD | Liga BBVA |
| Valerio Di Cesare | 70 | CB | ITA | Bari | Serie B |
| Vladimir Granat | 70 | CB | RUS | Spartak Moskva | Russian Leagu.. |
| Yiğit İncedemir | 70 | CB | TUR | Sivasspor | Süper Lig |
| Ahmed Kashi | 69 | CDM | ALG | Charlton Ath | FL Championsh.. |
| Ailton | 69 | ST | BRA | Al-Hilal | ALJ League |
| Aldo De Nigris | 69 | ST | MEX | Monterrey | LIGA Bancomer.. |
| Álvaro Ramos | 69 | RW | CHI | Wanderers | Camp. Petrobr.. |
| André Geraldes | 69 | RB | POR | Belém | Liga Portugue.. |
| André Ramalho | 69 | CB | BRA | Bayer 04 | Bundesliga |
| Andre Wisdom | 69 | RB | ENG | Liverpool | Barclays PL |
| Andre Wisdom | 69 | RB | ENG | Norwich City | FL Championsh.. |
| Andrea Mantovani | 69 | CB | ITA | Vicenza | Serie B |
| Anthony Martial | 69 | ST | FRA | Manchester Utd | Barclays PL |
| Antonino Ragusa | 69 | LW | ITA | Cesena | Serie A |
| Ben Watson | 69 | CM | ENG | Watford | FL Championsh.. |
| Borja Bastón | 69 | ST | ESP | SD Eibar | Liga BBVA |
| Bryan Linssen | 69 | RW | NED | FC Groningen | Eredivisie |
| Campaña | 69 | CM | ESP | Sampdoria | Serie A |
| Campaña | 69 | CM | ESP | AD Alcorcón | Liga Adelante |
| Cezary Wilk | 69 | CDM | POL | Real Zaragoza | Liga Adelante |
| Chris Wood | 69 | ST | NZL | Leeds United | FL Championsh.. |
| Chuli | 69 | ST | ESP | UD Almería | Liga BBVA |
| Chus Herrero | 69 | CB | ESP | UE Llagostera | Liga Adelante |
| Claudio Pérez | 69 | CB | ARG | Belgrano | Primera Divis.. |
| Cristian Ceballos | 69 | LW | ESP | Charlton Ath | FL Championsh.. |
| Cristiano Biraghi | 69 | LB | ITA | Inter | Serie A |
| Cuco Martina | 69 | RB | NEA | Southampton | Barclays PL |
| Daniel Larsson | 69 | ST | SWE | Gaziantepspor | Süper Lig |
| Dániel Tőzsér | 69 | CM | HUN | QPR | Barclays PL |
| Darío Burbano | 69 | LM | COL | Club León | LIGA Bancomer.. |
| Davide Di Gennaro | 69 | CAM | ITA | Cagliari | Serie A |
| Diego Novaretti | 69 | CB | ARG | Club León | LIGA Bancomer.. |
| Dimitris Diamantakos | 69 | ST | GRE | Karlsruher SC | Bundesliga 2 |
| Edgar Benítez | 69 | LW | PAR | Querétaro | LIGA Bancomer.. |
| Edimar | 69 | LB | BRA | Rio Ave FC | Liga Portugue.. |
| Edouard Duplan | 69 | RW | FRA | ADO Den Haag | Eredivisie |
| Edwin Hernández | 69 | LB | MEX | Guadalajara | LIGA Bancomer.. |
| Efraín Velarde | 69 | LB | MEX | Club León | LIGA Bancomer.. |
| Emiliano Sala | 69 | ST | ARG | FC Nantes | Ligue 1 |
| Enes Ünal | 69 | ST | TUR | Manchester City | Barclays PL |
| Enes Ünal | 69 | ST | TUR | KRC Genk | Pro League |
| Erik Morán | 69 | CM | ESP | Real Zaragoza | Liga Adelante |
| Ezequiel Rescaldani | 69 | ST | ARG | Puebla | LIGA Bancomer.. |
| Federico Viviani | 69 | CM | ITA | Hellas Verona | Serie A |
| Fernando Uribe | 69 | ST | COL | Toluca | LIGA Bancomer.. |
| Frédéric Sammaritano | 69 | CAM | FRA | Dijon FCO | Ligue 2 |
| Georgios Samaras | 69 | ST | GRE | Al-Hilal | ALJ League |
| Graeme Shinnie | 69 | LB | SCO | Aberdeen | Scottish Prem |
| Guido Marilungo | 69 | ST | ITA | Atalanta | Serie A |
| Hakan Özmert | 69 | CDM | TUR | Sivasspor | Süper Lig |
| Hasan Kabze | 69 | ST | TUR | Akhisarspor | Süper Lig |
| Heinrich Schmidtgal | 69 | LB | KAZ | FSV Frankfurt | Bundesliga 2 |
| Horacio Orzan | 69 | CM | ARG | Tigre | Primera Divis.. |
| Ivan Santini | 69 | ST | CRO | Standard Liège | Pro League |
| Jakub Kosecki | 69 | LM | POL | SV Sandhausen | Bundesliga 2 |
| Jens Wemmer | 69 | RB | GER | Panathinaikos | Hellas Liga |
| Jesper Drost | 69 | CAM | NED | FC Groningen | Eredivisie |
| John Brayford | 69 | RB | ENG | Sheffield Utd | Football Leag.. |
| Jonathan Delaplace | 69 | CM | FRA | SM Caen | Ligue 1 |
| Jonathan Pereira | 69 | ST | ESP | Villarreal CF | Liga BBVA |
| Juan Pablo Rodríguez | 69 | CDM | MEX | Monarcas | LIGA Bancomer.. |
| Julian Koch | 69 | CDM | GER | F. Düsseldorf | Bundesliga 2 |
| Kenneth Omeruo | 69 | CB | NIG | Chelsea | Barclays PL |
| Kenneth Omeruo | 69 | CB | NIG | Kasimpaşa SK | Süper Lig |
| Konstantinos Stafylidis | 69 | LB | GRE | Bayer 04 | Bundesliga |
| Konstantinos Stafylidis | 69 | LB | GRE | FC Augsburg | Bundesliga |
| Lee Keun Ho | 69 | ST | KOR | Jeonbuk FC | K LEAGUE |
| Lewis McGugan | 69 | CM | ENG | Sheffield Wed | FL Championsh.. |
| Luca Belingheri | 69 | CAM | ITA | Modena | Serie B |
| Lucas Aveldaño | 69 | CB | ARG | RCD Mallorca | Liga Adelante |
| Luciano Becchio | 69 | ST | ARG | Belgrano | Primera Divis.. |
| Luís Martins | 69 | LB | POR | CA Osasuna | Liga Adelante |
| Luis Valenzuela | 69 | CAM | CHI | CD Cobresal | Camp. Petrobr.. |
| Marcel de Jong | 69 | LB | CAN | Sporting KC | MLS |
| Marcelo Larrondo | 69 | ST | ARG | Tigre | Primera Divis.. |
| Marcelo Larrondo | 69 | ST | ARG | Rosario Ctral. | Primera Divis.. |
| Mario Vrancic | 69 | CM | BOS | Darmstadt | Bundesliga 2 |
| Markus Suttner | 69 | LB | AT | FC Ingolstadt | Bundesliga 2 |
| Mathias Autret | 69 | LW | FRA | RC Lens | Ligue 1 |
| Matías Cahais | 69 | CB | ARG | Indep. Medellín | Liga Postobó.. |
| Matias Vecino | 69 | CM | URU | Fiorentina | Serie A |
| Mike van Duinen | 69 | ST | NED | F. Düsseldorf | Bundesliga 2 |
| Mohamed Yattara | 69 | ST | GUI | Standard Liège | Pro League |
| Montoro | 69 | CM | ESP | UD Almería | Liga BBVA |
| Nicki Bille Nielsen | 69 | ST | DEN | Esbjerg fB | Superliga |
| Nicolas Benezet | 69 | LM | FRA | EA Guingamp | Ligue 1 |
| Norman Theuerkauf | 69 | CDM | GER | Heidenheim | Bundesliga 2 |
| Pau Cendrós | 69 | RB | ESP | CD Lugo | Liga Adelante |
| Paul Coutts | 69 | RM | SCO | Sheffield Utd | Football Leag.. |
| Peter Ankersen | 69 | RB | DEN | FC København | Superliga |
| Rafał Wolski | 69 | CAM | POL | Fiorentina | Serie A |
| Ramiro Funes Mori | 69 | CB | ARG | Everton | Barclays PL |
| Raphael Holzhauser | 69 | CM | AT | FK Austria | A. Bundesliga |
| Ricardo Noir | 69 | RW | ARG | Racing Club | Primera Divis.. |
| Richairo Živković | 69 | ST | NED | Willem II | Eredivisie |
| Riku Riski | 69 | LW | FIN | IFK Göteborg | Allsvenskan |
| Román Martínez | 69 | CM | ARG | Lanús | Primera Divis.. |
| Román Torres | 69 | CB | PAN | Sounders FC | MLS |
| Ronnie Schwartz | 69 | ST | DEN | Brøndby IF | Superliga |
| Ross Wallace | 69 | RM | SCO | Sheffield Wed | FL Championsh.. |
| Rubén Ramírez | 69 | ST | ARG | Quilmes | Primera Divis.. |
| Rúrik Gíslason | 69 | RM | ICE | 1. FC Nuremberg | Bundesliga 2 |
| Sandro Wagner | 69 | ST | GER | Darmstadt | Bundesliga 2 |
| Santi Mina | 69 | RW | ESP | Valencia CF | Liga BBVA |
| Sebastian Polter | 69 | ST | GER | QPR | Barclays PL |
| Sébastien Roudet | 69 | CM | FRA | Valenciennes FC | Ligue 2 |
| Sercan Sararer | 69 | RM | TUR | F. Düsseldorf | Bundesliga 2 |
| Sercan Yıldırım | 69 | RM | TUR | Bursaspor | Süper Lig |
| Sergio Tejera | 69 | CAM | ESP | RCD Espanyol | Liga BBVA |
| Sezer Özmen | 69 | CB | TUR | FC Metz | Ligue 1 |
| Stanislav Manolev | 69 | RB | BUL | Kuban Krasnodar | Russian Leagu.. |
| Stephan Fürstner | 69 | CDM | GER | Union Berlin | Bundesliga 2 |
| Stephen Dobbie | 69 | ST | SCO | Crystal Palace | Barclays PL |
| Stephen Dobbie | 69 | ST | SCO | Bolton | FL Championsh.. |
| Tom Carroll | 69 | CM | ENG | Spurs | Barclays PL |
| Vadillo | 69 | RM | ESP | Rayo Vallecano | Liga BBVA |
| Vincent Sasso | 69 | CB | FRA | Sheffield Wed | FL Championsh.. |
| Vitaliy Dyakov | 69 | CB | RUS | Dinamo Moskva | Russian Leagu.. |
| Waldo Ponce | 69 | CB | CHI | Uni. Concepción | Camp. Petrobr.. |
| Yaya Sanogo | 69 | ST | FRA | Ajax | Eredivisie |
| Yonathan Del Valle | 69 | LW | VEN | Kasimpaşa SK | Süper Lig |
| Abdul Rahman Baba | 68 | LB | GHA | Chelsea | Barclays PL |
| Adam Nemec | 68 | ST | SVK | NY City FC | MLS |
| Adnane Tighadouini | 68 | LM | MOR | Málaga CF | Liga BBVA |
| Aleandro Rosi | 68 | RM | ITA | Frosinone | Serie B |
| Alexander Szymanowski | 68 | LM | ARG | CD Leganés | Liga Adelante |
| Alexandr Kolomeytsev | 68 | LM | RUS | Lokomotiv | Russian Leagu.. |
| Andrea Belotti | 68 | ST | ITA | Torino | Serie A |
| Aniello Cutolo | 68 | RW | ITA | Chiavari | Serie B |
| Antonio Rozzi | 68 | RW | ITA | Lanciano | Serie B |
| Apostolos Vellios | 68 | ST | GRE | FC Vestsjælland | Superliga |
| Artur Yusupov | 68 | CDM | RUS | Zenit | Russian Leagu.. |
| Astrit Ajdarević | 68 | CM | SWE | Örebro SK | Allsvenskan |
| Birkir Bjarnason | 68 | LM | ICE | FC Basel | Raiffeisen SL |
| Brek Shea | 68 | LM | USA | Stoke City | Barclays PL |
| Brek Shea | 68 | LM | USA | Orlando City | MLS |
| Bruno Urribarri | 68 | LB | ARG | Atlético Rafael.. | Primera Divis.. |
| Carlos Ochoa | 68 | ST | MEX | Monarcas | LIGA Bancomer.. |
| Carpio | 68 | RB | ESP | Deport. Alavés | Liga Adelante |
| Cédric Bakambu | 68 | LM | FRA | Villarreal CF | Liga BBVA |
| Cédric Cambon | 68 | CB | FRA | Le Havre AC | Ligue 2 |
| César Delgado | 68 | CAM | ARG | Rosario Ctral. | Primera Divis.. |
| César Fuentes | 68 | CM | CHI | Uni. Católica | Camp. Petrobr.. |
| Christian Strohdiek | 68 | CB | GER | F. Düsseldorf | Bundesliga 2 |
| Craig Mackail-Smith | 68 | ST | SCO | Luton Town | Football Leag.. |
| Dani Schahin | 68 | ST | GER | FSV Frankfurt | Bundesliga 2 |
| Daniel Royer | 68 | LM | AT | FC Midtjylland | Superliga |
| Danny Latza | 68 | CM | GER | 1. FSV Mainz 05 | Bundesliga |
| Dario Del Fabro | 68 | CB | ITA | Cagliari | Serie A |
| Darius Henderson | 68 | ST | ENG | Scunthorpe Utd | Football Leag.. |
| Davide Zappacosta | 68 | RM | ITA | Torino | Serie A |
| Dedryck Boyata | 68 | RB | BEL | Celtic | Scottish Prem |
| Diego Fabbrini | 68 | CF | ITA | Middlesbrough | FL Championsh.. |
| Dominique Heintz | 68 | CB | GER | 1. FC Köln | Bundesliga |
| Duško Tošić | 68 | CB | SRB | Beşiktaş JK | Süper Lig |
| Edgar Castillo | 68 | LB | USA | Monterrey | LIGA Bancomer.. |
| Edgar Salli | 68 | LM | CAM | FC St. Gallen | Raiffeisen SL |
| Elias Kachunga | 68 | ST | GER | FC Ingolstadt | Bundesliga 2 |
| Enrique Pérez | 68 | RB | MEX | Monarcas | LIGA Bancomer.. |
| Enzo Gutiérrez | 68 | ST | ARG | CD Palestino | Camp. Petrobr.. |
| Enzo Gutiérrez | 68 | ST | ARG | CD Palestino | Camp. Petrobr.. |
| Erik Falkenburg | 68 | CAM | NED | Willem II | Eredivisie |
| Evaldo | 68 | LB | BRA | Moreirense | Liga Portugue.. |
| Fedor Smolov | 68 | ST | RUS | FC Krasnodar | Russian Leagu.. |
| Fernando Aristeguieta | 68 | ST | VEN | Getafe CF | Liga BBVA |
| Fidel Martínez | 68 | ST | ECU | U.N.A.M. | LIGA Bancomer.. |
| Filipe Gonçalves | 68 | CM | POR | Moreirense | Liga Portugue.. |
| Francisco Rodriguez | 68 | RM | SUI | VfL Wolfsburg | Bundesliga |
| Fredrik Semb Berge | 68 | CB | NOR | Molde FK | Tippeligaen |
| Funso Ojo | 68 | CM | BEL | Willem II | Eredivisie |
| Gabriel Tamaş | 68 | CB | ROM | Cardiff City | FL Championsh.. |
| Gary Gardner | 68 | CM | ENG | Aston Villa | Barclays PL |
| Geoffrey Malfleury | 68 | ST | FRA | Tours FC | Ligue 2 |
| Gianni Munari | 68 | CM | ITA | Cagliari | Serie A |
| Gonzalo Zárate | 68 | RM | ARG | FC Thun | Raiffeisen SL |
| Granddi Ngoyi | 68 | CDM | DRC | Dijon FCO | Ligue 2 |
| Grimaldo | 68 | LB | ESP | FC Barcelona | Liga BBVA |
| György Garics | 68 | RB | AT | Darmstadt | Bundesliga 2 |
| Hakan Arslan | 68 | CAM | TUR | Kasimpaşa SK | Süper Lig |
| Héctor Rodas | 68 | CB | ESP | Córdoba CF | Liga BBVA |
| Herculez Gomez | 68 | ST | USA | Toronto FC | MLS |
| Hernán Pellerano | 68 | CB | ARG | Independiente | Primera Divis.. |
| Iain Vigurs | 68 | CM | SCO | Inverness CT | Scottish Prem |
| Iuri Medeiros | 68 | LW | POR | Arouca | Liga Portugue.. |
| Iuri Medeiros | 68 | RW | POR | Moreirense | Liga Portugue.. |
| Ivan Obradović | 68 | LWB | SRB | RSC Anderlecht | Pro League |
| Jack McInerney | 68 | ST | USA | Columbus Crew | MLS |
| Jamie Mackie | 68 | RM | SCO | QPR | Barclays PL |
| Jamie Mackie | 68 | RM | SCO | Nott'm Forest | FL Championsh.. |
| Jérémy Choplin | 68 | CB | FRA | Cham. Niortais | Ligue 2 |
| Joan Oriol | 68 | LB | ESP | RCD Mallorca | Liga Adelante |
| Joe Corona | 68 | CM | USA | Veracruz | LIGA Bancomer.. |
| Joël Sami | 68 | CB | DRC | Zulte-Waregem | Pro League |
| John Sutton | 68 | ST | ENG | St. Johnstone | Scottish Prem |
| Jonathan Tah | 68 | CB | GER | Bayer 04 | Bundesliga |
| Jorge Zárate | 68 | LM | MEX | Atlas | LIGA Bancomer.. |
| José María Cárdenas | 68 | LM | MEX | Tijuana | LIGA Bancomer.. |
| Juanmi | 68 | CAM | ESP | Southampton | Barclays PL |
| Junior Tallo | 68 | ST | IVC | LOSC Lille | Ligue 1 |
| Kevin McNaughton | 68 | RB | SCO | Wigan Athletic | FL Championsh.. |
| Lars Veldwijk | 68 | ST | NED | PEC Zwolle | Eredivisie |
| Lasse Vibe | 68 | ST | DEN | Brentford | FL Championsh.. |
| Leonardo Valencia | 68 | CAM | CHI | Uni. de Chile | Camp. Petrobr.. |
| Leonardo Valencia | 68 | CAM | CHI | Uni. de Chile | Camp. Petrobr.. |
| Ludovic Baal | 68 | LB | FRA | Stade Rennais | Ligue 1 |
| Luis Carlos Arias | 68 | LM | COL | Indep. Medellín | Liga Postobó.. |
| Luis Pérez | 68 | CDM | MEX | Monterrey | LIGA Bancomer.. |
| Luis Silva | 68 | CAM | USA | Real Salt Lake | MLS |
| Magnus Eriksson | 68 | ST | SWE | Brøndby IF | Superliga |
| Maikel Kieftenbeld | 68 | CDM | NED | Birmingham City | FL Championsh.. |
| Marcelo Silva | 68 | CB | URU | Real Valladolid | Liga Adelante |
| Marcus Pedersen | 68 | ST | NOR | Strømsgodset IF | Tippeligaen |
| Mariano Pavone | 68 | ST | ARG | Racing Club | Primera Divis.. |
| Marten de Roon | 68 | CDM | NED | Atalanta | Serie A |
| Martín Arzuaga | 68 | ST | COL | Al. Petrolera | Liga Postobó.. |
| Martin Lorentzson | 68 | RB | SWE | Åtvidabergs FF | Allsvenskan |
| Martín Rodríguez | 68 | LW | CHI | Colo-Colo | Camp. Petrobr.. |
| Martín Rodríguez | 68 | LW | CHI | Colo-Colo | Camp. Petrobr.. |
| Martyn Woolford | 68 | LM | ENG | Sheffield Utd | Football Leag.. |
| Mathías Vidangossy | 68 | LW | CHI | CD Palestino | Camp. Petrobr.. |
| Matthew Mills | 68 | CB | ENG | Nott'm Forest | FL Championsh.. |
| Maxime Colin | 68 | RB | FRA | Brentford | FL Championsh.. |
| Michael Jacobs | 68 | LM | ENG | Wigan Athletic | FL Championsh.. |
| Michail Antonio | 68 | LM | ENG | West Ham | Barclays PL |
| Mikkel Thygesen | 68 | CM | DEN | Randers FC | Superliga |
| Mirko Valdifiori | 68 | CDM | ITA | Napoli | Serie A |
| Mohamed El Makrini | 68 | CDM | NED | Odense Boldklub | Superliga |
| Mora | 68 | CM | ESP | Deport. Alavés | Liga Adelante |
| Moussa Kone | 68 | CM | IVC | Cesena | Serie A |
| Muhamed Keita | 68 | LM | NOR | Stabæk Fotball | Tippeligaen |
| Nadir Çiftçi | 68 | ST | TUR | Celtic | Scottish Prem |
| Nassim Ben Khalifa | 68 | CF | SUI | Eskişehirspor | Süper Lig |
| Nathaniel Chalobah | 68 | CM | ENG | Chelsea | Barclays PL |
| Niklas Stark | 68 | CDM | GER | Hertha BSC | Bundesliga |
| Óscar Díaz | 68 | ST | ESP | CD Numancia | Liga Adelante |
| Pasquale Schiattarella | 68 | CM | ITA | Latina | Serie B |
| Paul Konchesky | 68 | LB | ENG | QPR | Barclays PL |
| Pavel Pogrebnyak | 68 | ST | RUS | Dinamo Moskva | Russian Leagu.. |
| Pedro Muñoz | 68 | RW | CHI | CD O'Higgins | Camp. Petrobr.. |
| Philipp Hofmann | 68 | ST | GER | Brentford | FL Championsh.. |
| Radosław Majewski | 68 | CAM | POL | Nott'm Forest | FL Championsh.. |
| Rasmus Thelander | 68 | CB | DEN | Panathinaikos | Hellas Liga |
| Rodnei | 68 | CB | BRA | 1860 Munich | Bundesliga 2 |
| Rodolfo Salinas | 68 | CM | MEX | Atlas | LIGA Bancomer.. |
| Rodrigo Ely | 68 | CB | ITA | Milan | Serie A |
| Ronald Zubar | 68 | CB | FRA | NY Red Bulls | MLS |
| Ruben Ligeon | 68 | RB | NED | Willem II | Eredivisie |
| Ruben Ligeon | 68 | RB | NED | NAC Breda | Eredivisie |
| Rudy Gestede | 68 | ST | BEN | Aston Villa | Barclays PL |
| Ryan Fraser | 68 | LM | SCO | Ipswich Town | FL Championsh.. |
| Sammy Ameobi | 68 | LM | NIG | Cardiff City | FL Championsh.. |
| Samuele Longo | 68 | ST | ITA | Inter | Serie A |
| Samuele Longo | 68 | ST | ITA | Frosinone | Serie B |
| Santiago Tréllez | 68 | ST | COL | Arsenal | Primera Divis.. |
| Scott McDonald | 68 | CAM | AUS | Motherwell | Scottish Prem |
| Simon Poulsen | 68 | LB | DEN | PSV | Eredivisie |
| Sloan Privat | 68 | ST | FRA | EA Guingamp | Ligue 1 |
| Steeven Joseph-Monrose | 68 | LM | FRA | Stade Brest | Ligue 2 |
| Steeven Langil | 68 | LM | FRA | Waasl.-Beveren | Pro League |
| Stefan Ilsanker | 68 | CDM | AT | RB Leipzig | Bundesliga 2 |
| Stephen Quinn | 68 | CM | IRL | Reading | FL Championsh.. |
| Steve Morison | 68 | ST | WAL | Millwall | FL Championsh.. |
| Sylvester Igboun | 68 | LM | NIG | FC Ufa | Russian Leagu.. |
| Teddy Chevalier | 68 | ST | FRA | Çaykur Rizespor | Süper Lig |
| Tiago Gomes | 68 | LB | POR | FC Metz | Ligue 1 |
| Tiago Valente | 68 | CB | POR | Penafiel | Liga Portugue.. |
| Tim Ream | 68 | LB | USA | Fulham | FL Championsh.. |
| Tom Cairney | 68 | RM | SCO | Fulham | FL Championsh.. |
| Tomasz Podgórski | 68 | RM | POL | Ruch Chorzów | Ekstraklasa |
| Uwe Hünemeier | 68 | CB | GER | Brighton | FL Championsh.. |
| Vladimir Marín | 68 | LB | COL | Itagüí | Liga Postobó.. |
| Wallace | 68 | RB | BRA | Carpi | Serie B |
| Willi Orban | 68 | CB | GER | RB Leipzig | Bundesliga 2 |
| Xisco | 68 | ST | ESP | RCD Mallorca | Liga Adelante |
| Yacouba Sylla | 68 | CM | MAL | Stade Rennais | Ligue 1 |
| Yannis Salibur | 68 | LW | FRA | EA Guingamp | Ligue 1 |
| Yaşin Pehlivan | 68 | CDM | AT | RB Salzburg | A. Bundesliga |
| Yerson Opazo | 68 | RB | CHI | CD Huachipato | Camp. Petrobr.. |
| Yoni Buyens | 68 | CM | BEL | KRC Genk | Pro League |
| Adrian Nikci | 67 | LM | SUI | Union Berlin | Bundesliga 2 |
| Alan Dunne | 67 | CB | IRL | Leyton Orient | Football Leag.. |
| Alejandro López | 67 | LB | ARG | CD Cobresal | Camp. Petrobr.. |
| Alex Baptiste | 67 | RB | ENG | Middlesbrough | FL Championsh.. |
| Alex Baptiste | 67 | RB | ENG | Bolton | FL Championsh.. |
| Alex Díaz | 67 | LB | COL | Deportivo Pasto | Liga Postobó.. |
| Alexandr Prudnikov | 67 | ST | RUS | Amkar Perm | Russian Leagu.. |
| Alpaslan Öztürk | 67 | CDM | TUR | Eskişehirspor | Süper Lig |
| Álvaro Antón | 67 | CAM | ESP | SD Ponferradina | Liga Adelante |
| Alyaksandr Martynovich | 67 | CB | BEL | FC Ural | Russian Leagu.. |
| Amin Younes | 67 | CAM | GER | Ajax | Eredivisie |
| André Claro | 67 | LW | POR | Vitória FC | Liga Portugue.. |
| André Micael | 67 | CB | POR | Moreirense | Liga Portugue.. |
| Aníbal Capela | 67 | CB | POR | Rio Ave FC | Liga Portugue.. |
| Ante Vukušić | 67 | ST | CRO | Pescara | Serie B |
| Anthony Lippini | 67 | RB | FRA | AC Ajaccio | Ligue 2 |
| Avilés Hurtado | 67 | LM | COL | Chiapas | LIGA Bancomer.. |
| Bart Schenkeveld | 67 | CB | NED | PEC Zwolle | Eredivisie |
| Bigas | 67 | CB | ESP | UD Las Palmas | Liga Adelante |
| Bjørn Helge Riise | 67 | RB | NOR | Aalesunds FK | Tippeligaen |
| Brecht Capon | 67 | RB | BEL | KV Oostende | Pro League |
| César Fawcett | 67 | LB | COL | Uniautónoma FC | Liga Postobó.. |
| Cheikh Ndoye | 67 | CDM | SEN | Angers SCO | Ligue 2 |
| Cho Chan Ho | 67 | RW | KOR | Suwon Bluewings | K LEAGUE |
| Choi Jae Soo | 67 | LB | KOR | Pohang Steelers | K LEAGUE |
| Christophe Lepoint | 67 | CAM | BEL | Zulte-Waregem | Pro League |
| Collantes | 67 | RW | ESP | AD Alcorcón | Liga Adelante |
| Conor Sammon | 67 | ST | IRL | Derby County | FL Championsh.. |
| Conor Sammon | 67 | ST | IRL | Sheffield Utd | Football Leag.. |
| Craig Davies | 67 | ST | WAL | Wigan Athletic | FL Championsh.. |
| Craig Davies | 67 | ST | WAL | Wigan Athletic | FL Championsh.. |
| Crespo | 67 | CB | ESP | Aston Villa | Barclays PL |
| David Dunn | 67 | CAM | ENG | Oldham Athletic | Football Leag.. |
| David Perkins | 67 | CM | ENG | Wigan Athletic | FL Championsh.. |
| David Toledo | 67 | CM | MEX | Puebla | LIGA Bancomer.. |
| Davie Selke | 67 | ST | GER | RB Leipzig | Bundesliga 2 |
| Diego de Buen | 67 | CM | MEX | Tijuana | LIGA Bancomer.. |
| Edward Ofere | 67 | ST | NIG | Inverness CT | Scottish Prem |
| Elseid Hysaj | 67 | RB | ALB | Napoli | Serie A |
| Emmanuel Ledesma | 67 | RM | ARG | Rotherham Utd | FL Championsh.. |
| Erik Johansson | 67 | CB | SWE | KAA Gent | Pro League |
| Evgeniy Shipitsin | 67 | CM | RUS | Mordovia Saransk | Russian Leagu.. |
| Gaëtan Courtet | 67 | ST | FRA | AJ Auxerre | Ligue 2 |
| Gaëtan Courtet | 67 | ST | FRA | Stade Brest | Ligue 2 |
| George John | 67 | CB | USA | NY City FC | MLS |
| Germán Pezzella | 67 | CB | ARG | Real Betis | Liga Adelante |
| Gevorg Ghazaryan | 67 | LM | ARM | C. Funchal | Liga Portugue.. |
| Gonzalo Villagra | 67 | CM | CHI | CD Antofagasta | Camp. Petrobr.. |
| Guillermo | 67 | ST | ESP | CD Leganés | Liga Adelante |
| Hernâni | 67 | RW | CVI | Olympiakos CFP | Hellas Liga |
| Hubert Wołąkiewicz | 67 | CB | POL | Cracovia Kraków | Ekstraklasa |
| Ilijan Micanski | 67 | ST | BUL | Suwon Bluewings | K LEAGUE |
| Jack Hunt | 67 | RB | ENG | Sheffield Wed | FL Championsh.. |
| Jacques Maghoma | 67 | LM | DRC | Birmingham City | FL Championsh.. |
| Jamaal Lascelles | 67 | CB | ENG | Newcastle Utd | Barclays PL |
| Jang Hak Young | 67 | LB | KOR | Seongnam Ilhwa | K LEAGUE |
| Jason Davidson | 67 | LB | AUS | Huddersfield | FL Championsh.. |
| Javi Álamo | 67 | RM | ESP | Girona CF | Liga Adelante |
| Javier Reina | 67 | CAM | COL | Seongnam Ilhwa | K LEAGUE |
| Jay Emmanuel-Thomas | 67 | ST | ENG | QPR | Barclays PL |
| Jean-Jacques Pierre | 67 | CB | HAI | Tours FC | Ligue 2 |
| Jhon Freddy Pajoy | 67 | LM | COL | Indep. Medellín | Liga Postobó.. |
| João Vilela | 67 | CM | POR | Belém | Liga Portugue.. |
| Jordon Ibe | 67 | LM | ENG | Liverpool | Barclays PL |
| José Valencia | 67 | ST | COL | Independiente | Primera Divis.. |
| Joshua King | 67 | LM | NOR | Bournemouth | FL Championsh.. |
| Kacper Przybyłko | 67 | ST | POL | 1. FC K'lautern | Bundesliga 2 |
| Kallum Higginbotham | 67 | RM | ENG | Kilmarnock | Scottish Prem |
| Kallum Higginbotham | 67 | RM | ENG | Kilmarnock | Scottish Prem |
| Kevin Stöger | 67 | LM | AT | SC Paderborn | Bundesliga |
| Konstantin Vassiljev | 67 | CM | EST | Jag. Białystok | Ekstraklasa |
| Lee Peltier | 67 | RB | ENG | Cardiff City | FL Championsh.. |
| Lee Tomlin | 67 | CAM | ENG | Bournemouth | FL Championsh.. |
| Leon Best | 67 | ST | IRL | Blackburn Rvrs | FL Championsh.. |
| Liam Rosenior | 67 | RB | ENG | Brighton | FL Championsh.. |
| Loris Benito | 67 | LB | SUI | BSC Young Boys | Raiffeisen SL |
| Lucas João | 67 | ST | POR | Sheffield Wed | FL Championsh.. |
| Luis Advíncula | 67 | RW | PER | Bursaspor | Süper Lig |
| Mandla Masango | 67 | RM | SAF | Randers FC | Superliga |
| Marc Crosas | 67 | CM | ESP | Cruz Azul | LIGA Bancomer.. |
| Marcel Ndjeng | 67 | RB | CAM | SC Paderborn | Bundesliga |
| Mario Lemina | 67 | CDM | FRA | Juventus | Serie A |
| Mark Uth | 67 | ST | GER | 1899 Hoffenheim | Bundesliga |
| Massimo Volta | 67 | CB | ITA | Perugia | Serie B |
| Matteo Politano | 67 | RW | ITA | Sassuolo | Serie A |
| Mattia Valoti | 67 | CAM | ITA | Pescara | Serie B |
| Michael Lang | 67 | RB | SUI | FC Basel | Raiffeisen SL |
| Michał Pazdan | 67 | CB | POL | Legia Warszawa | Ekstraklasa |
| Michał Pazdan | 67 | CB | POL | Legia Warszawa | Ekstraklasa |
| Mikhail Rosheuvel | 67 | RW | NED | SC Cambuur | Eredivisie |
| Mirko Eramo | 67 | CM | ITA | Trapani | Serie B |
| Mohamed Fatau | 67 | CDM | GHA | UD Almería | Liga BBVA |
| Morcillo | 67 | CB | ESP | UD Almería | Liga BBVA |
| Nathan Aké | 67 | LB | NED | Watford | FL Championsh.. |
| Nathan Delfouneso | 67 | ST | ENG | Blackburn Rvrs | FL Championsh.. |
| Neeskens Kebano | 67 | CAM | FRA | KRC Genk | Pro League |
| Nick van der Velden | 67 | RW | NED | Willem II | Eredivisie |
| Nika Dzalamidze | 67 | RM | GEO | Çaykur Rizespor | Süper Lig |
| Nono | 67 | CM | ESP | Elche CF | Liga BBVA |
| Nzuzi Toko | 67 | CDM | SUI | Eskişehirspor | Süper Lig |
| Ólafur Skúlason | 67 | CDM | ICE | Gençlerbirliği | Süper Lig |
| Omar Arellano | 67 | RW | MEX | Toluca | LIGA Bancomer.. |
| Oswaldo Alanís | 67 | CB | MEX | Guadalajara | LIGA Bancomer.. |
| Patrick Roberts | 67 | RM | ENG | Manchester City | Barclays PL |
| Patrick Ziegler | 67 | CDM | GER | 1. FC K'lautern | Bundesliga 2 |
| Paul Anderson | 67 | RM | ENG | Bradford City | Football Leag.. |
| Pedrinho | 67 | RB | POR | Rio Ave FC | Liga Portugue.. |
| Raman Chibsah | 67 | CM | GHA | Frosinone | Serie B |
| Reinhold Yabo | 67 | CM | GER | RB Salzburg | A. Bundesliga |
| Robert Berić | 67 | ST | SVN | Saint-Etienne | Ligue 1 |
| Robert Hall | 67 | LM | ENG | MK Dons | Football Leag.. |
| Rodrigo Salinas | 67 | RB | MEX | Tijuana | LIGA Bancomer.. |
| Ronny Philp | 67 | RB | ROM | Heidenheim | Bundesliga 2 |
| Ruiz de Galarreta | 67 | CAM | ESP | CD Leganés | Liga Adelante |
| Ryo Miyaichi | 67 | LW | JAP | FC St. Pauli | Bundesliga 2 |
| Salvatore Molina | 67 | RM | ITA | Cesena | Serie A |
| Sebastian Schachten | 67 | RB | GER | FC Luzern | Raiffeisen SL |
| Sergio Rodríguez | 67 | CAM | ESP | AD Alcorcón | Liga Adelante |
| Steven Davies | 67 | ST | ENG | Bradford City | Football Leag.. |
| Tefu Mashamaite | 67 | CB | SAF | BK Häcken | Allsvenskan |
| Thomas Dalgaard | 67 | ST | DEN | SønderjyskE | Superliga |
| Tom Beugelsdijk | 67 | CB | NED | ADO Den Haag | Eredivisie |
| Ulises Dávila | 67 | CAM | MEX | Vitória FC | Liga Portugue.. |
| Urko Vera | 67 | ST | ESP | Jeonbuk FC | K LEAGUE |
| Víctor Hugo Montaño | 67 | ST | COL | Toluca | LIGA Bancomer.. |
| Wesley Verhoek | 67 | RW | NED | Go Ahead Eagles | Eredivisie |
| Xander Houtkoop | 67 | LW | NED | SC Cambuur | Eredivisie |
| Yassine Jebbour | 67 | RB | MOR | SC Bastia | Ligue 1 |
| Zakarya Bergdich | 67 | LM | MOR | Charlton Ath | FL Championsh.. |
| Abdulrahim Jizawi | 66 | LM | SAR | Al-Ittihad | ALJ League |
| Abel Tamata | 66 | LB | NED | FC Groningen | Eredivisie |
| Adriá Carmona | 66 | LM | ESP | Albacete | Liga Adelante |
| Alexandr Salugin | 66 | ST | RUS | Amkar Perm | Russian Leagu.. |
| Alexis Zapata | 66 | CAM | COL | Perugia | Serie B |
| Alfred Duncan | 66 | CM | GHA | Sassuolo | Serie A |
| Amido Baldé | 66 | ST | POR | FC Metz | Ligue 1 |
| Amidu Salifu | 66 | CM | GHA | Perugia | Serie B |
| Anders Jacobsen | 66 | ST | DEN | Odense Boldklub | Superliga |
| Andrew Taylor | 66 | LB | ENG | Reading | FL Championsh.. |
| Andy Butler | 66 | CB | ENG | Sheffield Utd | Football Leag.. |
| Aníbal Zurdo | 66 | ST | MEX | Veracruz | LIGA Bancomer.. |
| Aníbal Zurdo | 66 | ST | MEX | Sabadell FC | Liga Adelante |
| Arvydas Novikovas | 66 | LM | LTU | VfL Bochum | Bundesliga 2 |
| Ashley Richards | 66 | RB | WAL | Fulham | FL Championsh.. |
| Bengali-Fodé Koïta | 66 | RW | FRA | Blackburn Rvrs | FL Championsh.. |
| Benjamin Kessel | 66 | RB | GER | Union Berlin | Bundesliga 2 |
| Bilal Ould-Chikh | 66 | RW | NED | SL Benfica | Liga Portugue.. |
| Bouna Sarr | 66 | RM | FRA | Marseille | Ligue 1 |
| Brett Pitman | 66 | ST | ENG | Ipswich Town | FL Championsh.. |
| Carlos Guzmán | 66 | RWB | MEX | Tijuana | LIGA Bancomer.. |
| Cédric D'Ulivo | 66 | RB | FRA | Zulte-Waregem | Pro League |
| Chris Maguire | 66 | RM | SCO | Rotherham Utd | FL Championsh.. |
| Christian Bermúdez | 66 | CAM | MEX | Puebla | LIGA Bancomer.. |
| Córcoles | 66 | RB | ESP | Albacete | Liga Adelante |
| Cristian Battocchio | 66 | CM | ITA | Watford | FL Championsh.. |
| Cristian Battocchio | 66 | CM | ITA | Stade Brest | Ligue 2 |
| Dalibor Stevanovič | 66 | CDM | SVN | Mordovia Saransk | Russian Leagu.. |
| Danny Collins | 66 | CB | WAL | Rotherham Utd | FL Championsh.. |
| Danny Pugh | 66 | LWB | ENG | Bury | Football Leag.. |
| Danny Ward | 66 | ST | ENG | Rotherham Utd | FL Championsh.. |
| David Mooney | 66 | ST | IRL | Southend United | Football Leag.. |
| David Mooney | 66 | ST | IRL | Southend United | Football Leag.. |
| Dennis Daube | 66 | CM | GER | Union Berlin | Bundesliga 2 |
| Deyverson | 66 | ST | BRA | Levante UD | Liga BBVA |
| Diego Amaya | 66 | CB | COL | Atlético Huila | Liga Postobó.. |
| Diego Silva | 66 | CB | CHI | CD Cobresal | Camp. Petrobr.. |
| Dieter Villalpando | 66 | CAM | MEX | Monarcas | LIGA Bancomer.. |
| Dieter Villalpando | 66 | CAM | MEX | Tigres | LIGA Bancomer.. |
| Dimas | 66 | CDM | ESP | Wanderers | A-League |
| Dossa Júnior | 66 | CB | CYP | Konyaspor | Süper Lig |
| Edgar Ié | 66 | CB | POR | FC Barcelona | Liga BBVA |
| Edwards Jiménez | 66 | ST | COL | Deportivo Pasto | Liga Postobó.. |
| Eisner Loboa | 66 | RM | COL | Atlas | LIGA Bancomer.. |
| Enzo Réale | 66 | CM | FRA | AC Arles | Ligue 2 |
| Erdem Özgenç | 66 | RB | TUR | Bursaspor | Süper Lig |
| Erick Pulgar | 66 | CB | CHI | Bologna | Serie B |
| Etiënne Reijnen | 66 | CB | NED | FC Groningen | Eredivisie |
| Federico Piovaccari | 66 | ST | ITA | Wanderers | A-League |
| Felipe Flores | 66 | LW | CHI | Tijuana | LIGA Bancomer.. |
| Francesco Fedato | 66 | LW | ITA | Modena | Serie B |
| Francesco Fedato | 66 | LW | ITA | Livorno | Serie B |
| Gary Roberts | 66 | CAM | ENG | Portsmouth | Football Leag.. |
| Gaston Brugman | 66 | CM | URU | Palermo | Serie A |
| Gerard Moreno | 66 | ST | ESP | RCD Espanyol | Liga BBVA |
| Gerardo Venegas | 66 | CB | MEX | Chiapas | LIGA Bancomer.. |
| Gökhan Süzen | 66 | LM | TUR | Gaziantepspor | Süper Lig |
| Guillermo Fernández | 66 | RM | ARG | Boca Juniors | Primera Divis.. |
| Guillermo Fernández | 66 | RM | ARG | Godoy Cruz | Primera Divis.. |
| Halil Çolak | 66 | RM | TUR | Akhisarspor | Süper Lig |
| Hamad Al Hamad | 66 | LM | SAR | Al-Raed | ALJ League |
| Henri Anier | 66 | ST | EST | Dundee United | Scottish Prem |
| Ignacio Lores Varela | 66 | LW | URU | Vicenza | Serie B |
| Issiaga Sylla | 66 | LM | GUI | GFC Ajaccio | Ligue 2 |
| Iván Bella | 66 | LM | ARG | Vélez Sarsfield | Primera Divis.. |
| Jacques Zoua | 66 | ST | CAM | Hamburger SV | Bundesliga |
| Jacques Zoua | 66 | ST | CAM | GFC Ajaccio | Ligue 2 |
| Jamie Murphy | 66 | LM | SCO | Brighton | FL Championsh.. |
| Jamie Ness | 66 | CM | SCO | Stoke City | Barclays PL |
| Jamie Ness | 66 | CM | SCO | Scunthorpe Utd | Football Leag.. |
| Joan Román | 66 | LW | ESP | SC Braga | Liga Portugue.. |
| Joe Bennett | 66 | LB | ENG | Aston Villa | Barclays PL |
| Joe Mason | 66 | ST | IRL | Cardiff City | FL Championsh.. |
| Josh Wright | 66 | CM | ENG | Gillingham | Football Leag.. |
| Juan Carlos | 66 | CAM | ESP | CD Tenerife | Liga Adelante |
| Juan Ignacio Duma | 66 | ST | ARG | CD Huachipato | Camp. Petrobr.. |
| Juanan | 66 | CB | ESP | CD Leganés | Liga Adelante |
| Keith Treacy | 66 | LM | IRL | Drogheda Utd | Airtricity Le.. |
| Kevin Harbottle | 66 | ST | CHI | Unión Española | Camp. Petrobr.. |
| Kiko Olivas | 66 | CB | ESP | Girona CF | Liga Adelante |
| Konstantin Bazelyuk | 66 | ST | RUS | Kuban Krasnodar | Russian Leagu.. |
| Lee Novak | 66 | LM | ENG | Chesterfield | Football Leag.. |
| Leon Clarke | 66 | ST | ENG | Bury | Football Leag.. |
| Leonardo | 66 | CAM | BRA | Newcastle Jets | A-League |
| Lionel Carole | 66 | LB | FRA | Galatasaray SK | Süper Lig |
| Llorente | 66 | CB | ESP | Rayo Vallecano | Liga BBVA |
| Lucas Porcar | 66 | CAM | ESP | RCD Espanyol | Liga BBVA |
| Lucas Silva | 66 | CAM | BRA | Cruz Azul | LIGA Bancomer.. |
| Luciano Fabián Monzón | 66 | LB | ARG | Boca Juniors | Primera Divis.. |
| Magne Hoseth | 66 | CM | NOR | Aalesunds FK | Tippeligaen |
| Maikel van der Werff | 66 | CB | NED | Vitesse | Eredivisie |
| Manuel Pamić | 66 | LB | CRO | Frosinone | Serie B |
| Mark O'Brien | 66 | CB | IRL | Derby County | FL Championsh.. |
| Mark O'Brien | 66 | CB | IRL | Luton Town | Football Leag.. |
| Martijn van der Laan | 66 | CB | NED | SC Cambuur | Eredivisie |
| Marvin Pourié | 66 | ST | GER | FC Ufa | Russian Leagu.. |
| Matthew Briggs | 66 | LB | ENG | Colchester | Football Leag.. |
| Matthías Vilhjálmsson | 66 | ST | ICE | Rosenborg BK | Tippeligaen |
| Michael Orozco | 66 | CB | USA | Tijuana | LIGA Bancomer.. |
| Michael Orozco | 66 | RB | USA | Chiapas | LIGA Bancomer.. |
| Michael Orozco | 66 | RB | USA | Tijuana | LIGA Bancomer.. |
| Michelangelo Albertazzi | 66 | LB | ITA | Hellas Verona | Serie A |
| Michiel Kramer | 66 | ST | NED | Feyenoord | Eredivisie |
| Miquel | 66 | CB | ESP | SD Ponferradina | Liga Adelante |
| Mitchell Dijks | 66 | LB | NED | Ajax | Eredivisie |
| Mitchell te Vrede | 66 | ST | NED | sc Heerenveen | Eredivisie |
| Mitchell Weiser | 66 | RM | GER | Hertha BSC | Bundesliga |
| Mohamed Bangura | 66 | ST | SLN | AIK Fotboll | Allsvenskan |
| Moryke Fofana | 66 | LM | IVC | FC Lorient | Ligue 1 |
| Mouhamadou Diaw | 66 | CDM | SEN | AJ Auxerre | Ligue 2 |
| Moussa Konaté | 66 | ST | SEN | FC Sion | Raiffeisen SL |
| Nam Jun Jae | 66 | LW | KOR | Seongnam Ilhwa | K LEAGUE |
| Niccolò Giannetti | 66 | ST | ITA | Cagliari | Serie A |
| Nicolás Tagliafico | 66 | LB | ARG | Independiente | Primera Divis.. |
| Nicolas Verdier | 66 | ST | FRA | KV Mechelen | Pro League |
| Nikola Petković | 66 | CB | SRB | KVC Westerlo | Pro League |
| Omar Mascarell | 66 | CDM | ESP | Sporting Gijón | Liga Adelante |
| Omer Damari | 66 | ST | ISR | RB Salzburg | A. Bundesliga |
| Oscar Lewicki | 66 | CDM | SWE | Malmö FF | Allsvenskan |
| Paolo Sammarco | 66 | CM | ITA | Frosinone | Serie B |
| Pape Maly Diamanka | 66 | CDM | SEN | Real Zaragoza | Liga Adelante |
| Patricio Araujo | 66 | CB | MEX | Puebla | LIGA Bancomer.. |
| Patrick Bauer | 66 | CB | GER | Charlton Ath | FL Championsh.. |
| Paul McShane | 66 | CB | IRL | Reading | FL Championsh.. |
| Péter Kovács | 66 | ST | HUN | Sarpsborg | Tippeligaen |
| Peter van Ooijen | 66 | CM | NED | Heracles Almelo | Eredivisie |
| Philipp Zulechner | 66 | ST | AT | FK Austria | A. Bundesliga |
| Quincy Amarikwa | 66 | ST | USA | SJ Earthquakes | MLS |
| Rachid Alioui | 66 | ST | FRA | Stade Lavallois | Ligue 2 |
| Raffaele Maiello | 66 | CM | ITA | Empoli | Serie A |
| Richard Chaplow | 66 | CM | ENG | Doncaster | Football Leag.. |
| Richard Chaplow | 66 | CM | ENG | Doncaster | Football Leag.. |
| Rodrigues | 66 | LM | CVI | PAOK | Hellas Liga |
| Romain Brégerie | 66 | CB | FRA | FC Ingolstadt | Bundesliga 2 |
| Romain Vincelot | 66 | CM | FRA | Coventry City | Football Leag.. |
| Rouwen Hennings | 66 | ST | GER | Burnley | Barclays PL |
| Sean Murray | 66 | CM | IRL | Wigan Athletic | FL Championsh.. |
| Sergio Nápoles | 66 | LM | MEX | Toluca | LIGA Bancomer.. |
| Simon Gustafson | 66 | CAM | SWE | Feyenoord | Eredivisie |
| Simon Lundevall | 66 | RM | SWE | IF Elfsborg | Allsvenskan |
| Simone Verdi | 66 | CAM | ITA | Milan | Serie A |
| Simone Verdi | 66 | CAM | ITA | SD Eibar | Liga BBVA |
| Sjoerd Overgoor | 66 | CDM | NED | SC Cambuur | Eredivisie |
| Stefan Strandberg | 66 | CB | NOR | FC Krasnodar | Russian Leagu.. |
| Stefan Thesker | 66 | CB | GER | Greuther Fürth | Bundesliga 2 |
| Thomas Pledl | 66 | LM | GER | FC Ingolstadt | Bundesliga 2 |
| Tom Trybull | 66 | CDM | GER | Greuther Fürth | Bundesliga 2 |
| Toni | 66 | LM | ESP | CD Leganés | Liga Adelante |
| Uroš Đurđević | 66 | ST | SRB | Palermo | Serie A |
| Ustaritz | 66 | CB | ESP | Penafiel | Liga Portugue.. |
| Veton Berisha | 66 | ST | NOR | Greuther Fürth | Bundesliga 2 |
| Vicente Matías Vuoso | 66 | ST | MEX | Cruz Azul | LIGA Bancomer.. |
| Vincenzo Grifo | 66 | CAM | ITA | SC Freiburg | Bundesliga |
| Walid Atta | 66 | CB | SWE | Gençlerbirliği | Süper Lig |
| Adama | 65 | RW | ESP | FC Barcelona | Liga BBVA |
| Adama | 65 | RW | ESP | Aston Villa | Barclays PL |
| Adrián Cortés | 65 | LB | MEX | Puebla | LIGA Bancomer.. |
| Adrian Winter | 65 | RM | SUI | Orlando City | MLS |
| Adrien Hunou | 65 | CM | FRA | Clermont Foot | Ligue 2 |
| Aidan White | 65 | LM | IRL | Rotherham Utd | FL Championsh.. |
| Alan Zamora | 65 | CM | MEX | Veracruz | LIGA Bancomer.. |
| Alejandro Castro | 65 | CDM | MEX | U.N.A.M. | LIGA Bancomer.. |
| Alex Pritchard | 65 | CAM | ENG | Spurs | Barclays PL |
| Amobi Okugo | 65 | CDM | USA | Orlando City | MLS |
| Andrea Rossi | 65 | LB | ITA | Pescara | Serie B |
| Andreas Hofmann | 65 | CDM | GER | Greuther Fürth | Bundesliga 2 |
| Andreas Ludwig | 65 | RM | GER | FC Utrecht | Eredivisie |
| Andrés Vilches | 65 | ST | CHI | Colo-Colo | Camp. Petrobr.. |
| Andrés Vilches | 65 | ST | CHI | Colo-Colo | Camp. Petrobr.. |
| Andrew Davies | 65 | CB | ENG | Ross County | Scottish Prem |
| Andrew Davies | 65 | CB | ENG | Ross County | Scottish Prem |
| Andrew Jacobson | 65 | CDM | USA | NY City FC | MLS |
| Andy Barcham | 65 | LM | ENG | AFC Wimbledon | Football Leag.. |
| Andy Barcham | 65 | LM | ENG | AFC Wimbledon | Football Leag.. |
| Anil Karaer | 65 | LB | TUR | Eskişehirspor | Süper Lig |
| Ben Davies | 65 | RM | ENG | Portsmouth | Football Leag.. |
| Ben Halloran | 65 | RM | AUS | Heidenheim | Bundesliga 2 |
| Billy Ketkeophomphone | 65 | RM | FRA | Angers SCO | Ligue 2 |
| Billy Paynter | 65 | ST | ENG | Hartlepool | Football Leag.. |
| Bobby Wood | 65 | ST | USA | Union Berlin | Bundesliga 2 |
| Cabral | 65 | CM | SUI | FC Zürich | Raiffeisen SL |
| Carlos Labrín | 65 | CB | CHI | Audax Italiano | Camp. Petrobr.. |
| Carlos Strandberg | 65 | ST | SWE | FC Ural | Russian Leagu.. |
| Chaker Alhadhur | 65 | LB | COM | SM Caen | Ligue 1 |
| Chris Klute | 65 | LB | USA | Columbus Crew | MLS |
| Chris Wingert | 65 | LB | USA | NY City FC | MLS |
| Christopher Jullien | 65 | CB | FRA | Dijon FCO | Ligue 2 |
| Craig Morgan | 65 | CB | WAL | Wigan Athletic | FL Championsh.. |
| Dahwling Leudo | 65 | LB | COL | La Equidad | Liga Postobó.. |
| Daniel Briceño | 65 | CB | COL | Deportivo Pasto | Liga Postobó.. |
| Daniel Frahn | 65 | ST | GER | Heidenheim | Bundesliga 2 |
| Darío Carreño | 65 | ST | MEX | Chiapas | LIGA Bancomer.. |
| Darko Bodul | 65 | ST | AT | Dundee United | Scottish Prem |
| Darvin Chávez | 65 | LB | MEX | Veracruz | LIGA Bancomer.. |
| Davide Gavazzi | 65 | CM | ITA | Avellino | Serie B |
| Derik | 65 | CB | ESP | Bolton | FL Championsh.. |
| Dico Koppers | 65 | LB | NED | Willem II | Eredivisie |
| Diego Guastavino | 65 | CAM | URU | Uni. Concepción | Camp. Petrobr.. |
| Distel Zola | 65 | CDM | DRC | Le Havre AC | Ligue 2 |
| Ethem Ercan Pülgir | 65 | CB | TUR | Erciyesspor | Süper Lig |
| Fábio Ferreira | 65 | RW | POR | Central Coast | A-League |
| Fabio Pisacane | 65 | CB | ITA | Cagliari | Serie A |
| Fabrice Olinga | 65 | LM | CAM | Zulte-Waregem | Pro League |
| Farès Bahlouli | 65 | CAM | FRA | AS Monaco | Ligue 1 |
| Federico Moretti | 65 | CM | ITA | Latina | Serie B |
| Filip Starzyński | 65 | CAM | POL | Sport. Lokeren | Pro League |
| Florian Martin | 65 | LM | FRA | FC Sochaux | Ligue 2 |
| Florian Niederlechner | 65 | ST | GER | 1. FSV Mainz 05 | Bundesliga |
| Frank Bagnack | 65 | CB | CAM | FC Barcelona | Liga BBVA |
| Fredrik Brustad | 65 | RM | NOR | AIK Fotboll | Allsvenskan |
| Gary Coulibaly | 65 | CM | FRA | Waasl.-Beveren | Pro League |
| Gaztañaga | 65 | CB | ESP | CD Numancia | Liga Adelante |
| Giliano Wijnaldum | 65 | LB | NED | VfL Bochum | Bundesliga 2 |
| Giuseppe Gemiti | 65 | LM | GER | Bari | Serie B |
| Greg Cunningham | 65 | LWB | IRL | Preston | Football Leag.. |
| Greg Halford | 65 | CB | ENG | Rotherham Utd | FL Championsh.. |
| Grégoire Puel | 65 | RB | FRA | Le Havre AC | Ligue 2 |
| Guillaume Loriot | 65 | CDM | FRA | US Créteil | Ligue 2 |
| Hany Mukhtar | 65 | CAM | GER | SL Benfica | Liga Portugue.. |
| Ibrahima Seck | 65 | CDM | SEN | AJ Auxerre | Ligue 2 |
| Ismaël Traoré | 65 | CB | IVC | Angers SCO | Ligue 2 |
| Ivan Franjić | 65 | RB | AUS | Melbourne Heart | A-League |
| Jacob Mellis | 65 | CM | ENG | Bury | Football Leag.. |
| James Tavernier | 65 | RB | ENG | Rangers | Scotland Leag.. |
| Javier Güemez | 65 | CM | MEX | América | LIGA Bancomer.. |
| Jean-Marie Dongou Tsafack | 65 | ST | CAM | FC Barcelona | Liga BBVA |
| Jeffrey Sarpong | 65 | RW | NED | Well. Phoenix | A-League |
| Jérôme Le Moigne | 65 | CDM | FRA | GFC Ajaccio | Ligue 2 |
| Jérôme Polenz | 65 | RB | GER | Brisbane Roar | A-League |
| Jesús Chávez | 65 | CB | MEX | Tijuana | LIGA Bancomer.. |
| Johann Ramaré | 65 | CM | FRA | FC Sochaux | Ligue 2 |
| Jonatan Tollås Nation | 65 | CB | NOR | Vålerenga | Tippeligaen |
| José Pérez | 65 | CM | CHI | Uni. Concepción | Camp. Petrobr.. |
| Josh McQuoid | 65 | ST | NIR | Luton Town | Football Leag.. |
| Kai Heerings | 65 | CB | NED | SC Cambuur | Eredivisie |
| Kamel Al Mor | 65 | RB | SAR | Al-Taawoun | ALJ League |
| Karleigh Osborne | 65 | CB | ENG | AFC Wimbledon | Football Leag.. |
| Karleigh Osborne | 65 | CB | ENG | AFC Wimbledon | Football Leag.. |
| Keko | 65 | LM | ESP | SD Eibar | Liga BBVA |
| Kenny Cooper | 65 | ST | USA | Montreal Impact | MLS |
| Khaled Al Zylaeei | 65 | RM | SAR | Al-Taawoun | ALJ League |
| Kim Hyung Il | 65 | CB | KOR | Jeonbuk FC | K LEAGUE |
| Kim Sung Hwan | 65 | CDM | KOR | Sangju Sangmu Ph.. | K LEAGUE |
| Kristof D'Haene | 65 | LW | BEL | KV Kortrijk | Pro League |
| Kyle Bennett | 65 | RM | ENG | Portsmouth | Football Leag.. |
| Lee Chang Hoon | 65 | LW | KOR | Sangju Sangmu Ph.. | K LEAGUE |
| Lee Jae Sung | 65 | CB | KOR | Ulsan Hyundai | K LEAGUE |
| Lee Sang Hup | 65 | ST | KOR | Seongnam Ilhwa | K LEAGUE |
| Leiton Jiménez | 65 | CB | COL | Tijuana | LIGA Bancomer.. |
| Leon Jessen | 65 | LB | DEN | Esbjerg fB | Superliga |
| Loïc Nestor | 65 | CB | FRA | Valenciennes FC | Ligue 2 |
| Lolo Pavón | 65 | CB | ESP | SD Ponferradina | Liga Adelante |
| Lossémy Karaboué | 65 | RM | IVC | ES Troyes | Ligue 2 |
| Lucas Bijker | 65 | CB | NED | sc Heerenveen | Eredivisie |
| Lucas Vázquez | 65 | RM | ESP | Real Madrid | Liga BBVA |
| Luke James | 65 | ST | ENG | Bradford City | Football Leag.. |
| Maciej Korzym | 65 | ST | POL | Górnik Zabrze | Ekstraklasa |
| Marcello Trotta | 65 | ST | ITA | Avellino | Serie B |
| Marcin Pietrowski | 65 | CDM | POL | Piast Gliwice | Ekstraklasa |
| Marco Antonio Palacios | 65 | CB | MEX | Monarcas | LIGA Bancomer.. |
| Marco Crimi | 65 | CM | ITA | Bologna | Serie B |
| Mario Sampirisi | 65 | RB | ITA | Vicenza | Serie B |
| Mark Duffy | 65 | RM | ENG | Burton Albion | Football Leag.. |
| Mark Duffy | 65 | RM | ENG | Burton Albion | Football Leag.. |
| Martyn Waghorn | 65 | ST | ENG | Rangers | Scotland Leag.. |
| Mateusz Mak | 65 | RM | POL | Piast Gliwice | Ekstraklasa |
| Matt Taylor | 65 | CB | ENG | Newport County | Football Leag.. |
| Matt Taylor | 65 | CB | ENG | Newport County | Football Leag.. |
| Matthew Rusike | 65 | CF | ZIM | CD Nacional | Liga Portugue.. |
| Matthew Rusike | 65 | CF | ZIM | Halmstads BK | Allsvenskan |
| Mauricio Cuero | 65 | RM | COL | Banfield | Primera Divis.. |
| Mehdi Abeid | 65 | CM | ALG | Panathinaikos | Hellas Liga |
| Michael Rangel | 65 | ST | COL | Millonarios FC | Liga Postobó.. |
| Michal Janota | 65 | CAM | POL | Górnik Zabrze | Ekstraklasa |
| Michele Camporese | 65 | CB | ITA | Empoli | Serie A |
| Michiel Hemmen | 65 | ST | NED | BK Häcken | Allsvenskan |
| Moses Odubajo | 65 | RB | ENG | Hull City | Barclays PL |
| Naser Aliji | 65 | LB | MAC | FC Vaduz | Raiffeisen SL |
| Ned Grabavoy | 65 | CM | USA | NY City FC | MLS |
| Nelson Saavedra | 65 | CB | CHI | Wanderers | Camp. Petrobr.. |
| Nicola Belmonte | 65 | CB | ITA | Catania | Serie B |
| Nicola Belmonte | 65 | RB | ITA | Perugia | Serie B |
| Nikita Burmistrov | 65 | LM | RUS | FC Ural | Russian Leagu.. |
| Omar Esparza | 65 | RB | MEX | Pachuca | LIGA Bancomer.. |
| Owen Garvan | 65 | CAM | IRL | Crystal Palace | Barclays PL |
| Paddy McCourt | 65 | LM | NIR | Luton Town | Football Leag.. |
| Paddy McCourt | 65 | LM | NIR | Luton Town | Football Leag.. |
| Palanca | 65 | RM | ESP | Adelaide United | A-League |
| Pape Paye | 65 | RB | FRA | FC Lorient | Ligue 1 |
| Park Jin Po | 65 | RB | KOR | Sangju Sangmu Ph.. | K LEAGUE |
| Patrick Bamford | 65 | ST | ENG | Chelsea | Barclays PL |
| Paul Gallagher | 65 | LM | SCO | Leicester City | Barclays PL |
| Paul Robinson | 65 | CB | ENG | AFC Wimbledon | Football Leag.. |
| Paul Taylor | 65 | ST | ENG | Ipswich Town | FL Championsh.. |
| Pelé | 65 | CDM | POR | Paços Ferreira | Liga Portugue.. |
| Peter Clarke | 65 | CB | ENG | Bury | Football Leag.. |
| Rabiola | 65 | ST | POR | Académica | Liga Portugue.. |
| Rafa | 65 | CDM | POR | Moreirense | Liga Portugue.. |
| Raffael Korte | 65 | RM | GER | Union Berlin | Bundesliga 2 |
| Rayan Frikèche | 65 | CM | MOR | AC Ajaccio | Ligue 2 |
| Rhoys Wiggins | 65 | LB | WAL | Sheffield Wed | FL Championsh.. |
| Riccardo Improta | 65 | RW | ITA | Bologna | Serie B |
| Riccardo Improta | 65 | RW | ITA | Cesena | Serie A |
| Richard Ruiz | 65 | RM | MEX | Cruz Azul | LIGA Bancomer.. |
| Rodrigo Aguirre | 65 | ST | URU | Udinese | Serie A |
| Rory Donnelly | 65 | ST | NIR | Gillingham | Football Leag.. |
| Ryan Tunnicliffe | 65 | CM | ENG | Fulham | FL Championsh.. |
| Samuel Souprayen | 65 | LB | FRA | Hellas Verona | Serie A |
| Savvas Gentsoglou | 65 | CM | GRE | Bari | Serie B |
| Seb Hines | 65 | CB | ENG | Orlando City | MLS |
| Selçuk Alibaz | 65 | RM | TUR | Konyaspor | Süper Lig |
| Selçuk Alibaz | 65 | LM | TUR | Erzgebirge Aue | Bundesliga 2 |
| Sergi Samper | 65 | CDM | ESP | FC Barcelona | Liga BBVA |
| Shane Ferguson | 65 | LM | NIR | Millwall | FL Championsh.. |
| Sheanon Williams | 65 | RB | USA | Houston Dynamo | MLS |
| Simon Tibbling | 65 | CM | SWE | FC Groningen | Eredivisie |
| Siyanda Xulu | 65 | CB | SAF | Kaizer Chiefs | South African.. |
| Stefan Kutschke | 65 | ST | GER | 1. FC Nuremberg | Bundesliga 2 |
| Sultan Al Beshi | 65 | RB | SAR | Al-Raed | ALJ League |
| Thomas Matton | 65 | LM | BEL | KAA Gent | Pro League |
| Tomasz Cywka | 65 | LM | POL | Wisła Kraków | Ekstraklasa |
| Tripy Makonda | 65 | LB | FRA | Académica | Liga Portugue.. |
| Uriel Álvarez | 65 | CB | MEX | Tijuana | LIGA Bancomer.. |
| Wout Droste | 65 | RB | NED | Heracles Almelo | Eredivisie |
| Yoëll van Nieff | 65 | CM | NED | SBV Excelsior | Eredivisie |
| Zakaria Diallo | 65 | CB | FRA | AC Ajaccio | Ligue 2 |
| Zana Allée | 65 | LM | FRA | AC Ajaccio | Ligue 2 |
| Adam Kokoszka | 64 | CB | POL | Śląsk Wrocław | Ekstraklasa |
| Adam Kokoszka | 64 | CB | POL | Śląsk Wrocław | Ekstraklasa |
| Ahmad Benali | 64 | CM | LBY | Palermo | Serie A |
| Alassane També | 64 | RB | FRA | Genoa | Serie A |
| Alberto Aguilar | 64 | CB | ESP | Wanderers | A-League |
| Aleksandar Trajkovski | 64 | LM | MAC | Palermo | Serie A |
| Ali Messaoud | 64 | CAM | MOR | FC Vaduz | Raiffeisen SL |
| Amir Abrashi | 64 | CDM | ALB | SC Freiburg | Bundesliga |
| Andrea Rispoli | 64 | RM | ITA | Palermo | Serie A |
| Andreu | 64 | CDM | ESP | Wanderers | A-League |
| Ante Kulušić | 64 | CB | CRO | Gençlerbirliği | Süper Lig |
| Anthony Wordsworth | 64 | CM | ENG | Southend United | Football Leag.. |
| Anthony Wordsworth | 64 | CM | ENG | Ipswich Town | FL Championsh.. |
| Anthony Wordsworth | 64 | CM | ENG | Southend United | Football Leag.. |
| Antonio Sanabria | 64 | ST | PAR | Sporting Gijón | Liga Adelante |
| Antony Robic | 64 | RW | FRA | AS Nancy | Ligue 2 |
| Armando | 64 | CB | ESP | Elche CF | Liga BBVA |
| Bae Il Hwan | 64 | RW | KOR | Sangju Sangmu Ph.. | K LEAGUE |
| Benik Afobe | 64 | ST | ENG | Wolverhampton | FL Championsh.. |
| Benjamin Sulimani | 64 | ST | AT | SV Grödig | A. Bundesliga |
| Bismark Acosta | 64 | CB | COS | SK Brann | Tippeligaen |
| Bjarne Thoelke | 64 | CB | GER | Karlsruher SC | Bundesliga 2 |
| Bruno Nazario | 64 | CAM | BRA | 1899 Hoffenheim | Bundesliga |
| Bryan Cortés | 64 | RB | CHI | Wanderers | Camp. Petrobr.. |
| Camillo Ciano | 64 | CF | ITA | Crotone | Serie B |
| Camillo Ciano | 64 | RW | ITA | Cesena | Serie A |
| Caner Osmanpaşa | 64 | CB | TUR | Akhisarspor | Süper Lig |
| César Cortés | 64 | LW | CHI | CD Palestino | Camp. Petrobr.. |
| Christian Bravo | 64 | ST | CHI | Uni. Católica | Camp. Petrobr.. |
| Cristian | 64 | RB | ESP | CD Tenerife | Liga Adelante |
| Cyriaque Rivieyran | 64 | RB | FRA | Clermont Foot | Ligue 2 |
| Dani Toribio | 64 | CDM | ESP | AD Alcorcón | Liga Adelante |
| Daniel Høegh | 64 | CB | DEN | FC Basel | Raiffeisen SL |
| Danny Green | 64 | RM | ENG | Luton Town | Football Leag.. |
| Danny Green | 64 | RM | ENG | Luton Town | Football Leag.. |
| David Norris | 64 | CM | ENG | Yeovil Town | Football Leag.. |
| Diego Rodríguez | 64 | CM | URU | Independiente | Primera Divis.. |
| Dusan Cvetinovic | 64 | CB | SRB | RC Lens | Ligue 1 |
| Edouard Butin | 64 | ST | FRA | Valenciennes FC | Ligue 2 |
| Elliot Omozusi | 64 | LB | ENG | Cambridge Utd | Football Leag.. |
| Emilio Orrantia | 64 | RM | MEX | Santos Laguna | LIGA Bancomer.. |
| Emilio Sanchez | 64 | CM | ESP | UE Llagostera | Liga Adelante |
| Emmanuel Gil | 64 | RB | MEX | Puebla | LIGA Bancomer.. |
| Erkan Kaş | 64 | LM | TUR | Sivasspor | Süper Lig |
| Erwan Quintin | 64 | LB | FRA | Stade Lavallois | Ligue 2 |
| Escassi | 64 | CB | ESP | UE Llagostera | Liga Adelante |
| Evgeniy Osipov | 64 | CB | RUS | FC Ufa | Russian Leagu.. |
| Fabien Robert | 64 | ST | FRA | Swindon Town | Football Leag.. |
| Federico Andrada | 64 | ST | ARG | Atlético Rafael.. | Primera Divis.. |
| Félix Araujo | 64 | CB | MEX | Chiapas | LIGA Bancomer.. |
| Florent Mollet | 64 | CM | FRA | US Créteil | Ligue 2 |
| Freddie Sears | 64 | ST | ENG | Ipswich Town | FL Championsh.. |
| Galán | 64 | RB | ESP | CD Mirandés | Liga Adelante |
| Gary MacKenzie | 64 | CB | SCO | Doncaster | Football Leag.. |
| Georg Margreitter | 64 | CB | AT | Wolverhampton | FL Championsh.. |
| Georg Margreitter | 64 | CB | AT | 1. FC Nuremberg | Bundesliga 2 |
| Gianmario Comi | 64 | ST | ITA | Livorno | Serie B |
| Giles Coke | 64 | CM | ENG | Ipswich Town | FL Championsh.. |
| Golobart | 64 | CB | ESP | Erzgebirge Aue | Bundesliga 2 |
| Gonzalo Sepúlveda | 64 | CM | CHI | San Marcos | Camp. Petrobr.. |
| Gonzalo Sepúlveda | 64 | CDM | CHI | Unión La Calera | Camp. Petrobr.. |
| Goran Karanović | 64 | ST | SUI | Angers SCO | Ligue 2 |
| Gregg Wylde | 64 | LM | SCO | Plymouth Argyle | Football Leag.. |
| Gregg Wylde | 64 | LM | SCO | Plymouth Argyle | Football Leag.. |
| Guillermo Madrigal | 64 | ST | MEX | Querétaro | LIGA Bancomer.. |
| Hamari Traoré | 64 | RB | MAL | Stade Reims | Ligue 1 |
| Harald Pichler | 64 | CB | AT | SV Grödig | A. Bundesliga |
| Hwang Il Su | 64 | LM | KOR | Sangju Sangmu Ph.. | K LEAGUE |
| Isidoro | 64 | RB | ESP | Elche CF | Liga BBVA |
| Iván Rivas | 64 | CM | COL | Ind. Santa Fe | Liga Postobó.. |
| Jake Jervis | 64 | ST | ENG | Plymouth Argyle | Football Leag.. |
| Jakub Świerczok | 64 | ST | POL | Górnik Łęczna | Ekstraklasa |
| Jakub Świerczok | 64 | ST | POL | Górnik Łęczna | Ekstraklasa |
| Jakub Wójcicki | 64 | RB | POL | Cracovia Kraków | Ekstraklasa |
| Jamie McCombe | 64 | CB | ENG | Stevenage | Football Leag.. |
| Javi Moyano | 64 | RB | ESP | Real Valladolid | Liga Adelante |
| Jeb Brovsky | 64 | LB | USA | NY City FC | MLS |
| Jed Wallace | 64 | RM | ENG | Wolverhampton | FL Championsh.. |
| Jeff Hughes | 64 | LM | NIR | Cambridge Utd | Football Leag.. |
| Jefferson Lerma | 64 | CDM | COL | Levante UD | Liga BBVA |
| Joe Edwards | 64 | CM | ENG | Colchester | Football Leag.. |
| Joe Edwards | 64 | CM | ENG | Colchester | Football Leag.. |
| Joe Mattock | 64 | LB | ENG | Rotherham Utd | FL Championsh.. |
| Joe Riley | 64 | RB | ENG | Bury | Football Leag.. |
| Joel Acosta | 64 | RW | ARG | Olimpo | Primera Divis.. |
| Joel Grant | 64 | RM | JAM | Exeter City | Football Leag.. |
| Joel Griffiths | 64 | ST | AUS | Well. Phoenix | A-League |
| Jonas Knudsen | 64 | LB | DEN | Ipswich Town | FL Championsh.. |
| Jonathan Cisternas | 64 | CM | CHI | CD Palestino | Camp. Petrobr.. |
| Jop van der Linden | 64 | CB | NED | AZ | Eredivisie |
| Jore Trompet | 64 | CM | BEL | KVC Westerlo | Pro League |
| Joselu | 64 | ST | ESP | RCD Mallorca | Liga Adelante |
| Joseph Minala | 64 | CM | CAM | Latina | Serie B |
| Josh Williams | 64 | RB | USA | NY City FC | MLS |
| Josh Williams | 64 | RB | USA | Toronto FC | MLS |
| Juan Carlos Escobar | 64 | RM | COL | Uniautónoma FC | Liga Postobó.. |
| Jukka Raitala | 64 | LB | FIN | FC Vestsjælland | Superliga |
| Julien Viale | 64 | ST | FRA | Stade Lavallois | Ligue 2 |
| Jung Hoon | 64 | CDM | KOR | Jeonbuk FC | K LEAGUE |
| Kamil Zayatte | 64 | CB | GUI | Al-Raed | ALJ League |
| Kári Árnason | 64 | CB | ICE | Malmö FF | Allsvenskan |
| Karim Djellabi | 64 | LB | FRA | Clermont Foot | Ligue 2 |
| Kenny Lala | 64 | RB | FRA | RC Lens | Ligue 1 |
| Kévin Vandendriessche | 64 | CM | FRA | KV Oostende | Pro League |
| Kieron Freeman | 64 | LB | WAL | Sheffield Utd | Football Leag.. |
| Kristian Álvarez | 64 | CB | MEX | Santos Laguna | LIGA Bancomer.. |
| Kristijan Dobras | 64 | LM | AT | SK Sturm Graz | A. Bundesliga |
| Kwame Amponsah Karikari | 64 | ST | GHA | Halmstads BK | Allsvenskan |
| Kwesi Appiah | 64 | ST | ENG | Crystal Palace | Barclays PL |
| Leandro | 64 | LB | BRA | Górnik Łęczna | Ekstraklasa |
| Leandro | 64 | LB | BRA | Górnik Łęczna | Ekstraklasa |
| Lee Ho | 64 | CDM | KOR | Jeonbuk FC | K LEAGUE |
| Lee Holmes | 64 | RM | ENG | Exeter City | Football Leag.. |
| Lee Sang Ho | 64 | CAM | KOR | Suwon Bluewings | K LEAGUE |
| Lee Seok Hyun | 64 | CAM | KOR | FC Seoul | K LEAGUE |
| Lee Yong | 64 | RB | KOR | Sangju Sangmu Ph.. | K LEAGUE |
| Luca Ceccarelli | 64 | CB | ITA | Catania | Serie B |
| Luca Rizzo | 64 | CM | ITA | Bologna | Serie B |
| Ludovic Genest | 64 | CAM | FRA | Clermont Foot | Ligue 2 |
| Luis Loroña | 64 | ST | MEX | Chiapas | LIGA Bancomer.. |
| Luis Mosquera | 64 | CAM | COL | Indep. Medellín | Liga Postobó.. |
| Luke Garbutt | 64 | LB | ENG | Fulham | FL Championsh.. |
| Marco Fossati | 64 | CM | ITA | Cagliari | Serie A |
| Martin Angha | 64 | RB | SUI | FC St. Gallen | Raiffeisen SL |
| Martin Paterson | 64 | ST | NIR | Orlando City | MLS |
| Martin Spelmann | 64 | CM | DEN | Gençlerbirliği | Süper Lig |
| Marvin Peersman | 64 | LB | BEL | SC Cambuur | Eredivisie |
| Massimo Luongo | 64 | CM | AUS | QPR | Barclays PL |
| Mateusz Możdżeń | 64 | RB | POL | Podbeskidzie | Ekstraklasa |
| Matt Tubbs | 64 | ST | ENG | Portsmouth | Football Leag.. |
| Maxime Brillault | 64 | CB | FRA | Stade Brest | Ligue 2 |
| Melker Hallberg | 64 | CM | SWE | Vålerenga | Tippeligaen |
| Mikel Arguinarena | 64 | CAM | CHI | CD Huachipato | Camp. Petrobr.. |
| Mitch Nichols | 64 | CM | AUS | Wanderers | A-League |
| Neal Maupay | 64 | ST | FRA | Saint-Etienne | Ligue 1 |
| Nick Ross | 64 | CAM | SCO | Dundee FC | Scottish Prem |
| Nicolás Ortiz | 64 | CB | CHI | Unión La Calera | Camp. Petrobr.. |
| Noel Hunt | 64 | ST | IRL | Southend United | Football Leag.. |
| Nuno Henrique | 64 | CB | POR | Boavista | Liga Portugue.. |
| Onur Ayik | 64 | RM | TUR | Akhisarspor | Süper Lig |
| Ousseynou Cissé | 64 | CDM | SEN | Rayo Vallecano | Liga BBVA |
| Patric | 64 | RB | ESP | Lazio | Serie A |
| Patrick Schönfeld | 64 | CM | GER | Braunschweig | Bundesliga 2 |
| Pedro Orfila | 64 | RB | ESP | CD Numancia | Liga Adelante |
| Philipp Huspek | 64 | RM | AT | SK Rapid Wien | A. Bundesliga |
| Philipp Klingmann | 64 | RB | GER | SV Sandhausen | Bundesliga 2 |
| Pinillos | 64 | LB | ESP | Nott'm Forest | FL Championsh.. |
| Prince Désir Gouano | 64 | CB | FRA | Bolton | FL Championsh.. |
| Quentin Bernard | 64 | LB | FRA | Dijon FCO | Ligue 2 |
| Riad Nouri | 64 | RW | FRA | AC Ajaccio | Ligue 2 |
| Richárd Magyar | 64 | CB | SWE | FC Aarau | Raiffeisen SL |
| Rodrigo Gattás | 64 | ST | CHI | CD Cobresal | Camp. Petrobr.. |
| Rodrigo Godínez | 64 | CB | MEX | Atlas | LIGA Bancomer.. |
| Romain Saïss | 64 | CDM | MOR | Angers SCO | Ligue 2 |
| Roman Kienast | 64 | ST | AT | SK Sturm Graz | A. Bundesliga |
| Salva Ruíz | 64 | LB | ESP | Granada CF | Liga BBVA |
| Scott Wiseman | 64 | RB | ENG | Scunthorpe Utd | Football Leag.. |
| Sebastian Kerk | 64 | LM | GER | 1. FC Nuremberg | Bundesliga 2 |
| Sebastián Montesinos | 64 | CB | CHI | AC Barnechea | Camp. Petrobr.. |
| Sebastian Penco | 64 | ST | ARG | Once Caldas | Liga Postobó.. |
| Sebastien Dewaest | 64 | CB | BEL | KRC Genk | Pro League |
| Simon Church | 64 | ST | WAL | MK Dons | Football Leag.. |
| Søren Christensen | 64 | CM | DEN | FK Haugesund | Tippeligaen |
| Stephen Buyl | 64 | LW | BEL | Zulte-Waregem | Pro League |
| Stephen Dawson | 64 | CM | IRL | Scunthorpe Utd | Football Leag.. |
| Tom Adeyemi | 64 | CM | ENG | Leeds United | FL Championsh.. |
| Tom Pope | 64 | ST | ENG | Bury | Football Leag.. |
| Tomi | 64 | CF | ESP | SK Rapid Wien | A. Bundesliga |
| Tyrone Barnett | 64 | ST | ENG | Peterborough | Football Leag.. |
| Valerio Verre | 64 | CM | ITA | Pescara | Serie B |
| Vítor Saba | 64 | CAM | BRA | Crotone | Serie B |
| Vullnet Basha | 64 | CDM | ALB | SD Ponferradina | Liga Adelante |
| Wilfried Kanon | 64 | CB | IVC | LOSC Lille | Ligue 1 |
| Will Hoskins | 64 | ST | ENG | Exeter City | Football Leag.. |
| Yannis Mbombo | 64 | ST | BEL | AJ Auxerre | Ligue 2 |
| Žan Benedičič | 64 | CAM | SVN | Milan | Serie A |
| A.J. Soares | 63 | CB | USA | Viking FK | Tippeligaen |
| Adam Barton | 63 | CM | IRL | Portsmouth | Football Leag.. |
| Adama Traoré | 63 | LB | IVC | FC Basel | Raiffeisen SL |
| Adlan Katsaev | 63 | CM | RUS | Terek Grozny | Russian Leagu.. |
| Ahmed El Messaoudi | 63 | CDM | BEL | Standard Liège | Pro League |
| Alain Wiss | 63 | CM | SUI | FC St. Gallen | Raiffeisen SL |
| Alberto García | 63 | RW | MEX | América | LIGA Bancomer.. |
| Alejandro Castro | 63 | ST | COS | SK Brann | Tippeligaen |
| Alex | 63 | LM | BRA | Houston Dynamo | MLS |
| Alexander Corryn | 63 | LB | BEL | KV Mechelen | Pro League |
| Alfie Potter | 63 | RM | ENG | Northampton | Football Leag.. |
| Allan Saint-Maximin | 63 | ST | FRA | Hannover 96 | Bundesliga |
| Alvarinho | 63 | LM | POR | Jag. Białystok | Ekstraklasa |
| Amorim | 63 | RB | POR | Belém | Liga Portugue.. |
| Anders Christiansen | 63 | CM | DEN | Chievo Verona | Serie A |
| Andreas Blomqvist | 63 | CM | SWE | Aalborg BK | Superliga |
| Andrés Escobar | 63 | RM | COL | Atl. Nacional | Liga Postobó.. |
| Arne Feick | 63 | LB | GER | Heidenheim | Bundesliga 2 |
| Benjamin Boulenger | 63 | LB | FRA | Sp. Charleroi | Pro League |
| Birger Verstraete | 63 | CM | BEL | KV Kortrijk | Pro League |
| Callum Reilly | 63 | CM | IRL | Burton Albion | Football Leag.. |
| Campabadal | 63 | RB | ESP | RCD Mallorca | Liga Adelante |
| Carl Baker | 63 | RM | ENG | MK Dons | Football Leag.. |
| Carlos Salcedo | 63 | CB | MEX | Guadalajara | LIGA Bancomer.. |
| Conor Coady | 63 | CM | ENG | Wolverhampton | FL Championsh.. |
| Daniel Bessa | 63 | CAM | ITA | Bologna | Serie B |
| Danijel Aleksić | 63 | ST | SRB | FC St. Gallen | Raiffeisen SL |
| Danny Cruz | 63 | RW | USA | FK Bodø/Glimt | Tippeligaen |
| Davis Curiale | 63 | ST | ITA | Trapani | Serie B |
| Didier Moreno | 63 | CDM | COL | Indep. Medellín | Liga Postobó.. |
| Eldin Hadžić | 63 | LM | BOS | UD Almería | Liga BBVA |
| Elliott Hewitt | 63 | RB | WAL | Notts County | Football Leag.. |
| Elsad Zverotić | 63 | RB | MON | FC Sion | Raiffeisen SL |
| Emil Krafth | 63 | RB | SWE | Bologna | Serie B |
| Erdin Demir | 63 | LB | SWE | Waasl.-Beveren | Pro League |
| Fabien Boyer | 63 | CB | FRA | KV Kortrijk | Pro League |
| Fabio Sciacca | 63 | CM | ITA | Vicenza | Serie B |
| Filip Kiss | 63 | CM | SVK | FK Haugesund | Tippeligaen |
| Gary Madine | 63 | ST | ENG | Bolton | FL Championsh.. |
| Gastón Sauro | 63 | CB | ARG | Columbus Crew | MLS |
| Giannis Gianniotas | 63 | RM | GRE | Olympiakos CFP | Hellas Liga |
| Greg Garza | 63 | LB | USA | Atlas | LIGA Bancomer.. |
| Gu Bon Sang | 63 | CDM | KOR | Ulsan Hyundai | K LEAGUE |
| Hanno Behrens | 63 | CDM | GER | 1. FC Nuremberg | Bundesliga 2 |
| Harry Novillo | 63 | LW | FRA | Melbourne Heart | A-League |
| Hope Akpan | 63 | CM | NIG | Blackburn Rvrs | FL Championsh.. |
| Horacio Cervantes | 63 | CB | MEX | Veracruz | LIGA Bancomer.. |
| Iago Díaz | 63 | LM | ESP | UD Almería | Liga BBVA |
| Igor Martínez | 63 | CAM | ESP | CD Lugo | Liga Adelante |
| Ion Vélez | 63 | ST | ESP | CD Mirandés | Liga Adelante |
| Isaac Kiese Thelin | 63 | ST | SWE | Bordeaux | Ligue 1 |
| Isak Ssewankambo | 63 | RB | SWE | Derby County | FL Championsh.. |
| Izunna Arnest Uzochukwu | 63 | CDM | NIG | Amkar Perm | Russian Leagu.. |
| Jake Taylor | 63 | CAM | WAL | Motherwell | Scottish Prem |
| Jarosław Fojut | 63 | CB | POL | Pogoń Szczecin | Ekstraklasa |
| Jasmin Sudić | 63 | CB | SWE | BK Häcken | Allsvenskan |
| Jason Hernandez | 63 | CB | USA | NY City FC | MLS |
| Jimmy Ryan | 63 | CDM | IRL | Fleetwood Town | Football Leag.. |
| Johan Blomberg | 63 | RM | SWE | AIK Fotboll | Allsvenskan |
| John Lozano | 63 | CB | COL | Deportivo Cali | Liga Postobó.. |
| Jonathan Stead | 63 | ST | ENG | Notts County | Football Leag.. |
| Jonathan Stead | 63 | ST | ENG | Bradford City | Football Leag.. |
| Jonathan Stead | 63 | ST | ENG | Notts County | Football Leag.. |
| Jordan Ikoko | 63 | RB | FRA | RC Lens | Ligue 1 |
| Joshua Kimmich | 63 | CM | GER | FC Bayern | Bundesliga |
| Juan Carlos Espinoza | 63 | RB | CHI | Uni. Católica | Camp. Petrobr.. |
| Julian Weigl | 63 | CDM | GER | Bor. Dortmund | Bundesliga |
| Kang Soo Il | 63 | RW | KOR | Jeju United FC | K LEAGUE |
| Kim Dong Sub | 63 | ST | KOR | Busan I'Park | K LEAGUE |
| Lee Croft | 63 | RM | ENG | Oldham Athletic | Football Leag.. |
| Lee McCulloch | 63 | CB | SCO | Kilmarnock | Scottish Prem |
| Lim Sang Hyup | 63 | LM | KOR | Sangju Sangmu Ph.. | K LEAGUE |
| Luka Krajnc | 63 | CB | SVN | Genoa | Serie A |
| Luka Krajnc | 63 | CB | SVN | Cagliari | Serie A |
| Mads Hvilsom | 63 | LM | DEN | Braunschweig | Bundesliga 2 |
| Magnus Okuonghae | 63 | CB | NIG | Luton Town | Football Leag.. |
| Magnus Okuonghae | 63 | CB | NIG | Luton Town | Football Leag.. |
| Manuel Coppola | 63 | CM | ITA | Catania | Serie B |
| Marc Hornschuh | 63 | CB | GER | FSV Frankfurt | Bundesliga 2 |
| Mark Roberts | 63 | CB | ENG | Cambridge Utd | Football Leag.. |
| Mark Yeates | 63 | LM | IRL | Oldham Athletic | Football Leag.. |
| Mat Sadler | 63 | LB | ENG | Shrewsbury | Football Leag.. |
| Mate Dugandžić | 63 | RW | AUS | Adelaide United | A-League |
| Matt Green | 63 | ST | ENG | Mansfield Town | Football Leag.. |
| Mehdi Ballouchy | 63 | RM | MOR | NY City FC | MLS |
| Mehmet Akyüz | 63 | RM | TUR | Çaykur Rizespor | Süper Lig |
| Michael Doyle | 63 | CM | IRL | Portsmouth | Football Leag.. |
| Michael Doyle | 63 | CM | IRL | Portsmouth | Football Leag.. |
| Michael Gregoritsch | 63 | LM | AT | Hamburger SV | Bundesliga |
| Michael Zullo | 63 | LB | AUS | Melbourne Heart | A-League |
| Michał Mak | 63 | LM | POL | Lechia Gdańsk | Ekstraklasa |
| Michał Mak | 63 | LM | POL | Lechia Gdańsk | Ekstraklasa |
| Mickaël Gaffoor | 63 | CB | FRA | CD Mirandés | Liga Adelante |
| Mikael Boman | 63 | ST | SWE | IFK Göteborg | Allsvenskan |
| Mikkel Beckmann | 63 | ST | DEN | Hobro IK | Superliga |
| Mohammed Abubakari | 63 | CM | GHA | BK Häcken | Allsvenskan |
| Mouhamadou-Naby Sarr | 63 | CB | FRA | Charlton Ath | FL Championsh.. |
| Mustafa Amini | 63 | CM | AUS | Randers FC | Superliga |
| Nick Proschwitz | 63 | ST | GER | SC Paderborn | Bundesliga |
| Nicklas Bärkroth | 63 | RW | SWE | IFK Norrköping | Allsvenskan |
| Nicky Adams | 63 | RM | WAL | Northampton | Football Leag.. |
| Niklas Hoheneder | 63 | CB | AT | SC Paderborn | Bundesliga |
| Noë Dussenne | 63 | CB | BEL | Royal Mouscron | Pro League |
| Oscar Gobern | 63 | CM | ENG | QPR | Barclays PL |
| Oscar Vera | 63 | LWB | MEX | Veracruz | LIGA Bancomer.. |
| Panajotis Dimitriadis | 63 | CM | SWE | Gençlerbirliği | Süper Lig |
| Pape Paté Diouf | 63 | ST | SEN | ODD | Tippeligaen |
| Park Tae Min | 63 | LB | KOR | Seongnam Ilhwa | K LEAGUE |
| Phil Ofosu-Ayeh | 63 | RB | GHA | Braunschweig | Bundesliga 2 |
| Philip Heise | 63 | LB | GER | VfB Stuttgart | Bundesliga |
| Quique | 63 | LM | ESP | Racing de Santan.. | Liga Adelante |
| Reece Wabara | 63 | RB | ENG | Barnsley | Football Leag.. |
| Rémi Mulumba | 63 | CM | FRA | AJ Auxerre | Ligue 2 |
| Ricardo Ferreira | 63 | CB | POR | SC Braga | Liga Portugue.. |
| Ryan Williams | 63 | RM | AUS | Barnsley | Football Leag.. |
| Sam Gallagher | 63 | ST | ENG | MK Dons | Football Leag.. |
| Sandro Wieser | 63 | CDM | LIE | FC Thun | Raiffeisen SL |
| Scott Laird | 63 | LB | SCO | Scunthorpe Utd | Football Leag.. |
| Sebastian Heidinger | 63 | RB | GER | Heidenheim | Bundesliga 2 |
| Sofiane Boufal | 63 | RM | FRA | LOSC Lille | Ligue 1 |
| Souleymane Coulibaly | 63 | ST | IVC | Bari | Serie B |
| Stefan Nutz | 63 | CM | AT | SK Rapid Wien | A. Bundesliga |
| Stefano Pettinari | 63 | ST | ITA | Vicenza | Serie B |
| Tamim Al Dosari | 63 | LM | SAR | Al-Raed | ALJ League |
| Téji Savanier | 63 | CAM | FRA | Nîmes Olympique | Ligue 2 |
| Thibault Moulin | 63 | CM | FRA | Waasl.-Beveren | Pro League |
| Tobias Kainz | 63 | RB | AT | SV Grödig | A. Bundesliga |
| Tom Pettersson | 63 | CB | SWE | IFK Göteborg | Allsvenskan |
| Tony Cascio | 63 | LM | USA | Orlando City | MLS |
| Tony Craig | 63 | CB | ENG | Millwall | FL Championsh.. |
| Tony Craig | 63 | CB | ENG | Millwall | FL Championsh.. |
| Tony McMahon | 63 | RB | ENG | Bradford City | Football Leag.. |
| Tony McMahon | 63 | RB | ENG | Bradford City | Football Leag.. |
| Uffe Bech | 63 | RW | DEN | Hannover 96 | Bundesliga |
| Víctor Díaz | 63 | LB | ESP | CD Leganés | Liga Adelante |
| Víctor Omar Mañón | 63 | ST | MEX | Pachuca | LIGA Bancomer.. |
| Vladimir Rykov | 63 | CB | RUS | Mordovia Saransk | Russian Leagu.. |
| Warren Creavalle | 63 | RB | USA | Philadelphia | MLS |
| Wilfried Domoraud | 63 | LM | FRA | AC Arles | Ligue 2 |
| Wilfried Moimbé | 63 | LB | FRA | FC Nantes | Ligue 1 |
| Will Grigg | 63 | ST | NIR | Brentford | FL Championsh.. |
| Will Grigg | 63 | ST | NIR | Wigan Athletic | FL Championsh.. |
| Yoann Andreu | 63 | RB | FRA | Angers SCO | Ligue 2 |
| Younes Bnou-Marzuk | 63 | ST | FRA | KVC Westerlo | Pro League |
| Zachary Anderson | 63 | CB | AUS | Sydney FC | A-League |
| Zaur Sadaev | 63 | CF | RUS | Lechia Gdańsk | Ekstraklasa |
| Zé Eduardo | 63 | CM | BRA | Lanciano | Serie B |
| Abdulmajeed Al Ruwaili | 62 | RM | SAR | Al-Taawoun | ALJ League |
| Adam Armstrong | 62 | CF | ENG | Coventry City | Football Leag.. |
| Ahmed Al Mubarak | 62 | LM | SAR | Al-Fateh | ALJ League |
| Alef | 62 | CDM | BRA | SC Braga | Liga Portugue.. |
| Alex Revell | 62 | ST | ENG | Cardiff City | FL Championsh.. |
| Amaury Escoto | 62 | RW | MEX | Tigres | LIGA Bancomer.. |
| Benjamín Ruiz | 62 | RB | CHI | Unión La Calera | Camp. Petrobr.. |
| Bernie Ibini | 62 | RM | AUS | Club Brugge | Pro League |
| Bilel Mohsni | 62 | CB | TUN | Angers SCO | Ligue 2 |
| Cenk Ahmet Alkılıç | 62 | RB | TUR | İstanbul BB | Süper Lig |
| Charlie Took | 62 | CB | CAM | UD Almería | Liga BBVA |
| Clemens Fandrich | 62 | CAM | GER | FC Luzern | Raiffeisen SL |
| Constantin Nica | 62 | RB | ROM | Avellino | Serie B |
| Craig Goodwin | 62 | LM | AUS | Adelaide United | A-League |
| Dale Jennings | 62 | LM | ENG | MK Dons | Football Leag.. |
| Daniel Johnson | 62 | CAM | ENG | Preston | Football Leag.. |
| Daniel Pavlovic | 62 | LB | SUI | Frosinone | Serie B |
| David Buchanan | 62 | LB | ENG | Northampton | Football Leag.. |
| David Edgar | 62 | CB | CAN | Sheffield Utd | Football Leag.. |
| Dominik Starkl | 62 | LW | AT | Admira | A. Bundesliga |
| Donervon Daniels | 62 | CB | ENG | West Brom | Barclays PL |
| Donervon Daniels | 62 | CB | ENG | Wigan Athletic | FL Championsh.. |
| Duane Holmes | 62 | CAM | USA | Huddersfield | FL Championsh.. |
| Elio De Silvestro | 62 | LM | ITA | Lanciano | Serie B |
| Enda Stevens | 62 | LB | IRL | Portsmouth | Football Leag.. |
| Fahad Al Yamani | 62 | CDM | SAR | Al-Ahli | ALJ League |
| Faysel Kasmi | 62 | CM | BEL | Standard Liège | Pro League |
| Gabriel Appelt Pires | 62 | CDM | BRA | CD Leganés | Liga Adelante |
| Gaëtan Karlen | 62 | ST | SUI | FC Thun | Raiffeisen SL |
| Gary Sawyer | 62 | LB | ENG | Plymouth Argyle | Football Leag.. |
| Gavin Gunning | 62 | CB | IRL | Oldham Athletic | Football Leag.. |
| Gedion Zelalem | 62 | CM | GER | Rangers | Scotland Leag.. |
| Gill Swerts | 62 | CDM | BEL | Notts County | Football Leag.. |
| Giovani Casillas | 62 | LM | MEX | Guadalajara | LIGA Bancomer.. |
| Graham Carey | 62 | LM | IRL | Plymouth Argyle | Football Leag.. |
| Grant Hall | 62 | CB | ENG | Spurs | Barclays PL |
| Grant Hall | 62 | CB | ENG | QPR | Barclays PL |
| Håkon Skogseid | 62 | RB | NOR | Lillestrøm SK | Tippeligaen |
| Hallgrímur Jónasson | 62 | CB | ICE | Odense Boldklub | Superliga |
| Hans Salinas | 62 | LB | CHI | Uni. Concepción | Camp. Petrobr.. |
| Héctor Acosta | 62 | RB | MEX | Santos Laguna | LIGA Bancomer.. |
| Hervías | 62 | RW | ESP | CA Osasuna | Liga Adelante |
| Hugo Rodriguez | 62 | CM | FRA | Stade Reims | Ligue 1 |
| Izale McLeod | 62 | ST | ENG | Notts County | Football Leag.. |
| Jacopo Dezi | 62 | CM | ITA | Napoli | Serie A |
| Jaílson | 62 | RB | BRA | Arouca | Liga Portugue.. |
| James Berrett | 62 | CM | IRL | York City | Football Leag.. |
| Jim McAlister | 62 | CM | SCO | Blackpool | FL Championsh.. |
| Jim McNulty | 62 | CB | SCO | Rochdale | Football Leag.. |
| Joe Martin | 62 | LB | ENG | Millwall | FL Championsh.. |
| Jonathan Douglas | 62 | CDM | IRL | Ipswich Town | FL Championsh.. |
| Joshua Brillante | 62 | CM | AUS | Empoli | Serie A |
| Lalawélé Atakora | 62 | RM | TOG | Helsingborgs IF | Allsvenskan |
| Larsen Touré | 62 | ST | GUI | Ipswich Town | FL Championsh.. |
| Lee Chang Min | 62 | CM | KOR | Chunnam Dragons | K LEAGUE |
| Levin Öztunali | 62 | CDM | GER | Werder Bremen | Bundesliga |
| Luca Bittante | 62 | RM | ITA | Fiorentina | Serie A |
| Luca Bittante | 62 | RM | ITA | Empoli | Serie A |
| Luis Fernando Telles | 62 | CM | MEX | Atlas | LIGA Bancomer.. |
| Maciej Iwański | 62 | CM | POL | Ruch Chorzów | Ekstraklasa |
| Maciej Iwański | 62 | CM | POL | Ruch Chorzów | Ekstraklasa |
| Maciej Małkowski | 62 | LM | POL | GKS Bełchatów | Ekstraklasa |
| Marco Bueno | 62 | ST | MEX | Club León | LIGA Bancomer.. |
| Marco Zambelli | 62 | RB | ITA | Empoli | Serie A |
| Mariusz Stępiński | 62 | ST | POL | Ruch Chorzów | Ekstraklasa |
| Mauricio Albornoz | 62 | CM | SWE | Åtvidabergs FF | Allsvenskan |
| Mawouna Amevor | 62 | RB | NED | Notts County | Football Leag.. |
| Maxime Le Marchand | 62 | CB | FRA | OGC Nice | Ligue 1 |
| Moreno Costanzo | 62 | CDM | SUI | FC Vaduz | Raiffeisen SL |
| Nathan Clarke | 62 | CB | ENG | Bradford City | Football Leag.. |
| Nicolai Brock-Madsen | 62 | ST | DEN | Birmingham City | FL Championsh.. |
| Nigel Boogaard | 62 | CB | AUS | Newcastle Jets | A-League |
| Oluwasanmi Odelusi | 62 | LM | ENG | Wigan Athletic | FL Championsh.. |
| Oluwasanmi Odelusi | 62 | LM | ENG | Wigan Athletic | FL Championsh.. |
| Patrick Mullins | 62 | ST | USA | NY City FC | MLS |
| Patrik Mráz | 62 | LB | SVK | Piast Gliwice | Ekstraklasa |
| Paul Corry | 62 | CM | IRL | Northampton | Football Leag.. |
| Richard Windbichler | 62 | CB | AT | FK Austria | A. Bundesliga |
| Robert Milsom | 62 | CM | ENG | Notts County | Football Leag.. |
| Robin Gosens | 62 | LB | GER | Heracles Almelo | Eredivisie |
| Ronan Finn | 62 | CAM | IRL | Dundalk | Airtricity Le.. |
| Ryan Dickson | 62 | LB | ENG | Yeovil Town | Football Leag.. |
| Ryan Taylor | 62 | ST | ENG | Oxford United | Football Leag.. |
| Ryu Chang Hyun | 62 | ST | KOR | Jeonbuk FC | K LEAGUE |
| Sakari Mattila | 62 | CM | FIN | Fulham | FL Championsh.. |
| Samu Castillejo | 62 | LM | ESP | Villarreal CF | Liga BBVA |
| Sergio Pérez | 62 | RB | MEX | Puebla | LIGA Bancomer.. |
| Stefan Mugoša | 62 | ST | MON | 1860 Munich | Bundesliga 2 |
| Stéphane Zubar | 62 | CB | FRA | York City | Football Leag.. |
| Stephen McGinn | 62 | CM | SCO | Wycombe | Football Leag.. |
| Steven Lang | 62 | LM | SUI | FC St. Gallen | Raiffeisen SL |
| Steven Schumacher | 62 | CDM | ENG | Stevenage | Football Leag.. |
| Teixeira | 62 | CAM | POR | Liverpool | Barclays PL |
| Tomás Martínez | 62 | CAM | ARG | CD Tenerife | Liga Adelante |
| Toni Vastić | 62 | ST | AT | Admira | A. Bundesliga |
| Tyler Boyd | 62 | RW | NZL | Vit. Guimarães | Liga Portugue.. |
| Viktor Agardius | 62 | LB | SWE | Kalmar FF | Allsvenskan |
| Wesley Hoedt | 62 | CB | NED | Lazio | Serie A |
| Wessel Dammers | 62 | CB | NED | SC Cambuur | Eredivisie |
| William Troost-Ekong | 62 | CB | NED | FK Haugesund | Tippeligaen |
| Zié Diabaté | 62 | LB | IVC | AC Ajaccio | Ligue 2 |
| Aaron Wildig | 61 | CM | ENG | Morecambe | Football Leag.. |
| Adam Campbell | 61 | ST | ENG | Notts County | Football Leag.. |
| Adam Mójta | 61 | LB | POL | Podbeskidzie | Ekstraklasa |
| Adam Morgan | 61 | ST | ENG | Accrington | Football Leag.. |
| Alassane Touré | 61 | RB | FRA | GFC Ajaccio | Ligue 2 |
| Alessandro Crescenzi | 61 | RB | ITA | Pescara | Serie B |
| Ali Al Zubaidi | 61 | CDM | SAR | Hajer Club (Al A.. | ALJ League |
| Andy Williams | 61 | ST | ENG | Doncaster | Football Leag.. |
| Anton Sosnin | 61 | LB | RUS | Dinamo Moskva | Russian Leagu.. |
| Antonio-Mirko Čolak | 61 | ST | CRO | 1. FC K'lautern | Bundesliga 2 |
| Baek Ji Hoon | 61 | CAM | KOR | Suwon Bluewings | K LEAGUE |
| Baïssama Sankoh | 61 | RB | GUI | Stade Brest | Ligue 2 |
| Bálint Bajner | 61 | ST | HUN | Notts County | Football Leag.. |
| Batuhan Altintaş | 61 | ST | TUR | Hamburger SV | Bundesliga |
| Ben Nugent | 61 | CB | ENG | Cardiff City | FL Championsh.. |
| Ben Nugent | 61 | CB | ENG | Crewe Alexandra | Football Leag.. |
| Billy Kee | 61 | ST | NIR | Accrington | Football Leag.. |
| Bobby Grant | 61 | CAM | ENG | Fleetwood Town | Football Leag.. |
| Byron Harrison | 61 | ST | ENG | Chesterfield | Football Leag.. |
| Chris Robertson | 61 | CB | SCO | Ross County | Scottish Prem |
| Christian Burgess | 61 | CB | ENG | Portsmouth | Football Leag.. |
| Christoffer Andersson | 61 | LB | SWE | Halmstads BK | Allsvenskan |
| Christoph Martschinko | 61 | LB | AT | FK Austria | A. Bundesliga |
| Collin Quaner | 61 | ST | GER | Union Berlin | Bundesliga 2 |
| Connor Goldson | 61 | CB | ENG | Brighton | FL Championsh.. |
| Corey Gameiro | 61 | ST | AUS | Melbourne Heart | A-League |
| Craig Westcarr | 61 | ST | ENG | Mansfield Town | Football Leag.. |
| Dalmau | 61 | RB | ESP | Córdoba CF | Liga BBVA |
| Daniel Sikorski | 61 | ST | AT | SV Ried | A. Bundesliga |
| Danny Mwanga | 61 | ST | DRC | Orlando City | MLS |
| David Juncà | 61 | LWB | ESP | SD Eibar | Liga BBVA |
| Diego Poyet | 61 | CDM | ENG | MK Dons | Football Leag.. |
| Djavan Anderson | 61 | RB | NED | SC Cambuur | Eredivisie |
| François Marquet | 61 | CDM | BEL | Royal Mouscron | Pro League |
| Georges-Kévin Nkoudou | 61 | LM | FRA | Marseille | Ligue 1 |
| Godfred Donsah | 61 | CM | GHA | Bologna | Serie B |
| Gracian Horoszkiewicz | 61 | CB | POL | Podbeskidzie | Ekstraklasa |
| Guðjón Baldvinsson | 61 | ST | ICE | FC Nordsjælland | Superliga |
| Ha Tae Goon | 61 | ST | KOR | Suwon Bluewings | K LEAGUE |
| Iacopo La Rocca | 61 | CDM | ITA | Adelaide United | A-League |
| Ian Morris | 61 | LM | IRL | St. Pats | Airtricity Le.. |
| Ivan Kovačec | 61 | LW | CRO | Ulsan Hyundai | K LEAGUE |
| Jabo Ibehre | 61 | ST | ENG | Carlisle United | Football Leag.. |
| Jacek Kiełb | 61 | RM | POL | Śląsk Wrocław | Ekstraklasa |
| Janik Haberer | 61 | ST | GER | VfL Bochum | Bundesliga 2 |
| Jason Kennedy | 61 | CM | ENG | Carlisle United | Football Leag.. |
| Jeffrey Monakana | 61 | RM | ENG | Brighton | FL Championsh.. |
| Joe Skarz | 61 | LB | ENG | Oxford United | Football Leag.. |
| John Marquis | 61 | ST | ENG | Millwall | FL Championsh.. |
| Jordi Quintillà | 61 | CAM | ESP | Sporting KC | MLS |
| Jørgen Hammer | 61 | CB | NOR | Start | Tippeligaen |
| Josh Murphy | 61 | LM | ENG | MK Dons | Football Leag.. |
| Josh Simpson | 61 | RM | ENG | Plymouth Argyle | Football Leag.. |
| Kalifa Coulibaly | 61 | ST | MAL | KAA Gent | Pro League |
| Kamil Poźniak | 61 | CAM | POL | Górnik Łęczna | Ekstraklasa |
| Kamil Wilczek | 61 | ST | POL | Carpi | Serie B |
| Kenan Özer | 61 | RW | TUR | Konyaspor | Süper Lig |
| Kerem Demirbay | 61 | CM | TUR | F. Düsseldorf | Bundesliga 2 |
| Kim In Han | 61 | LW | KOR | Sangju Sangmu Ph.. | K LEAGUE |
| Kim In Sung | 61 | RM | KOR | Incheon United | K LEAGUE |
| Kwabena Appiah | 61 | RW | AUS | Well. Phoenix | A-League |
| Lee Barnard | 61 | ST | ENG | Stevenage | Football Leag.. |
| Lee Barnard | 61 | ST | ENG | Crawley Town | Football Leag.. |
| Lee Collins | 61 | CB | ENG | Mansfield Town | Football Leag.. |
| Lewis Alessandra | 61 | ST | ENG | Rochdale | Football Leag.. |
| Liam Sercombe | 61 | CM | ENG | Oxford United | Football Leag.. |
| Ludwig Augustinsson | 61 | LB | SWE | FC København | Superliga |
| Lukas Grozurek | 61 | LM | AT | Admira | A. Bundesliga |
| Lukas Kübler | 61 | RB | GER | SC Freiburg | Bundesliga |
| Lyle Taylor | 61 | ST | ENG | AFC Wimbledon | Football Leag.. |
| Mark Hughes | 61 | CB | ENG | Stevenage | Football Leag.. |
| Mark Marshall | 61 | LM | ENG | Bradford City | Football Leag.. |
| Martin Broberg | 61 | LM | SWE | Örebro SK | Allsvenskan |
| Mason Bennett | 61 | ST | ENG | Derby County | FL Championsh.. |
| Matt Simon | 61 | ST | AUS | Sydney FC | A-League |
| Matteo Fedele | 61 | CM | SUI | Carpi | Serie B |
| Max Ehmer | 61 | CB | GER | Gillingham | Football Leag.. |
| Maxwel Cornet | 61 | ST | FRA | Olympique Lyon | Ligue 1 |
| Michael Harriman | 61 | RB | IRL | Wycombe | Football Leag.. |
| Michaël Jordan Nkololo | 61 | CAM | FRA | SM Caen | Ligue 1 |
| Murray Wallace | 61 | CB | SCO | Scunthorpe Utd | Football Leag.. |
| Orhan Gülle | 61 | CDM | TUR | Sivasspor | Süper Lig |
| Pasquale Fazio | 61 | RB | ITA | Trapani | Serie B |
| Patrick Olsen | 61 | CM | DEN | FK Haugesund | Tippeligaen |
| Paulo Díaz | 61 | CB | CHI | Colo-Colo | Camp. Petrobr.. |
| Pierrick Capelle | 61 | CM | FRA | Angers SCO | Ligue 2 |
| Piotr Grzelczak | 61 | LM | POL | Jag. Białystok | Ekstraklasa |
| Sam Clucas | 61 | ST | ENG | Hull City | Barclays PL |
| Sam Foley | 61 | CM | IRL | Port Vale | Football Leag.. |
| Scott Cuthbert | 61 | RB | SCO | Luton Town | Football Leag.. |
| Scott Jamieson | 61 | LB | AUS | Wanderers | A-League |
| Scott Neville | 61 | RB | AUS | Wanderers | A-League |
| Shaun Miller | 61 | ST | ENG | Morecambe | Football Leag.. |
| Sim Dong Woon | 61 | CAM | KOR | Pohang Steelers | K LEAGUE |
| Stefan Popescu | 61 | CB | ROM | Modena | Serie B |
| Stipe Vučur | 61 | CB | AT | 1. FC K'lautern | Bundesliga 2 |
| Tendayi Darikwa | 61 | RB | ENG | Burnley | Barclays PL |
| Terry Antonis | 61 | CM | AUS | PAOK | Hellas Liga |
| Thomas Lemar | 61 | RM | FRA | AS Monaco | Ligue 1 |
| Tim Björkström | 61 | RB | SWE | Djurgårdens IF | Allsvenskan |
| Tom Flanagan | 61 | CB | NIR | Burton Albion | Football Leag.. |
| Troy Brown | 61 | CB | WAL | Exeter City | Football Leag.. |
| Ulrik Flo | 61 | ST | NOR | ODD | Tippeligaen |
| Unai Medina | 61 | RB | ESP | CD Numancia | Liga Adelante |
| Wes Fletcher | 61 | ST | ENG | Motherwell | Scottish Prem |
| Will Hayhurst | 61 | LM | IRL | Notts County | Football Leag.. |
| William Rémy | 61 | CB | FRA | Montpellier HSC | Ligue 1 |
| Yang Jun A | 61 | CB | KOR | Jeju United FC | K LEAGUE |
| Yeo Sung Hye | 61 | CB | KOR | Sangju Sangmu Ph.. | K LEAGUE |
| Yoann Arquin | 61 | ST | FRA | St. Mirren | Scottish Prem |
| Yroundu Musavu-King | 61 | CB | GAB | Granada CF | Liga BBVA |
| Zouhair Feddal | 61 | CB | MOR | Parma | Serie A |
| Zouhair Feddal | 61 | CB | MOR | Levante UD | Liga BBVA |
| Adam Barrett | 60 | CB | ENG | Southend United | Football Leag.. |
| Adam Bedell | 60 | ST | USA | Orlando City | MLS |
| Adam Chapman | 60 | CM | NIR | Mansfield Town | Football Leag.. |
| Adam Dugdale | 60 | CB | ENG | Morecambe | Football Leag.. |
| Adam McGurk | 60 | ST | NIR | Portsmouth | Football Leag.. |
| Amin Nouri | 60 | RB | AZE | SK Brann | Tippeligaen |
| Andrés Correa | 60 | LB | COL | Sounders FC | MLS |
| Andrew Hoole | 60 | RM | AUS | Sydney FC | A-League |
| Anthony Grant | 60 | CM | ENG | Port Vale | Football Leag.. |
| Anton Wede | 60 | CM | SWE | Helsingborgs IF | Allsvenskan |
| Barry Corr | 60 | ST | IRL | Cambridge Utd | Football Leag.. |
| Ben Purkiss | 60 | RB | ENG | Port Vale | Football Leag.. |
| Blair Turgott | 60 | RM | ENG | Leyton Orient | Football Leag.. |
| Bradley Garmston | 60 | LB | IRL | Gillingham | Football Leag.. |
| Brian Graham | 60 | ST | SCO | Ross County | Scottish Prem |
| Callum Robinson | 60 | LM | ENG | Bristol City | Football Leag.. |
| Cedric Mingiedi | 60 | CB | BEL | KV Mechelen | Pro League |
| Clinton N'Jié | 60 | ST | CAM | Spurs | Barclays PL |
| Daniel North | 60 | ST | ENG | Shamrock Rovers | Airtricity Le.. |
| Daniel Potts | 60 | LB | ENG | Luton Town | Football Leag.. |
| Danny Holmes | 60 | RB | ENG | Newport County | Football Leag.. |
| Dardan Rexhepi | 60 | ST | SWE | BK Häcken | Allsvenskan |
| Darius Charles | 60 | CB | ENG | Burton Albion | Football Leag.. |
| David Amoo | 60 | RM | ENG | Partick Thistle | Scottish Prem |
| Donis Avdijaj | 60 | ST | GER | SK Sturm Graz | A. Bundesliga |
| Eddie Nolan | 60 | RB | IRL | York City | Football Leag.. |
| Eli Babalj | 60 | ST | AUS | Adelaide United | A-League |
| Erik Thommy | 60 | LM | GER | 1. FC K'lautern | Bundesliga 2 |
| Florian Ballas | 60 | CB | GER | FSV Frankfurt | Bundesliga 2 |
| Gareth Evans | 60 | RM | ENG | Portsmouth | Football Leag.. |
| Garry Thompson | 60 | RM | ENG | Wycombe | Football Leag.. |
| İbrahim Serdar Aydın | 60 | CM | TUR | Bursaspor | Süper Lig |
| Isaiah Brown | 60 | ST | ENG | Vitesse | Eredivisie |
| Ivan Martić | 60 | RB | CRO | La Spezia | Serie B |
| Jack King | 60 | CB | ENG | Scunthorpe Utd | Football Leag.. |
| Jack Price | 60 | CM | ENG | Wolverhampton | FL Championsh.. |
| Jake Carroll | 60 | LB | IRL | Hartlepool | Football Leag.. |
| Jake Cassidy | 60 | ST | WAL | Oldham Athletic | Football Leag.. |
| James Alabi | 60 | ST | ENG | Ipswich Town | FL Championsh.. |
| Janoi Donacien | 60 | CB | STL | Aston Villa | Barclays PL |
| Janoi Donacien | 60 | CB | STL | Wycombe | Football Leag.. |
| Jean-Charles Castelletto | 60 | CB | FRA | Club Brugge | Pro League |
| Joe Shaughnessy | 60 | RB | IRL | St. Johnstone | Scottish Prem |
| Joe Thompson | 60 | RM | ENG | Carlisle United | Football Leag.. |
| Joel Allansson | 60 | CM | SWE | Randers FC | Superliga |
| Jon Ashton | 60 | CB | ENG | Crawley Town | Football Leag.. |
| Josh Scowen | 60 | CM | ENG | Barnsley | Football Leag.. |
| Kamal Issah | 60 | CDM | GHA | Stabæk Fotball | Tippeligaen |
| Kane Ferdinand | 60 | CM | IRL | Dagenham | Football Leag.. |
| Kasper Larsen | 60 | CB | DEN | FC Groningen | Eredivisie |
| Khaled Narey | 60 | RB | GER | SC Paderborn | Bundesliga |
| Ko Jae Sung | 60 | RB | KOR | GyeongNam FC | K LEAGUE |
| Lee Evans | 60 | CM | WAL | Bradford City | Football Leag.. |
| Leon Legge | 60 | CB | ENG | Cambridge Utd | Football Leag.. |
| Luke O'Neill | 60 | RB | ENG | Burnley | Barclays PL |
| Luke O'Neill | 60 | RB | ENG | Southend United | Football Leag.. |
| Marc Andre Schmerböck | 60 | LM | AT | Wolfsberger AC | A. Bundesliga |
| Marcus Bean | 60 | CM | JAM | Wycombe | Football Leag.. |
| Matt Tootle | 60 | RB | ENG | Shrewsbury | Football Leag.. |
| Mattia Aramu | 60 | CM | ITA | Livorno | Serie B |
| Mehdi Zeffane | 60 | RB | FRA | Stade Rennais | Ligue 1 |
| Mensur Kurtiši | 60 | ST | MAC | Varese | Serie B |
| Michael Petrasso | 60 | RM | CAN | QPR | Barclays PL |
| Najib Baouia | 60 | RM | ALG | RC Lens | Ligue 1 |
| Nicky Featherstone | 60 | CM | ENG | Hartlepool | Football Leag.. |
| Nicolás Orellana | 60 | ST | CHI | San Marcos | Camp. Petrobr.. |
| Niklas Gunnarsson | 60 | RB | NOR | IF Elfsborg | Allsvenskan |
| Olly Lee | 60 | CM | ENG | Luton Town | Football Leag.. |
| Park Gi Dong | 60 | ST | KOR | Sangju Sangmu Ph.. | K LEAGUE |
| Park Yong Ji | 60 | ST | KOR | Seongnam Ilhwa | K LEAGUE |
| Patrick Hoban | 60 | ST | IRL | Oxford United | Football Leag.. |
| Patryk Tuszyński | 60 | ST | POL | Çaykur Rizespor | Süper Lig |
| Paul McCallum | 60 | ST | ENG | Leyton Orient | Football Leag.. |
| Reece Brown | 60 | RB | ENG | Bury | Football Leag.. |
| Robin Yalcin | 60 | CDM | GER | Çaykur Rizespor | Süper Lig |
| Ronan | 60 | LB | BRA | FC Porto | Liga Portugue.. |
| Sammy Moore | 60 | CM | ENG | Leyton Orient | Football Leag.. |
| Samu | 60 | LB | ESP | UE Llagostera | Liga Adelante |
| Scot Bennett | 60 | CB | ENG | Notts County | Football Leag.. |
| Sean Clohessy | 60 | RB | ENG | Leyton Orient | Football Leag.. |
| Serdar Azmoun | 60 | ST | IRN | FC Rostov | Russian Leagu.. |
| Simen Brenne | 60 | CM | NOR | Sarpsborg | Tippeligaen |
| Song Soo Young | 60 | LW | KOR | Jeju United FC | K LEAGUE |
| Steven Smith | 60 | LB | SCO | Kilmarnock | Scottish Prem |
| Tom Elliott | 60 | ST | ENG | AFC Wimbledon | Football Leag.. |
| Tom Hitchcock | 60 | ST | ENG | Stevenage | Football Leag.. |
| Tyrone Mings | 60 | LB | ENG | Bournemouth | FL Championsh.. |
| Victor Sköld | 60 | ST | SWE | IFK Göteborg | Allsvenskan |
| Will Keane | 60 | ST | ENG | Preston | Football Leag.. |
| Yu Ji Hoon | 60 | LB | KOR | Busan I'Park | K LEAGUE |
| Zeli Ismail | 60 | RM | ENG | Burton Albion | Football Leag.. |
| Zinho Gano | 60 | ST | BEL | Waasl.-Beveren | Pro League |
| Abu Ogogo | 59 | CM | ENG | Shrewsbury | Football Leag.. |
| Adrien Thomasson | 59 | CM | FRA | FC Nantes | Ligue 1 |
| Alan Bennett | 59 | CB | IRL | Cork City | Airtricity Le.. |
| Alex Wynter | 59 | CB | ENG | Colchester | Football Leag.. |
| Antony Golec | 59 | LB | AUS | Perth Glory | A-League |
| Ben Tozer | 59 | RB | ENG | Yeovil Town | Football Leag.. |
| Ben Williamson | 59 | ST | ENG | Gillingham | Football Leag.. |
| Billy Daniels | 59 | CM | ENG | Notts County | Football Leag.. |
| Calum Butcher | 59 | CDM | ENG | Burton Albion | Football Leag.. |
| Chris Porter | 59 | ST | ENG | Colchester | Football Leag.. |
| Christophe Vincent | 59 | CM | FRA | AC Ajaccio | Ligue 2 |
| Clark Robertson | 59 | LB | SCO | Blackpool | FL Championsh.. |
| Conor Townsend | 59 | LB | ENG | Hull City | Barclays PL |
| Daniel Mojsov | 59 | CB | MAC | Lierse SK | Pro League |
| Denis Thomalla | 59 | ST | GER | Lech Poznań | Ekstraklasa |
| Erik Tønne | 59 | LB | NOR | FK Bodø/Glimt | Tippeligaen |
| Ermir Lenjani | 59 | LB | ALB | Stade Rennais | Ligue 1 |
| Ermir Lenjani | 59 | LB | ALB | FC Nantes | Ligue 1 |
| Eysa Al Mahyani | 59 | ST | SAR | Al-Ittihad | ALJ League |
| Eysa Al Mahyani | 59 | ST | SAR | Najran | ALJ League |
| Florian Pinteaux | 59 | LB | FRA | AC Arles | Ligue 2 |
| Fredrik Midtsjø | 59 | CM | NOR | Rosenborg BK | Tippeligaen |
| Graham Burke | 59 | ST | IRL | Notts County | Football Leag.. |
| Hadi Yahya | 59 | CB | SAR | Al-Faisaly | ALJ League |
| Harry Worley | 59 | CB | ENG | Hartlepool | Football Leag.. |
| Jack Compton | 59 | LM | ENG | Yeovil Town | Football Leag.. |
| Jason Johnson | 59 | ST | JAM | Chicago Fire | MLS |
| Jesper Karlström | 59 | CM | SWE | Djurgårdens IF | Allsvenskan |
| Joe Widdowson | 59 | LB | ENG | Bury | Football Leag.. |
| John Swift | 59 | CM | ENG | Chelsea | Barclays PL |
| Jonathan Meades | 59 | LB | WAL | AFC Wimbledon | Football Leag.. |
| Jordan Slew | 59 | ST | ENG | Cambridge Utd | Football Leag.. |
| Kaid Mohamed | 59 | LM | WAL | Port Vale | Football Leag.. |
| Kane Hemmings | 59 | ST | ENG | Dundee FC | Scottish Prem |
| Karol Angielski | 59 | ST | POL | Piast Gliwice | Ekstraklasa |
| Kevin Akpoguma | 59 | CB | GER | F. Düsseldorf | Bundesliga 2 |
| Koby Arthur | 59 | CAM | GHA | Birmingham City | FL Championsh.. |
| Lawrie Wilson | 59 | RB | ENG | Bolton | FL Championsh.. |
| Lee Molyneux | 59 | LM | ENG | Morecambe | Football Leag.. |
| Lewis Baker | 59 | CAM | ENG | Vitesse | Eredivisie |
| Liam McAlinden | 59 | ST | IRL | Shrewsbury | Football Leag.. |
| Luke Rooney | 59 | RM | ENG | Crawley Town | Football Leag.. |
| Luke Williams | 59 | ST | ENG | Scunthorpe Utd | Football Leag.. |
| Mal Benning | 59 | LB | ENG | Mansfield Town | Football Leag.. |
| Mark Cullen | 59 | ST | ENG | Blackpool | FL Championsh.. |
| Marley Watkins | 59 | RM | WAL | Barnsley | Football Leag.. |
| Martin Harrer | 59 | LW | AT | SCR Altach | A. Bundesliga |
| Mathias Pogba | 59 | ST | GUI | Crawley Town | Football Leag.. |
| Mathias Pogba | 59 | ST | GUI | Partick Thistle | Scottish Prem |
| Matt Done | 59 | ST | WAL | Sheffield Utd | Football Leag.. |
| Matt Richards | 59 | CM | ENG | Dagenham | Football Leag.. |
| Matthew Dolan | 59 | CM | ENG | Yeovil Town | Football Leag.. |
| Matty Blair | 59 | RM | ENG | Mansfield Town | Football Leag.. |
| Nicky Low | 59 | CM | SCO | Dundee FC | Scottish Prem |
| Nils Quaschner | 59 | ST | GER | RB Leipzig | Bundesliga 2 |
| Park Sun Yong | 59 | CDM | KOR | Pohang Steelers | K LEAGUE |
| Pavel Mogilevets | 59 | CDM | RUS | FC Rostov | Russian Leagu.. |
| Riccardo Fiamozzi | 59 | RB | ITA | Pescara | Serie B |
| Richard Foster | 59 | RB | SCO | Ross County | Scottish Prem |
| Sam Hoskins | 59 | ST | ENG | Northampton | Football Leag.. |
| Samuel Gigot | 59 | CB | FRA | KV Kortrijk | Pro League |
| Sascha Mockenhaupt | 59 | CB | GER | 1. FC K'lautern | Bundesliga 2 |
| Seko Fofana | 59 | CM | FRA | SC Bastia | Ligue 1 |
| Seth Nana Ofori-Twumasi | 59 | RB | ENG | Newport County | Football Leag.. |
| Stefan Lainer | 59 | RB | AT | RB Salzburg | A. Bundesliga |
| Stephen O'Donnell | 59 | RB | SCO | Luton Town | Football Leag.. |
| Tim Leibold | 59 | LB | GER | 1. FC Nuremberg | Bundesliga 2 |
| Tolga Ünlü | 59 | RB | GER | Akhisarspor | Süper Lig |
| Vadaine Oliver | 59 | ST | ENG | York City | Football Leag.. |
| Vladimirs Kamešs | 59 | RM | LVA | Pogoń Szczecin | Ekstraklasa |
| Ahmed Al Nazera | 58 | CAM | SAR | Al-Ittihad | ALJ League |
| Ahn Jin Bum | 58 | ST | KOR | Incheon United | K LEAGUE |
| Alexander Sørloth | 58 | ST | NOR | FK Bodø/Glimt | Tippeligaen |
| Andreas Christensen | 58 | CB | DEN | Bor. M'gladbach | Bundesliga |
| Awadh Khrees | 58 | RB | SAR | Al-Ittihad | ALJ League |
| Awer Mabil | 58 | RW | AUS | FC Midtjylland | Superliga |
| Billy Bingham | 58 | CM | ENG | Crewe Alexandra | Football Leag.. |
| Callum McFadzean | 58 | LM | ENG | Sheffield Utd | Football Leag.. |
| Cameron Watson | 58 | CM | AUS | Newcastle Jets | A-League |
| Charlie Wyke | 58 | ST | ENG | Carlisle United | Football Leag.. |
| Chuba Akpom | 58 | ST | ENG | Hull City | Barclays PL |
| Ciaran Kilduff | 58 | ST | IRL | St. Pats | Airtricity Le.. |
| Ciaran Kilduff | 58 | ST | IRL | Dundalk | Airtricity Le.. |
| Daniel Berntsen | 58 | CM | NOR | Djurgårdens IF | Allsvenskan |
| David McAllister | 58 | CDM | IRL | Stevenage | Football Leag.. |
| Fabian Holthaus | 58 | LB | GER | F. Düsseldorf | Bundesliga 2 |
| Francisco Flores | 58 | RB | MEX | Pachuca | LIGA Bancomer.. |
| Ivan Toney | 58 | ST | ENG | Newcastle Utd | Barclays PL |
| Jack Redshaw | 58 | ST | ENG | Blackpool | FL Championsh.. |
| Jack Stephens | 58 | CB | ENG | Southampton | Barclays PL |
| Jack Stephens | 58 | CB | ENG | Middlesbrough | FL Championsh.. |
| Jacob Pepper | 58 | CDM | AUS | Wanderers | A-League |
| Jakub Kowalski | 58 | RM | POL | Podbeskidzie | Ekstraklasa |
| Jason McGuinness | 58 | CB | IRL | St. Pats | Airtricity Le.. |
| Jerome Binnom-Williams | 58 | LB | ENG | Burton Albion | Football Leag.. |
| Joe Pigott | 58 | ST | ENG | Charlton Ath | FL Championsh.. |
| Joe Pigott | 58 | ST | ENG | Southend United | Football Leag.. |
| John Lundstram | 58 | CM | ENG | Everton | Barclays PL |
| John Lundstram | 58 | CM | ENG | Oxford United | Football Leag.. |
| José Mauri | 58 | CM | ARG | Milan | Serie A |
| Joseph Baffo | 58 | CB | SWE | Braunschweig | Bundesliga 2 |
| Josh Morris | 58 | LM | ENG | Bradford City | Football Leag.. |
| Josh Morris | 58 | LM | ENG | Blackburn Rvrs | FL Championsh.. |
| Kadeem Harris | 58 | LM | ENG | Barnsley | Football Leag.. |
| Karl Ouimette | 58 | CB | CAN | NY Red Bulls | MLS |
| Kim Pyung Rae | 58 | CM | KOR | Chunnam Dragons | K LEAGUE |
| Krisztián Tamás | 58 | LB | HUN | La Spezia | Serie B |
| Louis Thompson | 58 | CM | WAL | Norwich City | FL Championsh.. |
| Lukas Denner | 58 | LM | AT | SV Grödig | A. Bundesliga |
| Majed Hazazi | 58 | RB | SAR | Al-Fateh | ALJ League |
| Mamuka Kobakhidze | 58 | CB | GEO | Mordovia Saransk | Russian Leagu.. |
| Marc Laird | 58 | CM | SCO | Yeovil Town | Football Leag.. |
| Marcus Antonsson | 58 | ST | SWE | Kalmar FF | Allsvenskan |
| Mark Beck | 58 | ST | SCO | Yeovil Town | Football Leag.. |
| Mark Quigley | 58 | ST | IRL | Derry City | Airtricity Le.. |
| Michael Jordan Contreras | 58 | RB | CHI | CD Huachipato | Camp. Petrobr.. |
| Michael Jordan Contreras | 58 | RB | CHI | Uni. de Chile | Camp. Petrobr.. |
| Michael Raynes | 58 | CB | ENG | Carlisle United | Football Leag.. |
| Michele Polverino | 58 | CDM | LIE | SV Ried | A. Bundesliga |
| Miles Storey | 58 | ST | ENG | Swindon Town | Football Leag.. |
| Mohammed Al Rashed | 58 | ST | SAR | Al-Khaleej | ALJ League |
| Nico Brandenburger | 58 | CM | GER | FC Luzern | Raiffeisen SL |
| Ozan Tufan | 58 | CDM | TUR | Fenerbahçe SK | Süper Lig |
| Paris Cowan-Hall | 58 | RM | ENG | Millwall | FL Championsh.. |
| Rafał Grzelak | 58 | LB | POL | Korona Kielce | Ekstraklasa |
| Rashed Al Rahab | 58 | RB | SAR | Hajer Club (Al A.. | ALJ League |
| Rasmus Festersen | 58 | ST | DEN | Odense Boldklub | Superliga |
| Reece Brown | 58 | CM | ENG | Birmingham City | FL Championsh.. |
| Richard Brindley | 58 | RB | ENG | Colchester | Football Leag.. |
| Ryan Inniss | 58 | CB | ENG | Port Vale | Football Leag.. |
| Salman Al Sibyani | 58 | CF | SAR | Al-Ittihad | ALJ League |
| Sebastian Lletget | 58 | CM | USA | L.A. Galaxy | MLS |
| Sebastian Ramhorn | 58 | LB | SWE | Åtvidabergs FF | Allsvenskan |
| Sebastian Velasquez | 58 | CM | COL | NY City FC | MLS |
| Shaquile Coulthirst | 58 | LM | ENG | Spurs | Barclays PL |
| Shaquile Coulthirst | 58 | LM | ENG | Wigan Athletic | FL Championsh.. |
| Stephan Auer | 58 | LB | AT | SK Rapid Wien | A. Bundesliga |
| Sultan Al Bargan | 58 | CDM | SAR | Al-Raed | ALJ League |
| Tom Barkhuizen | 58 | ST | ENG | Morecambe | Football Leag.. |
| Tom Lawrence | 58 | LM | WAL | Blackburn Rvrs | FL Championsh.. |
| Tom Newey | 58 | LB | ENG | Northampton | Football Leag.. |
| Ty Harden | 58 | CB | USA | Chicago Fire | MLS |
| Valmir Berisha | 58 | ST | SWE | SC Cambuur | Eredivisie |
| Yeon Jei Min | 58 | CB | KOR | Suwon Bluewings | K LEAGUE |
| Adam Yates | 57 | RB | ENG | Northampton | Football Leag.. |
| Chris Beardsley | 57 | ST | ENG | Mansfield Town | Football Leag.. |
| Conor McCormack | 57 | CM | IRL | Derry City | Airtricity Le.. |
| Daniel Carr | 57 | ST | ENG | Cambridge Utd | Football Leag.. |
| Daniel De Silva | 57 | LM | AUS | Roma | Serie A |
| Devante Cole | 57 | ST | ENG | Manchester City | Barclays PL |
| Emil Dahle | 57 | LM | NOR | Start | Tippeligaen |
| Gearóid Morrissey | 57 | CM | IRL | Cambridge Utd | Football Leag.. |
| George Taft | 57 | CB | ENG | Cambridge Utd | Football Leag.. |
| Gino Bosz | 57 | CDM | NED | Heracles Almelo | Eredivisie |
| Grant Ward | 57 | CDM | ENG | Rotherham Utd | FL Championsh.. |
| Grant Ward | 57 | CDM | ENG | Spurs | Barclays PL |
| Gudmundur Thórarinsson | 57 | CDM | ICE | FC Nordsjælland | Superliga |
| Hagi Gligor | 57 | CM | AUS | Perth Glory | A-League |
| Hussein Shuwaish | 57 | CB | SAR | Al-Raed | ALJ League |
| Jack Marriott | 57 | ST | ENG | Luton Town | Football Leag.. |
| Jacob Murphy | 57 | RM | ENG | Coventry City | Football Leag.. |
| James Caton | 57 | LM | ENG | Mansfield Town | Football Leag.. |
| Jason Taylor | 57 | CM | ENG | Northampton | Football Leag.. |
| Jonathan Franks | 57 | RM | ENG | Ross County | Scottish Prem |
| Jordan Mustoe | 57 | LB | ENG | KVC Westerlo | Pro League |
| Karl Sheppard | 57 | ST | IRL | Cork City | Airtricity Le.. |
| Keith Ward | 57 | LM | IRL | Sligo Rovers | Airtricity Le.. |
| Kieran Djilali | 57 | LM | ENG | Cork City | Airtricity Le.. |
| Lewis MacLeod | 57 | CM | SCO | Brentford | FL Championsh.. |
| Liam O'Neil | 57 | CDM | ENG | Chesterfield | Football Leag.. |
| Luca Forte | 57 | ST | ITA | Pescara | Serie B |
| Marvin Potzmann | 57 | RB | AT | SK Sturm Graz | A. Bundesliga |
| Max Power | 57 | CM | ENG | Wigan Athletic | FL Championsh.. |
| Pascal Itter | 57 | RB | GER | SV Grödig | A. Bundesliga |
| Philipp Max | 57 | LB | GER | FC Augsburg | Bundesliga |
| Ryan Bird | 57 | ST | ENG | Yeovil Town | Football Leag.. |
| Ryan Fredericks | 57 | RB | ENG | Spurs | Barclays PL |
| Ryan Fredericks | 57 | RB | ENG | Bristol City | Football Leag.. |
| Sergej Milinković-Savić | 57 | CDM | SRB | Lazio | Serie A |
| Stuart Dallas | 57 | LM | NIR | Leeds United | FL Championsh.. |
| Thierry Moutinho | 57 | LM | SUI | RCD Mallorca | Liga Adelante |
| Thomas McNamara | 57 | LM | USA | NY City FC | MLS |
| Zymer Bytyqi | 57 | ST | NOR | Viking FK | Tippeligaen |
| Ala'a Rishani | 56 | CDM | SAR | Al-Khaleej | ALJ League |
| Amari'i Bell | 56 | LWB | ENG | Fleetwood Town | Football Leag.. |
| Andre Gray | 56 | ST | ENG | Burnley | Barclays PL |
| Andres Tello | 56 | RB | COL | Juventus | Serie A |
| Andres Tello | 56 | RB | COL | Cagliari | Serie A |
| Bae Chun Suk | 56 | ST | KOR | Busan I'Park | K LEAGUE |
| Bastien Héry | 56 | CM | FRA | Carlisle United | Football Leag.. |
| Connor Essam | 56 | CB | ENG | Leyton Orient | Football Leag.. |
| Darren Holden | 56 | LB | SAF | Ross County | Scottish Prem |
| Donal McDermott | 56 | LM | IRL | Rochdale | Football Leag.. |
| Emile Sinclair | 56 | ST | ENG | York City | Football Leag.. |
| Eoin Wearen | 56 | CAM | IRL | Sligo Rovers | Airtricity Le.. |
| Erik Marxen | 56 | LB | DEN | Randers FC | Superliga |
| Fawaz Fallatah | 56 | CB | SAR | Al-Faisaly | ALJ League |
| Gavin Brennan | 56 | LM | IRL | Shamrock Rovers | Airtricity Le.. |
| Graham Cummins | 56 | ST | IRL | St. Johnstone | Scottish Prem |
| Ivan Pineda | 56 | LB | MEX | Atlas | LIGA Bancomer.. |
| Jacob Blyth | 56 | ST | ENG | Leicester City | Barclays PL |
| Jacob Blyth | 56 | ST | ENG | Cambridge Utd | Football Leag.. |
| Jamie Maclaren | 56 | ST | AUS | Brisbane Roar | A-League |
| Jayden Stockley | 56 | ST | ENG | Portsmouth | Football Leag.. |
| Jayden Stockley | 56 | ST | ENG | Bournemouth | FL Championsh.. |
| Jon Toral | 56 | CAM | ESP | Arsenal | Barclays PL |
| Jon Toral | 56 | CAM | ESP | Birmingham City | FL Championsh.. |
| Joshua Silva | 56 | LB | POR | FK Bodø/Glimt | Tippeligaen |
| Junior Brown | 56 | LM | ENG | Shrewsbury | Football Leag.. |
| Kenneth McEvoy | 56 | LM | IRL | Spurs | Barclays PL |
| Lee Erwin | 56 | ST | SCO | Leeds United | FL Championsh.. |
| Lewis Neal | 56 | CM | ENG | Orlando City | MLS |
| Luke Joyce | 56 | CM | ENG | Carlisle United | Football Leag.. |
| Rafael Páez | 56 | CB | ESP | AD Alcorcón | Liga Adelante |
| Roarie Deacon | 56 | LM | ENG | Crawley Town | Football Leag.. |
| Roberto Gagliardini | 56 | CM | ITA | Vicenza | Serie B |
| Rory Gaffney | 56 | ST | IRL | Cambridge Utd | Football Leag.. |
| Ryan Williams | 56 | CM | ENG | Brentford | FL Championsh.. |
| Shane McEleney | 56 | CB | NIR | St. Pats | Airtricity Le.. |
| Shaun Jeffers | 56 | ST | ENG | Yeovil Town | Football Leag.. |
| Steven Beattie | 56 | ST | IRL | Cork City | Airtricity Le.. |
| Sultan Al Sawadi | 56 | RM | SAR | Al-Raed | ALJ League |
| Tom Hopper | 56 | ST | ENG | Scunthorpe Utd | Football Leag.. |
| Yassen Hamza | 56 | CB | SAR | Al-Ittihad | ALJ League |
| Zak Ansah | 56 | ST | ENG | Newport County | Football Leag.. |
| Abdullah Shuhail | 55 | LB | SAR | Al-Ittihad | ALJ League |
| Alberto Cerri | 55 | ST | ITA | Parma | Serie A |
| Alberto Cerri | 55 | ST | ITA | Juventus | Serie A |
| Alberto Cerri | 55 | ST | ITA | Cagliari | Serie A |
| Brad Potts | 55 | CM | ENG | Blackpool | FL Championsh.. |
| Damian Roßbach | 55 | LB | GER | SV Sandhausen | Bundesliga 2 |
| Daniel Corcoran | 55 | ST | IRL | Sligo Rovers | Airtricity Le.. |
| David Ferguson | 55 | LB | ENG | Blackpool | FL Championsh.. |
| David Webster | 55 | CB | IRL | Shamrock Rovers | Airtricity Le.. |
| Dele Alli | 55 | CM | ENG | Spurs | Barclays PL |
| George Baldock | 55 | RB | ENG | Oxford United | Football Leag.. |
| Harry Lennon | 55 | CB | ENG | Charlton Ath | FL Championsh.. |
| Hugo Konongo | 55 | LB | FRA | US Créteil | Ligue 2 |
| Jake Kelly | 55 | LM | IRL | Dundalk | Airtricity Le.. |
| Jake Kelly | 55 | LM | IRL | Bohemians FC | Airtricity Le.. |
| Javier Calle | 55 | LB | COL | NY City FC | MLS |
| Joe Newell | 55 | LM | ENG | Rotherham Utd | FL Championsh.. |
| Jordan Turnbull | 55 | CB | ENG | Southampton | Barclays PL |
| Joseph Gomez | 55 | CB | ENG | Liverpool | Barclays PL |
| Kal Naismith | 55 | RM | SCO | Portsmouth | Football Leag.. |
| Keith Keane | 55 | CM | IRL | Cambridge Utd | Football Leag.. |
| Keith Keane | 55 | CM | IRL | Preston | Football Leag.. |
| Marco Bürki | 55 | CB | SUI | FC Thun | Raiffeisen SL |
| Mark Griffin | 55 | ST | IRL | Bohemians FC | Airtricity Le.. |
| Morten Beck Andersen | 55 | ST | DEN | Hobro IK | Superliga |
| Nathan Ralph | 55 | LB | ENG | Newport County | Football Leag.. |
| Paul O'Conor | 55 | CM | IRL | Limerick | Airtricity Le.. |
| Peter Murphy | 55 | CM | ENG | Morecambe | Football Leag.. |
| Robbie Creevy | 55 | CM | IRL | Bohemians FC | Airtricity Le.. |
| Sascha Horvath | 55 | CM | AT | SK Sturm Graz | A. Bundesliga |
| Sean Maguire | 55 | CAM | IRL | Dundalk | Airtricity Le.. |
| Stephen Folan | 55 | CB | IRL | Sligo Rovers | Airtricity Le.. |
| Stephen Folan | 55 | CB | IRL | Cork City | Airtricity Le.. |
| Stewart Murdoch | 55 | CM | SCO | Ross County | Scottish Prem |
| Sula Matovu | 55 | ST | UGA | Kaizer Chiefs | South African.. |
| Sultan Al Yami | 55 | RB | SAR | Al-Raed | ALJ League |
| Thamer Almeshauqeh | 55 | ST | SAR | Al-Khaleej | ALJ League |
| Thierry Audel | 55 | CB | FRA | Notts County | Football Leag.. |
| Adam King | 54 | CM | SCO | Crewe Alexandra | Football Leag.. |
| Alan Byrne | 54 | CB | IRL | Drogheda Utd | Airtricity Le.. |
| Alan McNally | 54 | CB | IRL | Bray Wanderers | Airtricity Le.. |
| Andrea Barberis | 54 | CM | ITA | Crotone | Serie B |
| Brandon O'Neill | 54 | CDM | AUS | Sydney FC | A-League |
| Coll Donaldson | 54 | CB | SCO | Dundee United | Scottish Prem |
| Dean Clarke | 54 | RM | IRL | Limerick | Airtricity Le.. |
| Fahad Al Munaif | 54 | ST | SAR | Al-Faisaly | ALJ League |
| Hiram Boateng | 54 | CDM | ENG | Plymouth Argyle | Football Leag.. |
| Hugh Douglas | 54 | RB | IRL | Bray Wanderers | Airtricity Le.. |
| Ismahil Akinade | 54 | ST | NIG | Bohemians FC | Airtricity Le.. |
| Ivan Knyazev | 54 | CB | RUS | FC Ural | Russian Leagu.. |
| Jack Clisby | 54 | CB | AUS | Melbourne Heart | A-League |
| James O'Brien | 54 | CM | IRL | Bohemians FC | Airtricity Le.. |
| Jason Hughes | 54 | CM | IRL | Sligo Rovers | Airtricity Le.. |
| Kealan Dillon | 54 | CM | IRL | Bohemians FC | Airtricity Le.. |
| Lorcan Fitzgerald | 54 | LB | IRL | Bohemians FC | Airtricity Le.. |
| Mario Tičinović | 54 | RB | CRO | Sport. Lokeren | Pro League |
| Mitchell Rose | 54 | CM | ENG | Mansfield Town | Football Leag.. |
| Nicky Hunt | 54 | RB | ENG | Mansfield Town | Football Leag.. |
| Oliver Lund | 54 | RB | DEN | Odense Boldklub | Superliga |
| Patrick Nzuzi | 54 | RB | DRC | Sligo Rovers | Airtricity Le.. |
| Reece Burke | 54 | CB | ENG | Bradford City | Football Leag.. |
| Robert Bayly | 54 | CM | IRL | Drogheda Utd | Airtricity Le.. |
| Robert Cornwall | 54 | RB | IRL | Derry City | Airtricity Le.. |
| Shane Grimes | 54 | LB | IRL | Dundalk | Airtricity Le.. |
| Shaun Kelly | 54 | RB | IRL | Limerick | Airtricity Le.. |
| Bartosz Śpiączka | 53 | RM | POL | Górnik Łęczna | Ekstraklasa |
| Bryn Morris | 53 | CM | ENG | Coventry City | Football Leag.. |
| Cillian Morrison | 53 | ST | IRL | Derry City | Airtricity Le.. |
| Derek Prendergast | 53 | CB | IRL | Bohemians FC | Airtricity Le.. |
| Eslam Seraj | 53 | ST | SAR | Al-Ahli | ALJ League |
| Faisal Al Khara'a | 53 | RB | SAR | Al-Ittihad | ALJ League |
| Jehad Al Zoaed | 53 | ST | SAR | Al-Faisaly | ALJ League |
| Kevin Devaney | 53 | ST | IRL | Sligo Rovers | Airtricity Le.. |
| Marcus Fraser | 53 | RB | SCO | Ross County | Scottish Prem |
| Matthias Fanimo | 53 | LM | ENG | West Ham | Barclays PL |
| Riley Woodcock | 53 | LB | AUS | Sydney FC | A-League |
| Robert Lehane | 53 | ST | IRL | Sligo Rovers | Airtricity Le.. |
| Ryan McEvoy | 53 | CM | IRL | Bray Wanderers | Airtricity Le.. |
| Seán Brennan | 53 | LM | IRL | Drogheda Utd | Airtricity Le.. |
| Simón Almeida | 53 | LM | MEX | Club León | LIGA Bancomer.. |
| Simon Walton | 53 | CM | ENG | Crawley Town | Football Leag.. |
| Alex Grant | 52 | CB | AUS | Perth Glory | A-League |
| Jack Memery | 52 | LB | IRL | Bray Wanderers | Airtricity Le.. |
| Leonardo Capezzi | 52 | CM | ITA | Crotone | Serie B |
| Michał Koj | 52 | CB | POL | Ruch Chorzów | Ekstraklasa |
| Yahya Dagriri | 52 | ST | SAR | Najran | ALJ League |
| Alessandro Martinelli | 51 | CM | SUI | Brescia | Serie B |
| Fahad Al Reshedi | 51 | CM | SAR | Al-Faisaly | ALJ League |
| Gökcan Kaya | 51 | CM | DEN | Hobro IK | Superliga |
| Josh Lelan | 51 | RB | ENG | Northampton | Football Leag.. |
| Ulisses Garcia | 51 | LB | SUI | Werder Bremen | Bundesliga |
| Ammar Al Dohim | 50 | CB | SAR | Hajer Club (Al A.. | ALJ League |
| Nico Elvedi | 50 | CB | SUI | Bor. M'gladbach | Bundesliga |
| Roddy Collins | 50 | RB | IRL | Drogheda Utd | Airtricity Le.. |
| Abdulrahman Al Baraka | 49 | CDM | SAR | Al-Taawoun | ALJ League |
| Abdulrahman Al Baraka | 49 | CDM | SAR | Al-Raed | ALJ League |
| Peter Durrad | 49 | ST | IRL | Bray Wanderers | Airtricity Le.. |
| Riyadh Albrahim | 49 | LM | SAR | Al-Ittihad | ALJ League |
| Matthew Dunn | 48 | CM | USA | NY City FC | MLS |
| Ciaran O'Connor | 47 | ST | IRL | Derry City | Airtricity Le.. |
| Luke Hendrie | 47 | CM | ENG | Burnley | Barclays PL |
| Majed Al Khaibary | 47 | LB | SAR | Al-Ittihad | ALJ League |
| Yousef Khamees | 47 | LB | SAR | Al-Fateh | ALJ League |