Are you looking for FIFA 15 Ultimate Team Tournaments ? You are in the right place.


Quick Access
This page is updated every time it is announced a new tournament.
You can access this page on the top bar navigation: Live – Tournaments
This list is for Playstation. It may be slightly different in other platforms.
FIFA 15 Ultimate Team Tournaments – How they work ?
You can play FIFA 15 Ultimate Team Tournaments in single player mode or on line.
For both modes, tournaments are played in 16-team knock-out format with drawn games going to extra time and penalties. The team that wins goes through to the next round whilst the team that loses gets knocked out. You need to win the four rounds to get the cup. The only difference between single player and on line mode is against who you play: computer-controlled teams in the first case; other on line players, in the second one.
Each tournament has a reward to the winners. Most of the tournaments also have entry requirements. One of these requirements is the number of cups won.
The FIFA 15 Ultimate Team Tournaments may have an expiration date, the feature tournaments, or may be always available, the fixed ones.
FIFA 15 Ultimate Team Tournaments – Featured Tournaments
New Beginnings
Date: 6pm (UK) August 12 2015 – 6pm (UK) August 19 2015
Reward for On line: 5,000 coins + Rare Players Pack
Reward for Single Player: 5,000 coins + Rare Players Pack
Difficulty (Single Player): World Class
Entry Requirements:
In the starting eleven and subs, 6 players have to be from Bundesliga, 6 from Serie A and 6 from Liga BBVA
The Best of Europe
Date: 6pm (UK) August 10 2015 – 6pm (UK) August 11 2015
Reward for On line: n.a.
Reward for Single Player: 3,000 coins + Rare Gold Pack
Difficulty (Single Player): World Class
Entry Requirements:
Nine players have to be from FC Barcelona and nine from Sevilla FC
La Liga (s)
Date: 6pm (UK) August 9 2015 – 6pm (UK) August 10 2015
Reward for On line: n.a.
Reward for Single Player: 3,000 coins + Premium Gold Players Pack
Difficulty (Single Player): Legendary
Entry Requirements:
Nine players have to be from La Liga and nine from Bundesliga
The Boys Are Back
Date: 6pm (UK) August 8 2015 – 6pm (UK) August 9 2015
Reward for On line: n.a.
Reward for Single Player: 3,000 coins + Rare Gold Pack
Difficulty (Single Player): Legendary
Entry Requirements:
All the players have to be from Barclays Premier League
The Dragons
Date: 6pm (UK) August 7 2015 – 6pm (UK) August 8 2015
Reward for On line: n.a.
Reward for Single Player: 3,000 coins + Mega Pack
Difficulty (Single Player): Professional
Entry Requirements:
At least 2 players from Jeonnam Dragons, 2 from Cardiff City, 2 from Rubin Kazan and 2 from Depor. Iquique in the starting eleven
Supercoppa
Date: 6pm (UK) August 6 2015 – 6pm (UK) August 7 2015
Reward for On line: n.a.
Reward for Single Player: 3,000 coins + Rare Gold Pack
Difficulty (Single Player): World Class
Entry Requirements:
5 players from Juventus and 5 players from Lazio in the starting eleven
Gamescom
Date: 6pm (UK) August 5 2015 – 6pm (UK) August 6 2015
Reward for On line: n.a.
Reward for Single Player: 3,000 coins + Premium Gold Players Pack
Difficulty (Single Player): Professional
Entry Requirements:
At least 4 players from Koln and other 4 players from Bundesliga in the starting eleven
MLS All-Star Week
Date: 6pm (UK) July 29 – 6pm (UK) August 5 2015
Reward for On line: 7,000 coins + Rare Players Pack
Reward for Single Player: 7,000 coins + Rare Players Pack
Difficulty (Single Player): World Class
Entry Requirements:
All the players have to be from MLS
Gold Gang
Date: 6pm (UK) July 28 – 6pm (UK) July 29 2015
Reward for On line: n.a.
Reward for Single Player: 3,000 coins + Rare Gold Pack
Difficulty (Single Player): World Class
Entry Requirements:
All the players have to be gold
Team chemistry has to be 100
Team star rating has to be 5
Russia Primeira
Date: 6pm (UK) July 27 – 6pm (UK) July 29 2015
Reward for On line: 5,000 coins + Mega Pack
Reward for Single Player: n.a.
Difficulty (Single Player): –
Entry Requirements:
All the players have to be from Russian League or Primeira League
Home Sweet Home
Date: 6pm (UK) July 25 – 6pm (UK) July 28 2015
Reward for On line: n.a.
Reward for Single Player: 3,000 coins + Mega Pack
Difficulty (Single Player): Professional
Entry Requirements:
At least 4 players from Turkey and 4 players from Super Lig in the starting eleven
Bronze Blokes
Date: 6pm (UK) July 24 – 6pm (UK) July 27 2015
Reward for On line: 5,000 coins + Rare Gold Pack
Reward for Single Player: n.a.
Difficulty (Single Player): –
Entry Requirements:
All the players have to be from England and Bronze
Banner Invitational
Date: 6pm (UK) July 24 – 6pm (UK) July 25 2015
Reward for On line: n.a.
Reward for Single Player: 3,000 coins + Mega Pack
Difficulty (Single Player): Professional
Entry Requirements:
At least 4 players from Switzerland and 4 players from Raiffeisen SL in the starting eleven
Leaving on a Jet Plane
Date: 6pm (UK) July 20 – 6pm (UK) July 24 2015
Reward for On line: n.a.
Reward for Single Player: 3,000 coins + Rare Gold Pack
Difficulty (Single Player): World Class
Entry Requirements:
At least 2 players from Juventus, 2 from Manchester City, 2 from Liverpool and 2 from Vilarreal CF in the starting eleven
Coming to America
Date: 6pm (UK) July 20 – 6pm (UK) July 24 2015
Reward for On line: n.a.
Reward for Single Player: 3,000 coins + Rare Gold Pack
Difficulty (Single Player): World Class
Entry Requirements:
At least 4 players from LA Galaxy and 4 players from NY City FC in the starting eleven
Silver Spaniards
Date: 6pm (UK) July 20 – 6pm (UK) July 24 2015
Reward for On line: 5,000 coins + 1 Premium Gold Players Pack
Reward for Single Player: n.a.
Difficulty (Single Player): –
Entry Requirements:
All the players have to be from Spain and Silver
ALJ Heroes
Date: 6pm (UK) July 17 – 6pm (UK) July 24 2015
Reward for On line: 7,000 coins + 1 Rare Players Pack
Reward for Single Player: 7,000 coins + 1 Rare Players Pack
Difficulty (Single Player): Professional
Entry Requirements:
At least six players from starting eleven must be from ALJ League
FUTTIES Part 2
Date: 6pm (UK) July 18 – 6pm (UK) July 20 2015
Reward for On line: 7,000 coins + 1 Rare Players Pack
Reward for Single Player: 7,000 coins + 1 Rare Players Pack
Difficulty (Single Player): World Class
Entry Requirements:
Team star rating has to be 5 and chemistry 100
FUTTIES Part 1
Date: 6pm (UK) July 15 – 6pm (UK) July 17 2015
Reward for On line: 7,000 coins + 1 Rare Players Pack
Reward for Single Player: 7,000 coins + 1 Rare Players Pack
Difficulty (Single Player): World Class
Entry Requirements:
Team star rating has to be 5 and chemistry 100
Le Quatorze Juillet
Date: 12am (UK) July 18 – 12am (UK) July 21 2015
Reward for On line: 7,000 coins + 1 Rare Players Pack
Reward for Single Player: 7,000 coins + 1 Rare Players Pack
Difficulty (Single Player): World Class
Entry Requirements:
All the players have to be from France
Le Quatorze Juillet
Date: 12am (UK) July 18 – 12am (UK) July 21 2015
Reward for On line: 7,000 coins + 1 Rare Players Pack
Reward for Single Player: 7,000 coins + 1 Rare Players Pack
Difficulty (Single Player): World Class
Entry Requirements:
All the players have to be from France
Copa Final
Date: 6pm (UK) July 7 – 6pm (UK) July 21 2015
Reward for On line: 7,000 coins + 1 Rare Players Pack
Reward for Single Player: 7,000 coins + 1 Rare Players Pack
Difficulty (Single Player): Professional
Entry Requirements:
All the players have to be from Argentina and / or Chile
Stars and Stripes
Date: 6pm (UK) July 3 – 6pm (UK) July 6 2015
Reward for On line: 7,000 coins + 1 Rare Players Pack
Reward for Single Player: 7,000 coins + 1 Rare Players Pack
Difficulty (Single Player): Professional
Entry Requirements:
At least six players from starting eleven must be from USA
MLS Showcase
Date: 6pm (UK) June 26 – 6pm (UK) July 3 2015
Reward for On line: 7,000 coins + 1 Rare Players Pack
Reward for Single Player: 7,000 coins + 1 Rare Players Pack
Difficulty (Single Player): Professional
Entry Requirements:
All players from starting eleven must be from MLS
Super Lig Cup
Date: 6pm (UK) June 26 – 6pm (UK) July 3 2015
Reward for On line: n.a.
Reward for Single Player: 2,000 coins + 1 Players Pack
Difficulty (Single Player): Professional
Entry Requirements:
All the players have to be from Super Lig
EA TOTS
Date: 12am (UK) June 25 – 12am (UK) July 2 2015
Reward for On line: 7,000 coins + 1 Rare Players Pack
Reward for Single Player: 7,000 coins + 1 Rare Players Pack
Difficulty (Single Player): Professional
Entry Requirements:
All the players have to be gold, team star rating has to be 5 and chemistry 100
Rest of the World TOTS
Date: 6pm (UK) June 19 – 6pm (UK) June 22 2015
Reward for On line: 7,000 coins + 1 Rare Players Pack
Reward for Single Player: 7,000 coins + 1 Rare Players Pack
Difficulty (Single Player): World Class
Entry Requirements:
In the starting eleven, at leat two players have to be from Allsvenskan, two from Tippeligaen, two from A-League and other two from Super Lig
Benelux TOTS
Date: 6pm (UK) June 19 – 6pm (UK) June 22 2015
Reward for On line: 7,000 coins + 1 Rare Players Pack
Reward for Single Player: 7,000 coins + 1 Rare Players Pack
Difficulty (Single Player): World Class
Entry Requirements:
In the starting eleven, at least two players have to be from Belgian League and other two from Dutch League
Serie A TOTS
Date: 12am (UK) June 18 – 12am (UK) June 25 2015
Reward for On line: 7,000 coins + 1 Rare Players Pack
Reward for Single Player: 7,000 coins + 1 Rare Players Pack
Difficulty (Single Player): World Class
Entry Requirements:
All 18 players have to be from Serie A
Ligue 1 TOTS
Date: 12am (UK) June 18 – 12am (UK) June 25 2015
Reward for On line: 7,000 coins + 1 Rare Players Pack
Reward for Single Player: 7,000 coins + 1 Rare Players Pack
Difficulty (Single Player): World Class
Entry Requirements:
All 18 players have to be from Ligue 1
EKSTRAKLASA CUP
Date: 6pm (UK) June 15 – 6pm (UK) June 22 2015
Reward for On line: –
Reward for Single Player: 2,000 Coins + 1 Gold Players Pack
Difficulty (Single Player): Professional
Entry Requirements:
All 18 players have to be from Ekstraklasa
LATAM TOTS
Date: 6pm (UK) June 12 – 6pm (UK) June 15 2015
Reward for On line: 7,000 coins + 1 Rare Players Pack
Reward for Single Player: 7,000 coins + 1 Rare Players Pack
Difficulty (Single Player): World Class
Entry Requirements:
In the starting eleven, two players must be from Liga Bancomer MX, two from Liga Postobón, two from Primera División and two from Camp. Scotiabank
La Liga TOTS
Date: 12am (UK) Juen 11 – 12am (UK) June 18 2015
Reward for On line: 7,000 coins + 1 Rare Players Pack
Reward for Single Player: 7,000 coins + 1 Rare Players Pack
Difficulty (Single Player): World Class
Entry Requirements:
All 18 players have to be from Liga BBVA
ALJ League TOTS
Date: 6pm (UK) June 5 – 6pm (UK) June 8 2015
Reward for On line: 7,000 coins + 1 Rare Players Pack
Reward for Single Player: 7,000 coins + 1 Rare Players Pack
Difficulty (Single Player): World Class
Entry Requirements:
6 players from the starting eleven need to be from ALJ League
Bundesliga TOTS
Date: 12am (UK) June 4 – 12am (UK) June 11 2015
Reward for On line: 7,000 coins + 1 Rare Players Pack
Reward for Single Player: 7,000 coins + 1 Rare Players Pack
Difficulty (Single Player): World Class
Entry Requirements:
All 18 players have to be from Bundesliga
BPL TOTS
Date: 1am (UK) May 28 – 6pm (UK) June 3 2015
Reward for On line: 7,000 coins + 1 Rare Players Pack
Reward for Single Player: 7,000 coins + 1 Rare Players Pack
Difficulty (Single Player): World Class
Entry Requirements:
All 18 players have to be from Barclays PL
Community Gold
Date: 6pm (UK) May 20 – 6pm (UK) May 27 2015
Reward for On line: 7,000 coins + 1 Rare Players Pack
Reward for Single Player: 7,000 coins + 1 Rare Players Pack
Difficulty (Single Player): Legendary
Entry Requirements:
All 18 players have to be gold
Community Silver
Date: 6pm (UK) May 20 – 6pm (UK) May 27 2015
Reward for On line: 7,000 coins + 1 Rare Players Pack
Reward for Single Player: 7,000 coins + 1 Rare Players Pack
Difficulty (Single Player): World Class
Entry Requirements:
All 18 players have to be silver
Community Bronze
Date: 6pm (UK) May 20 – 6pm (UK) May 27 2015
Reward for On line: 7,000 coins + 1 Rare Players Pack
Reward for Single Player: 7,000 coins + 1 Rare Players Pack
Difficulty (Single Player): Professional
Entry Requirements:
All 18 players have to be bronze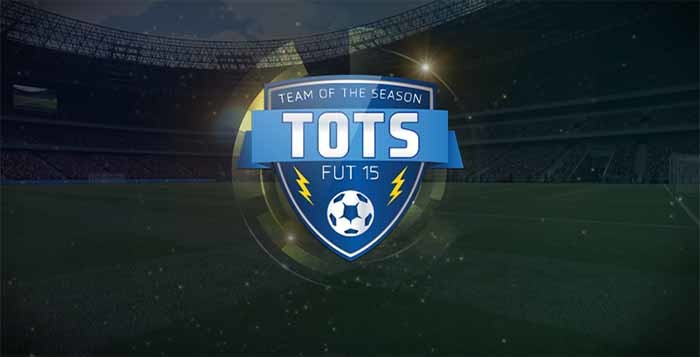 Green White Red
Date: 6pm (UK) May 15 – 6pm (UK) May 18 2015
Reward for On line: 5,000 coins + 1 Rare Players Pack
Reward for Single Player: 5,000 coins + 1 Rare Players Pack
Difficulty (Single Player): World Class
Entry Requirements:
All 18 players have to be from Italy
Staying' Alive
Date: 6pm (UK) May 15 – 6pm (UK) May 18 2015
Reward for On line: 5,000 coins + 1 Rare Players Pack
Reward for Single Player: 5,000 coins + 1 Rare Players Pack
Difficulty (Single Player): Professional
Entry Requirements:
In the main 18, 4 players have to be from Aston Villa, 4 from OGC Nice, 4 from Hannover 96 and 4 from Cagliari
Cascadia Clash
Date: 6pm (UK) May 15 – 6pm (UK) May 18 2015
Reward for On line: 5,000 coins + 1 Rare Players Pack + 1 Kit
Reward for Single Player: 5,000 coins + 1 Rare Players Pack + 1 Kit
Difficulty (Single Player): World Class
Entry Requirements:
In the starting eleven, 4 players have to be from Whitecaps FC and another 4 from Sounders FC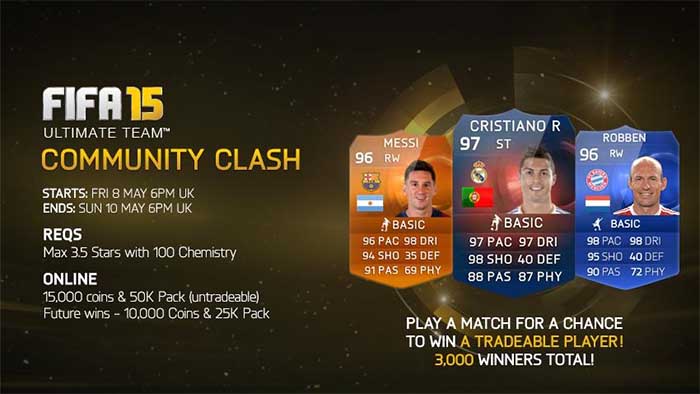 Community Clash
Date: 6pm (UK) May 8 – 6pm (UK) May 10 2015
Reward for On line: 15,000 coins + 50K Pack (untradeable)
10,000 coins + 25k Pack (untradeable) for future wins
Reward for Single Player: –
Difficulty (Single Player): –
Entry Requirements:
Max 3.5 stars with 100 chemistry
Notes: play a match for a chance to win a tradeable top IF player
El Tri
Date: 6pm (UK) May 4 – 6pm (UK) May 11 2015
Reward for On line: 5,000 coins + Rare Players Pack
Reward for Single Player: 5,000 coins + Rare Players Pack
Difficulty (Single Player): World Class
Entry Requirements:
All 18 players have to be from Mexico
La Furia Roja
Date: 6pm (UK) April 27 – 6pm (UK) May 4 2015
Reward for On line: 3,000 coins + Premium Gold Players Pack
Reward for Single Player: 2,000 coins + Gold Players Pack
Difficulty (Single Player): World Class
Entry Requirements:
All 18 players have to be from Spain
Norwegian Spring Cup
Date: 6pm (UK) April 20 – 6pm (UK) April 27 2015
Reward for On line: 10,000 coins + Rare Players Pack
Reward for Single Player: 5,000 coins + Rare Players Pack
Difficulty (Single Player): Professional
Entry Requirements:
In the starting eleven and subs, five players have to be from the Norwegian league
Gli Azurri
Date: 6pm (UK) April 20 – 6pm (UK) April 27 2015
Reward for On line: 7,000 coins + Premium Gold Players Pack
Reward for Single Player: 4,000 coins + Premium Gold Players Pack
Difficulty (Single Player): World Class
Entry Requirements:
All 18 players have to be from Italy
Bleu Blanc Rouge
Date: 6pm (UK) April 13 – 6pm (UK) April 20 2015
Reward for On line: 3,000 coins + Premium Gold Players Pack
Reward for Single Player: 2,000 coins + Gold Players Pack
Difficulty (Single Player): World Class
Entry Requirements:
All 18 players have to be from France
Dream Crushers
Date: 6pm (UK) April 6 – 6pm (UK) April 13 2015
Reward for On line: 3,000 coins + Premium Gold Players Pack
Reward for Single Player: 2,000 coins + Gold Players Pack
Difficulty (Single Player): World Class
Entry Requirements:
All 18 players have to be from Germany
Bronze Connect
Date: 6pm (UK) March 30 – 6pm (UK) April 6 2015
Reward for On line: 2,000 coins + Rare Gold Pack
Reward for Single Player: 1,000 coins + Jumbo Premium Gold Pack
Difficulty (Single Player): Professional
Entry Requirements:
All 18 players have to be bronze and full team chemistry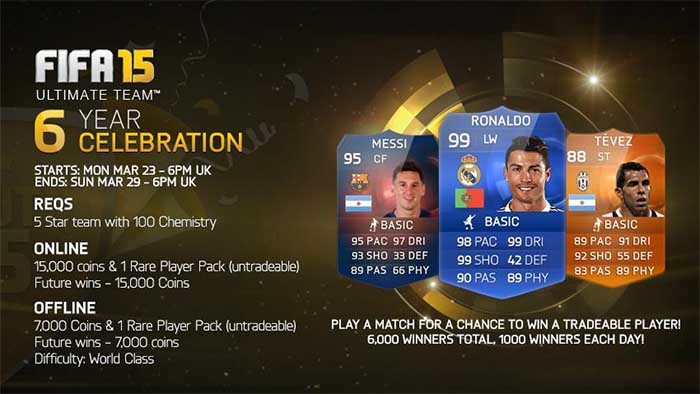 FUT Birthday Cup
Date: 6pm (UK) March 23 – 6pm (UK) March 29 2015
Reward for On line: 15,000 coins + Rare Players Pack (untradeable)
15,000 coins in future wins
Reward for Single Player: 7.000 coins + Rare Players Pack (untradeable)
7,000 coins in future wins
Difficulty (Single Player): World Class
Entry Requirements:
5 star team rating with 100 Chemistry
Additional Bonus: 1,000 daily tradeable top-players assigned randomly to tournament players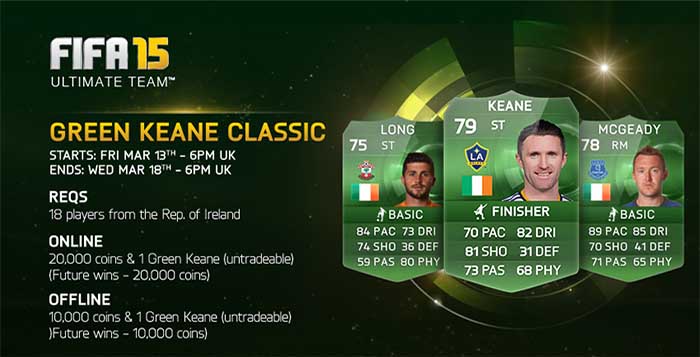 Green Keane Classic
Date: 6pm (UK) March 13 – 6pm (UK) March 18 2015
Reward for On line: 20,000 coins + 1 Green Keane (untradeable)
20,000 coins in future wins
Reward for Single Player: 10.000 coins + 1 Green Keane (untradeable)
10,000 coins in future wins
Difficulty (Single Player): Profissional
Entry Requirements:
All 18 players have to be from Rep. Ireland
MLS Opening Match
Date: 6pm (UK) March 6 – 6pm (UK) March 13 2015
Reward for On line: 2,000 coins + Rare Gold 25k Pack
Reward for Single Player: 1,000 coins + Jumbo Premium Gold Pack
Difficulty (Single Player): Professional
Entry Requirements:
All 18 players have to be from MLS
Nations Cup
Date: 6pm (UK) February 24 – 6pm (UK) March 6 2015
Reward for On line: 2,000 coins + Rare Gold 25k Pack
Reward for Single Player: 1,000 coins + Jumbo Premium Gold Pack
Difficulty (Single Player): World Class
Entry Requirements:
In the starting eleven you need to have exactly 2 players from England, 2 from France, 2 from Italy and 2 from Germany
Lunar New Year Tournament
Date: 6pm (UK) February 18 – 6pm (UK) February 23 2015
Reward for On line: 2,000 coins + Untradeable Rare Gold 25k Pack
4,000 coins for future wins
Reward for Single Player: 1,000 coins + Untradeable 15k Pack
2,500 coins for future wins
Difficulty (Single Player): Professional
Entry Requirements:
In the starting eleven you need to have at least 2 players from FC Koln, 2 from Derby County, 2 from Guadalajara and 2 from FC Dordrecht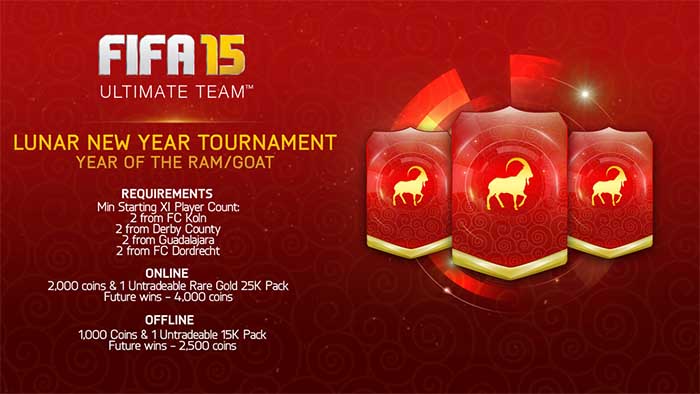 Carnival Cup
Date: 6pm (UK) February 9 – 6pm (UK) February 18 2015
Reward for On line: 6,000 coins + Premium Gold Pack
Reward for Single Player: 3,000 coins + Gold Pack
Difficulty (Single Player): World Class
Entry Requirements:
All the eleven players have to be from Brazil
FUT United Cup
Date: 6pm (UK) February 6 – 6pm (UK) February 9 2015
Reward for On line: 5,000 coins + Rare Gold Pack
Reward for Single Player: 2,500 coins + Premium Gold Pack
Difficulty (Single Player): Professional
Entry Requirements:
At least squad chemistry 80
African Cup
Date: 6pm (UK) February 2 – 6pm (UK) February 9 2015
Reward for On line: 5,000 coins + Premium Gold Pack
Reward for Single Player: 2,500 coins + Gold Pack
Difficulty (Single Player): Professional
Entry Requirements:
5 players from main eleven have to be from Ivory Coast + DR Congo
AND 5 players from main eleven have to be from Ghana + Equatorial Guinea
Asia Cup
Date: 6pm (UK) January 26 – 6pm (UK) February 2 2015
Reward for On line: 5,000 coins + Premium Gold Pack
Reward for Single Player: 2,500 coins + Gold Pack
Difficulty (Single Player): Professional
Entry Requirements:
6 players from main eleven have to be from Australia + Korea Republic
All About that Bronze
Date: 6pm (UK) January 19 – 6pm (UK) January 26 2015
Reward for On line: 5,000 coins
Reward for Single Player: 2,500 coins
Difficulty (Single Player): Professional
Entry Requirements:
All 18 players have to be Bronze
Team of the Year Cup
Date: 6pm (UK) January 12 – 6pm (UK) January 19 2015
Reward for On line: Rare Gold Pack
Reward for Single Player: Jumbo Premium Gold Pack
Difficulty (Single Player): World Class
Entry Requirements:
The team start rating has to be five
Silver Open Cup
Date: 6pm (UK) January 5 – 6pm (UK) January 12 2015
Reward for On line: 4,000 coins
Reward for Single Player: 2,000 coins
Difficulty (Single Player): Professional
Entry Requirements:
All 18 players have to be silver
New Year's Open Tournament
Date: 6pm (UK) December 29 – 6pm (UK) January 5 2015
Reward for On line: Untradeable Mega Pack
5,000 coins in future wins
Reward for Single Player: Untradeable Rare Gold Pack
3,500 coins in future wins
Difficulty (Single Player): Professional
Entry Requirements:
There are no entry requirements
FUTMas Cup Tournament
Date: 6pm (UK) December 22 – 6pm (UK) December 29 2014
Reward for On line: Untradeable Mega Pack
5,000 coins in future wins
Reward for Single Player: Untradeable Rare Gold Pack
3,500 coins in future wins
Difficulty (Single Player): Professional
Entry Requirements:
There are no entry requirements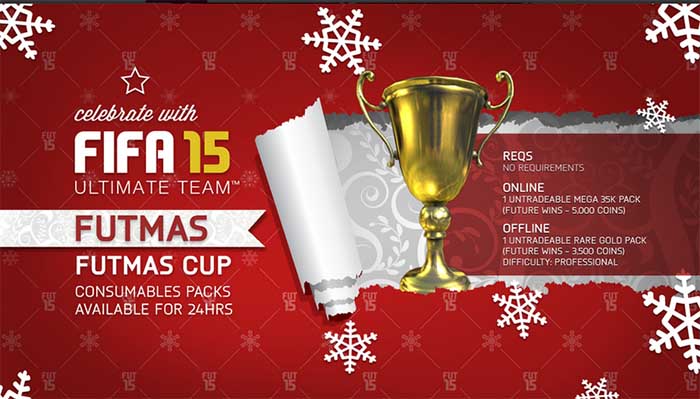 The World's Yours
Date: 6pm (UK) December 15 – 6pm (UK) December 22 2014
Reward for On line: 4,000 coins
Reward for Single Player: 2,000 coins
Difficulty (Single Player): Professional
Entry Requirements:
All players from the same club
Champions for Life
Date: 6pm (UK) December 11 – 6pm (UK) December 18 2014
Reward for On line: Premium Gold Pack
Reward for Single Player: Gold Pack
Difficulty (Single Player): Professional
Entry Requirements:
There are no entry requirements
Bound for Glory
Date: 6pm (UK) December 8 – 6pm (UK) December 15 2014
Reward for On line: 4,000 coins
Reward for Single Player: 2,000 coins
Difficulty (Single Player): Professional
Entry Requirements:
Team's chemistry 100
Starting eleven all from the same league
All 18 players gold
MLS Cup
Date: 6pm (UK) 5 December 2014 – 6pm (UK) 8 December 2014
Reward for On line: Premium Gold Pack
Reward for Single Player: Gold Pack
Difficulty (Single Player): Professional
Entry Requirements:
All 18 players from MLS
Note:
There is an extra prize for one of the tournament winners that includes round-trip airfare, accommodations, and tickets for two people to see the 2015 AT&T MLS All-Star Game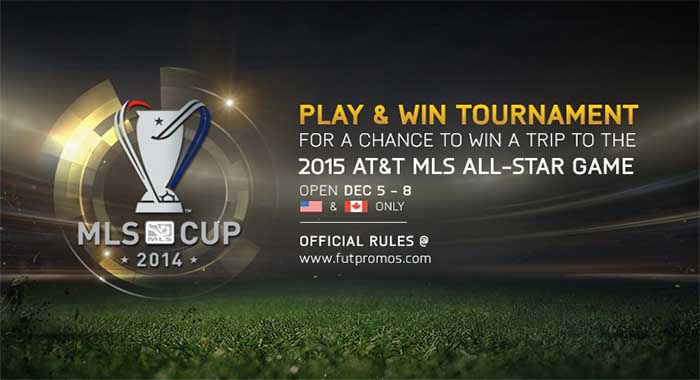 Sinterklaas Tournament
Date: 6pm (UK) 1 December 2014 – 6pm (UK) 8 December 2014
Reward for On line: 7,500 coins
Reward for Single Player: 5,000 coins
Difficulty (Single Player): Professional
Entry Requirements:
All 18 players from Germany and/or Netherlands
General's Cup
Date: 6pm (UK) 27 November – 6pm (UK) 1 December 2014
Reward for On line: 4,000 coins
Reward for Single Player: 2,000 coins
Difficulty (Single Player): Professional
Entry Requirements:
5 stars team's rating
Amongst Giants
Date: 6pm (UK) 24 November – 6pm (UK) 27 November 2014
Reward for On line: 4,000 coins
Reward for Single Player: 2,000 coins
Difficulty (Single Player): Professional
Entry Requirements:
Chemistry 100, all players gold and only one league in the starting eleven
Home Sweet Home
Date: 6pm (UK) 20 November – 6pm (UK) 24 November 2014
Reward for On line: 4,000 coins
Reward for Single Player: 2,000 coins
Difficulty (Single Player): Professional
Entry Requirements:
All starting eleven players from AC Milan and/or Inter
Seeing Red
Date: 6pm (UK) 17 November – 6pm (UK) 20 November 2014
Reward for On line: 4,000 coins
Reward for Single Player: 2,000 coins
Difficulty (Single Player): Professional
Entry Requirements:
All 18 players from Barclays PL
FUT United Cup
Date: 6pm (UK) 14 November – 6pm (UK) 16 November 2014
Reward for On line: Premium Gold Pack
Reward for Single Player: Gold Pack
Difficulty (Single Player):
Entry Requirements:
There are no entry requirements
For King and Country
Date: 6pm (UK) 13 November – 6pm (UK) 17 November 2014
Reward for On line: 4,000 coins
Reward for Single Player: 2,000 coins
Difficulty (Single Player): Professional
Entry Requirements:
All starting eleven players from the same nationality
Devils and Dragons
Date: 6pm (UK) 10 November – 6pm (UK) 13 November 2014
Reward for On line: 4,000 coins
Reward for Single Player: 2,000 coins
Difficulty (Single Player): Professional
Entry Requirements:
All starting eleven players from Belgium and/or Wales
King's Cup
Date: 6pm (UK) 06 November – 6pm (UK) 10 November 2014
Reward for On line: 4,000 coins
Reward for Single Player: 2,000 coins
Difficulty (Single Player): Professional
Entry Requirements:
5 players of starting eleven must be from Allsvenskan (Sweden League)
Any11Cup
Date: 6pm (UK) 04 November – 6pm (UK) 06 November 2014
Reward for On line: 7,500 coins + Premium Gold Pack
Reward for Single Player: 4,000 coins + Gold Pack
Difficulty (Single Player): Professional
Entry Requirements: –
Manchester Derby
Date: 6pm (UK) 30 October – 6pm (UK) 03 November 2014
Reward for On line: 4,000 coins
Reward for Single Player: 2,000 coins
Difficulty (Single Player): Professional
Entry Requirements:
All starting eleven players from Manchester City and/or Manchester United
SPL Tournament
Date: 6pm (UK) 24 October – 6pm (UK) 31 October 2014
Reward for On line: n.a.
Reward for Single Player: 1 Gold Pack + 1 Stadium
Difficulty (Single Player): Professional
Entry Requirements:
5 players of starting eleven must be from ALJ League (Saudi Arabia)
Pokal Cup
Date: October 2014
Reward for On line: 4,000 coins
Reward for Single Player: 2,000 coins
Difficulty (Single Player): Professional
Entry Requirements:
all starting eleven players from Bundesliga and/or 2. Bundesliga
Olympico
Date: 6pm (UK) 24 October – 6pm (UK) 27 October 2014
Reward for On line: 4,000 coins
Reward for Single Player: 2,000 coins
Difficulty (Single Player): Professional
Entry Requirements:
All starting eleven players from Olympique Lyon + Marseille
BBVA Cup
Date: 6pm (UK) 17 October – 6pm (UK) 20 October 2014
Reward for On line: 4,000 coins
Reward for Single Player: 2,000 coins
Difficulty (Single Player): Professional
Entry Requirements:
All starting eleven players from BBVA
Premier Cup
Date: 6pm (UK) 17 October – 6pm (UK) 20 October 2014
Reward for On line: 4,000 coins
Reward for Single Player: 2,000 coins
Difficulty (Single Player): Professional
Entry Requirements:
All starting eleven players from Barclays Premier League
Now or Never
Date: 1am (UK) 11 October – 1am (UK) 13 October 2014
Reward for On line: n.a.
Reward for Single Player: 2,000 coins
Difficulty (Single Player): Professional
Entry Requirements:
All starting eleven players from MLS
Nordic Cup
Date: 6pm (UK) 10 October – 6pm (UK) 17 October 2014
Reward for On line: n.a.
Reward for Single Player: 1,000 coins + Gold Gift Pack
Difficulty (Single Player): Professional
Entry Requirements:
At least one player from Norway, another from Sweden, another from Finland and another from Denmark in the starting eleven
German Legends Cup (XBox exclusive)
Date: 6pm (UK) 3 October – 6pm (UK) 17 October 2014
Reward for On line: n.a.
Reward for Single Player: 2,000 coins
Difficulty (Single Player): Professional
Entry Requirements:
All players on the starting eleven must to be from Germany
Underdog Cup
Date: 6pm (UK) 3 October – 6pm (UK) 10 October 2014
Reward for On line: 4,000 coins
Reward for Single Player: 2,000 coins
Difficulty (Single Player): Professional
Entry Requirements:
Only bronze or silver players
Team chemistry not lower than 85
Red vs Blue
Date: 6pm (UK) 3 October – 6pm (UK) 10 October 2014
Reward for On line: n.a.
Reward for Single Player: 2,000 coins
Difficulty (Single Player): Professional
Entry Requirements:
All players from starting eleven from Arsenal + Chelsea
Titans Trophy
Date: 6pm (UK) 3 October – 6pm (UK) 10 October 2014
Reward for On line: n.a.
Reward for Single Player: 2,000 coins
Difficulty (Single Player): Professional
Entry Requirements:
All players from starting eleven from Juventus + Roma
Merseyside Cup
Date: 6pm (UK) 26 September – 6pm (UK) 29 September 2014
Reward for On line: n.a.
Reward for Single Player: 1,000 coins
Difficulty (Single Player): Professional
Entry Requirements:
All 18 players from Liverpool / Everton
North London Cup
Date: 6pm (UK) 26 September – 6pm (UK) 29 September 2014
Reward for On line: n.a.
Reward for Single Player: 1,000 coins
Difficulty (Single Player): Professional
Entry Requirements:
All 18 players from Arsenal / Spurs
FIFA 15 Ultimate Team Fixed Tournaments
Starter Cup
Mode: Single Player
Reward for First Win: 500 coins + 1 Gold Gift Pack
Reward for Subsequent Wins: 300 coins + 1 Gold Gift Pack
Unlock: 0 Trophies
Difficulty: Amateur
Entry Requirements:
There are no entry requirements
Midlands Invitational
Mode: Single Player
Reward for First Win: 600 coins
Reward for Subsequent Wins: 500 coins
Unlock: 0 Trophies
Difficulty: Semi-Pro
Entry Requirements:
There are no entry requirements
Gold Challenge
Mode: Single Player
Reward for First Win: 1,000 coins
Reward for Subsequent Wins: 700 coins
Unlock: 0 Trophies
Difficulty: Professional
Entry Requirements:
There are no entry requirements
Bronze International Shield
Mode: Single Player
Reward for First Win: 1,000 coins + 1 Gold Gift Pack
Reward for Subsequent Wins: 1,000 coins
Unlock: 0 Trophies
Difficulty: World Class
Entry Requirements:
Only bronze players
At least 3 different nationalities in the squad's starting eleven
Silver Links Cup
Mode: Single Player
Reward for First Win: 1,000 coins
Reward for Subsequent Wins: 700 coins
Unlock: 0 Trophies
Difficulty: Professional
Entry Requirements:
Team chemistry no lower than 90
Only silver and bronze players
Quad-League Classic
Mode: Single Player
Reward for First Win: 1,000 coins
Unlock: 1 Trophy
Difficulty: Semi-Pro
No more than 4 leagues in the squad's starting 11
Managers Cup
Mode: Single Player
Reward for First Win: 700 coins + 1 Silver Gift Pack
Reward for Subsequent Wins: 700 coins
Unlock: 1 Trophy
Difficulty: Professional
Team chemistry not lower than 80
Trio Showcase
Mode: Single Player
Reward for First Win: 1 Silver Contracts Pack
Reward for Subsequent Wins: 1 Silver Contracts Pack
Unlock: 2 Trophies
Difficulty: Semi-Pro
Entry Requirements:
Not more than 3 different clubs in the squad's starting eleven
Unified Cup
Mode: Single Player
Reward for First Win: 1,500 coins
Reward for Subsequent Wins: 1,000 coins
Unlock: 2 Trophies
Difficulty: Professional
Entry Requirements:
Team star rating not higher than 4
All players of the squad's starting eleven from the same league
Pyramid Invitational
Mode: Single Player
Reward for First Win: 1,000 coins + 1 Mixed Contracts Pack
Reward for Subsequent Wins: 1,000 coins
Unlock: 3 Trophies
Difficulty: World Class
Entry Requirements:
All players of the squad's starting eleven from different leagues
Team star rating not higher than 2.5
Federation Cup
Mode: Single Player
Reward for First Win: 2,000 coins
Reward for Subsequent Wins: 200 coins
Unlock: 4 Trophies
Difficulty: World Class
Entry Requirements:
All 18 players from the same nationality
Champions Trophy
Mode: Single Player
Reward for First Win: 2,500 coins
Reward for Subsequent Wins: 2,500 coins
Unlock: 4 Trophies
Difficulty: Legendary
Entry Requirements:
Team chemistry not lower than 95
18 players from, at least, 3 different leagues
Premier Clash
Mode: Single Player
Reward for First Win: 1,500 coins
Reward for Subsequent Wins: 1,200 coins
Unlock: 5 Trophies
Difficulty: Professional
Entry Requirements:
Exact team star rating of 5 stars
Ultimate Cup
Mode: Single Player
Reward for First Win: 2,000 coins + 1 Gold Pack
Reward for Subsequent Wins: 2,000 coins
Unlock: 10 Trophies
Difficulty: Ultimate
Entry Requirements:
Exact team chemistry of 100
Bronze Classic
Mode: On Line
Reward for First Win: 2,000 coins + 1 Jumbo Premium Bronze Pack
Entry Requirements:
All 18 players are bronze
Silver Clash
Mode: On Line
Reward for First Win: 2,000 coins + 1 Silver Pack
All 18 players are bronze or silver
Champions Shield
Mode: On Line
Reward for First Win: 2,000 coins + 1 Gold Pack
Entry Requirements:
There are no entry requirements