It is time to hear the community about what they want. Let's build a FIFA 15 wish list with the most wanted players' ratings updates.
UPDATE
Until now, EA Sports haven't announced any new Player's Rating for FIFA 15.
As soon as new player's rating are announced, we will publish them here.
FIFA 15 Wish List
This is the time of the year in which everyone has an opinion. Everyone dreams with the perfect FIFA. This time we will do it in a different way. This year, it is the FIFA community who has the chance to tell us what they want. We will publish four topics to discuss: new additions, leagues, stadiums and players ratings.
We have asked in our social channels what the community want for FIFA 15. Now, we bring here the results. Today, we will talk about the new stadiums.
Which New Players' Ratings the Community Want ?
We have asked to our community which new players' ratings they want to see in FIFA 15 and now we bring here the results.
The community was very clear about wanting Ronaldo with the same rating (at least) of Messi. They think that the rating of the Argentine is too high. In the opposite side, they also think that James Rodriguez, Neymar and Reus ratings should be improved.
Which chances they have to see their requests in FIFA 15 ? Continue reading to find out…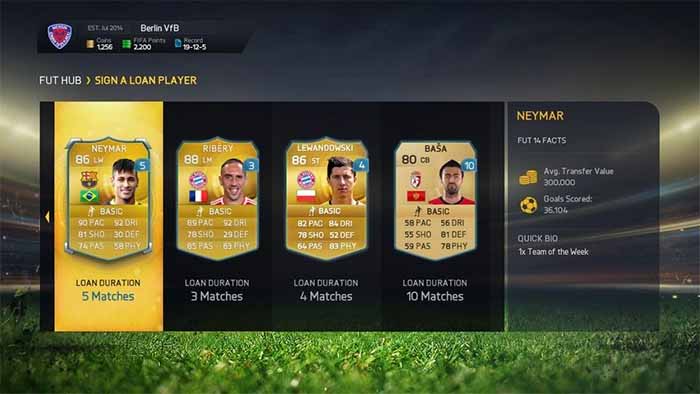 Which Players' Ratings Will Be Updated in FIFA 15
Depending on the progression that had the previous season, it is natural that some players are overvalued and others undervalued. In that cases theirs ratings should be updated. Which new players' ratings may we expect to FIFA 15 ?
According to EA Sports, the players ratings that we can see on screenshots and on the trailer are not final. But they could be. Here are the potential ratings changes of the most popular players:
| | | | |
| --- | --- | --- | --- |
| NAME | POS | FUT14 | FUT15 |
| | | | |
| Manuel Neuer | GK | 86 | 90 |
| Arjen Robben | RM | 88 | 89 |
| Franck Ribéry | LM | 90 | 88 |
| Eden Hazard | LM | 85 (88) | 87 |
| Robert Lewandowski | ST | 86 | 87 |
| Neymar | LW | 84 | 86 |
| Arturo Vidal | CM | 85 (86) | 86 |
| Sergio Aguero | ST | 88 | 86 |
| Thibaut Courtois | GK | 84 | 85 |
| Dani Alves | RB | 84 | 83 |
| Javier Mascherano | CB | 84 | 83 |
| Daniel Sturridge | ST | 80 (82) | 83 |
| Joe Hart | GK | 84 | 82 |
| Roberto Soldado | ST | 84 | 82 |
| Marko Basa | CB | 77 | 80 |
| Younes Kaboul | CB | 80 | 79 |
| Landon Donovan | LM | 78 | 77 |