FIFA 16 FUTTIES, The Oscars of FUT, are coming to Ultimate Team. The pink cards are back and if you want to be prepared, you should read our Frequently Asked Questions.

FUTTIES were announced on July 22nd.
The nominees list can be found here.


FIFA 16 FUTTIES Explained – Frequently Asked Questions
Q: What are FUTTIES ?
A: FUTTIES are special award in-form cards chosen by the FIFA community.
They made their first appearance in FUT 15.
Q: What is the colour of FIFA 16 FUTTIES cards ?
A: They are pink like you can see in the picture.
Q: When the FIFA 16 FUTTIES nominees will be announced ?
A: On July 22nd, Friday, at 6pm UK time.
Q: When the winners will be announced ?
A: On July 29th, a Friday, at 3pm UK time.
Q: When the FIFA 16 FUTTIES winners will be released ?
A: On July 29th, a Friday, at 6pm UK time.
Q: Where I can see who were the winners ?
A: Here.
Q: Where I can see the winners of last year ?
A: Here.
Q: Who chooses these pink cards ? How ?
A: The community. You'll be able to vote for your favourite FIFA 16 Ultimate Team players in 11 award categories celebrating their in-game heroics for your FUT Club. After the votes have been tallied, each award category player with the most votes will receive a special pink FUTTIES in-form with improved stats.
Q: Which award categories were released ?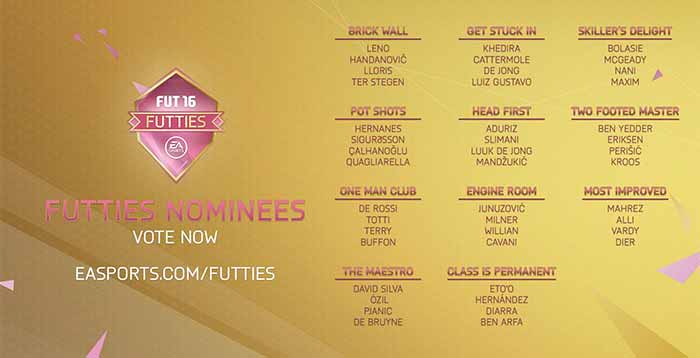 Q: Is this the first time a pink card is released in FIFA Ultimate Team history ?
A: No. In fact, pink cards were released for the first time ever in Ultimate Team history for FIFA 15 Ultimate Team. A pink Marquez was assigned to who won an exclusive FIFA 15 tournament for mobile devices. All the proceeds went to (RED)'s fight against AIDS.
Q: Where the votes begin ?
A: The voting will take place in this page.
Q: When the votes take place ?
A: The voting will take place betwwen July 22nd and July 29th.
Q: How good are these pink cards ?
A: They are supposed to be better than TOTW cards but much worse than TOTY and TOTS cards.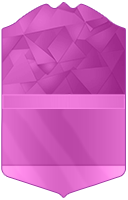 Q: Compared with their regular card, how much is the boost of FUTTIES cards ?
A: The ratings and attributes of FUTTIES cards are usually boosted in one or two points from the best card among his regular, MOTM, iMOTM or TOTW version.
Q: Can a player win more than a single pink card ?
A: No. It is not possible to a player to have more than one pink card because they only get one nomination.
Q: Can I have the regular card and the pink card in my club ?
A: Yes. You can have the regular card and the FUTTIES card of the same player in your club. However, you cannot use them both in your squad at the same time.
Q: Al the FUTTIES have boosted stats ?
A: No, only the winners. From July 22 until July 29, the 44 nominees will have special pink-colored items with base stats available to find in packs. These pink items are pretty important as the winning player's items will get an automatic upgrade, so decide carefully if you plan on trading them on the market. Winning FUTTIES items will also be available in packs for seven days starting on July 29 after we announce all the winners. All FUTTIES winners will receive a special boost and feature a gold trim to signify their accomplishment. If you have a winning FUTTIES item in your club, they will automatically receive the boost.
Q: How can I get one of these pink cards ?
A: Like any other card: pulling from packs or buying in the transfer market. If you already own a FUTTIE with basic stats, it will be automatically upgrade if it wins the category.
Q: For how long they will be packed ?
A: One week. The FUTTIES with basic stats will be available between July 22 and July 29, and the FUTTIES with boosted stats will be available in packs between July 29 and August 5.
Q: How many pink cards will be released in FIFA 16 Ultimate Team ?
A: Eleven.
Q: Will FIFA 16 FUTTIES be available to mobile players ?
A: Probably no.