FIFA 16 FUTTIES are the Oscars for this year FIFA Ultimate Team. The annual event awards players new pink in form cards for eleven categories, voted by the FIFA community. If you want to know who are the 44 FIFA 16 FUTTIES Nominees and the Winners keep reading.

FIFA 16 FUTTIES Nominees were announced on July 22nd.


Introducing you FIFA 16 FUTTIES
FUTTIES are special award in-form cards chosen by the FIFA community. This EA's original idea made its first appearance in FUT 15. Over 1.5 million votes were cast last year and in FUT 16 the idea is to have something even bigger. You'll be able to vote for your favourite FIFA 16 Ultimate Team players in 11 award categories celebrating their in-game heroics for your FUT Club. For each category, there are four players nominated. After the votes have been tallied, each award category player with the most votes will receive a special pink FUTTIES in-form with improved stats.
The eleven winners – the players with more votes in each category – will be announced in July 29th. From July 22 until July 29, the 44 nominees will have special pink-colored items with base stats available to find in packs. These pink items are pretty important as the winning player's items will get an automatic upgrade. All FUTTIES winners will receive a special boost and feature a gold trim to signify their accomplishment. If you have a winning FUTTIES item in your club, they will automatically receive the boost.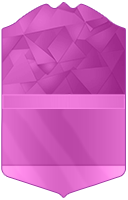 FIFA 16 FUTTIES Nominees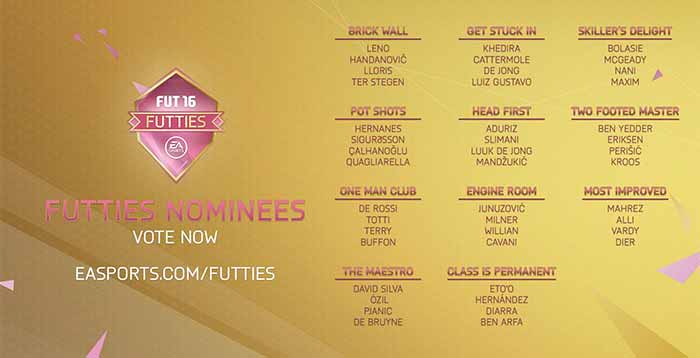 Category 1
Brick Wall
Best goalkeeper

A. Leno
B. Handanovič
C. Lloris WINNER
D. Ter Stegen
Category 2
Get Stuck In
Best tackler

A. Khedira
B. Cattermole
C. Nigel de Jong
D. Luiz Gustavo WINNER
Category 3
Skiller's Delight
Best skiller

A. Bolasie
B. McGeady
C. Nani WINNER
D. Maxim
Category 4
Pot Shots
Best long distance finisher

A. Hernanes
B. Sigurðsson
C. Çalhanoğlu WINNER
D. Quagliarella
Category 5
Head First
Best at headers

A. Aduriz
B. Slimani
C. Luuk De Jong
D. Mandžukić WINNER
Category 6
Two Footed Master
Best weak foot

A. Ben Yedder
B. Eriksen Favourite
C. Perišić
D. Kroos WINNER
Category 7
One Club Man
Most loyal

A. De Rossi
B. Totti
C. Terry
D. Buffon WINNER
Category 8
Engine Room
Best workrate

A. Junuzović
B. Milner
C. Willian WINNER
D. Cavani
Category 9
Most Improved
Biggest year on year improvement

A. Mahrez WINNER
B. Alli
C. Vardy
D. Dier
Category 10
The Maestro
Most creative player

A. David Silva
B. Özil
C. Pjanić
D. De Bruyne WINNER
Category 11
Class is Permanent
Best return to form

A. Eto'o
B. Hernández
C. Diarra
D. Ben Arfa WINNER
FIFA 16 FUTTIES Winners
Here are the FUTTIES winners of FIFA 16 Ultimate Team: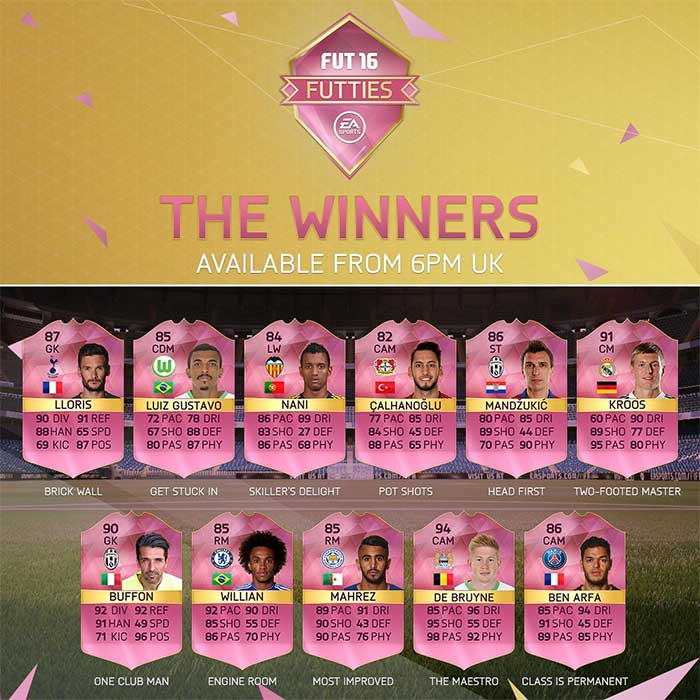 If you want to know more about FIFA 16 FUTTIES, please click in the image.