For all those players who plan to build a FIFA 17 Bundesliga squad, we've conducted an extensive analysis on the best players.
Here is our guide to the top German league in FIFA 17 Ultimate Team.
Quick Access
Introduction
Bundesliga
Goalkeepers
Centre Backs
Right Backs
Left Backs
Central Defensive Midfielders
Central Midfielders
Right Midfielders
Left Midfielders
Forwards
Teams


Other Leagues | 🇬🇧 🇪🇸 🇩🇪 🇮🇹 🇫🇷 🇵🇹 🇷🇺 🇹🇷
Introduction to the FIFA 17 Bundesliga Squad Guide
Building a team is the biggest challenge in FIFA 17 Ultimate Team. It doesn't need to be the best team, this is because the budget may not allow it, but it needs to be the player's stature for him to obtain success.
When choosing which players to play with, you will have to look carefully at their attributes. Choosing a team based on ratings is one of the most common mistakes on FUT 17. It's precisely this aspect that this guide focuses on. For each position, and focusing on the truly important attributes, we'll show you who are the best athletes to choose.
It's also important that the player checks to see if the player he chooses fits the formations he likes to play in. For example, a good full back will be useless if the player only uses a formation with three defenders. According to these formations, the player must be cautious and look at the work rate. Try to relate them with the ones we advise in our Formations Guide.
Last but not least, it's mandatory that you tune all of your team so that the individual and team chemistry will be as high possible. For this last step to be easier, the majority of the players start to define the type of team they're building. Some choose to gather players of the same nationality, while others decide to form a team of players from the same league. There are also more experienced players that can form hybrid teams without damaging team chemistry a lot.
All of these steps are necessary to have; or it could mean that the team is not always well built as it could be. This article aims to help those that want to form a FIFA 17 Bundesliga squad. Even the players that already have a team based in this league, could take out some valuable conclusions from this guide that could help you make your team even better.
We received thousands of comments about similar guides that we have published in previous years. Most of them have asked us to help improve their teams and the players they had. It's important that the readers understand that this guide is simply guidance. It's a theme too vast and the player combinations are almost infinite. Besides, there are various factors that influence the choices, like one's style of play, the formations used, the available budget, the preferences or even the time spent playing. There's still one uncertain component: a good player for someone might not be for another. If there was a better team everyone would fight to get it. Part of the fun of FIFA 17 Ultimate Team is this: everyone has their personal club and players.
Another important point and that must stay very clear is that whoever is reading this guide, it's about some criteria we chose and should be of everyone's knowledge:
Only Gold Players
In this guide we didn't consider silver or bronze player. Most players don't assume them to be a better option than gold players, so to simplify the guide's analysis we didn't include them. In the future we may come to publish guides exclusively talking about these qualities.
Only Regular Players
In this guide we didn't consider In Forms (IF). They're extremely expensive and in most cases are not considered good value for money. They should only be used by players with generous budgets, that already have the best team possible and that want small upgrades.
Only Normal Players
In this guide we didn't consider players that have been transferred to other clubs or that have been reviewed (UP). Only players that started their season in the Bundesliga and with their original attributes were considered.
Only Original Attributes
In this guide we didn't consider changes made on a players performance such happens when applying training or chemistry styles cards.
Position analysis
To make the comprehension of this guide easier we divided the players in nine distinct groups in order of their original position: Goalkeeper (GK), central backs (CB), right backs (RB and RWB), left backs (LB and LWB), central defensive midfielders (CDM) central midfielders (CM and CAM), right midfielders (RM, RW and RF), left midfielders (LM, LW and LF) and forwards (CF and ST).
Fluctuation of Prices
In the chapter where FIFA 17 Bundesliga squads are suggested, we added a link where you can check anytime the updated prices.
Bundesliga
The Bundesliga lives in the shadow of Premier League and La Liga but the truth is that it has many quality players.
The qualification of the champion is made through the made points system. Whichever team gathers the most points wins the league. The first four classified gain access to the champions league of the next year, while the fifth and sixth qualify to the Europa League and the last three trade places with the first two qualified of the 2. Bundesliga and with the play-off winner. Every season starts in August and finishes in May, having 34 game weeks with nine matches each, being a total of 306 matches per season.
The Bundesliga is the most watched sports league in the world and the third best league classified in the UEFA league coefficients.
Started in 1962, the Bundesliga has been conquered by twelve clubs. The dominant club is Bayern Munich, with a total of 24 titles. Borussia Dortmund (5), Borussia Mönchengladbach (5), Werder Bremen (4), Hamburger SV (3), VfB Stuttgart (3), FC Köln (2) and FC Kaiserslautern (2) were the other teams that won more than once.
As of last season, Bundesliga lost some good players such as Henrikh Mkhitaryan (Manchester United), Ilkay Gündogan and Leroy Sané (Manchester City), Granit Xhaka (Arsenal) and Loris Karius (Liverpool).
These transfers didn't necessarily make the Bundesliga weaker. The German teams spent more than 500 million Euros on strong reinforcements: Ousmane Dembélé and Raphaël Guerreiro (Borussia Dortmund), Aleksandar Dragovic (Bayer 04 Leverkusen), Breel Embolo (FC Schalke 04), Jeffrey Bruma and Mario Gómez (VFL Wolfsburg), Douglas Santos and Alen Halilovic (Hamburger SV), Naby Keïta and Oliver Burke (Leipzig). But the biggest signing of the season happened in Munich. Renato Sanches, best young player of the Euro 2016 and Golden Boy Award winner, signed with FC Bayern for a starting transfer fee around 30 million pounds.
The choices are a lot for which our guide will certainly be useful as to building a team with players from this league. Bundesliga is a good choice to who is looking for quality players, but doesn't want to spend so much coins as happens in Premier League and La Liga based squads.


BUNDESLIGA

Total Players: 555
Gold Players: 249
Average Rating (Global): 72

Best New Cards:
Yevgen Konoplyanka
Mario Gomez

Highest Upgrades:
Mahmoud Dahoud (+19)
Andreas Christensen (+15)
Florian Grillitsch (+13)

Highest Downgrades:
Arjen Robben (-3)
Marian Sarr (-2)
Neven Subotić (-2)


Best FIFA 17 Bundesliga Goalkeepers
GK

Goalkeepers are the players that are used least on the field. Because of this they are also first ignored when building a team. Most players start their purchases with a forward, later they strengthen the midfield, the defence and only later the goal. The truth is a good goalkeeper may be worth a lot of goals. They are a good investment because they are normally the most economically accessible players.
Manuel Neuer is the most popular goalkeeper in the world.
MOST HIGH-RATED GOALKEEPERS
Manuel Neuer
92
Bayern
GER
Bernd Leno
86
Leverkusen
GER
Ralf Fährmann
84
Schalke
GER
Yann Sommer
84
Mönchengladbach
SUI
Timo Horn
82
Köln
GER
Roman Bürki
81
Dortmund
SUI
René Adler
81
Hamburg
GER
Oliver Baumann
80
Hoffenheim
GER
Marwin Hitz
80
Augsburg
SUI
Diego Benaglio
79
Wolfsburg
SUI
Roman Weidenfeller
78
Dortmund
GER
Lukáš Hrádecký
78
Frankfurt
FIN
Koen Casteels
78
Wolfsburg
BEL
Jonas Lössl
77
Mainz
DEN
Jaroslav Drobný
77
Bremen
CZ
When choosing a good goalkeeper it's not only down to his rating. There are two fundamental attributes for choosing a good goalkeeper: reflexes and diving.
The first measures a goalkeeper's agility when making a save. The best on this aspect are Neuer and Fährmann .
GOALKEEPERS WITH BEST REFLEXES
Manuel Neuer
89
Bayern
GER
Ralf Fährmann
87
Schalke
GER
Yann Sommer
85
Mönchengladbach
SUI
Roman Bürki
84
Dortmund
SUI
Oliver Baumann
84
Hoffenheim
GER
Thomas Kraft
84
Berlin
GER
Bernd Leno
83
Leverkusen
GER
Timo Horn
83
Köln
GER
Lukáš Hrádecký
83
Frankfurt
FIN
Marwin Hitz
82
Augsburg
SUI
Koen Casteels
82
Wolfsburg
BEL
René Adler
81
Hamburg
GER
Jonas Lössl
79
Mainz
DEN
Sven Ulreich
79
Bayern
GER
Felix Wiedwald
79
Bremen
GER
Diving is a fundamental attribute when choosing a goalkeeper. It measures the capacity for a goalkeeper to make a save when jumping.
In this attribute, it is Neuer the best one. Again…
GOALKEEPER WITH BEST DIVING
Manuel Neuer
89
Bayern
GER
Bernd Leno
85
Leverkusen
GER
Ralf Fährmann
83
Schalke
GER
Yann Sommer
83
Mönchengladbach
SUI
Oliver Baumann
82
Hoffenheim
GER
Marwin Hitz
82
Augsburg
SUI
Roman Bürki
81
Dortmund
SUI
Sven Ulreich
81
Bayern
GER
Timo Horn
80
Köln
GER
René Adler
80
Hamburg
GER
Koen Casteels
80
Wolfsburg
BEL
Thomas Kraft
80
Berlin
GER
Jonas Lössl
79
Mainz
DEN
Diego Benaglio
77
Wolfsburg
SUI
Felix Wiedwald
77
Bremen
GER
The most experienced Ultimate Team players know that another leaning factor on a goalkeeper's performance without considering the remaining four attributes: height. The more tall a goalkeeper is, better his chances of having a clean sheet.
The Bundesliga goalkeepers are very tall. From the 20 goalies, fifeen have at least 190cm. Koen Casteels is the tallest one, 14cm taller than Yann Sommer.
TALLEST GOALKEEPERS
Koen Casteels
197 / 6′6″
Wolfsburg
BEL
Ralf Fährmann
196 / 6′5″
Schalke
GER
Jonas Lössl
195 / 6′5″
Mainz
DEN
Diego Benaglio
194 / 6′4″
Wolfsburg
SUI
Manuel Neuer
193 / 6′4″
Bayern
GER
Timo Horn
192 / 6′4″
Köln
GER
Marwin Hitz
192 / 6′4″
Augsburg
SUI
Sven Ulreich
192 / 6′4″
Bayern
GER
Jaroslav Drobný
192 / 6′4″
Bremen
CZ
René Adler
191 / 6′3″
Hamburg
GER
Bernd Leno
190 / 6′3″
Leverkusen
GER
Roman Weidenfeller
190 / 6′3″
Dortmund
GER
Lukáš Hrádecký
190 / 6′3″
Frankfurt
FIN
Rune Almenning Jarstein
190 / 6′3″
Berlin
NOR
Felix Wiedwald
190 / 6′3″
Bremen
GER
The choice for the best Bundesliga goalkeeper on FIFA 17 Ultimate Team is really easy.
Besides being the best Bundesliga goalkeeper in the two most important attributes, Manuel Neuer is also the the one with best positioning, diving and kicking in the entire game.
Bernd Leno and Ralf Fährmann are very similar in the most important attributes. However, Leno is faster ans much better with the ball in the feet and for these reasons he is our second choice.
Despite being the shorter goalkeeper from Bundesliga, Sommer is our economic choice. He is a better choice than Bürki and Baumann to keep your goal safe.

GOALKEEPERS
Best Players
#1 Manuel Neuer
#2 Bernd Leno
#3 Ralf Fährmann
#4 Yann Sommer
#5 Roman Bürki
Economic Choice
Yann Sommer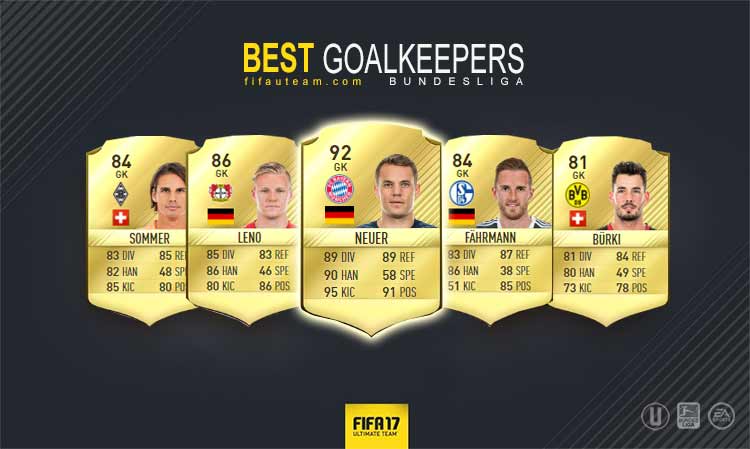 Best FIFA 17 Bundesliga Goalkeeper
Best FIFA 17 Bundesliga Centre Backs
CB

A goalkeeper task is made easier if in front of him are quality central backs. Their function is to stop the opponent from getting dangerously close to your team's goal.
Jérôme Boateng is the centre back with best reputation in Bundesliga. He's becoming better and better every year.
HIGHEST RATED CENTRE BACKS
Jérôme Boateng
90
Bayern
GER
Mats Hummels
87
Bayern
GER
Sokratis
84
Dortmund
GRE
Ömer Toprak
84
Leverkusen
TUR
Benedikt Höwedes
84
Schalke
GER
Javi Martinez
84
Bayern
ESP
Naldo
84
Schalke
BRA
Sven Bender
82
Dortmund
GER
Marc Bartra
81
Dortmund
ESP
Niklas Süle
81
Hoffenheim
GER
Matija Nastasić
80
Schalke
SRB
Jeffrey Bruma
80
Wolfsburg
NED
Emir Spahić
79
Hamburg
BOS
Lamine Sané
79
Bremen
SEN
Aleksandar Dragović
79
Leverkusen
AT
On a centre back, two attributes assume particular importance on their performance: defending and physical, which represents strength, stamina, aggression and jumping.
A player with good at defending will have an easier chance of dispossessing the opponent and avoid him reaching your box.
It's the case of the two best rated players, Boateng and Hummels. It's really hard to get past them. The most experienced players are normally those who have a higher rating with this attribute.
CENTRE BACKS WITH BEST DEFENDING
Jérôme Boateng
90
Bayern
GER
Mats Hummels
88
Bayern
GER
Ömer Toprak
86
Leverkusen
TUR
Naldo
86
Schalke
BRA
Sokratis
85
Dortmund
GRE
Benedikt Höwedes
84
Schalke
GER
Javi Martinez
84
Bayern
ESP
Sven Bender
84
Dortmund
GER
Marc Bartra
84
Dortmund
ESP
Niklas Süle
83
Hoffenheim
GER
Matija Nastasić
82
Schalke
SRB
Aleksandar Dragović
82
Leverkusen
AT
John Brooks
81
Berlin
USA
Tony Jantschke
81
Mönchengladbach
GER
Neven Subotić
81
Dortmund
SRB
The physical attribute shows the old heading capability but also how likely the players are to win game with their body. This is a crucial attribute when looking for the best centre back.
In this chapter Boateng and Papadopoulos are the strongest ones.
CENTRE BACKS WITH BEST PHYSICAL
Jérôme Boateng
85
Bayern
GER
Kyriakos Papadopoulos
84
RB Leipzig
GRE
Sokratis
83
Dortmund
GRE
Jeffrey Bruma
82
Wolfsburg
NED
Sven Bender
81
Dortmund
GER
Jannik Vestergaard
81
Mönchengladbach
DEN
Niklas Süle
80
Hoffenheim
GER
Aytaç Sulu
80
Darmstadt
TUR
Leon Balogun
80
Mainz
NIG
Martin Hinteregger
80
Augsburg
AT
Tobias Strobl
79
Mönchengladbach
GER
Cléber Reis
79
Hamburg
BRA
Benedikt Höwedes
78
Schalke
GER
Javi Martinez
78
Bayern
ESP
Lamine Sané
78
Bremen
SEN
Defending and heading may be useless against fast opponents. It's necessary to fight fire with fire. No one likes feeling impotent when seeing you get overrun by extremely fast players. Even though, in a way, centre backs aren't that fast, every team needs one of these players with a high pace attribute.
David Abraham and Boateng, always him, are the fastest centre back playing in the Bundesliga.
CENTRE BACKS WITH BEST PACE
David Abraham
81
Frankfurt
ARG
Jérôme Boateng
79
Bayern
GER
Sokratis
78
Dortmund
GRE
Ömer Toprak
76
Leverkusen
TUR
John Brooks
74
Berlin
USA
Marc Bartra
73
Dortmund
ESP
Naldo
72
Schalke
BRA
Jonathan Tah
72
Leverkusen
GER
Aleksandar Dragović
72
Leverkusen
AT
Leon Balogun
72
Mainz
NIG
Jeffrey Gouweleeuw
72
Augsburg
NED
Aytaç Sulu
71
Darmstadt
TUR
Marvin Matip
71
Ingolstadt
CAM
Cléber Reis
71
Hamburg
BRA
Matija Nastasić
70
Schalke
SRB
Jérôme Boateng is our number one choice for this position. Fast and with good defending and attacking attributes, he is for that the without a chance most expensive of all central backs of the Bundesliga.
The big question is: who will partner with Boateng? It isn't easy to decide. Hummels is usually the most used, because he is the Bundesliga centre back with the best passing and dribbling stats. In fact he is a great player but, in our opinion, he's not fast enough. Naldo and Sokratis are the best choices. They are much faster and have better physical stats. If you just need someone to help avoid conceding goals Sokratis, the cheapest of these three, is the right man for that job: he has more suitable work rates, jumps much much better (yes, twice!), is more aggressive, strong and in better shape.

CENTRE BACKS
Best Players
#1 Jérôme Boateng
#2 Sokratis
#3 Naldo
#4 Mats Hummels
#5 Ömer Toprak
Economic Choice
Sven Bender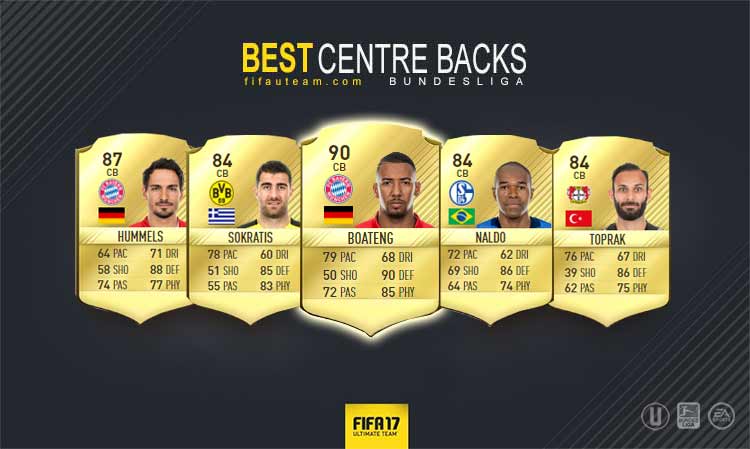 Best FIFA 17 Bundesliga Centre Backs
Best FIFA 17 Bundesliga Right Backs
RB | RWB

Full backs have the role of troubling the job of wingers. In addition, good full backs also support their team mates on offensive manoeuvres.
Philipp Lahm, back to this position, is the most popular right back playing in Bundesliga.
HIGHEST RATED RIGHT BACKS
Philipp Lahm
88
Bayern
GER
Łukasz Piszczek
82
Dortmund
POL
Coke
80
Schalke
ESP
Paul Verhaegh
78
Augsburg
NED
Christian Träsch
78
Wolfsburg
GER
Rafinha
78
Bayern
BRA
Matthias Ginter
77
Dortmund
GER
Roberto Hilbert
77
Leverkusen
GER
Peter Pekarík
77
Berlin
SVK
Sebastian Jung
77
Wolfsburg
GER
There are very important attributes for any right back: defending and pace.
Since they're defenders they should have good defending capacities. This reduces a team's risk of conceding.
In Germany, no one defends as well as Lahm.
RIGHT BACKS WITH BEST DEFENDING
Philipp Lahm
86
Bayern
GER
Łukasz Piszczek
81
Dortmund
POL
Matthias Ginter
80
Dortmund
GER
Coke
79
Schalke
ESP
Paul Verhaegh
78
Augsburg
NED
Tin Jedvaj
77
Leverkusen
CRO
Christian Träsch
76
Wolfsburg
GER
Rafinha
76
Bayern
BRA
Giulio Donati
76
Mainz
ITA
Roberto Hilbert
75
Leverkusen
GER
A flanked game tends to be faster than a game based in the middle of the field. The players that fill these spaces are obligated to be fast, both penetrating defensive and attacking moves of the team. Pace is one of the most important requirements for a good full back. Even in FIFA 17.
Brosinski is the fastest Bundesliga right-back in FIFA 17 Ultimate Team. Besides him, only Caiçara and Weiser may be considered reasonably fast.
RIGHT BACKS WITH BEST PACE
Daniel Brosinski
86
Mainz
GER
Júnior Caiçara
82
Schalke
BRA
Mitchell Weiser
81
Berlin
GER
Łukasz Piszczek
79
Dortmund
POL
Pavel Kadeřábek
78
Hoffenheim
CZ
Sebastian Jung
77
Wolfsburg
GER
Artem Fedetskyi
77
Darmstadt
UKR
Theodor Gebre Selassie
77
Bremen
CZ
Atsuto Uchida
77
Schalke
JAP
Roberto Hilbert
75
Leverkusen
GER
The right-backs are probably the most difficult choices of this league. Piszczek and Lahm are clearly the best players to this position but the one you should use depends of your needs. You should pick the Dortmund's player if you use your right back to attack. If you don't, then you need to play with Lahm. He is an amazing player but not fast enough, even applying him the right chemistry style, to play in the wing. Like his work rates show, he is a top defender but don't expect from him much more than that.
If you don't have enough coins to buy them, try Weiser, our economic choice.

RIGHT BACKS
Best Players
#1 Philipp Lahm
#2 Łukasz Piszczek
#3 Mitchell Weiser
#4 Daniel Brosinski
#5 Júnior Caiçara
Economic Choice
Mitchell Weiser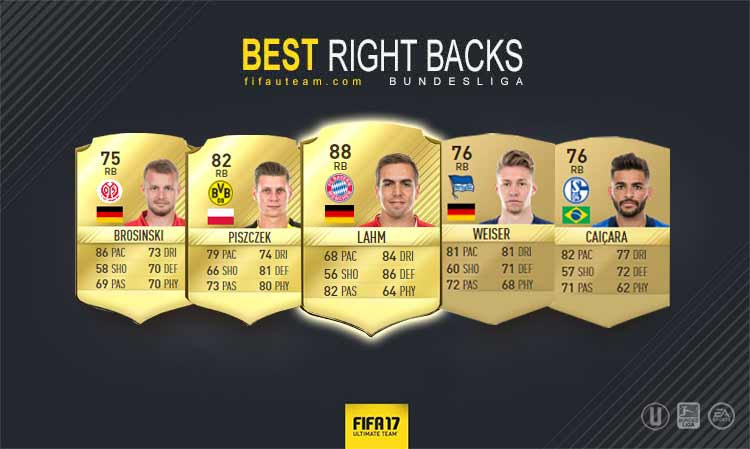 Best FIFA 17 Bundesliga Right Backs
Best FIFA 17 Bundesliga Left Backs
LB | LWB

Left backs have exactly the same role of their team mates on the other flank. In other words, they try to make a winger's job hard and participate in the team's offensive manoeuvres.
David Alaba is the big name for this position. Ricardo Rodriguez is also used by many Ultimate Team fans.
HIGHEST RATED LEFT BACKS
David Alaba
87
Bayern
AT
Ricardo Rodríguez
83
Wolfsburg
SUI
Marcel Schmelzer
80
Dortmund
GER
Jonas Hector
80
Köln
GER
Oscar Wendt
79
Mönchengladbach
SWE
Bernat
79
Bayern
ESP
Wendell
78
Leverkusen
BRA
Abdul Rahman Baba
78
Schalke
GHA
Marvin Plattenhardt
77
Berlin
GER
Erik Durm
76
Dortmund
GER
If you need someone to defend, you need to pick Alaba.
LEFT BACKS WITH BEST DEFENDING
David Alaba
83
Bayern
AT
Ricardo Rodríguez
80
Wolfsburg
SUI
Marcel Schmelzer
79
Dortmund
GER
Jonas Hector
78
Köln
GER
Oscar Wendt
76
Mönchengladbach
SWE
Bernat
76
Bayern
ESP
Gaëtan Bussmann
76
Mainz
FRA
Sead Kolašinac
75
Schalke
BOS
Abdul Rahman Baba
74
Schalke
GHA
Marcel Schäfer
74
Wolfsburg
GER
Alaba, Baba and Wendell are much faster than any other left back.
LEFT BACKS WITH BEST PACE
David Alaba
86
Bayern
AT
Abdul Rahman Baba
86
Schalke
GHA
Wendell
86
Leverkusen
BRA
Raphaël Guerreiro
83
Dortmund
POR
Erik Durm
82
Dortmund
GER
Sead Kolašinac
80
Schalke
BOS
Bernat
79
Bayern
ESP
Oscar Wendt
78
Mönchengladbach
SWE
Douglas Santos
78
Hamburg
BRA
Marcel Schmelzer
77
Dortmund
GER
David Alaba is, in our opinion, the best left back playing in Bundesliga. He is one of the best left backs of FIFA 17, and that's why he is widely used in hybrids squads.
Just like in previous years, Ricardo Rodriguez is still our second choice. He's far from the Alaba quality but he costs several times less.
Wendell is fast and has a decent passing, making him the best alternative to the two most popular left backs from the Bundesliga.

LEFT BACKS
Best Players
#1 David Alaba
#2 Ricardo Rodríguez
#3 Wendell
#4 Marcel Schmelzer
#5 Bernat
Economic Choice
Wendell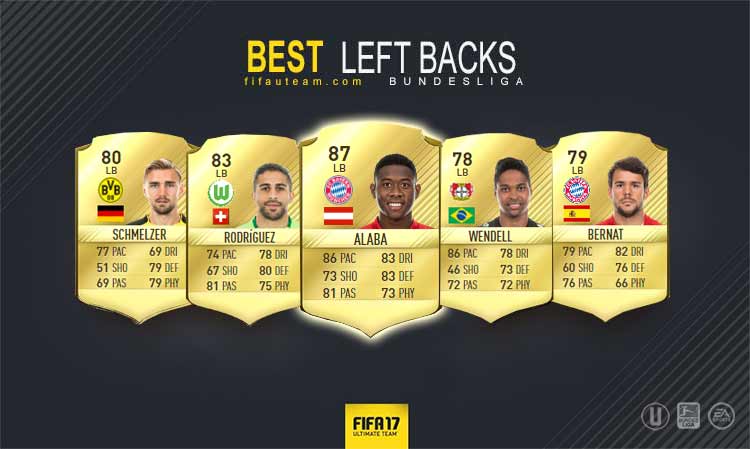 Best FIFA 17 Bundesliga Left Backs
Best FIFA 17 Bundesliga Defensive Midfielder
CDM

Many of the FIFA 17 Ultimate Team formations require some midfielders that have a natural aptitude to defend. Central defensive midfielders distinguish themselves for being especially aimed to help the more retreated line of their teams. According to their attributes and their work rates, they can also be useful for starting attacks. They are players that occupy a very strategic position in the field.
With regard to the popularity, the supremacy of Xabi Alonso, Luiz Gustavo and Lars Bendter over all other Bundesliga central defensive midfielders is extremely clear.
HIGHEST RATED CENTRAL DEFENSIVE MIDFIELDERS
Xabi Alonso
84
Bayern
ESP
Luiz Gustavo
83
Wolfsburg
BRA
Lars Bender
83
Leverkusen
GER
Josuha Guilavogui
80
Wolfsburg
FRA
Sebastian Rode
80
Dortmund
GER
Daniel Baier
80
Augsburg
GER
Nuri Şahin
80
Dortmund
TUR
Julian Baumgartlinger
79
Leverkusen
AT
Julian Weigl
79
Dortmund
GER
Johannes Geis
79
Schalke
GER
Per Ciljan Skjelbred
78
Berlin
NOR
Christoph Kramer
78
Mönchengladbach
GER
Eugen Polański
78
Hoffenheim
POL
Pirmin Schwegler
77
Hoffenheim
SUI
Matthias Lehmann
76
Köln
GER
There are a variety of attributes in a central defensive midfielder that you have to give attention: defending, so that the first defender of team works; strength, so that you win all brawls in a prone area of the field; heading, to win possession in aerial moves like goal kicks; pace, so that you cover the most terrain on the field as possible; stamina, so they can equally participate in offensive and defensive moves (especially useful for players with high/high work rates); passing and possession so that he can properly start attacks. In our opinion the two first are the most important.
Normally using a central defensive midfielder is associated with having a deficit of elements in your defence. So, it makes sense that when you search for a player to occupy this position you'd want players that can defend.
Luiz Gustavo, Bender and Guilavogui are really good choices for teams that want to complicate an opponent's game in the space between the midfield and the defence.
CENTRAL DEFENSIVE MIDFIELDERS WITH BEST DEFENDING
Luiz Gustavo
83
Wolfsburg
BRA
Lars Bender
82
Leverkusen
GER
Josuha Guilavogui
82
Wolfsburg
FRA
Sebastian Rode
79
Dortmund
GER
Fabian Lustenberger
79
Berlin
SUI
Eugen Polański
78
Hoffenheim
POL
Roger
78
Ingolstadt
BRA
Julian Baumgartlinger
77
Leverkusen
AT
Xabi Alonso
76
Bayern
ESP
Johannes Geis
76
Schalke
GER
Christoph Kramer
76
Mönchengladbach
GER
Daniel Baier
75
Augsburg
GER
Kevin Vogt
75
Hoffenheim
GER
Dennis Aogo
75
Schalke
GER
Pirmin Schwegler
74
Hoffenheim
SUI
The area of the field occupied by the central defensive midfielders is the one where most ball disputes happen. Strong players will have a higher probability of winning the ball.
Baumgartlinger is the best on this side.
CENTRAL DEFENSIVE MIDFIELDERS WITH BEST PHYSICAL
Julian Baumgartlinger
84
Leverkusen
AT
Luiz Gustavo
82
Wolfsburg
BRA
Josuha Guilavogui
81
Wolfsburg
FRA
Roger
81
Ingolstadt
BRA
Kevin Vogt
81
Hoffenheim
GER
Lars Bender
80
Leverkusen
GER
Eugen Polański
80
Hoffenheim
POL
Sebastian Rode
79
Dortmund
GER
Johannes Geis
78
Schalke
GER
Christoph Kramer
76
Mönchengladbach
GER
Dennis Aogo
76
Schalke
GER
Benjamin Stambouli
76
Schalke
FRA
Per Ciljan Skjelbred
75
Berlin
NOR
Matthias Lehmann
74
Köln
GER
Dominik Kohr
74
Augsburg
GER
If you are used to read our players reviews, you already know that we hate slow players. Sometimes, when a player has amazing stats we make an effort to like him. That's not the case of Xabi Alonso. This man is slower than our grandma!
Luiz Gustavo is the most balanced defensive midfielder of this league. He will offer security to your back line. However, if you need someone more focused in the attack, we suggest you Rode and Bender.

CENTRE DEFENSIVE MIDFIELDERS
Best Players
#1 Luiz Gustavo
#2 Sebastian Rode
#3 Lars Bender
#4 Josuha Guilavogui
#5 Xabi Alonso
Economic Choice
Sebastian Rode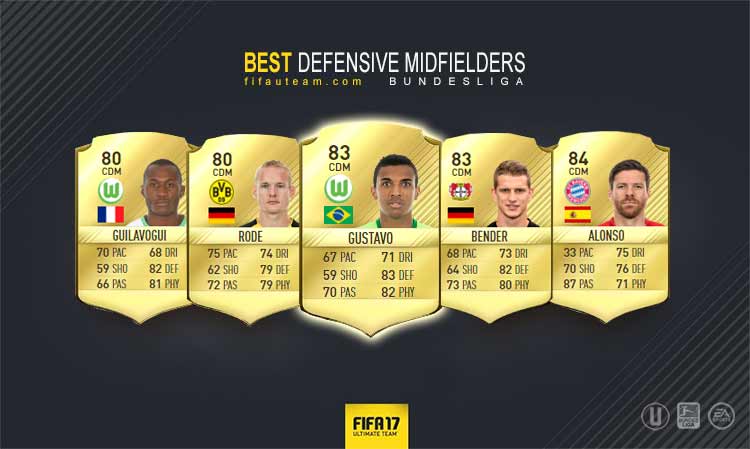 Best FIFA 17 Bundesliga Central Defensive Midfielders
Best FIFA 17 Bundesliga Centre Midfielders
CM | CAM

A lot of games are decided in the midfield and not close to the goals. The players that play in these zones are the ones that should create the game and define its rhythm.
Arturo Vidal is by far the centre midfielder most rated in the Bundesliga.
HIGHEST RATED CENTRE MIDFIELDERS
Arturo Vidal
87
Bayern
CHI
Thiago
84
Bayern
ESP
Mario Götze
84
Dortmund
GER
Julian Draxler
84
Wolfsburg
GER
Shinji Kagawa
83
Dortmund
JAP
Gonzalo Castro
82
Dortmund
GER
Hakan Çalhanoğlu
80
Leverkusen
TUR
Kevin Kampl
80
Leverkusen
SVN
Max Meyer
80
Schalke
GER
Daniel Didavi
80
Wolfsburg
GER
Mahmoud Dahoud
79
Mönchengladbach
GER
Vladimír Darida
79
Berlin
CZ
Maximilian Arnold
79
Wolfsburg
GER
Thorgan Hazard
79
Mönchengladbach
BEL
Alen Halilović
79
Hamburg
CRO
Yunus Mallı
79
Mainz
TUR
Zlatko Junuzović
79
Bremen
AT
Leon Goretzka
79
Schalke
GER
Charles Aránguiz
79
Leverkusen
CHI
Joshua Kimmich
78
Bayern
GER
Centre midfielders are responsible for discovering lines that break the opponents defence. Their passing quality has to be really good so they can assist forwards.
Passing stat is very balanced between the centre midfielders of Bundesliga.
CENTRE MIDFIELDERS WITH BEST PASSING
Thiago
82
Bayern
ESP
Gonzalo Castro
82
Dortmund
GER
Charles Aránguiz
82
Leverkusen
CHI
Zlatko Junuzović
81
Bremen
AT
Arturo Vidal
80
Bayern
CHI
Julian Draxler
80
Wolfsburg
GER
Hakan Çalhanoğlu
80
Leverkusen
TUR
Joshua Kimmich
79
Bayern
GER
Lewis Holtby
79
Hamburg
GER
Mario Götze
78
Dortmund
GER
Max Meyer
78
Schalke
GER
Alen Halilović
78
Hamburg
CRO
Pascal Groß
78
Ingolstadt
GER
Vladimír Darida
77
Berlin
CZ
Leon Goretzka
77
Schalke
GER
Kevin Kampl
76
Leverkusen
SVN
Thorgan Hazard
76
Mönchengladbach
BEL
Sebastian Rudy
76
Hoffenheim
GER
Aaron Hunt
76
Hamburg
GER
Fabian Frei
76
Mainz
SUI
A Centre midfielder usually needs creativity. Good dribbling allows the team to move forward, creating potential disequilibrium's.
In this league, only Robben and Ribery have better dribbling than Götze and Thiago.
CENTRE MIDFIELDERS WITH BEST DRIBBLING
Thiago
89
Bayern
ESP
Mario Götze
89
Dortmund
GER
Shinji Kagawa
87
Dortmund
JAP
Julian Draxler
86
Wolfsburg
GER
Max Meyer
85
Schalke
GER
Kevin Kampl
85
Leverkusen
SVN
Gonzalo Castro
82
Dortmund
GER
Thorgan Hazard
82
Mönchengladbach
BEL
Mahmoud Dahoud
82
Mönchengladbach
GER
Yunus Mallı
82
Mainz
TUR
Alen Halilović
81
Hamburg
CRO
Koo Ja Cheol
81
Augsburg
KOR
Zlatko Junuzović
80
Bremen
AT
Vladimír Darida
80
Berlin
CZ
Arturo Vidal
79
Bayern
CHI
Daniel Didavi
79
Wolfsburg
GER
Lewis Holtby
79
Hamburg
GER
Renato Sanches
79
Bayern
POR
Valentin Stocker
79
Berlin
SUI
Hakan Çalhanoğlu
78
Leverkusen
TUR
Arturo Vidal is undoubtedly the best player for this position. He is strong, fast and with great stats for all other attributes, including amazing stamina and work rate. He can play as CAM, CM or even CDM.
Our second choice is Renato Sanches. If you are asking why we have chosen a 78 rated player, that's because you haven't tried him yet. He is a beast, one of the best surprises this year. There is a casting issue with the Golden Boy winner: he is not a CAM or a CM. In the best of chances, he is a CDM. With his high/high work rate, amazing stamina, strength and aggression the best you can do is to give him freedom to play every where.
Draxler and Thiago are both great players. You should pick them according to your needs: the Wolfsburg player is more suitable to the CAM position, while the Spanish midfielder plays better as CM. The same applies to Gonzalo Castro and Mario Götze, in a slightly lower qualitative level.
For lower budgets, we also recommend Çalhanoglu and Goretzka, our economic choice.

CENTRE MIDFIELDERS
Best Players
#1 Arturo Vidal
#2 Renato Sanches
#3 Julian Draxler
#4 Thiago
#5 Gonzalo Castro
Economic Choice
Leon Goretzka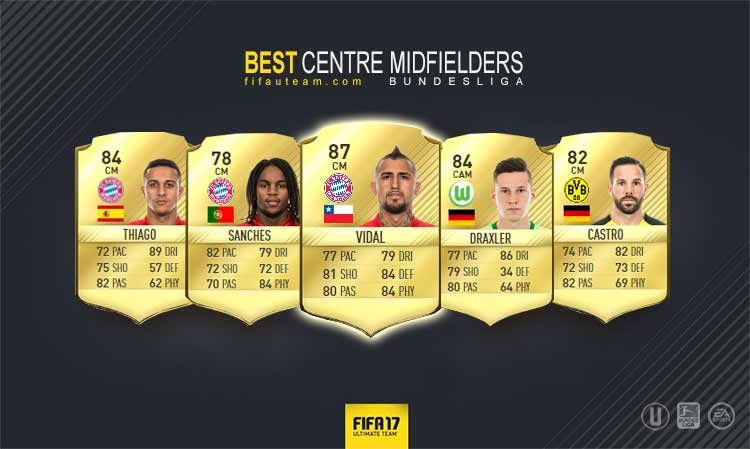 Best FIFA 17 Bundesliga Centre Midfielders
Best FIFA 17 Bundesliga Right Wingers
RM | RW | RF

The wingers are responsible for giving game width in the attack. They're normally very explosive players.
Arjen Robben is the right winger most popular who play in Bundesliga.
HIGHEST RATED RIGHT WINGERS
Arjen Robben
87
Bayern
NED
Karim Bellarabi
83
Leverkusen
GER
Patrick Herrmann
81
Mönchengladbach
GER
Vieirinha
81
Wolfsburg
POR
Ibrahima Traoré
80
Mönchengladbach
GUI
Jakub Błaszczykowski
79
Wolfsburg
POL
Sidney Sam
77
Schalke
GER
Jonas Hofmann
77
Mönchengladbach
GER
Nicolai Müller
77
Hamburg
GER
Ousmane Dembélé
77
Dortmund
FRA
Marcel Risse
77
Köln
GER
Pablo De Blasis
76
Mainz
ARG
Lukas Rupp
76
Hoffenheim
GER
Breel Embolo
76
Schalke
SUI
Christian Clemens
76
Mainz
GER
There are three fundamental attributes for a winger: pace, dribbling and passing.
Pace is probably the biggest weapon of these players. They use it to evade opponents and getting to the other side, many times via sprints on the side lines.
The Bundesliga is well served in this chapter. Three gold players have pace 90 or higher, being the highlighted Heller. In other hand, the age of Robben costs him a decrease of 6 points.
FASTEST RIGHT WINGERS
Marcel Heller
93
Darmstadt
GER
Patrick Herrmann
91
Mönchengladbach
GER
Karim Bellarabi
90
Leverkusen
GER
Ibrahima Traoré
88
Mönchengladbach
GUI
Nicolai Müller
88
Hamburg
GER
Arjen Robben
86
Bayern
NED
Sidney Sam
86
Schalke
GER
Marcel Risse
86
Köln
GER
Breel Embolo
86
Schalke
SUI
Christian Clemens
85
Mainz
GER
Ousmane Dembélé
84
Dortmund
FRA
Genki Haraguchi
83
Berlin
JAP
Fin Bartels
82
Bremen
GER
Pablo De Blasis
81
Mainz
ARG
Vieirinha
80
Wolfsburg
POR
Just being fast doesn't cut it to reach the opponents box, having good dribbling to surpass the opponents' players that appear on the way.
There are a lot of players gifted in dribbling, but in Bundesliga no one can be compared to Robben.
RIGHT WINGERS WITH BEST DRIBLLING
Arjen Robben
90
Bayern
NED
Karim Bellarabi
85
Leverkusen
GER
Vieirinha
85
Wolfsburg
POR
Ibrahima Traoré
85
Mönchengladbach
GUI
Patrick Herrmann
83
Mönchengladbach
GER
Ousmane Dembélé
82
Dortmund
FRA
Pablo De Blasis
82
Mainz
ARG
Jakub Błaszczykowski
81
Wolfsburg
POL
Genki Haraguchi
81
Berlin
JAP
Sidney Sam
79
Schalke
GER
Breel Embolo
79
Schalke
SUI
Fin Bartels
79
Bremen
GER
Nicolai Müller
78
Hamburg
GER
Jonas Hofmann
78
Mönchengladbach
GER
Lukas Rupp
78
Hoffenheim
GER
When reaching the opponents box the winger has to decide what to do. Normally, they choose to cross to the forwards. That is why it's important for them to have good passing.
Only Robben offers good quality passing.
RIGHT WINGERS WITH BEST PASSING
Arjen Robben
81
Bayern
NED
Vieirinha
77
Wolfsburg
POR
Jakub Błaszczykowski
77
Wolfsburg
POL
Karim Bellarabi
75
Leverkusen
GER
Patrick Herrmann
75
Mönchengladbach
GER
Lukas Rupp
75
Hoffenheim
GER
Ibrahima Traoré
74
Mönchengladbach
GUI
Jonas Hofmann
73
Mönchengladbach
GER
Sidney Sam
72
Schalke
GER
Christian Clemens
72
Mainz
GER
Nicolai Müller
71
Hamburg
GER
Marcel Risse
71
Köln
GER
Ousmane Dembélé
70
Dortmund
FRA
Pablo De Blasis
70
Mainz
ARG
Alessandro Schöpf
69
Schalke
AT
Robben is clearly the most indicated players to occupy this position in a team without budget restraints. He is the right winger with best passing, shooting and dribbling in this league. The only problem is his price.
For those that can't pay so many coins, Bellarabi is the best alternative. He is really fast and has a great dribbling stat.
If you want to save your coins, don't waste them on Dembelé. He's more popular than Herrman, Traoré or Vierinha but his skills don't justify the extra money you have to pay for him.

RIGHT MIDFIELDERS
Best Players
#1 Arjen Robben
#2 Karim Bellarabi
#3 Patrick Herrmann
#4 Ibrahima Traoré
#5 Vieirinha
Economic Choice
Patrick Herrmann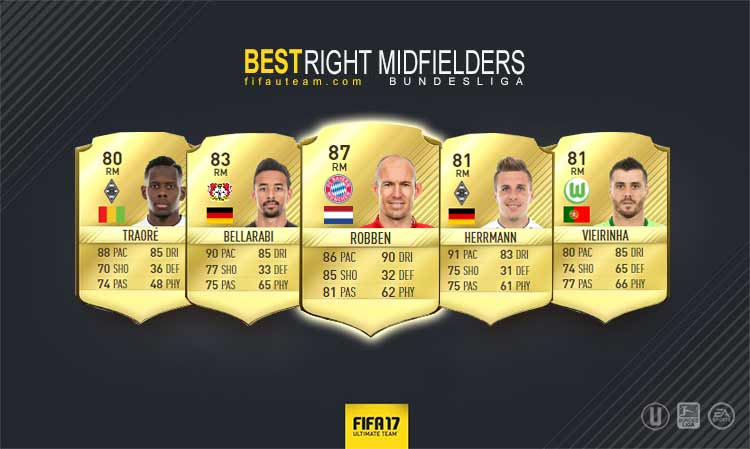 Best FIFA 17 Bundesliga Right Wingers
Best FIFA 17 Bundesliga Left Wingers
LM | LW | LF

The left wingers have exactly the same role as their team mates from the other side.
Reus and Ribéry are the two most popular left wingers playing in Bundesliga.
HIGHEST RATED LEFT WINGERS
Marco Reus
88
Dortmund
GER
Franck Ribéry
86
Bayern
FRA
Douglas Costa
84
Bayern
BRA
Yevgen Konoplyanka
83
Schalke
UKR
Salomon Kalou
81
Berlin
IVC
Kingsley Coman
81
Bayern
FRA
André Schürrle
81
Dortmund
GER
Filip Kostić
80
Hamburg
SRB
Julian Brandt
79
Leverkusen
GER
Fabian Johnson
79
Mönchengladbach
USA
Daniel Caligiuri
79
Wolfsburg
ITA
Eric Maxim Choupo-Moting
78
Schalke
CAM
Jairo
77
Mainz
ESP
Takashi Usami
77
Augsburg
JAP
Leonardo Bittencourt
77
Köln
GER
The left wingers of the Bundesliga are even faster than the ones of the right side.
LEFT WINGERS WITH BEST PACE
Kingsley Coman
93
Bayern
FRA
Douglas Costa
92
Bayern
BRA
Marco Reus
90
Dortmund
GER
Yevgen Konoplyanka
90
Schalke
UKR
Filip Kostić
90
Hamburg
SRB
André Schürrle
88
Dortmund
GER
Fabian Johnson
87
Mönchengladbach
USA
Jairo
87
Mainz
ESP
Florian Kainz
86
Bremen
AT
Leonardo Bittencourt
84
Köln
GER
Caiuby
84
Augsburg
BRA
Franck Ribéry
82
Bayern
FRA
Daniel Caligiuri
81
Wolfsburg
ITA
Julian Brandt
79
Leverkusen
GER
Jonathan Schmid
79
Augsburg
FRA
In the world, only four players have better dribbling than Ribery.
LEFT WINGERS WITH BEST DRIBBLING
Franck Ribéry
90
Bayern
FRA
Marco Reus
86
Dortmund
GER
Douglas Costa
86
Bayern
BRA
Yevgen Konoplyanka
84
Schalke
UKR
Kingsley Coman
84
Bayern
FRA
Salomon Kalou
84
Berlin
IVC
Eric Maxim Choupo-Moting
83
Schalke
CAM
André Schürrle
82
Dortmund
GER
Daniel Caligiuri
82
Wolfsburg
ITA
Julian Brandt
82
Leverkusen
GER
Filip Kostić
81
Hamburg
SRB
Leonardo Bittencourt
81
Köln
GER
Takashi Usami
80
Augsburg
JAP
Admir Mehmedi
80
Leverkusen
SUI
Emil Forsberg
80
RB Leipzig
SWE
Franck Ribéry and Marco Reus have passing stats very similar.
LEFT WINGERS WITH BEST PASSING
Marco Reus
84
Bayern
POL
Franck Ribéry
83
Bayern
GER
Yevgen Konoplyanka
81
Dortmund
GAB
Douglas Costa
78
Leverkusen
MEX
Fabian Johnson
76
Wolfsburg
GER
Filip Kostić
75
Mönchengladbach
BRA
Kingsley Coman
74
Schalke
NED
André Schürrle
74
Mönchengladbach
GER
Daniel Caligiuri
74
Leverkusen
GER
Julian Brandt
74
Bremen
GER
Takashi Usami
74
Köln
FRA
Leonardo Bittencourt
73
Mönchengladbach
GER
Salomon Kalou
72
Bremen
PER
Jairo
72
Frankfurt
GER
Emil Forsberg
72
Berlin
BOS
There is an old rule for FIFA videogames: the cover athlete receives a bonus in his stats. We are not saying that Reus is not a great player, but probably we didn't needed to test him to know that he is better than Ribery and Douglas Costa. Between these two, our preference goes to the younger one, mainly because of his pace.
It's incredible to see so many quality players for this position in the Bundesliga. Not even Schürrle is in the top 5.
Like in FIFA 16, Kostić and Fabian Johnson are great options for low budget teams.

LEFT MIDFIELDERS
Best Players
#1 Marco Reus
#2 Douglas Costa
#3 Franck Ribéry
#4 Yevgen Konoplyanka
#5 Kingsley Coman
Economic Choice
Filip Kostić
Best FIFA 17 Bundesliga Left Wingers
Best FIFA 17 Bundesliga Forwards
CF | ST

The forwards are the players on which fall the most responsibility of scoring goals.
Lewandowski is in his career's top-form.
HIGHEST RATED FORWARDS
Robert Lewandowski
90
Bayern
POL
Thomas Müller
87
Bayern
GER
Pierre-Emerick Aubameyang
86
Dortmund
GAB
Javier Hernández
83
Leverkusen
MEX
Mario Gómez
82
Wolfsburg
GER
Raffael
82
Mönchengladbach
BRA
Klaas-Jan Huntelaar
81
Schalke
NED
Lars Stindl
81
Mönchengladbach
GER
Kevin Volland
81
Leverkusen
GER
Max Kruse
80
Bremen
GER
Anthony Modeste
80
Köln
FRA
André Hahn
79
Mönchengladbach
GER
Claudio Pizarro
79
Bremen
PER
Alexander Meier
79
Frankfurt
GER
Vedad Ibišević
78
Berlin
BOS
Adrián Ramos
78
Dortmund
COL
Stefan Kießling
78
Leverkusen
GER
Raúl Bobadilla
78
Augsburg
PAR
Pierre-Michel Lasogga
77
Hamburg
GER
Andrej Kramarić
77
Hoffenheim
CRO
To score goals shooting is necessary. If either by foot or head, the most important attribute for a forward are: shooting, heading and pace.
Most goals are scored with the foot so good shooting is a necessary attribute for a forward.
The most rated forwards are the ones that best shooting: Lewandowski and Aubameyang.
FORWARDS WITH BEST SHOOTING
Robert Lewandowski
87
Bayern
POL
Pierre-Emerick Aubameyang
84
Dortmund
GAB
Thomas Müller
83
Bayern
GER
Mario Gómez
83
Wolfsburg
GER
Klaas-Jan Huntelaar
82
Schalke
NED
Lars Stindl
82
Mönchengladbach
GER
Alexander Meier
82
Frankfurt
GER
Javier Hernández
81
Leverkusen
MEX
Kevin Volland
81
Leverkusen
GER
Claudio Pizarro
80
Bremen
PER
Alfreð Finnbogason
80
Augsburg
ICE
Raffael
79
Mönchengladbach
BRA
Max Kruse
79
Bremen
GER
Pierre-Michel Lasogga
79
Hamburg
GER
Anthony Modeste
78
Köln
FRA
André Hahn
78
Mönchengladbach
GER
Vedad Ibišević
78
Berlin
BOS
Stefan Kießling
78
Leverkusen
GER
Raúl Bobadilla
78
Augsburg
PAR
Sandro Wagner
78
Hoffenheim
GER
Jump, strength and stamina are the ingredients to the new physical attribute, very important when we are analysing the best forwards: jump to score with the head; strength to dispute the ball with the opponents; and stamina to sprint in direction of goal at any time of the game.
Most of the best Bundesliga strikers don't have good physical. It's not the case of Raúl Bobadilla.
FORWARDS WITH BEST PHYSICAL
Raúl Bobadilla
86
Augsburg
PAR
André Hahn
83
Mönchengladbach
GER
Robert Lewandowski
82
Bayern
POL
Kevin Volland
82
Leverkusen
GER
Stefan Kießling
82
Leverkusen
GER
Jhon Córdoba
82
Mainz
COL
Sandro Wagner
82
Hoffenheim
GER
Pierre-Michel Lasogga
81
Hamburg
GER
Anthony Modeste
80
Köln
FRA
Haris Seferović
79
Frankfurt
SUI
Mario Gómez
78
Wolfsburg
GER
Julian Schieber
77
Berlin
GER
Vedad Ibišević
75
Berlin
BOS
Franco Di Santo
75
Schalke
ARG
Lars Stindl
74
Mönchengladbach
GER
Klaas-Jan Huntelaar
73
Schalke
NED
Alexander Meier
73
Frankfurt
GER
Thomas Müller
72
Bayern
GER
Adrián Ramos
72
Dortmund
COL
Alfreð Finnbogason
72
Augsburg
ICE
Depending on the style of play and formation, having good shooting and heading may not be enough for a striker. Especially in games that privilege counter-attack, pace is a very important attribute.
Aubameyang is the fastest player in the game.
FORWARDS WITH BEST PACE
Pierre-Emerick Aubameyang
96
Dortmund
GAB
Timo Werner
90
RB Leipzig
GER
André Hahn
85
Mönchengladbach
GER
Javier Hernández
83
Leverkusen
MEX
Adrián Ramos
82
Dortmund
COL
Robert Lewandowski
81
Bayern
POL
Eduardo Vargas
81
Hoffenheim
CHI
Jhon Córdoba
80
Mainz
COL
Kevin Volland
79
Leverkusen
GER
Thomas Müller
78
Bayern
GER
Yoshinori Mutō
78
Mainz
JAP
Josip Drmić
77
Mönchengladbach
SUI
Anthony Modeste
76
Köln
FRA
Mark Uth
75
Hoffenheim
GER
Raffael
74
Mönchengladbach
BRA
Max Kruse
74
Bremen
GER
Raúl Bobadilla
73
Augsburg
PAR
Franco Di Santo
73
Schalke
ARG
Andrej Kramarić
73
Hoffenheim
CRO
Mario Gómez
72
Wolfsburg
GER
Having Lewandowski and Aubameyang together in the same team is so hype! The Bayern's striker is better in almost everything but who doesn't want to try the fastest player of the game? Aubameyang is even better this year! Thomas Müller is a very balanced forward, but far from the quality of these two.
There is a lack of quality strikers for medium budget squads. The best three we found were Javier Hernández, Hahn and Volland. Our preference goes for the first one, mainly because of his pace. Hahn is faster than him and also has very interesting stats but his work rate medium/high is not the best one for a striker.

FORWARDS
Best Players
#1 Robert Lewandowski
#2 Pierre-Emerick Aubameyang
#3 Thomas Müller
#4 Javier Hernández
#5 André Hahn
Economic Choice
Kevin Volland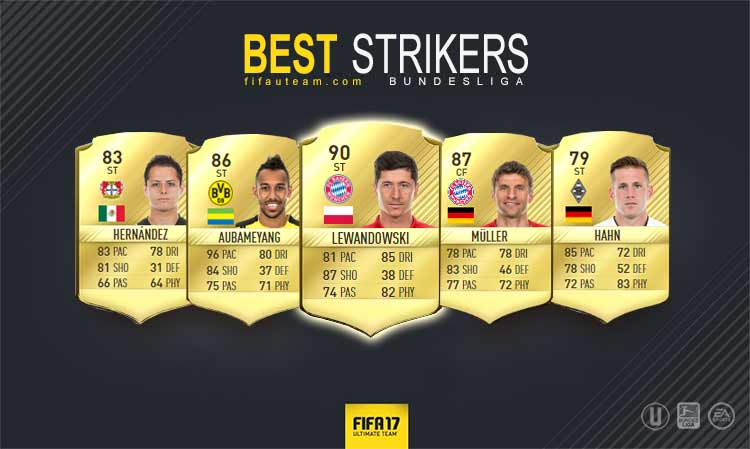 Best FIFA 17 Bundesliga Forwards
FIFA 17 Bundesliga Squad Suggestions
A lot of people think that this is the most important part of the guide. It's not. The thing that is really important to know is how to choose players based on their role and style of play that fits each player. The team suggestions that follow are simple graphic indicators of what we wrote previously. They should serve merely as orientation because it's impossible to build a team that fits everyone. They depend on various factors we don't know such as budget, formation, style of play and player preferences.
To try and explore the needs of the maximum player as possible we suggest three teams with different budgets and formations: 4-1-2-1-2 with unlimited budget, 4-3-3 with medium budget and 4-4-2 with a low budget.
FIFA 17 Bundesliga Squad with Unlimited Budget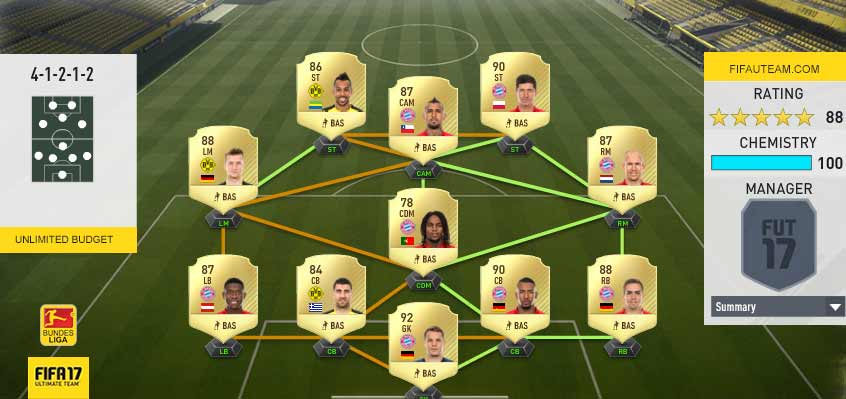 Click on the image to maximize it
First Squad

GK: Manuel Neuer
RB: Philipp Lahm
CBR: Jérôme Boateng
CBL: Sokratis
LB: David Alaba
CDM: Renato Sanches
RM: Arjen Robben
LM: Marco Reus
CAM: Arturo Vidal
STR: Robert Lewandowski
STL: Pierre-Emerick Aubameyang
Substitutes and Reserves

GK: Bernd Leno
RB: Łukasz Piszczek
CB: Naldo
CB: Mats Hummels
LB: Ricardo Rodriguez
CDM: Luiz Gustavo
RM: Karim Bellarabi
LM: Douglas Costa
CAM: Julian Draxler
CF: Thomas Müller
ST: Javier Hernández


Budget
October 2016

Playstation 4: 1,6 million coins
Xbox One: 1,5 million coins


Updated Prices
If you want to know the current prices of any player or of the full squad, please click here.


Summary
The choice for this team's players was based on the analysis made previously.
If there are undoubted players in this team, Neuer is certainly one of them. It is clear his superiority.
Boateng and Alaba are untouchables in any defence of any league. In the right side you can use Lahm, if you want to keep your goal safe, or you can play with Piszczek, if you need someone able to attack. In our opinion, the other spot of the defence should be filled by Sokratis or eventually by Naldo. Hummels is too slow to take this position.
It is very unusual to see a 78 rated player in the starting eleven of an unlimited budget squad but Renato Sanches deserves it. He is better than any other native CDM of this league. In front of him, Vidal is another player with high/high work rate and with an amazing stamina, making this midfield one of the most feared.
Who builds an unlimited budget Bundesliga squad must use a formation with wingers. Robben, Reus, Ribéry and Douglas Costa are four of the best wingers in the game. Aubameyang and Lewandowski are the perfect pair to the attack. They complement each other very well.
Once all the players reach maximum individual chemistry via loyalty (achieved by each player after 10 matches for your club or by being pack pulled) you can go without a manager for your squad. They'll be of no use while wasting contracts.
FIFA 17 Bundesliga Squad with Medium Budget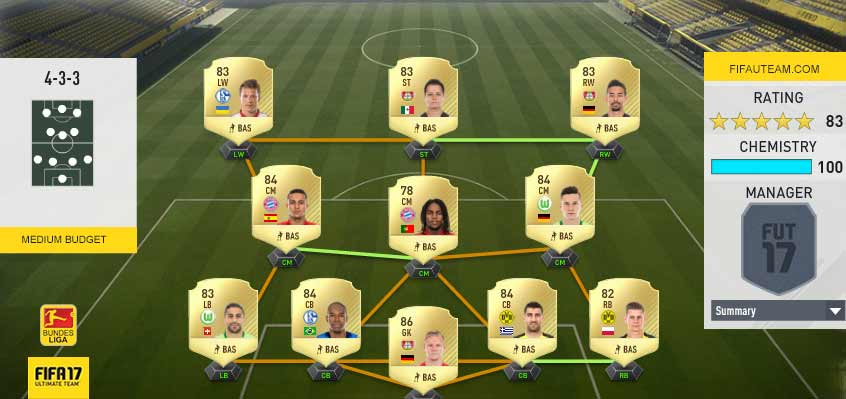 Click on the image to maximize it
First Squad

GK: Bernd Leno
RB: Łukasz Piszczek
CBR: Sokratis
CBL: Naldo
LB: Ricardo Rodríguez
CMR: Julian Draxler
CMC: Renato Sanches
CML: Thiago
RW: Karim Bellarabi
LW: Yevgen Konoplyanka
ST: Javier Hernández
Substitutes and Reserves

GK: Ralf Fährmann
RB: Mitchell Weiser
CB: Ömer Toprak
CB: Sven Bender
LB: Wendell
CM: Luiz Gustavo
CM: Gonzalo Castro
CM: Mario Götze
RW: Patrick Herrmann
LW: Kingsley Coman
ST: André Hahn


Budget
October 2016

Playstation 4: 105k coins
Xbox One: 80k coins


Updated Prices
If you want to know the current prices of any player or of the full squad, please click here.


Summary
The choices for this more affordable team players was based on analysis made previously.
Most of the players of the previous team are too expensive to be used in the medium budget squad. Sokratis and Renato Sanches are the only two who keep been elected to the starting eleven. Leno, Naldo and Ricardo Rodriguez don't have the same quality but they allow you to save many coins.
The central midfield position of this team has to be of Renato Sanches. He builds up the first barrier between your goal line and the opponent, making his physicality attributes count. Thiago and Draxler complete the midfield.
In the attack, Bellarabi and Konoplyanka have the mission to assist Javier Hernandez. If you need a stonger striker, use Adrián Ramos.
If you still have some room in your budget, Douglas Costa is the player that would improve this squad a lot.
FIFA 17 Bundesliga with Low Budget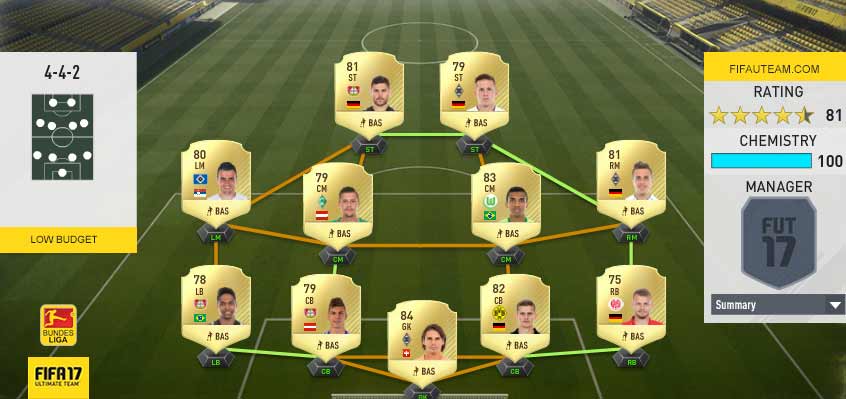 Click on the image to maximize it
First Squad

GK: Yann Sommer
RB: Daniel Brosinski
CBR: Sven Bender
CBL: Aleksandar Dragović
LB: Wendell
CMR: Luiz Gustavo
CML: Zlatko Junuzović
RM: Patrick Herrmann
LM: Filip Kostić
STR: André Hahn
STL: Kevin Volland
Substitutes and Reserves

GK: Roman Bürki
RB: Júnior Caiçara
CB: Neven Subotić
CB: John Brooks
LB: Marcel Schmelzer
CM: Sebastian Rode
CM: Kevin Kampl
RW: Ibrahima Traoré
LW: Fabian Johnson
ST: Adrián Ramos
ST: Anthony Modeste


Budget
October 2016

Playstation 4: 11k coins
Xbox One: 10k coins


Updated Prices
If you want to know the current prices of any player or of the full squad, please click here.


Summary
The choice for this budget team was based on analysis made previously.
In the goal, Yann Sommer is a decent very cheap goalkeeper. Brosinski, Bender, Dragović and Wendell are the four other defenders. Any of them is a great value for money.
On the midfield, Luiz Gustavo and Junuzović complement each other well. The first one is strong, quick and aggressive, the second is a player that usually pushes forward to assist his colleagues. Herrman and Kostić fill the wings in order to assist Hahn and Volland.
Follow our tips and you'll become more successful on FIFA 17 Ultimate Team with your Bundesliga Team.