FIFA 17 is coming. It is time to know the FIFA 17 Demo release dates, teams, stadium, ratings, platforms, download instructions, screenshots, game modes and other useful details.
All the details published in this guide are official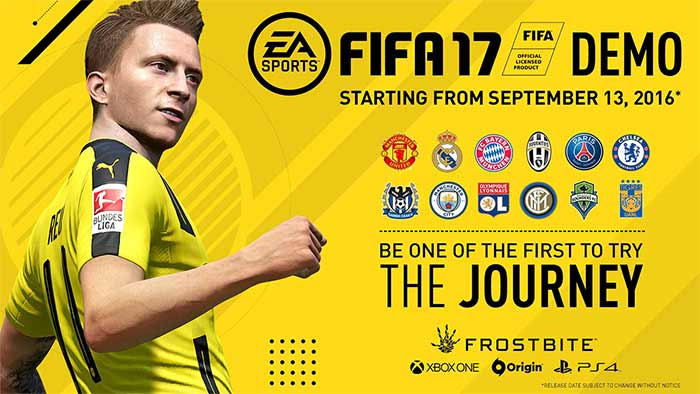 Quick Access
Release Dates and Platforms
Game Modes
Teams
Installation
FIFA 17 Demo Release Date and Platforms
When the demo will be released and for which platforms?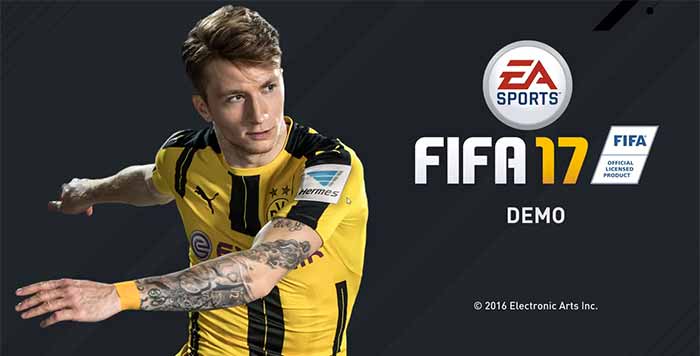 The FIFA 17 Demo will be released in September 13th, 2016.
It will be available for XBox 360, Playstation 3, PC, XBox One and Playstation 4. It won't be launched for FIFA 17 mobile on iOS or Android.
Last year, FIFA 16 Demo was available in September 8th.
The exact FIFA 17 Demo release date depends of your region and your platform.
Here it is the estimated schedule:
XBox 360 – Live Gold (worldwide) LIVE NOW
UK time: Tuesday, September 13th 2016 12pm GTM+1
US time: Tuesday, September 13th 2016 4am PT


XBox One – Live Gold (worldwide) LIVE NOW
UK time: Tuesday, September 13th 2016 6:30pm GTM+1
US time: Tuesday, September 13th 2016 10:30am PT

XBox 360 and XBox One – Live Silver (worldwide) LIVE NOW
UK time: Tuesday, September 20th 2016 10am GTM+1
US time: Monday, September 19th 2016 11pm PT

Playstation 3 (US) LIVE NOW
UK time: Tuesday, September 13th 2016 6:30pm GTM+1
US time: Tuesday, September 13th 2016 10:30am PT

Playstation 3 (Europe) LIVE NOW
UK time: Tuesday, September 13th 2016 6:30pm GTM+1
US time: Tuesday, September 13th 2016 10:30am PT

Playstation 4 (US) LIVE NOW
UK time: Tuesday, September 13th 2016 6:30pm GTM+1
US time: Tuesday, September 13th 2016 10:30am PT

Playstation 4 (Europe) LIVE NOW
UK time: Tuesday, September 13th 2016 6:30pm GTM+1
US time: Tuesday, September 13th 2016 10:30am PT

PC (worldwide) LIVE NOW
UK time: Tuesday, September 13th 2016 6:30pm GTM+1
US time: Tuesday, September 13th 2016 10:30am PT



Note


FIFA 17 Demo Game Modes

Which game modes you will be able to play in the FIFA 17 Demo?





There are two game modes available in the FIFA 17 Demo: Kick-Off and The Journey. For the first time in four years, Ultimate Team was not included in the demo.




Kick-Off Mode

On Kick-Off mode, you can play a 4 minutes halves "Match Day" alone or against a friend. Take to the pitch with some of the best clubs in the world. There are twelve teams available to play. It is possible to send the goals scored on the demo to EA Sports Football Club .

More Kick-Off Settings

Difficulty Level: Beginner, Amateur, Semi-Pro, Professional, World Class or Legend ?
Match Conditions: Custom (can't change)
Season: Autumn / Fall (can't change)
Stadiums: Stamford Bridge, Suita City Stadiu, Centurylink Field ?
Time of the Day: Day or Night
Weather: Rain or Clear
Menu Options: Play Match, Team Management, Game Settings, Controller Settings and Select Sides
Kits: Home or Away (third kit is not available in the demo)




The Journey ?

On The Journey mode, you can control Alex Hunter for the first time ever, inside and outside the pitch, on a journey to make his mark in the Premier League. Emerging as one of the best young prospects in the academy, the expectations are high and the opportunity is there for Alex to perform on the world's biggest stage. It's a cinematic world informed and influenced by real players, personalities, locations, and events that take you places you've never been and bring you experiences only available in FIFA 17.

Obviously, this game mode has a few restrictions in the demo, like the club where he can play (Manchester United) or the limited time you can play. It is good enough to make an idea how The Journey works.




The FIFA 17 demo also has a menu that describes the new features of the game and another one that gives you the chance to buy the full game.

FIFA 17 Demo Teams

Is your team included in the FIFA 17 Demo?





? As we already said, there are twelve teams on the FIFA 17 Demo.
Let's see who they are and what are their ratings.

Stars
Attack
Midfield
Defence
Bayern FC
?? Germany
5
87
85
86
Chelsea FC
?? UK
5
90
83
81
Gamba Osaka
?? Japan
2.5
70
67
65
Inter Milan
?? Italy
4.5
80
80
79
Juventus
?? Italy
5
87
85
86
Manchester City
?? UK
5
83
85
82
Manchester United
?? UK
5
90
83
81
Olympique Lyonnais
?? France
4.5
79
78
78
PSG
?? France
5
84
84
83
Real Madrid
?? Spain
5
87
86
85
Seatle Sounders
??United States
3.5
73
72
70
Tigres UANL
??Mexico
3.5
82
74
73











How to Install FIFA 17 Demo

How can I play the FIFA 17 Demo?





FIFA 17 Demo is only available for PC, XBox One, Playstation 4, XBox 360 and Playstation 3 gamers.

If youwant to play it, you should click in one of the following links, download, install and you will be ready to go:




The download size for the FIFA 17 demo is as follows:

Playstation 4
7.6 Gb

XBox One
8.05 Gb

Playstation 3
1.5 Gb

XBox 360
1.5 Gb (North America)
1.4 Gb (Japan)