For all those players who plan to build a FIFA 17 Liga NOS squad, we've conducted an extensive analysis on the best players.
Here is our guide to the top Portuguese league in FIFA 17 Ultimate Team.
Quick Access
Introduction
Goalkeepers
Centre Backs
Right Backs
Left Backs
Central Defensive Midfielders
Central Midfielders
Right Midfielders
Left Midfielders
Forwards
Teams


Other Leagues | ?? ?? ?? ?? ?? ?? ?? ??
Introduction to the FIFA 17 Liga NOS Squad Guide
Building a team is the biggest challenge in FIFA 17 Ultimate Team. It doesn't need to be the best team, this is because the budget may not allow it, but it needs to be the player's stature for him to obtain success.
When choosing which players to play with, you will have to look carefully at their attributes. Choosing a team based on ratings is one of the most common mistakes on FUT 17. It's precisely this aspect that this guide focuses on. For each position, and focusing on the truly important attributes, we'll show you who are the best athletes to choose.
It's also important that the player checks to see if the player he chooses fits the formations he likes to play in. For example, a good full back will be useless if the player only uses a formation with three defenders. According to these formations, the player must be cautious and look at the work rate. Try to relate them with the ones we advise in our Formations Guide.
Last but not least, it's mandatory that you tune all of your team so that the individual and team chemistry will be as high possible. For this last step to be easier, the majority of the players start to define the type of team they're building. Some choose to gather players of the same nationality, while others decide to form a team of players from the same league. There are also more experienced players that can form hybrid teams without damaging team chemistry a lot.
All of these steps are necessary to have; or it could mean that the team is not always well built as it could be. This article aims to help those that want to form a FIFA 17 Liga NOS squad. Even the players that already have a team based in this league, could take out some valuable conclusions from this guide that could help you make your team even better.
Another important point and that must stay very clear is that whoever is reading this guide, it's about some criteria we chose and should be of everyone's knowledge:
Only Gold Players
In this guide we didn't consider silver or bronze player. Most players don't assume them to be a better option than gold players, so to simplify the guide's analysis we didn't include them. In the future we may come to publish guides exclusively talking about these qualities.
Only Regular Players
In this guide we didn't consider In Forms (IF). They're extremely expensive and in most cases are not considered good value for money. They should only be used by players with generous budgets, that already have the best team possible and that want small upgrades.
Only Normal Players
In this guide we didn't consider players that have been transferred to other clubs or that have been reviewed (UP). Only players that started their season in the Liga NOS and with their original attributes were considered.
Only Original Attributes
In this guide we didn't consider changes made on a players performance such happens when applying training or chemistry styles cards.
Position analysis
To make the comprehension of this guide easier we divided the players in nine distinct groups in order of their original position: Goalkeeper (GK), central backs (CB), right backs (RB and RWB), left backs (LB and LWB), central defensive midfielders (CDM) central midfielders (CM and CAM), right midfielders (RM, RW and RF), left midfielders (LM, LW and LF) and forwards (CF and ST).
Fluctuation of Prices
In the chapter where FIFA 17 Liga NOS squads are suggested, we added a link where you can check anytime the updated prices.
Best FIFA 17 Liga NOS Goalkeepers
GK

Goalkeepers are the players that are used least on the field. Because of this they are also first ignored when building a team. Most players start their purchases with a forward, later they strengthen the midfield, the defence and only later the goal. The truth is a good goalkeeper may be worth a lot of goals. They are a good investment because they are normally the most economically accessible players.

Best Players
#1 Rui Patrício
#2 Iker Casillas
#3 Júlio César
#4 Ederson
#5 Beto
Best FIFA 17 Liga NOS Centre Backs
CB

A goalkeeper task is made easier if in front of him are quality central backs. Their function is to stop the opponent from getting dangerously close to your team's goal.

Best Players
#1 Rúben Semedo
#2 Jardel
#3 Lisandro López
#4 Marcelo
#5 Marcano
Best FIFA 17 Liga NOS Right Backs
RB | RWB

Full backs have the role of troubling the job of wingers. In addition, good full backs also support their team mates on offensive manoeuvres.

Best Players
#1 Ezequiel Schelotto
#2 Maximiliano Pereira
#3 Nélson Semedo
#4 Baiano
#5 André Geraldes
Best FIFA 17 Liga NOS Left Backs
LB | LWB

Left backs have exactly the same role of their team mates on the other flank. In other words, they try to make a winger's job hard and participate in the team's offensive manoeuvres.

Best Players
#1 Miguel Layún
#2 Eliseu
#3 Jefferson
#4 Grimaldo
#5 Marvin Zeegelaar
Best FIFA 17 Liga NOS Defensive Midfielder
CDM

Many of the FIFA 17 Ultimate Team formations require some midfielders that have a natural aptitude to defend. Central defensive midfielders distinguish themselves for being especially aimed to help the more retreated line of their teams. According to their attributes and their work rates, they can also be useful for starting attacks. They are players that occupy a very strategic position in the field.

Best Players
#1 Danilo Pereira
#2 William Carvalho
#3 Andreas Samaris
#4 Ljubomir Fejsa
#5 Pelé
Best FIFA 17 Liga NOS Centre Midfielder
CM | CAM

A lot of games are decided in the midfield and not close to the goals. The players that play in these zones are the ones that should create the game and define its rhythm.

Best Players
#1 André André
#2 Héctor Herrera
#3 Danilo
#4 Adrien Silva
#5 Juan Fernando Quintero
Best FIFA 17 Liga NOS Right Wingers
RM | RW | RF

The wingers are responsible for giving game width in the attack. They're normally very explosive players.

Best Players
#1 André Carrillo
#2 Pizzi
#3 Eduardo Salvio
#4 Gelson Martins
#5 Lazar Marković
Best FIFA 17 Liga NOS Left Wingers
LM | LW | LF

The left wingers have exactly the same role as their team mates from the other side.

Best Players
#1 Yacine Brahimi
#2 Rafa
#3 Franco Cervi
#4 Héldon
#5 Otávio
Best FIFA 17 Liga NOS Forwards
CF | ST

The forwards are the players on which fall the most responsibility of scoring goals.

Best Players
#1 Jonas
#2 Raúl Jiménez
#3 Luc Castaignos
#4 Wilson Eduardo
#5 Paulo Henrique
FIFA 17 Liga NOS Squad Suggestions
The team suggestions that follow should serve merely as orientation because it's impossible to build a team that fits everyone. They depend on various factors we don't know such as budget, formation, style of play and player preferences.
To try and explore the needs of the maximum player as possible we suggest two teams with different budgets and formations: 4-1-2-1-2 with unlimited budget and 4-4-2 with a low budget.
FIFA 17 Liga NOS Squad with Unlimited Budget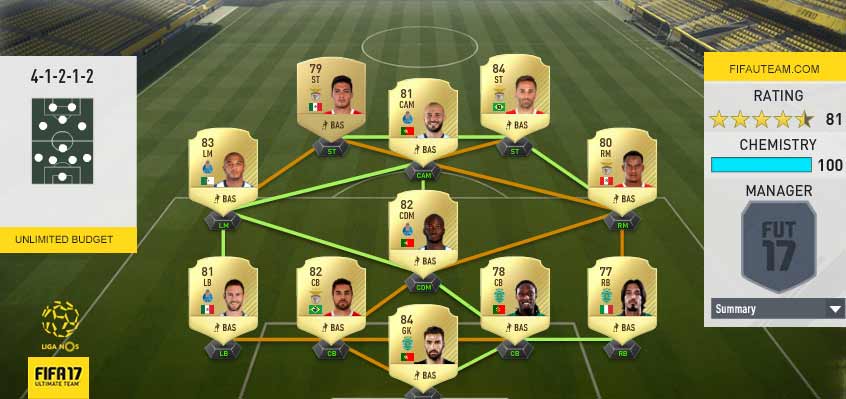 Click on the image to maximize it
First Squad

GK: Rui Patrício
RB: Ezequiel Schelotto
CBR: Rúben Semedo
CBL: Jardel
LB: Miguel Layún
CDM: Danilo Pereira
RM: André Carrilo
LM: Yacine Brahimi
CAM: André André
STR: Jonas
STL: Raúl Jiménez
Substitutes and Reserves

GK: Iker Casillas
RB: Maximiliano Pereira
CB: Marcelo
CB: Lisandro López
LB: Eliseu
CDM: William Carvalho
RM: Pizzi
LM: Rafa
CAM: Héctor Herrera
ST: Luc Castaignos
ST: Wilson Eduardo


Budget
November 2016

Playstation 4: 9k coins
Xbox One: 9k coins


Updated Prices
If you want to know the current prices of any player or of the full squad, please click here.


Summary
Your goal will be in safe hands whether you choose Rui Patrício, Iker Casillas or Júlio César.
Rúben Semedo and Layún are untouchables in the defence. Jardel is also a good centre back but if you need someone faster you should try Marcelo. In our opinion, the other spot of the defence should be filled by Schellotto, a very balanced player. Maxi Pereira is also a valid alternative to the right side of the defence.
Liga NOS has two good defensive midfielders. Danilo Pereira, our favourite, is more defensive while William Carvalho is more creative. Another balanced player is André André. We love his high/high work rates and amazing stamina.
Who builds an unlimited budget Liga NOS squad should use a formation with wingers. There are many decent choices for this position. Carrillo and Brahimi are the best ones.
Jonas and Raúl Jiménez are the perfect pair to the attack. They complement each other very well. Obviously that if you could use the Jonas SBC card, the attack will be much stronger. André Silva and Marega are two silver cards that can be used to replace Wilson Eduardo and Castaignos in the bench.
Once all the players reach maximum individual chemistry via loyalty (achieved by each player after 10 matches for your club or by being pack pulled) you can go without a manager for your squad. They'll be of no use while wasting contracts.
FIFA 17 Liga NOS Squad with Low Budget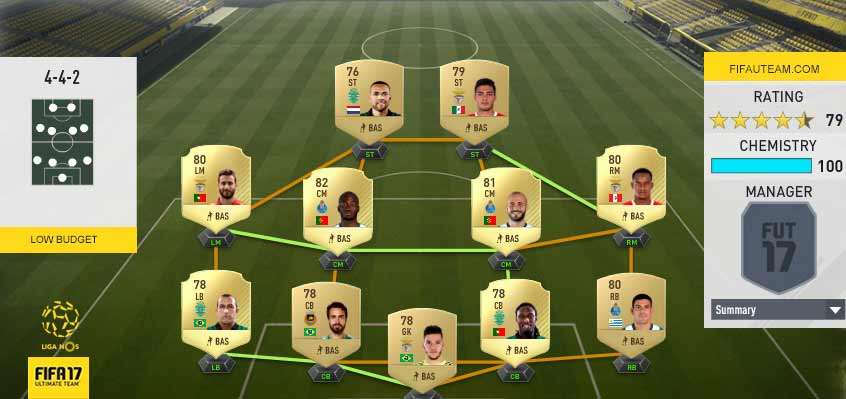 Click on the image to maximize it
First Squad

GK: Ederson
RB: Maximiliano Pereira
CBR: Rúben Semedo
CBL: Marcelo
LB: Jefferson
CMR: André André
CML: Danilo Pereira
RM: André Carrillo
LM: Rafa
STR: Jonas
STL: Raúl Jiménez
Substitutes and Reserves

GK: Beto
RB: Nélson Semedo
CB: Sebastián Coates
CB: Paulo Oliveira
LB: Grimaldo
CM: Juan Fernando Quintero
CM: Héctor Herrera
RM: Eduardo Salvio
LM: Franco Cervi
ST: Wilson Eduardo
ST: Paulo Henrique


Budget
November 2016

Playstation 4: 7k coins
Xbox One: 7k coins


Updated Prices
If you want to know the current prices of any player or of the full squad, please click here.


Summary
The cards of this league are so cheap that there is no big difference between what you pay for the unlimited budget squad and the low budget squad. However, the first one is much better than the second one. We strongly recommend you to build the unlimited budget squad we published.
In the goal, Ederson will try to keep your goal safe, with the help of Maxi Pereira, Jefferson, Rúben Semedo and Marcelo.
In the midfield, you will need someone able to help the the back line. Danilo Pereira is the perfect man for that job, giving more freedom to André André do what he likes to do.
In the attack, the wingers Rafa and Carrillo have the mission to assist Raúl Jiménez and Castaignos. In Liga NOS, only Jonas is better than them.
If you still have some room in your budget, Jonas is the player that would improve this squad a lot.
Follow our tips and you'll become more successful on FIFA 17 Ultimate Team with your Liga NOS team.