Learn everything about FIFA 17 Manager's League Cards, including how they work, a list with all these cards and a guide to help you decide if you should use them or not.


Quick Access
Roles
What FIFA 17 manager's league cards do?

The managers are the most important staff in the game. They give a boost to the contract cards, but they also contribute with one point to the individual chemistry of all players from the starting eleven that have the same nationality or the same league as them.
As it is not always possible to match the leagues, there are cards that help solve this problem. They allow you to change the league printed on the manager card to the one that is printed on the card. For each card that you spend, you can change league once. You can change the manager's league as many times as you want. When properly applied, the league cards, can give one extra point of individual chemistry.
Each league card can only be applied to a manager and the effect last until you apply a new league card on him.
The manager's league cards can not be boosted by any staff.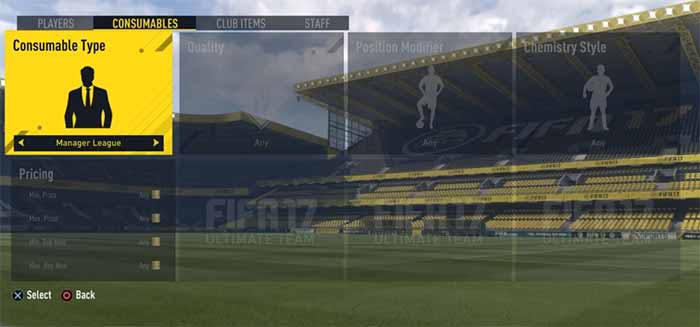 Follow this path to buy manager's league cards: transfers – consumables – manager league
List of FIFA 17 Manager's League Cards
Every single manager league card included in FIFA 17

These are the manager's league cards you can find in FIFA 17:
MANAGER'S LEAGUE CARDS
LEAGUE
QUALITY
A-League
AUS 1
Gold
A. Bundesliga
AUT 1
Gold
Airtricity League
IRL 1
Gold
ALJ League
SAU 1
Gold
Allsvenskan
SWE 1
Gold
Premier League
ENG 1
Gold Rare
Bundesliga
GER 1
Gold Rare
Bundesliga 2.
GER 2
Gold
Camp. Petrobras
CHI 1
Gold
Ekstraklasa
POL 1
Gold
Eredivisie
NED 1
Gold Rare
FL Championship
ENG 2
Gold
Football League 1
ENG 3
Gold
Football League 2
ENG 4
Gold
Hellas Liga
GRE 1
Gold
J1 League
JAP 1
Gold
K League
KOR 1
Gold
Liga Adelante
ESP 2
Gold
Liga Bancomer MX
MEX 1
Gold Rare
La Liga
ESP 1
Gold Rare
Liga do Brasil
BRA 1
Gold Rare
Liga Portuguesa
POR 1
Gold Rare
Liga Postobón
COL 1
Gold
Ligue 1
FRA 1
Gold Rare
Ligue 2
FRA 2
Gold
MLS
MLS
Gold Rare
Nacional B
ARG 2
Gold
Primera División
ARG 1
Gold Rare
Pro League
BEL 1
Gold
Raiffeisen SL
SUI 1
Gold
Russian League
RUS 1
Gold Rare
Scottish Prem
SPFL
Gold
Serie A
ITA 1
Gold Rare
Serie B
ITA 2
Gold
South African FL
RSA 1
Gold
Superliga
DEN 1
Gold
Tippeligaen
NOR1
Gold
TurkLig
TUR 1
Gold Rare
Ukrayina Liha
UKR1
Gold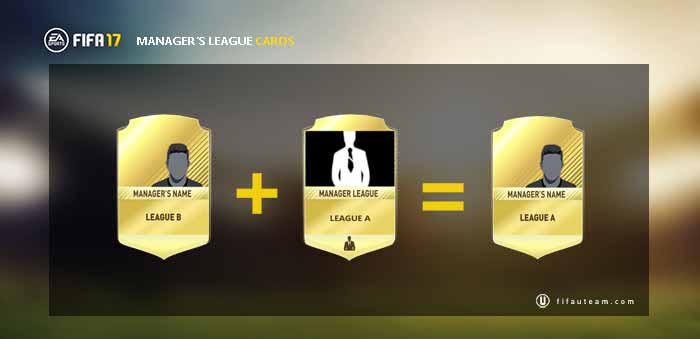 Importance
Should I buy FIFA 17 Manager's League Cards?

Chemistry is very important for the success of your team. Try to get the highest individual chemistry possible for all of your players. If you are not building a squad with a single nationality it is extremely important to use a league card.
These cards can be applied to any manager stored in your club. However, it makes no sense to apply them to other managers besides the one that goes on the bench unless you are planning to change managers according to the players you choose for each game.
It is also recommended to apply the most expensive league cards when you have set your squad. Otherwise, each time you change your players, you will need to use another league card on your main manager to match his league with the players that have lower individual chemistry.
The La Liga and Bundesliga cards are the most expensive ones.