FIFA 17 Millionaire is a software which takes part in the FIFA Ultimate Team Millionaire Trading Center. This autobuyer/autobidder program allows you to automatically 'buy now' and bid on cards on the FUT market. If you want to get to know all the truths regarding FIFA 17 Millionaire, take a look at this article.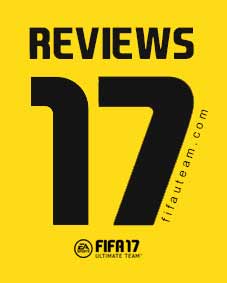 ✍ More Reviews
FIFA 17 Millionaire
FIFA Rosters
FIFA Gamers Pub
FIFA 17 Reviews is a new space that we're proud to present in our website.
Although we do already undoubtedly provide the best FIFA Ultimate Team content around the internet, the truth is that part of the community will only reach out to the best gaming experience once they use some other tools as a complement to our website. Our main objective here is exactly to serve you, the community, and for that reason we're starting these monthly reviews which will show you the newest products and services alongside unknown potential of the ones you already know.
Our team has been working daily for almost five years with subjects that are in some way related to this game. With the exception of databases, we're the website players come across the most when they want to know something about FIFA. It's about time we transmitted some of this accumulated knowledge to the community, analysing books, apps, websites and multiple services. All of that in order for your FIFA 17 game experience not to end here and be even more gratifying. We'll here publish completely independent reviews, advising or admonishing determined products and services according to their profile. We don't limit ourselves to just giving our opinion. We analyse everything and for everyone.




FIFA 17 Millionaire Autobuyer and Autobidder Review

What is FIFA 17 Millionaire Autobuyer and Autobidder?
Let's start from the very beginning. If you don't know what FIFA 17 Millionaire AB is, just know that it is a software that can be executed in any computer with Windows or Mac OS, which automatises your actions on the FUT 17 transfer market. In other words, it buys and sells cards automatically by following the instructions you previously set. All you have to do is choose a determined card, set a buying value and a selling value, and then the program will does all the rest.
Autobuyer or Autobidder?
FIFA 17 Millionaire comes basically in two modules: the autobuyer, which is in the genesis of the software, and the autobidder, created in 2014. Unfortunately you can only use one at a time. Meaning every time you want to start trading you have to choose whether you want to bid on cards that are about to expire or 'snipe' those with Buy Now prices unrealistically lower than the usual. Both utilise the Web App or the Companion App to constantly send out search requests to the EA servers, keeping themselves updated this way. Once they detect a card on the transfer market that match the filters you defined, they perform a bid or a buy now, depending on the module that's active. If it's the autobuyer, it'll perform the buy now and in case you defined a selling value for this card, it automatically starts an auction for it on the market with that price. If it's the autobidder, it performs the bid, although the win is not guaranteed. It's up to you to choose which one you'll use.
The autobuyer is the perfect tool to enjoy the mistakes of other people. For example, when they set a buy now price for OTW cards as if they were regular ones, or when they don't realise some players' valorization for they're active on Squad Building Challenges. For a more flowing and constant usage, the autobidder makes more sense, it will allow you to keep up the 'buy low, sell higher' situation for a while, just by setting a slightly lower price, lower than the minimum buy now price, and a slightly higher selling price.
FIFA 17 Millionaire in Six Tabs
As you can see in the images below, the program has six different tabs, each one has a function.
In the first tab, Trading Window, you can control all of the software's activity, select the module you wish to use and view your coin balance, number of cards listed, sold and bought.
'Buyer Inventory' and 'Bidder Inventory' work equally but each one for its respective module. Instead of limiting yourself to bidding on the same card, you may create a list of those you intend to buy and eventually sell. The program has its own internal database which allows you to easily search for a player by name or define any consumable as your target.
The fourth window is also extremely important for it displays your transaction history performed by FIFA 17 Millionaire and its respective balance. The analysis of the information available is crucial in order for you to realise which cards are giving out the most profit.
'Price AutoUpdater' is an extra module included in this product that can be an extremely useful asset. With this module active, you're safe from the market's constant price fluctuations because instead of defining a fixed selling and buying price, you indicate to the program which percentage of the lowest buy now price you intend to offer or receive for a determined card. Plus, the program itself monitors the lowest buy now price at every moment to make sure you're never paying more than you should.
In the last window, you can define several parameters regarding the program's behaviour.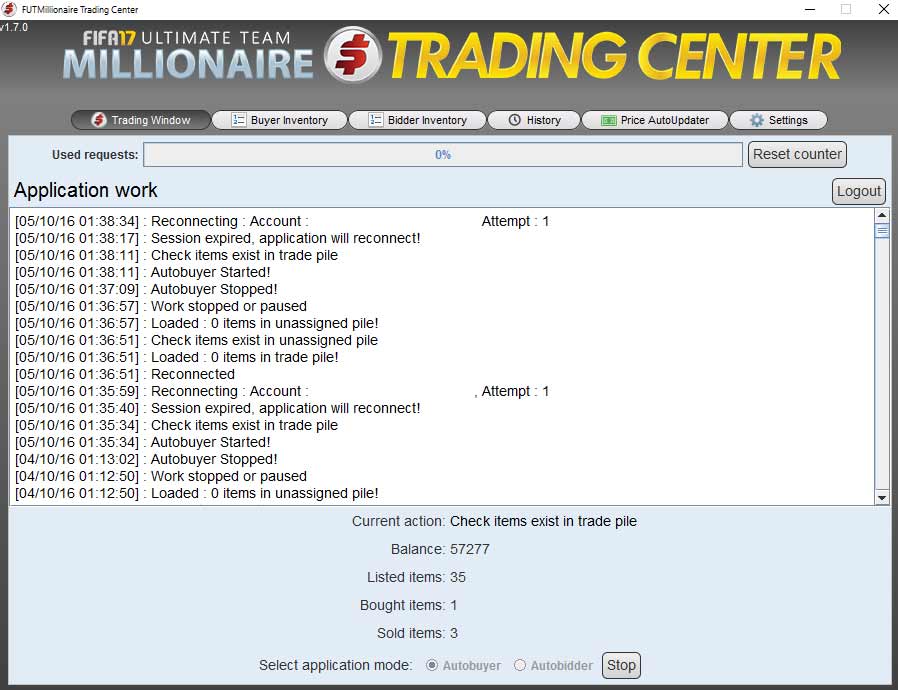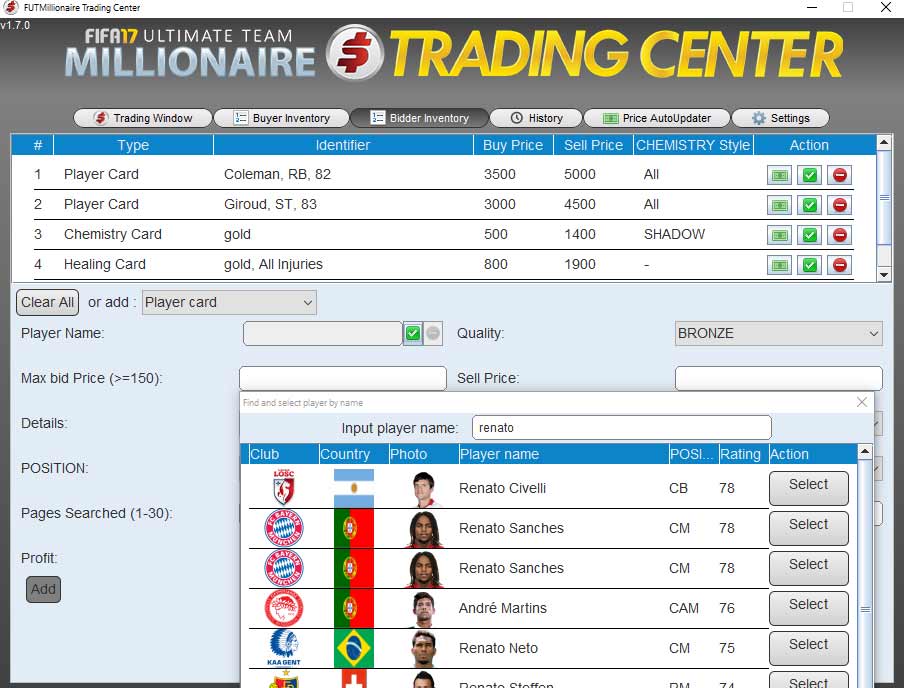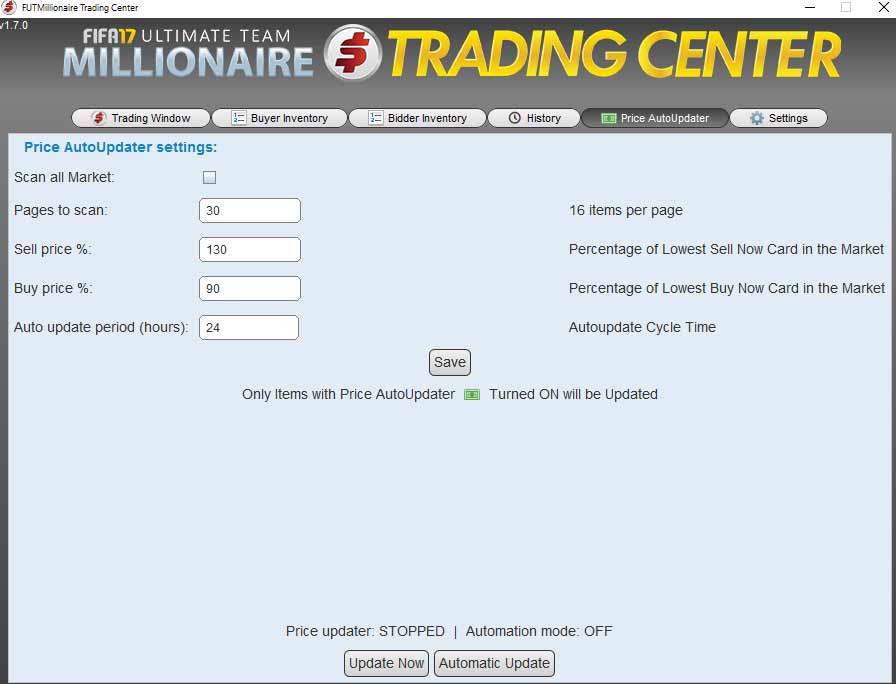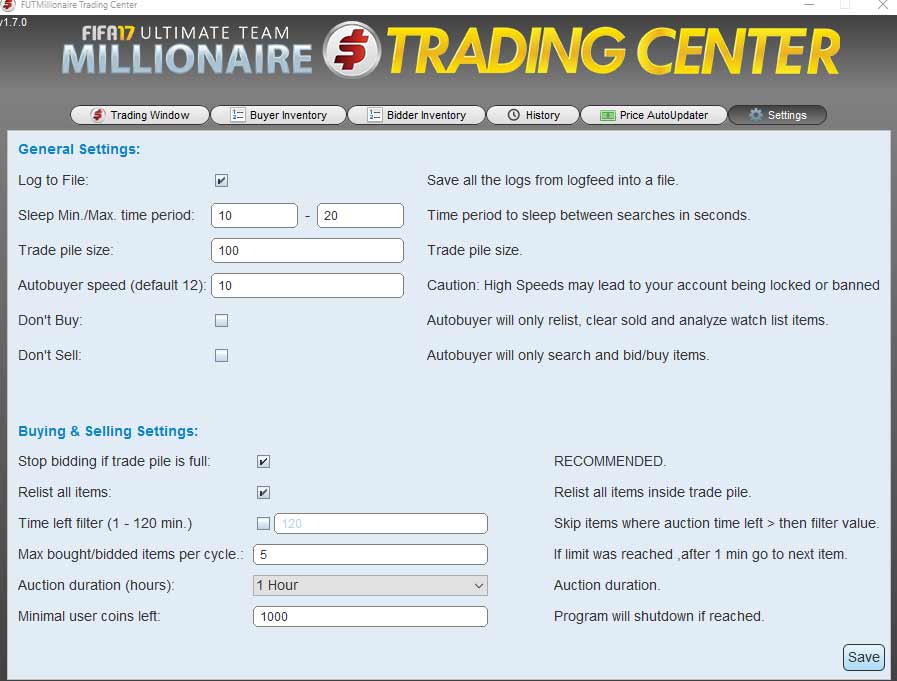 FIFA 17 Millionaire – Strong Points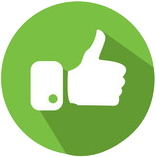 SAFETY
This is everyone's number one concern, and in this aspect the program meets all the requirements. We always advise you not to give your login information to anyone but EA, but if you wish to use FIFA 17 Millionaire you'll have to do so. Supposedly this data isn't stored anywhere but you can never be completely sure about these things. Fortunately we've tested not only this year's version, but also last year's and the three before that, and, although we never really used them that much, we can assure you we've never had any problems nor was reported any anomaly in this matter.
Electronic Arts have been implementing a series of measures along the years in order to detect players who make use of such external software. For this reason, developers are always taking special caution to protect the users. In addition to the several recommendations provided by them, you can set a determined number of cards to bid on per minute, accelerate or slow down the autobuyer and even interspace the bids in order to make your actions look more human. The job must have been done so well that it's ironic to see these same tools built by EA banning many 'innocent' players and practically none of those who supposedly deserved. And even when it does happen, the maximum penalisation is no more than a temporary ban of a few hours, something minimised by a functionality of the program which automatically recognises aggressive use and stops during the period necessary for the ban to go away. If safety is your concern, you can rely on the fact that it's very unlikely for you to come across any kind of problem with FIFA 17 Millionaire Autobuyer and Autobidder.
ROBUSTNESS
We have been accompanying this software year by year and its evolution was extremely positive. Different to what happens, for example, with the FIFA franchise, the problems from previous editions of FIFA Millionaire are corrected e the accumulated knowledge is effectively utilised in favor of a program that is each time more robust. With a few hours of usage you can notice how there are less errors occurring and the added features are really necessary. The developers never release the product as finished and give it several new updates along the year for a better experience, according to the community's feedback. No other autobuyer in the market can be compared to this one regarding robustness. When you use FIFA 17 Millionaire Autobuyer and Autobidder for the first time you realise immediately how it comes to a product with some well-built professional aspect.
SUPPORT
Nobody likes investing in a program without being sure it will work correctly. With FIFA 17 Millionaire Autobuyer and Autobidder you can stay indifferent for its support not only answers to all of your questions by e-mail but also does so remarkably fast. The support is, by the way, one of the program's points users compliment the most.
MULTIPLE OPTIONS
You may use FIFA 17 Millionaire autobuyer and autobidder the way you want because there's an infinity of options available. Our favourite feature is the option to automatically relist all cards that expired in the transfer list until someone buys them, but there are still many other nice little functionalities. You can, for example, only bid on cards of a player that have a specific position or chemistry style, which is welcome for the adepts of the "Rain of Coins" trading method introduced by our friend Silvio Teixeira. If you're using the autobidder searching for many cards, you may set an option so that the program only bids on those that are in the first page, and this way avoid losing some good opportunities that are about to expire. Amongst other options, it's even possible to instruct the program not to buy, not to sell, to stop when you reach a determined coin balance or the duration of your auctions.
BUYING BY INCREMENT
It's by looking at these small, but expressive, details that you're able to see the difference between a professional software and an amateur one. Whenever you set a buying value, whether it's on bid or buy now, it searches the market for all the items that match your criteria but only offer the maximum amount of coins you defined if it's strictly necessary, saving you many coins. For example, imagine you defined a bid of 30k coins for a certain player. If he shows up on the market at 20k, the program won't immediately bid 30k on him, but instead make small bid increments just above the current price, until you win the item or it surpasses the value you defined.
FIFA 17 Millionaire – Weak Points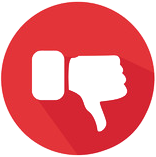 CHEATING
It's unavoidable: most of the community think it's unfair that some players have access to these tools which give them advantage over others. The program has associated to it a very bad reputation in this sense and whoever makes use of it is frowned upon by those who don't. We could go on discussing about this matter, weighing every aspect, but we'd be losing focus for what we want here is to analyse the product itself. To summer it up, those who criticise this software are normally 'honest' players who work hard to win their coins and build their teams. They feel wronged that there are people who use money to take a shortcut over all that hard work but at the same time, antagonistically, don't feel the same way about the purchase of FIFA Points, which also something that causes a competitive advantage at the cost of higher purchasing power. The difference lies on the fact that FIFA Points are part of the game and autobuyers aren't. The argument used to call FIFA 17 Millionaire cheating is totally legitimate, but it cannot be compared to other things that eventually prejudice game experience directly, such as Trainer for PC. There are even people who doubt the illegality of the software, justified with the fact that EA have successfully fought coin sellers along the years but have never even given FIFA Millionaire a pinch during its almost five years of existence. Remember, however, that these programs aren't accepted by FIFA's developer and you're the only responsible for the use of it.
For you, potential user, it matters to know that by using this software you'll start being discriminated by an enormous part of the community. Can you live well with that?
PRICE
FIFA 17 Millionaire's license has an initial cost of 22,90 dollars, increased by a monthly payment of the same value until its subscription is cancelled. It's not exactly a pleasant price considering how much the game itself costs, but the truth is that people are each time willing to spend great amounts of money more and more on games of the FIFA franchise. For people who regularly buy FIFA Points, acquiring the FIFA 17 Millionaire autobuyer and autobidder license is unquestionably a much cheaper way to build a great team.
Although the program's price isn't advisable for all budgets, the thing that led us to set this as a negative point at most is how little published it is. In the official website, for example, the tiniest letters inform the buyer of how much he's going to have to spend for the license.The payment can be done in several methods, including credit card and PayPal.
SEPARATED MODULES
We don't know technically how this would possibly be implemented, but the truth is that the fact we can't buy players whilst bidding and buying now at the same time is a notable limitation. The autobuyer was introduced by FIFA Millionaire without any further costs for the user, but we'd like to see in a future edition the possibility of utilising both modules at the same time without having to acquire a second licence. If right now our profit opportunities are already a high, imagine how it would be running autobuyer and autobidder at the same time.
STAFF AND CLUB ITEMS
On FIFA 17 Millionaire autobuyer e autobidder it's possible to bid on any player and, for the first time, any consumable. And you can even target the player's IF version. However, the software lacks the possibility of searching for staff and club items, the only two types of cards it still doesn't cover. It is many times by trading with these items that fortunes are made. We do miss this functionality since we're used to trading with managers, so we hope to see this feature added next year.
MARKETING ILLUSION
FIFA 17 Millionaire has always done a fantastic job at marketing, creating many times an illusion that the program is better than it effectively is. We're not saying it isn't good, but you must control your expectations in order to avoid disappointment. The first false idea which is in a lot of people's minds is that they're going to get loads of coins without having to do a thing. Completely false. The program doesn't work on itself. It just follows your instructions. Meaning it doesn't do all the trading by itself, but assists you. If you're not a player with some trading experience, you'll be thinking "what do I do now?" the first time you run the program. And all the extra offers included in the package will be of no use for you, since FIFA 17 Millionaire is worth essentially for its autobuyer and autobidder. The rest is basically marketing, the same marketing that leads you to multiply 200k coins by the amount of days you estimate having the software running non-stop. Don't be deceived, you'll rarely make this many coins daily, unless you're a very experienced trader who spends all day controlling the program. But in this case you wouldn't need it, right?
It's very likely that you'll face some difficulties on making many coins in the first hours or even in the first days of using FIFA 17 Millionaire autobuyer and autobidder. It'll seem for you as though it is not actually working sometimes, if you go to the market, you'll even find the cards with the criteria you set without the bids the program was supposed to make. That's all normal. Don't lose your patience. Although it's projected to be simple, this software requires some time of learning and adjusting until you're able to get the best out of it.





TECHNICAL INFORMATION
Name
FIFA 17 Ultimate Team Millionaire Trading Center, aka FUT Millionaire
Official Website
futmillionaire.com/
Price
Initial charge of $22.90 plus $22.90 per month until cancelled
Release Date
1 October 2016
Where to Buy
Here
Included Tools
FUTMillionaire AUTOBUYER Access and AUTOBIDDER Access
Price AutoUpdater Module
Access to the Private Traders Area
Recommended Items Trading Lists
100k/day FUTMillionaire Method
Trading Tutorial Videos
Monthly 1 Million Coins Giveaways
Best Trading Methods Explained an Step by Step Guides
24-Hour Email Support
Final Analysis
FIFA 17 Millionaire is a polemical program amongst the community, with an inaccessible price for some and that creates the false illusion that you need only to press one button in order to start making loads of coins. It drastically reduces the amount of hours you spend dedicating to trading, but it must always be you the one controlling the actions and telling the software where the good opportunities are. However, there ins't in the market a single autobuyer or autobidder that can be compared to this one. The developers' years of experience give FUT Millionaire some nice robustness and yourself guaranteed safety with your account. Besides all that, the software offers exemplary support and multiple functionalities that will help you maximise your profit.

#1 on Autobuyers category