FIFA 17 Movember is a FUT promotion which takes place once a year in November to raise awareness for men's health. It offers multiple pack offers on the FUT store, themed cards and kits, new squad building challenges and a few other surprises. In this guide you can know everything about the FIFA 17 Movember, including an updated promotional offers list.


Short cut



More FIFA 17 Events | ? | ? | ⚽ | ? | ? | ? | ? | ? | ☘ | ? | ? |




FIFA 17 Movember Introduction
What is the FIFA 17 Movember Promotion?


Movember is the only charity tackling men's health on a global scale, year round. They're addressing some of the biggest health issues faced by men: prostate cancer, testicular cancer, and mental health and suicide prevention.
EA Sports have once again partnered with the Movember foundation to help raise awareness for men's health throughout the entire month of November. This year, they Electronic Arts is donating $200,000 to the Movember Foundation to improve mental health and reduce the rate of male suicide. You can also help this cause.
During the FIFA 17 Movember, Electronic Arts releases several FUT pack offers, themed cards, kits and squad building challenges.
Details on FIFA 17 Movember offers will be updated below.
FIFA 17 Movember Date
When Movember promotion will be released?

The Movember event has been going since a few years ago.
For FIFA 17 Ultimate Team, the Movember event will take place between November 1st (Tuesday) and November 30th (Wednesday).
FIFA 17 Movember Offers
What you can win with the FIFA 17 Movember?

FUT PACKS OFFERS CONFIRMED
Many FUT packs will be available in the FUT 17 store. The most likely are these ones:
15k Premium Gold Jumbo packs
25k Premium Gold Players packs
25k Rare Gold packs
35k Mega packs
50k Rare Players packs
CHARITY STREAMS CONFIRMED
The FIFA Community is also getting involved! Some of the top FIFA YouTubers and Twitch streamers will host charity streams throughout the month, starting with Spencer FC on November 4th. Show your support by watching the streams and donating to Movember here.
NEW SQUAD BUILDING CHALLENGES CONFIRMED
New squad building challenge will be released during the FIFA 17 Movember promotion, from November 1 to November 30. The SBC rewards includes a special Movember kit.
You can check a complete updated list of all live squad building challenges clicking here.
THEMED KIT CONFIRMED
The Movember kit of the following image can be yours. You will have to complete the squad building challenge 'Movember' to win it as a reward.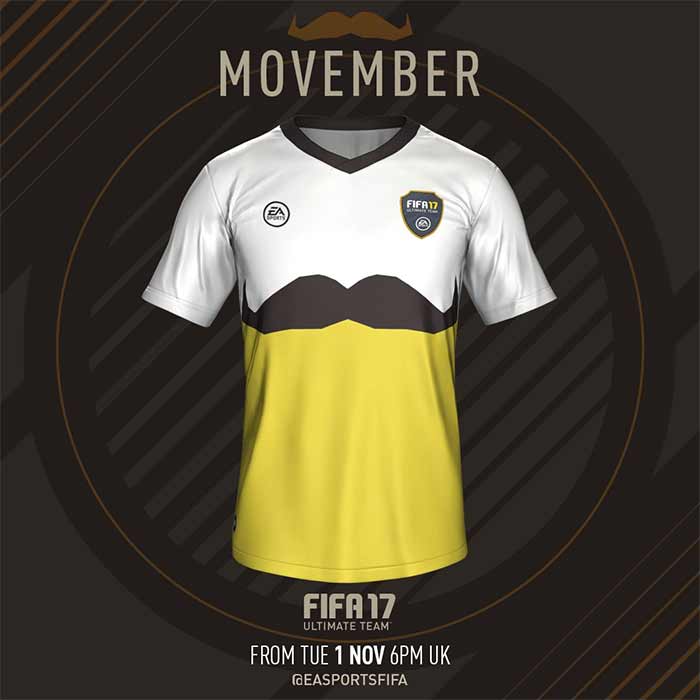 THEMED PLAYERS CARDS CONFIRMED
From Nov 1st to Nov 30th, 24 Movember players will be available in packs with upgraded ratings as unique items. 14 other Movember players were added on November 11. They will also be available in packs until November 30. You can learn more about these cards here.