Do you want to start playing FUT 17 but you can't because there is something wrong with the Web App? Follow our FIFA 17 Web App troubleshooting guide to the most common issues and start the new season now.
FIFA 17 Web App Troubleshooting Guide


1
I don't know how to enter in FUT 17 Web App.


It's easier than you think. Just follow these simple steps:
1) Type "https://www.easports.com/fifa/ultimate-team/web-app" in the address bar of your internet browser or click in the link.
2) Choose the main console where you will play.
3) Enter the answer to the security question.
4) Confirm the club name and its abbreviation.
5) You are ready to go !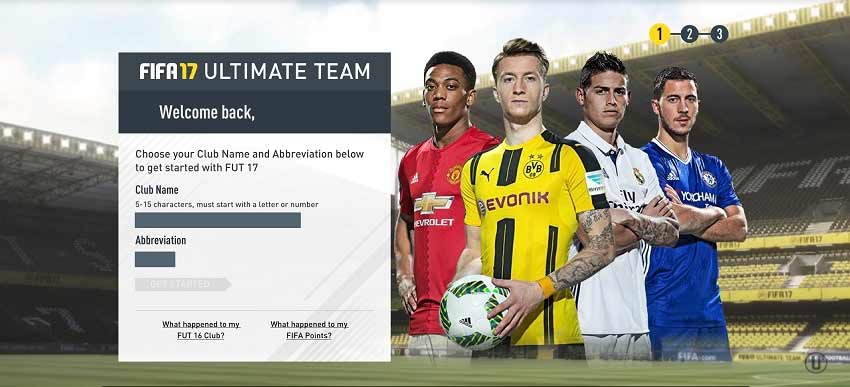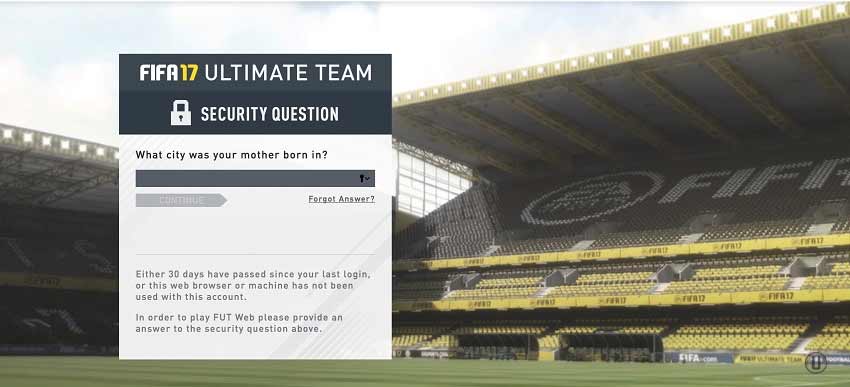 2
I am registered in Origin but I can't get into the FIFA 17 Web App.

The FUT 17 Web App early access is only for who have created a security question/answer before August 1st 2016. If you are a new player, you will need to play in the console first before you can access to the Companion and FUT Web App. Creating a brand new FUT 17 account in EA Access will not give you access to the Web App. You will need to purchase a full copy of FIFA 17 to access the FUT Web App.

?
However, if are eligible and still get this message then you should know that you are not alone. Many thousands of players are having this issue to. Electronic Arts is working on it and you probably will access the app in the coming hours. Most of the players have now full access to the game. Here are the official updates.

UPDATES
September 21 at 8pm ??
"Early Web Start for #FUT 17 is now LIVE! " by EA Twitter
September 21 at 6pm ??
"The vast majority of you should now be able to access the web app & use the transfer market." by Rod Hodson
September 21 at 7am ??
"Appreciate you're all eager to get on the web app so thanks for your patience. Work continues." by Rod Hodson
September 21 at 1am ??
"We continue to work on the rollout of Webstart invites. Our next Tweet regarding this will be at 11PM PT" by Rod Hodson
September 21 at 12am ??
"The FIFA 17 Web App will become available on a rolling basis, so some users may not be able to login at the moment. We will announce when it is open and available for everyone invited to FUT Webstart. Thanks for your patience." by EA Website
September 20 at 8pm ??
"Working on the invite app issue. Hold on" by Rod Hodson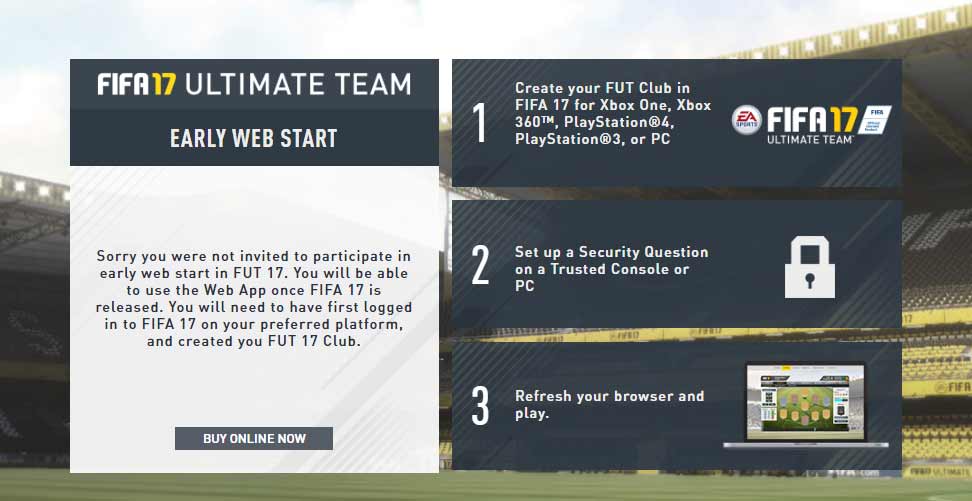 3
I can't get into the FIFA 17 Web App. It's says to try later.

Clean the cache of your browser, try to access through other browsers, make sure your flash player is up to date and turn off your browser extensions. If it still doesn't work, that's because the servers are overloaded and you will have to wait.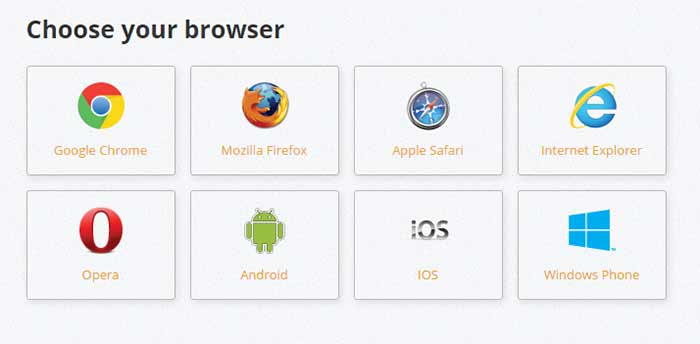 4
I can access to the FIFA 17 Web App but the market is unavailable.


If you haven't played FUT 16 in the console where you plan to play FUT 17, the Companion and the Web App will not make available the market's earlier access. You need to validate first your FIFA 17 account in the new console to unlock the market. Access to trading won't be immediate and could take several days. Some accounts with previous FUT 16 history will be allowed to trade, while others will not. This is also true for accounts with multiple personas, as all persona data is treated separately in FUT 17. Playing FUT 16 will not give your FUT 17 account access to the Transfer Market.
There is an icon on the top right corner of the Web App window that lets you change your persona. However, this icon is only showed if you have played FUT 16 in at least two different consoles. Otherwise, you will not see it and your Webstart progress will be tied to the console that is showed.
?
Many players also received this error message without any reason. We believe that it had to do with servers overloaded. For most of the gamers it is working fine now.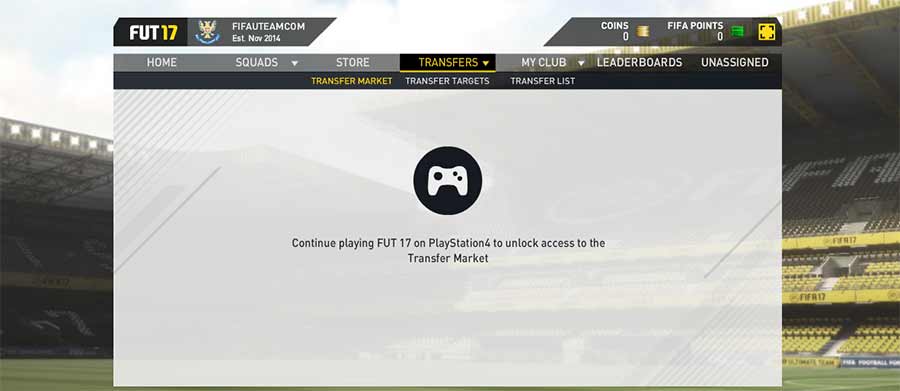 5
I can't maximize the FIFA 17 Web App screen.


If you are seeing this picture, you have to resize your window. Use CTRL- to zoom out until you see the whole screen.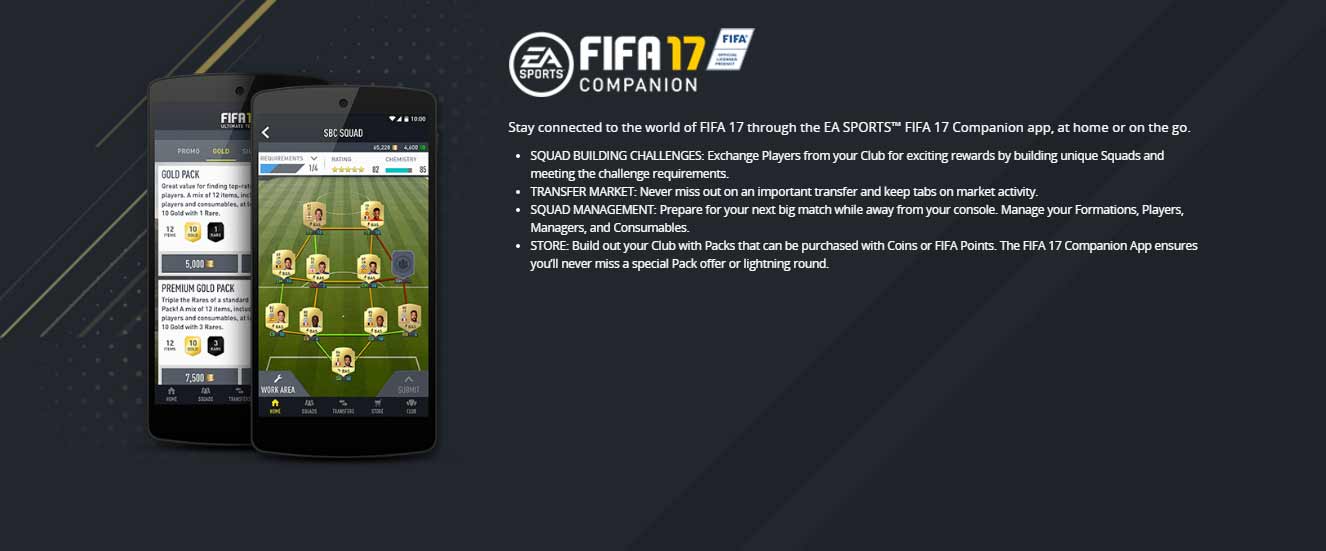 6
I can't get into the FIFA 17 Web App on my mobile.


The App to mobile devices is the Companion App and it will be available only after you access the FIFA 17 Web App.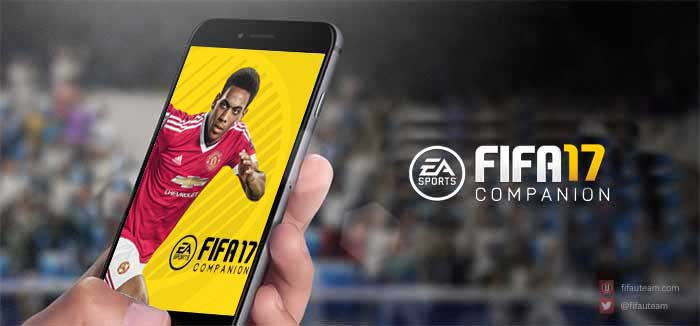 7
I can't buy FIFA Points in the Web App


FIFA Points are only available before the game release in the early access of EA Access subscribers. To be able to buy FIFA Points you will need to access the full game through the console first. PC accounts share FIFA Points between all versions of FUT. Any points purchased on a PC Account will be usable on the web app in FUT 17.



8
Where is my daily gift?


Daily Gifts are available in the FIFA 17 Web App starting on September 20th. It is limited to one per day. In the days you don't open the Web App, you will loose the daily gift of that day. Pick yours up each day at 12am (UK time).



9
I can access the FIFA 17 Web App but in the wrong platform.


If you have multiple personas, you will see an icon in the top right to change between them. The persona selector will default to the persona you are not currently logged into.
Because of the split between console generations, all returning users have the option of creating a PS3/Xbox 360 or a PS4/Xbox One FUT 17 team, depending on which platforms they played on in FUT 16. Once your account is created, it will be tied to that platform, with no shared data between the two.



10
It doesn't accept my club's name.


Some words are filtered and won't be able to be used as a club name. Because FUT is a global game, some words have a different context in other languages. If you receive the profanity error when creating your FUT 17 Club, please try another name.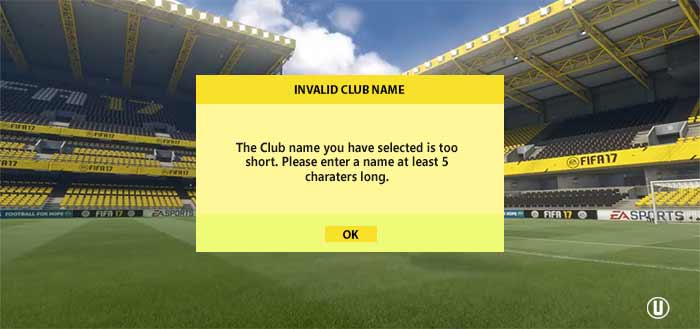 11
EA Access players can't access the FIFA 17 Web App



?
Many EA Access subscribers are receiving the following message when trying to access the Web App: "EA Access Trial users do not have access to the FUT Web App. Purchase a full copy of FIFA 17 today in order to use the FUT Web App.". In fact, this is not something new since it already happened last year. If you are one of these players, all you can do is to wait until EA fixes it. This is also happening to the players who try to access the Companion App.
12
I'm not receiving the confirmation codes



?
EA is requesting new confirmation codes in order to access the Web App but many of them are taking too long to be received. If it is your case, check if it isn't in your spam box. If it's not change to mobile confirmation. The codes are sent immediately and you can access the Web App.



13
My est. date is wrong



?
The est. date of many returning players is showing 'September 2016' instead of the correct date. However, XP level and FFC are right. It means that the only thing that it is not matching is the date. Electronic Arts is working on a fix to this issue.



14
I no longer can access the FIFA 17 Web App


If you had access to the FUT 17 Web App but no longer have, even if you haven't made any change, you should know that EA Sports is blocking App access to all players that haven't played FIFA 17 in the console until midnight of October 9 (UK time). To keep using this App, you will need to buy the game and play it.
If this FIFA 17 Web App Troubleshooting guide didn't fixed your problem, you should ask for help to the EA Support.
If your problem isn't listed in this page, please use the comments to inform us and, if we find a solution, we will updated this FIFA 17 Web App Troubleshooting Guide with it.