FIFA 18 Bundesliga Team of the Season was announced. Check out the TOTS from the German main division, which includes players like Lewandowski, Michy Batshuayi and Thomas Muller.
FIFA 18 Bundesliga Team of the Season
This TOTS joins the players that played better the whole season on the Bundesliga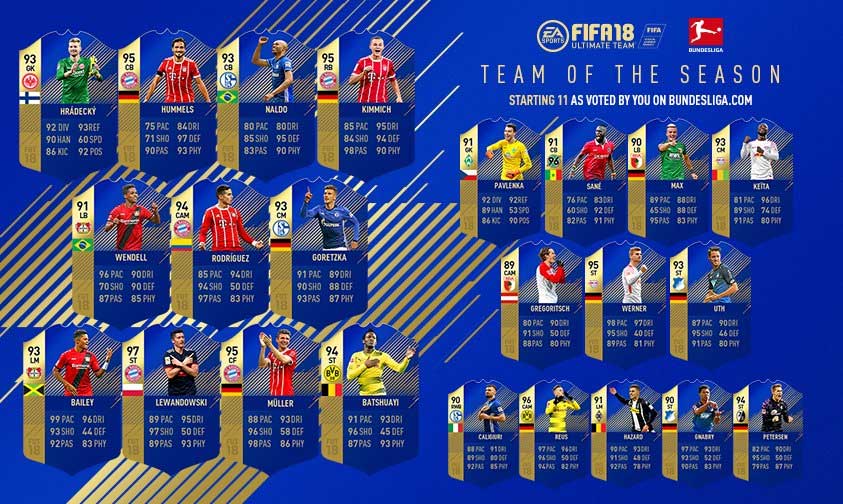 The Bundesliga Team of the Season is finally here in FIFA 18 Ultimate Team! The season is over in the German first division, which means it is time to recognize the most consistently high-performing players in the league. This TOTS was unique among the league squads, because fans were able to make their voices heard and vote for their TOTS picks on the Bundesliga website, similar to the Community TOTS.
From superstar Bayern Munich forward Robert Lewandowski to FC Schalke center back Naldo, the Bundesliga TOTS is packed with the phenomenal, entertaining German league's best. Upgrade your FUT squad with as many of these player items as possible, as they can only be found in FUT packs for a limited time.
And don't forget the 24th player! One player from the Bundesliga outside of the 23-man TOTS squad, Kevin Volland, will only be available on May 21 as a reward for winning a FUT Champions Daily Knockout Tournament.
The Squad
STARTING ELEVEN
93 ?? GK: Lukáš Hrádecký, Eintracht Frankfurt
93 ?? CB: Naldo, FC Schalke 04
95 ?? CB: Mats Hummels, FC Bayern
91 ?? LB: Wendell, Bayer 04 Leverkusen
95 ?? RB: Joshua Kimmich, FC Bayern
94 ?? CAM: James Rodríguez, FC Bayern
93 ?? CM: Leon Goretzka, FC Schalke 04
93 ?? LM: Leon Bailey, Bayer 04 Leverkusen
95 ?? CF: Thomas Müller, FC Bayern
94 ?? ST: Michy Batshuayi, Borussia Dortmund
97 ?? ST: Robert Lewandowski, FC Bayern

SUBSTITUTES
91 ?? GK: Jiří Pavlenka, SV Werder Bremen
91 ?? CB: Salif Sané, Hannover 96
90 ?? LB: Philipp Max, FC Augsburg
93 ?? CM: Naby Keita, RB Leipzig
89 ?? CAM: Michael Gregoritsch, FC Augsburg
95 ?? ST: Timo Werner, RB Leipzig
93 ?? ST: Mark Uth, TSG 1899 Hoffenheim

RESERVES
96 ?? CAM: Marco Reus, Borussia Dortmund
90 ?? RM: Daniel Caligiuri, FC Schalke 04
91 ?? LM: Thorgan Hazard, Borussia Mönchengladbach
90 ?? LM: Serge Gnabry, TSG 1899 Hoffenheim
94 ?? ST: Nils Petersen, Sport-Club Freiburg

i The squad has 24 players. You can win the extra player via DKT.
89 ?? ST: Kevin Volland, Bayer 04 Leverkusen
Release Times
? START
19/05/2018 (Sat) 03:00pm ?? AEDT (UCT +10)
19/05/2018 (Sat) 02:00am ?? JST (UCT +9)
18/05/2018 (Fri) 06:00pm ?? GMT (UCT +1)
18/05/2018 (Fri) 02:00pm ?? BRST (UCT -3)
18/05/2018 (Fri) 01:00pm ?? EST (UCT -4)
18/05/2018 (Fri) 01:00pm ?? EST (UCT -4)
18/05/2018 (Fri) 10:00am ?? PST (UCT -7)

? END
26/05/2018 (Sat) 03:00pm ?? AEDT (UCT +10)
26/05/2018 (Sat) 02:00am ?? JST (UCT +9)
25/05/2018 (Fri) 06:00pm ?? GMT (UCT +1)
25/05/2018 (Fri) 02:00pm ?? BRST (UCT -3)
25/05/2018 (Fri) 01:00pm ?? EST (UCT -4)
25/05/2018 (Fri) 01:00pm ?? EST (UCT -4)
25/05/2018 (Fri) 10:00am ?? PST (UCT -7)
Bundesliga TOTS Squad Building Challenges

BUNDESLIGA TOTS
Exchange a TOTS Player for a Bundesliga TOTS Player [Untradeable]
? 1 Challenge
? Non-Repeatable
? From May 22 to May 24, 2018
? From May 20 to May 22, 2018
GROUP REWARDS
? 1x Bundesliga TOTS Player
REQUIREMENTS
✔️ Team of the Season Players: Min. 1
✔️ Min. 2 Bundesliga Players
✔️ Min. Team Rating: 82
✔️ Min. Team Chemistry: 65
✔️ Number of Players in the Squad: 11