FIFA 18 Community TOTS was announced. Discover the players who make the Most Consistent But Never IF Team of the Season picked by the FUT 18 community.
Like every year, FIFA 18 Community TOTS was the first one to be released but this time, instead of three squads, only one squad is being released. The MC Team of the Season is also known by 'Community TOTS' because it is chosen by the FIFA community.
FIFA 18 Community TOTS
This TOTS joins the players that played better the whole season but never had the luck of getting an IF card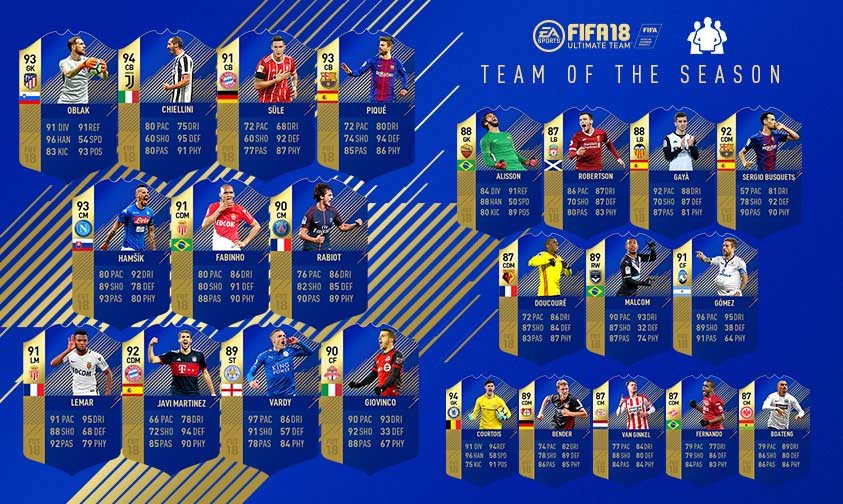 For the first time ever, the Community TOTS was decided via fan vote. Besides that, there is only one squad which means that silver and bronze Most Consistent players were not released.
The Community TOTS is based on a shortlist of 100 players who performed consistently well throughout the season but did not receive a performance based in-form as of April 15. This squad must follow the following requirements:
✅ Exactly 23 players
✅ Max 4 from Same League
✅ At least 2 Goalkeepers
✅ At least 6 Defenders
✅ At least 6 Midfielders
✅ At least 3 Forwards
The Squad
STARTING ELEVEN
93 ?? GK: Jan Oblak, Atlético Madrid
94 ?? CB: Giorgio Chiellini, Juventus
91 ?? CB: Niklas Süle, FC Bayern
93 ?? CB: Piqué, FC Barcelona
93 ?? CM: Marek Hamšík, Napoli
91 ?? CDM: Fabinho, As Monaco
90 ?? CM: Adrien Rabiot, Paris Saint-Germain
91 ?? LM: Thomas Lemar, AS Monaco
92 ?? CDM: Javi Martinez, FC Bayern
89 ??????? ST: Jamie Vardy, Leicester City
90 ?? CF: Sebastian Giovinco, Toronto FC

SUBSTITUTES
88 ?? GK: Alisson, AS Roma
87 ??????? LB: Andrew Robertson, Liverpool
88 ?? LB: Gayà, Valencia CF
92 ?? CDM: Sergio Busquets, FC Barcelona
87 ?? CDM: Abdoulaye Doucouré, Watford
89 ?? RW: Malcom, FC Girondins de Bordeaux
91 ?? CF: Alejandro Gómez, Atalanta

RESERVES
94 ?? GK: Thibaut Courtois, Chelsea
89 ?? CDM: Lars Bender, Bayer 04 Leverkusen
87 ?? CM: Marco van Ginkel, PSV
87 ?? CDM: Fernando, Spartak Moscow
87 ?? CM: Kevin-Prince Boateng, Eintracht Frankfurt


i The squad has 24 players. You can win the extra player via DKT:
89 ?? RW: José Callejón, Napoli
Release Times
? START
28/04/2018 (Sat) 03:00pm ?? AEDT (UCT +10)
28/04/2018 (Sat) 02:00am ?? JST (UCT +9)
27/04/2018 (Fri) 06:00pm ?? GMT (UCT +1)
27/04/2018 (Fri) 02:00pm ?? BRST (UCT -3)
27/04/2018 (Fri) 01:00pm ?? EST (UCT -4)
27/04/2018 (Fri) 01:00pm ?? EST (UCT -4)
27/04/2018 (Fri) 10:00am ?? PST (UCT -7)

? END
05/05/2018 (Sat) 03:00pm ?? AEDT (UCT +10)
05/05/2018 (Sat) 02:00am ?? JST (UCT +9)
04/05/2018 (Fri) 06:00pm ?? GMT (UCT +1)
04/05/2018 (Fri) 02:00pm ?? BRST (UCT -3)
04/05/2018 (Fri) 01:00pm ?? EST (UCT -4)
04/05/2018 (Fri) 01:00pm ?? EST (UCT -4)
04/05/2018 (Fri) 10:00am ?? PST (UCT -7)