The FIFA 18 FUTTIES are the Oscars for FIFA Ultimate Team. These FUT 18 pink cards of in form players are chosen by the FIFA community. Let's learn something more about the FIFA 18 FUTTIES cards.


FUTTIES CARDS
INTRODUCTION | RELEASE DATE | RATINGS & STATS | OVERVIEW | FAQ



You can learn more about the FUTTIES event for FIFA 18 clicking here
FIFA 18 FUTTIES Cards
What are FIFA 18 FUTTIES?

The pink cards were released for the first time ever in Ultimate Team history for FIFA 15 Ultimate Team, exclusively for iOS and Android devices. EA Sports and RED Apple have partnered up and released a new exclusive players pack for 50k and a limited-time tournament with a pink Marquez as prize. All the proceeds went to (RED)'s fight against AIDS.
On consoles, the pink cards were assigned to FUTTIES, the special award in-forms chosen by the FIFA community. The nine players with more votes, for each one of the award categories, get one of these cards with boosted stats.
Your votes will decide who wins the FUTTIES! When you log in on specific days during the event, you will receive the three FUTTIES Nominee items. Submit one Nominee item (out of the three) to that day's special SBC to cast your vote for the player you'd like to see win a FUTTIES item. The most-submitted player from that day will get a FUTTIES Winner item with a ratings upgrade on the following day, only available by completing the Winner SBC. Completing the Winner SBC is the only way to get the Winner item, Nominee items DO NOT get an automatic upgrade. There are nine total categories for the FUTTIES: GK, LB, CB, RB, CM, RM, LM, ST, and Fantasy Positions. The Winner item for one category will only be available through completion of a Weekly Objective. Note that the Nominee items only have base ratings and will not receive any upgrades if the player also gets a Winner item.
If you own the regular card of a FUTTIE player, your card will keep unchanged. It will not automatically turn pink or be upgraded for winning. If you want the improved version, you will need to complete the respective SBC.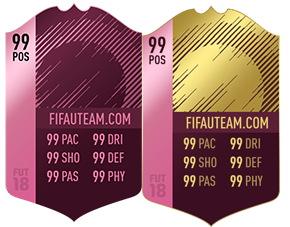 FIFA 18 FUTTIES Pink Card: nominees on left: winners on right
Release Date
When the pink cards will be available?

Based in our past experience, and since this is a year of World Cup, we estimate the FIFA 18 FUTTIES release for July 20 18, 2018. It probably will run for four consecutive weeks.
Ratings and Stats
How big are the ratings and stats boosts?

The ratings and attributes of the FIFA 18 FUTTIES cards are usually boosted in one or two points, compared with their last TOTW/Specialcards or, if they don't exist, their regular cards. The attributes have a similar increase but it doesn't mean that all attributes have to be improved.
The position of the players in these cards may change if, during the season, they stand out in a different position.
It is not possible to a player to have more than one pink boosted card because they only get one nomination.
You can have the regular card and the FUTTIES card of the same player in your club. However, you cannot use them both in your squad at the same time.
Overview
Basic information about the FUT 18 FUTTIES Cards

Colour | Pink
How many Cards in FUT 18 | 27 nominees, 9 winners
How many times they are released | 8
How often they are released | Only once
How long they are in packs | Never
When they are released in packs | Never
How big is the boost | Usually one or two points compared to the regular card or latest TOTW/Special card
Date of the first card in FIFA 18 | July (with boosted stats)
First Card in FUT History | Released for the first time in FIFA 15

FUTTIES Cards from FIFA 15 to FIFA 18
FIFA 18 FUTTIES Cards FAQ
What you need to know about FUT 18 Pink Cards

Q: What are FIFA 18 FUTTIES card?
A: FUTTIES are pink IF cards voted by the FUT community.
Q: When FIFA 18 FUTTIES cards are released?
A: In July.
Q: How long are FIFA 18 FUTTIES winners available in FIFA packs?
A: They are not available in packs.
Q: Who chooses the FUTTIES?
A: The FUT community. You'll be able to vote for your favourite FIFA 18 Ultimate Team players in 10 award categories celebrating their in-game heroics for your FUT Club. After the votes have been tallied, each award category player with the most votes will receive a special pink FUTTIES in-form with improved stats.
Q: Are all the FUTTIES boosted stats?
A: No, only the winners.
Q: Can a FUTTIES player's rating change?
A: No, FIFA 18 FUTTIES cards ratings remain unchanged after being implemented into the game.
Q: How can I get one of these cards?
A: You can get one of these cards completing FUTTIES winner SBCs.
Q: I have the regular card of a FUTTIE player. Why my card hasn't changed?
A: Because they don't change. You will need to complete the specific SBC if you want the improved version of that player.