Icons are the new name for the old FIFA Legends. The FIFA 18 ICONS Cards feature some retired greatest football players of all time. Let's learn something more about these special FUT 18 cards, now also available for Playstation 4 and PC.


FIFA 18 ICONS CARDS
INTRODUCTION | RELEASE DATE | RATINGS & STATS | OVERVIEW | FAQ



FIFA 18 ICONS Cards
What are FIFA 18 ICONS Cards?

Legends were included in FUT 14. However, this year, they were replaced by the FIFA 18 ICONS cards. The players of these cards are some retired greatest football players of all time.
The selection of the greatest legends of football has always been a controversial issue in the community. EA does not always choose the best players but this is justified by the necessity of licenses for each player, since they are no longer represented by any club. As the EA budget is limited, they do not always achieve the image usage rights of the true football legends.
The chemistry of the ICONS are slightly different from other players. They link well with other ICONS and team mates / managers with the same nationality. In FIFA 18, it is much easier to build squads with ICONS because since FIFA 16 they link well with today's players. You only need to pair Nationality between a player and a Legend to create the strong green link on the pitch.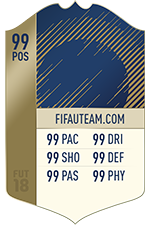 FIFA 18 ICON Card
Release Date
When FIFA 18 ICONS Cards will be available?

The 40 FIFA 18 ICONS are all available in the game since Day 1. Their cards are inserted into FUT 18 packs but you can also find them in the transfer market.
ICONS Stories offers you the chance to play with up 3 cards of each ICON. Iconic players of the past now have unique items with ratings that reflect how their style and attributes evolved throughout their illustrious careers. Every ICON will have 3 unique versions, each representing a period in their career. Two will be in packs from launch, third will be available at a specific time during the season. The Prime ICON version represent players when they were at their best & will be available on FUT 18 through SBCs and limited time packs.
Ratings and Stats
How big are the ratings and stats boosts?

These cards work in a very similar way of regular cards but they replicate the attributes based on players' skills and flair during their careers. The ratings range between 86 and 95.
As the game progresses, users can change many of the card features such as the preferred position and preferred chemistry style. However it is not possible to improve the rating or the stats in a permanent way. If you want the best card of an ICON player, you should try to buy or win his Prime version.
Here is the list of all FIFA 18 ICONS:
?? Pelé
?? Diego Maradona
?? Ronaldo Nazário
?? Lev Yashin
?? Paolo Maldini
?? Ronaldinho
?? Lothar Matthäus
?? Ruud Gullit
?? Thierry Henry
?? Van Basten
?? Alessandro Nesta
?? Alessandro Del Piero
?? Carles Puyol
?? Dennis Bergkamp
?? Javier Zanetti
?? Peter Schmeichel
?? Alan Shearer
?? Andriy Shevchenko
?? Gheorghe Hagi
?? Laurent Blanc
?? Marcel Desailly
?? Michael Laudrup
?? Roberto Carlos
?? Edwin Van Der Sar
?? Michael Owen
?? Robert Pirès
?? Patrick Kluivert
?? Patrick Vieira
?? Deco
?? Emmanuel Petit
?? Frank Rijkaard
?? Filippo Inzaghi
?? Henrik Larsson
?? Jari Litmanen
?? Luis Hernández
?? Jay-Jay Okocha
?? Hernán Crespo
?? Marc Overmars
?? Rio Ferdinand
?? Rui Costa
FIFA 18 ICONS Cards Overview
Basic information about the FIFA 18 ICONS Cards

Colour | White
How many Cards in FUT 18 | 120
How many times they are released | Several times
How often they are released | Probably weekly
When they are released in packs | At the launch and then along the season
Date of the first card in FIFA 18 | October
First Card in FUT History | Released for the first time on FIFA 18
FIFA 18 ICONS Cards Frequently Asked Questions
What you need to know about FIFA 18 ICONS Cards

Q: What are FIFA 18 ICONS cards?
A: FIFA 18 ICONS cards represent some of the all-time best retired professional footballers.
Q: Who chooses the ICONS?
A: EA Sports.
Q: How many FIFA 18 ICONS cards I can find?
A: Three cards for each one of 40 ICONS.
Q: When FIFA 18 ICONS cards are released?
A: These cards are available in packs since the first day, except the Prime versions (most rated).
Q: How long are FIFA 18 ICONS cards available in FIFA packs?
A: They are always available in packs.
Q: How easy is to find an ICON in FUT packs?
A: Just like it happens with the other best rated players, the likelihood of finding FIFA 18 ICONS in FUT packs is very low because these cards are extremely rare.
Q: In which FUT packs I can find FIFA 18 ICONS cards?
A: ICONS can be found in any pack with rare gold players. Obviously, the chances of finding an ICON are higher if you open a pack which contains more rare gold players cards.
Q: How does chemistry work with FUT ICONS?
A: FUT ICONS chemistry follows these rules:
The same nationality will have a hyper link (green)
Different nationalities will have a strong link (green)
ICONS and non-ICONS players with the same nationality will have a strong link (green)
ICONS and non-ICONS players with a different nationality will have a weak link (orange)
ICONS players will at least have a weak link with every player in FUT 18.