FIFA 18 LaLiga Team of the Season was announced. Check out the TOTS from the Spanish main division, which includes players like Lionel Messi, Antoine Griezmann and Luis Suárez.
FIFA 18 LaLiga Team of the Season
This TOTS joins the players that played better the whole season on the LaLiga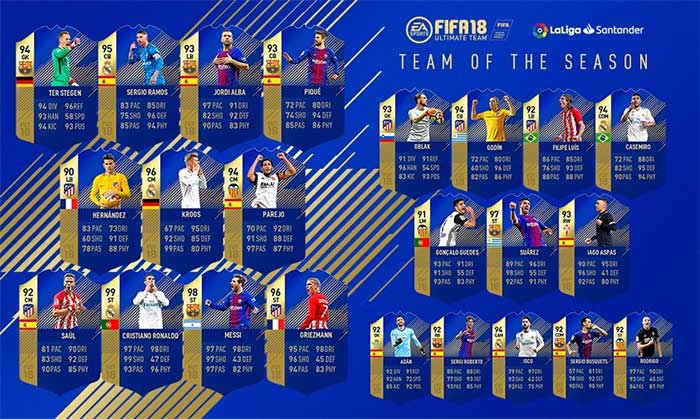 The La Liga Team of the Season is here! The most impressive players in Spain's top flight this season are being recognized with special TOTS player items. Did your favorites make the squad?
From two of the greatest players in football history, Cristiano Ronaldo and Lionel Messi, to club legends like Gerard Pique and Sergio Ramos, the La Liga TOTS is stacked with superstars. Upgrade your FUT squad with as many of these player items as possible, as they can only be found in packs for a limited time.
And don't forget the 24th player! One player from La Liga outside of the 23-man TOTS squad, Thomas Partey, will only be available on May 14 as a reward for winning a FUT Daily Knockout Tournament.
The Squad
STARTING ELEVEN
94 ?? GK: Marc-André Ter Stegen, FC Barcelona
95 ?? CB: Sergio Ramos, Real Madrid
93 ?? CB: Piqué, FC Barcelona
93 ?? LB: Jordi Alba, FC Barcelona
90 ?? CB: Lucas Hernández, Atlético de Madrid
96 ?? CM: Toni Kroos, Real Madrid
94 ?? CM: Parejo, Valencia CF
92 ?? CM: Saúl Ñíguez, Atlético de Madrid
99 ?? ST: Cristiano Ronaldo, Real Madrid
98 ?? ST: Lionel Messi, FC Barcelona
96 ?? ST: Antoine Griezmann, Atlético de Madrid

SUBSTITUTES
93 ?? GK: Jan Oblak, Atlético de Madrid
94 ?? CB: Diego Godin, Atlético de Madrid
92 ?? LB: Felipe Luis, Atlético de Madrid
94 ?? CDM: Casemiro, Real Madrid
91 ?? LM: Gonçalo Guedes, Valencia CF
97 ?? ST: Luis Suarez, FC Barcelona
93 ?? RW: Iago Aspas, Real Club Celta

RESERVES
92 ?? GK: Adán, Real Bétis Balompié
92 ?? RB: Sergi Roberto, FC Barcelona
92 ?? CDM: Sergio Busquets, FC Barcelona
94 ?? CaM: Isco, Real Madrid
92 ?? ST: Rodrigo, Valencia CF

i The squad has 24 players. You can win the extra player via DKT.
86 ?? CDM: Thomas Partey, Atlético de Madrid
Release Times
? START
12/05/2018 (Sat) 03:00pm ?? AEDT (UCT +10)
12/05/2018 (Sat) 02:00am ?? JST (UCT +9)
11/05/2018 (Fri) 06:00pm ?? GMT (UCT +1)
11/05/2018 (Fri) 02:00pm ?? BRST (UCT -3)
11/05/2018 (Fri) 01:00pm ?? EST (UCT -4)
11/05/2018 (Fri) 01:00pm ?? EST (UCT -4)
11/05/2018 (Fri) 10:00am ?? PST (UCT -7)

? END
19/05/2018 (Sat) 03:00pm ?? AEDT (UCT +10)
19/05/2018 (Sat) 02:00am ?? JST (UCT +9)
18/05/2018 (Fri) 06:00pm ?? GMT (UCT +1)
18/05/2018 (Fri) 02:00pm ?? BRST (UCT -3)
18/05/2018 (Fri) 01:00pm ?? EST (UCT -4)
18/05/2018 (Fri) 01:00pm ?? EST (UCT -4)
18/05/2018 (Fri) 10:00am ?? PST (UCT -7)
LaLiga TOTS Squad Building Challenges

LALIGA TOTS
Exchange a TOTS Player for a LaLiga TOTS Player [Untradeable]
? 1 Challenge
? Non-Repeatable
? From May 15 to May 17, 2018
? From May 13 to May 15, 2018
GROUP REWARDS
? 1x LaLiga TOTS Player
REQUIREMENTS
✔️ Team of the Season Players: Exactly 1
✔️ Min. 2 LaLiga Players
✔️ Min. Team Rating: 84
✔️ Min. Team Chemistry: 70
✔️ Number of Players in the Squad: 11