Get to know what's new on FIFA 18 before anyone else! We live in a world where it is not easy to know what's true and what's false. Everyday there are new leaked news and rumours about the new EA's title. In this FIFA 18 Leaks list page, we will try to help the community to distinguish from legit and fake FIFA 18 rumours. Since we hate click baiters and we don't want to promote them, we will not include the source of false rumours. This page will be updated with all the FIFA 18 Leaks and news that will be unveiled along the year, from the demo release date to the leaked premier league TOTS and much more.



MONTH
2017 MAY | JUN | JUL | AUG | SEP | OCT | NOV | DEC
2018 JAN | FEB | MAR | APR


FIFA 18 Leaks List – Legit and Fake FIFA 18 Rumours
AUGUST 28, 2017 | NOT CONFIRMED YET
According to the XBox Marketplace, the FIFA 18 Demo should be released on September 15. Because of this, many FIFA websites and youtubers announced it as the official date. It is not. Until today, no official date was confirmed by Electronic Arts. It wouldn't be the first time that the dates from the stores were wrong. We believe that the demo should be released between September 12 and September 15.
AUGUST 14, 2017 | CONFIRMED
To improve your game experience, it was introduced a few changes:
✔️ You get a forfeit if you score 3 own goals on FIFA 18;
✔️ It was added an inactivity timer that warns you after 10 more seconds of inactivity you will forfeit the game.
AUGUST 11, 2017 | CONFIRMED
According to the FIFA 18 Beta, these are the most important FUT news this year:
✔️ You can now see player's in game stats on his card;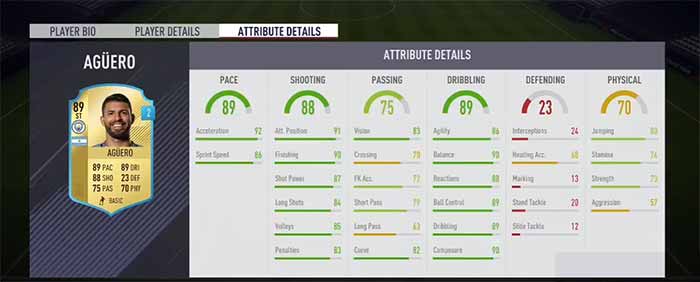 ✔️ You can choose a nation for your ultimate team starter pack;




✔️ You can see relevant stats when choosing player roles;
✔️ You can choose a loan player to your team;



FIFA 18 has also some interesting news:
✔️ Premier League, La Liga and MLS use the official graphics for presentation and team selection;




✔️ When you press the pause button during online matches, it queues a pause until the ball goes out of play;
✔️ FIFA 18 features the new kick-off;
✔️ Pro Clubs Championship is a new game mode.
JULY 28, 2017 | CONFIRMED
The official ICON card design was revealed by Electronic Arts in late July. However, it was TSG 1899 Hoffenheim who showed to the world, for the first time ever, the common gold card (non-rare) that will be used on FIFA 18. They published a video in their official website showing the 2017-18 photo session of their players, where it is possible to see the card.
JUNE 10, 2017 | CONFIRMED
During the EA Play, several images and videos from FIFA 18 were leaked. To watch the videos please click in this external link.
MAY 24, 2017 | CONFIRMED
A group of playtest participants, posted on the social networks a few images that show how the FIFA 18 logo will look like. As expected, the font is the same one and the '18' is in yellow.
MAY 10, 2017 | FAKE
Like every year, tons of concept images and videos are created by the FIFA community. It was the case of the video bellow, published by @JamescDZN. For who doesn't know, concept images and videos are alternative design suggestions of how the fans would like to see their game. Until here, everything normal. The problem started when a popular FIFA website decided to promote this work suggesting that it was a FIFA 18 leaked video, featuring the new FUT features. Obviously, they knew it was just a fan work but some of their followers believed that it was legitimate information. It isn't. Any similarity between this great video and the final game is pure coincidence. Try to avoid click baiters.
APRIL 6, 2017 | FAKE
According to the UK press, Dele Alli is set to be one of the new faces of FIFA 18. The first one to announce it was the Daily Mirror. Unfortunately, it isn't the first time that they publish something about FIFA that is not true. It looks that Ronaldo will be the cover face.
FEBRUARY 2, 2017 | CONFIRMED
Many FIFA websites reported that FIFA 18 will feature a new season of the story mode 'The Journey'. This information was confirmed by the EA CEO Andrew Wilson, who also informed that the Season 2 will include new characters and new storylines.