Have you ever asked yourself how the FIFA 18 Path to Glory Players were chosen? Let's find out.
Who are the FIFA 18 Path to Glory Players?
Who they are and why they were chosen?

As you know, the FIFA 18 Path to Glory players were announced on November 10 making them the second themed cards of the game. The players selected to get one of the FIFA 18 Path to Glory items were these ones.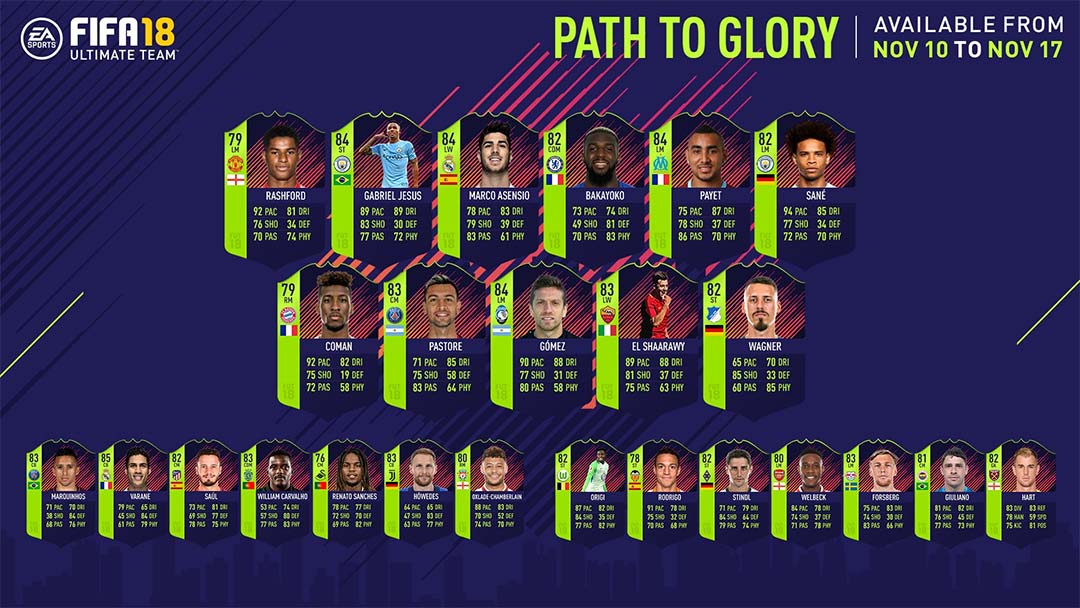 FIFA 18 Path to Glory players were not randomly selected. Path to Glory contains a selection of players that are contending for spots on their respective national teams. Let's see, player by player, why EA have chosen these ones.
Goalkeepers
?? GK: Joe Hart (West Ham United) – 82
Currently the most-capped member of the England national team pool, Hart's stance with the Three Lions has been shaky since he lost his place as the starting goalkeeper at Manchester City. If he keeps it steady between the sticks during his loan move to West Ham, he'll likely be the man for England in the near future.


Defenders
?? CB: Raphaël Varane (Real Madrid) – 85
As if it weren't impressive enough that Varane has been a regular starter in Real Madrid's backline since he was 20, the big center back has also been a staple for the French national team since he was first capped in 2013. With plenty of challengers for his position, Varane must continue earning clean sheets for Madrid if he hopes to earn them for his country, too.
?? CB: Benedikt Höwedes (Juventus) – 83
After spending an entire senior career in the Bundesliga with Schalke 04, Höwedes set his sights on a new challenge this season by going on loan with Italian giant Juventus. Versatile enough to play anywhere across the defense, Höwedes truly shines at center back where his height and aerial prowess make him a nightmare for forwards. Höwedes has been a key player for Germany over the years, but he'll need to work hard to ensure his inclusion going forward.
?? CB: Marquinhos (Paris Saint-Germain) – 83
It seems like Marquinhos has been a staple in Paris Saint-Germain's defense forever, because he joined and immediately started for the club at just 19. Four years later and Marquinhos' reputation as a defensive stalwart precedes him all over the world, thanks to his successes with PSG and Brazil. But even a starting role in one of the top teams in Europe doesn't guarantee a place on the most successful national team in history.
Midfielders
?? CDM: William Carvalho (Sporting CP) – 83
A mainstay with Portugal, Carvalho continues to impress for Sporting CP and make a strong case for his inclusion in the national team. Carvalho may not be the biggest or the fastest player, but his creativity in placing the ball nearly anywhere on the pitch makes him an invaluable asset to any team. This certainly works to his advantage with Portugal, who require a brilliant passer to feed the ball to superstars like Cristiano Ronaldo.
?? CDM: Tiémoué Bakayoko (Chelsea) – 82
The young defensive midfielder's career has blossomed in the past couple of seasons; his performances for Monaco earned him his first France cap in March and a big move to Chelsea last summer. Known for his ability to read the game and break up attacks, Bakayoko is one of the more complete young midfielders in Europe. If he continues to show his worth at a club level, he could make a very good case for anchoring his country's midfield for years to come.
?? CM: Javier Pastore (Paris Saint-Germain) – 83
A semi-permanent fixture in a stacked Paris Saint-Germain squad, creative midfielder Pastore is looking to break back into his national team after missing out on the last few sets of call-ups. With a world class attack ready to feed off his creativity and vision, Pastore has a golden chance to impress in the second half of the season.
?? CM: Saúl (Atlético Madrid) – 82
Another gifted young player that might be up to the near-impossible task of breaking into a talented Spain squad, Saúl has been a key cog in central midfield for Atletico Madrid for several seasons. His ability to keep possession and create attacks is incredibly strong, but his youthful energy and speed also help him burst forward to support the strikers in front of him. Despite the uphill battle of earning a place on the Spain squad, Saúl will certainly make a case for himself if his club form continues.
?? CM: Giuliano (Fenerbahçe SK) – 81
A fringe player for his country since his debut in 2010, Giuliano's strong 2016-17 season for Zenit Saint Petersburg earned him a move to Turkey's Fenerbahçe, where he's been turning heads this season. An attacking midfielder with a keen eye for finding space for himself and his teammates, Giuliano could find himself back in yellow next summer if he continues to dazzle and excite.
?? CM: Renato Sanches (Swansea City) – 76
Despite a strong 2016 that led to success at both the club and international level, Sanches has spent much of 2017 striving to get back to the same level. Sent on loan to the Premier League's Swansea City by Bayern Munich for the season, his place with the Portuguese national team could be in jeopardy. A natural talent in midfield, there are no doubts about Sanches' ability—but he still has plenty to prove if he hopes to snag a spot with the European champions.
?? RM: Alex Oxlade-Chamberlain (Liverpool) – 80
Once a much-hyped young talent for Southampton and Arsenal, the speedy midfielder made a fresh start by transferring to Liverpool on the last day of the 2017 summer transfer window. A hard worker whose actual position on the field has never been fully cemented, he'll need to keep pushing for minutes at Liverpool if he hopes to play for England next summer.
?? RM: Kingsley Coman (FC Bayern München) – 79
After spending two seasons on loan at Bayern Munich, Coman's performances at the German club were rewarded with a permanent transfer from Juventus last summer. The Parisian winger has appeared sporadically for France in recent seasons. However, good form with Bayern could make his international role more permanent by the end of the season.
?? LM: Alejandro Gómez (Atalanta) – 84
The 29-year-old Atalanta forward didn't make his international debut until this year, but he marked it with a goal against Singapore. If he continues his sensational club form in the Italian league, he might be able to crack an Argentina squad already overflowing with quality strikers.
?? LM: Dimitri Payet (Olympique de Marseille) – 84
Journeyman playmaker Payet didn't make much of a splash in football until he was nearly 30, when his fierce set pieces and pinpoint passes on international duty with France made him a household name. Now back in his home country with Marseille, Payet has to do the reverse and impress at club level to keep his star from falling with Les Bleus.
?? LM: Emil Forsberg (RB Leipzig) – 83
A big part of RB Leipzig's meteoric rise from Germany's 2nd division to runner-up in the Bundesliga the following season, the creative Forsberg is one of the top players to ever come out of Sweden. Often deployed on the left wing with Leipzig, Forsberg uses his tricky skills and agility to beat defenders and get the ball to his teammates from impossible angles. Forsberg's talents translate to nearly any position in the attack or midfield, meaning that as long as his form continues, there's no reason for him to not play a big role for Sweden.
?? LM: Danny Welbeck (Arsenal) – 80
Despite his status as one of the most efficient goalscorers in the current England international pool, Welbeck's role for his country has declined in recent seasons. Possessed with the rare combination of height, speed, and raw finishing ability, his challenge for the rest of the season will be reminding everyone just how special and unique his skills are, and why England would be foolish to ignore him.
?? LM: Leroy Sané (Manchester City) – 82
Signed by Manchester City last year as one of the hottest prospects in world football, Sané has now developed into one of the most explosive wingers in the Premier League. He might only be on the fringes of the Germany squad right now, but his consistent performances for his club could snag a steady gig with the world champions.
?? LM: Marcus Rashford (Manchester United) – 79
Manchester United forward Rashford kicked off his international career in style when he scored within 135 seconds of his first ever appearance for the national team. In the year since, he has earned a handful of caps for the Three Lions, but he's not yet a regular. Rashford will be hoping to cement his position leading the line for England by scoring goals and living up to his prodigious talent.
?? LW: Marco Asensio (Real Madrid) – 84
Touted as the future of Spain and Real Madrid, Asensio had a brilliant breakout season for his club last season as they ran riot over the competition. Commonly deployed as a jack-of-all-trades for Madrid, Asensio excels in any position that allows him to use his close control and technique to beat opponents and kick off attacks. Even though his national team career has been short, Asensio's club form is surely good enough to earn him plenty of call-ups in the near future.
?? LW: Stephan El Shaarawy (Roma) – 83
A very talented winger whose decorated club career hasn't always translated to international success, El Shaarawy has steadily been making a case for more consistent work with Italy. His creativity, versatility, and willingness to run at defenders make El Shaarawy a worthwhile asset to any squad. That unique combination should make him an invaluable asset to Italy going forward, should he continue to impress at club level.
Strikers
?? ST: Gabriel Jesus (Manchester City) – 84
The young Manchester City forward has been sensational since joining the Premier League, and his short international career might be even more impressive. Despite his successes, breaking into a team with attackers like Neymar, Roberto Firmino, and Douglas Costa isn't easy. But if Jesus' form continues in the next few months, locking down a spot in the famous yellow of Brazil might just be within reach.
?? ST: Sandro Wagner (TSG 1899 Hoffenheim) – 82
Another late bloomer for the Germans, Wagner bounced between a handful of Bundesliga clubs before finally breaking out at 1899 Hoffenheim over the last two seasons. His strong 2016-17 season put him on the German national team radar, where he's been sensational in the few appearances earned this year.
?? ST: Lars Stindl (Borussia Mönchengladbach) – 82
Perhaps one of the more underrated forwards in the Bundesliga, Stindl has started to make a name for himself as of late—as well as a case for his inclusion in the Germany squad. A brilliant finisher, Stindl can put the ball on frame from any angle, but his work rate and willingness to defend makes him a unique and valuable asset.
?? ST: Divock Origi (VfL Wolfsburg) – 82
After entering his national team as a teenager and earning himself a big transfer to Liverpool, Origi hasn't had much luck with the Red Devils. But his form—and his luck—have changed since joining Wolfsburg on loan ahead of the current season. If more call-ups to Belgium are in the cards this year, Origi could cement a place next summer.
?? ST: Rodrigo (Valencia) – 78
The Brazilian-born, Spanish-raised attacker Rodrigo has had an adventurous career thus far, and he's become a key member of the Valencia squad since arriving in 2015. Even though he picked up his first cap in 2014, Rodrigo didn't get a second appearance for Spain until late 2017. While proficient in wide positions, Rodrigo's form has peaked since he started playing as a forward with his club. It might be tough to earn a spot leading Spain's talented line, but Rodrigo's recent play is solid evidence that he's up to the task.