Two new FIFA 18 Premier League POTM SBC are released every month and, for that reason, we decided to publish this Squad Building Challenges guide to help you to complete these challenges. Here you will find all the help you need, including the requirements and the rewards for each Player of the Month challenge.
MONTH
2018 MAY | APR | MAR | FEB | JAN
2017 DEC | NOV | OCT | SEP | AUG
This page will be updated every time a new POTM SBC become available.
You can access this page on the top bar navigation: SBC > Player of the Month
FIFA 18 Premier League POTM SBC Guide
FIFA 18 Premier League POTM Challenges and how the SBCs are grouped

Squad Building Challenges were introduced last year in Ultimate Team. It is a great way to make coins using the unwanted cards you have in your team or cheap cards you find in the transfer market. As you probably know, the SBCs are grouped into eight categories:
✔️ Basic
✔️ Advanced
✔️ Upgrades
✔️ Leagues
✔️ Marquee Matchups
✔️ POTM
✔️ Prime ICONS
✔️ Live
In this page, you will find all the details about the FIFA 18 Premier League POTM SBC for Ultimate Team, including the rewards and the requirements for each challenge. Don't forget that this year you can submit your squads via console/PC, companion app and web app.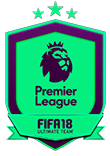 WILFRIED ZAHA
ℹ️ Earn the Premier League Player of the Month for March, Wilfried Zaha! [Untradeable]
? 2 Challenges
? Non-Repeatable
? From May 9 to May 23, 2018
GROUP REWARDS
? Wilfried Zaha SBC card (untradeable)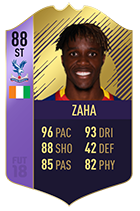 1 CRYSTAL PALACE
REQUIREMENTS
✔️ Players from Crystal Palace: Min 1
✔️ Players from Premier League: Min 4
✔️ TOTS Players: Min 1
✔️ Squad Rating: Min 82
✔️ Team Chemistry: Min 80
✔️ Players in the Squad: 11
REWARDS
? 1 x RarePlayersPack


2 IVORY COAST
REQUIREMENTS
✔️ Players from Côte d'Ivoire: Min 3
✔️ Leagues: Min 3
✔️ Squad Rating: Min 81
✔️ Team Chemistry: Min 85
✔️ Players in the Squad: 11
REWARDS
? 1 x RareGoldPack


---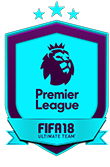 WILFRIED ZAHA (LOAN)
ℹ️ Try out Premier League POTM Wilfried Zaha on a 20-Match Loan [Untradeable]
? 1 Challenge
? Non-Repeatable
? From May 9 to May 23, 2018
GROUP REWARDS
? Wilfried Zaha SBC card (20-match loan)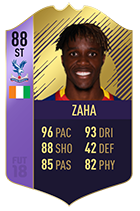 1 WILFRIED ZAHA [LOAN]
REQUIREMENTS
✔️ Min. Team Rating: 80
✔️ Min. Team Chemistry: 90
✔️ Number of Players in the Squad: 10
---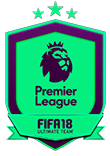 MOHAMED SALAH
ℹ️ Earn the Premier League Player of the Month for March, Mohamed Salah! [Untradeable]
? 4 Challenges
? Non-Repeatable
? From April 13 to April 27, 2018
GROUP REWARDS
? Mohamed Salah SBC card (untradeable)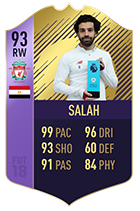 1 MOHAMED SALAH
REQUIREMENTS
✔️ Liverpool + Egypt players : Exactly 1
✔️ Non Rare + Rare Players: Exactly 0
✔️ Players in the Squad: 1
REWARDS
? 1 x Jumbo Rare Players Pack


2 PREMIER LEAGUE
REQUIREMENTS
✔️ Players from Premier League: Exactly 11
✔️ Squad Rating: Min 85
✔️ Team Chemistry: Min 85
✔️ Players in the Squad: 11
REWARDS
? 1 x Mega Pack


3 MARCH GOALS
REQUIREMENTS
✔️ Players from Newcastle United: Min 1
✔️ Players from Watford: Min 1
✔️ Players from Crystal Palace: Min 1
✔️ Squad Rating: Min 83
✔️ Team Chemistry: Min 80
✔️ Players in the Squad: 11
REWARDS
? 1 x Rare Gold Pack


4 CLUB AND COUNTRY
REQUIREMENTS
✔️ Players from Liverpool: Min 1
✔️ Players from Egypt: Min 1
✔️ Squad Rating: Min 83
✔️ Team Chemistry: Min 85
✔️ Players in the Squad: 11
REWARDS
? 1 x Rare Gold Pack


---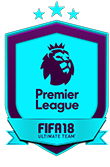 MOHAMED SALAH (LOAN)
ℹ️ Try out Premier League POTM Mohamed Salah on a 20-Match Loan [Untradeable]
? 1 Challenge
? Non-Repeatable
? From March 9 to March 23, 2018
GROUP REWARDS
? Mohamed Salah SBC card (20-match loan)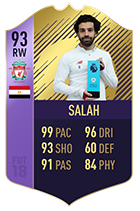 1 MOHAMED SALAH [LOAN]
REQUIREMENTS
✔️ Min. Team Rating: 82
✔️ Min. Team Chemistry: 80
✔️ Number of Players in the Squad: 10
---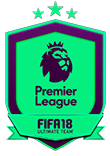 MOHAMED SALAH
ℹ️ Earn the Premier League Player of the Month for February, Mohamed Salah! [Untradeable]
? 4 Challenges
? Non-Repeatable
? From March 9 to March 23, 2018
GROUP REWARDS
? Mohamed Salah SBC card (untradeable)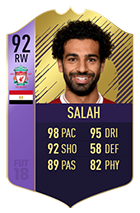 1 MOHAMED SALAH
REQUIREMENTS
✔️ Exactly 1 Players from Egypt
✔️ Exactly 1 Players from Liverpool
✔️ Rare + Common Players: Exactly 0
✔️ Number of Players in the Squad: 1
REWARDS
? 1 x Jumbo Rare Players Pack


2 LIVERPOOL
REQUIREMENTS
✔️ Min. 2 Liverpool Players
✔️ Min. 5 Premier League Players
✔️ Min. Team of the Week Players: 1
✔️ Min. Team Rating: 85
✔️ Min. Team Chemistry: 80
✔️ Number of Players in the Squad: 11
REWARDS
? 1 x Rare Gold Pack


3 ROMA
REQUIREMENTS
✔️ Min. 1 Roma Players
✔️ Min. 4 Calcio A Players
✔️ Min. Team of the Week Players: 1
✔️ Min. Team Rating: 85
✔️ Min. Team Chemistry: 80
✔️ Number of Players in the Squad: 11
REWARDS
? 1 x Jumbo Gold Pack


4 EGYPT
REQUIREMENTS
✔️ Min. 2 Egypt Players
✔️ Min. Team of the Week Players: 2
✔️ Min. Team Rating: 84
✔️ Min. Team Chemistry: 80
✔️ Number of Players in the Squad: 11
REWARDS
? 1 x Rare Gold Pack


---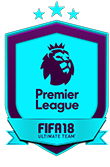 MOHAMED SALAH (LOAN)
ℹ️ Try out Premier League POTM Mohamed Salah on a 20-Match Loan [Untradeable]
? 1 Challenge
? Non-Repeatable
? From March 9 to March 23, 2018
GROUP REWARDS
? Mohamed Salah SBC card (20-match loan)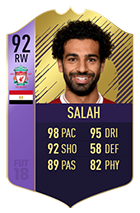 1 MOHAMED SALAH [LOAN]
REQUIREMENTS
✔️ Min. Team Rating: 82
✔️ Min. Team Chemistry: 80
✔️ Number of Players in the Squad: 10
---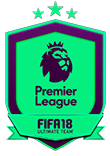 SERGIO AGUERO
ℹ️ Earn the Premier League Player of the Month for January, Sergio Agüero! [Untradeable]
? 4 Challenges
? Non-Repeatable
? From February 16 to March 2, 2018
GROUP REWARDS
? Sergio Agüero SBC card (untradeable)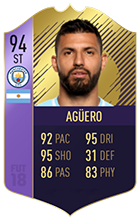 1 SERGIO AGÜERO
REQUIREMENTS
✔️ Exactly 1 Players from Argentina + Manchester City
✔️ Team of the Week Players: Exactly 1
✔️ Min. Team Chemistry: 3
✔️ Number of Players in the Squad: 1
REWARDS
? 1 x Jumbo Rare Players Pack


2 MANCHESTER CITY
REQUIREMENTS
✔️ Min. 2 Manchester City Players
✔️ Min. Team of the Week Players: 2
✔️ Min. Team Rating: 85
✔️ Min. Team Chemistry: 80
✔️ Number of Players in the Squad: 11
REWARDS
? 1 x Rare Gold Pack


3 JANUARY GOALS
REQUIREMENTS
✔️ Min. 1 Watford Players
✔️ Min. 1 Newcastle United Players
✔️ Min. 1 West Bromwich Albion Players
✔️ Min. Team of the Week Players: 3
✔️ Min. Team Rating: 85
✔️ Min. Team Chemistry: 80
✔️ Number of Players in the Squad: 11
REWARDS
? 1 x Rare Gold Pack


4 ARGENTINA
REQUIREMENTS
✔️ Min. 2 Argentina Players
✔️ Min. Team of the Week Players: 1
✔️ Min. Team Rating: 86
✔️ Min. Team Chemistry: 80
✔️ Number of Players in the Squad: 11
REWARDS
? 1 x Mega Pack


---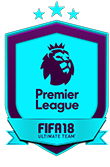 SERGIO AGUERO (LOAN)
ℹ️ Try out Premier League POTM Sergio Agüero on a 20-Match Loan [Untradeable]
? 1 Challenge
? Non-Repeatable
? From February 16 to March 2, 2018
GROUP REWARDS
? Sergio Agüero SBC card (20-match loan)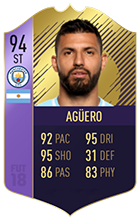 1 SERGIO AGUERO [LOAN]
REQUIREMENTS
✔️ Min. Team Rating: 83
✔️ Min. Team Chemistry: 80
✔️ Number of Players in the Squad: 10
---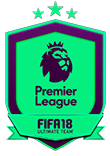 HARRY KANE
ℹ️ Earn the Premier League Player of the Month for December, Harry Kane! [Untradeable]
? 2 Challenges
? Non-Repeatable
? From January 12 to January 26,2018
GROUP REWARDS
? Harry Kane SBC card (untradeable)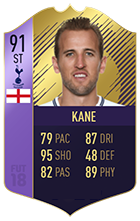 1 HARRY KANE
REQUIREMENTS
✔️ Non-Rare + Rare Players: Exactly 0
✔️ Exactly 1 Players from England + Tottenham Hotspur
✔️ Min. Team Chemistry: 3
✔️ Number of Players in the Squad: 1
REWARDS
? 1 x Mega Pack


2 DECEMBER GOALS
REQUIREMENTS
✔️ Min. 2 Stoke City Players
✔️ Min. 3 Burnley Players
✔️ Min. 3 Southampton Players
✔️ Min. Team Rating: 81
✔️ Min. Team Chemistry: 90
✔️ Number of Players in the Squad: 11
REWARDS
? 1 x Premium Gold Pack


---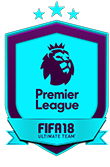 HARRY KANE (LOAN)
ℹ️ Try out Premier League POTM Harry Kane on a 20-Match Loan [Untradeable]
? 1 Challenge
? Non-Repeatable
? From January 12 to January 26,2018
GROUP REWARDS
? Harry Kane SBC card (20-match loan)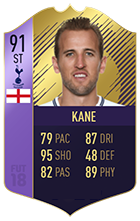 1 HARRY KANE [LOAN]
REQUIREMENTS
✔️ Min. Team Rating: 81
✔️ Min. Team Chemistry: 80
✔️ Number of Players in the Squad: 10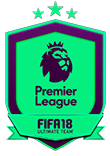 MOHAMED SALAH
ℹ️ Earn the Premier League Player of the Month for September, Mohamed Salah! [Untradeable]
? 4 Challenges
? Non-Repeatable
? From December 15 to December 29, 2017
GROUP REWARDS
? Mohamed Salah SBC card (untradeable)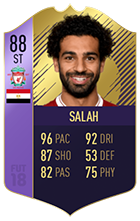 1 FIFA 15
REQUIREMENTS
✔️ Players from Fiorentina + Players from Roma: Min 3
✔️ Same League Count: Max 6
✔️ IF Players: Min 1
✔️ Squad Rating: Min 83
✔️ Players in the Squad: 11
REWARDS
? 1 x Jumbo Premium Gold Pack


2 FIFA 16
REQUIREMENTS
✔️ Players from Calcio A: Exactly 11
✔️ IF Players: Min 1
✔️ Squad Rating: Min 83
✔️ Team Chemistry: Min 90
✔️ Players in the Squad: 11
REWARDS
? 1 x Jumbo Premium Gold Pack


3 FIFA 17
REQUIREMENTS
✔️ IF Players: Min 3
✔️ Halloween Players: Min 1
✔️ Squad Rating: Min 83
✔️ Team Chemistry: Min 90
✔️ Players in the Squad: 11
REWARDS
? 1 x Rare Gold Pack


4 FIFA 18
REQUIREMENTS
✔️ IF Players: Min 1
✔️ Purple + OTW Players: Min 2
✔️ Same League Count: Max 6
✔️ Squad Rating: Min 84
✔️ Players in the Squad: 11
REWARDS
? 1 x Mega Pack


---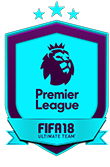 MOHAMED SALAH (LOAN)
ℹ️ Try out Premier League POTM Mohamed Salah on a 20-Match Loan [Untradeable]
? 1 Challenge
? Non-Repeatable
? From December 15 to December 29, 2017
GROUP REWARDS
? Mohamed Salah SBC card (20-match loan)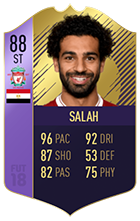 1 MOHAMED SALAH [LOAN]
REQUIREMENTS
✔️ Min. Team Rating: 81
✔️ Min. Team Chemistry: 80
✔️ Number of Players in the Squad: 10
---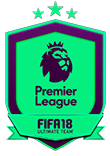 LEROY SANÉ
ℹ️ Earn the Premier League Player of the Month for September, Leroy Sané! [Untradeable]
? 4 Challenges
? Non-Repeatable
? From November 17 to December 1, 2017
GROUP REWARDS
? Leroy Sané SBC card (untradeable)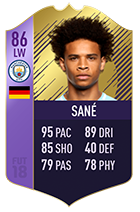 1 MANCHESTER CITY
REQUIREMENTS
✔️ Min. Players from Manchester City: 1
✔️ Min. Players from Premier League: 4
✔️ Min. IF Players: 2
✔️ Min. Team Rating: 83
✔️ Min. Team Chemistry: 90
✔️ Number of Players in the Squad: 10
REWARDS
? 1 x Premium Gold Players Pack


2 FC SCHALKE 04
REQUIREMENTS
✔️ Min. Players from Schalke 04: 2
✔️ Min. Players from Bundesliga: 5
✔️ Min. IF Players: 1
✔️ Min. Team Rating: 83
✔️ Min. Team Chemistry: 90
✔️ Number of Players in the Squad: 10
REWARDS
? 1 x Mega Pack


3 GERMANY
REQUIREMENTS
✔️ Min. Players from Germany: 3
✔️ Max. Same League Count: 4
✔️ Min. IF Players: 2
✔️ Min. Team Rating: 82
✔️ Min. Team Chemistry: 90
✔️ Number of Players in the Squad: 10
REWARDS
? 1 x Premium Gold Players Pack


4 PLAYER OF THE MONTH
REQUIREMENTS
✔️ Max. Same League Count: 3
✔️ Max. Same Nation Count: 4
✔️ Min. IF Players: 3
✔️ Player Level: Exactly Gold
✔️ Min. Team Chemistry: 90
✔️ Number of Players in the Squad: 8
REWARDS
? 1 x Rare Gold Pack


---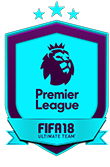 LEROY SANÉ (LOAN)
ℹ️ Try out Premier League POTM Leroy Sané on a 20-Match Loan [Untradeable]
? 1 Challenge
? Non-Repeatable
? From November 17 to December 1, 2017
GROUP REWARDS
? Leroy Sané SBC card (20-match loan)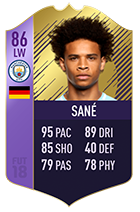 1 HARRY KANE [LOAN]
REQUIREMENTS
✔️ Min. Team Rating: 81
✔️ Min. Team Chemistry: 80
✔️ Number of Players in the Squad: 10
---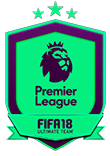 HARRY KANE
ℹ️ Earn the Premier League Player of the Month for September, Harry Kane! [Untradeable]
? 4 Challenges
? Non-Repeatable
? From October 13 to October 27, 2017
GROUP REWARDS
? Harry Kane SBC card (untradeable)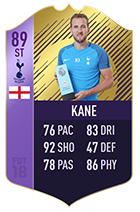 1 SPURS
REQUIREMENTS
✔️ Min. Players from Tottenham Spurs: 2
✔️ Min. Players from Premier League: 5
✔️ Min. IF Players: 2
✔️ Min. Team Rating: 81
✔️ Min. Team Chemistry: 90
✔️ Number of Players in the Squad: 10
REWARDS
? 1 x Rare Gold Pack


2 NOW WE'RE HERE
REQUIREMENTS
✔️ Min. IF Players: 3
✔️ Min. Team Rating: 86
✔️ Min. Team Chemistry: 50
✔️ Number of Players in the Squad: 11
REWARDS
? 1 x Mega Pack


3 ENGLAND
REQUIREMENTS
✔️ Min. Players from England: 4
✔️ Max. Same League Count: 5
✔️ Min. Team Rating: 82
✔️ Min. Team Chemistry: 90
✔️ Number of Players in the Squad: 10
REWARDS
? 1 x Premium Gold Pack


4 FROM THE BOTTOM
REQUIREMENTS
✔️ Min. Team Rating: 67
✔️ Min. Team Chemistry: 75
✔️ Number of Players in the Squad: 11
REWARDS
? 1 x Electrum Players Pack


---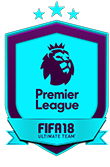 HARRY KANE (LOAN)
ℹ️ Try out Premier League POTM Harry Kane on a 20-Match Loan [Untradeable]
? 1 Challenge
? Non-Repeatable
? From October 13 to October 27, 2017
GROUP REWARDS
? Harry Kane SBC card (20-match loan)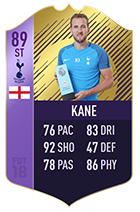 1 HARRY KANE [LOAN]
REQUIREMENTS
✔️ Min. Team Rating: 81
✔️ Min. Team Chemistry: 80
✔️ Number of Players in the Squad: 10
---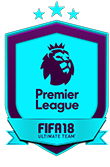 SADIO MANÉ
ℹ️ Earn the Premier League Player of the Month for August, Sadio Mané! [Untradeable]
? 4 Challenges
? Non-Repeatable
? From September 29 to October 13, 2017
GROUP REWARDS
? Sadio Mané SBC card (untradeable)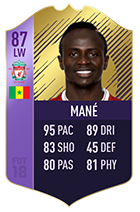 1 PREMIER LEAGUE
REQUIREMENTS
✔️ Exactly 10 Premier League Players
✔️ Min. Team Rating: 83
✔️ Min. Team Chemistry: 95
✔️ Number of Players in the Squad: 10
REWARDS
? 1 x Jumbo Premium Gold Pack


2 SENEGAL
REQUIREMENTS
✔️ Min. 2 Senegal Players
✔️ Max Players from different Nations: 3
✔️ Min. Team Rating: 82
✔️ Min. Team Chemistry: 90
✔️ Number of Players in the Squad: 11
REWARDS
? 1 x Gold Players Pack


3 MANÉ'S JOURNEY
REQUIREMENTS
✔️ Min. 1 Southampton Players
✔️ Min. 1 Players from Senegal + Liverpool
✔️ Min. 1 Football Club de Metz Players
✔️ Min. 1 FC Red Bull Salzburg Players
✔️ Min. Team Rating: 78
✔️ Min. Team Chemistry: 75
✔️ Number of Players in the Squad: 11
REWARDS
? 1 x Rare Gold Pack


4 MANÉ'S GOALS
REQUIREMENTS
✔️ Min. 1 Watford Players
✔️ Min. 1 Crystal Palace Players
✔️ Min. 1 Arsenal Players
✔️ Min. Team Rating: 80
✔️ Min. Team Chemistry: 90
✔️ Number of Players in the Squad: 11
REWARDS
? 1 x Premium Gold Pack


---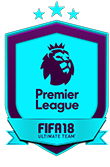 SADIO MANÉ (LOAN)
ℹ️ Try out Premier League POTM Sadio Mané on a 20-Match Loan [Untradeable]
? 1 Challenge
? Non-Repeatable
? From September 29 to October 13, 2017
GROUP REWARDS
? Sadio Mané SBC card (20-match loan)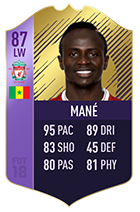 1 SADIO MANÉ [LOAN]
REQUIREMENTS
✔️ Min. Team Rating: 82
✔️ Min. Team Chemistry: 80
✔️ Number of Players in the Squad: 10
REWARDS
No rewards