FIFA 18 Premier League Team of the Season was announced. Check out the TOTS from the English main division, which includes players like Salah, Kevin De Bruyne and Aguero.
FIFA 18 Premier League Team of the Season
This TOTS joins the players that played better the whole season in the Premier League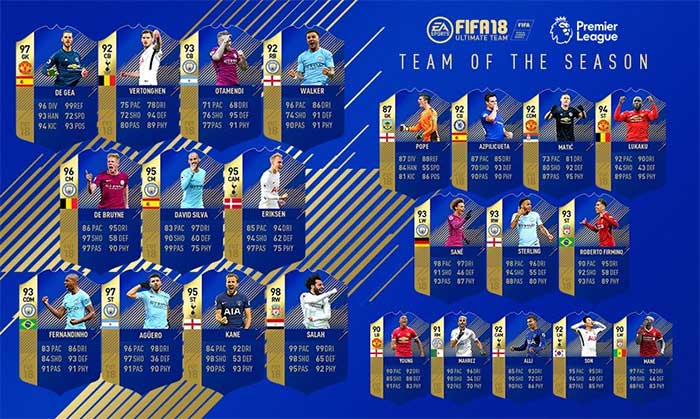 From electrifying Liverpool winger (and PFA Player of the Year) Mohamed Salah to Manchester City's creative catalyst Kevin De Bruyne, the Premier League's TOTS is stacked with world-class players. Upgrade your FUT squad with as many of these player items as possible, as they will only be found in packs for a limited time.
And don't forget the 24th player! One player from the EPL outside of the 23-man TOTS squad, Ben Davies, will only be available on May 7 as a reward for those players winning a FUT Daily Knockout Tournament.
The Squad
STARTING ELEVEN
97 ?? GK: David De Gea, Manchester United
92 ??????? RB: Kyle Walker, Manchester City
92 ?? CB: Jan Vertonghen, Tottenham Spurs
93 ?? CDM: Fernandinho, Manchester City
93 ?? CB: Nicolas Otamendi, Manchester City
95 ?? CM: David Silva, Manchester City
96 ?? CM: Kevin De Bruyne, Manchester City
95 ?? CAM: Christian Eriksen, Tottenham Spurs
98 ?? RW: Mohamed Salah, Liverpool
95 ??????? ST: Harry Kane, Tottenham Spurs
97 ?? ST: Sergio Agüero, Manchester City


SUBSTITUTES
97 ??????? GK: Nick Pope, Burnley
92 ?? CB: Cesar Azpilicueta, Chelsea
92 ?? CDM: Namanja Matic, Manchester United
93 ??????? RW: Raheem Sterling, Manchester City
93 ?? LW: Leroy Sané, Manchester City
94 ?? ST: Romelu Lukaku, Manchester United
93 ?? ST: Roberto Firmino, Liverpool

RESERVES
90 ??????? LB: Ashley Young, Manchester United
92 ??????? CAM: Dele Alli, Tottenham Hotspur
91 ?? RM: Riyad Mahrez, Leicester City
92 ?? LM: Heung Min Son, Tottenham Spurs
90 ?? LW: Sadio Mané, Liverpool

i The squad has 24 players. You can win the extra player via DKT.
86 ??????? LB: Ben Davies, Tottenham Spurs
Release Times
? START
05/05/2018 (Sat) 03:00pm ?? AEDT (UCT +10)
05/05/2018 (Sat) 02:00am ?? JST (UCT +9)
04/05/2018 (Fri) 06:00pm ?? GMT (UCT +1)
04/05/2018 (Fri) 02:00pm ?? BRST (UCT -3)
04/05/2018 (Fri) 01:00pm ?? EST (UCT -4)
04/05/2018 (Fri) 01:00pm ?? EST (UCT -4)
04/05/2018 (Fri) 10:00am ?? PST (UCT -7)

? END
12/05/2018 (Sat) 03:00pm ?? AEDT (UCT +10)
12/05/2018 (Sat) 02:00am ?? JST (UCT +9)
11/05/2018 (Fri) 06:00pm ?? GMT (UCT +1)
11/05/2018 (Fri) 02:00pm ?? BRST (UCT -3)
11/05/2018 (Fri) 01:00pm ?? EST (UCT -4)
11/05/2018 (Fri) 01:00pm ?? EST (UCT -4)
11/05/2018 (Fri) 10:00am ?? PST (UCT -7)