How much coins and packs do you earn in each division? Find here all the FIFA 18 seasons rewards for online divisions mode.



ONLINE DIVISIONS
D1 | D2 | D3 | D4 | D5 | D6 | D7 | D8 | D9 | D10

SINGLE PLAYER DIVISIONS
D1 | D2 | D3 | D4 | D5 | D6 | D7 | D8 | D9 | D10
Introduction to FUT 18 Divisions
A brief introduction to the FIFA 18 Seasons for Ultimate Team mode

Before the FUT Champions and Squad Battles release, Seasons were one of the most popular game modes. If you don't know how it works, we will give you a brief explanation. You start in division 10, the lower one, and try to win the most games possible in order to reach the division 1 title. Or at least, go as far as possible. The higher you go up, the higher level of difficulty you have to play and the better are the rewards.
Each season has 10 games and your progress will be shown in the current season box with the points required for promotion, for the title and to avoid relegation to the division below. In your seasons history you can also see your all-time record (W-D-L), your titles won and your last match results. By clicking on the current season box you can also see how many matches remain of your season, your current form (last five games), the rewards and your last three results.
You can play seasons online or in single player mode. When you play online you have only one league at each division to choose from.
In this page we will show you the FIFA 18 seasons rewards for online single player mode, as well the points you need to reach for each goal.
FIFA 18 Seasons – Online Divisions Rewards
Divisions & rewards list for online game mode on FIFA 18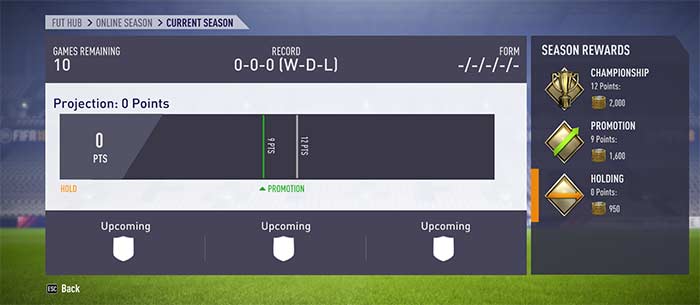 DIVISION 10

? TITLE | 12 or more points
? 2,000 coins
⬆️ PROMOTION | 9 to 11 points
? 1,600 coins
↩️ HOLDING | 8 or less points
? 950 coins

DIVISION 9

? TITLE | 13 or more points
? 3,000 coins
⬆️ PROMOTION | 10 to 12 points
? 2,400 coins
↩️ HOLDING | 6 to 9 points
? 1,850 coins
⬇️ RELEGATION | 5 or less points
? 1,300 coins

DIVISION 8

? TITLE | 15 or more points
? 4,000 coins
⬆️ PROMOTION | 12 to 14 points
? 3,200 coins
↩️ HOLDING | 8 to 11 points
? 2,450 coins
⬇️ RELEGATION | 7 or less points
? 1,550 coins

DIVISION 7

? TITLE | 17 or more points
? 5,000 coins
⬆️ PROMOTION | 14 to 16 points
? 4,000 coins
↩️ HOLDING | 8 to 13 points
? 2,800 coins
⬇️ RELEGATION | 7 or less points
? 1,750 coins

DIVISION 6

? TITLE | 19 or more points
? 6,000 coins
⬆️ PROMOTION | 16 to 18 points
? 4,800 coins
↩️ HOLDING | 10 to 15 points
? 3,350 coins
⬇️ RELEGATION | 9 or less points
? 1,900 coins

DIVISION 5

? TITLE | 19 or more points
? 7,000 coins
⬆️ PROMOTION | 16 to 18 points
? 5,600 coins
↩️ HOLDING | 10 to 15 points
? 3,900 coins
⬇️ RELEGATION | 9 or less points
? 2,200 coins

DIVISION 4

? TITLE | 19 or more points
? 9,000 coins
⬆️ PROMOTION | 16 to 18 points
? 7,200 coins
↩️ HOLDING | 10 to 15 points
? 5,050 coins
⬇️ RELEGATION | 9 or less points
? 2,850 coins

DIVISION 3

? TITLE | 21 or more points
? 11,000 coins
⬆️ PROMOTION | 18 to 20 points
? 8,800 coins
↩️ HOLDING | 12 to 17 points
? 6,200 coins
⬇️ RELEGATION | 11 or less points
? 3,100 coins

DIVISION 2

? TITLE | 21 or more points
? 13,000 coins


Qualification for Weekend League
⬆️ PROMOTION | 18 to 20 points
? 10,400 coins


Qualification for Weekend League
↩️ HOLDING | 12 to 17 points
? 7,400 coins
⬇️ RELEGATION | 11 or less points
? 3,400 coins

DIVISION 1

? TITLE | 23 or more points
? 15,000 coins
? Kit


Qualification for Weekend League
↩️ HOLDING | 14 to 22 points
? 7,500 coins


Qualification for Weekend League
⬇️ RELEGATION | 13 or less points
? 3,250 coins