Eduardo Oliveira has gifted us an interesting article, which leads us to think about how the new FIFA 18 Silver and Bronze's IFs Behavior will affect the market. Good reading!
FIFA 18 Silver and Bronze's IFs Behavior
A Very Particular Look

Dear friends, once again we are here to talk about the most popular sports simulator in the planet Earth.
TODAY I WOULD LIKE TO TACKLE WHAT IS PERHAPS THE MOST IMPACTING
CHANGE ON FUT FOR THIS VERSION, THE BRONZE AND SILVER'S IFS BEHAVIOR.
Since we are too early in this road, the few mentions about this subject that I had been exposed to is the that Silvers Squads (and BSGs) are dead, myself, as always, try to see the glass half full. Ok, Silvers Squads may be dead but in the other hand minor leagues and lower divisions became really interesting and perhaps they will be "part of the game" this time. Don't know what were their intentions when they did this change, but truth is, for me this change brought more pros than cons to the game, let me show you how.
Just recapping, until last year players from the two lowest "carat" had some rules to cap their rating when they were part of TOTW. Putting in few words (and please refer to the link below for more details), Bronze players that receive their first IF would go straight to 64 (max ovr rating from this category), the next appearance in TOTW would shift the player to the Silver category. Silvers could receive few IFs in their own category before reaching the 74, once they receive the 74 rated special item, the next one should be gold. Some other cards such as Heroes Cards also had the power to shift players from their current level.
Learn more about TOTW cards here.
So moving on, this "cap rule", "toll road", "Bumper" or wherever you want to call it, is no longer valid, things have changed fellows. Following the last year trend, IFs stats boots is inversely proportional to their rating, less rating equals to more boosting, simple as that, which combined to the rule change, cause already in the first TOTW the appearance of one lonely silver player (whom by the way, is originally a 60 rated bronze player) among the 23 players. In the recently released TOTW 2 this phenomenon came back, only 2 silver player both coming from a plus +10 rating boost (originally 63 and 64 rated), all the other silver players nominated to the TOTW 2 were shifted straight to gold.
AS THIS RULE GOES DOWN, IS SAFE TO SAY THAT ALMOST EVERY IF THIS YEAR WILL BE GOLD.
Let's embrace the change, what is the good news I could realize so far.
✔️ Second IF
like stated before, following FUT 17 trend, the biggest boost for lower rated players was a tasty change, making the community think twice before choose an non-IF +80 player or the IF version of the lower rated gold. Now, the same could happen to silver players that received the SIF (or TIF in the case of bronze), which means, more players to consider in your squads.
✔️ New Leagues
Watch out the minor leagues this year, they might be rising from, the "troll IF pack opening screen" providing IFs that value less than the discard price (such as Nordic leagues), to have a special place in our heart. This time they might play a role in the hybrids, mostly because minor leagues due to their weakened economic power (compared to Europe top flight) usually rely their budget on domestic solutions for their roster, therefore providing plenty of green arrows. Another factor that might contribute to the appearance of this alternative squads more often is the possibility of only one club shine, usually in these leagues the one club that disputes the UCL receives extra revenue to invest in, distancing themselves from any contender, making easy to be dominant at league level, which will raise opportunities for stacked IFs for the same squad or even the same player as the weeks goes on. Strong-link 3 pieces from those teams to boost, for example, your Premier League on positions that don't have many options (LB maybe?!) might be the way to go this year. At minimum this will increase the combinations, spreading the coins in the market, making other top players less expensive and challenge the creativity of the community to build squads.
Who don't remember the lonely heroes from FUT 17, like the LB Ludwig Augustinsson part of the TOTS RoTW, the definition of beast as an fullback, but even so I never faced him in the game, very few possibilities to use him and even if you could you would have to sacrifice some player chem (midfielder or LW) that at the end was not worth it.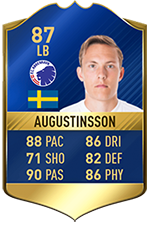 I don't know about you guys, but I'll keep an eye in the Sweden, Danish, Scottish and Japanese leagues this year as well as the second division of England, German and Spain. They will all produce SIF easy to strong-link and some ease to link to top flight Europe, like the lower divisions of prime leagues. Just to exemplify, look this guy from German 3rd, yes THIRD division, some say he is already better than Werner (double 4*) image a second IF.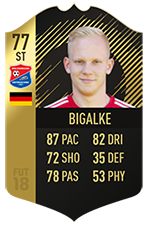 OP Silvers will be missed I know, but if you don't share my opinion that at the end this brought more deepness to FUT please let me know in the comments, or If you do share, please comment below, tell me which leagues are you most exciting about.