Follow one of the most accurate FIFA 18 Team of the Year predictions if you want to know who will make part of the best team of the game.
FIFA 18 Team of the Year Predictions
Who have chances to make part of the FIFA 18 TOTY?

FIFA 18 TOTY inform cards are awarded in for consistently good performances over the course of the year. This team will be announced at London's ceremony on October 23, 2017, unless EA decides to not use the World 11 results this time. The FIFA FIFPro World 11 is decided by the players, for the players. It involves votes from nearly 25,000 professional footballers from about 70 different countries. Each player can select one goalkeeper, four defenders, three midfielders and three forwards. These blue informs will receive significant stat upgrades, and will sell for a lot more FUT coins than regular informs.
Let's check our FIFA 18 Team of the Year predictions.
GOALKEEPERS
?? Gianluigi Buffon (Juventus)

DEFENDERS
?? Dani Alves (Juventus)
?? Gerard Pique (FC Barcelona)
?? Sergio Ramos (Real Madrid)
?? Marcelo (Real Madrid)

MIDFIELDERS
?? N'Golo Kanté (Chelsea FC)
?? Toni Kroos (Real Madrid)
?? Luka Modric (Real Madrid)

FORWARDS
?? Luis Suárez (FC Barcelona)
?? Cristiano Ronaldo (Real Madrid)
?? Lionel Messi (FC Barcelona)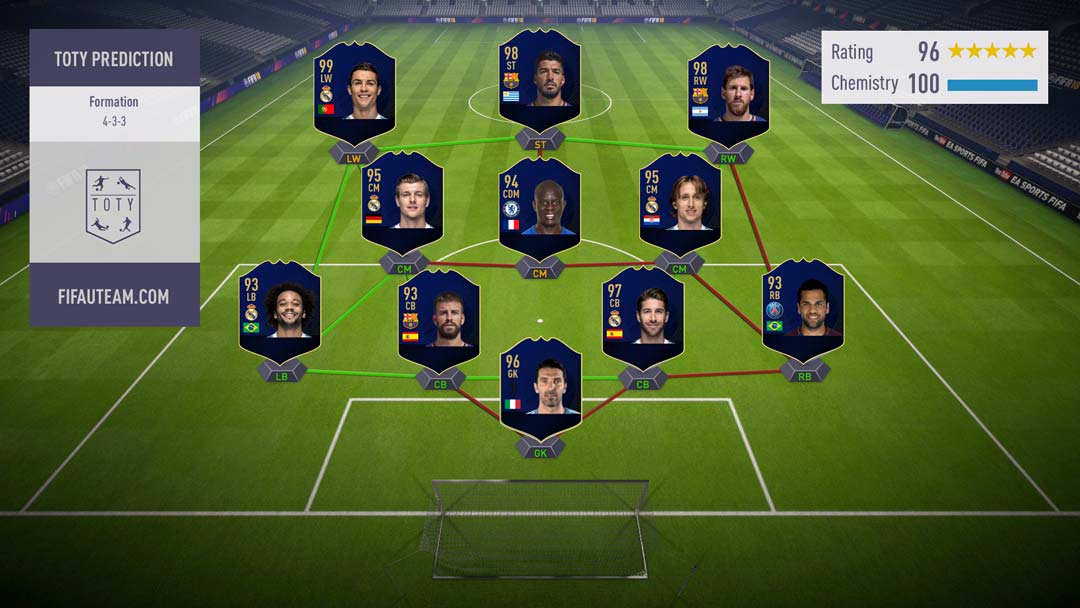 The 2016 World 11 was: Manuel Neuer, Dani Alves, Gerard Pique, Sergio Ramos, Marcelo, Andrés Iniesta, Toni Kroos, Luka Modric, Lionel Messi, Luis Suarez and Cristiano Ronaldo.
A record number of 13 Real Madrid players are among the top 55 footballers according to a poll to select the FIFA FIFPro World 11. FIFPro and its affiliated player associations invited professional footballers worldwide to pick a team of 1 goalkeeper, 4 defenders, 3 midfielders and 3 attackers who were the best at their position during the 2016-2017 season. Some 25,000 professional footballers took part in the poll. The players who received most votes in their line are on the list of 55. At the Best FIFA Football Awards ceremony in London on October 23rd, FIFPro and FIFA will reveal the eleven players who collected most votes on their position: the 2016-2017 World 11.