Have you ever asked yourself how EA choose the FIFA 18 Team of the Year Nominees? Let's find out.
Who are the FIFA 18 Team of the Year Nominees?
Who they are and why they were chosen?

As you know, the FIFA 18 Team of the Year nominees were announced on January 8 making them the fourth themed cards of the game.
Goalkeepers
?? Gianluigi Buffon, Juventus
Ever the ageless wonder, Buffon continues to defy expectations every single year that he plays. Despite retiring from the Italian national team in 2017, he holds the record for most-capped player in the history of European football.
?? David de Gea, Manchester United
The Spanish international has become a vital member of the United squad in recent seasons, and he played an important role in their league and continental dominance in 2017.
?? Hugo Lloris, Tottenham Spurs
One of the most consistent goalkeepers in world football, Lloris had a stellar 2017; he helped Tottenham secure a 2nd-place finish in the Premier League and led France to the top of their World Cup qualification group.
?? Keylor Navas, Real Madrid
Having picked up numerous team and individual honors since arriving at Real Madrid, Navas has established himself as one of the world's best goalkeepers.
?? Jan Oblak, Atlético Madrid
Occasionally underrated, Oblak has been a crucial presence between the posts during Atletico's meteoric rise in recent seasons.
Defenders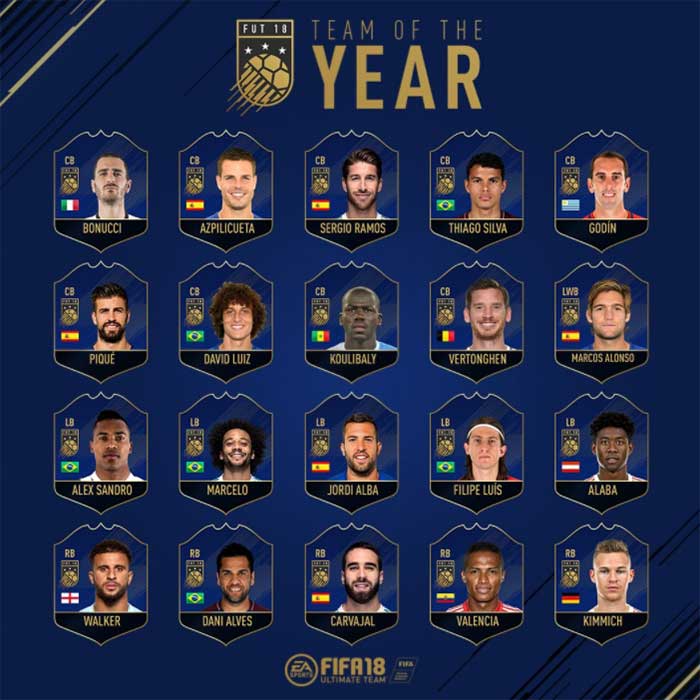 ?? David Alaba, FC Bayern München
While Alaba was known earlier in his career for being rather versatile, he's cemented his place as one of the elite left-backs in world football during the last couple of seasons.
?? Jordi Alba, FC Barcelona
Another left-back known for his ability to fly up and down the flank, Alba provides an important attacking outlet for his team without compromising on his defensive ability or awareness.
?? Marcos Alonso, Chelsea
More goal-dangerous than most fullbacks, Alonso has flourished on the left side of Chelsea's defense with his epic runs down the flank and incisive passing into the box.
?? Dani Alves, Paris Saint-Germain
The talented Brazilian right-back has impressed on the highest level for nearly a decade, a trend that he looks set to continue after his move to Paris last summer.
?? César Azpilicueta, Chelsea
Despite spending most of his career at full-back, Azpilicueta has reinvigorated his career this season by flourishing as a central defender in Antonio Conte's three-man backline.
?? Leonardo Bonucci, Juventus/AC Milan
The fierce Italian defender left Juventus after seven successful seasons earlier this year, and picked up right where he left off as part of the stalwart backline of I Rossoneri.
?? Dani Carvajal, Real Madrid
Underrated until recently, Carvajal was a revelation for Real Madrid in 2017. A slick passer with useful vision on both sides of the ball, Carvajal could lock down the right-back spot in Madrid for a very long time.
?? Diego Godín, Atlético Madrid
Atletico is one of the few clubs to regularly challenge Barcelona and Real Madrid for supremacy in Spain, and Godin's fearless and disciplined defending plays an enormous role in that success.
?? Joshua Kimmich, FC Bayern
A starter for a top-caliber club and the reigning World Cup champions despite his youth, Kimmich possesses a composure and tenacity more commonly found in seasoned veterans.
?? Kalidou Koulibaly, Napoli
Even though there are numerous imposing defenders in world football, few have the intelligence and discipline that Koulibaly has shown with Napoli.
?? Filipe Luís, Atlético Madrid
Luis has been the undisputed starter at left-back for Atletico's dominant defense, which is possibly the best in La Liga.
?? David Luiz, Chelsea FC
The Brazilian central defender has been sensational in his return to Chelsea over the past year, and his personality (and hair) is probably bigger than it's ever been.
?? Marcelo, Real Madrid
Another decade-long mainstay for Real Madrid's defense, Marcelo is a balanced fullback; on top of his incredible tackling and 1-on-1 defending, speed and technical ability make him a nightmare for opposing defenders.
?? Gerard Piqué, FC Barcelona
His partners in central defense have come and gone over the years, but Piqué has been a mainstay at the back for Barcelona over nearly his entire career.
?? Sergio Ramos, Real Madrid
One of the most decorated defenders in history, Ramos' versatility and uncanny football intelligence have made him key to Real Madrid's successes for more than a decade.
?? Alex Sandro, Juventus
Juventus' unbelievable run of six consecutive titles in the Italian first division owes massively to its consistent defense, and Sandro has been a huge anchor for the Turin club's back line.
?? Thiago Silva, Paris Saint-Germain
Captain of both club and country, Silva is one of the most effective and admired leaders in world football—on top of his world-class defensive prowess.
?? Antonio Valencia, Manchester United
Even though most of his time with United was spent as a right winger, Valencia has been brilliant ever since transitioning to right-back a few seasons ago. The Ecuador international's speed allows him to thrive on both sides of the ball, and his raw strength helps him box out defenders and take dangerous shots from deep.
?? Jan Vertonghen,Tottenham Hotspur
The big Belgian has been essential in making Tottenham's back line one of the best in the Premier League and Europe over the past few seasons.
??????? Kyle Walker, Manchester City
The speedy English fullback made a high-profile transfer to Manchester City last summer, and has more than lived up to the hype in his first few months.
Midfielders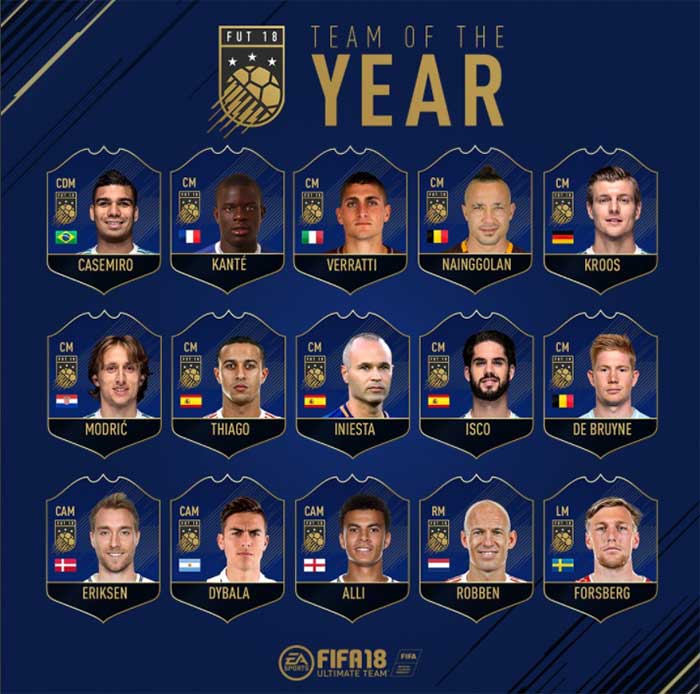 ?? Thiago Alcântara, FC Bayern München
Often deployed in a deeper midfield role, Alcântara thrives in the middle of the pitch, where he can use his brilliant vision and passing ability to pull the strings of his team's attack.
??????? Dele Alli, Tottenham Hotspur
After having a breakout season in 2015-16, the tenacious Spurs midfielder became one of the most recognizable faces in English football, thanks to his technique, grit, and passion for the game.
?? Casemiro, Real Madrid
Another player whose prominence rose during Madrid's recent La Liga triumph, the Brazilian filled an important gap crucial to the squad's success. Casemiro is probably the only true defensive midfielder on Real Madrid's roster; he excels at the underrated tasks of breaking up attacks and shielding the back line.
?? Kevin De Bruyne, Manchester City
A prominent member of the greatest talent pool in Belgium national team history, De Bruyne is also one of the sport's most complete midfielders. From creating chances to defending to scoring crucial goals, De Bruyne can seemingly do anything.
?? Paulo Dybala, Juventus
World-class in any forward or attacking midfield role, Dybala exploded onto the scene in 2017 with sensational performances during Juventus' historic sixth consecutive title run.
?? Christian Eriksen, Tottenham Hotspur
While he does have incredible versatility in midfield, Eriksen is truly world class when it comes to his passing. The Danish international can connect passes with his teammates from just about anywhere on the pitch, in any situation.
?? Emil Forsberg, Leipzig
The tricky Swede has seen his star rise along with his club's in the last year, and his versatility in attack has been a revelation in the Bundesliga. Forsberg's creativity and skill on the ball makes him dangerous and productive both on the wing or when lined up in a more central position.
?? Andrés Iniesta, FC Barcelona
?? Isco, Real Madrid
The young Spaniard known as Isco has been wonderful for Madrid for a few years, but only recently cemented his long-term future with Los Blancos thanks to his performances in Madrid's epic 2016-17 title run.
?? N'Golo Kanté, Chelsea FC
A paragon of the old school central midfielder archetype, Kanté can do just about anything. Whether intercepting a dangerous attack, making a last-ditch tackle at the edge of the box, or squeezing an inch-perfect pass through the defense, Kanté is the type of player everyone wants on their team.
?? Toni Kroos, Real Madrid
Few players excel at the very top of multiple leagues, but Kroos has shown that his talent can win trophies no matter where he goes—including the World Cup.
?? Luka Modrić, Real Madrid
Perhaps the best Croatian footballer in history, Modrić has made a name for himself in Madrid as a hard-working, multi-talented midfielder that can adapt to any tactic or opponent. Whether attacking behind the forwards or controlling the play from a deeper position, Modrić is a midfield marvel.
?? Radja Nainggolan, Roma
The intimidating Belgian midfielder has spent his senior career in Italian football, developing into an extremely versatile midfielder with an enviable skillset. Nainggolan can transition from a playmaking, attack-minded role to a more defensive, hard-tackling position without skipping a beat.
?? Arjen Robben, FC Bayern
The speedy Dutchman remains one of the world's best wingers, and his quality was still evident this season. Few players can match his prowess when cutting inside from the right, and Robben's finishing ability—even from distance—is as phenomenal as ever.
?? Marco Verratti, Paris Saint-Germain
Despite being surrounded by superstars at PSG, Verratti has made a name for himself since he transitioned into a deep-lying playmaker role in the French capital.
Forwards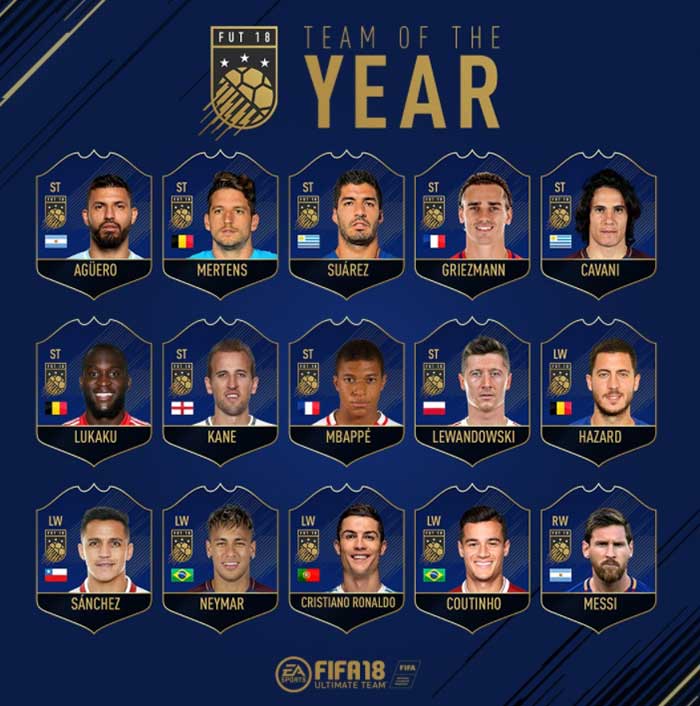 ?? Sergio Agüero, Manchester City
Consistently near the summit of the scoring charts in the English Premier League, Agüero is a well-rounded striker nearly as good at creating chances for teammates as he is at completing those provided for him. Agüero played a critical role in Manchester City's historic rise to the elite levels of the game, and he hasn't slowed down yet.
?? Edinson Cavani, Paris Saint-Germain
But Neymar's arrival in Ligue 1 hasn't dethroned the king of Paris just yet, as his teammate Cavani continues to impress. The Uruguayan forward's finishing has only improved in 2017, as he's already on pace to match his scoring record from last season, in which he topped the league charts.
?? Philippe Coutinho, Liverpool FC
Another player who doesn't fit traditional categories, the Brazilian playmaker was dubbed the "Little Magician" by fans because that's the simplest way to describe what he does: produces magic on the pitch. Whether curling in a shot from outside the box or carving up a defence with a through ball over the top, Coutinho is simply magnificent.
?? Antoine Griezmann, Atlético Madrid
Incredible form over the past couple of seasons cemented Griezmann's position leading the line for Atletico and the French national team. But the talented forward is more than just a goal scorer. Griezmann uses his pace and dribbling ability to create space and set chances up for his teammates by crossing or dragging defenders out of position.
?? Eden Hazard, Chelsea FC
Able to play in just about any attacking position, Hazard puts on a technical masterclass nearly every time he touches the ball in a match. The Belgian has been with Chelsea for a few seasons, and his 2017 was packed with goals and silverware.
??????? Harry Kane, Tottenham Hotspur
Breaking out in the 2015-16 season with Tottenham, Harry Kane continues to improve and dominate the Premier League goalscoring charts. His two consecutive Golden Boot awards put him in rare company, and few would bet against his chances to earn even more awards.
?? Robert Lewandowski, FC Bayern München
Arguably the most well-rounded forward in world football, Lewandowski can play as a traditional "number 9" target forward and also adapt to roles less focused on physical ability. He combines size and strength with world-class technique and an uncanny ability to open up space and create opportunities for his teammates.
?? Romelu Lukaku, Manchester United
An old-school forward in size and brute strength, Lukaku is also very skilled with the ball at his feet. After making his move to Manchester United last summer, the big Belgian proved to the world that he can shine at football's highest levels.
?? Kylian Mbappé, AS Monaco/Paris Saint-Germain
The youngest of PSG's dynamic attacking trio, Mbappé has so much potential that many believe his sensational form will continue and improve dramatically in the near-future. The French forward has already shown himself to be one of the league's best; now, he's starting to prove it on the continental and global stages.
?? Dries Mertens, Napoli
Despite excelling for years now with Napoli, Mertens truly burst onto the scene thanks to his stellar performances in Italy, Europe, and with the Belgian national team. He spent many years on the wing, but made a surprise move to center forward in 2017, where he has been sensational thanks to his pace and pinpoint finishing.
?? Lionel Messi, FC Barcelona
The only current player who gets and deserves as much effusive hype and praise as Ronaldo, the Argentine wizard's talent and skill on the ball have few equals in footballing history. Like Ronaldo, Messi often gets a similar free attacking role—he's too good to pin down to one position. He continues to lead his club's front line fearlessly, racking up plenty of goals and assists along the way.
?? Neymar JR, Barcelona/Paris Saint-Germain
The kind of player that only comes around once in a country's footballing generation, Neymar is a true paragon of Brazilian football. After snagging his mega-transfer to Paris last summer, Neymar has finally gotten his chance at the spotlight.
?? Cristiano Ronaldo, Real Madrid
It's nearly impossible to say anything about Cristiano Ronaldo without dipping into hyperbole. Undoubtedly one of the greatest players of all time, Ronaldo is still breaking records—many of them his own. The Real Madrid attacker has won countless individual, club, and international trophies, a tally to which he's surely going to add to in the future.
?? Alexis Sánchez, Arsenal FC
Sánchez excels no matter the position or tactic. His team knows that it can rely on him to deliver. From his speed to brilliant technical ability, Sánchez produces awe-inspiring moments on a regular basis.
?? Luis Suárez, FC Barcelona
Possibly the most feared striker in the world, Suárez has a staggering scoring record at nearly every one of his clubs. An extremely powerful shooter, he's able to blast them into the net from incredible distances. But it's not just the finishing itself that makes Suárez a nightmare to defend; his hard work and ability to keep possession lets him weave through scores of defenders and get into dangerous positions.