New Prime ICONS squad building challenges are released along the year on selected weeks and, for that reason, we decided to publish this FIFA 18 Throwback Thursdays guide to help you to complete these challenges. Here you will find all the help you need, including the requirements and the rewards for each challenge.


FIFA 18 PRIME ICONS
RELEASED SBCs

?? PELÉ
?? JAVIER ZANETTI
?? PAOLO MALDINI
?? RONALDO
?? RUUD GULLIT
?? ALESSANDRO NESTA
?? HERNÁN CRESPO
?? JARI LITMANEN
?? DIEGO MARADONA
?? MICHAEL OWEN
?? LAURENT BLANC
?? MICHAEL LAUDRUP
?? PATRICK KLUIVERT
?? MARCEL DESAILLY
?? FRANK RIJKAARD
?? HENRIK LARSSON
?? ANDRIY SHEVCHENKO
?? EDWIN VAN DER SAR
?? JAY-JAY OKOCHA
?? FILIPPO INZAGHI
?? LEV YASHIN
?? RONALDINHO
?? LOTHAR MATTHÄUS
?? MARCO VAN BASTEN
?? ALAN SHEARER
?? CARLES PUYOL
?? DENNIS BERGKAMP
?? PATRICK VIEIRA
?? DECO
?? ROBERT PIRÈS
?? GHEORGE HAGI
?? RIO FERDINAND
?? ROBERTO CARLOS
?? THIERRY HENRY
?? EMMANUEL PETIT
?? PETER SCHMEICHEL
?? LUÍS HERNÁNDEZ
?? ALESSANDRO DEL PIERO
?? MARC OVERMARS
?? RUI COSTA

TO BE RELEASED

–

This page will be updated every time a Prime ICON becomes available.
You can access this page on the top bar navigation: SBC > Prime ICONS
Prime ICONS Squad Building Challenges
FIFA 18 Throwback Thursdays and how the SBCs are grouped

Squad Building Challenges were introduced last year in Ultimate Team. It is a great way to make coins using the unwanted cards you have in your team or cheap cards you find in the transfer market. As you probably know, the SBCs are grouped into eight categories:
✔️ Basic
✔️ Advanced
✔️ Upgrades
✔️ Leagues
✔️ Marquee Matchups
✔️ POTM
✔️ Prime ICONS
✔️ Live
In this page, you will find all the details about the Prime ICONS SBCs for FIFA 18 Ultimate Team, including the rewards and the requirements. Don't forget that this year you can submit your challenges via console/PC, companion app and web app.
---

PELÉ
ℹ️ Build towards earning the Prime version of Pelé [Untradeable]
? 12 Challenges
? Non-Repeatable
? Always available since April 12, 2018
GROUP REWARDS
? Pelé Prime ICON card (untradeable)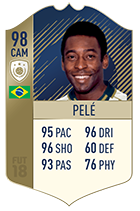 1 PELÉ – AN ICON
REQUIREMENTS
✔️ Icon Players: Exactly 1
✔️ Min. Team Chemistry: 3
✔️ Number of Players in the Squad: 1
REWARDS
? 1 x Jumbo Rare Players Pack


2 BRAZIL
REQUIREMENTS
✔️ Exactly 10 Brazil Players
✔️ Min. Team Rating: 81
✔️ Min. Team Chemistry: 95
✔️ Number of Players in the Squad: 10
REWARDS
? 1 x Jumbo Premium Gold Pack


3 INTERNATIONAL VICTORIES
REQUIREMENTS
✔️ Min. 1 Sweden Players
✔️ Min. 1 Czech Republic Players
✔️ Min. 1 Italy Players
✔️ Min. Team of the Week Players: 3
✔️ Min. Team Rating: 81
✔️ Min. Team Chemistry: 90
✔️ Number of Players in the Squad: 10
REWARDS
? 1 x Jumbo Premium Gold Pack


4 DOMESTIC VICTORIES
REQUIREMENTS
✔️ Team of the Week Players: Exactly 10
✔️ Min. Team Rating: 80
Min. Team Chemistry: 95
✔️ Number of Players in the Squad: 10
REWARDS
? 1 x Prime Gold Players Pack


5 82-RATED SQUAD
REQUIREMENTS
✔️ Min. Team Rating: 82
✔️ Min. Team Chemistry: 80
✔️ Number of Players in the Squad: 11
REWARDS
? 1 x Jumbo Premium Gold Pack


6 83-RATED SQUAD
REQUIREMENTS
✔️ Min. Team of the Week Players: 2
✔️ Min. Team Rating: 83
✔️ Min. Team Chemistry: 75
✔️ Number of Players in the Squad: 11
REWARDS
? 1 x Rare Gold Pack


7 84-RATED SQUAD
REQUIREMENTS
✔️ Min. Team of the Week Players: 1
✔️ Min. Team Rating: 84
✔️ Min. Team Chemistry: 70
✔️ Number of Players in the Squad: 11
REWARDS
? 1 x Mega Pack


8 85-RATED SQUAD
REQUIREMENTS
✔️ Min. Team of the Week Players: 2
✔️ Min. Team Rating: 85
✔️ Min. Team Chemistry: 65
✔️ Number of Players in the Squad: 11
REWARDS
? 1 x Prime Gold Players Pack


9 86-RATED SQUAD
REQUIREMENTS
✔️ Icon Players: 1
✔️ Min. Team Rating: 86
✔️ Min. Team Chemistry: 60
✔️ Number of Players in the Squad: 11
REWARDS
? 1 x Rare Players Pack


10 87-RATED SQUAD
REQUIREMENTS
✔️ Icon Players: 1
✔️ Min. Team Rating: 87
✔️ Min. Team Chemistry: 55
✔️ Number of Players in the Squad: 11
REWARDS
? 1 x Rare Mega Pack


11 88-RATED SQUAD
REQUIREMENTS
✔️ Icon Players: Exactly 1
✔️ Min. Team Rating: 88
✔️ Min. Team Chemistry: 50
✔️ Number of Players in the Squad: 11
REWARDS
? 1 x Jumbo Rare Players Pack


12 89-RATED SQUAD
REQUIREMENTS
✔️ Icon Players: Exactly 1
✔️ Min. Team Rating: 89
✔️ Min. Team Chemistry: 50
✔️ Number of Players in the Squad: 11
REWARDS
? 1 x Jumbo Rare Players Pack


---

PELÉ [LOAN]
ℹ️ Try out Prime Icon Pelé on a 20-Match Loan [Untradeable]
? 1 Challenge
? Non-Repeatable
? From April 12 to April 26, 2018
GROUP REWARDS
? Pelé Prime ICON card (20-Match Loan)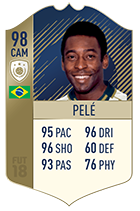 1 PELÉ [LOAN]
REQUIREMENTS
✔️ Min. Team Rating: 84
✔️ Min. Team Chemistry: 60
✔️ Number of Players in the Squad: 11

JAVIER ZANETTI
ℹ️ Build towards earning the Prime version of Javier Zanetti [Untradeable]
? 6 Challenges
? Non-Repeatable
? Always available since April 12, 2018
GROUP REWARDS
? Javier Zanetti Prime ICON card (untradeable)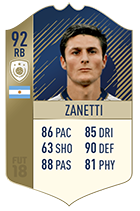 1 PRIMERA DIVISIÓN
REQUIREMENTS
✔️ Min. 1 T. Córdoba Players
✔️ Min. 1 Club Atlético Banfield Players
✔️ Max 4 Players from the same Nation
✔️ Min. Team Rating: 76
✔️ Min. Team Chemistry: 90
✔️ Number of Players in the Squad: 10
REWARDS
? 1 x Premium Gold Pack


2 INTER
REQUIREMENTS
✔️ Min. 2 Inter Players
✔️ Min. Team Rating: 78
✔️ Min. Team Chemistry: 90
✔️ Number of Players in the Squad: 10
REWARDS
? 1 x Premium Gold Pack


3 ARGENTINA
REQUIREMENTS
✔️ Min. 4 Argentina Players
✔️ Min. Players from different Leagues: 4
✔️ Min. Team Rating: 77
✔️ Min. Team Chemistry: 90
✔️ Number of Players in the Squad: 10
REWARDS
? 1 x Premium Gold Pack


4 84-RATED SQUAD
REQUIREMENTS
✔️ Min. Team Rating: 84
✔️ Min. Team Chemistry: 65
✔️ Number of Players in the Squad: 11
REWARDS
? 1 x Jumbo Premium Gold Pack


5 85-RATED SQUAD
REQUIREMENTS
✔️ Min. Team of the Week Players: 1
✔️ Team Rating: 85
✔️ Min. Team Chemistry: 60
✔️ Number of Players in the Squad: 11
REWARDS
? 1 x RareGold Pack


6 86-RATED SQUAD
REQUIREMENTS
✔️ Min. Team Rating: 86
✔️ Min. Team Chemistry: 55
✔️ Number of Players in the Squad: 11
REWARDS
? 1 x Mega Pack


---

JAVIER ZANETTI [LOAN]
ℹ️ Try out Prime Icon Javier Zanetti on a 20-Match Loan [Untradeable]
? 1 Challenge
? Non-Repeatable
? From April 12 to April 26, 2018
GROUP REWARDS
? Javier Zanetti Prime ICON card (20-Match Loan)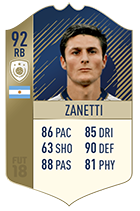 1 JAVIER ZANETTI [LOAN]
REQUIREMENTS
✔️ Min. Team Rating: 82
✔️ Min. Team Chemistry: 60
✔️ Number of Players in the Squad: 11
REWARDS
No Rewards
---

PAOLO MALDINI
ℹ️ Build towards earning the Prime version of Paolo Maldini [Untradeable]
? 10 Challenges
? Non-Repeatable
? Always available since March 22, 2018
GROUP REWARDS
? Paolo Maldini Prime ICON card (untradeable)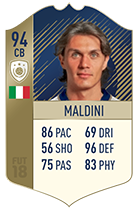 1 MALDINI- AN ICON
REQUIREMENTS
✔️ Icon Players: Exactly 1
✔️ Min. Team Chemistry: 3
✔️ Number of Players in the Squad: 1
REWARDS
? 1 x Jumbo Rare Players Pack


2 ITALY
REQUIREMENTS
✔️ Min. 4 Italy Players
✔️ Min. Team Rating: 82
✔️ Min. Team Chemistry: 90
✔️ Number of Players in the Squad: 10
REWARDS
? 1 x Jumbo Premium Gold Pack


3 MILAN
REQUIREMENTS
✔️ Min. 2 Milan Players
✔️ Max 5 Calcio A Players
✔️ Min. Team Rating: 81
✔️ Min. Team Chemistry: 85
✔️ Number of Players in the Squad: 10
REWARDS
? 1 x Jumbo Premium Gold Pack


4 7 LEAGUE WINS
REQUIREMENTS
✔️ Min. Team of the Week Players: 7
✔️ Min. 5 Calcio A Players
✔️ Min. Team Rating: 79
✔️ Min. Team Chemistry: 80
✔️ Number of Players in the Squad: 11
REWARDS
? 1 x Prime Gold Players Pack


5 83-RATED SQUAD
REQUIREMENTS
✔️ Min. Team Rating: 83
✔️ Min. Team Chemistry: 75
✔️ Number of Players in the Squad: 11
REWARDS
? 1 x Rare Gold Pack


6 84-RATED SQUAD
REQUIREMENTS
✔️ Min. Team of the Week Players: 1
✔️ Min. Team Rating: 84
✔️ Min. Team Chemistry: 70
✔️ Number of Players in the Squad: 11
REWARDS
? 1 x Mega Pack


7 85-RATED SQUAD
REQUIREMENTS
✔️ Min. Team Rating: 85
✔️ Min. Team Chemistry: 65
✔️ Number of Players in the Squad: 11
REWARDS
? 1 x Prime Gold Players Pack


8 86-RATED SQUAD
REQUIREMENTS
✔️ Min. Team Rating: 86
✔️ Min. Team Chemistry: 60
✔️ Number of Players in the Squad: 11
REWARDS
? 1 x Mega Pack
REWARDS
? 1 x Rare Players Pack


9 87-RATED SQUAD
REQUIREMENTS
✔️ Min. Team Rating: 87
✔️ Min. Team Chemistry: 55
✔️ Number of Players in the Squad: 11
REWARDS
? 1 x Rare Mega Pack


10 88-RATED SQUAD
REQUIREMENTS
✔️ Min. Team Rating: 88
✔️ Min. Team Chemistry: 50
✔️ Number of Players in the Squad: 11
REWARDS
? 1 x Jumbo Rare Players Pack


---

PAOLO MALDINI [LOAN]
ℹ️ Try out Prime Icon Paolo Maldini on a 20-Match Loan [Untradeable]
? 1 Challenge
? Non-Repeatable
? From March 22 to March 29, 2018
GROUP REWARDS
? Paolo Maldini Prime ICON card (20-Match Loan)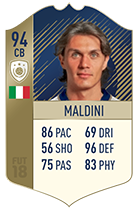 1 PAOLO MALDINI [LOAN]
REQUIREMENTS
✔️ Min. Team Rating: 83
✔️ Min. Team Chemistry: 60
✔️ Number of Players in the Squad: 11
REWARDS
No Rewards
---

RONALDO
ℹ️ Build towards earning the Prime version of Ronaldo [Untradeable]
? 14 Challenges
? Non-Repeatable
? Always available since March 22, 2018
GROUP REWARDS
? Ronaldo Prime ICON card (untradeable)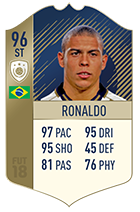 1 RONALDO – AN ICON
REQUIREMENTS
✔️ Icon Players: Exactly 1
✔️ Min. Team Chemistry: 3
✔️ Number of Players in the Squad: 1
REWARDS
? 1 x Jumbo Rare Players Pack


2 PSV
REQUIREMENTS
✔️ Min. 1 PSV Players
✔️ Min. 4 Eredivisie Players
✔️ Min. Team Rating: 81
✔️ Min. Team Chemistry: 85
✔️ Number of Players in the Squad: 10
REWARDS
? 1 x Jumbo Premium Gold Pack


3 FC BARCELONA
REQUIREMENTS
✔️ Min. 1 FC Barcelona Players
✔️ Min. 4 LaLiga Santander Players
✔️ Min. Team Rating: 81
✔️ Min. Team Chemistry: 90
✔️ Number of Players in the Squad: 10
REWARDS
? 1 x Jumbo Premium Gold Pack


4 INTER
REQUIREMENTS
✔️ Min. 2 Inter Players
✔️ Min. 5 Calcio A Players
✔️ Min. Team Rating: 81
✔️ Min. Team Chemistry: 95
✔️ Number of Players in the Squad: 10
REWARDS
? 1 x Jumbo Premium Gold Pack


5 REAL MADRID
REQUIREMENTS
✔️ Min. 2 Real Madrid CF Players
✔️ Exactly 10 LaLiga Santander Players
✔️ Min. Team Rating: 82
✔️ Min. Team Chemistry: 95
✔️ Number of Players in the Squad: 10
REWARDS
? 1 x Premium Gold Players Pack


6 MILAN
REQUIREMENTS
✔️ Min. 1 Milan Players
✔️ Min. 5 Calcio A Players
✔️ Min. Team Rating: 81
✔️ Min. Team Chemistry: 95
✔️ Number of Players in the Squad: 10
REWARDS
? 1 x Rare Gold Pack


7 BRAZIL
REQUIREMENTS
✔️ Min. 4 Brazil Players
✔️ Min. Team of the Week Players: 1
✔️ Min. Team Rating: 78
✔️ Min. Team Chemistry: 80
✔️ Number of Players in the Squad: 10
REWARDS
? 1 x Jumbo Premium Gold Pack


8 83-RATED SQUAD
REQUIREMENTS
✔️ Min. Team of the Week Players: 2
✔️ Min. Team Rating: 83
✔️ Min. Team Chemistry: 75
✔️ Number of Players in the Squad: 11
REWARDS
? 1 x Rare Gold Pack


9 84-RATED SQUAD
REQUIREMENTS
✔️ Min. Team of the Week Players: 1
✔️ Min. Team Rating: 84
✔️ Min. Team Chemistry: 70
✔️ Number of Players in the Squad: 11
REWARDS
? 1 x Mega Pack


10 85-RATED SQUAD
REQUIREMENTS
✔️ Min. Team of the Week Players: 2
✔️ Min. Team Rating: 85
✔️ Min. Team Chemistry: 65
✔️ Number of Players in the Squad: 11
REWARDS
? 1 x Prime Gold Players Pack


11 86-RATED SQUAD
REQUIREMENTS
✔️ Min. Team of the Week Players: 1
✔️ Min. Team Rating: 86
✔️ Min. Team Chemistry: 60
✔️ Number of Players in the Squad: 11
REWARDS
? 1 x Rare Players Pack


12 87-RATED SQUAD
REQUIREMENTS
✔️ Min. Team of the Week Players: 1
✔️ Min. Team Rating: 87
✔️ Min. Team Chemistry: 55
✔️ Number of Players in the Squad: 11
REWARDS
? 1 x Rare Mega Pack


13 88-RATED SQUAD
REQUIREMENTS
✔️ Icon Players: Exactly 1
✔️ Min. Team Rating: 88
✔️ Min. Team Chemistry: 50
✔️ Number of Players in the Squad: 11
REWARDS
? 1 x Jumbo Rare Players Pack


14 89-RATED SQUAD
REQUIREMENTS
✔️ Icon Players: Exactly 1
✔️ Min. Team Rating: 89
✔️ Min. Team Chemistry: 50
✔️ Number of Players in the Squad: 11
REWARDS
? 1 x Jumbo Rare Players Pack


---

RONALDO [LOAN]
ℹ️ Try out Prime Icon Ronaldo on a 20-Match Loan [Untradeable]
? 1 Challenge
? Non-Repeatable
? From March 22 to March 29, 2018
GROUP REWARDS
? Ronaldo Prime ICON card (20-Match Loan)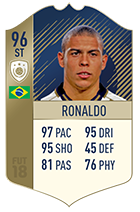 1 RONALDO [LOAN]
REQUIREMENTS
✔️ Min. Team Rating: 84
✔️ Min. Team Chemistry: 60
✔️ Number of Players in the Squad: 11
---

RUUD GULLIT
ℹ️ Build towards earning the Prime version of Ruud Gullit [Untradeable]
? 12 Challenges
? Non-Repeatable
? Always available since March 22, 2018
GROUP REWARDS
? Ruud Gullit Prime ICON card (untradeable)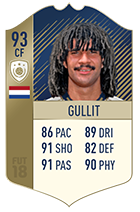 1 GULLIT – AN ICON
REQUIREMENTS
✔️ Icon Players: Exactly 1
✔️ Min. Team Chemistry: 3
✔️ Number of Players in the Squad: 1
REWARDS
? 1 x Jumbo Rare Players Pack


2 EREDIVISIE
REQUIREMENTS
✔️ Min. 1 Feyenoord Players
✔️ Min. 1 PSV Players
✔️ Min. 5 Eredivisie Players
✔️ Min. Team Rating: 81
✔️ Min. Team Chemistry: 85
✔️ Number of Players in the Squad: 11
REWARDS
? 1 x Jumbo Premium Gold Pack


3 CALCIO A
REQUIREMENTS
✔️ Min. 1 Milan Players
✔️ Min. 1 Sampdoria Players
✔️ Exactly 11 Calcio A Players
✔️ Min. Team Rating: 81
✔️ Min. Team Chemistry: 95
✔️ Number of Players in the Squad: 11
REWARDS
? 1 x Jumbo Premium Gold Pack


4 CHELSEA
REQUIREMENTS
✔️ Exactly 1 Chelsea Players
✔️ Exactly 4 Premier League Players
✔️ Min. Team Rating: 82
✔️ Min. Team Chemistry: 85
✔️ Number of Players in the Squad: 10
REWARDS
? 1 x Premium Gold Players Pack


5 NETHERLANDS
REQUIREMENTS
✔️ Min. 5 Netherlands Players
✔️ Min. Team of the Week Players: 1
✔️ Min. Team Rating: 78
✔️ Min. Team Chemistry: 80
✔️ Number of Players in the Squad: 10
REWARDS
? 1 x Jumbo Premium Gold Pack


6 83-RATED SQUAD
REQUIREMENTS
✔️ Min. Team of the Week Players: 2
✔️ Min. Team Rating: 83
✔️ Min. Team Chemistry: 75
✔️ Number of Players in the Squad: 11
REWARDS
? 1 x Rare Gold Pack


7 84-RATED SQUAD
REQUIREMENTS
✔️ Min. Team of the Week Players: 1
✔️ Min. Team Rating: 84
✔️ Min. Team Chemistry: 70
✔️ Number of Players in the Squad: 11
REWARDS
? 1 x Mega Pack


8 85-RATED SQUAD
REQUIREMENTS
✔️ Min. Team of the Week Players: 2
✔️ Min. Team Rating: 85
✔️ Min. Team Chemistry: 65
✔️ Number of Players in the Squad: 11
REWARDS
? 1 x Prime Gold Players Pack


9 86-RATED SQUAD
REQUIREMENTS
✔️ Min. Team of the Week Players: 1
✔️ Min. Team Rating: 86
✔️ Min. Team Chemistry: 60
✔️ Number of Players in the Squad: 11
REWARDS
? 1 x Rare Players Pack


10 87-RATED SQUAD
REQUIREMENTS
✔️ Min. Team of the Week Players: 1
✔️ Min. Team Rating: 87
✔️ Min. Team Chemistry: 55
✔️ Number of Players in the Squad: 11
REWARDS
? 1 x Rare Mega Pack


11 88-RATED SQUAD
REQUIREMENTS
✔️ Icon Players: Exactly 1
✔️ Min. Team Rating: 88
✔️ Min. Team Chemistry: 50
✔️ Number of Players in the Squad: 11
REWARDS
? 1 x Jumbo Rare Players Pack


12 89-RATED SQUAD
REQUIREMENTS
✔️ Icon Players: Exactly 1
✔️ Min. Team Rating: 89
✔️ Min. Team Chemistry: 50
✔️ Number of Players in the Squad: 11
REWARDS
? 1 x Jumbo Rare Players Pack


---

RUUD GULLIT [LOAN]
ℹ️ Try out Prime Icon Ruud Gullit on a 20-Match Loan [Untradeable]
? 1 Challenge
? Non-Repeatable
? From March 22 to March 29, 2018
GROUP REWARDS
? Ruud Gullit Prime ICON card (20-Match Loan)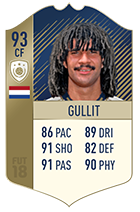 1 RUUD GULLIT [LOAN]
REQUIREMENTS
✔️ Min. Team Rating: 84
✔️ Min. Team Chemistry: 60
✔️ Number of Players in the Squad: 11
---

ALESSANDRO NESTA
ℹ️ Build towards earning the Prime version of Alessandro Nesta[Untradeable]
? 7 Challenges
? Non-Repeatable
? Always available since March 15, 2018
GROUP REWARDS
? Alessandro Nesta Prime ICON card (untradeable)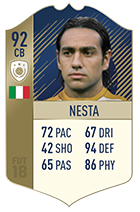 1 LAZIO
REQUIREMENTS
✔️ Min. 2 Lazio Players
✔️ Max 4 Calcio A Players
✔️ Min. Team Rating: 80
✔️ Min. Team Chemistry: 90
✔️ Number of Players in the Squad: 10
REWARDS
? 1 x Premium Gold Pack


2 MILAN
REQUIREMENTS
✔️ Min. 2 Milan Players
✔️ Min. 5 Calcio A Players
✔️ Min. Team Rating: 80
✔️ Min. Team Chemistry: 95
✔️ Number of Players in the Squad: 10
REWARDS
? 1 x Premium Gold Pack


3 ITALY
ITALY
✔️ Min. 5 Italy Players
✔️ Min. Players from different Leagues: 4
✔️ Min. Team Rating: 80
✔️ Min. Team Chemistry: 90
✔️ Number of Players in the Squad: 10
REWARDS
? 1 x Premium Gold Pack


4 83-RATED SQUAD
REQUIREMENTS
✔️ Min. Team of the Week Players: 1
✔️ Min. Players from different Leagues: 5
✔️ Min. Team Rating: 83
✔️ Min. Team Chemistry: 75
✔️ Number of Players in the Squad: 11
REWARDS
? 1 x Jumbo Premium Gold Pack


5 84-RATED SQUAD
REQUIREMENTS
✔️ Min. Team of the Week Players: 2
✔️ Min. Team Rating: 84
✔️ Min. Team Chemistry: 65
✔️ Number of Players in the Squad: 11
REWARDS
? 1 x Jumbo Premium Gold Pack


6 85-RATED SQUAD
REQUIREMENTS
✔️ Min. Team Rating: 85
✔️ Min. Team Chemistry: 60
✔️ Number of Players in the Squad: 11
REWARDS
? 1 x Rare Gold Pack


7 86-RATED SQUAD
REQUIREMENTS
✔️ Min. Team of the Week Players: 1
✔️ Min. Team Rating: 86
✔️ Min. Team Chemistry: 55
✔️ Number of Players in the Squad: 11
REWARDS
? 1 x Mega Pack


---

ALESSANDRO NESTA [LOAN]
ℹ️ Try out Prime Icon Alessandro Nesta on a 20-Match Loan [Untradeable]
? 1 Challenge
? Non-Repeatable
? From March 15 to March 22, 2018
GROUP REWARDS
? Alessandro Nesta Prime ICON card (20-Match Loan)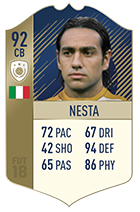 1 ALESSANDRO NESTA [LOAN]
REQUIREMENTS
✔️ Min. Team Rating: 83
✔️ Min. Team Chemistry: 60
✔️ Number of Players in the Squad: 11
---

HERNAN CRESPO
ℹ️ Build towards earning the Prime version of Hernan Crespo[Untradeable]
? 7 Challenges
? Non-Repeatable
? Always available since March 15, 2018
GROUP REWARDS
? Hernan Crespo Prime ICON card (untradeable)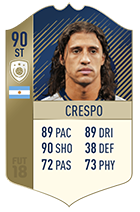 1 RIVER PLATE
REQUIREMENTS
✔️ Min. 2 River Plate Players
✔️ Exactly 10 Primera División Players
✔️ Min. Team Rating: 75
✔️ Min. Team Chemistry: 95
✔️ Number of Players in the Squad: 10
REWARDS
? 1 x Premium Gold Pack


2 CALCIO A
REQUIREMENTS
✔️ Exactly 10 Calcio A Players
✔️ Min. Team Rating: 81
✔️ Min. Team Chemistry: 95
✔️ Number of Players in the Squad: 10
REWARDS
? 1 x Premium Gold Pack


3 ARGENTINA
REQUIREMENTS
✔️ Min. 4 Argentina Players
✔️ Max 4 Players from the same League
✔️ Min. Team Rating: 78
✔️ Team Chemistry: 90
✔️ Number of Players in the Squad: 10
REWARDS
? 1 x Premium Gold Pack


4 83-RATED SQUAD
REQUIREMENTS
✔️ Min. Team of the Week Players: 1
✔️ Max 5 Players from the same Nation
✔️ Min. Team Rating: 83
✔️ Min. Team Chemistry: 75
✔️ Number of Players in the Squad: 11
REWARDS
? 1 x Jumbo Premium Gold Pack


5 84-RATED SQUAD
REQUIREMENTS
✔️ Min. Team of the Week Players: 2
✔️ Min. Team Rating: 84
✔️ Min. Team Chemistry: 65
✔️ Number of Players in the Squad: 11
REWARDS
? 1 x Jumbo Premium Gold Pack


6 85-RATED SQUAD
REQUIREMENTS
✔️ Min. Team of the Week Players: 1
✔️ Min. Team Rating: 85
✔️ Min. Team Chemistry: 60
✔️ Number of Players in the Squad: 11
REWARDS
? 1 x Rare Gold Pack


7 86-RATED SQUAD
REQUIREMENTS
✔️ Min. Team of the Week Players: 1
✔️ Min. Team Rating: 86
✔️ Min. Team Chemistry: 55
✔️ Number of Players in the Squad: 11
REWARDS
? 1 x Mega Pack
---

HERNAN CRESPO [LOAN]
ℹ️ Try out Prime Icon Hernan Crespo on a 20-Match Loan [Untradeable]
? 1 Challenge
? Non-Repeatable
? From March 15 to March 22, 2018
GROUP REWARDS
? Hernan Crespo Prime ICON card (20-Match Loan)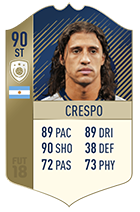 1 HERNAN CRESPO [LOAN]
REQUIREMENTS
✔️ Min. Team Rating: 83
✔️ Min. Team Chemistry: 60
✔️ Number of Players in the Squad: 11
---

JARI LITMANEN
ℹ️ Build towards earning the Prime version of Litmanen[Untradeable]
? 7 Challenges
? Non-Repeatable
? Always available since March 15, 2018
GROUP REWARDS
? Litmanen Prime ICON card (untradeable)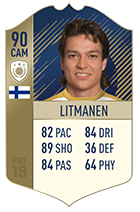 1 AJAX
REQUIREMENTS
✔️ Min. 1 Ajax Players
✔️ Max 5 Players from the same Nation
✔️ Min. Team Rating: 77
✔️ Min. Team Chemistry: 90
✔️ Number of Players in the Squad: 10
REWARDS
? 1 x Premium Gold Pack


2 FC BARCELONA
REQUIREMENTS
✔️ Min. 2 FC Barcelona Players
✔️ Min. Players from different Nations: 4
✔️ Min. Team Rating: 80
✔️ Min. Team Chemistry: 90
✔️ Number of Players in the Squad: 10
REWARDS
? 1 x Premium Gold Pack


3 LIVERPOOL
REQUIREMENTS
✔️ Exactly 1 Liverpool Players
✔️ Exactly 10 Premier League Players
✔️ Min. Team Rating: 81
✔️ Min. Team Chemistry: 90
✔️ Number of Players in the Squad: 10
REWARDS
? 1 x Premium Gold Pack


4 83-RATED SQUAD
REQUIREMENTS
✔️ Max 4 Players from the same League
✔️ Min. Team Rating: 83
✔️ Min. Team Chemistry: 75
✔️ Number of Players in the Squad: 11
REWARDS
? 1 x Jumbo Premium Gold Pack


5 84-RATED SQUAD
REQUIREMENTS
✔️ Min. Team Rating: 84
✔️ Min. Team Chemistry: 65
✔️ Number of Players in the Squad: 11
REWARDS
? 1 x Jumbo Premium Gold Pack


6 85-RATED SQUAD
REQUIREMENTS
✔️ Min. Team Rating: 85
✔️ Min. Team Chemistry: 60
✔️ Number of Players in the Squad: 11
REWARDS
? 1 x Rare Gold Pack


7 86-RATED SQUAD
REQUIREMENTS
✔️ Min. Team of the Week Players: 1
✔️ Min. Team Rating: 86
✔️ Min. Team Chemistry: 55
✔️ Number of Players in the Squad: 11
REWARDS
? 1 x Mega Pack


---

JARI LITMANEN [LOAN]
ℹ️ Try out Prime Icon Litmanen on a 20-Match Loan [Untradeable]
? 1 Challenge
? Non-Repeatable
? From March 15 to March 22, 2018
GROUP REWARDS
? Litmanen Prime ICON card (20-Match Loan)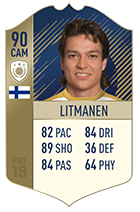 1 LITMANEN [LOAN]
REQUIREMENTS
✔️ Min. Team Rating: 83
✔️ Min. Team Chemistry: 60
✔️ Number of Players in the Squad: 11
---

MARADONA
ℹ️ Build towards earning the Prime version of Maradona [Untradeable]
? 12 Challenges
? Non-Repeatable
? Always available since March 1, 2018
GROUP REWARDS
? Maradona Prime ICON card (untradeable)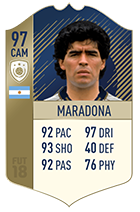 1 MARADONA – AN ICON
REQUIREMENTS
✔️ Icon Players: Exactly 1
✔️ Number of Players in the Squad: 1
REWARDS
? 1 x Jumbo Rare Players Pack


2 BOCA JUNIORS
REQUIREMENTS
✔️ Min. 1 Boca Juniors Players
✔️ Min. Players from different Nations: 5
✔️ Min. Team Rating: 81
✔️ Min. Team Chemistry: 90
✔️ Number of Players in the Squad: 10
REWARDS
? 1 x Jumbo Premium Gold Pack


3 FC BARCELONA
REQUIREMENTS
✔️ Min. 2 FC Barcelona Players
✔️ Max 4 Players from the same Nation
✔️ Min. Team Rating: 82
✔️ Min. Team Chemistry: 95
✔️ Number of Players in the Squad: 10
REWARDS
? 1 x Jumbo Premium Gold Pack


4 NAPOLI
REQUIREMENTS
✔️ Min. 1 Napoli Players
✔️ Exactly 10 Calcio A Players
✔️ Min. Team Rating: 82
✔️ Min. Team Chemistry: 90
✔️ Number of Players in the Squad: 10
REWARDS
? 1 x Premium Gold Players Pack


5 ARGENTINA
REQUIREMENTS
✔️ Min. 4 Argentina Players
✔️ Min. Team Rating: 83
✔️ Min. Team Chemistry: 90
✔️ Number of Players in the Squad: 10
REWARDS
? 1 x Jumbo Premium Gold Pack


6 83-RATED SQUAD
REQUIREMENTS
✔️ Min. Team of the Week Players: 2
✔️ Min. Team Rating: 83
✔️ Min. Team Chemistry: 75
✔️ Number of Players in the Squad: 11
REWARDS
? 1 x Rare Gold Pack


7 84-RATED SQUAD
REQUIREMENTS
✔️ Min. Team of the Week Players: 1
✔️ Min. Team Rating: 84
✔️ Min. Team Chemistry: 70
✔️ Number of Players in the Squad: 11
REWARDS
? 1 x Mega Pack


8 85-RATED SQUAD
REQUIREMENTS
✔️ Min. Team of the Week Players: 2
✔️ Min. Team Rating: 85
✔️ Min. Team Chemistry: 65
✔️ Number of Players in the Squad: 11
REWARDS
? 1 x Prime Gold Players Pack


9 86-RATED SQUAD
REQUIREMENTS
✔️ Min. Team of the Week Players: 1
✔️ Min. Team Rating: 86
✔️ Min. Team Chemistry: 60
✔️ Number of Players in the Squad: 11
REWARDS
? 1 x Rare Players Pack


10 87-RATED SQUAD
REQUIREMENTS
✔️ Min. Team of the Week Players: 1
✔️ Min. Team Rating: 87
✔️ Min. Team Chemistry: 55
✔️ Number of Players in the Squad: 11
REWARDS
? 1 x Rare Mega Pack


11 88-RATED SQUAD
REQUIREMENTS
✔️ Icon Players: Exactly 1
✔️ Min. Team Rating: 88
✔️ Min. Team Chemistry: 50
✔️ Number of Players in the Squad: 11
REWARDS
? 1 x Jumbo Rare Players Pack


12 89-RATED SQUAD
REQUIREMENTS
✔️ Icon Players: Exactly 1
✔️ Min. Team Rating: 89
✔️ Min. Team Chemistry: 50
✔️ Number of Players in the Squad: 11
REWARDS
? 1 x Jumbo Rare Players Pack


---

MARADONA [LOAN]
ℹ️ Try out Prime Icon Maradona on a 20-Match Loan [Untradeable]
? 1 Challenge
? Non-Repeatable
? From March 1 to March 8, 2018
GROUP REWARDS
? Maradona Prime ICON card (20-Match Loan)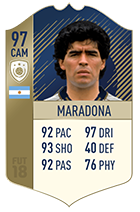 1 MARADONA [LOAN]
REQUIREMENTS
✔️ Min. Team Rating: 83
✔️ Min. Team Chemistry: 60
✔️ Number of Players in the Squad: 11
---

MICHAEL OWEN
ℹ️ Build towards earning the Prime version of Michael Owen [Untradeable]
? 7 Challenges
? Non-Repeatable
? Always available since March 1, 2018
GROUP REWARDS
? Michael Owen Prime ICON card (untradeable)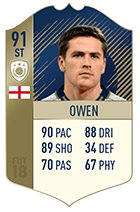 1 LIVERPOOL
REQUIREMENTS
✔️ Min. 3 Liverpool Players
✔️ Min. 5 Premier League Players
✔️ Min. Team of the Week Players: 1
✔️ Min. Team Rating: 80
✔️ Min. Team Chemistry: 90
✔️ Number of Players in the Squad: 10
REWARDS
? 1 x Rare Consumables Pack


2 REAL MADRID
REQUIREMENTS
✔️ Min. 2 Real Madrid CF Players
✔️ Min. 6 LaLiga Santander Players
✔️ Min. Team Rating: 81
✔️ Min. Team Chemistry: 95
✔️ Number of Players in the Squad: 10
REWARDS
? 1 x Jumbo Premium Gold Pack


3 NEWCASTLE UNITED
REQUIREMENTS
✔️ Min. 1 Newcastle United Players
✔️ Max 4 Players from the same Nation
✔️ Min. Team Rating: 80
✔️ Min. Team Chemistry: 95
✔️ Number of Players in the Squad: 10
REWARDS
? 1 x Premium Gold Pack


4 MANCHESTER UNITED
REQUIREMENTS
✔️ Min. 2 Manchester United Players
✔️ Team of the Week Players: 1
✔️ Max 4 Players from the same League
✔️ Team Rating: 83
✔️ Min. Team Chemistry: 85
✔️ Number of Players in the Squad: 10
REWARDS
? 1 x Jumbo Premium Gold Pack


5 ENGLAND
REQUIREMENTS
✔️ Min. 4 England Players
✔️ Min. Team of the Week Players: 2
✔️ Team Rating: 84
✔️ Min. Team Chemistry: 75
✔️ Number of Players in the Squad: 10
REWARDS
? 1 x Rare Gold Pack


6 85-RATED SQUAD
REQUIREMENTS
✔️ Min. Team of the Week Players: 2
✔️ Min. Team Rating: 85
✔️ Min. Team Chemistry: 70
✔️ Number of Players in the Squad: 11
REWARDS
? 1 x Prime Gold Players Pack


7 86-RATED SQUAD
REQUIREMENTS
✔️ Min. TOTW Players: 2
✔️ Min. Team Rating: 86
✔️ Min. Team Chemistry: 60
✔️ Number of Players in the Squad: 11
REWARDS
? 1 x Mega Pack


---

MICHAEL OWEN [LOAN]
ℹ️ Try out Prime Icon Micahel Owen on a 20-Match Loan [Untradeable]
? 1 Challenge
? Non-Repeatable
? From March 1 to March 8, 2018
GROUP REWARDS
? Michael Owen Prime ICON card (20-Match Loan)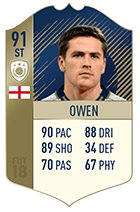 1 MICHAEL OWEN [LOAN]
REQUIREMENTS
✔️ Min. Team Rating: 82
✔️ Min. Team Chemistry: 60
✔️ Number of Players in the Squad: 11

LAURENT BLANC
ℹ️ Build towards earning the Prime version of Laurent Blanc [Untradeable]
? 8 Challenges
? Non-Repeatable
? Always available since February 22, 2018
GROUP REWARDS
? Laurent Blanc Prime ICON card (untradeable)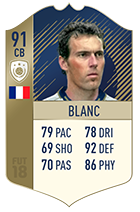 1 BLANC – AN ICON
REQUIREMENTS
✔️ Icon Players: Exactly 1
✔️ Number of Players in the Squad: 1
REWARDS
? 1 x Jumbo Rare Players Pack


2 LIGUE 1
REQUIREMENTS
✔️ Min. 2 Montpellier Hérault SC Players
✔️ 3 AS Saint-Étienne + Olympique de Marseille Players
✔️ Exactly 10 Ligue 1 Players
✔️ Min. Team Rating: 81
✔️ Team Chemistry: 95
✔️ Number of Players in the Squad: 10
REWARDS
? 1 x Premium Gold Pack


3 CALCIO A
REQUIREMENTS
✔️ Min. 3 Napoli + Inter Players
✔️ Exactly 10 Calcio A Players
✔️ Min. Team Rating: 82
✔️ Min. Team Chemistry: 95
✔️ Number of Players in the Squad: 10
REWARDS
? 1 x Premium Gold Pack


4 FRANCE
REQUIREMENTS
✔️ Min. 3 France Players
✔️ Max 4 Players from the same League
✔️ Min. Team Rating: 82
✔️ Min. Team Chemistry: 90
✔️ Number of Players in the Squad: 10
REWARDS
? 1 x Premium Gold Pack


5 83-RATED SQUAD
REQUIREMENTS
✔️ Min. Team of the Week Players: 1
✔️ Max 4 Players from the same League
✔️ Min. Team Rating: 83
✔️ Min. Team Chemistry: 75
✔️ Number of Players in the Squad: 11
REWARDS
? 1 x Jumbo Premium Gold Pack


6 84-RATED SQUAD
REQUIREMENTS
✔️ Min. Team of the Week Players: 1
✔️ Min. Team Rating: 84
✔️ Min. Team Chemistry: 65
✔️ Number of Players in the Squad: 11
REWARDS
? 1 x Premium Gold Players Pack


7 85-RATED SQUAD
REQUIREMENTS
✔️ Min. Team of the Week Players: 1
✔️ Team Rating: 85
✔️ Min. Team Chemistry: 60
✔️ Number of Players in the Squad: 11
REWARDS
? 1 x RareGold Pack


8 86-RATED SQUAD
REQUIREMENTS
✔️ Min. Team of the Week Players: 2
✔️ Min. Team Rating: 86
✔️ Min. Team Chemistry: 55
✔️ Number of Players in the Squad: 11
REWARDS
? 1 x Mega Pack
REWARDS
? 1 x Rare Players Pack


---

LAURENT BLANC [LOAN]
ℹ️ Try out Prime Icon Laurent Blanc on a 20-Match Loan [Untradeable]
? 1 Challenge
? Non-Repeatable
? From February 22 to March 1, 2018
GROUP REWARDS
? Laurent Blanc Prime ICON card (20-Match Loan)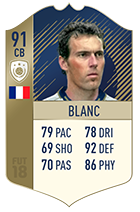 1 LAURENT BLANC [LOAN]
REQUIREMENTS
✔️ Min. Team Rating: 82
✔️ Min. Team Chemistry: 60
✔️ Number of Players in the Squad: 11
---

MICHAEL LAUDRUP
ℹ️ Build towards earning the Prime version of Michael Laudrup [Untradeable]
? 8 Challenges
? Non-Repeatable
? Always available since February 22, 2018
GROUP REWARDS
? Michael Laudrup Prime ICON card (untradeable)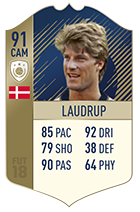 1 CALCIO A
REQUIREMENTS
✔️ Min. 4 Lazio + Juventus Players
✔️ Exactly 10 Calcio A Players
✔️ Min. Team Rating: 80
✔️ Min. Team Chemistry: 95
✔️ Number of Players in the Squad: 10
REWARDS
? 1 x Premium Gold Pack


2 EL CLÁSICO
REQUIREMENTS
✔️ Min. 4 FC Barcelona + Real Madrid CF Players
✔️ Exactly 10 LaLiga Santander Players
✔️ Min. Team Rating: 81
✔️ Min. Team Chemistry: 95
✔️ Number of Players in the Squad: 10
REWARDS
? 1 x Premium Gold Pack


3 DENMARK
REQUIREMENTS
✔️ Min. 5 Gold Players
✔️ Min. 5 Denmark Players
✔️ Min. Team Chemistry: 90
✔️ Number of Players in the Squad: 10
REWARDS
? 1 x Premium Gold Pack


4 83-RATED SQUAD
REQUIREMENTS
✔️ Min. Team of the Week Players: 1
✔️ Min. Players from different Nations: 5
✔️ Min. Team Rating: 83
✔️ Min. Team Chemistry: 75
✔️ Number of Players in the Squad: 11
REWARDS
? 1 x Jumbo Premium Gold Pack


5 84-RATED SQUAD
REQUIREMENTS
✔️ Min. Team of the Week Players: 1
✔️ Min. Team Rating: 84
✔️ Min. Team Chemistry: 65
✔️ Number of Players in the Squad: 11
REWARDS
? 1 x Premium Gold Players Pack


6 85-RATED SQUAD
REQUIREMENTS
✔️ Min. Team of the Week Players: 2
✔️ Min. Team Rating: 85
✔️ Min. Team Chemistry: 60
✔️ Number of Players in the Squad: 11
REWARDS
? 1 x Rare Gold Pack


7 86-RATED SQUAD
REQUIREMENTS
✔️ Min. Team of the Week Players: 2
✔️ Min. Team Rating: 86
✔️ Min. Team Chemistry: 55
✔️ Number of Players in the Squad: 11
REWARDS
? 1 x Mega Pack


---

MICHAEL LAUDRUP [LOAN]
ℹ️ Try out Prime Icon Michael Laudrup on a 20-Match Loan [Untradeable]
? 1 Challenge
? Non-Repeatable
? From February 22 to March 1, 2018
GROUP REWARDS
? Michael Laudrup Prime ICON card (20-Match Loan)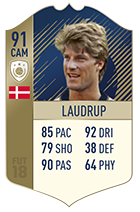 1 MICHAEL LAUDRUP [LOAN]
REQUIREMENTS
✔️ Min. Team Rating: 82
✔️ Min. Team Chemistry: 60
✔️ Number of Players in the Squad: 11
---

PATRICK KLUIVERT
ℹ️ Build towards earning the Prime version of Patrick Kluivert [Untradeable]
? 7 Challenges
? Non-Repeatable
? Always available since February 22, 2018
GROUP REWARDS
? Patrick Kluivert Prime ICON card (untradeable)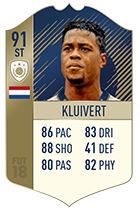 1 AJAX
REQUIREMENTS
✔️ Min. 2 Ajax Players
✔️ Max 6 Players from the same Nation
✔️ Min. Team Rating: 77
✔️ Min. Team Chemistry: 90
✔️ Number of Players in the Squad: 10
REWARDS
? 1 x Premium Gold Pack


2 FC BARCELONA
REQUIREMENTS
✔️ Min. 2 FC Barcelona Players
✔️ Exactly 10 LaLiga Santander Players
✔️ Min. Team Rating: 81
✔️ Min. Team Chemistry: 95
✔️ Number of Players in the Squad: 10
REWARDS
? 1 x Premium Gold Pack


3 NETHERLANDS
REQUIREMENTS
✔️ Exactly 10 Netherlands Players
✔️ Exactly Gold Players
✔️ Min. Team Chemistry: 95
✔️ Number of Players in the Squad: 10
REWARDS
? 1 x Premium Gold Pack


4 84-RATED SQUAD
REQUIREMENTS
✔️ Min. Team of the Week Players: 2
✔️ Min. Team Rating: 84
✔️ Min. Team Chemistry: 65
✔️ Number of Players in the Squad: 11
REWARDS
? 1 x Premium Gold Players Pack


5 85-RATED SQUAD
REQUIREMENTS
✔️ Min. Team of the Week Players: 1
✔️ Min. Team Rating: 85
✔️ Min. Team Chemistry: 60
✔️ Number of Players in the Squad: 11
REWARDS
? 1 x Rare Gold Pack


6 86-RATED SQUAD
REQUIREMENTS
✔️ Min. Team of the Week Players: 1
✔️ Min. Team Rating: 86
✔️ Min. Team Chemistry: 55
✔️ Number of Players in the Squad: 11
REWARDS
? 1 x Mega Pack


7 87-RATED SQUAD
REQUIREMENTS
✔️ Min. Team Rating: 87
✔️ Min. Team Chemistry: 50
✔️ Number of Players in the Squad: 11
REWARDS
? 1 x Rare Players Pack


---

PATRICK KLUIVERT [LOAN]
ℹ️ Try out Prime Icon Patrick Kluivert on a 20-Match Loan [Untradeable]
? 1 Challenge
? Non-Repeatable
? From February 22 to March 1, 2018
GROUP REWARDS
? Patrick Kluivert Prime ICON card (20-Match Loan)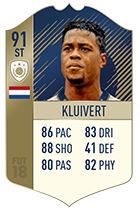 1 PATRICK KLUIVERT [LOAN]
REQUIREMENTS
✔️ Min. Team Rating: 82
✔️ Min. Team Chemistry: 60
✔️ Number of Players in the Squad: 11
---

MARCEL DESAILLY
ℹ️ Build towards earning the Prime version of Marcel Desailly [Untradeable]
? 8 Challenges
? Non-Repeatable
? Always available since February 15, 2018
GROUP REWARDS
? Marcel Desailly Prime ICON card (untradeable)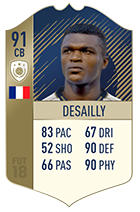 1 DESAILLY – AN ICON
REQUIREMENTS
✔️ Icon Players: Exactly 1
✔️ Number of Players in the Squad: 1
REWARDS
? 1 x Jumbo Rare Players Pack


2 LIGUE 1
REQUIREMENTS
✔️ Min. 2 FC Nantes Players
✔️ Min. 2 Olympique de Marseille Players
✔️ Exactly 10 Ligue 1 Players
✔️ Min. Team Rating: 82
✔️ Min. Team Chemistry: 95
✔️ Number of Players in the Squad: 10
REWARDS
? 1 x Premium Gold Pack


3 MILAN
REQUIREMENTS
✔️ Min. 3 Milan Players
✔️ Exactly 10 Calcio A Players
✔️ Min. Team Rating: 82
✔️ Min. Team Chemistry: 95
✔️ Number of Players in the Squad: 10
REWARDS
? 1 x Premium Gold Pack


4 CHELSEA
REQUIREMENTS
✔️ Min. 3 Chelsea Players
✔️ Exactly 10 Premier League Players
✔️ Min. Team Rating: 82
✔️ Min. Team Chemistry: 95
✔️ Number of Players in the Squad: 10
REWARDS
? 1 x Premium Gold Pack


5 84-RATED SQUAD
REQUIREMENTS
✔️ Min. Team of the Week Players: 1
✔️ Max 6 Players from the same League
✔️ Min. Team Rating: 84
✔️ Min. Team Chemistry: 65
✔️ Number of Players in the Squad: 11
REWARDS
? 1 x Premium Gold Players Pack


6 85-RATED SQUAD
REQUIREMENTS
✔️ Min. Team of the Week Players: 2
✔️ Min. Team Rating: 85
✔️ Min. Team Chemistry: 60
✔️ Number of Players in the Squad: 11
REWARDS
? 1 x Rare Gold Pack


7 86-RATED SQUAD
REQUIREMENTS
✔️ Min. Team of the Week Players: 2
✔️ Min. Team Rating: 86
✔️ Min. Team Chemistry: 55
✔️ Number of Players in the Squad: 11
REWARDS
? 1 x Mega Pack


8 87-RATED SQUAD
REQUIREMENTS
✔️ Min. Team of the Week Players: 1
✔️ Min. Team Rating: 87
✔️ Min. Team Chemistry: 50
✔️ Number of Players in the Squad: 11
REWARDS
? 1 x Rare Players Pack


---

MARCEL DESAILLY [LOAN]
ℹ️ Try out Prime Icon Marcel Desailly on a 20-Match Loan [Untradeable]
? 1 Challenge
? Non-Repeatable
? From February 15 to February 22, 2018
GROUP REWARDS
? Marcel Desailly Prime ICON card (20-Match Loan)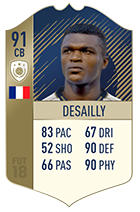 1 MARCEL DESAILLY [LOAN]
REQUIREMENTS
✔️ Min. Team Rating: 82
✔️ Min. Team Chemistry: 60
✔️ Number of Players in the Squad: 11
---

FRANK RIJKAARD
ℹ️ Build towards earning the Prime version of Frank Rijkaard [Untradeable]
? 7 Challenges
? Non-Repeatable
? Always available since February 15, 2018
GROUP REWARDS
? Frank Rijkaard Prime ICON card (untradeable)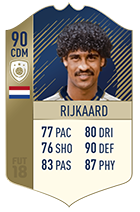 1 AJAX
REQUIREMENTS
✔️ Min. 2 Ajax Players
✔️ Max 5 Players from the same League
✔️ Min. Team Rating: 77
✔️ Min. Team Chemistry: 90
✔️ Number of Players in the Squad: 10
REWARDS
? 1 x Premium Gold Pack


2 MILAN
REQUIREMENTS
✔️ Exactly 10 Calcio A Players
✔️ Min. 3 Milan Players
✔️ Min. Team Rating: 80
✔️ Min. Team Chemistry: 95
✔️ Number of Players in the Squad: 10
REWARDS
? 1 x Premium Gold Pack


3 NETHERLANDS
REQUIREMENTS
✔️ Exactly 10 Netherlands Players
✔️ Min. Team Rating: 78
✔️ Min. Team Chemistry: 95
✔️ Number of Players in the Squad: 10
REWARDS
? 1 x Premium Gold Pack


4 84-RATED SQUAD
REQUIREMENTS
✔️ Min. Team of the Week Players: 1
✔️ Max 6 Players from the same Nation
✔️ Min. Team Rating: 84
✔️ Min. Team Chemistry: 65
✔️ Number of Players in the Squad: 11
REWARDS
? 1 x Premium Gold Players Pack


5 85-RATED SQUAD
REQUIREMENTS
✔️ Min. Team of the Week Players: 2
✔️ Min. Team Rating: 85
✔️ Min. Team Chemistry: 60
✔️ Number of Players in the Squad: 11
REWARDS
? 1 x Rare Gold Pack


6 86-RATED SQUAD
REQUIREMENTS
✔️ Min. Team of the Week Players: 1
✔️ Min. Team Rating: 86
✔️ Min. Team Chemistry: 55
✔️ Number of Players in the Squad: 11
REWARDS
? 1 x Mega Pack


7 87-RATED SQUAD
REQUIREMENTS
✔️ Min. Team of the Week Players: 1
✔️ Min. Team Rating: 87
✔️ Min. Team Chemistry: 50
✔️ Number of Players in the Squad: 11
REWARDS
? 1 x Rare Players Pack


---

FRANK RIJKAARD [LOAN]
ℹ️ Try out Prime Icon Frank Rijkaard on a 20-Match Loan [Untradeable]
? 1 Challenge
? Non-Repeatable
? From February 15 to February 22, 2018
GROUP REWARDS
? Frank Rijkaard Prime ICON card (20-Match Loan)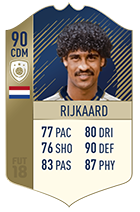 1 FRANK RIJKAARD [LOAN]
REQUIREMENTS
✔️ Min. Team Rating: 82
✔️ Min. Team Chemistry: 60
✔️ Number of Players in the Squad: 11
---

HENRIK LARSSON
ℹ️ Build towards earning the Prime version of Henrik Larsson [Untradeable]
? 7 Challenges
? Non-Repeatable
? Always available since February 15, 2018
GROUP REWARDS
? Henrik Larsson Prime ICON card (untradeable)
1 FEYENOORD
REQUIREMENTS
✔️ Min. 2 Feyenoord Players
✔️ Max 4 Players from the same Nation
✔️ Min. Team Rating: 77
✔️ Min. Team Chemistry: 90
✔️ Number of Players in the Squad: 10
REWARDS
? 1 x Premium Gold Pack


2 CELTIC
REQUIREMENTS
✔️ Min. 2 Celtic Players
✔️ Min. Team Rating: 76
✔️ Min. Team Chemistry: 90
✔️ Number of Players in the Squad: 10
REWARDS
? 1 x Premium Gold Pack


3 SWEDEN
REQUIREMENTS
Exactly 3 Sweden Players
Min. Players from different Leagues: 4
Min. Team Rating: 76
Min. Team Chemistry: 90
Number of Players in the Squad: 10
REWARDS
? 1 x Premium Gold Pack


4 83-RATED SQUAD
REQUIREMENTS
✔️ Min. Team of the Week Players: 1
✔️ Min. Players from different Leagues: 4
✔️ Min. Team Rating: 83
✔️ Min. Team Chemistry: 75
✔️ Number of Players in the Squad: 11
REWARDS
? 1 x Jumbo Premium Gold Pack


5 84-RATED SQUAD
REQUIREMENTS
✔️ Min. Team of the Week Players: 2
✔️ Min. Team Rating: 84
✔️ Min. Team Chemistry: 65
✔️ Number of Players in the Squad: 11
REWARDS
? 1 x Jumbo Premium Gold Pack


6 85-RATED SQUAD
REQUIREMENTS
✔️ Min. Team of the Week Players: 2
✔️ Min. Team Rating: 85
✔️ Min. Team Chemistry: 60
✔️ Number of Players in the Squad: 11
REWARDS
? 1 x Rare Gold Pack


7 86-RATED SQUAD
REQUIREMENTS
✔️ Min. Team of the Week Players: 1
✔️ Min. Team Rating: 86
✔️ Min. Team Chemistry: 55
✔️ Number of Players in the Squad: 11
REWARDS
? 1 x Mega Pack


---

HENRIK LARSSON [LOAN]
ℹ️ Try out Prime Icon Henrik Larsson on a 20-Match Loan [Untradeable]
? 1 Challenge
? Non-Repeatable
? From February 15 to February 22, 2018
GROUP REWARDS
? Henrik Larsson Prime ICON card (20-Match Loan)

1 HENRIK LARSSON [LOAN]
REQUIREMENTS
✔️ Min. Team Rating: 82
✔️ Min. Team Chemistry: 60
✔️ Number of Players in the Squad: 11
---

ANDRIY SHEVCHENKO
ℹ️ Build towards earning the Prime version of Andriy Shevchenko [Untradeable]
? 7 Challenges
? Non-Repeatable
? Always available since February 8, 2018
GROUP REWARDS
? Andriy Shevchenko Prime ICON card (untradeable)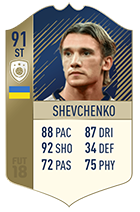 1 MILAN
REQUIREMENTS
✔️ Min. 2 Milan Players
✔️ Min. Players from different Nations: 7
✔️ Min. Team Rating: 82
✔️ Min. Team Chemistry: 90
✔️ Number of Players in the Squad: 10
REWARDS
? 1 x Premium Gold Pack


2 CHELSEA
REQUIREMENTS
✔️ Min. 3 Chelsea Players
✔️ Max 3 Players from the same Nation
✔️ Min. Team Rating: 81
✔️ Min. Team Chemistry: 90
✔️ Number of Players in the Squad: 10
REWARDS
? 1 x Premium Gold Pack


3 UKRAINE
REQUIREMENTS
✔️ Min. 1 Ukraine Players
✔️ Players from different Nations: Exactly 10
✔️ Min. Team Rating: 80
✔️ Min. Team Chemistry: 90
✔️ Number of Players in the Squad: 10
REWARDS
? 1 x Premium Gold Pack


4 84-RATED SQUAD
REQUIREMENTS
✔️ Min. Team of the Week Players: 3
✔️ Max 6 Players from the same Nation
✔️ Min. Team Rating: 84
✔️ Min. Team Chemistry: 65
✔️ Number of Players in the Squad: 11
REWARDS
? 1 x Premium Gold Players Pack


5 85-RATED SQUAD
REQUIREMENTS
✔️ Min. Team of the Week Players: 2
✔️ Min. Team Rating: 85
✔️ Min. Team Chemistry: 60
✔️ Number of Players in the Squad: 11
REWARDS
? 1 x Rare Gold Pack


6 86-RATED SQUAD
REQUIREMENTS
✔️ Min. Team of the Week Players: 1
✔️ Min. Team Rating: 86
✔️ Min. Team Chemistry: 55
✔️ Number of Players in the Squad: 11
REWARDS
? 1 x Mega Pack


7 87-RATED SQUAD
REQUIREMENTS
✔️ Min. Team Rating: 87
✔️ Min. Team Chemistry: 50
✔️ Number of Players in the Squad: 11
REWARDS
? 1 x Rare Players Pack


---

ANDRIY SHEVCHENKO [LOAN]
ℹ️ Try out Prime Icon Andriy Shevchenko on a 20-Match Loan [Untradeable]
? 1 Challenge
? Non-Repeatable
? From February 8 to February 15, 2018
GROUP REWARDS
? Andriy Shevchenko Prime ICON card (20-Match Loan)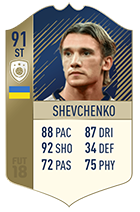 1 ANDRIY SHEVCHENKO [LOAN]
REQUIREMENTS
✔️ Min. Team Rating: 82
✔️ Min. Team Chemistry: 60
✔️ Number of Players in the Squad: 11
---

EDWIN VAN DER SAR
ℹ️ Build towards earning the Prime version of Edwin Van Der Sar [Untradeable]
? 7 Challenges
? Non-Repeatable
? Always available since February 8, 2018
GROUP REWARDS
? Edwin Van Der Sar Prime ICON card (untradeable)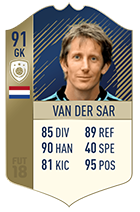 1 AJAX
REQUIREMENTS
✔️ Min. 2 Ajax Players
✔️ Max 4 Players from the same League
✔️ Min. Team Rating: 78
✔️ Min. Team Chemistry: 90
✔️ Number of Players in the Squad: 10
REWARDS
? 1 x Premium Gold Pack


2 JUVENTUS
REQUIREMENTS
✔️ Min. 3 Juventus Players
✔️ Max 5 Players from the same Nation
✔️ Min. Team Rating: 81
✔️ Min. Team Chemistry: 90
✔️ Number of Players in the Squad: 10
REWARDS
? 1 x Premium Gold Pack


3 MANCHESTER UNITED
REQUIREMENTS
✔️ Min. 2 Manchester United Players
✔️ Min. 5 Premier League Players
✔️ Min. Team Rating: 82
✔️ Min. Team Chemistry: 90
✔️ Number of Players in the Squad: 10
REWARDS
? 1 x Premium Gold Pack


4 83-RATED SQUAD
REQUIREMENTS
✔️ Min. Team of the Week Players: 2
✔️ Max 6 Players from the same League
✔️ Min. Team Rating: 83
✔️ Min. Team Chemistry: 75
✔️ Number of Players in the Squad: 11
REWARDS
? 1 x Premium Gold Pack


5 84-RATED SQUAD
REQUIREMENTS
✔️ Min. Team of the Week Players: 2
✔️ Min. Team Chemistry: 65
✔️ Number of Players in the Squad: 11
REWARDS
? 1 x Jumbo Premium Gold Pack


6 85-RATED SQUAD
REQUIREMENTS
Min. Team of the Week Players: 1
✔️ Min. Team Rating: 85
✔️ Min. Team Chemistry: 60
✔️ Number of Players in the Squad: 11
REWARDS
? 1 x Rare Gold Pack


7 86-RATED SQUAD
REQUIREMENTS
✔️ Min. Team of the Week Players: 1
✔️ Min. Team Rating: 86
✔️ Min. Team Chemistry: 55
✔️ Number of Players in the Squad: 11
REWARDS
? 1 x Mega Pack


---

EDWIN VAN DER SAR [LOAN]
ℹ️ Try out Prime Icon Edwin Van Der Sar on a 20-Match Loan [Untradeable]
? 1 Challenge
? Non-Repeatable
? From February 8 to February 15, 2018
GROUP REWARDS
? Edwin Van Der Sar Prime ICON card (20-Match Loan)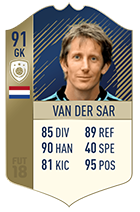 1 FILIPPO INZAGHI [LOAN]
REQUIREMENTS
✔️ Min. Team Rating: 82
✔️ Min. Team Chemistry: 60
✔️ Number of Players in the Squad: 11
---

JAY-JAY OKOCHA
ℹ️ Build towards earning the Prime version of Jay-Jay Okocha [Untradeable]
? 7 Challenges
? Non-Repeatable
? Always available since February 1, 2018
GROUP REWARDS
? Jay-Jay Okocha Prime ICON card (untradeable)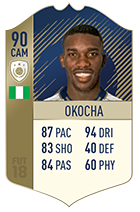 1 EINTRACHT FRANKFURT
REQUIREMENTS
Min. 2 Eintracht Frankfurt Players
Max 4 Players from the same Nation
Min. Team Rating: 80
Min. Team Chemistry: 90
Number of Players in the Squad: 10
REWARDS
? 1 x Premium Gold Pack


2 FENERBAHÇE
REQUIREMENTS
Min. 3 Fenerbahçe SK Players
Min. Players from different Nations: 6
Min. Team Rating: 80
Min. Team Chemistry: 90
Number of Players in the Squad: 10
REWARDS
? 1 x Premium Gold Pack


3 PARIS SAINT-GERMAIN
REQUIREMENTS
Min. 3 Paris Saint-Germain Players
Exactly 10 Ligue 1 Players
Min. Team Rating: 81
Min. Team Chemistry: 95
Number of Players in the Squad: 10
REWARDS
? 1 x Premium Gold Pack


4 BOLTON WANDERERS
REQUIREMENTS
Exactly 10 Premier League Players
Min. Team of the Week Players: 1
Min. Team Rating: 82
Min. Team Chemistry: 95
Number of Players in the Squad: 10
REWARDS
? 1 x Premium Gold Pack


5 84-RATED SQUAD
REQUIREMENTS
Min. Team of the Week Players: 3
Min. Team Rating: 84
Min. Team Chemistry: 65
Number of Players in the Squad: 11
REWARDS
? 1 x Jumbo Premium Gold Pack


6 85-RATED SQUAD
REQUIREMENTS
Min. Team of the Week Players: 2
Min. Team Rating: 85
Min. Team Chemistry: 60
Number of Players in the Squad: 11
REWARDS
? 1 x Rare Gold Pack


7 86-RATED SQUAD
REQUIREMENTS
Min. Team of the Week Players: 2
Min. Team Rating: 86
Min. Team Chemistry: 55
Number of Players in the Squad: 11
REWARDS
? 1 x Mega Pack


---

JAY-JAY OKOCHA [LOAN]
ℹ️ Try out Prime Icon Jay-Jay Okocha on a 20-Match Loan [Untradeable]
? 1 Challenge
? Non-Repeatable
? From February 1 to February 8, 2018
GROUP REWARDS
? Jay-Jay Okocha Prime ICON card (20-Match Loan)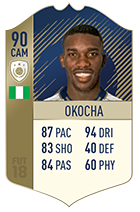 1 FILIPPO INZAGHI [LOAN]
REQUIREMENTS
✔️ Min. Team Rating: 82
✔️ Min. Team Chemistry: 60
✔️ Number of Players in the Squad: 11
---

FILIPPO INZAGHI
ℹ️ Build towards earning the Prime version of Filippo Inzaghi [Untradeable]
? 7 Challenges
? Non-Repeatable
? Always available since February 1, 2018
GROUP REWARDS
? Filippo Inzaghi Prime ICON card (untradeable)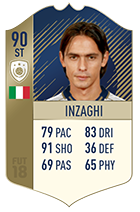 1 JUVENTUS
REQUIREMENTS
✔️ Min. 3 Juventus Players
✔️ Exactly 10 Calcio A Players
✔️ Min. Team Rating: 81
✔️ Min. Team Chemistry: 95
✔️ Number of Players in the Squad: 10
REWARDS
? 1 x Premium Gold Pack


2 MILAN
REQUIREMENTS
✔️ Min. 3 Milan Players
✔️ Max 5 Players from the same League
✔️ Min. Team Rating: 81
✔️ Min. Team Chemistry: 90
✔️ Number of Players in the Squad: 10
REWARDS
? 1 x Premium Gold Pack


3 ITALY
REQUIREMENTS
✔️ Exactly 10 Italy Players
✔️ Min. Team Rating: 80
✔️ Min. Team Chemistry: 95
✔️ Number of Players in the Squad: 10
REWARDS
? 1 x Premium Gold Pack


4 83-RATED SQUAD
REQUIREMENTS
✔️ Min. Team of the Week Players: 1
✔️ Max 4 Players from the same Nation
✔️ Min. Team Rating: 83
✔️ Min. Team Chemistry: 75
✔️ Number of Players in the Squad: 11
REWARDS
? 1 x Premium Gold Pack


5 84-RATED SQUAD
REQUIREMENTS
✔️ Min. Team of the Week Players: 2
✔️ Min. Team Rating: 84
✔️ Min. Team Chemistry: 65
✔️ Number of Players in the Squad: 11
REWARDS
? 1 x Jumbo Premium Gold Pack


6 85-RATED SQUAD
REQUIREMENTS
✔️ Min. Team of the Week Players: 1
✔️ Min. Team Rating: 85
✔️ Min. Team Chemistry: 60
✔️ Number of Players in the Squad: 11
REWARDS
? 1 x Rare Gold Pack


7 86-RATED SQUAD
REQUIREMENTS
✔️ Min. Team of the Week Players: 1
✔️ Min. Team Rating: 86
✔️ Min. Team Chemistry: 55
✔️ Number of Players in the Squad: 11
REWARDS
? 1 x Mega Pack


---

FILIPPO INZAGHI [LOAN]
ℹ️ Try out Prime Icon Filippo Inzaghi on a 20-Match Loan [Untradeable]
? 1 Challenge
? Non-Repeatable
? From February 1 to February 8, 2018
GROUP REWARDS
? Filippo Inzaghi Prime ICON card (20-Match Loan)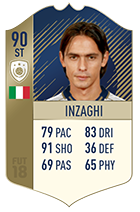 1 FILIPPO INZAGHI [LOAN]
REQUIREMENTS
✔️ Min. Team Rating: 82
✔️ Min. Team Chemistry: 60
✔️ Number of Players in the Squad: 11
---

LEV YASHIN
ℹ️ Build towards earning the Prime version of Lev Yashin [Untradeable]
? 7 Challenges
? Non-Repeatable
? Always available since January 18, 2018
GROUP REWARDS
? Lev Yashin Prime ICON card (untradeable)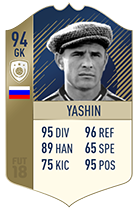 1 DYNAMO MOSCOW
REQUIREMENTS
✔️ Min. 1 Dinamo Moscow Players
✔️ Max 5 Players from the same League
✔️ Min. Team Rating: 80
✔️ Min. Team Chemistry: 90
✔️ Number of Players in the Squad: 10
REWARDS
? 1 x Premium Gold Pack


2 RUSSIA
REQUIREMENTS
✔️ Min. 3 Russia Players
✔️ Min. Players from different Nations: 5
✔️ Min. Team Rating: 81
✔️ Min. Team Chemistry: 90
✔️ Number of Players in the Squad: 10
REWARDS
? 1 x Premium Gold Pack


3 83-RATED SQUAD
REQUIREMENTS
✔️ Min. Team of the Week Players: 2
✔️ Min. Team Rating: 83
✔️ Min. Team Chemistry: 75
✔️ Number of Players in the Squad: 11
REWARDS
? 1 x Premium Gold Pack


4 84-RATED SQUAD
REQUIREMENTS
✔️ Max 5 Players from the same Nation
✔️ Min. Team Rating: 84
✔️ Min. Team Chemistry: 75
REWARDS
? 1 x Premium Gold Players Pack


5 85-RATED SQUAD
REQUIREMENTS
✔️ Min. Team of the Week Players: 2
✔️ Min. Team Rating: 85
✔️ Min. Team Chemistry: 65
✔️ Number of Players in the Squad: 11
REWARDS
? 1 x Rare Gold Pack


6 86-RATED SQUAD
REQUIREMENTS
✔️ Min. Team of the Week Players: 2
✔️ Min. Team Rating: 86
✔️ Min. Team Chemistry: 60
✔️ Number of Players in the Squad: 11
REWARDS
? 1 x Mega Pack


7 87-RATED SQUAD
REQUIREMENTS
✔️ Min. Team of the Week Players: 1
✔️ Min. Team Rating: 87
✔️ Min. Team Chemistry: 55
✔️ Number of Players in the Squad: 11
REWARDS
? 1 x Rare Player Pack


---

LEV YASHIN [LOAN]
ℹ️ Try out Prime Icon Lev Yashin on a 20-Match Loan [Untradeable]
? 1 Challenge
? Non-Repeatable
? From January 18 to January 25, 2018
GROUP REWARDS
? Lev Yashin Prime ICON card (20-Match Loan)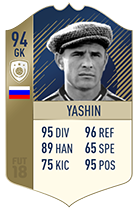 1 LEV YASHIN [LOAN]
REQUIREMENTS
✔️ Min. Team Rating: 83
✔️ Min. Team Chemistry: 60
✔️ Number of Players in the Squad: 11
---

RONALDINHO
ℹ️ Build towards earning the Prime version of Ronaldinho [Untradeable]
? 12 Challenges
? Non-Repeatable
? Always available since January 18, 2018
GROUP REWARDS
? Ronaldinho Prime ICON card (untradeable)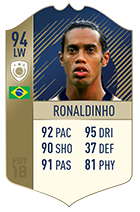 1 RONALDINHO – AN ICON
REQUIREMENTS
✔️ Icon Players: Exactly 1
✔️ Number of Players in the Squad: 1
REWARDS
? 1 x Jumbo Rare Players Pack


2 PARIS SAINT-GERMAIN
REQUIREMENTS
✔️ Min. 2 Paris Saint-Germain Players
✔️ Min. Players from different Nations: 5
✔️ Min. Team Rating: 82
✔️ Min. Team Chemistry: 90
✔️ Number of Players in the Squad: 10
REWARDS
? 1 x Jumbo Premium Gold Pack


3 FC BARCELONA
REQUIREMENTS
✔️ Min. 2 FC Barcelona Players
✔️ Exactly 10 LaLiga Santander Players
✔️ Min. Team Rating: 82
✔️ Min. Team Chemistry: 95
✔️ Number of Players in the Squad: 10
REWARDS
? 1 x Jumbo Premium Gold Pack


4 MILAN
REQUIREMENTS
✔️ Exactly 1 Milan Players
✔️ Max 4 Players from the same Nation
✔️ Min. Team Rating: 81
✔️ Min. Team Chemistry: 90
✔️ Number of Players in the Squad: 10
REWARDS
? 1 x Premium Gold Players Pack


5 BRAZIL
REQUIREMENTS
✔️ Min. 4 Brazil Players
✔️ Min. Team Rating: 83
✔️ Min. Team Chemistry: 90
✔️ Number of Players in the Squad: 10
REWARDS
? 1 x Jumbo Premium Gold Pack


6 83-RATED SQUAD
REQUIREMENTS
✔️ Min. Team of the Week Players: 2
✔️ Min. Team Rating: 83
✔️ Min. Team Chemistry: 75
✔️ Number of Players in the Squad: 11
REWARDS
? 1 x Rare Gold Pack


7 84-RATED SQUAD
REQUIREMENTS
✔️ Min. Team of the Week Players: 1
✔️ Min. Team Rating: 84
✔️ Min. Team Chemistry: 70
✔️ Number of Players in the Squad: 11
REWARDS
? 1 x Mega Pack


8 85-RATED SQUAD
REQUIREMENTS
✔️ Min. Team of the Week Players: 2
✔️ Min. Team Rating: 85
✔️ Min. Team Chemistry: 65
✔️ Number of Players in the Squad: 11
REWARDS
? 1 x Prime Gold Players Pack


9 86-RATED SQUAD
REQUIREMENTS
✔️ Min. Team of the Week Players: 1
✔️ Min. Team Rating: 86
✔️ Min. Team Chemistry: 60
✔️ Number of Players in the Squad: 11
REWARDS
? 1 x Rare Players Pack


10 87-RATED SQUAD
REQUIREMENTS
✔️ Min. Team of the Week Players: 1
✔️ Min. Team Rating: 87
✔️ Min. Team Chemistry: 55
✔️ Number of Players in the Squad: 11
REWARDS
? 1 x Rare Mega Pack


11 88-RATED SQUAD
REQUIREMENTS
✔️ Icon Players: Exactly 1
✔️ Min. Team Rating: 88
✔️ Min. Team Chemistry: 50
✔️ Number of Players in the Squad: 11
REWARDS
? 1 x Jumbo Rare Players Pack


12 89-RATED SQUAD
REQUIREMENTS
✔️ Icon Players: Exactly 1
✔️ Min. Team Rating: 89
✔️ Min. Team Chemistry: 50
✔️ Number of Players in the Squad: 11
REWARDS
? 1 x Jumbo Rare Players Pack


---

RONALDINHO [LOAN]
ℹ️ Try out Prime Icon Ronaldinho on a 20-Match Loan [Untradeable]
? 1 Challenge
? Non-Repeatable
? From January 18 to January 25, 2018
GROUP REWARDS
? Ronaldinho Prime ICON card (20-Match Loan)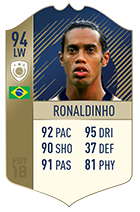 1 RONALDINHO [LOAN]
REQUIREMENTS
✔️ Min. Team Rating: 83
✔️ Min. Team Chemistry: 60
✔️ Number of Players in the Squad: 11
---

LOTHAR MATTHÄUS
ℹ️ Build towards earning the Prime version of Lothar Matthäus [Untradeable]
? 12 Challenges
? Non-Repeatable
? Always available since January 18, 2018
GROUP REWARDS
? Lothar Matthäus Prime ICON card (untradeable)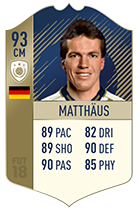 1 MATTHÄUS – AN ICON
REQUIREMENTS
✔️ Icon Players: Exactly 1
✔️ Min. Team Chemistry: 3
✔️ Number of Players in the Squad: 1
REWARDS
? 1 x Jumbo Rare Players Pack


2 GERMANY
REQUIREMENTS
✔️ Min. 4 Germany Players
✔️ Min. Team Rating: 82
✔️ Min. Team Chemistry: 90
✔️ Number of Players in the Squad: 10
REWARDS
? 1 x Jumbo Premium Gold Pack


3 BORUSSIA MÖNCHENGLADBACH
REQUIREMENTS
✔️ Min. 2 Borussia Mönchengladbach Players
✔️ Max 5 Bundesliga Players
✔️ Min. Team Rating: 81
✔️ Min. Team Chemistry: 85
✔️ Number of Players in the Squad: 10
REWARDS
? 1 x Jumbo Premium Gold Pack


4 FC BAYERN MÜNCHEN
REQUIREMENTS
✔️ Min. 2 FC Bayern München Players
✔️ Max 5 Players from the same Nation
✔️ Min. Team Rating: 82
✔️ Min. Team Chemistry: 85
✔️ Number of Players in the Squad: 10
REWARDS
? 1 x Premium Gold Players Pack


5 INTER
REQUIREMENTS
✔️ Min. 2 Inter Players
✔️ Max 5 Players from the same League
✔️ Min. Team Rating: 82
✔️ Min. Team Chemistry: 85
✔️ Number of Players in the Squad: 10
REWARDS
? 1 x Jumbo Premium Gold Pack


6 83-RATED SQUAD
REQUIREMENTS
✔️ Min. Team of the Week Players: 2
✔️ Min. Team Rating: 83
✔️ Min. Team Chemistry: 75
✔️ Number of Players in the Squad: 11
REWARDS
? 1 x Rare Gold Pack


7 84-RATED SQUAD
REQUIREMENTS
✔️ Min. Team of the Week Players: 1
✔️ Min. Team Rating: 84
✔️ Min. Team Chemistry: 70
✔️ Number of Players in the Squad: 11
REWARDS
? 1 x Mega Pack


8 85-RATED SQUAD
REQUIREMENTS
✔️ Min. Team of the Week Players: 2
✔️ Min. Team Rating: 85
✔️ Min. Team Chemistry: 65
✔️ Number of Players in the Squad: 11
REWARDS
? 1 x Prime Gold Players Pack


9 86-RATED SQUAD
REQUIREMENTS
✔️ Min. Team of the Week Players: 1
✔️ Min. Team Rating: 86
✔️ Min. Team Chemistry: 60
✔️ Number of Players in the Squad: 11
REWARDS
? 1 x Rare Players Pack


10 87-RATED SQUAD
REQUIREMENTS
✔️ Min. Team of the Week Players: 1
✔️ Min. Team Rating: 87
✔️ Min. Team Chemistry: 55
✔️ Number of Players in the Squad: 11
REWARDS
? 1 x Rare Mega Pack


11 88-RATED SQUAD
REQUIREMENTS
✔️ Icon Players: Exactly 1
✔️ Min. Team Rating: 88
✔️ Min. Team Chemistry: 50
✔️ Number of Players in the Squad: 11
REWARDS
? 1 x Jumbo Rare Players Pack


12 89-RATED SQUAD
REQUIREMENTS
✔️ Icon Players: Exactly 1
✔️ Min. Team Rating: 89
✔️ Min. Team Chemistry: 50
✔️ Number of Players in the Squad: 11
REWARDS
? 1 x Jumbo Rare Players Pack


---

LOTHAR MATTHÄUS [LOAN]
ℹ️ Try out Prime Icon Lothar Matthäus on a 20-Match Loan [Untradeable]
? 1 Challenge
? Non-Repeatable
? From January 18 to January 25, 2018
GROUP REWARDS
? Lothar Matthäus Prime ICON card (20-Match Loan)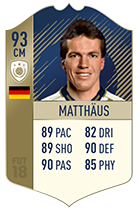 1 LOTHAR MATTHÄUS [LOAN]
REQUIREMENTS
✔️ Min. Team Rating: 83
✔️ Min. Team Chemistry: 60
✔️ Number of Players in the Squad: 11
---

MARCO VAN BASTEN
ℹ️ Build towards earning the Prime version of Marco Van Basten [Untradeable]
? – Challenges
? Non-Repeatable
? Always available since January 18, 2018
GROUP REWARDS
? Marco Van Basten Prime ICON card (untradeable)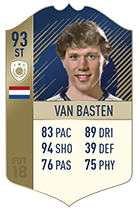 1 AJAX
REQUIREMENTS
✔️ Min. 2 Ajax Players
✔️ Min. 5 Eredivisie Players
✔️ Min. Team Rating: 77
✔️ Min. Team Chemistry: 90
✔️ Number of Players in the Squad: 10
REWARDS
? 1 x Premium Gold Pack


2 MILAN
REQUIREMENTS
✔️ Min. 2 Milan Players
✔️ Max 5 Players from the same League
✔️ Min. Team Rating: 83
✔️ Min. Team Chemistry: 90
✔️ Number of Players in the Squad: 10
REWARDS
? 1 x Premium Gold Pack


3 NETHERLANDS
REQUIREMENTS
✔️ Min. 3 Netherlands Players
✔️ Min. Team Rating: 82
✔️ Min. Team Chemistry: 90
✔️ Number of Players in the Squad: 10
REWARDS
? 1 x Premium Gold Pack


4 84-RATED SQUAD
REQUIREMENTS
✔️ Min. Team of the Week Players: 1
✔️ Min. Team Rating: 84
✔️ Min. Team Chemistry: 75
✔️ Number of Players in the Squad: 11
REWARDS
? 1 x Premium Gold Players Pack


5 85-RATED SQUAD
REQUIREMENTS
✔️ Min. Team of the Week Players: 2
✔️ Min. Team Rating: 85
✔️ Min. Team Chemistry: 65
✔️ Number of Players in the Squad: 11
REWARDS
? 1 x Rare Gold Pack


6 86-RATED SQUAD
REQUIREMENTS
✔️ Min. Team of the Week Players: 2
✔️ Min. Team Rating: 86
✔️ Min. Team Chemistry: 60
✔️ Number of Players in the Squad: 11
REWARDS
? 1 x Mega Pack


7 87-RATED SQUAD
REQUIREMENTS
✔️ Min. Team of the Week Players: 2
✔️ Min. Team Rating: 87
✔️ Min. Team Chemistry: 55
✔️ Number of Players in the Squad: 11
REWARDS
? 1 x Rare Player Pack


---

MARCO VAN BASTEN [LOAN]
ℹ️ Try out Prime Icon Marco Van Basten on a 20-Match Loan [Untradeable]
? 1 Challenge
? Non-Repeatable
? From January 18 to January 25, 2018
GROUP REWARDS
? Marco Van Basten Prime ICON card (20-Match Loan)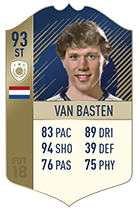 1 MARCO VAN BASTEN [LOAN]
REQUIREMENTS
✔️ Min. Team Rating: 82
✔️ Min. Team Chemistry: 60
✔️ Number of Players in the Squad: 11
---

ALAN SHEARER
ℹ️ Build towards earning the Prime version of Alan Shearer [Untradeable]
? 7 Challenges
? Non-Repeatable
? Always available since December 28, 2017
GROUP REWARDS
? Alan Shearer Prime ICON card (untradeable)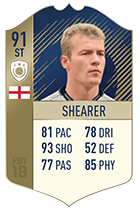 1 SHOUTHAMPTON
REQUIREMENTS
✔️ Min. players from Southampton: 3
✔️ Min. IF Players: 2
✔️ Min. Squad Rating: 81
✔️ Min. Team Chemistry: 90
✔️ Number of Players in the Squad: 10
REWARDS
? 1 x Premium Gold Pack


2 ENGLAND
REQUIREMENTS
✔️ Min. England Players: 5
✔️ Min. Team Rating: 82
✔️ Min. Team Chemistry: 95
✔️ Number of Players in the Squad: 10
REWARDS
? 1 x Jumbo Premium Gold Pack


3 NEWCASTLE UNITED
REQUIREMENTS
✔️ Min. Newcastle Players: 2
✔️ Players from Premier League: Exactly 10
✔️ Min. Team Rating: 82
✔️ Min. Team Chemistry: 85
✔️ Number of Players in the Squad: 10
REWARDS
? 1 x Jumbo Premium Gold Pack


4 83-RATED SQUAD
REQUIREMENTS
✔️ Nationalities: Exactly 4
✔️ Max. Same nation Count: 5
✔️ Min. IF players: 1
✔️ Min. Team Rating: 83
✔️ Min. Team Chemistry: 75
✔️ Number of Players in the Squad: 11
REWARDS
? 1 x Premium Gold Pack


5 84-RATED SQUAD
REQUIREMENTS
✔️ Min. Team of the Week Players: 1
✔️ Min. Team Rating: 84
✔️ Min. Team Chemistry: 75
✔️ Number of Players in the Squad: 11
REWARDS
? 1 x Jumbo Premium Gold Pack


6 85-RATED SQUAD
REQUIREMENTS
✔️ Min. Team of the Week Players: 1
✔️ Min. Team Rating: 85
✔️ Min. Team Chemistry: 60
✔️ Number of Players in the Squad: 11
REWARDS
? 1 x Rare Gold Pack


7 86-RATED SQUAD
REQUIREMENTS
✔️ Min. Team of the Week Players: 2
✔️ Min. Team Rating: 86
✔️ Min. Team Chemistry: 55
✔️ Number of Players in the Squad: 11
REWARDS
? 1 x Mega Pack


---

ALAN SHEARER [LOAN]
ℹ️ Try out Prime Icon Alan Shearer on a 20-Match Loan [Untradeable]
? 1 Challenge
? Non-Repeatable
? From December 28 to January 4, 2018
GROUP REWARDS
? Alan Shearer Prime ICON card (20-Match Loan)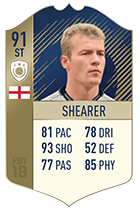 1 ALAN SHEARER [LOAN]
REQUIREMENTS
✔️ Min. Team Rating: 82
✔️ Min. Team Chemistry: 60
✔️ Number of Players in the Squad: 11
---

CARLES PUYOL
ℹ️ Build towards earning the Prime version of Carles Puyol [Untradeable]
? 7 Challenges
? Non-Repeatable
? Always available since December 28, 2017
GROUP REWARDS
? Carles Puyol Prime ICON card (untradeable)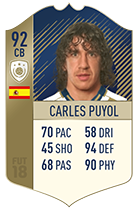 1 BARCELONA
REQUIREMENTS
✔️ Min. 3 FC Barcelona Players
✔️ Max 5 Players from the same League
✔️ Min. Team Rating: 83
✔️ Min. Team Chemistry: 90
✔️ Number of Players in the Squad: 10
REWARDS
? 1 x Jumbo Premium Gold Pack


2 SPAIN
REQUIREMENTS
✔️ Min. 5 Spain Players
✔️ Min. Team Rating: 81
✔️ Min. Team Chemistry: 90
✔️ Number of Players in the Squad: 10
REWARDS
? 1 x Jumbo Premium Gold Pack


3 2010 NETHERLANDS
REQUIREMENTS
✔️ Min. 2 Netherlands Players
✔️ Min. Players from different Leagues: 7
✔️ Min. Team Rating: 79
✔️ Min. Team Chemistry: 95
✔️ Number of Players in the Squad: 11
REWARDS
? 1 x Jumbo Premium Gold Pack


4 84-RATED SQUAD
REQUIREMENTS
✔️ Max 6 Players from the same League
✔️ Min. Team Rating: 84
✔️ Min. Team Chemistry: 75
✔️ Number of Players in the Squad: 11
REWARDS
? 1 x Premium Gold Players Pack


5 85-RATED SQUAD
REQUIREMENTS
✔️ Min. Team of the Week Players: 1
✔️ Min. Team Rating: 85
✔️ Min. Team Chemistry: 65
✔️ Number of Players in the Squad: 11
REWARDS
? 1 x Rare Gold Pack


6 86-RATED SQUAD
REQUIREMENTS
✔️ Min. Team of the Week Players: 1
✔️ Min. Team Rating: 86
✔️ Min. Team Chemistry: 60
✔️ Number of Players in the Squad: 11
REWARDS
? 1 x Mega Pack


7 87-RATED SQUAD
REQUIREMENTS
✔️ Min. Team of the Week Players: 1
✔️ Min. Team Rating: 87
✔️ Min. Team Chemistry: 55
✔️ Number of Players in the Squad: 11
REWARDS
? 1 x Rare Players Pack


---

CARLES PUYOL [LOAN]
ℹ️ Try out Prime Icon Carles Puyol on a 20-Match Loan [Untradeable]
? 1 Challenge
? Non-Repeatable
? From December 28 to January 4, 2018
GROUP REWARDS
? Carles Puyol Prime ICON card (20-Match Loan)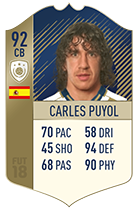 1 CARLES PUYOL [LOAN]
REQUIREMENTS
✔️ Min. Team Rating: 82
✔️ Min. Team Chemistry: 60
✔️ Number of Players in the Squad: 11
---

DENNIS BERGKAMP
ℹ️ Build towards earning the Prime version of Dennis Bergkamp [Untradeable]
? 8 Challenges
? Non-Repeatable
? Always available since December 28, 2017
GROUP REWARDS
? Dennis Bergkamp Prime ICON card (untradeable)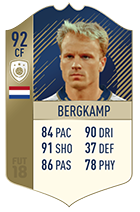 1 BERGKAMP – AN ICON
REQUIREMENTS
✔️ Icon Players: Exactly 1
✔️ Number of Players in the Squad: 1
REWARDS
? 1 x Jumbo Rare Players Pack


2 AJAX
REQUIREMENTS
✔️ Min. 1 Ajax Players
✔️ Players from different Nations: Exactly 3
✔️ Min. Team Rating: 81
✔️ Min. Team Chemistry: 90
✔️ Number of Players in the Squad: 10
REWARDS
? 1 x Jumbo Premium Gold Pack


3 NETHERLANDS
REQUIREMENTS
✔️ Min. 4 Netherlands Players
✔️ Max 4 Players from the same League
✔️ Min. Team Rating: 83
✔️ Min. Team Chemistry: 90
✔️ Number of Players in the Squad: 10
REWARDS
? 1 x Jumbo Premium Gold Pack


4 ARSENAL
REQUIREMENTS
✔️ Min. 3 Arsenal Players
✔️ Min. Team Rating: 84
✔️ Min. Team Chemistry: 95
✔️ Number of Players in the Squad: 10
REWARDS
? 1 x Premium Gold Players Pack


5 84-RATED SQUAD
REQUIREMENTS
✔️ Players from different Nations: Exactly 5
✔️ Min. Team Rating: 84
✔️ Min. Team Chemistry: 75
✔️ Number of Players in the Squad: 11
REWARDS
? 1 x Jumbo Premium Gold Pack


6 85-RATED SQUAD
REQUIREMENTS
✔️ Min. Team Rating: 85
✔️ Min. Team Chemistry: 65
✔️ Number of Players in the Squad: 11
REWARDS
? 1 x Rare Gold Pack


7 86-RATED SQUAD
REQUIREMENTS
✔️ Min. Team Rating: 86
✔️ Min. Team Chemistry: 60
✔️ Number of Players in the Squad: 11
REWARDS
? 1 x Mega Pack


8 87-RATED SQUAD
REQUIREMENTS
✔️ Min. Team Rating: 87
✔️ Min. Team Chemistry: 55
✔️ Number of Players in the Squad: 11
REWARDS
? 1 x Rare Players Pack


---

DENNIS BERGKAMP [LOAN]
ℹ️ Try out Prime Icon Dennis Bergkamp on a 20-Match Loan [Untradeable]
? 1 Challenge
? Non-Repeatable
? From December 28 to January 4, 2018
GROUP REWARDS
? Dennis Bergkamp Prime ICON card (20-Match Loan)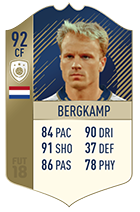 1 DENNIS BERGKAMP [LOAN]
REQUIREMENTS
✔️ Min. Team Rating: 83
✔️ Min. Team Chemistry: 60
✔️ Number of Players in the Squad: 11
---

PATRICK VIEIRA
ℹ️ Build towards earning the Prime version of Patrick Vieira [Untradeable]
? 12 Challenges
? Non-Repeatable
? Always available since December 28, 2017
GROUP REWARDS
? Patrick Vieira Prime ICON card (untradeable)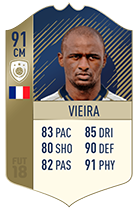 1 VIEIRA – AN ICON
REQUIREMENTS
✔️ Icon Players: Exactly 1
✔️ Min. Team Chemistry: 3
✔️ Number of Players in the Squad: 1
REWARDS
? 1 x Jumbo Rare Players Pack


2 FRANCE
REQUIREMENTS
✔️ Min. 5 France Players
✔️ Min. Team Rating: 81
✔️ Min. Team Chemistry: 85
✔️ Number of Players in the Squad: 10
REWARDS
? 1 x Jumbo Premium Gold Pack


3 ARSENAL
REQUIREMENTS
✔️ Min. 5 Premier League Players
✔️ Min. 3 Arsenal Players
✔️ Min. Team Rating: 81
✔️ Min. Team Chemistry: 95
✔️ Number of Players in the Squad: 10
REWARDS
? 1 x Jumbo Premium Gold Pack


4 ARSENAL
REQUIREMENTS
✔️ Min. 3 Arsenal Players
✔️ Min. Team Rating: 84
✔️ Min. Team Chemistry: 95
✔️ Number of Players in the Squad: 10
REWARDS
? 1 x Premium Gold Players Pack


5 JUVENTUS & INTER
REQUIREMENTS
✔️ Min. 4 Juventus + Inter Players
✔️ Exactly 10 Calcio A Players
✔️ Min. Team Rating: 82
✔️ Min. Team Chemistry: 95
✔️ Number of Players in the Squad: 10
REWARDS
? 1 x Premium Gold Players Pack


6 MANCHESTER CITY
REQUIREMENTS
✔️ Min. 2 Manchester City Players
✔️ Min. 5 Premier League Players
✔️ Min. Team of the Week Players: 1
✔️ Min. Team Rating: 78
✔️ Min. Team Chemistry: 80
✔️ Number of Players in the Squad: 10
REWARDS
? 1 x Jumbo Premium Gold Pack


7 84-RATED SQUAD
REQUIREMENTS
✔️ Min. Team of the Week Players: 1
✔️ Min. Team Rating: 84
✔️ Min. Team Chemistry: 70
✔️ Number of Players in the Squad: 11
REWARDS
? 1 x Mega Pack


8 85-RATED SQUAD
REQUIREMENTS
✔️ Min. Team of the Week Players: 2
✔️ Min. Team Rating: 85
✔️ Min. Team Chemistry: 65
✔️ Number of Players in the Squad: 11
REWARDS
? 1 x Prime Gold Players Pack


9 86-RATED SQUAD
REQUIREMENTS
✔️ Min. Team of the Week Players: 1
✔️ Min. Team Rating: 86
✔️ Min. Team Chemistry: 60
✔️ Number of Players in the Squad: 11
REWARDS
? 1 x Rare Players Pack


? 87-RATED SQUAD
REQUIREMENTS
✔️ Min. Team of the Week Players: 1
✔️ Min. Team Rating: 87
✔️ Min. Team Chemistry: 55
✔️ Number of Players in the Squad: 11
REWARDS
? 1 x Rare Mega Pack


11 88-RATED SQUAD
REQUIREMENTS
✔️ Min. Team of the Week Players: 1
✔️ Min. Team Rating: 88
✔️ Min. Team Chemistry: 50
✔️ Number of Players in the Squad: 11
REWARDS
? 1 x Jumbo Rare Players Pack


12 89-RATED SQUAD
REQUIREMENTS
✔️ Icon Players: Exactly 1
✔️ Min. Team Rating: 89
✔️ Min. Team Chemistry: 50
✔️ Number of Players in the Squad: 11
REWARDS
? 1 x Jumbo Rare Players Pack


---

PATRICK VIEIRA [LOAN]
ℹ️ Try out Prime Icon Patrick Vieira on a 20-Match Loan [Untradeable]
? 1 Challenge
? Non-Repeatable
? From December 28 to January 4, 2018
GROUP REWARDS
? Patrick Vieira Prime ICON card (20-Match Loan)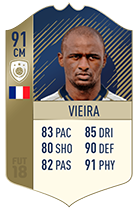 1 PATRICK VIEIRA [LOAN]
REQUIREMENTS
✔️ Min. Team Rating: 83
✔️ Min. Team Chemistry: 60
✔️ Number of Players in the Squad: 11
---

DECO
ℹ️ Build towards earning the Prime version of Deco [Untradeable]
? 7 Challenges
? Non-Repeatable
? Always available since December 7, 2017
GROUP REWARDS
? Deco Prime ICON card (untradeable)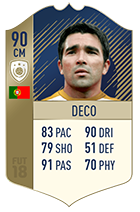 1 FC PORTO
REQUIREMENTS
✔️ Min. 3 FC Porto Players
✔️ Min. Team of the Week Players: 2
✔️ Min. Team Rating: 81
✔️ Min. Team Chemistry: 90
✔️ Number of Players in the Squad: 10
REWARDS
? 1 x Jumbo Premium Gold Pack


2 FC BARCELONA
REQUIREMENTS
✔️ Min. 1 FC Barcelona Players
✔️ Min. Team Rating: 82
✔️ Min. Team Chemistry: 90
✔️ Number of Players in the Squad: 10
REWARDS
? 1 x Premium Gold Pack


3 CHELSEA
REQUIREMENTS
✔️ Min. 2 Chelsea Players
✔️ Max 4 Players from the same Nation
✔️ Min. Team Rating: 81
✔️ Min. Team Chemistry: 90
✔️ Number of Players in the Squad: 10
REWARDS
? 1 x Premium Gold Pack


4 83-RATED SQUAD
REQUIREMENTS
✔️ Min. Team of the Week Players: 2
✔️ Min. Team Rating: 83
✔️ Min. Team Chemistry: 75
✔️ Number of Players in the Squad: 11
REWARDS
? 1 x Premium Gold Pack


5 84-RATED SQUAD
REQUIREMENTS
✔️ Min. TOTW Players: 1
✔️ Min. Team Rating: 84
✔️ Min. Team Chemistry: 70
✔️ Number of Players in the Squad: 11
REWARDS
? 1 x Premium Gold Players Pack


6 85-RATED SQUAD
REQUIREMENTS
✔️ Min. Team of the Week Players: 2
✔️ Min. Team Rating: 85
✔️ Min. Team Chemistry: 65
✔️ Number of Players in the Squad: 11
REWARDS
? 1 x Rare Gold Pack


7 86-RATED SQUAD
REQUIREMENTS
✔️ Min. Team of the Week Players: 2
✔️ Min. Team Rating: 86
✔️ Min. Team Chemistry: 60
✔️ Number of Players in the Squad: 11
REWARDS
? 1 x Mega Pack


---

DECO [LOAN]
ℹ️ Try out Prime Icon Deco on a 20-Match Loan [Untradeable]
? 1 Challenge
? Non-Repeatable
? From December 7 to December 14, 2017
GROUP REWARDS
? Deco Prime ICON card (20-Match Loan)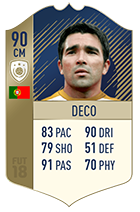 1 DECO [LOAN]
REQUIREMENTS
✔️ Min. Team Rating: 82
✔️ Min. Team Chemistry: 60
✔️ Number of Players in the Squad: 11
---

ROBERT PIRÈS
ℹ️ Build towards earning the Prime version of Robert Pirès [Untradeable]
? 7 Challenges
? Non-Repeatable
? Always available since December 7, 2017
GROUP REWARDS
? Robert Pirès Prime ICON card (untradeable)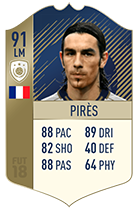 1 LIGUE 1
REQUIREMENTS
✔️ Exactly 10 Ligue 1 Players
✔️ Rare Players: Exactly 10
✔️ Exactly Gold Players
✔️ Min. Team Chemistry: 95
✔️ Number of Players in the Squad: 10
REWARDS
? 1 x Premium Gold Pack


2 ARSENAL
REQUIREMENTS
✔️ Min. 2 Arsenal Players
✔️ Exactly 10 Premier League Players
✔️ Min. Team Rating: 81
✔️ Min. Team Chemistry: 95
✔️ Number of Players in the Squad: 10
REWARDS
? 1 x Premium Gold Pack


3 VILLAREAL CF
REQUIREMENTS
✔️ Min. Team of the Week Players: 1
✔️ Min. 1 Villarreal CF Players
✔️ Min. 5 LaLiga Santander Players
✔️ Min. Team Rating: 82
✔️ Min. Team Chemistry: 95
✔️ Number of Players in the Squad: 10
REWARDS
? 1 x Premium Gold Players Pack


4 83-RATED SQUAD
REQUIREMENTS
✔️ Min. Team of the Week Players: 2
✔️ Min. Team Rating: 83
✔️ Min. Team Chemistry: 75
✔️ Number of Players in the Squad: 11
REWARDS
? 1 x Premium Gold Pack


5 84-RATED SQUAD
REQUIREMENTS
✔️ Min. TOTW Players: 3
✔️ Min. Team Rating: 84
✔️ Min. Team Chemistry: 70
✔️ Number of Players in the Squad: 11
REWARDS
? 1 x Jumbo Premium Gold Pack


6 85-RATED SQUAD
REQUIREMENTS
✔️ Min. Team of the Week Players: 2
✔️ Min. Team Rating: 85
✔️ Min. Team Chemistry: 65
✔️ Number of Players in the Squad: 11
REWARDS
? 1 x Rare Gold Pack


7 86-RATED SQUAD
REQUIREMENTS
✔️ Min. Team of the Week Players: 1
✔️ Min. Team Rating: 86
✔️ Min. Team Chemistry: 60
✔️ Number of Players in the Squad: 11
REWARDS
? 1 x Mega Pack


---

ROBERT PIRÈS [LOAN]
ℹ️ Try out Prime Icon Robert Pirès on a 20-Match Loan [Untradeable]
? 1 Challenge
? Non-Repeatable
? From December 7 to December 14, 2017
GROUP REWARDS
? Robert Pirès Prime ICON card (20-Match Loan)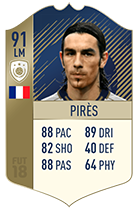 1 ROBERT PIRÈS [LOAN]
REQUIREMENTS
✔️ Min. Team Rating: 82
✔️ Min. Team Chemistry: 60
✔️ Number of Players in the Squad: 11
---

GHEORGHE HAGI
ℹ️ Build towards earning the Prime version of Gheorghe Hagi [Untradeable]
? 7 Challenges
? Non-Repeatable
? Always available since November 23, 2017
GROUP REWARDS
? Gheorghe Hagi Prime ICON card (untradeable)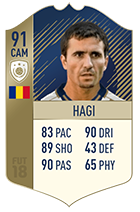 1 REAL MADRID
REQUIREMENTS
✔️ Min. 3 Real Madrid CF Players
✔️ Max 6 Players from the same Nation
✔️ Min. Team Rating: 83
✔️ Min. Team Chemistry: 90
✔️ Number of Players in the Squad: 10
REWARDS
? 1 x Jumbo Premium Gold Pack


2 BRESCIA & FC BARCELONA
REQUIREMENTS
✔️ Min. 1 FC Barcelona Players
✔️ Min. 1 Brescia Players
✔️ Max 5 Players from the same League
✔️ Min. Team Rating: 81
✔️ Min. Team Chemistry: 90
✔️ Number of Players in the Squad: 10
REWARDS
? 1 x Jumbo Premium Gold Pack


3 GALATASARAY
REQUIREMENTS
✔️ Min. 2 Galatasaray SK Players
✔️ Min. Players from different Nations: 7
✔️ Min. Team Rating: 79
✔️ Min. Team Chemistry: 95
✔️ Number of Players in the Squad: 10
REWARDS
? 1 x Jumbo Premium Gold Pack


4 84-RATED SQUAD
REQUIREMENTS
✔️ Max 6 Players from the same League
✔️ Min. Team Rating: 84
✔️ Min. Team Chemistry: 75
✔️ Number of Players in the Squad: 11
REWARDS
? 1 x Premium Gold Players Pack


5 85-RATED SQUAD
REQUIREMENTS
✔️ Min. Team of the Week Players: 2
✔️ Min. Team Rating: 85
✔️ Min. Team Chemistry: 65
✔️ Number of Players in the Squad: 11
REWARDS
? 1 x Rare Gold Pack


6 86-RATED SQUAD
REQUIREMENTS
✔️ Min. Team of the Week Players: 1
✔️ Min. Team Rating: 86
✔️ Min. Team Chemistry: 60
✔️ Number of Players in the Squad: 11
REWARDS
? 1 x Mega Pack


7 87-RATED SQUAD
REQUIREMENTS
✔️ Min. Team of the Week Players: 1
✔️ Min. Team Rating: 87
✔️ Min. Team Chemistry: 55
✔️ Number of Players in the Squad: 11
REWARDS
? 1 x Rare Players Pack


---

GHEORGHE HAGI [LOAN]
ℹ️ Try out Prime Icon Gheorghe Hagi on a 20-Match Loan [Untradeable]
? 1 Challenge
? Non-Repeatable
? From November 23 to November 30, 2017
GROUP REWARDS
? Gheorghe Hagi Prime ICON card (20-Match Loan)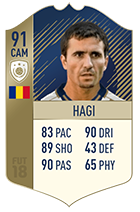 1 GHEORGHE HAGI [LOAN]
REQUIREMENTS
✔️ Min. Team Rating: 82
✔️ Min. Team Chemistry: 60
✔️ Number of Players in the Squad: 11
---

RIO FERDINAND
ℹ️ Build towards earning the Prime version of Rio Ferdinand [Untradeable]
? 8 Challenges
? Non-Repeatable
? Always available since November 23, 2017
GROUP REWARDS
? Rio Ferdinand Prime ICON card (untradeable)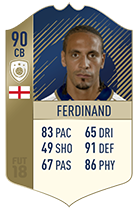 1 FERDINAND – AN ICON
REQUIREMENTS
✔️ Icon Players: Exactly 1
✔️ Number of Players in the Squad: 1
REWARDS
? 1 x Jumbo Rare Players Pack


2 WEST HAM
REQUIREMENTS
✔️ Min. 2 West Ham United Players
✔️ Min. 5 Premier League Players
✔️ Min. Team Rating: 83
✔️ Min. Team Chemistry: 90
✔️ Number of Players in the Squad: 10
REWARDS
? 1 x Jumbo Premium Gold Pack


3 LEEDS UNITED
REQUIREMENTS
✔️ Min. 1 Leeds United Players
✔️ Players from different Leagues: Exactly 3
✔️ Min. Team Rating: 81
✔️ Min. Team Chemistry: 90
✔️ Number of Players in the Squad: 10
REWARDS
? 1 x Jumbo Premium Gold Pack


4 MANCHESTER UNITED
REQUIREMENTS
✔️ Min. 3 Manchester United Players
✔️ Min. Team Rating: 84
✔️ Min. Team Chemistry: 95
✔️ Number of Players in the Squad: 10
REWARDS
? 1 x Premium Gold Players Pack


5 84-RATED SQUAD
REQUIREMENTS
✔️ Min. Team of the Week Players: 1
✔️ Players from different Nations: Exactly 5
✔️ Min. Team Rating: 84
✔️ Min. Team Chemistry: 75
✔️ Number of Players in the Squad: 11
REWARDS
? 1 x Jumbo Premium Gold Pack


6 85-RATED SQUAD
REQUIREMENTS
✔️ Min. Team Rating: 85
✔️ Min. Team Chemistry: 65
✔️ Number of Players in the Squad: 11
REWARDS
? 1 x Rare Gold Pack


7 86-RATED SQUAD
REQUIREMENTS
✔️ Min. Team of the Week Players: 1
✔️ Min. Team Rating: 86
✔️ Min. Team Chemistry: 60
✔️ Number of Players in the Squad: 11
REWARDS
? 1 x Mega Pack


8 87-RATED SQUAD
REQUIREMENTS
✔️ Min. Team Rating: 87
✔️ Min. Team Chemistry: 55
✔️ Number of Players in the Squad: 11
REWARDS
? 1 x Rare Players Pack


---

RIO FERDINAND [LOAN]
ℹ️ Try out Prime Icon Rio ferdinand on a 20-Match Loan [Untradeable]
? 1 Challenge
? Non-Repeatable
? From November 23 to November 30, 2017
GROUP REWARDS
? Rio Ferdinand Prime ICON card (20-Match Loan)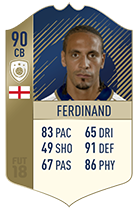 1 RIO FERDINAND [LOAN]
REQUIREMENTS
✔️ Min. Team Rating: 83
✔️ Min. Team Chemistry: 60
✔️ Number of Players in the Squad: 11
---

ROBERTO CARLOS
ℹ️ Build towards earning the Prime version of Rio Foberto Carlos [Untradeable]
? 8 Challenges
? Non-Repeatable
? Always available since November 23, 2017
GROUP REWARDS
? Roberto Carlos Prime ICON card (untradeable)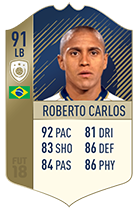 1 ROBERTO CARLOS – AN ICON
REQUIREMENTS
✔️ Icon Players: Exactly 1
✔️ Number of Players in the Squad: 1
REWARDS
? 1 x Jumbo Rare Players Pack


2 INTER
REQUIREMENTS
✔️ Min. 2 Inter Players
✔️ Min. 5 Calcio A Players
✔️ Min. Team Rating: 83
✔️ Min. Team Chemistry: 95
✔️ Number of Players in the Squad: 10
REWARDS
? 1 x Premium Gold Players Pack


3 REAL MADRID
REQUIREMENTS
✔️ Exactly 10 LaLiga Santander Players
✔️ Min. Team Rating: 82
✔️ Min. Team Chemistry: 95
✔️ Number of Players in the Squad: 10
REWARDS
? 1 x Jumbo Premium Gold Pack


4 FENERBAHÇE
REQUIREMENTS
✔️ Min. 2 Fenerbahçe SK Players
✔️ . Team Rating: 80
✔️ Min. Team Chemistry: 95
✔️ Number of Players in the Squad: 10
REWARDS
? 1 x Jumbo Premium Gold Pack


5 84-RATED SQUAD
REQUIREMENTS
✔️ Min. Team of the Week Players: 2
✔️ Max 4 Players from the same Nation
✔️ Min. Team Rating: 84
✔️ Min. Team Chemistry: 75
✔️ Number of Players in the Squad: 11
REWARDS
? 1 x Rare Gold Pack


6 85-RATED SQUAD
REQUIREMENTS
✔️ Min. Team of the Week Players: 1
✔️ Min. Team Rating: 85
✔️ Min. Team Chemistry: 65
✔️ Number of Players in the Squad: 11
REWARDS
? 1 x Rare Gold Pack


7 86-RATED SQUAD
REQUIREMENTS
✔️ Min. Team of the Week Players: 1
✔️ Min. Team Rating: 86
✔️ Min. Team Chemistry: 60
✔️ Number of Players in the Squad: 11
REWARDS
? 1 x Mega Pack


8 87-RATED SQUAD
REQUIREMENTS
✔️ Min. Team Rating: 87
✔️ Min. Team Chemistry: 55
✔️ Number of Players in the Squad: 11
REWARDS
? 1 x Rare Players Pack


---

ROBERTO CARLOS [LOAN]
ℹ️ Try out Prime Icon Roberto Carlos on a 20-Match Loan [Untradeable]
? 1 Challenge
? Non-Repeatable
? From November 23 to November 30, 2017
GROUP REWARDS
? Roberto Carlos Prime ICON card (20-Match Loan)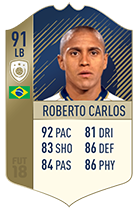 1 SOBERTO CARLOS [LOAN]
REQUIREMENTS
✔️ Min. Team Rating: 83
✔️ Min. Team Chemistry: 60
✔️ Number of Players in the Squad: 11
---

THIERRY HENRY
ℹ️ Build towards earning the Prime version of Thierry Henry [Untradeable]
? 12 Challenges
? Non-Repeatable
? Always available since November 23, 2017
GROUP REWARDS
? Thierry Henry Prime ICON card (untradeable)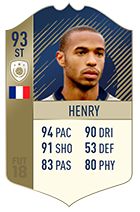 1 HENRY – AN ICON
REQUIREMENTS
✔️ Icon Players: Exactly 1
✔️ Min. Team Chemistry: 3
✔️ Number of Players in the Squad: 1
REWARDS
? 1 x Jumbo Rare Players Pack


2 AS MONACO
REQUIREMENTS
✔️ Min. 1 AS Monaco Football Club SA Players
✔️ Min. 5 Ligue 1 Players
✔️ Min. Team Rating: 81
✔️ Min. Team Chemistry: 90
✔️ Number of Players in the Squad: 10
REWARDS
? 1 x Jumbo Premium Gold Pack


3 ARSENAL
REQUIREMENTS
✔️ Min. 2 Arsenal Players
✔️ Exactly 10 Premier League Players
✔️ Min. Team Rating: 81
✔️ Min. Team Chemistry: 95
✔️ Number of Players in the Squad: 10
REWARDS
? 1 x Jumbo Premium Gold Pack


4 FC BARCELONA
REQUIREMENTS
✔️ Exactly 10 LaLiga Santander Players
✔️ Min. Team Rating: 82
✔️ Min. Team Chemistry: 95
✔️ Number of Players in the Squad: 10
REWARDS
? 1 x Premium Gold Players Pack


5 NEW YORK RED BULLS
REQUIREMENTS
✔️ Min. 5 Major League Soccer Players
✔️ Min. Team of the Week Players: 1
✔️ Min. Team Rating: 78
✔️ Min. Team Chemistry: 80
✔️ Number of Players in the Squad: 10
REWARDS
? 1 x Jumbo Premium Gold Pack


6 83-RATED SQUAD
REQUIREMENTS
✔️ Min. Team of the Week Players: 2
✔️ Min. Team Rating: 83
✔️ Min. Team Chemistry: 75
✔️ Number of Players in the Squad: 11
REWARDS
? 1 x Rare Gold Pack


7 84-RATED SQUAD
REQUIREMENTS
✔️ Min. Team of the Week Players: 1
✔️ Min. Team Rating: 84
✔️ Min. Team Chemistry: 70
✔️ Number of Players in the Squad: 11
REWARDS
? 1 x Mega Pack


8 85-RATED SQUAD
REQUIREMENTS
✔️ Min. Team of the Week Players: 2
✔️ Min. Team Rating: 85
✔️ Min. Team Chemistry: 65
✔️ Number of Players in the Squad: 11
REWARDS
? 1 x Prime Gold Players Pack


9 86-RATED SQUAD
REQUIREMENTS
✔️ Min. Team of the Week Players: 1
✔️ Min. Team Rating: 86
✔️ Min. Team Chemistry: 60
✔️ Number of Players in the Squad: 11
REWARDS
? 1 x Rare Players Pack


10 87-RATED SQUAD
REQUIREMENTS
✔️ Min. Team of the Week Players: 1
✔️ Min. Team Rating: 87
✔️ Min. Team Chemistry: 55
✔️ Number of Players in the Squad: 11
REWARDS
? 1 x Rare Mega Pack


11 88-RATED SQUAD
REQUIREMENTS
✔️ Icon Players: Exactly 1
✔️ Min. Team Rating: 88
✔️ Min. Team Chemistry: 50
✔️ Number of Players in the Squad: 11
REWARDS
? 1 x Jumbo Rare Players Pack


12 89-RATED SQUAD
REQUIREMENTS
✔️ Icon Players: Exactly 1
✔️ Min. Team Rating: 89
✔️ Min. Team Chemistry: 50
✔️ Number of Players in the Squad: 11
REWARDS
? 1 x Jumbo Rare Players Pack


---

THIERRY HENRY [LOAN]
ℹ️ Try out Prime Icon Thierry Henry on a 20-Match Loan [Untradeable]
? 1 Challenge
? Non-Repeatable
? From November 23 to November 30, 2017
GROUP REWARDS
? Thierry Henry Prime ICON card (20-Match Loan)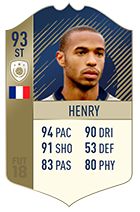 1 THIERRY HENRY [LOAN]
REQUIREMENTS
✔️ Min. Team Rating: 83
✔️ Min. Team Chemistry: 60
✔️ Number of Players in the Squad: 11
---

EMMANUEL PETIT
ℹ️ Build towards earning the Prime version of Emmanuel Petit [Untradeable]
? 8 Challenges
? Non-Repeatable
? Always available since November 2, 2017
GROUP REWARDS
? Emmanuel Petit Prime ICON card (untradeable)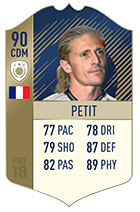 1 PETIT – AN ICON
REQUIREMENTS
✔️ Icon Players: Exactly 1
✔️ Min. Team Chemistry: 3
✔️ Number of Players in the Squad: 1
REWARDS
? 1 x Jumbo Rare Players Pack


2 AS MONACO
REQUIREMENTS
✔️ Min. 4 AS Monaco Players
✔️ Min. Team Rating: 81
✔️ Min. Team Chemistry: 90
✔️ Number of Players in the Squad: 10
REWARDS
? 1 x Prime Gold Players Pack


3 FC BARCELONA
REQUIREMENTS
✔️ Min. FC Barcelona Players: 5
✔️ Min. Team Rating: 81
✔️ Min. Team Chemistry: 95
✔️ Number of Players in the Squad: 10
REWARDS
? 1 x Premium Gold Players Pack


4 PREMIER LEAGUE
REQUIREMENTS
✔️ Min. Arsenal Players: 2
✔️ Min. Chelsea Players: 2
✔️ Min. Team Rating: 82
✔️ Min. Team Chemistry: 95
✔️ Number of Players in the Squad: 10
REWARDS
? 1 x Premium Gold Players Pack


5 84-RATED SQUAD
REQUIREMENTS
✔️ Min. Players from different Leagues: 3
✔️ Max Players from the same League: 5
✔️ Min. Team Rating: 84
✔️ Min. Team Chemistry: 75
✔️ Number of Players in the Squad: 11
REWARDS
? 1 x Jumbo Premium Gold Pack


6 85-RATED SQUAD
REQUIREMENTS
✔️ Min. Team Rating: 85
✔️ Min. Team Chemistry: 65
✔️ Number of Players in the Squad: 11
REWARDS
? 1 x Rare Gold Pack


7 86-RATED SQUAD
REQUIREMENTS
✔️ Min. Team Rating: 86
✔️ Min. Team Chemistry: 60
✔️ Number of Players in the Squad: 11
REWARDS
? 1 x Mega Pack


8 87-RATED SQUAD
REQUIREMENTS
✔️ Min. Team Rating: 87
✔️ Min. Team Chemistry: 55
✔️ Number of Players in the Squad: 11
REWARDS
? 1 x Rare Players Pack


---

EMMANUEL PETIT [LOAN]
ℹ️ Try out Prime Icon Emmanuel Petit on a 20-Match Loan [Untradeable]
? 1 Challenge
? Non-Repeatable
? From November 2 to November 9, 2017
GROUP REWARDS
? Emmanuel Petit Prime ICON card (20-Match Loan)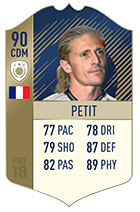 1 EMMANUEL PETIT [LOAN]
REQUIREMENTS
✔️ Min. Team Rating: 83
✔️ Min. Team Chemistry: 60
✔️ Number of Players in the Squad: 11
---

PETER SCHMEICHEL
ℹ️ Build towards earning the Prime version of Peter Schmeichel [Untradeable]
? 7 Challenges
? Non-Repeatable
? Always available since November 2, 2017
GROUP REWARDS
? Peter Schmeichel Prime ICON card (untradeable)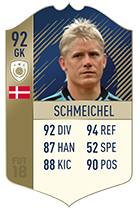 1 BRØNDBY IF
REQUIREMENTS
✔️ Min. 1 Brøndby IF Players
✔️ Min. 5 Alka Superliga Players
✔️ Min. Team Rating: 72
✔️ Min. Team Chemistry: 90
✔️ Number of Players in the Squad: 10
REWARDS
? 1 x Jumbo Premium Silver Pack


2 SPORTING CP
REQUIREMENTS
✔️ Min. 4 Sporting CP Players
✔️ Min. Team of the Week Players: 1
✔️ Min. Team Rating: 81
✔️ Min. Team Chemistry: 95
✔️ Number of Players in the Squad: 10
REWARDS
? 1 x Jumbo Premium Gold Pack


3 PREMIER LEAGUE
REQUIREMENTS
✔️ Min. 2 Manchester United Players
✔️ Min. 2 Manchester City Players
✔️ Exactly 10 Premier League Players
✔️ Min. Team Rating: 82
✔️ Min. Team Chemistry: 95
✔️ Number of Players in the Squad: 10
REWARDS
? 1 x Jumbo Premium Gold Pack


4 DENMARK
REQUIREMENTS
✔️ Min. 4 Denmark Players
✔️ Max 4 Players from the same League
✔️ Min. Team Rating: 78
✔️ Min. Team Chemistry: 85
✔️ Number of Players in the Squad: 10
REWARDS
? 1 x Rare Consumables Pack


5 84-RATED SQUAD
REQUIREMENTS
✔️ Min. Team Rating: 84
✔️ Min. Team Chemistry: 75
✔️ Number of Players in the Squad: 11
REWARDS
? 1 x Rare Gold Pack


6 85-RATED SQUAD
REQUIREMENTS
✔️ Min. Team of the Week Players: 1
✔️ Min. Team Rating: 85
✔️ Min. Team Chemistry: 70
✔️ Number of Players in the Squad: 11
REWARDS
? 1 x Prime Gold Players Pack


7 86-RATED SQUAD
REQUIREMENTS
✔️ Min. TOTW Players: 2
✔️ Min. Team Rating: 86
✔️ Min. Team Chemistry: 60
✔️ Number of Players in the Squad: 11
REWARDS
? 1 x Mega Pack


---

PETER SCHMEICHEL [LOAN]
ℹ️ Try out Prime Icon Peter Schmeichel on a 20-Match Loan [Untradeable]
? 1 Challenge
? Non-Repeatable
? From November 2 to November 9, 2017
GROUP REWARDS
? Emmanuel Petit Prime ICON card (20-Match Loan)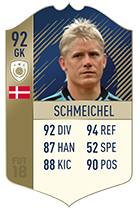 1 PETER SCHMEICHEL [LOAN]
REQUIREMENTS
✔️ Min. Team Rating: 82
✔️ Min. Team Chemistry: 60
✔️ Number of Players in the Squad: 11
---

LUIS HERNÁNDEZ
ℹ️ Build towards earning the Prime version of Luis Hernández [Untradeable]
? 8 Challenges
? Non-Repeatable
? Always available since November 2, 2017
GROUP REWARDS
? Luis Hernández Prime ICON card (untradeable)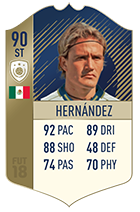 1 LUIS HERNÁNDEZ – AN ICON
REQUIREMENTS
✔️ Icon Players: Exactly 1
✔️ Min. Team Chemistry: 3
✔️ Number of Players in the Squad: 1
REWARDS
? 1 x Jumbo Rare Players Pack


2 LIGA MX
REQUIREMENTS
✔️ Exactly 10 LIGA Bancomer MX Players
✔️ Min. Team Rating: 76
✔️ Min. Team Chemistry: 95
✔️ Number of Players in the Squad: 10
REWARDS
? 1 x Premium Gold Pack


3 NORTH AND SOUTH
REQUIREMENTS
✔️ Max 5 Players from the same League
✔️ Min. Team Rating: 75
✔️ Min. Team Chemistry: 95
✔️ Number of Players in the Squad: 9
REWARDS
? 1 x Premium Gold Pack


4 MEXICO
REQUIREMENTS
✔️ Min. 5 Mexico Players
✔️ Min. Team Rating: 81
✔️ Min. Team Chemistry: 90
✔️ Number of Players in the Squad: 10
REWARDS
? 1 x Premium Gold Pack


5 83-RATED SQUAD
REQUIREMENTS
✔️ Min. Team of the Week Players: 1
✔️ Min. Players from different Leagues: 3
✔️ Max 6 Players from the same Nation
✔️ Min. Team Rating: 83
✔️ Min. Team Chemistry: 75
✔️ Number of Players in the Squad: 11
REWARDS
? 1 x Jumbo Premium Gold Pack


6 84-RATED SQUAD
REQUIREMENTS
✔️ Min. TOTW Players: 2
✔️ Min. Team Rating: 84
✔️ Min. Team Chemistry: 75
✔️ Number of Players in the Squad: 11
REWARDS
? 1 x Jumbo Premium Gold Pack


7 85-RATED SQUAD
REQUIREMENTS
✔️ Min. Team of the Week Players: 1
✔️ Min. Team Rating: 85
✔️ Min. Team Chemistry: 65
✔️ Number of Players in the Squad: 11
REWARDS
? 1 x Rare Gold Pack


8 86-RATED SQUAD
REQUIREMENTS
✔️ Min. Team Rating: 86
✔️ Min. Team Chemistry: 60
✔️ Number of Players in the Squad: 11
REWARDS
? 1 x Mega Pack


---

LUIS HERNÁNDEZ [LOAN]
ℹ️ Try out Prime Icon Luis Hernández on a 20-Match Loan [Untradeable]
? 1 Challenge
? Non-Repeatable
? From November 2 to November 9, 2017
GROUP REWARDS
? Luis Hernández Prime ICON card (20-Match Loan)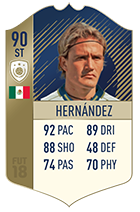 1 LUIS HERNÁNDEZ [LOAN]
REQUIREMENTS
✔️ Min. Team Rating: 83
✔️ Min. Team Chemistry: 60
✔️ Number of Players in the Squad: 11
---

ALESSANDRO DEL PIERO
ℹ️ Build towards earning the Prime version of Alessandro Del Piero [Untradeable]
? 8 Challenges
? Non-Repeatable
? Always available since October 12, 2017
GROUP REWARDS
? Alessandro Del Piero Prime ICON card (untradeable)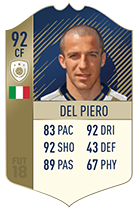 1 DEL PIERO – AN ICON
REQUIREMENTS
✔️ Icon Players: Exactly 1
✔️ Min. Team Chemistry: 3
✔️ Number of Players in the Squad: 1
REWARDS
? 1 x Jumbo Rare Players Pack


2 JUVENTUS
REQUIREMENTS
✔️ Min. 4 Juventus Players
✔️ Min. Team Rating: 83
✔️ Min. Team Chemistry: 90
REWARDS
? 1 x Prime Gold Players Pack


3 SYDNEY FC
REQUIREMENTS
✔️ Min. 1 Sydney FC Players
✔️ Exactly 10 Hyundai A-League Players
✔️ Min. Team Rating: 65
✔️ Min. Team Chemistry: 95
✔️ Number of Players in the Squad: 10
REWARDS
? 1 x Premium Gold Pack


4 ITALY
REQUIREMENTS
✔️ Min. 5 Italy Players
✔️ Min. Team Rating: 83
✔️ Min. Team Chemistry: 90
✔️ Number of Players in the Squad: 10
REWARDS
? 1 x Jumbo Premium Gold Pack


5 84-RATED SQUAD
REQUIREMENTS
✔️ Min. Players from different Leagues: 4
✔️ Max 6 Players from the same League
✔️ Min. Team Rating: 84
✔️ Min. Team Chemistry: 75
✔️ Number of Players in the Squad: 11
REWARDS
? 1 x Jumbo Premium Gold Pack


6 85-RATED SQUAD
REQUIREMENTS
✔️ Min. Team Rating: 85
✔️ Min. Team Chemistry: 60
✔️ Number of Players in the Squad: 11
REWARDS
? 1 x Rare Gold Pack


7 86-RATED SQUAD
REQUIREMENTS
✔️ Min. Team Rating: 86
✔️ Min. Team Chemistry: 55
✔️ Number of Players in the Squad: 11
REWARDS
? 1 x Mega Pack


8 87-RATED SQUAD
REQUIREMENTS
✔️ Min. Team Rating: 87
✔️ Min. Team Chemistry: 45
✔️ Number of Players in the Squad: 11
REWARDS
? 1 x Rare Players Pack


---

DEL PIERO [LOAN]
ℹ️ Try out Prime Icon Alessandro Del Piero on a 20-Match Loan [Untradeable]
? 1 Challenge
? Non-Repeatable
? From October 12 to October 19, 2017
GROUP REWARDS
? Alessandro Del Piero Prime ICON card (20-Match Loan)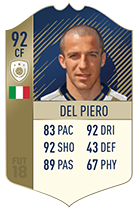 1 DEL PIERO [LOAN]
REQUIREMENTS
✔️ Min. Team Rating: 83
✔️ Min. Team Chemistry: 60
✔️ Number of Players in the Squad: 11
---

MARC OVERMARS
ℹ️ Build towards earning the Prime version of Marc Overmars [Untradeable]
? 7 Challenges
? Non-Repeatable
? Always available since October 12, 2017
GROUP REWARDS
? Marc Overmars Prime ICON card (untradeable)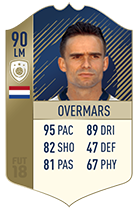 1 EREDIVISIE
REQUIREMENTS
✔️ Min. 1 Willem II Players
✔️ Min. 1 Ajax Players
✔️ Min. 5 Eredivisie Players
✔️ Min. Team Rating: 80
✔️ Min. Team Chemistry: 90
✔️ Number of Players in the Squad: 10
REWARDS
? 1 x Premium Gold Pack


2 ARSENAL
REQUIREMENTS
✔️ Min. Team of the Week Players: 1
✔️ Min. 3 Arsenal Players
✔️ Min. Team Rating: 81
✔️ Min. Team Chemistry: 95
✔️ Number of Players in the Squad: 10
REWARDS
? 1 x Jumbo Premium Gold Pack


3 FC BARCELONA
REQUIREMENTS
✔️ Min. 3 FC Barcelona Players
✔️ Exactly 10 LaLiga Santander Players
✔️ Min. Team Rating: 82
✔️ Min. Team Chemistry: 95
✔️ Number of Players in the Squad: 10
REWARDS
? 1 x Jumbo Premium Gold Pack


4 83-RATED SQUAD
REQUIREMENTS
✔️ Min. Team of the Week Players: 1
✔️ Players from different Nations: Exactly 4
✔️ Max 4 Players from the same Nation
✔️ Min. Team Rating: 83
✔️ Min. Team Chemistry: 75
✔️ Number of Players in the Squad: 11
REWARDS
? 1 x Premium Gold Pack


5 84-RATED SQUAD
REQUIREMENTS
✔️ Min. Team of the Week Players: 1
✔️ Min. Team Rating: 84
✔️ Min. Team Chemistry: 75
REWARDS
? 1 x Jumbo Premium Gold Pack


6 85-RATED SQUAD
REQUIREMENTS
✔️ Min. Team of the Week Players: 3
✔️ Min. Team Rating: 85
✔️ Min. Team Chemistry: 60
✔️ Number of Players in the Squad: 11
REWARDS
? 1 x Rare Gold Pack


7 86-RATED SQUAD
REQUIREMENTS
✔️ Min. Team of the Week Players: 1
✔️ Min. Team Rating: 86
✔️ Min. Team Chemistry: 55
✔️ Number of Players in the Squad: 11
REWARDS
? 1 x Mega Pack


---

MARC OVERMARS [LOAN]
ℹ️ Try out Prime Icon Marc Overmars on a 20-Match Loan [Untradeable]
? 1 Challenge
? Non-Repeatable
? From October 12 to October 19, 2017
GROUP REWARDS
? Marc Overmars Prime ICON card (20-Match Loan)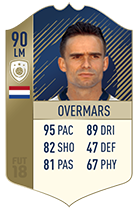 1 MARC OVERMARS [LOAN]
REQUIREMENTS
✔️ Min. Team Rating: 82
✔️ Min. Team Chemistry: 75
✔️ Number of Players in the Squad: 11
---

RUI COSTA
ℹ️ Build towards earning the Prime version of Rui Costa [Untradeable]
? 7 Challenges
? Non-Repeatable
? Always available since October 12, 2017
GROUP REWARDS
? Rui Costa Prime ICON card (untradeable)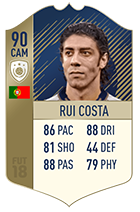 1 BENFICA
REQUIREMENTS
✔️ Min. 3 SL Benfica Players
✔️ Min. Team of the Week Players: 2
✔️ Min. Team Rating: 81
✔️ Min. Team Chemistry: 90
✔️ Number of Players in the Squad: 10
REWARDS
? 1 x Premium Gold Pack


2 CALCIO A
REQUIREMENTS
✔️ Min. 1 Fiorentina Players
✔️ Min. 1 Milan Players
✔️ Exactly 10 Calcio A Players
✔️ Min. Team Rating: 82
✔️ Min. Team Chemistry: 95
✔️ Number of Players in the Squad: 10
REWARDS
? 1 x Jumbo Premium Gold Pack


3 PORTUGAL
REQUIREMENTS
✔️ Min. 5 Portugal Players
✔️ Min. Team Rating: 82
✔️ Min. Team Chemistry: 85
✔️ Number of Players in the Squad: 10
REWARDS
? 1 x Jumbo Premium Gold Pack


4 83-RATED SQUAD
REQUIREMENTS
✔️ Min. Team of the Week Players: 1
✔️ Players from different Nations: Exactly 4
✔️ Max 5 Players from the same Nation
✔️ Min. Team Rating: 83
✔️ Min. Team Chemistry: 75
REWARDS
? 1 x Premium Gold Pack


5 84-RATED SQUAD
REQUIREMENTS
✔️ Min. Team of the Week Players: 3
✔️ Min. Team Rating: 84
✔️ Min. Team Chemistry: 75
REWARDS
? 1 x Jumbo Premium Gold Pack


6 85-RATED SQUAD
REQUIREMENTS
✔️ Min. Team of the Week Players: 1
✔️ Min. Team Rating: 85
✔️ Min. Team Chemistry: 60
✔️ Number of Players in the Squad: 11
REWARDS
? 1 x Rare Gold Pack


7 86-RATED SQUAD
REQUIREMENTS
✔️ Min. Team of the Week Players: 2
✔️ Min. Team Rating: 86
✔️ Min. Team Chemistry: 55
✔️ Number of Players in the Squad: 11
REWARDS
? 1 x Mega Pack


---

RUI COSTA [LOAN]
ℹ️ Try out Prime Icon Rui Costa on a 20-Match Loan [Untradeable]
? 1 Challenge
? Non-Repeatable
? From October 12 to October 19, 2017
GROUP REWARDS
? Rui Costa Prime ICON card (20-Match Loan)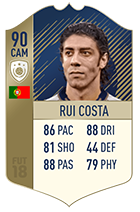 1 RUI COSTA [LOAN]
REQUIREMENTS
✔️ Min. Team Rating: 82
✔️ Min. Team Chemistry: 75
✔️ Number of Players in the Squad: 11
REWARDS
No Rewards