Every week, EA joins the most informed players in a single squad: the FIFA 18 TOTW. The Team of the Week is released each Wednesday and represent players that have played well the previous week in real life. These cards are released as 'In Form' for that week only and have boosted stats and altered card art.
We show you here all the TOTW for FIFA 18 Ultimate Team.
Come back every Wednesday to check who's in the new Team of the Week or check our predictions every Monday.
You can access this page on the top bar navigation: Live – TOTW – Official TOTW
WEEK
✅ Available | ❌ Not Available Yet
✅
TOTW 1
✅
TOTW 2
✅
TOTW 3
✅
TOTW 4
✅
TOTW 5
✅
TOTW 6
✅
TOTW 7
✅
TOTW 8
✅
TOTW 9
✅
TOTW 10
✅
TOTW 11
✅
TOTW 12
✅
TOTW 13
✅
TOTW 14
✅
TOTW 15
✅
TOTW 16
✅
TOTW 17
✅
TOTW 18
✅
TOTW 19
✅
TOTW 20
✅
TOTW 21
✅
TOTW 22
✅
TOTW 23
✅
TOTW 24
✅
TOTW 25
✅
TOTW 26
✅
TOTW 27
✅
TOTW 28
✅
TOTW 29
✅
TOTW 30
✅
TOTW 31
✅
TOTW 32
✅
TOTW 33
✅
TOTW 34
✅
TOTW 35
✅
TOTW 36
✅
TOTW 37
✅
TOTW 38
✅
TOTW 39
✅
TOTW 40
✅
TOTW 41
✅
TOTW 42
✅
TOTW 43
✅
TOTW 44
✅
TOTW 45
✅
TOTW 46
FIFA 18 TOTW Week 46
CARDS AVAILABLE IN PACKS
?? 12/09/2018 (Wed) 6pm to 19/09/2018 (Wed) 6pm GMT (UTC +1)
?? 12/09/2018 (Wed) 1pm to 19/09/2018 (Wed) 1pm EST (UTC -4)
?? 12/09/2018 (Wed) 10am to 19/09/2018 (Wed) 10am PST (UTC -7)
STARTING ELEVEN
SUBSTITUTES
RESERVES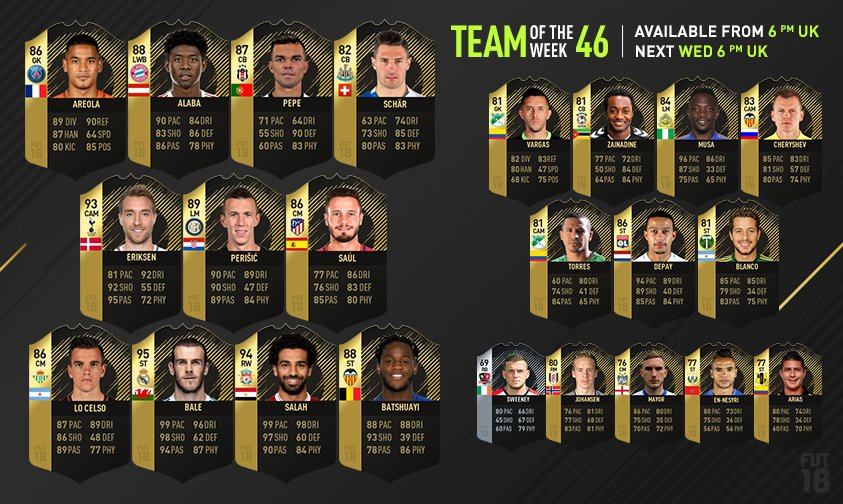 Click in the image to maximize it
FIFA 18 TOTW Week 45
CARDS AVAILABLE IN PACKS
?? 05/09/2018 (Wed) 6pm to 12/09/2018 (Wed) 6pm GMT (UTC +1)
?? 05/09/2018 (Wed) 1pm to 12/09/2018 (Wed) 1pm EST (UTC -4)
?? 05/09/2018 (Wed) 10am to 12/09/2018 (Wed) 10am PST (UTC -7)
STARTING ELEVEN
SUBSTITUTES
RESERVES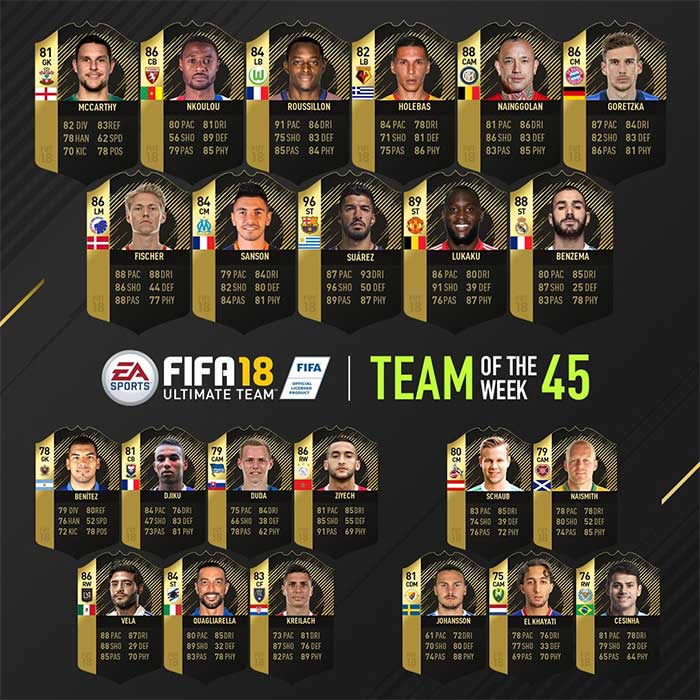 Click in the image to maximize it
FIFA 18 TOTW Week 44
CARDS AVAILABLE IN PACKS
?? 29/08/2018 (Wed) 6pm to 05/09/2018 (Wed) 6pm GMT (UTC +1)
?? 29/08/2018 (Wed) 1pm to 05/09/2018 (Wed) 1pm EST (UTC -4)
?? 29/08/2018 (Wed) 10am to 05/09/2018 (Wed) 10am PST (UTC -7)
STARTING ELEVEN
SUBSTITUTES
RESERVES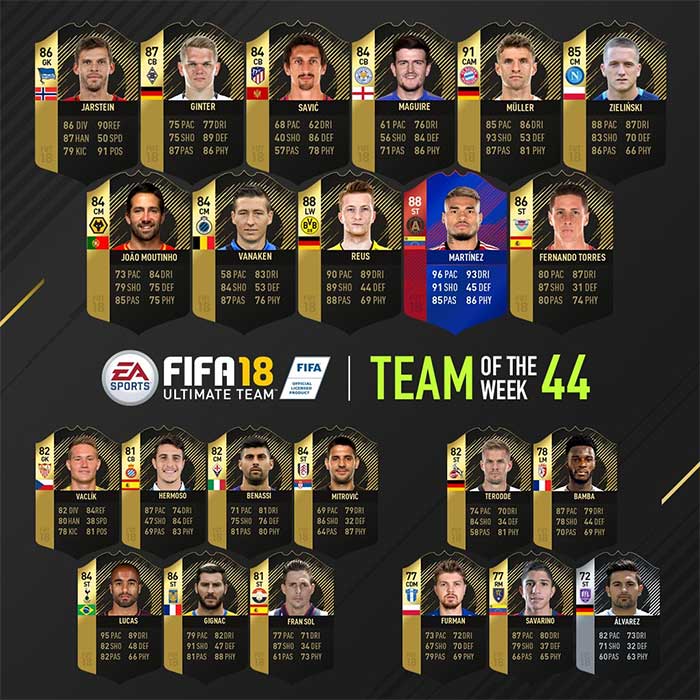 Click in the image to maximize it
FIFA 18 TOTW Week 43
CARDS AVAILABLE IN PACKS
?? 22/08/2018 (Wed) 6pm to 29/08/2018 (Wed) 6pm GMT (UTC +1)
?? 22/08/2018 (Wed) 1pm to 29/08/2018 (Wed) 1pm EST (UTC -4)
?? 22/08/2018 (Wed) 10am to 29/08/2018 (Wed) 10am PST (UTC -7)
STARTING ELEVEN
SUBSTITUTES
RESERVES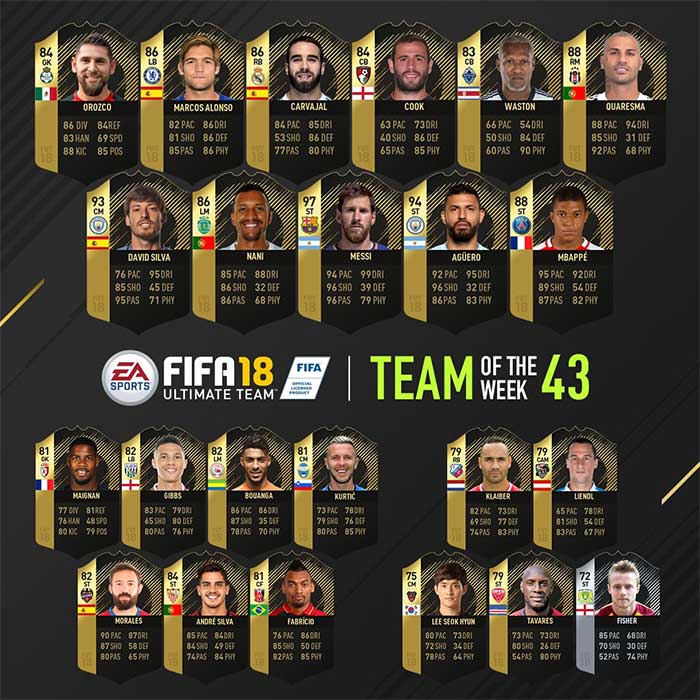 Click in the image to maximize it
FIFA 18 TOTW Week 42
CARDS AVAILABLE IN PACKS
?? 15/08/2018 (Wed) 6pm to 22/08/2018 (Wed) 6pm GMT (UTC +1)
?? 15/08/2018 (Wed) 1pm to 22/08/2018 (Wed) 1pm EST (UTC -4)
?? 15/08/2018 (Wed) 10am to 22/08/2018 (Wed) 10am PST (UTC -7)
STARTING ELEVEN
SUBSTITUTES
RESERVES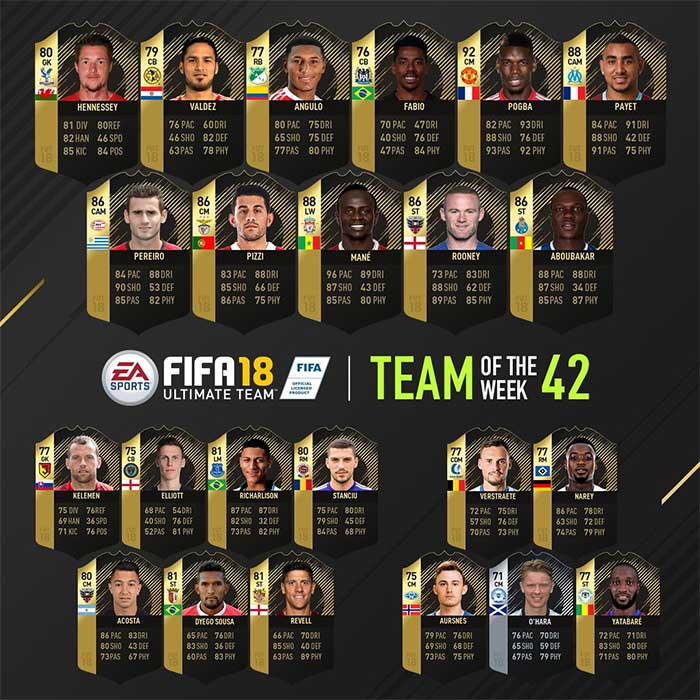 Click in the image to maximize it
FIFA 18 TOTW Week 41
CARDS AVAILABLE IN PACKS
?? 08/08/2018 (Wed) 6pm to 15/08/2018 (Wed) 6pm GMT (UTC +1)
?? 08/08/2018 (Wed) 1pm to 15/08/2018 (Wed) 1pm EST (UTC -4)
?? 08/08/2018 (Wed) 10am to 15/08/2018 (Wed) 10am PST (UTC -7)
STARTING ELEVEN
SUBSTITUTES
RESERVES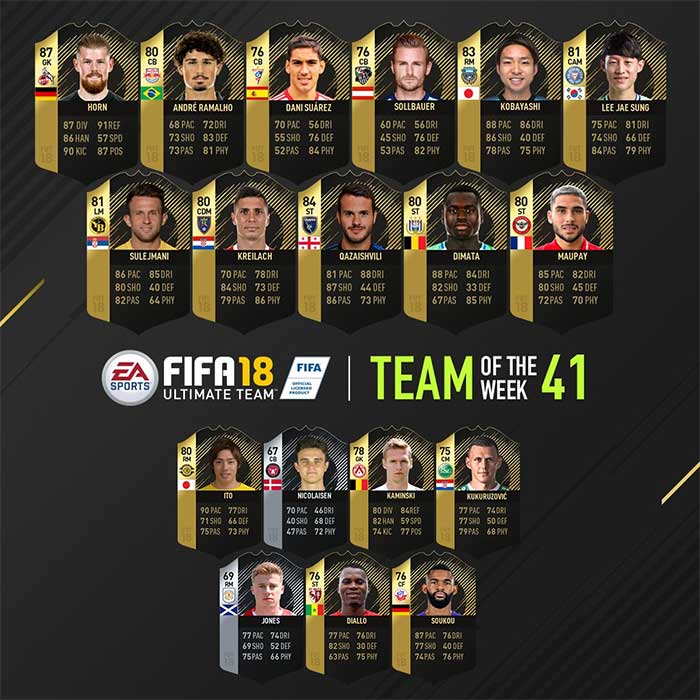 Click in the image to maximize it
FIFA 18 TOTW Week 40
CARDS AVAILABLE IN PACKS
?? 01/08/2018 (Wed) 6pm to 08/08/2018 (Wed) 6pm GMT (UTC +1)
?? 01/08/2018 (Wed) 1pm to 08/08/2018 (Wed) 1pm EST (UTC -4)
?? 01/08/2018 (Wed) 10am to 08/08/2018 (Wed) 10am PST (UTC -7)
STARTING ELEVEN
SUBSTITUTES
RESERVES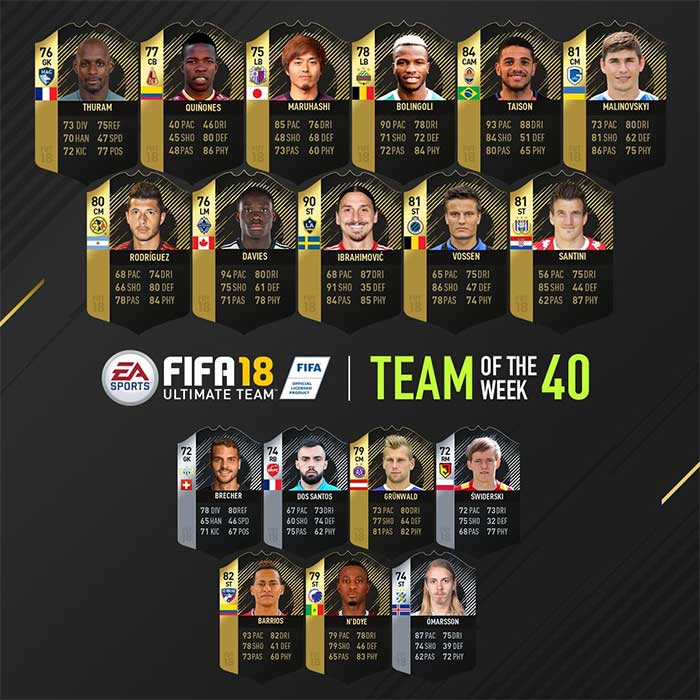 Click in the image to maximize it
FIFA 18 TOTW Week 39
CARDS AVAILABLE IN PACKS
?? 25/07/2018 (Wed) 6pm to 01/08/2018 (Wed) 6pm GMT (UTC +1)
?? 25/07/2018 (Wed) 1pm to 01/08/2018 (Wed) 1pm EST (UTC -4)
?? 25/07/2018 (Wed) 10am to 01/08/2018 (Wed) 10am PST (UTC -7)
STARTING ELEVEN
SUBSTITUTES
RESERVES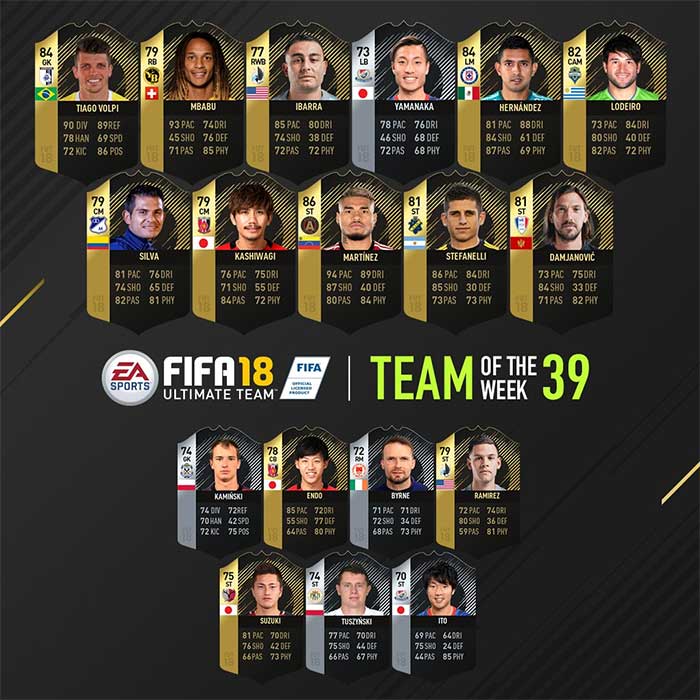 Click in the image to maximize it
FIFA 18 TOTW Week 38
CARDS AVAILABLE IN PACKS
?? 18/07/2018 (Wed) 6pm to 25/07/2018 (Wed) 6pm GMT (UTC +1)
?? 18/07/2018 (Wed) 1pm to 25/07/2018 (Wed) 1pm EST (UTC -4)
?? 18/07/2018 (Wed) 10am to 25/07/2018 (Wed) 10am PST (UTC -7)
STARTING ELEVEN
SUBSTITUTES
RESERVES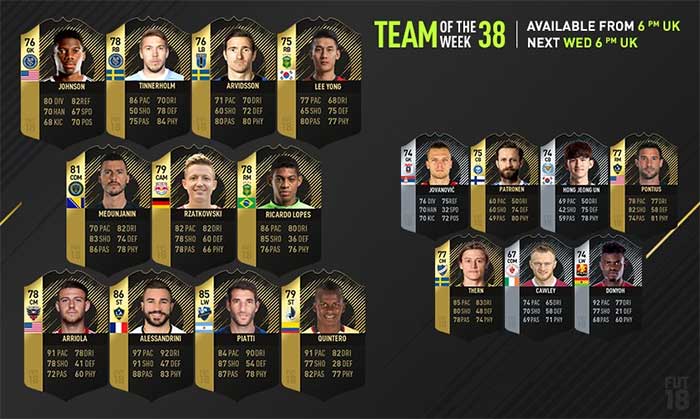 Click in the image to maximize it
FIFA 18 TOTW Week 37
CARDS AVAILABLE IN PACKS
?? 30/05/2018 (Wed) 6pm to 06/06/2018 (Wed) 6pm GMT (UTC +1)
?? 30/05/2018 (Wed) 1pm to 06/06/2018 (Wed) 1pm EST (UTC -4)
?? 30/05/2018 (Wed) 10am to 06/06/2018 (Wed) 10am PST (UTC -7)
STARTING ELEVEN
SUBSTITUTES
RESERVES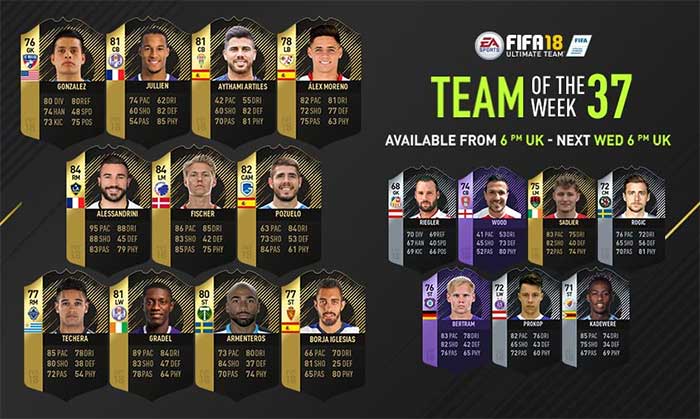 Click in the image to maximize it
FIFA 18 TOTW Week 36
CARDS AVAILABLE IN PACKS
?? 23/05/2018 (Wed) 6pm to 30/05/2018 (Wed) 6pm GMT (UTC +1)
?? 23/05/2018 (Wed) 1pm to 30/05/2018 (Wed) 1pm EST (UTC -4)
?? 23/05/2018 (Wed) 10am to 30/05/2018 (Wed) 10am PST (UTC -7)
STARTING ELEVEN
SUBSTITUTES
RESERVES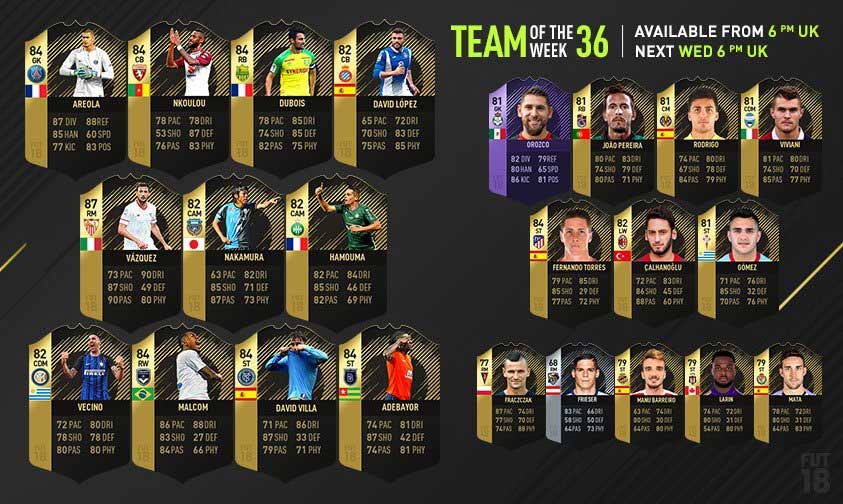 Click in the image to maximize it
FIFA 18 TOTW Week 35
CARDS AVAILABLE IN PACKS
?? 16/05/2018 (Wed) 6pm to 23/05/2018 (Wed) 6pm GMT (UTC +1)
?? 16/05/2018 (Wed) 1pm to 23/05/2018 (Wed) 1pm EST (UTC -4)
?? 16/05/2018 (Wed) 10am to 23/05/2018 (Wed) 10am PST (UTC -7)
STARTING ELEVEN
SUBSTITUTES
RESERVES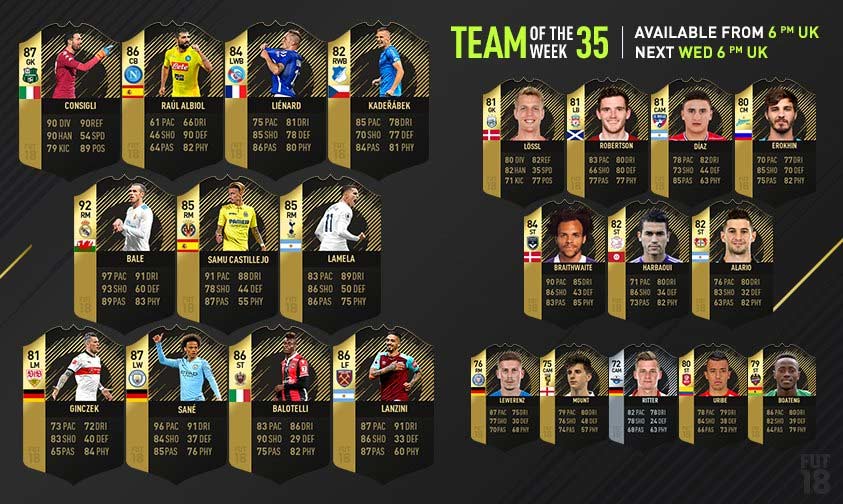 Click in the image to maximize it
FIFA 18 TOTW Week 34
CARDS AVAILABLE IN PACKS
?? 09/05/2018 (Wed) 6pm to 16/05/2018 (Wed) 6pm GMT (UTC +1)
?? 09/05/2018 (Wed) 1pm to 16/05/2018 (Wed) 1pm EST (UTC -4)
?? 09/05/2018 (Wed) 10am to 16/05/2018 (Wed) 10am PST (UTC -7)
STARTING ELEVEN
SUBSTITUTES
RESERVES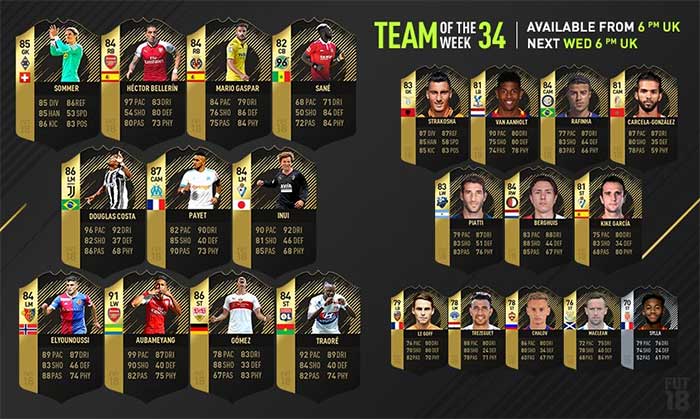 Click in the image to maximize it
FIFA 18 TOTW Week 33
CARDS AVAILABLE IN PACKS
?? 02/05/2018 (Wed) 6pm to 09/05/2018 (Wed) 6pm GMT (UTC +1)
?? 02/05/2018 (Wed) 1pm to 09/05/2018 (Wed) 1pm EST (UTC -4)
?? 02/05/2018 (Wed) 10am to 09/05/2018 (Wed) 10am PST (UTC -7)
STARTING ELEVEN
SUBSTITUTES
RESERVES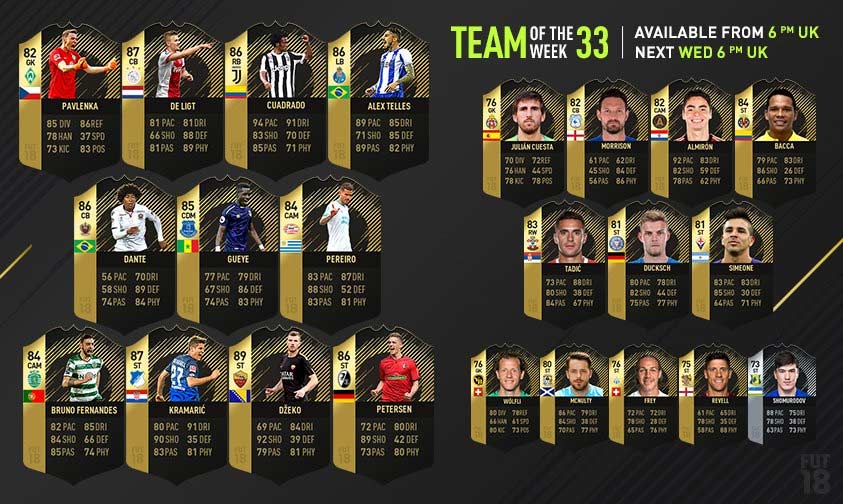 Click in the image to maximize it
FIFA 18 TOTW Week 32
CARDS AVAILABLE IN PACKS
?? 25/04/2018 (Wed) 6pm to 02/05/2018 (Wed) 6pm GMT (UTC +1)
?? 25/04/2018 (Wed) 1pm to 02/05/2018 (Wed) 1pm EST (UTC -4)
?? 25/04/2018 (Wed) 10am to 02/05/2018 (Wed) 10am PST (UTC -7)
STARTING ELEVEN
SUBSTITUTES
RESERVES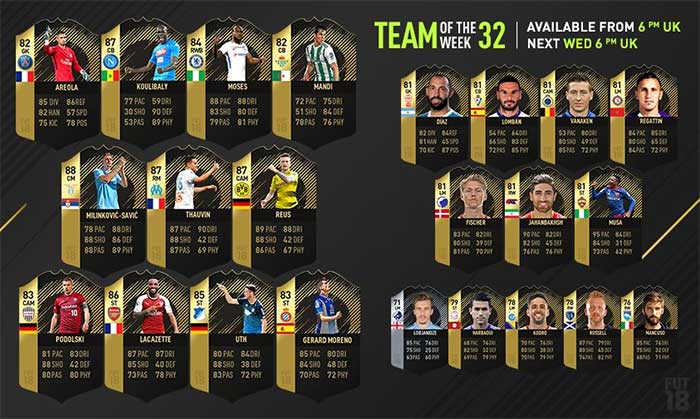 Click in the image to maximize it
FIFA 18 TOTW Week 31
CARDS AVAILABLE IN PACKS
?? 18/04/2018 (Wed) 6pm to 25/04/2018 (Wed) 6pm GMT (UTC +1)
?? 18/04/2018 (Wed) 1pm to 25/04/2018 (Wed) 1pm EST (UTC -4)
?? 18/04/2018 (Wed) 10am to 25/04/2018 (Wed) 10am PST (UTC -7)
STARTING ELEVEN
GK – Ruffier – AS Saint-Étienne – 85>88
CB – Kompany – Manchester City – 85>87
CB – Naldo – FC Schalke 04 – 84>88
RB – Ricardo Pereira – FC Porto – 80>85
RM – Coutinho – FC Barcelona – 87>88
CAM – Isco – Real Madrid – 86>88
LM – Douglas Costa – Juventus – 83>85
LM – Babel – Beşiktaş – 78>84
ST – Zaha – Crystal Palace – 82>86
ST – Giroud – Chelsea – 82>87
ST – Wagner – Bayern München – 79>84
SUBSTITUTES
GK – Donnarumma – Milan – 82>86
RB – Svensson – AZ – 75>81
LM – Grosicki – Hull City – 76>81
CM – Lo Celso – Paris Saint-Germain – 75>81
ST – Volland – Bayer 04 Leverkusen – 80>83
ST – Kharbin – Al Hilal – 77>81
ST – Castillo – Pumas U.N.A.M. – 76>84
RESERVES
GK – Alomerović – Korona Kielce – 64>74
CM – McGree – Newcastle Jets – 62>72
ST – Pedersen – Strømsgodset Toppfotball – 68>76
ST – Grimaldi – Preußen Münster – 68>76
LF – Åsen – Tromsø IL – 67>76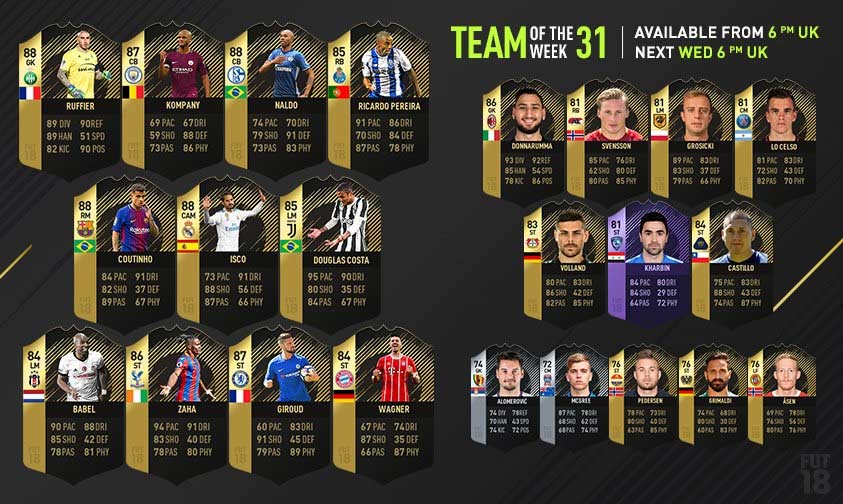 Click in the image to maximize it
FIFA 18 TOTW Week 30
CARDS AVAILABLE IN PACKS
?? 11/04/2018 (Wed) 6pm to 18/04/2018 (Wed) 6pm GMT (UTC +1)
?? 11/04/2018 (Wed) 1pm to 18/04/2018 (Wed) 1pm EST (UTC -4)
?? 11/04/2018 (Wed) 10am to 18/04/2018 (Wed) 10am PST (UTC -7)
STARTING ELEVEN
GK – Hart – West Ham United – 82>84
CB – Marcelo – Olympique Lyonnais – 81>85
CB – Gabriel Paulista – Valencia CF – 79>82
RB – Aritz Elustondo – Real Sociedad – 77>84
RM – Eriksen – Tottenham Hotspur – 88>92
CM – Pogba – Manchester United – 88>91
LM – Promes – Spartak Moskva – 83>86
LM – Hazard – Borussia M'gladbach – 82>84
CF – Dybala – Juventus – 89>93
ST – Iago Aspas – RC Celta de Vigo – 84>87
ST – Depay – Olympique Lyonnais – 80>85
SUBSTITUTES
GK – Adler – 1. FSV Mainz 05 – 79>82
LB – Armero – América de Cali – 75>81
LM – Welbeck – Arsenal – 80>83
ST – Belotti – Torino – 83>85
ST – Pukki – Brøndby IF – 71>84
ST – Grigg – Wigan Athletic – 69>84
ST – Michel – SC Paderborn 07 – 67>81
RESERVES
LB – Reca – Wisła Płock – 64>74
RM – Palacios – Pachuca – 71>78
CAM – Tremolada – Ternana – 68>76
RM – Delfouneso – Blackpool – 63>73
ST – Schalk – Ross County – 65>75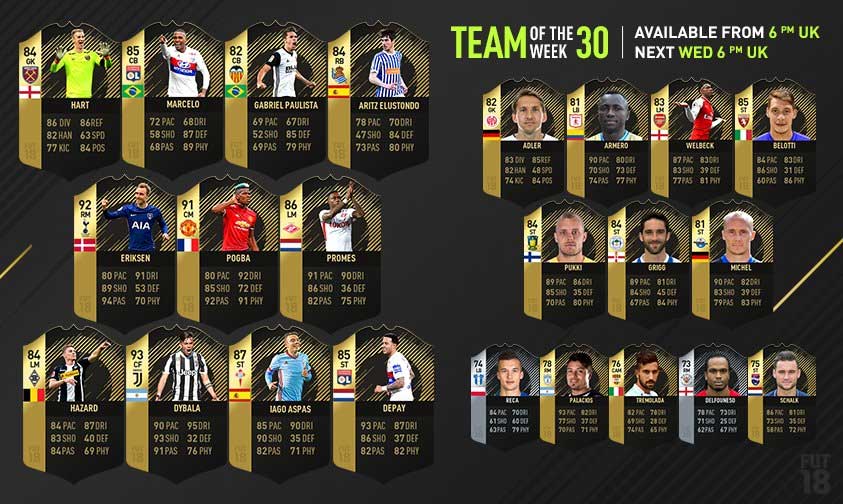 Click in the image to maximize it
FIFA 18 TOTW Week 29
CARDS AVAILABLE IN PACKS
?? 04/04/2018 (Wed) 6pm to 11/04/2018 (Wed) 6pm GMT (UTC +1)
?? 04/04/2018 (Wed) 1pm to 11/04/2018 (Wed) 1pm EST (UTC -4)
?? 04/04/2018 (Wed) 10am to 11/04/2018 (Wed) 10am PST (UTC -7)
STARTING ELEVEN
SUBSTITUTES
RESERVES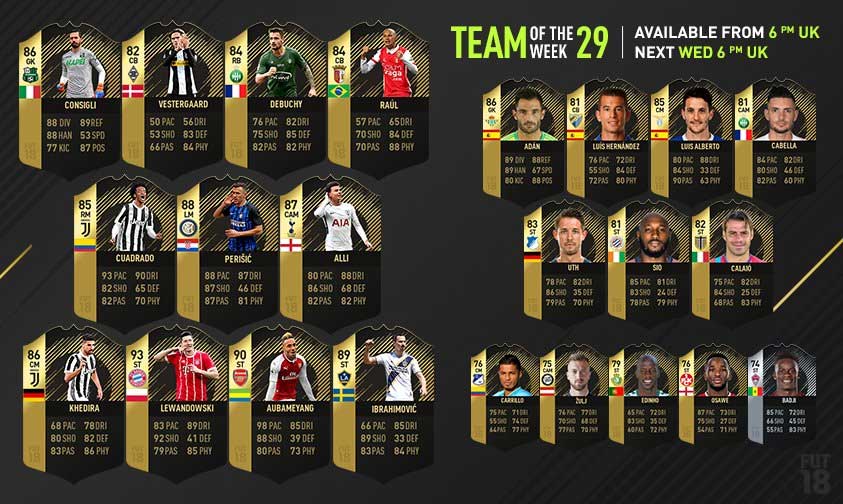 Click in the image to maximize it
FIFA 18 TOTW Week 28
CARDS AVAILABLE IN PACKS
?? 28/03/2018 (Wed) 6pm to 04/04/2018 (Wed) 6pm GMT (UTC +1)
?? 28/03/2018 (Wed) 1pm to 04/04/2018 (Wed) 1pm EST (UTC -4)
?? 28/03/2018 (Wed) 10am to 04/04/2018 (Wed) 10am PST (UTC -7)
STARTING ELEVEN
GK – Schmeichel – Leicester City – 83>86
LWB – Alaba – Bayern München – 86>87
CB – Miranda – Inter – 86>87
CB – Walker – Manchester City – 84>86
CM – Iniesta – FC Barcelona – 87>89
CAM – Rodríguez – Bayern München – 86>88
CM – Paulinho – FC Barcelona – 83>85
LM – Quaresma – Beşiktaş – 83>87
CF – Bale – Real Madrid – 89>91
CM – Lingard – Manchester United – 80>84
LW – Arnautović – West Ham United – 82>87
SUBSTITUTES
GK – Al Mosailem – Al Ahli – 71>78
LWB – Kolašinac – Arsenal – 81>85
CB – De Ligt – Ajax – 76>86
CAM – Aboubakar – FC Porto – 80>84
LM – Džemaili – Bologna – 78>82
RW – Layún – Sevilla FC – 78>82
ST – Kamara – Columbus Crew SC – 75>81
RESERVES
LWB – Oviedo – Sunderland – 72>79
CM – Walker – Notts County – 67>76
ST – Wright-Philips – New York Red Bulls – 75>81
ST – Coronado – Palermo – 70>78
ST – McNulty – Coventry City – 64>74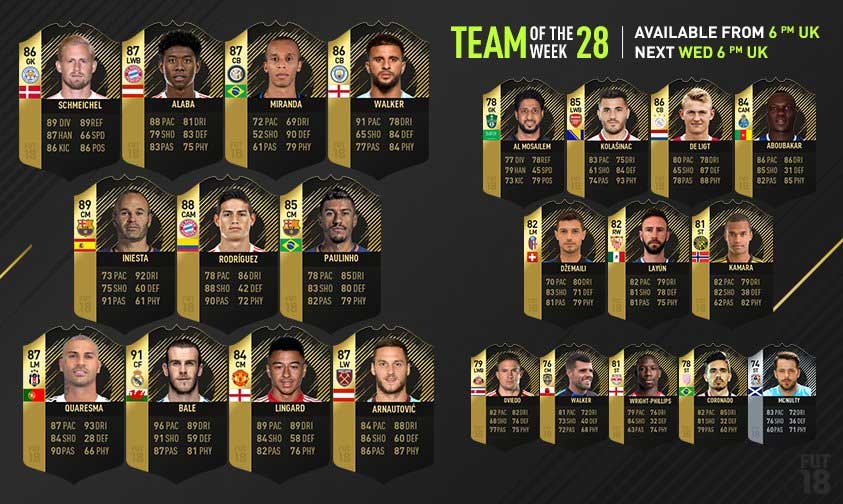 Click in the image to maximize it
FIFA 18 TOTW Week 27
CARDS AVAILABLE IN PACKS
?? 21/03/2018 (Wed) 6pm to 28/03/2018 (Wed) 6pm GMT (UTC +0)
?? 21/03/2018 (Wed) 1pm to 28/03/2018 (Wed) 2pm EST (UTC -4)
?? 21/03/2018 (Wed) 10am to 28/03/2018 (Wed) 11am PST (UTC -7)
STARTING ELEVEN
GK – Muslera – Galatasaray – 82>84
CB – Raúl Albiol – Napoli – 83>85
RB – Jorge Meré – 1. FC Köln – 78>82
CB – Tomkins – Crystal Palace – 76>81
CM – Kroos – Real Madrid – 90>92
CAM – Keita – RB Leipzig – 83>85
RM – Gelson Martins – Sporting CP – 81>84
ST – Icardi – Inter – 86>89
RW – Salah – Liverpool – 85>91
CF – Iličić – Atalanta – 80>85
ST – Martínez – Atlanta United FC – 76>84
SUBSTITUTES
GK – Belenov – FC Ufa – 76>81
LB – Jefferson – Braga – 75>81
CM – Ziyech – Ajax – 81>84
CM – Aouar – Olympique Lyonnais – 75>81
RW – Belfodil – Werder Bremen – 75>81
ST – De Tomás – Rayo Vallecano – 72>82
ST – Tosun – Everton – 78>83
RESERVES
LB – Kelly – Bristol City – 57>67
ST – Berisha – Melbourne Victory – 74>80
ST – Hinterseer – VfL Bochum – 73>79
ST – Kvilitaia – Rapid Wien – 70>78
ST – Kadrii – Randers FC – 66>76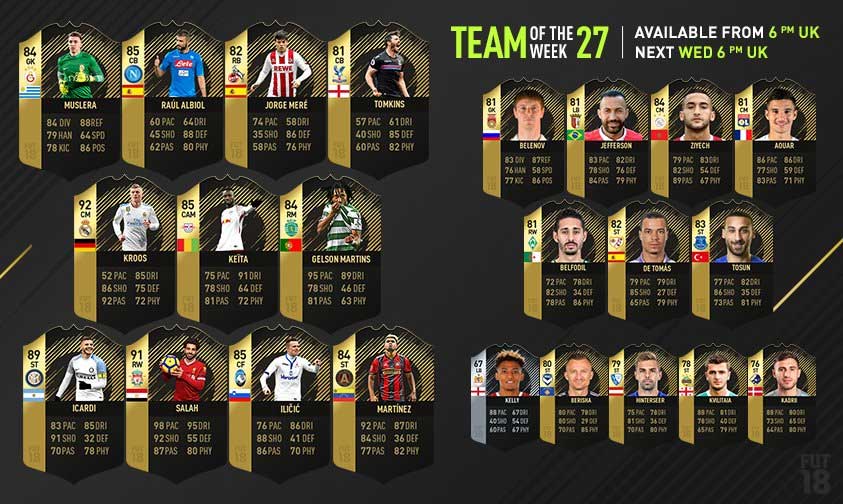 Click in the image to maximize it
FIFA 18 TOTW Week 26
CARDS AVAILABLE IN PACKS
?? 14/03/2018 (Wed) 6pm to 21/03/2018 (Wed) 6pm GMT (UTC +0)
?? 14/03/2018 (Wed) 1pm to 21/03/2018 (Wed) 1pm EST (UTC -5)
?? 14/03/2018 (Wed) 10am to 21/03/2018 (Wed) 10am PST (UTC -8)
STARTING ELEVEN
SUBSTITUTES
RESERVES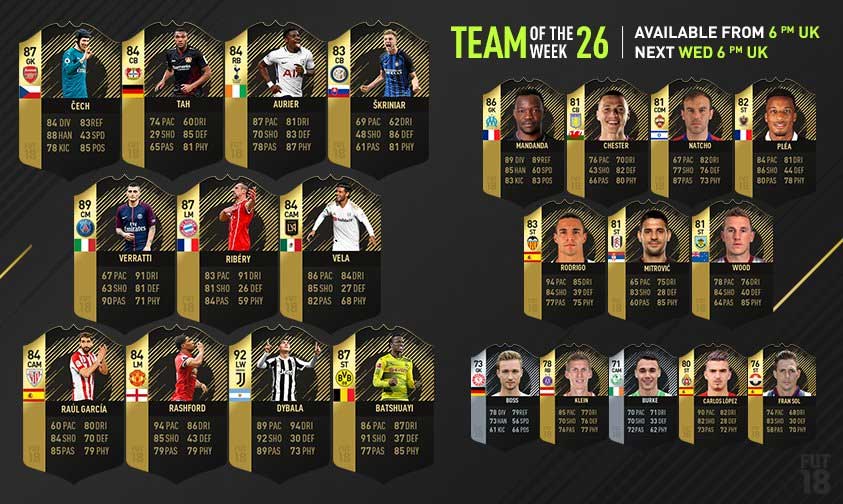 Click in the image to maximize it
FIFA 18 TOTW Week 25
CARDS AVAILABLE IN PACKS
?? 07/03/2018 (Wed) 6pm to 14/03/2018 (Wed) 6pm GMT (UTC +0)
?? 07/03/2018 (Wed) 1pm to 14/03/2018 (Wed) 1pm EST (UTC -5)
?? 07/03/2018 (Wed) 10am to 14/03/2018 (Wed) 10am PST (UTC -8)
STARTING ELEVEN
GK – Ederson – Manchester City – 83>87
CB – Moreno – Real Sociedad – 80>83
RB – Lowton – Burnley – 76>81
CB – Traoré – Angers SCO – 76>81
LW – Sané – Manchester City – 82>86
CAM – Vázquez – Sevilla FC – 82>84
CDM – Cyprien – OGC Nice – 79>82
CM – Ki Sung Yueng – Swansea City – 78>82
ST – Griezmann – Atlético de Madrid – 88>91
RW – Müller – Bayern München – 86>89
ST – Jonas – SL Benfica – 83>86
SUBSTITUTES
GK – Tiago Volpi – Gallos Blancos de Querétaro – 78>82
RB – Dubois – FC Nantes – 75>81
LM – Ricardo Horta – Braga – 76>81
LM – Qazaishvili – San Jose Earthquakes – 75>81
ST – Džeko – Roma – 84>86
ST – Gómez – VfB Stuttgart – 82>84
RW – Feghouli – Galatasaray – 79>82
RESERVES
LM – Linssen – Vitesse – 71>78
CAM – Oztumer – Walsall – 69>77
LM – Bismark – Al Qadsiah – 69>77
ST – Bamford – Middlesbrough – 70>78
ST – Prevljak – SV Mattersburg – 61>71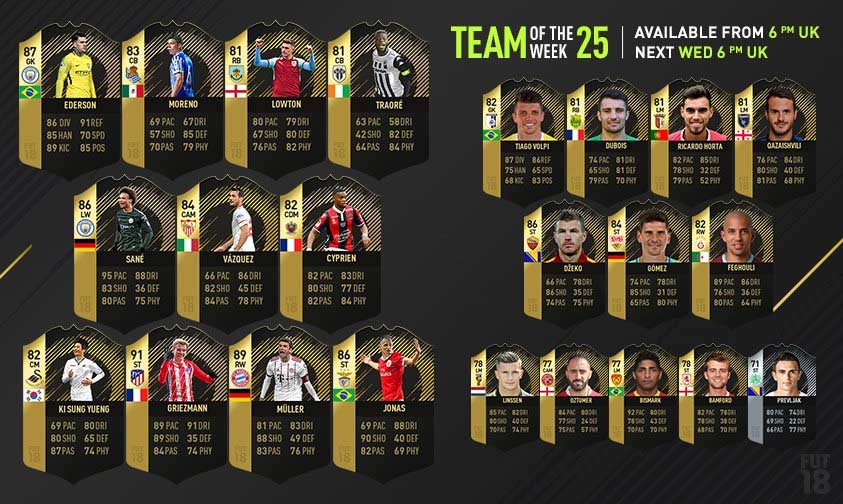 Click in the image to maximize it
FIFA 18 TOTW Week 24
CARDS AVAILABLE IN PACKS
?? 28/02/2018 (Wed) 6pm to 07/03/2018 (Wed) 6pm GMT (UTC +0)
?? 28/02/2018 (Wed) 1pm to 07/03/2018 (Wed) 1pm EST (UTC -5)
?? 28/02/2018 (Wed) 10am to 07/03/2018 (Wed) 10am PST (UTC -8)
STARTING ELEVEN
GK – Sergio Asenjo – Villarreal CF – 84>87
CB – Thiago Silva – Paris Saint-Germain – 88>89
RB – Debuchy – AS Saint-Étienne – 78>82
RB – Arias – PSV – 77>84
RM – Quaresma – Beşiktaş – 83>86
CM – Milinković-Savić – Lazio – 80>87
CDM – Can – Liverpool – 79>82
CDM – Kramer – Borussia M'gladbach – 79>82
ST – Suárez – FC Barcelona – 92>95
ST – Benzema – Real Madrid – 86>87
ST – Lukaku – Manchester United – 86>88
SUBSTITUTES
GK – Jarstein – Hertha BSC – 82>84
CB – Romagnoli – Milan – 79>82
LB – Ismaily – Shakhtar Donetsk – 78>82
RM – Mierzejewski – Sydney FC – 72>82
ST – Teodorczyk – Anderlecht – 79>82
ST – Gomis – Galatasaray – 79>82
ST – Pukki – Brøndby IF – 71>82
RESERVES
LWB – Bjelica – KV Oostende – 70>78
CAM – Nakamura – Kawasaki Frontale – 73>79
LM – Neudecker – FC St. Pauli – 63>73
ST – Morelo – Independiente Santa Fe – 72>79
ST – Torres – FC Lausanne-Sport – 68>76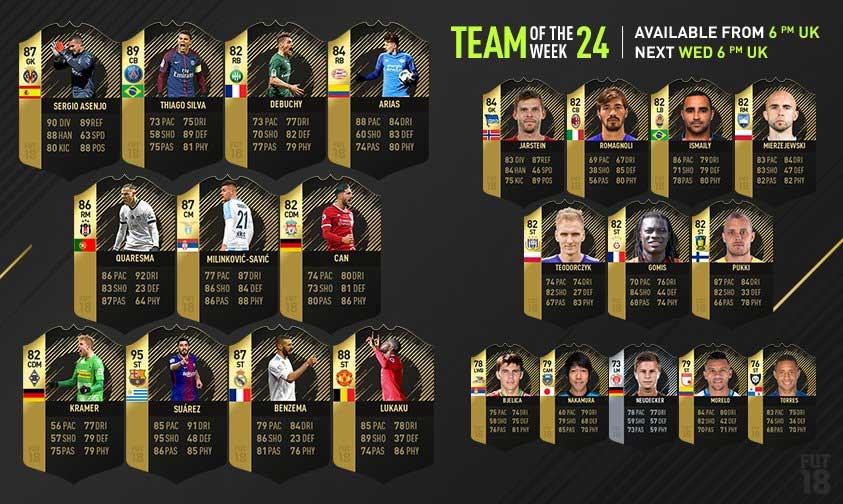 Click in the image to maximize it
FIFA 18 TOTW Week 23
CARDS AVAILABLE IN PACKS
?? 21/02/2018 (Wed) 6pm to 28/02/2018 (Wed) 6pm GMT (UTC +0)
?? 21/02/2018 (Wed) 1pm to 28/02/2018 (Wed) 1pm EST (UTC -5)
?? 21/02/2018 (Wed) 10am to 28/02/2018 (Wed) 10am PST (UTC -8)
STARTING ELEVEN
GK – Ruffier – AS Saint-Étienne – 85>87
CB – Glik – AS Monaco – 85>86
LB – Jordi Alba – FC Barcelona – 85>86
CB – de Ligt – Ajax – 76>84
LM – Marco Asensio – Real Madrid – 84>86
CM – Bonaventura – Milan – 83>86
RM – Marlos – Shakhtar Donetsk – 82>86
CAM – Giuliano – Fenerbahçe – 81>86
ST – Cavani – Paris Saint-Germain – 87>89
LW – Alex Sandro – Juventus – 86>87
ST – Gameiro – Atlético de Madrid – 83>85
SUBSTITUTES
GK – Bürki – Borussia Dortmund – 84>86
CAM – Canales – Real Sociedad – 79>84
CAM – Giaccherini – Chievo Verona – 78>82
ST – Gignac – Tigres U.A.N.L. – 81>84
ST – Soares – FC Porto – 79>82
ST – Embolo – FC Schalke 04 – 76>81
ST – Djaniny – Santos Laguna – 71>82
RESERVES
CB – Morrison – Cardiff City – 71>78
CB – Vranješ – AEK Athens – 69>77
LM – Hämäläinen – Legia Warszawa – 72>79
CF – Windass – Rangers – 68>76
ST – Itten – FC St. Gallen – 62>72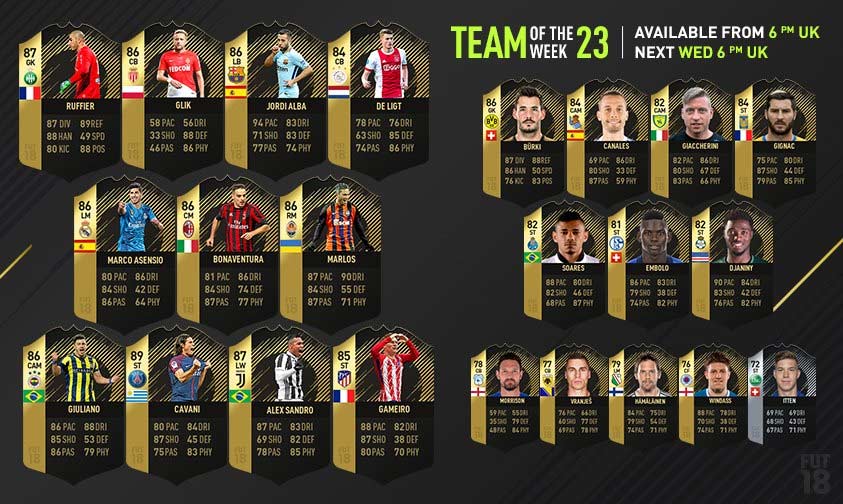 Click in the image to maximize it
FIFA 18 TOTW Week 22
CARDS AVAILABLE IN PACKS
?? 14/02/2018 (Wed) 6pm to 21/02/2018 (Wed) 6pm GMT (UTC +0)
?? 14/02/2018 (Wed) 1pm to 21/02/2018 (Wed) 1pm EST (UTC -5)
?? 14/02/2018 (Wed) 10am to 21/02/2018 (Wed) 10am PST (UTC -8)
STARTING ELEVEN
GK – Lecomte – Montpellier HSC – 79>85
CB – Vertonghen – Tottenham Hotspur – 85>86
LB – Tagliafico – Ajax – 79>82
CB – Lejeune – Newcastle United – 79>82
CDM – William Carvalho – Sporting CP – 83>85
RM – Bernardeschi – Juventus – 82>84
CM – Parejo – Valencia CF – 82>86
CM – Zieliński – Napoli – 80>83
ST – Cristiano Ronaldo – Real Madrid – 94>96
ST – Agüero – Manchester City – 89>93
ST – Roberto Firmino – Liverpool – 83>87
SUBSTITUTES
GK – Sergio Rico – Sevilla FC – 81>84
RWB – Moses – Chelsea – 79>82
CB – Raúl – Braga – 78>82
CAM – Khazri – Stade Rennais – 78>82
LM – Puch – Gallos Blancos de Querétaro – 76>81
ST – Jovetić – AS Monaco – 81>84
ST – Kramarić – TSG 1899 Hoffenheim – 81>86
RESERVES
RM – Ünder – Roma – 74>80
RM – Chevalier- KV Kortrijk – 70>78
ST – Morys – VfR Aalen – 70>78
ST – Jacobsen – Odense Boldklub – 66>75
ST – Eisa – Cheltenham Town – 56>65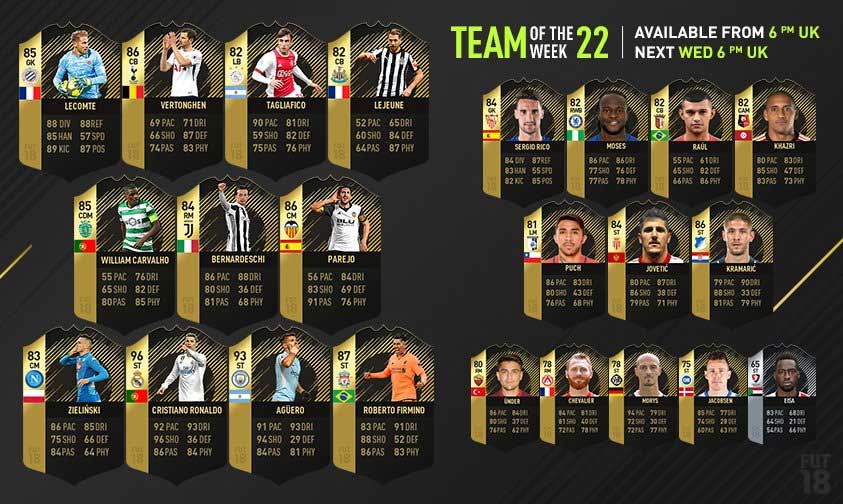 Click in the image to maximize it
FIFA 18 TOTW Week 21
CARDS AVAILABLE IN PACKS
?? 07/02/2018 (Wed) 6pm to 14/02/2018 (Wed) 6pm GMT (UTC +0)
?? 07/02/2018 (Wed) 1pm to 14/02/2018 (Wed) 1pm EST (UTC -5)
?? 07/02/2018 (Wed) 10am to 14/02/2018 (Wed) 10am PST (UTC -8)
STARTING ELEVEN
GK – Lafont – Toulouse FC – 77>81
CB – Hummels – Bayern München – 88>90
LB – Alex Telles – FC Porto – 80>85
CB – Aké – Bournemouth – 75>84
CM – Ramsey – Arsenal – 82>84
RM – Thauvin – Olympique de Marseille – 82>86
CM – Illarramendi – Real Sociedad – 81>84
LM – Mkhitaryan – Arsenal – 85>86 (Will remain RM while OTW is in packs)
ST – Higuaín – Juventus – 90>92
RW – Salah – Liverpool – 83>89
ST – Batshuayi – Borussia Dortmund – 80>85
SUBSTITUTES
GK – Da Costa – FC Lugano – 66>75
CB – Jardel – SL Benfica – 80>83
RM – Orellana – SD Eibar – 80>83
LM – Rony Lopes – AS Monaco – 77>81
RM – Walcott – Everton – 80>83
ST – de Jong – PSV – 76>81
LW – Chiesa – Fiorentina – 75>81
RESERVES
RB – Dummigan – Oldham Athletic – 62>72
CAM – Rizzi – Preußen Münster – 67>76
ST – Martínez – Racing Club de Avellaneda – 72>79
ST – Caputo – Empoli – 71>79
ST – Martín – Club Tijuana – 69>77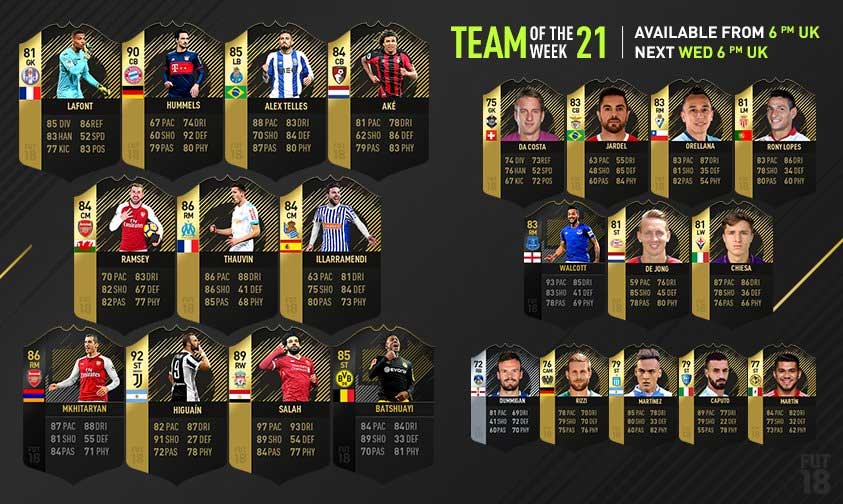 Click in the image to maximize it
FIFA 18 TOTW Week 20
CARDS AVAILABLE IN PACKS
?? 31/01/2018 (Wed) 6pm to 07/02/2018 (Wed) 6pm GMT (UTC +0)
?? 31/01/2018 (Wed) 1pm to 07/02/2018 (Wed) 1pm EST (UTC -5)
?? 31/01/2018 (Wed) 10am to 07/02/2018 (Wed) 10am PST (UTC -8)
STARTING ELEVEN
GK – Viviano – Sampdoria – 82>84
CB – Boateng – Bayern München – 88>89
RB – Juanfran – Atlético de Madrid – 83>85
CB – Naldo – FC Schalke 04 – 82>86
CM – Kroos – Real Madrid – 90>91
RM – Quaresma – Beşiktaş – 83>85
RM – Samu Castillejo – Villarreal CF – 80>83
CM – Meïté – Girondins de Bordeaux – 77>81
ST – Mertens – Napoli – 86>89
RW – Di María – Paris Saint-Germain – 85>86
CF – Kostić – Hamburger SV – 78>84
SUBSTITUTES
GK – Van Crombrugge – Eupen – 70>78
RB – Arias – PSV – 77>81
RM – Visca – Medipol Basaksehir – 79>82
ST – Hanni – Anderlecht – 77>81
RW – Berghuis – Feyenoord – 76>81
ST – Petersen – SC Freiburg – 76>84
CF – Diego Castro – Perth Glory – 76>81
RESERVES
ST – Fabricio – Portimão – 67>76
LM – Roux – FC Metz – 73>79
LM – Sobota – FC St. Pauli – 71>78
ST – De Tomás – Rayo Vallecano – 72>79
ST – Kean – Hellas Verona – 64>74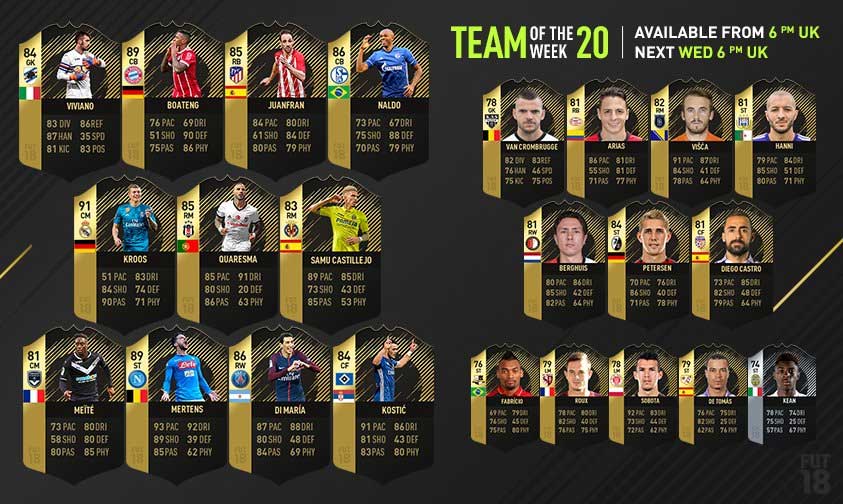 Click in the image to maximize it
FIFA 18 TOTW Week 19
CARDS AVAILABLE IN PACKS
?? 24/01/2018 (Wed) 6pm to 31/01/2018 (Wed) 6pm GMT (UTC +0)
?? 24/01/2018 (Wed) 1pm to 31/01/2018 (Wed) 1pm EST (UTC -5)
?? 24/01/2018 (Wed) 10am to 31/01/2018 (Wed) 10am PST (UTC -8)
STARTING ELEVEN
GK – Horn – 1. FC Köln – 84>86
CB – Nacho Fernández – Real Madrid – 81>86
LB – Nacho Monreal – Arsenal – 80>83
CB – Ginter – Borussia M'gladbach – 78>86
CAM – Müller – Bayern München – 86>87
CAM – Fekir – Olympique Lyonnais – 82>86
CM – Milinković-Savić – Lazio – 80>85
LM – Bailey – Bayer 04 Leverkusen – 76>84
LW – Neymar – Paris Saint-Germain – 92>95
LW – Hazard – Chelsea – 90>93
ST – Agüero – Manchester City – 89>92
SUBSTITUTES
GK – Zoet – PSV – 79>82
CB – Thomas – Angers SCO – 80>83
CAM – Anderson Talisca – Beşiktaş – 79>84
CAM – Ramírez – Sampdoria – 78>82
CM – Kessié – Milan – 76>81
ST – Balotelli – OGC Nice – 82>84
ST – Muriel – Sevilla FC – 80>83
RESERVES
GK – Juan Carlos – CD Lugo – 69>77
CB – Mawson – Swansea – 73>79
CAM – Morioka – Waasland-Beveren – 68>76
LM – McConville – Accrington Stanley – 62>72
ST – Vidosic – Wellington Phoenix – 67>76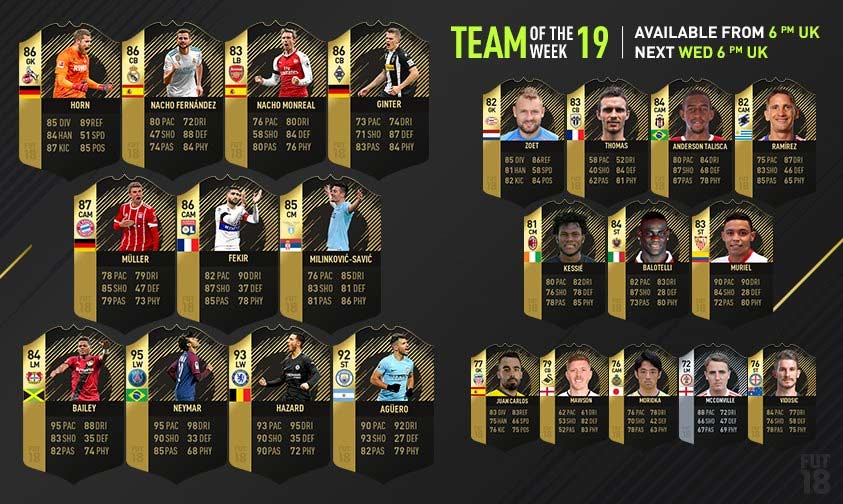 Click in the image to maximize it
FIFA 18 TOTW Week 18
CARDS AVAILABLE IN PACKS
?? 17/01/2018 (Wed) 6pm to 24/01/2018 (Wed) 6pm GMT (UTC +0)
?? 17/01/2018 (Wed) 1pm to 24/01/2018 (Wed) 1pm EST (UTC -5)
?? 17/01/2018 (Wed) 10am to 24/01/2018 (Wed) 10am PST (UTC -8)
STARTING ELEVEN
GK – Sergio Asenjo – Villarreal CF – 84>86
CB – Evans – West Bromwich Albion – 79>82
CB – Baysse – Málaga CF – 78>82
CB – Hinteregger – FC Augsburg – 77>81
CM – Rodríguez – Bayern München – 86>87
LM – Son – Tottenham Hotspur – 82>87
CM – Oxlade-Chamberlain – Liverpool – 80>83
LM – Gonçalo Guedes – Valencia CF – 74>83
ST – Suárez- FC Barcelona – 92>94
ST – Werner – RB Leipzig – 82>84
CF – Lanzini – WEst Ham United – 81>84
SUBSTITUTES
GK – Schmeichel – Leicester City – 83>85
RB – Sørensen – 1. FC Köln – 77>81
RM – Ward-Prowse – Southampton – 78>82
LM – Cervi – SL Benfica – 78>82
CM – Manu García – Deportivo Alavés – 75>81
ST – Wilson – Bournemouth – 75>84
ST – Füllkrug – Hannover 96 – 73>82
RESERVES
GK – Moulin – AS Saint-Étienne – 68>76
LM – Bouanga – FC Lorient – 70>78
LM – Murilo Freitas – Tondela – 64>74
ST – Araujo – AEK Athens – 74>80
ST – Mora – Cruz Azul – 75>81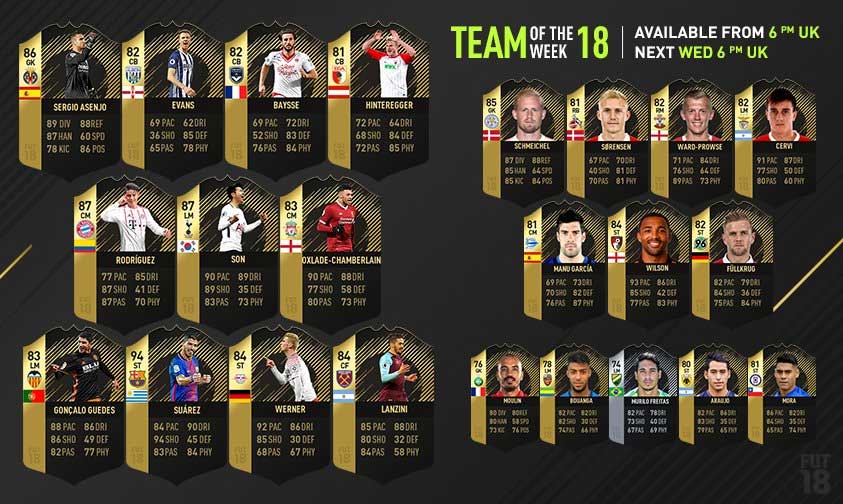 Click in the image to maximize it
FIFA 18 TOTW Week 17
CARDS AVAILABLE IN PACKS
?? 10/01/2018 (Wed) 6pm to 17/01/2018 (Wed) 6pm GMT (UTC +0)
?? 10/01/2018 (Wed) 1pm to 17/01/2018 (Wed) 1pm EST (UTC -5)
?? 10/01/2018 (Wed) 10am to 17/01/2018 (Wed) 10am PST (UTC -8)
STARTING ELEVEN
GK – Iván Cuéllar – CD Leganés – 75>81
CB – Koulibaly – Napoli – 84>86
RB – Sergi Roberto – FC Barcelona – 81>84
CB – Etxeita – Athletic Club de Bilbao – 78>82
LB – Sessegnon – Fulham – 66>81
LM – Brahimi – FC Porto – 82>86
RM – Wass – RC Celta de Vigo – 80>85
CDM – Milivojević – Crystal Palace – 77>81
ST – Dost – Sporting CP – 83>86
ST – Immobile – Lazio – 82>86
ST – Bale – Real Madrid – 89>90
SUBSTITUTES
GK – Matheus – Braga – 76>81
RB – De Silvestri – Torino – 76>81
CB – Aguilar – América – 76>81
CDM – Pedro Obiang – West Ham United – 77>81
LW – Cristian Tello – Real Betis Balompié – 77>81
ST – Castillo – Pumas U.N.A.M. – 76>81
ST – Carroll – West Ham United – 78>82
RESERVES
LWB – Bakasetas – AEK Athens – 71>78
CM – Danilo – Braga – 74>80
ST – Coda – Benevento – 71>78
RW – Djaniny – Cape Verde Islands – 71>78
LW – Memela – Orlando Pirates – 64>74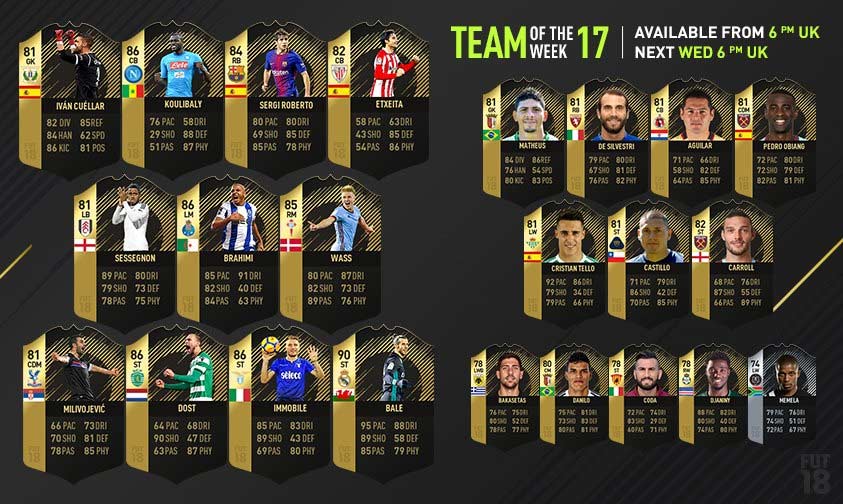 Click in the image to maximize it
FIFA 18 TOTW Week 16
CARDS AVAILABLE IN PACKS
?? 03/01/2018 (Wed) 6pm to 10/01/2018 (Wed) 6pm GMT (UTC +0)
?? 03/01/2018 (Wed) 1pm to 10/01/2018 (Wed) 1pm EST (UTC -5)
?? 03/01/2018 (Wed) 10am to 10/01/2018 (Wed) 10am PST (UTC -8)
STARTING ELEVEN
GK – Ederson – Manchester City – 83>85
CB – Lovren – Liverpool – 81>84
CB – Nkoulou – Torino – 78>82
CB – Aké – Bournemouth – 75>81
CM – Pogba – Manchester United – 87>89
CAM – Alli – Tottenham Hotspur – 84>86
CAM – Lingard – Manchester United – 78>82
LF – Sánchez – Arsenal – 89>91
RW – Dybala – Juventus – 88>90
ST – Roberto Firmino – Liverpool – 83>86
ST – Arnautović – West Ham United – 82>86
SUBSTITUTES
GK – Perin – Genoa – 83>85
CB – Dendoncker – Anderlecht – 79>82
LM – Izquierdo – Brighton & Hove Albion – 78>82
LM – Braithwaite – Middlesbrough – 77>82
RM – Snodgrass – Aston Villa – 76>81
RW – Willian – Chelsea – 84>86
ST – Quagliarella – Sampdoria – 78>82
RESERVES
CB – Wilson – Rangers – 69>77
RM – Mierzejewski – Sydney FC – 72>79
RM – Fathi – Al Taawoun – 67>76
ST – Alessandra – Notts County – 66>75
ST – Marriott – Peterborough United – 62>72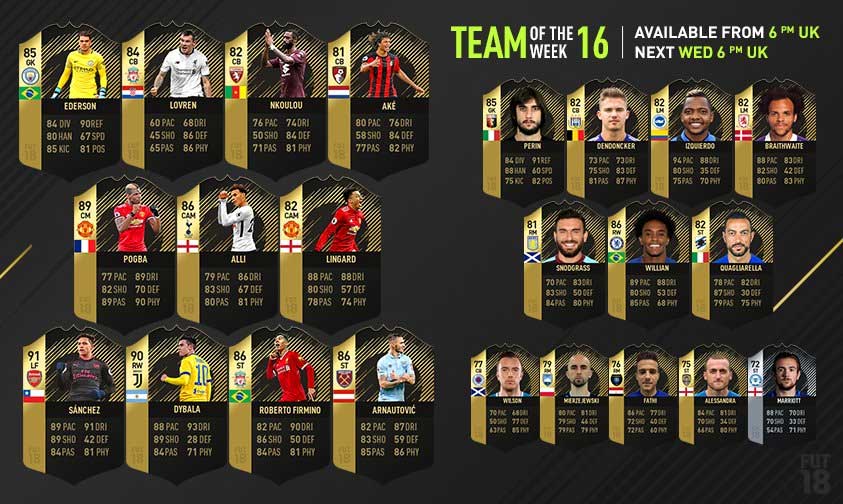 Click in the image to maximize it
FIFA 18 TOTW Week 15
CARDS AVAILABLE IN PACKS
?? 27/12/2017 (Wed) 6pm to 03/01/2018 (Wed) 6pm GMT (UTC +0)
?? 27/12/2017 (Wed) 1pm to 03/01/2018 (Wed) 1pm EST (UTC -5)
?? 27/12/2017 (Wed) 10am to 03/01/2018 (Wed) 10am PST (UTC -8)
STARTING ELEVEN
GK: Andrea Consigli – Sassuolo – 84
CB: Medhi Benatia – Juventus – 87
CB: Phil Jagielka – Everton – 83
LB: Iñigo Martínez – Real Sociedad – 84
CDM: Luiz Gustavo – Olympique de Marseille – 85
CM: Allan – Napoli – 83
LM: Takashi Inui – Eibar – 82
LM: Eric Maxim Choupo-Moting – Stoke Sity – 82
ST: Harry Kane – Tottenham Hotspur – 89
ST: Sergio Agüero – Manchester City – 91
ST: Lionel Messi – Barcelona – 95
SUBSTITUTES
GK: Herrerín – Athletic Club de Bilbao – 81
CB: Marcelo – Olympique Lyonnais – 82
LM: Christian Atsu – Newcastle United – 81
CAM: Mossoró – Medipol Başakşehir FK – 81
RW: Lozano – PSV – 84
ST: Karl Toko Ekambi – Angers – 81
ST: Mattia Destro – Bologna – 81
RESERVES
RM: Mohammed Al Kuwaykibi – Ettifaq FC – 74
ST: Bobô – Sydney FC – 80
ST: Will Grigg – Wigan Athletic – 77
ST: Lennart Thy – VVV-Venlo – 77
ST: Sergi Guardiola – Córdoba – 75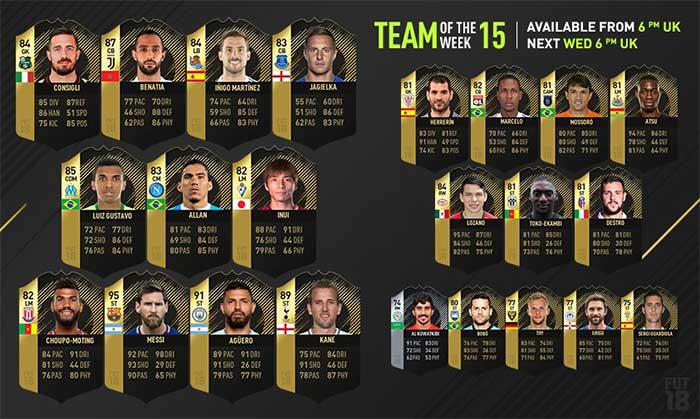 Click in the image to maximize it
FIFA 18 TOTW Week 14
CARDS AVAILABLE IN PACKS
?? 20/12/2017 (Wed) 6pm to 27/12/2017 (Wed) 6pm GMT (UTC +0)
?? 20/12/2017 (Wed) 1pm to 27/12/2017 (Wed) 1pm EST (UTC -5)
?? 20/12/2017 (Wed) 10am to 27/12/2017 (Wed) 10am PST (UTC -8)
STARTING ELEVEN
GK – Lopes – Olympique Lyonnais – 83>85
CB – Naldo – FC Schalke 04 – 82>84
LWB – Marcos Alonso – Chelsea – 81>84
RB – Vrsaljko – Atlético de Madrid – 79>84
CM – David Silva – Manchester City – 87>90
CM – Pjanić – Juventus – 85>87
CM – Mooy – Huddersfield Town – 77>84
LW – Neymar – Paris Saint-Germain – 92>94
CF – Raffael – Borussia M'gladbach – 82>86
ST – Suárez – Barcelona – 92>93
SUBSTITUTES
GK – Ulreich – Bayern München – 76>81
RB – Sidibé – AS Monaco – 79>82
CM – Pizzi – SL Benfica – 82>84
LM – Kalou – Hertha BSC – 80>83
RF – Iličić – Atalanta – 80>83
LM – Babel – Beşiktaş – 75>81
CF – Okazaki – Leicester City – 77>81
RESERVES
LM – Mackay-Steven – Aberdeen – 68>78
CM – Rojas – Millonarios – 68>78
ST – Siebatcheu – Stade de Reims – 66>76
ST – Thiele – FC Carl Zeiss Jena – 64>74
LW – Milinković – Heart of Midlothian – 59>69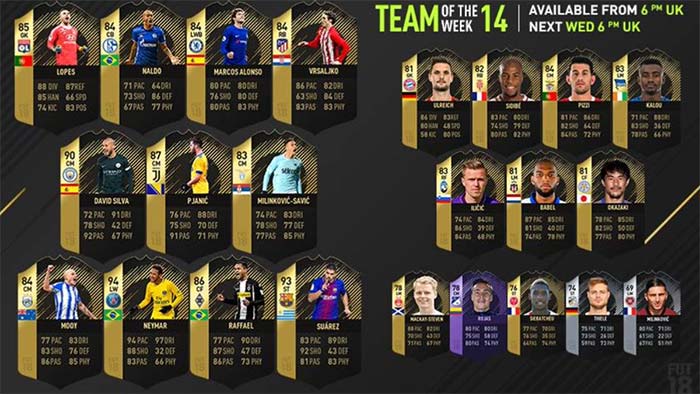 Click in the image to maximize it
FIFA 18 TOTW Week 13
CARDS AVAILABLE IN PACKS
?? 13/12/2017 (Wed) 6pm to 20/12/2017 (Wed) 6pm GMT (UTC +0)
?? 13/12/2017 (Wed) 1pm to 20/12/2017 (Wed) 1pm EST (UTC -5)
?? 13/12/2017 (Wed) 10am to 20/12/2017 (Wed) 10am PST (UTC -8)
STARTING ELEVEN
GK – Handanovič – Inter – 87>89
CB – Otamendi – Manchester City – 83>86
CB – Nacho Fernández – Real Madrid – 81>84
CB – Reid – West Ham United – 79>82
RM – Mahrez – Leicester City – 83>86
LM – Son – Tottenham Hotspur – 82>86
CM – Saúl – Atlético de Madrid – 82>84
LM – Promes – Spartak Moskva – 82>84
ST – Defoe – Bournemouth – 80>83
ST – Germain – Olympique de Marseille – 80>83
ST – Aboubakar – FC Porto – 78>82
SUBSTITUTES
GK – Sorrentino – Chievo Verona – 79>82
CB – Kerbrat – En Avant Guingamp – 75>81
CM – Bonaventura – Milan – 83>85
CAM – Belhanda – Galatasaray – 81>84
LM – Bailey – Bayer 04 Leverkusen – 76>81
ST – Petersen – SC Freiburg – 76>81
ST – Altidore – Toronto FC – 76>84
RESERVES
CB – Gelmi – FC Thun – 62>72
CB – Meza – Tigres U.A.N.L. – 72>79
LM – Roofe – Leeds United – 70>78
CM – Aouar – Olympique Lyonnais – 67>76
ST – Carrillo – AS Monaco – 74>80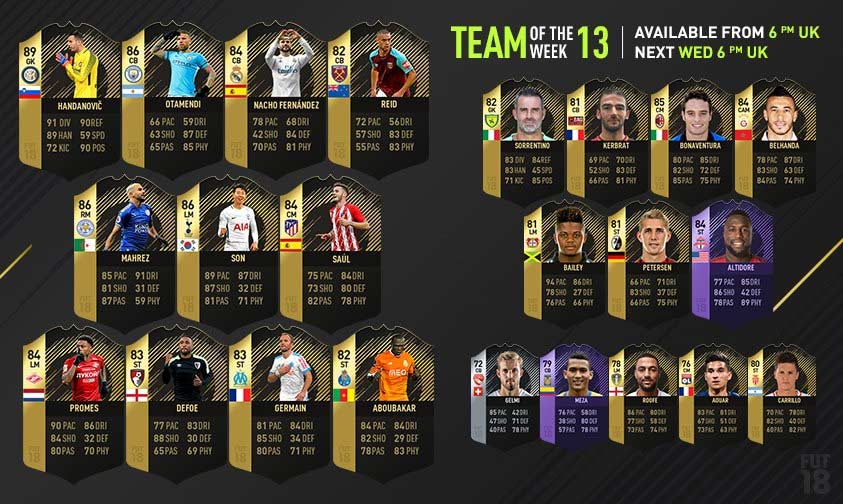 Click in the image to maximize it
FIFA 18 TOTW Week 12
CARDS AVAILABLE IN PACKS
?? 06/12/2017 (Wed) 6pm to 13/12/2017 (Wed) 6pm GMT (UTC +0)
?? 06/12/2017 (Wed) 1pm to 13/12/2017 (Wed) 1pm EST (UTC -5)
?? 06/12/2017 (Wed) 10am to 13/12/2017 (Wed) 10am PST (UTC -8)
STARTING ELEVEN
GK – De Gea – Manchester United – 90>92
LB – Alex Telles – FC Porto – 80>83
CB – Papadopoulos – Hamburger SV – 79>82
LWB – Young – Manchester United – 75>84
LM – Perišić – Inter – 84>86
CM – Rooney – Everton – 81>84
CAM – Giuliano – Fenerbahçe – 81>84
LM – Coman – Bayern München – 79>82
RF – Özil – Arsenal – 88>89
LW – Coutinho – Liverpool – 86>87
ST – Iago Aspas – RC Celta de Vigo – 83>86
SUBSTITUTES
GK – Beto – Göztepe – 76>81
RB – Rosales – Málaga CF – 77>81
CDM – André – Stade Rennais – 77>81
RM – Gomez – Deportivo Alavés – 76>81
CM – Liénard – RC Strasbourg – 75>81
ST – Gnabry – TSG 1899 Hoffenheim – 79>82
ST – Finnbogason – FC Augsburg – 76>81
RESERVES
GK – Brignoli – Benevento – 70>78
CM – Markel Bergara – Getafe CF – 72>79
CAM – Skhirtladze – Silkeborg IF – 63>73
ST – Kobayashi – Kawasaki Frontale – 73>79
ST – Świerczok – Zagłębie Lubin – 65>74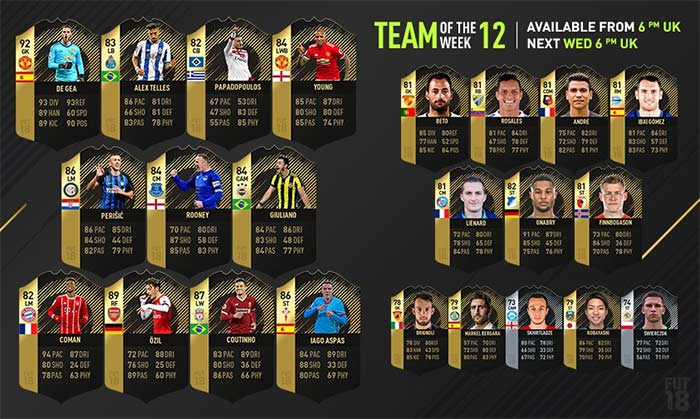 Click in the image to maximize it
FIFA 18 TOTW Week 11
CARDS AVAILABLE IN PACKS
?? 29/11/2017 (Wed) 6pm to 06/12/2017 (Wed) 6pm GMT (UTC +0)
?? 29/11/2017 (Wed) 1pm to 06/12/2017 (Wed) 1pm EST (UTC -5)
?? 29/11/2017 (Wed) 10am to 06/12/2017 (Wed) 10am PST (UTC -8)
STARTING ELEVEN
GK – Sirigu – Torino – 79>84
CB – de Vrij – Lazio – 83>85
CB – Ginter – Borussia M'gladbach – 78>84
LWB – Zeegelaar – Watford – 75>81
CM – Verratti – Paris Saint-Germain – 87>88
CDM – Casemiro – Real Madrid – 85>86
CM – Banega – Sevilla FC – 83>85
CAM – Griezmann – Atlético de Madrid – 88>89
ST – Jonas – SL Benfica – 83>85
RW – Sterling – Manchester City – 82>86
LW – Depay – Olympique Lyonnais – 80>83
SUBSTITUTES
GK – Demirel – Fenerbahçe – 76>81
RB – Lang – FC Basel – 77>81
LWB – Roussillon – Montpellier HSC – 76>81
RM – Marlos – Shakhtar Donetsk – 82>84
LM – Kostić – Hamburger SV – 78>82
ST – Austin – Southampton – 78>82
ST – Funes Mori – Monterrey – 78>82
RESERVES
CAM – Vydra – Derby County – 70>78
RM – Hilßner – Hansa Rostock – 63>73
LW – Kluivert – Ajax – 73>79
LW – Sessegnon – Fulham – 66>76
ST – Markov – FC Tosno – 64>74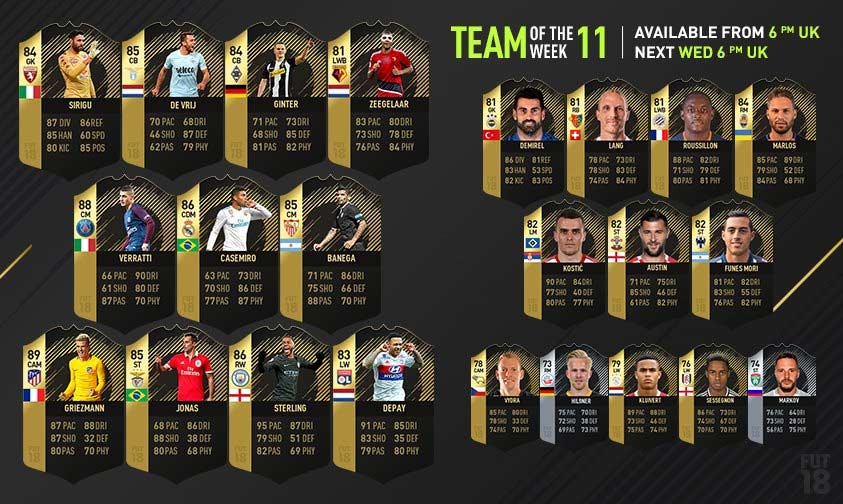 Click in the image to maximize it
FIFA 18 TOTW Week 10
CARDS AVAILABLE IN PACKS
?? 22/11/2017 (Wed) 6pm to 29/11/2017 (Wed) 6pm GMT (UTC +0)
?? 22/11/2017 (Wed) 1pm to 29/11/2017 (Wed) 1pm EST (UTC -5)
?? 22/11/2017 (Wed) 10am to 29/11/2017 (Wed) 10am PST (UTC -8)
STARTING ELEVEN
GK – Neto – Valencia CF – 80>83
CB – Mustafi – Arsenal – 84>87
CB – Dante – OGC Nice – 81>84
CB – de Ligt – Ajax – 76>81
CAM – Hazard – Chelsea – 90>91
CM – Nainggolan – Roma – 86>87
CM – Vidal – Bayern München – 87>88
CDM – Pogba – Manchester United – 87>88
LW – Insigne – Napoli – 85>86
ST – Icardi – Inter – 84>87
ST – Kruse – Werder Bremen – 82>84
SUBSTITUTES
GK – Zieler – VfB Stuttgart – 79>82
CF – Raffael – Borussia M'gladbach – 82>84
LM – Malli – VfL Wolfsburg – 79>82
LM – Castro – Málaga CF – 75>81
CM – Pastore – Paris Saint-Germain – 83>85
ST – Adebayor – Medipol Başakşehir – 78>82
ST – Wilson – Bournemouth – 75>81
RESERVES
CB – Ferrari – Sampdoria – 74>80
CM – Melero – SD Huesca – 71<78 ST - Pukki - Brøndby IF - 71>78
ST – Hylton – Luton Town – 67>76
RW – Mackail-Smith – Wycombe Wanderers – 62>72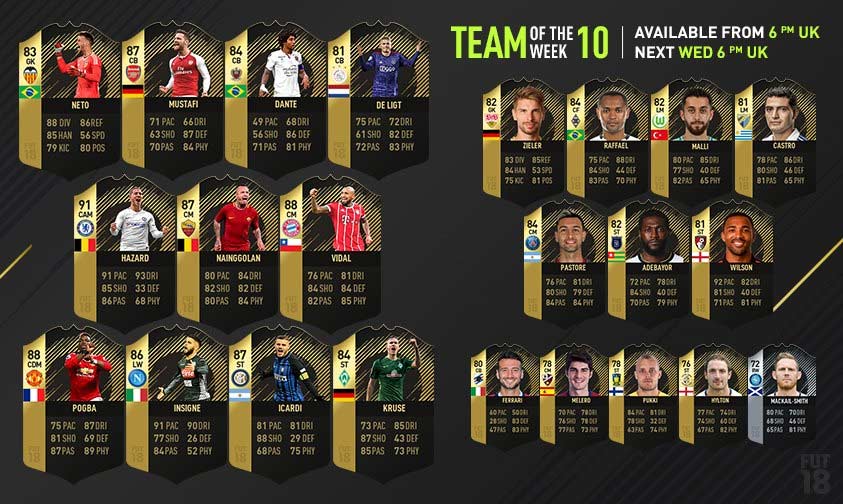 Click in the image to maximize it
FIFA 18 TOTW Week 9
CARDS AVAILABLE IN PACKS
?? 15/11/2017 (Wed) 6pm to 22/11/2017 (Wed) 6pm GMT (UTC +0)
?? 15/11/2017 (Wed) 1pm to 22/11/2017 (Wed) 1pm EST (UTC -5)
?? 15/11/2017 (Wed) 10am to 22/11/2017 (Wed) 10am PST (UTC -8)
STARTING ELEVEN
GK – Boruc – Bournemouth – 77>81
CB – Granqvist – FC Krasnodar – 80>85
CB – Benatia – Juventus – 84>86
LB – Rodríguez – Milan – 81>84
RB – Vrsaljko – Atlético de Madrid – 79>82
RM – Silva – Manchester City – 87>89
CAM – Eriksen – Tottenham Hotspur – 87>89
CDM – Tolisso – Bayern München – 82>84
ST – Lukaku – Manchester United – 86>87
RW – Mané – Liverpool – 84>86
ST – Son – Tottenham Hotspur – 82>84
SUBSTITUTES
GK – Olsen – FC København – 74>80
RB – Dirar – Fenerbahçe – 76>81
CM – Manuel Fernandes – Lokomotiv Moskva – 80>83
CM – Ljajić – Torino – 79>82
RM – Lod – Panathinaikos FC – 73>79
LM – Grozav – Kardemir Karabükspor – 70>78
ST – Calaió – Parma – 72>79
RESERVES
CB – Lozano – Tigres FC – 67>76
ST – Sadiku – Legia Warszawa – 66>76
RM – Hoole – Central Coast Mariners – 63>73
RM – Anderson – Lincoln City – 59>69
ST – Pitman – Portsmouth – 69>77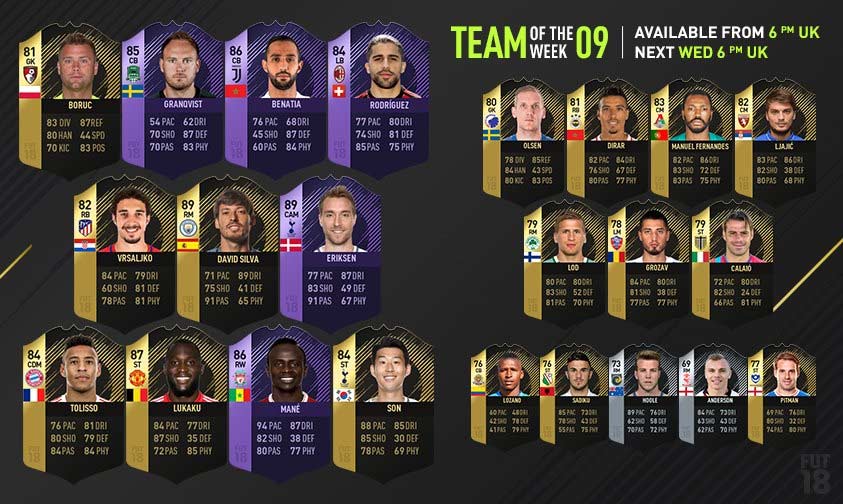 Click in the image to maximize it
FIFA 18 TOTW Week 8
CARDS AVAILABLE IN PACKS
?? 08/11/2017 (Wed) 6pm to 15/11/2017 (Wed) 6pm GMT (UTC +0)
?? 08/11/2017 (Wed) 1pm to 15/11/2017 (Wed) 1pm EST (UTC -5)
?? 08/11/2017 (Wed) 10am to 15/11/2017 (Wed) 10am PST (UTC -8)
STARTING ELEVEN
GK – Hrádecký – Eintracht Frankfurt – 81>84
CB – Hummels – Bayern München – 88>89
CB – Cook – Bournemouth – 77>81
LB – Baines – Everton – 82>84
CM – Parejo – Valencia CF – 82>84
RM – Paco Alcácer – FC Barcelona – 79>82
RM – Origi – VfL Wolfsburg – 78>82
ST – Salah – Liverpool – 83>86
RW – Mbappé – Paris Saint-Germain – 83>85
RW – Thauvin – Olympique de Marseille – 82>84
RW – Traoré – Olympique Lyonnais – 78>82
SUBSTITUTES
GK – Sirigu – Torino – 79>82
CB – Tomović – Chievo Verona – 76>81
RB – Touré – AS Monaco – 73>79
CAM – Anderson Talisca – Beşiktaş – 79>82
LF – Sansone – Villarreal CF – 79>82
CF – Dempsey – Seattle Sounders – 78>82
ST – Labyad – FC Utrecht – 75>81
RESERVES
CB – Balažic – Ural Ekaterinburg – 65>75
ST – Girth – SV Meppen – 66>76
ST – Clarke – Sheffield United – 65>75
ST – Budimir – Crotone – 70>78
ST – Berisha – LASK – 56>66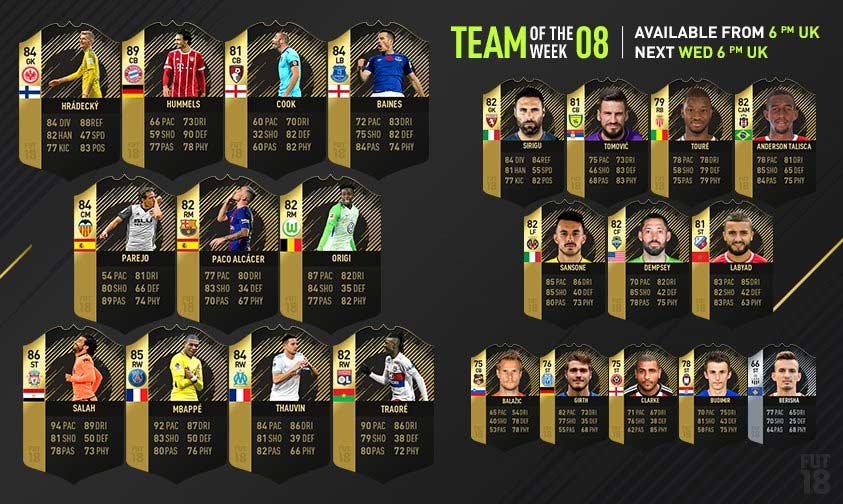 Click in the image to maximize it
FIFA 18 TOTW Week 7
CARDS AVAILABLE IN PACKS
?? 01/11/2017 (Wed) 6pm to 08/11/2017 (Wed) 6pm GMT (UTC +1)
?? 01/11/2017 (Wed) 1pm to 08/11/2017 (Wed) 1pm EST (UTC -4)
?? 01/11/2017 (Wed) 10am to 08/11/2017 (Wed) 10am PST (UTC -7)
STARTING ELEVEN
GK – ter Stegen – FC Barcelona – 85>86
LB – Marçal – Olympique Lyonnais – 77>82
LWB – Kolašinac – Arsenal – 80>83
LWB – Young – Manchester United – 75>81
CDM – Fernandinho – Manchester City – 82>84
RM – Pablo Sarabia – Sevilla FC – 80>83
CM – Torreira – Sampdoria – 75>81
ST – Higuaín – Juventus – 90>91
ST – Cavani – Paris Saint-Germain – 87>88
ST – Mertens – Napoli – 86>88
RW – Lozano – PSV – 78>82
SUBSTITUTES
GK – Mandanda – Olympique de Marseille – 82>84
CB – Rafael Tolói – Atalanta – 77>82
RWB – Pablo Maffeo – Girona FC – 71>78
LM – Grifo – Borussia M'gladbach – 77>82
ST – Dembélé – Celtic – 75>81
CF – Miller – Rangers – 72>79
ST – Farfán – Lokomotiv Moskva – 78>82
RESERVES
RWB – Capon – KV Oostende – 70>78
CAM – Dowell – Nottingham Forest – 68>76
ST – Bebou – Hannover 96 – 70>78
ST – Schäffler – SV Wehen Wiesbaden – 68>76
ST – Rapp – FC Thun – 65>75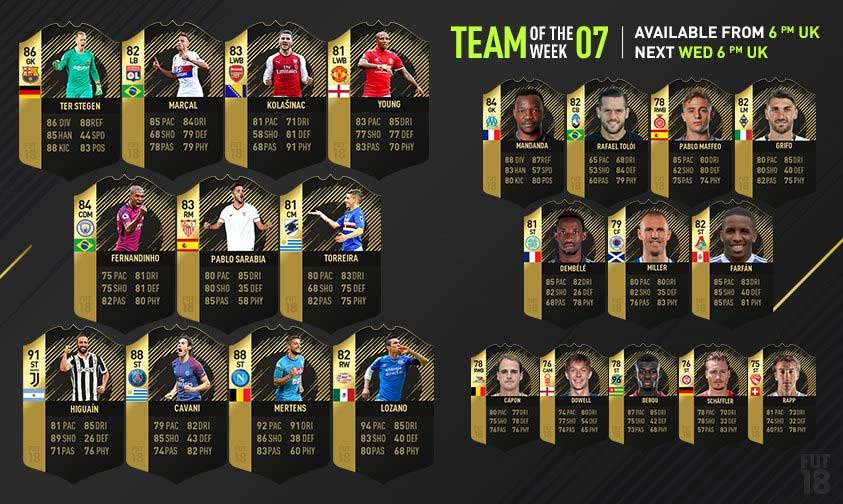 Click in the image to maximize it
FIFA 18 TOTW Week 6
CARDS AVAILABLE IN PACKS
?? 25/10/2017 (Wed) 6pm to 25/10/2017 (Wed) 6pm GMT (UTC +1)
?? 25/10/2017 (Wed) 1pm to 25/10/2017 (Wed) 1pm EST (UTC -4)
?? 25/10/2017 (Wed) 10am to 25/10/2017 (Wed) 10am PST (UTC -7)
STARTING ELEVEN
GK – Handanovič – Inter – 87>88
CB – Otamendi – Manchester City – 83>85
LB – Kolarov – Roma – 79>82
CB – Hilton – Montpellier HSC – 78>84
LM – Iniesta – FC Barcelona – 87>88
CDM – Luiz Gustavo – Olympique de Marseille – 80>83
LM – Brandt – Bayer 04 Leverkusen – 80>83
LF – Sánchez – Arsenal – 89>90
ST – Dost – Sporting CP – 83>85
RM – Mahrez – Leicester City – 83>85
ST – Batshuayi – Chelsea – 80>83
SUBSTITUTES
GK – Müller – Hallescher FC – 58>68
RB – Ricardo Pereira – FC Porto – 80>83
RM – Valencia – Tigres U.A.N.L. – 76>81
LM – Gonçalo Guedes – Valencia CF – 74>80
RM – Šural – Sparta Praha – 72>79
RW – David Neres – Ajax – 74>80
ST – Füllkrug – Hannover 96 – 73>79
RESERVES
CM – Mooy – Huddersfield Town – 77>82
CAM – Ilsinho – Philadelphia Union – 67>76
ST – Kiese Thelin – Waasland-Beveren – 71>78
LW – Sørloth – FC Midtjylland – 69>82
RW – Juklerød – Vålerenga – 60>70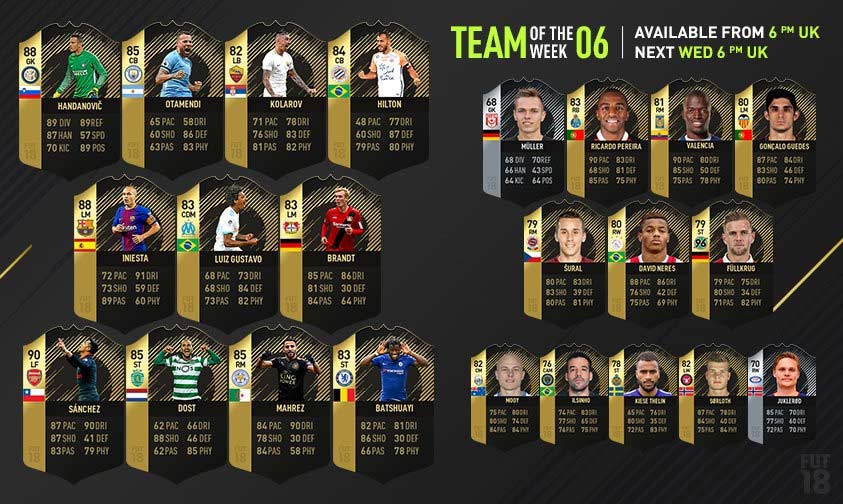 Click in the image to maximize it
FIFA 18 TOTW Week 5
CARDS AVAILABLE IN PACKS
?? 18/10/2017 (Wed) 6pm to 25/10/2017 (Wed) 6pm GMT (UTC +1)
?? 18/10/2017 (Wed) 1pm to 25/10/2017 (Wed) 1pm EST (UTC -4)
?? 18/10/2017 (Wed) 10am to 25/10/2017 (Wed) 10am PST (UTC -7)
STARTING ELEVEN
GK – De Gea – Manchester United – 90>91
RB – Kimmich – Bayern München – 81>86
CB – Berezutskiy – CSKA Moskva – 77>82
LB – Fabra – Boca Juniors – 76>81
CM – Thiago – Bayern München – 88>89
CAM – Fekir – Olympique Lyonnais – 82>84
CAM – Belluschi – San Lorenzo de Almagro – 80>83
RW – Sterling – Manchester City – 82>84
ST – Icardi – Inter – 84>86
ST – Immobile – Lazio – 82>84
ST – Jesus – Manchester City – 81>84
SUBSTITUTES
GK – Lecomte – Montpellier HSC – 79>83
CB – Elustondo – Real Sociedad – 77>82
RM – Alessandrini – Los Angeles Galaxy – 77>82
CAM – Pereiro – PSV – 76>81
ST – Zaha – Crystal Palace – 81>84
ST – Iago Aspas – Celta Vigo – 83>85
ST – Al Soma – Al Ahli – 78>82
RESERVES
GK – Strakosha – Lazio – 74>80
CM – Berry – Luton Town – 65>75
ST – Bothroyd – Hokkaido Consadole Sapporo – 68>76
ST – Ducksch – Holstein Kiel – 67>76
ST – Michel – SC Paderborn 07 – 67>76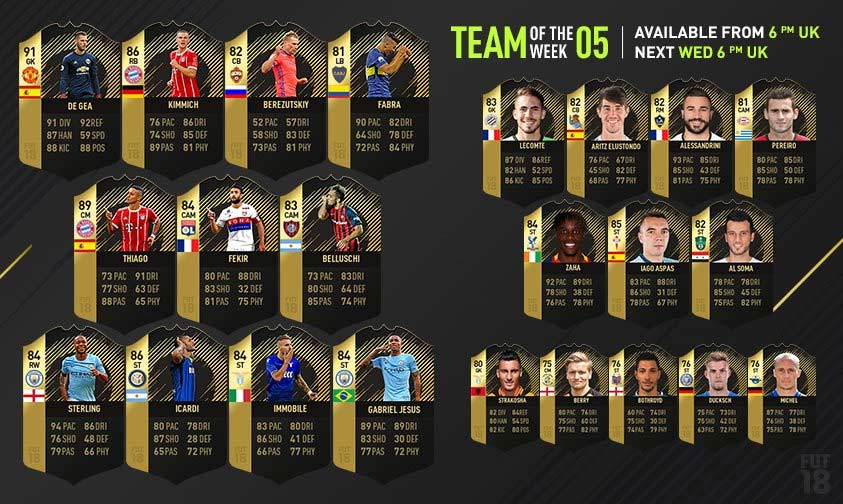 Click in the image to maximize it
FIFA 18 TOTW Week 4
CARDS AVAILABLE IN PACKS
?? 11/10/2017 (Wed) 6pm to 18/10/2017 (Wed) 6pm GMT (UTC +1)
?? 11/10/2017 (Wed) 1pm to 18/10/2017 (Wed) 1pm EST (UTC -4)
?? 11/10/2017 (Wed) 10am to 18/10/2017 (Wed) 10am PST (UTC -7)
STARTING ELEVEN
GK – Sergio Herrera – CA Osasuna – 71>78
RB – Lichtsteiner – Juventus – 82>84
CB – Granqvist – FC Krasnodar – 80>83
CB – Árnason – Aberdeen – 70>78
CAM – Eriksen – Tottenham Hotspur – 87>88
CM – Matuidi – Juventus – 85>86
ST – Wagner – TSG 1899 Hoffenheim – 79>82
LM – Arnautović – West Ham United – 82>84
ST – Sanabria – Real Betis Balompié – 78>82
CM – Goretzka – FC Schalke 04 – 82>84
ST – Lewandowski – Bayern München – 91>92
SUBSTITUTES
GK – Agliardi – Cesena – 70>78
RB – Odriozola – Real Sociedad – 74>80
CM – Whiteman – Doncaster Rovers – 63>73
ST – Murphy – Nottingham Forest – 72>79
ST – Boutaïb – Yeni Malatyaspor – 71>78
ST – Júnior Negão – Daegu FC – 63>73
ST – O'Donovan – Newcastle Jets – 63>73
RESERVES
RM – Kramarić – TSG 1899 Hoffenheim – 81>84
ST – Altidore – Toronto FC – 76>81
RM – Elyounoussi – FC Basel – 78>82
LM – Zuber – TSG 1899 Hoffenheim – 75>81
ST – Cahill – Melbourne City – 70>78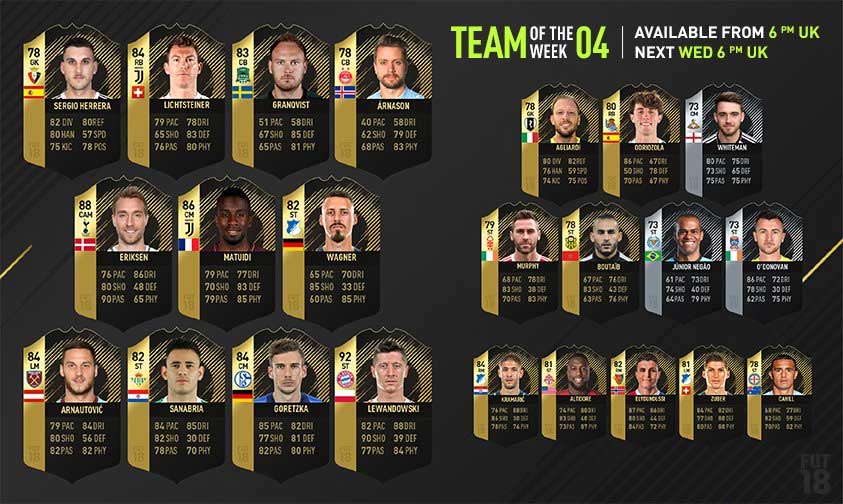 Click in the image to maximize it
FIFA 18 TOTW Week 3
CARDS AVAILABLE IN PACKS
?? 04/10/2017 (Wed) 6pm to 11/10/2017 (Wed) 6pm GMT (UTC +1)
?? 04/10/2017 (Wed) 1pm to 11/10/2017 (Wed) 1pm EST (UTC -4)
?? 04/10/2017 (Wed) 10am to 11/10/2017 (Wed) 10am PST (UTC -7)
STARTING ELEVEN
GK – Rui Patrício – Sporting CP – 83>85
RB – Meunier – Paris Saint-Germain – 81>84
CB – Ginter – Borussia Mönchengladbach – 78>82
CB – Maicon – Galatasaray – 80>83
CM – De Bruyne – Manchester City – 89>90
CAM – Isco – Real Madrid – 86>87
CAM – Brozović – Inter Milan – 81>84
CDM – Fellaini – Manchester United – 79>82
ST – Kane – Tottenham Hotspur – 86>87
RW – Yarmolenko – Borussia Dortmund – 81>84
CF – Luis Alberto – Lazio – 77>82
SUBSTITUTES
GK – Coosemans – KV Mechelen – 71<78 RWB - Stenzel - SC Freiburg -71>78
LM – Morrow – Toronto FC – 71>78
CM – Knasmüllner – Admira Wacker – 66>75
LM – Fosu – Charlton Athletic – 63>73
ST – Rooney – Aberdeen – 69>77
ST – Stefanelli – AIK – 66>75
RESERVES
RM – Hernández – León – 77>82
CM – Arslan – Sivasspor – 65>75
CM – Wass – RC Celta de Vigo – 80>83
ST – Hadji – AS Nancy – 70>78
ST – Andersson – 1. FC Kaiserslautern – 68>76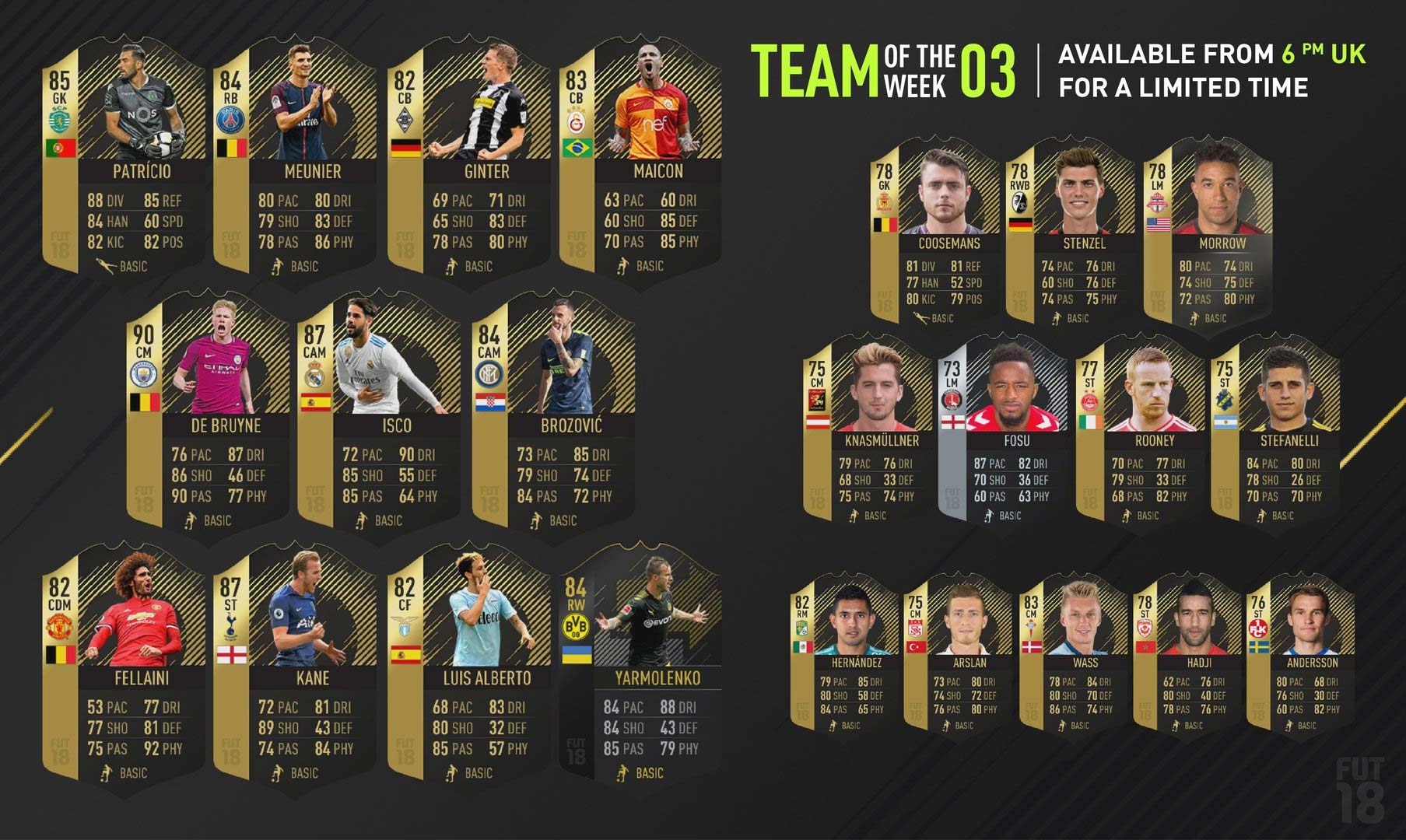 Click in the image to maximize it
FIFA 18 TOTW Week 2
CARDS AVAILABLE IN PACKS
?? 27/09/2017 (Wed) 6pm to 04/10/2017 (Wed) 6pm GMT (UTC +1)
?? 27/09/2017 (Wed) 1pm to 04/10/2017 (Wed) 1pm EST (UTC -4)
?? 27/09/2017 (Wed) 10am to 04/10/2017 (Wed) 10am PST (UTC -7)
STARTING ELEVEN
GK – Adán – Real Betis Balompié – 81>84
CB – Azpilicueta – Chelsea – 85>86
LB – Ghoulam – Napoli – 79>82
CB – Hilton – Montpellier HSC – 78>82
CM – Silva – Manchester City – 87>88
CDM – Pjanić – Juventus – 85>86
LM – Brahimi – FC Porto – 82>84
CF – Messi – FC Barcelona – 93>94
ST – Aubameyang – Borussia Dortmund – 88>89
ST – Morata – Chelsea – 84>86
LW – El Shaarawy – Roma – 80>83
SUBSTITUTES
GK – Samassa – ESTAC Troyes – 74>80
RWB – Sundgren – AIK – 67>76
LB – Grainger – Carlisle United – 63>73
CDM – Konrad – Dynamo Dresden – 67>76
LM – Wissa – AC Ajaccio – 64>74
ST – Valencia – La Equidad – 67>76
ST – Mullins – D.C. United – 65>75
RESERVES
LM – Asad – Atlanta United FC – 71>78
ST – Bigalke – SpVgg Unterhaching – 69>77
ST – Zaza – Valencia CF – 80>83
ST – Vágner Love – Alanyaspor – 79>82
ST – Locadia – PSV – 76>81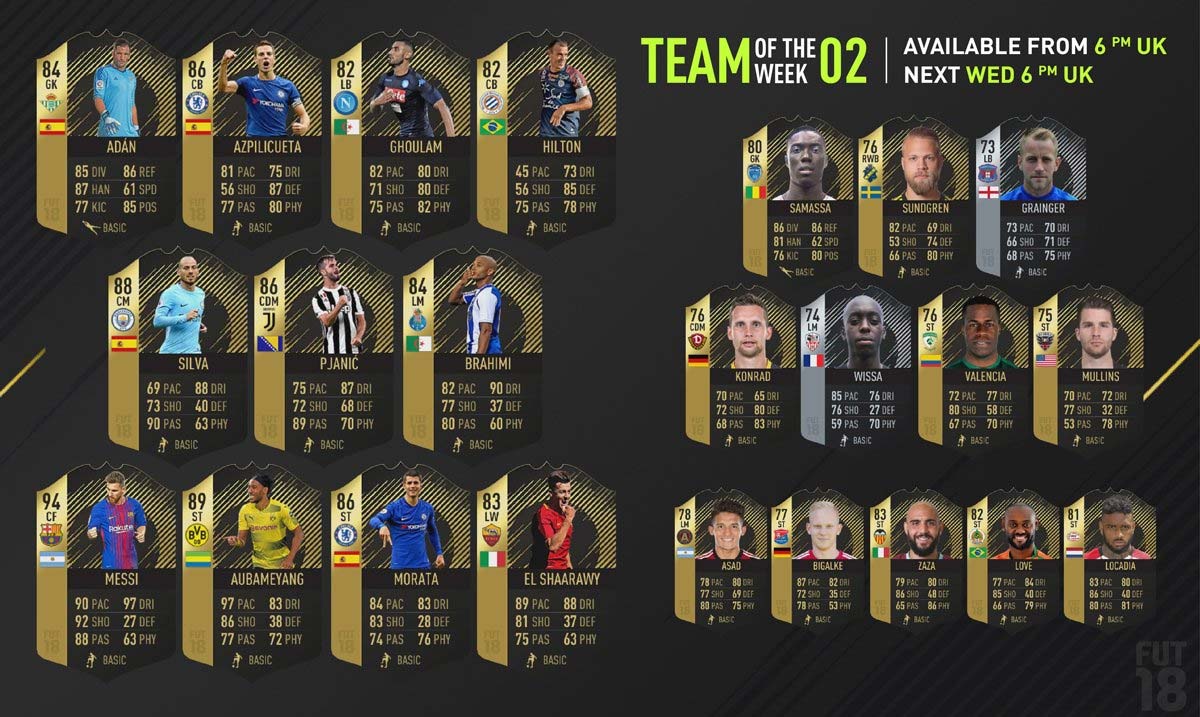 Click in the image to maximize it
FIFA 18 TOTW Week 1
CARDS AVAILABLE IN PACKS
?? 20/09/2017 (Wed) 6pm to 27/09/2017 (Wed) 6pm GMT (UTC +1)
?? 20/09/2017 (Wed) 1pm to 27/09/2017 (Wed) 1pm EST (UTC -4)
?? 20/09/2017 (Wed) 10am to 27/09/2017 (Wed) 10am PST (UTC -7)
STARTING ELEVEN
GK – Fabiański – Swansea City – 80>83
CB – Mustafi – Arsenal – 84>86
RB – Valencia – Manchester United – 83>85
RB – Kimmich – Bayern München – 81>84
CAM – Dybala – Juventus – 88>89
LM – Valbuena – Fenerbahçe – 81>84
CM – Pérez – Boca Juniors – 77>81
CM – Aránguiz – Bayer 04 Leverkusen – 77>81
ST – Agüero – Manchester City – 89>90
ST – Mertens – Napoli – 86>87
ST – Falcao – AS Monaco – 84>86
SUBSTITUTES
GK – Ruffier – AS Saint-Étienne – 85>86
CB – Wangberg – Tromsø IL – 67>76
CM – Frecklington – Rotherham United – 67>76
RM – Leandro – Kashima Antlers – 67>76
LM – Ward – Bohemian FC – 60>70
ST – Sørloth – FC Midtjylland – 69>77
ST – Ishak – 1. FC Nürnberg – 68>76
RESERVES
CDM – Danilo Pereira – FC Porto – 83>85
RW – Joaquín – Real Betis Balompié – 78>82
ST – Bakambu – Villarreal CF – 81>84
LW – Philipp – Borussia Dortmund – 77>81
ST – Martínez – Atlanta United FC – 76>81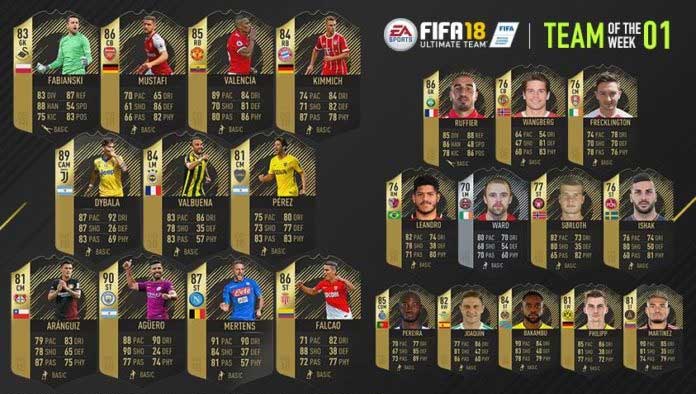 Click in the image to maximize it