Do you want to know who are the FIFA 18 TOTY nominees who have the chance to receive a Team of the Year blue card? If you answered yes, keep reading.


POSITIONS
GOALKEEPERS | DEFENDERS | MIDFIELDERS | FORWARDS


FIFA 18 TOTY Nominees Introduction
What are the FIFA 18 TOTY Nominees?

Every year, FIFPro invites professional footballers worldwide to select their best team of the calendar year. Players are asked to pick one goalkeeper, four defenders, three midfielders and three forwards. The 55 players with the most votes in their respective categories are revealed in the following format:
5 goalkeepers
20 defenders
15 midfielders
15 forwards
It is the same format used by EA for its TOTY. For the first time ever, the Team of The Year will be voted on by a carefully curated list of media, athletes and EA SPORTS FIFA community members. This collective of ballot recipients has been chosen to represent the millions of EA SPORTS FIFA players all over the world. Each team will be selected from a shortlist of 55 players, nominated by EA SPORTS for their real-world performance in 2017. Custom-built ballot boxes will be delivered to each recipient on January 8, containing all 55 of the nominee player items. Each vote will consist of three attackers, three midfielders, four defenders, and one goalkeeper in a 4-3-3 formation. Each ballot recipient will cast their vote by posting a photo of their team on social media with #TOTYVote by January 12. The ballots submitted by this group will account for 60% of the final vote. The remaining 40% of the votes will be cast by EA SPORTS. The final Team of the Year will be announced starting on January 15, with special TOTY player items available in packs for a limited time in FIFA 18 Ultimate Team and FIFA Mobile.
The FIFPro World 11 nominees were announced in the following date/times:
20/09/2017 11:00pm ?? NZST (UCT +12)
20/09/2017 10:00pm ?? AEDT (UCT +11)
20/09/2017 08:00pm ?? JST (UCT +9)
20/09/2017 07:00pm ?? CST (UCT +8)
20/09/2017 07:00pm ?? SGT (UCT +8)
20/09/2017 04:30pm ?? IST (UCT +5:30)
20/09/2017 02:00pm ?? MSK (UCT +3)
20/09/2017 01:00pm ?? EET (UCT +2)
20/09/2017 12:00pm ?? CET (UCT +1)
20/09/2017 12:00pm ?? CET (UCT +1)
20/09/2017 12:00pm ?? CET (UCT +1)
20/09/2017 12:00pm ?? CET (UCT +1)
20/09/2017 11:00am ?? WET (UCT +0)
20/09/2017 11:00am ?? GMT (UCT +0)
20/09/2017 09:00am ?? BRST (UCT -2)
20/09/2017 06:00am ?? EST (UCT -5)
20/09/2017 06:00am ?? EST (UCT -5)
20/09/2017 03:00am ?? PST (UCT -8)
The FIFA 18 TOTY nominees were announced in the following date/times:
09/01/2018 06:00am ?? NZST (UCT +12)
09/01/2018 05:00am ?? AEDT (UCT +11)
09/01/2018 03:00am ?? JST (UCT +9)
09/01/2018 02:00am ?? CST (UCT +8)
09/01/2018 02:00am ?? SGT (UCT +8)
08/01/2018 11:30pm ?? IST (UCT +5:30)
08/01/2018 09:00pm ?? MSK (UCT +3)
08/01/2018 08:00pm ?? EET (UCT +2)
08/01/2018 07:00pm ?? CET (UCT +1)
08/01/2018 07:00pm ?? CET (UCT +1)
08/01/2018 07:00pm ?? CET (UCT +1)
08/01/2018 07:00pm ?? CET (UCT +1)
08/01/2018 06:00pm ?? WET (UCT +0)
08/01/2018 06:00pm ?? GMT (UCT +0)
08/01/2018 04:00pm ?? BRST (UCT -2)
08/01/2018 01:00pm ?? EST (UCT -5)
08/01/2018 01:00pm ?? EST (UCT -5)
08/01/2018 10:00am ?? PST (UCT -8)





FIFA 18 TOTY Nominees List
Who are the 55 Team of the Year shortlist players?
✅ Confirmed
? New addition / Not in the FIFpro World 11
❌ Removed / World 11 player not in the tOTY

GOALKEEPERS
Will be chosen one out of 5 goalkeepers to the final FIFA 18 Team of the Year
✅ ?? Gianluigi Buffon, Juventus
✅ ?? David de Gea, Manchester United
✅ ?? Keylor Navas, Real Madrid
❌ ?? Manuel Neuer, FC Bayern
? ?? Hugo Lloris, Tottenham Spurs
✅ ?? Jan Oblak, Atlético Madrid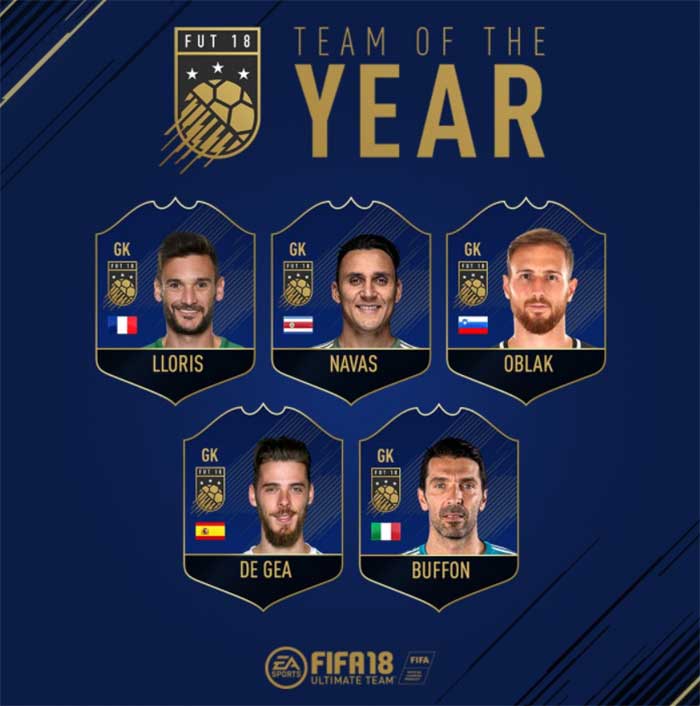 DEFENDERS
Will be chosen 4 out of 20 defenders to the final FIFA 18 Team of the Year
✅ ?? David Alaba, FC Bayern München
✅ ?? Jordi Alba, FC Barcelona
? ?? Marcos Alonso, Chelsea
✅ ?? Dani Alves, Paris Saint-Germain
? ?? César Azpilicueta, Chelsea
❌ ?? Jérôme Boateng, FC Bayern München
✅ ?? Leonardo Bonucci, Juventus/AC Milan
✅ ?? Dani Carvajal, Real Madrid
❌ ?? Giorgio Chiellin, Juventus
✅ ?? Diego Godín, Atlético Madrid
❌ ?? Mats Hummels, FC Bayern München
? ?? Joshua Kimmich, FC Bayern
? ?? Kalidou Koulibaly, Napoli
❌ ?? Phillipp Lahm, FC Bayern München/retired
? ?? Filipe Luís, Atlético Madrid
✅ ?? David Luiz, Chelsea FC
✅ ?? Marcelo, Real Madrid
❌ ?? Javier Mascherano, FC Barcelona
❌ ?? Pepe, Real Madrid/Besiktaş
✅ ?? Gerard Piqué, FC Barcelona
✅ ?? Sergio Ramos, Real Madrid
? ?? Alex Sandro, Juventus
✅ ?? Thiago Silva, Paris Saint-Germain
❌ ?? Samuel Umtiti, FC Barcelona
✅ ?? Antonio Valencia, Manchester United
❌ ?? Raphaël Varane, Real Madrid
? ?? Jan Vertonghen,Tottenham Hotspur
? ??????? Kyle Walker, Manchester City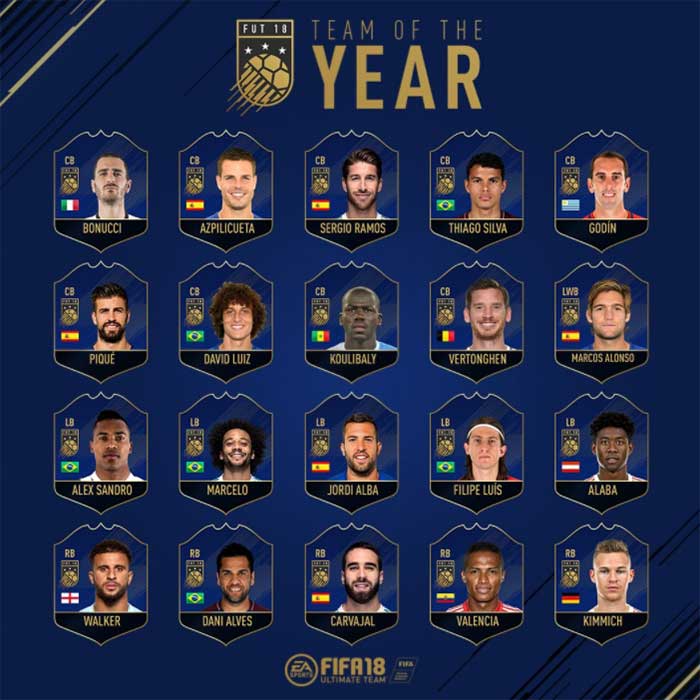 MIDFIELDERS
Will be chosen 3 out of 15 midfielders to the final FIFA 18 Team of the Year
✅ ?? Thiago Alcântara, FC Bayern München
? ??????? Dele Alli, Tottenham Hotspur
✅ ?? Casemiro, Real Madrid
❌ ?? Sergio Busquets, FC Barcelona
? ?? Kevin De Bruyne, Manchester City
✅ ?? Paulo Dybala, Juventus
? ?? Christian Eriksen, Tottenham Hotspur
? ?? Emil Forsberg, Leipzig
✅ ?? Andrés Iniesta, FC Barcelona
✅ ?? Isco, Real Madrid
✅ ?? N'Golo Kanté, Chelsea FC
✅ ?? Toni Kroos, Real Madrid
❌ ?? Nemanja Matić, Chelsea/Manchester United
✅ ?? Luka Modrić, Real Madrid
? ?? Radja Nainggolan, Roma
❌ ?? Mesut Özil, Arsenal FC
❌ ?? Paul Pogba, Manchester United
? ?? Arjen Robben, FC Bayern
✅ ?? Marco Verratti, Paris Saint-Germain
❌ ?? Arturo Vidal, FC Bayern München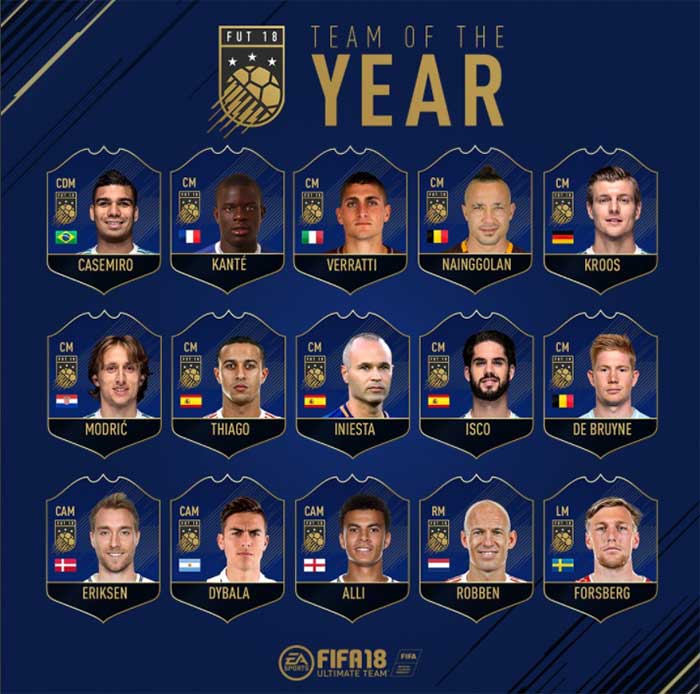 FORWARDS
Will be chosen 3 out of 15 forwards to the final FIFA 18 Team of the Year
? ?? Sergio Agüero, Manchester City
❌ ??????? Gareth Bale, Real Madrid
❌ ?? Karim Benzema, Real Madrid
✅ ?? Edinson Cavani, Paris Saint-Germain
✅ ?? Philippe Coutinho, Liverpool FC
✅ ?? Antoine Griezmann, Atlético Madrid
❌ ?? Zlatan Ibrahimović, Manchester United
✅ ?? Eden Hazard, Chelsea FC
✅ ??????? Harry Kane, Tottenham Hotspur
✅ ?? Robert Lewandowski, FC Bayern München
✅ ?? Romelu Lukaku, Manchester United
✅ ?? Kylian Mbappé, AS Monaco/Paris Saint-Germain
? ?? Dries Mertens, Napoli
✅ ?? Lionel Messi, FC Barcelona
✅ ?? Neymar JR, Barcelona/Paris Saint-Germain
✅ ?? Cristiano Ronaldo, Real Madrid
✅ ?? Alexis Sánchez, Arsenal FC
✅ ?? Luis Suárez, FC Barcelona