Have you ever asked yourself how the FIFA 18 Ultimate Scream Team Players were chosen? Let's find out.
Who are the FIFA 18 Ultimate Scream Team Players?
Who they are and why they were chosen?

As you know, the FIFA 18 Ultimate Scream Team players were announced on October 20 making them the first themed cards of the game.
The Scream cards are released once a year during the Halloween event. The players selected to get one of the FIFA 18 Scream cards were these ones.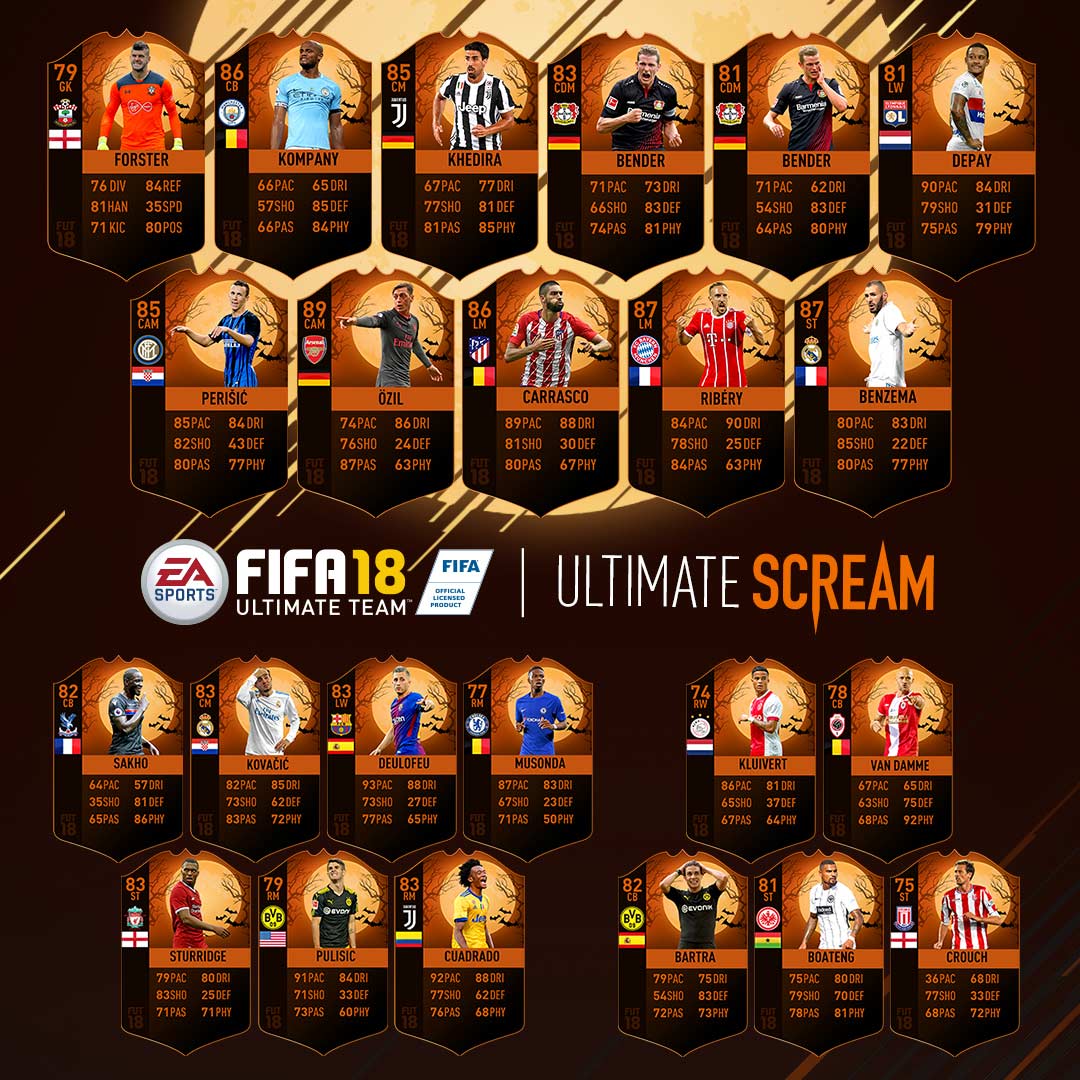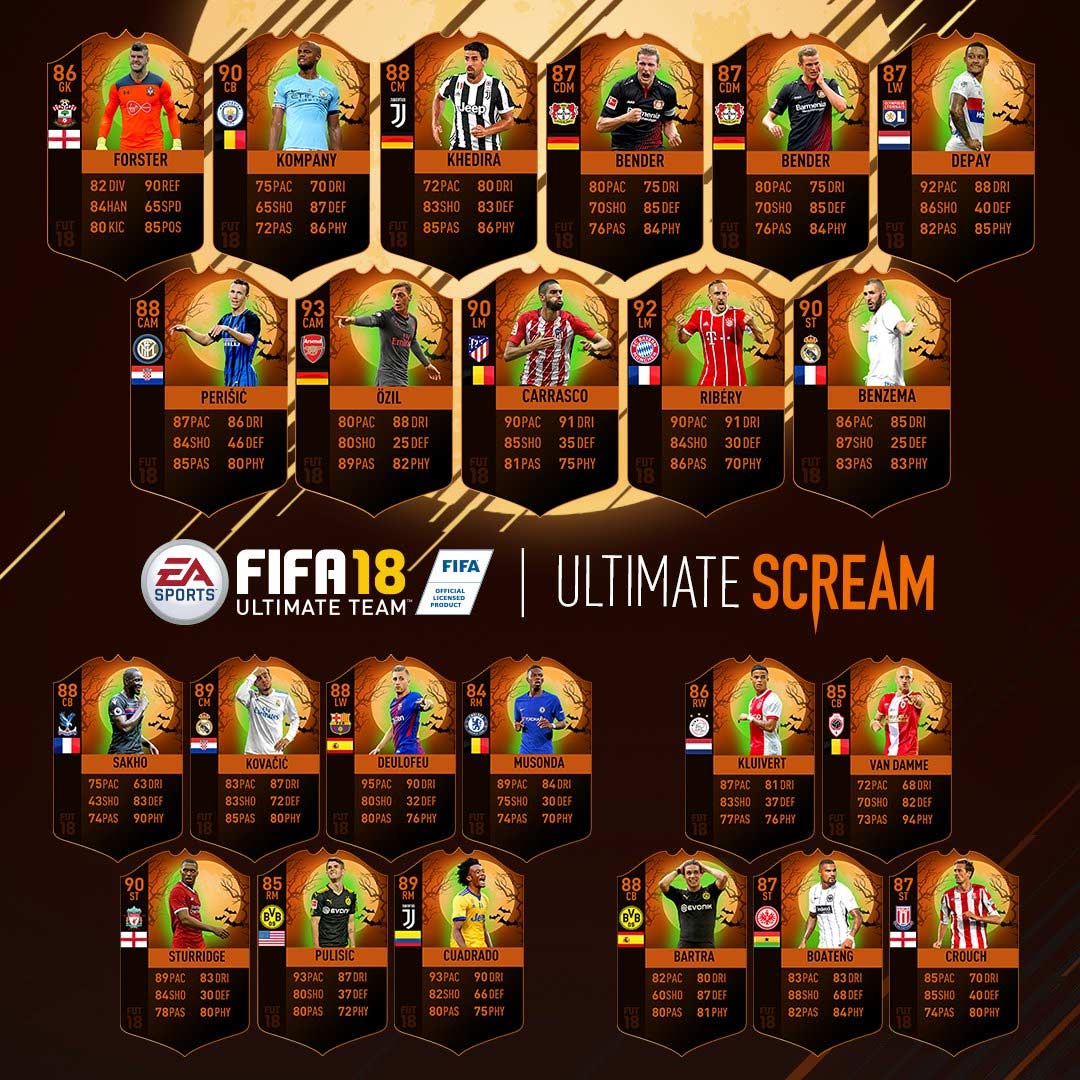 Scream players are not randomly selected. They are chosen based on their exceptional real-world performances, records and FUT attributes. Let's see, player by player, why EA have chosen these ones.
Starting Eleven
?? GK: Fraser Forster – Southampton – 79>86
The Southampton goalkeeper is already imposing enough to scare the wits out of most forwards, but his Ultimate Scream boost will send them running the other direction. Combine that with his acrobatic shot-stopping skills and Forster is a force to be reckoned with between the posts.
?? CB: Vincent Kompany – Manchester City – 86>90
Brooding and mysterious until you come at him with the ball, Kompany terrifies opponents with his strength and surprising quickness in the heart of central defense. Captain of both Manchester City and the Belgium national team, Kompany leads from the back with an infectious tenacity that inspires his teammates as much as it petrifies the other team.
?? CM: Sami Khedira – Juventus – 85>88
Equipped with bone-chilling versatility in midfield, Khedira has unnerved players on some of the biggest stages in world football, from Spain's LaLiga and Italy's top division to the World Cup. Whether he's creating space with his freaky technique or flying at opponents with a slide tackle, the big German isn't afraid of anyone—because they're all afraid of him.
?? CDM: Lars Bender – Bayer 04 Leverkusen – 83>87
The Bender twins are a spine-chilling horror movie cliché, steamrolling opponents all over the pitch for Bayer Leverkusen with wicked smiles on their faces. Lars is the more central of the two, often skulking around midfield and popping up out of nowhere to snatch the ball from an opponent before they know what hit them.
?? CDM: Sven Bender – Bayer 04 Leverkusen – 81>87
Sven only recently joined his twin brother at Leverkusen after spending most of his senior career at Borussia Dortmund, but he's now using his monstrous defensive qualities alongside his brother to strike fear into hearts all over the Bundesliga. Whereas Lars is more comfortable with the ball at his feet further up the pitch, Sven has developed into a menacing centre back with brilliant tackling ability.
?? LW: Memphis Depay – Olympique Lyonnais – 81>87
After a career-reinvigorating move to Lyon last winter, Depay is back to being his old sinister self on the pitch. The Dutch winger is supernatural with the ball at his feet, and the magic with which he creates space for himself is deeply unsettling to any player facing him.
?? CAM: Ivan Perišić – Inter – 85>88
The tricky Croatian winger isn't just horrifying to play against because of his speed; he's also one of the few players out there that possesses world class proficiency with both feet. His Ultimate Scream item makes him even more of a threat on both wings and in front of goal, a nightmare for any defender.
?? CAM: Mesut Özil – Arsenal – 89>93
Able to conjure up horrifyingly superb chances at the drop of a hat, the German midfield maestro gets a creativity boost from Ultimate Scream that borders on witchcraft. Whether drifting wide or surging up the middle, Özil can do just about anything to aid his teammates—and terrify his opponents.
?? LM: Yannick Carrasco – Atlético Madrid – 86>90
Faster and more agile than any mortal is supposed to be, Carrasco flies up and down the wing with a seemingly endless supply of energy and stamina. This allows the Belgian winger to be a downright fright to the opposition, as he's able to use his speed to support the defense in addition to being a massive attacking threat.
?? LM: Franck Ribéry – FC Bayern München – 87>92
After ten years with the most terrifying club in German football, Ribéry is known the world over for his speed, dribbling skill, and ability to cut inside to shoot at will. Known at Bayern as something of a playful prankster, the French winger brings new meaning to "trick or treat" both on and off the pitch
?? ST: Karim Benzema – Real Madrid CF – 87>90
His years at Real Madrid have made the French forward an unreal horror in LaLiga, where he has developed the art of making defenders' blood run cold as soon as he receives the ball. Not only does he finish with the best in the game, Benzema is also an unselfish teammate who can pave the way for his equally creative and scary teammates.


Bench
?? CB: Mamadou Sakho – Crystal Palace – 82>88
Fresh off his permanent move to Crystal Palace, Sakho is set to unleash his inner monster on the Premier League this season. A bit of a wild card on defense, the French centre back is a nightmare for attackers—because they never know what he'll do next.
?? CM: Mateo Kovačić – Real Madrid CF – 83>89
The young Croat is a potent influence in Real Madrid's midfield, and his Ultimate Scream item makes him positively heart-stopping. Kovačić doesn't have a fearful bone in his body; he's willing to dribble straight through opposing defenses and ping perfectly weighted passes across the pitch to kick off an attack for a teammate.
?? LW: Deulofeu – Barcelona – 83
Spending years away from the club of his youth, Deulofeu has returned to Barcelona with a scream-worthy new set of skills with which he plans to dominate LaLiga. Despite occasionally being positioned on the wing, the Spaniard is at his most intimidating when he runs directly at defenders, chilling them to the bone.
?? RM: Charly Musonda – Chelsea – 77>84
Another youngster with bags of talent, Musonda is the latest up-and-comer at Chelsea FC that looks set for plenty of first-team action this year. Dribbling up the wing or putting his slick passing ability to good use with a teammate, Musonda has his teammates looking over their shoulders, and the rest of the league shivering at the thought of facing him.
?? ST: Daniel Sturridge – Liverpool – 83>90
A paragon of the modern complete forward, Sturridge glides over the pitch like a ghost, scoring goals before the other team knows what hit them. The England international is big enough to muscle opponents off the ball and win aerial duels, but also has a deft touch and clinical finishing ability in front of goal.
?? RM: Christian Pulisic – Borussia Dortmund – 79>85
Quite possibly the most-talented American footballer in a generation, Pulisic has earned the hype surrounding him with sensational appearances for Borussia Dortmund and the U.S. national team. While not necessarily imposing physically, Pulisic has an uncanny ability to pop up nearly anywhere on the pitch and turn a match on its head with his playmaking skills.
?? RM: Juan Cuadrado – Juventus – 83>89
A key member of the chilling and successful Juventus teams of the last couple seasons, Cuadrado's incredible skills on the wing get even better with Ultimate Scream. The Colombian's range also makes him much more versatile than most at the position, as his team can rely on him to cover nearly any position, from right back to forward.


Reserves
?? RW: Justin Kluivert – Ajax – 74>86
Growing up in the shadow of a legend is never easy, especially when that legend is your father. Kluivert may be only 18, but his father Patrick's exploits mean the spotlight shines especially brightly on him. Luckily, the Dutch winger has made the most of his career so far with an impressive rookie season at Ajax last year. While many wingers gain fame by cutting inside to score goals rather than focus on assisting teammates, Kluivert finishes off extraordinary runs down the flank by unselfishly crossing or holding up the ball to help teammates score.
?? CB: Jelle Van Damme – Royal Antwerp FC – 78>85
The big Belgian center back recently returned to his home country after almost two seasons of being one of the top defenders in Major League Soccer. His intimidating stature often forced opponents into making mistakes when running at him. If they didn't fear him at first, his excellent reading of the game and tackling ability would make them regret it.
?? CB: Bartra – Borussia Dortmund – 82>88
A product of FC Barcelona's fearsome youth academy, Bartra joined Bundesliga club Borussia Dortmund after six years with the Barcelona first team. Along with his exceptional defensive mentality, Bartra's passing and playmaking from his tiki taka training make him a frightening, efficient counterattacking threat from the back.
?? ST: Kevin-Prince Boateng – Eintracht Frankfurt – 81>87
The Germany-born Ghanaian international is well-known for being as skilled as he is physically imposing, all aspects of which are even more pronounced for Ultimate Scream. Aggressive in nearly every facet of his game, Boateng relies on a combination of strength, technique, and vision to change games single-handedly from central midfield.
?? ST: Peter Crouch – Stoke City – 75>87
Perhaps best -known for his height (and sense of humor about it), the former England international is an otherworldly anomaly in football. Crouch's career has taken him to some of the biggest clubs in England, where he plays a seemingly traditional target man role that occasionally pops up and scares opponents with acrobatic and unique goals.