Everyone wants to pull Walkout Players from FIFA 18 packs. If you don't know what they are and who they are, keep reading our guide.
FIFA 18 Walkout Players
What you need to know about walkout players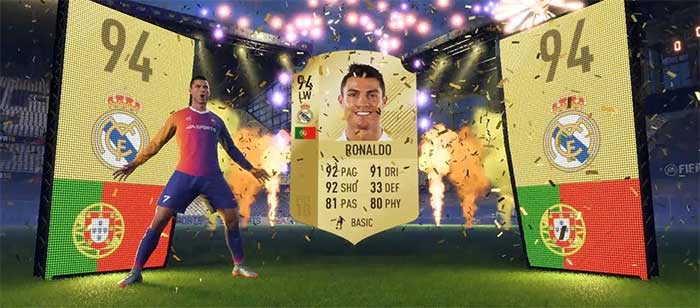 Do you know when you pull a top player in a pack you receive an animation of the player walking out from behind the card? Well, that's a Walkout Player.
Walkout players were introduced in FIFA 17 to add drama to the moment when cards from packs are revealed. Opening packs is the core business of this game, so it's natural to see EA doing everything possible to improve the player's experience in this aspect. In fact, this is not a new player's quality category but a way to distinguish the best players from the others.
One of the most satisfying things about packing a high-profile player in FIFA 18 is the walkout animation that follows it. This year, walkouts are being enhanced to include more celebratory background elements, while also featuring specific player animations. If they are one of the best players in their position, their flag will drop down, they will walk out from behind the card and a big flair will be shown. You can see an example of packing FIFA 18 walkout players in the following video.
NEW FEATURE – New walkout celebrations plus signature walkouts for select players. SIIIIIIII! @cristiano #FUT18 #FUTLIVE pic.twitter.com/aSZquF8fm9

— EA SPORTS FIFA (@EASPORTSFIFA) 1 de agosto de 2017
List of FIFA 18 Walkout Players
Complete list of FIFA 18 walkout players


Walkout players are high-rated cards chosen by Electronic Arts when the game is launched. It's not based on the rating or the price. If a walkout player receives a special or in form card, his new card will also get the animation. On other hand, if the NIF isn't a walkout, then any other card he gets will not be a walkout.
Below, you can find the the complete list of FIFA 18 Walkout Players.

GOALKEEPERS
92 Manuel Neuer
90 David De Gea
88 Petr Cech
88 Hugo Lloris
88 Gianluigi Buffon
89 Thibaut Courtois


DEFENDERS
90 Jerome Boateng
89 Thiago Silva
89 Sergio Ramos
88 Pepe
88 Giorgio Chiellini
88 Diego Godin

85 Dani Alves

88 David Alaba
86 Marcelo
86 Jordi Alba


MIDFIELDERS
88 Paul Pogba
87 Arturo Vidal
87 Sergio Busquets
89 Luka Modrić
88 Andres Iniesta
88 Toni Kroos
87 Ivan Rakitić
86 Cesc Fabragas
88 Mesüt Özil
88 Kevin De Bruyne
87 James Rodriguez
87 David Silva
88 Thomas Müller
87 Arjen Robben
85 Henrikh Mkhitarian
88 Eden Hazard
88 Marco Reus
87 Coutinho
86 Franck Ribéry


FORWARDS
93 Lionel Messi
90 Gareth Bale
87 Angel Di Maria
88 Antoine Griezmann
94 Cristiano Ronaldo
92 Neymar Da Silva Santos Jr
87 Alexis Sanchez
92 Luis Suarez
90 Robert Lewandowski
90 Zlatan Ibrahimovic
89 Sergio Agüero
88 Gonzalo Higuaín


ICONS
?? Pelé
?? Javier Zanetti
?? Paolo Maldini
?? Ronaldo
?? Ruud Gullit
?? Alessandro Nesta
?? Hernán Crespo
?? Jari Litmanen
?? Diego Maradona
?? Michael Owen
?? Laurent Blanc
?? Michael Laudrup
?? Patrick Kluivert
?? Marcel Desailly
?? Frank Rijkaard
?? Henrik Larsson
?? Andriy Shevchenko
?? Edwin Van Der Sar
?? Jay-jay Okocha
?? Filippo Inzaghi
?? Lev Yashin
?? Ronaldinho
?? Lothar Matthäus
?? Marco Van Basten
?? Alan Shearer
?? Carles Puyol
?? Dennis Bergkamp
?? Patrick Vieira
?? Deco
?? Robert Pirès
?? Gheorge Hagi
?? Rio Ferdinand
?? Roberto Carlos
?? Thierry Henry
?? Emmanuel Petit
?? Peter Schmeichel
?? Luís Hernández
?? Alessandro Del Piero
?? Marc Overmars