This year, there are new ways to play FIFA. In this always updated page, you will be able to discover the FIFA 18 Weekly Objectives calendar and its rewards. Complete weekly objectives in-game or in the new web & companion app to earn great rewards in FUT 18. From squad management goals to dynamic in-match challenges, the harder the challenge, the better the reward you'll receive.
FIFA 18 Weekly Objectives is a new way to earn weekly rewards in FUT 18. The Objectives vary in difficulty and are consistently updated. Each Friday, at 6pm (UK time), at least four new objectives are released. If you don't claim your rewards before the Objectives reset, EA'll automatically add them to your Club and you will be informed by a pop up.
Let's find out the complete list of weekly objectives.
Weekly Objectives for FIFA 19 can be found clicking here
WEEK
SEPTEMBER | 1
OCTOBER | 2 | 3 | 4 | 5
NOVEMBER | 6 | 7 | 8 | 9
DECEMBER | 10 | 11 | 12 | 13 | 14
JANUARY | 15 | 16 | 17 | 18
FEBRUARY | 19 | 20 | 21 | 22
MARCH | 23 | 24 | 25 | 26 | 27
APRIL | 28 | 29 | 30 | 31
MAY | 32 | 33 | 34| 35
JUNE | 36 | 37 | 38 | 39 | 40
JULY | 41 | 42 | 43 | 44
AUGUST | 45 | 46 | 47 | 48 | 49
SEPTEMBER | 50 | 51
FIFA 18 Weekly Objectives
Complete list of all FIFA 18 Weekly Objectives – Common Objectives for all Players, Refreshed Weekly




WEEK 51
?️ RELEASE DATES & TIMES | When new FIFA 18 Weekly Objectives are refreshed
14/09/2018 (Fri) 07:00pm ?? GMT (UTC +2)
14/09/2018 (Fri) 06:00pm ?? GMT (UTC +1)
14/09/2018 (Fri) 01:00pm ???? EST (UTC -4)
14/09/2018 (Fri) 10:00am ?? PST (UTC -7)

? OBJECTIVES | List of Objectives to complete during the week
Play Eight | Play 8 matches across any FUT game modes | Premium Gold Pack (untradeable)
Win Five | Win 5 games across any FUT game modes | Two Players Pack (untradeable)
Squad Goals | Score 20 goals in SB on min. Prof. dif. | Premium Gold Pack (untradeable)
World Class | Win 3 SB matches by 2 goals on min. WC dif. | Two Rare Players Pack (untradeable)
Online Seasons Wins | Win 4 or more online seasons macthes | Two Rare Players Pack (untradeable)

WEEK 50
?️ RELEASE DATES & TIMES | When new FIFA 18 Weekly Objectives are refreshed
07/09/2018 (Fri) 07:00pm ?? GMT (UTC +2)
07/09/2018 (Fri) 06:00pm ?? GMT (UTC +1)
07/09/2018 (Fri) 01:00pm ???? EST (UTC -4)
07/09/2018 (Fri) 10:00am ?? PST (UTC -7)

? OBJECTIVES | List of Objectives to complete during the week
Play Ten | Play 10 matches across any FUT game modes | Jumbo Premium Gold Pack (untradeable)
Deserved Win | Win 5 games by two or more goals across any FUT game modes | –
Legendary | Win 3 SB on min. legendary dif. | Premium Electrum Players Pack (untradeable)
Assisted | Assist 15+ goals across any FUT modes | –
First-Time Shots | Score 7+ goals using first-time shots | Shadow chemistry style (untradeable)

WEEK 49
?️ RELEASE DATES & TIMES | When new FIFA 18 Weekly Objectives are refreshed
31/08/2018 (Fri) 07:00pm ?? GMT (UTC +2)
31/08/2018 (Fri) 06:00pm ?? GMT (UTC +1)
31/08/2018 (Fri) 01:00pm ???? EST (UTC -4)
31/08/2018 (Fri) 10:00am ?? PST (UTC -7)

? OBJECTIVES | List of Objectives to complete during the week
Four Battles | Win 4+ Squad Battles matches | Special Kit (untradeable)
Downward Headers | Score 3 goals using downward headers | Hunter chemistry style (untradeable)
Open Space | Assist 10+ goals using through balls across any FUT game modes | Hunter chem. style (untr.)
First-time Shots | Score 10+ goals using first time shots across any FUT game modes | –
Eight Wins | Win 8 matches by two goals across any FUT game modes | Two Rare Players Pack (untradeable)
Play Eight | Play 8+ matches across any FUT game modes | Premium Gold Pack (untradeable)

WEEK 48
?️ RELEASE DATES & TIMES | When new FIFA 18 Weekly Objectives are refreshed
24/08/2018 (Fri) 07:00pm ?? GMT (UTC +2)
24/08/2018 (Fri) 06:00pm ?? GMT (UTC +1)
24/08/2018 (Fri) 01:00pm ???? EST (UTC -4)
24/08/2018 (Fri) 10:00am ?? PST (UTC -7)

? OBJECTIVES | List of Objectives to complete during the week
Play Ten | Play 10 matches across any FUT game mode | Jumbo Premium Gold Pack (untradeable)
Win Five | Win 5 matches across any FUT game modes | Two Rare Players Pack (untradeable)
Squad Goals | Score 20 goals in SB on min. professional dif. | Premium Gold Pack (untr.)
World Class | Win 3 SB matches by 2 goals on min. WC dif. | Two Rare Players Pack (untradeable)
Online Seasons Wins | Win 4+ online seasons matches | Two Rare Players Pack (untradeable)
First-Time Shots | Score 7+ goals using first-time shots | Shadow chemistry style (untradeable)

WEEK 47
?️ RELEASE DATES & TIMES | When new FIFA 18 Weekly Objectives are refreshed
17/08/2018 (Fri) 07:00pm ?? GMT (UTC +2)
17/08/2018 (Fri) 06:00pm ?? GMT (UTC +1)
17/08/2018 (Fri) 01:00pm ???? EST (UTC -4)
17/08/2018 (Fri) 10:00am ?? PST (UTC -7)

? OBJECTIVES | List of Objectives to complete during the week
Nine Wins | Win 9 matches across any FUT game mode | Jumbo Premium Gold Pack (untradeable)
Great Vision | Assist 7 goals using through balls | Hunter chemistry style (untradeable)
Online Seasons | Play 5 online seasons matches | Two Rare Players Pack (untradeable)
Tour de Force | Win 12 matches by 2 goals across any FUT game modes | Rare Gold Pack (untradeable)
Legendary Battles | Win 4 SB matches by 3 goals on min. Legendary | Jumbo Premium Gold Pack (untr.)

WEEK 46
?️ RELEASE DATES & TIMES | When new FIFA 18 Weekly Objectives are refreshed
10/08/2018 (Fri) 07:00pm ?? GMT (UTC +2)
10/08/2018 (Fri) 06:00pm ?? GMT (UTC +1)
10/08/2018 (Fri) 01:00pm ???? EST (UTC -4)
10/08/2018 (Fri) 10:00am ?? PST (UTC -7)

? OBJECTIVES | List of Objectives to complete during the week
World Class Assists | Assist 15 goals in SB on min. World Class dif. | Small Prime Gold Players Pack (untr.)
Get Qualified | Win 5 DKT matches | Qualification for the Weekend League
Nine Wins | Win 9 matches across any FUT game mode | Jumbo Premium Gold Pack (untradeable)
Fifteen Wins | Win 15 matches across any FUT game mode | Jumbo Premium Gold Players Pack (untradeable)
Downward Headers | Score 4 goals using downward headers | Shadow Chemistry Style (untradeable)

WEEK 45
?️ RELEASE DATES & TIMES | When new FIFA 18 Weekly Objectives are refreshed
03/08/2018 (Fri) 07:00pm ?? GMT (UTC +2)
03/08/2018 (Fri) 06:00pm ?? GMT (UTC +1)
03/08/2018 (Fri) 01:00pm ???? EST (UTC -4)
03/08/2018 (Fri) 10:00am ?? PST (UTC -7)

? OBJECTIVES | List of Objectives to complete during the week
FUTTIES Winners | Win 9 online seasons matches | Kostas Manolas FUTTIES item (untradeable)
Hat-Trick Hero | Score a goal with an MLS player in 4 SB win on min. prof. dif. | Ibrahim. loan TOTW item (untr.)
Ibracadabra | Score a fancy shot with the LA Galaxy Ibrahimovic in any FUT game mode | Special kit (untradeable)
Better Late Than Never | Dribble the ball into the net in any FUT game mode | April Fools kit (untradeable)
Four Crosses | Score 4 goals using crosses | FC Singapore kit (untradeable)
Free Kicks | Score 3 free kicks | Hunter chemistry style (untradeable)
Tour de Force | Win 12 matches by 2 goals across any FUT game mode | Rare Gold Pack (untradeable)
TOTW Challenge | Win a TOTW Challenge match on min. legendary dif. | Two Rare Players Pack (untradeable)

WEEK 44
?️ RELEASE DATES & TIMES | When new FIFA 18 Weekly Objectives are refreshed
27/07/2018 (Fri) 07:00pm ?? GMT (UTC +2)
27/07/2018 (Fri) 06:00pm ?? GMT (UTC +1)
27/07/2018 (Fri) 01:00pm ???? EST (UTC -4)
27/07/2018 (Fri) 10:00am ?? PST (UTC -7)

? OBJECTIVES | List of Objectives to complete during the week
Team of the Season | Win 8 onlise season matches | TOTS player (untradeable)
New Era | Assist 15 goals using Calcio A players in SB on min. professional difficulty | CR7 (Juventus) Loan Item
The Unicorn | Score a bicycle kick using Juventus Cristiano Ronaldo | Unicorn Kit (untradeable)
Get Qualified | Win 5 DKT matches | Qualification for the Weekend League
Great Vision | Assist 7 goals using through balls | Hunter Chemistry card
Pre-Season Friendlies | Play 4 friendly seasons matches | Two Rare Players Pack (untradeable)
Legendary Battles | Win 4 SB matches by 3 goals on min. leg. dif.| Jumbo Premium Gold Pack (untradeable)

WEEK 43
?️ RELEASE DATES & TIMES | When new FIFA 18 Weekly Objectives are refreshed
20/07/2018 (Fri) 07:00pm ?? GMT (UTC +2)
20/07/2018 (Fri) 06:00pm ?? GMT (UTC +1)
20/07/2018 (Fri) 01:00pm ???? EST (UTC -4)
20/07/2018 (Fri) 10:00am ?? PST (UTC -7)

? OBJECTIVES | List of Objectives to complete during the week
Win-Win | Win 4 onlise season matches | OTW or Ultimate Scream player (untradeable)
Six Screamers | Score 6 goals using Ultimate Scream players on min. professional difficulty | Two Rare Players Pack (untradeable)
Late Goals | Score a goal with a French player in 4 SB win on min. legendary difficulty | Loan Icon (untradeable)
Low Crosses | Score 4 goals from low crosses | Gold squad fitness item (untradeable)
Friendly Fixtures | Play 3 friendly seasons matches | Two Rare Players Pack (untradeable)
Get Qualified | Win 5 DKT matches | Qualification for the Weekend League
Nine Wins | Win 9 matches across any FUT game modes | Jumbo Premium Gold Pack (untradeable)

WEEK 42
?️ RELEASE DATES & TIMES | When new FIFA 18 Weekly Objectives are refreshed
13/07/2018 (Fri) 07:00pm ?? GMT (UTC +2)
13/07/2018 (Fri) 06:00pm ?? GMT (UTC +1)
13/07/2018 (Fri) 01:00pm ???? EST (UTC -4)
13/07/2018 (Fri) 10:00am ?? PST (UTC -7)

? OBJECTIVES | List of Objectives to complete during the week
France | Score 10 goals with French players on min. professional dif. | Jumbo Premium Gold Pack (untradeable)
Icons | Score a goal with an Icon is 4 separate SB wins on min. legendary dif. | (untradeable)
Twelve Matches | Play 12 matches across any FUT game modes | Loan Icon (untradeable)
High Crosses | Score 4 goals from high crosses | Hunter chemistry style (untradeable)
Online Seasons | Play 5 online seasons matches this week | Two Rare Players Pack (untradeable)

WEEK 41
?️ RELEASE DATES & TIMES | When new FIFA 18 Weekly Objectives are refreshed
06/07/2018 (Fri) 07:00pm ?? GMT (UTC +2)
06/07/2018 (Fri) 06:00pm ?? GMT (UTC +1)
06/07/2018 (Fri) 01:00pm ???? EST (UTC -4)
06/07/2018 (Fri) 10:00am ?? PST (UTC -7)

? OBJECTIVES | List of Objectives to complete during the week
Get Qualified | Win 6 daily knockout tournament matches | Qualification for the Weekend League
France | Score 5 goals using French defenders in online seasons | Two Rare Players Pack (untradeable)
Brazil | Score a header using a Brazilian player in 4 separate online seasons wins | Jumbo Premium Gold Pack (untradeable)
Belgium | Score 7 first-time shots using Belgian players on min. legendary difficulty | Two Rare Players Pack (untradeable)
Croatia | Score a goals suing a Croatian player in 4 separate wins | Shadow chemistry style (untradeable)
Argentina | Score a goal using an Argentinian player on their debut match | Caminito kit (untradeable)

WEEK 40
?️ RELEASE DATES & TIMES | When new FIFA 18 Weekly Objectives are refreshed
29/06/2018 (Fri) 07:00pm ?? GMT (UTC +2)
29/06/2018 (Fri) 06:00pm ?? GMT (UTC +1)
29/06/2018 (Fri) 01:00pm ???? EST (UTC -4)
29/06/2018 (Fri) 10:00am ?? PST (UTC -7)

? OBJECTIVES | List of Objectives to complete during the week
Sixteen Matches | Play 16 matches across any FUT game modes | Loan Icon (untradeable)
Eight Wins | Win 8 matches by two goals across any FUT game modes | Two Rare Players Pack (untradeable)
Four Battles | Win 4 SB matches on min. professional difficulty | Premium Gold Pack (untradeable)
Uruguay v Portugal| Score 6 goals with Uruguayan players in SB on min. professional difficulty
Iconic Goals | Score a goal with an Icon in 4 separate DKT wins | Icons Away kit (untradeable)
Downward Headers | Score 3 goals using downward headers | Hunter chemistry style (untradeable)

WEEK 39
?️ RELEASE DATES & TIMES | When new FIFA 18 Weekly Objectives are refreshed
22/06/2018 (Fri) 07:00pm ?? GMT (UTC +2)
22/06/2018 (Fri) 06:00pm ?? GMT (UTC +1)
22/06/2018 (Fri) 01:00pm ???? EST (UTC -4)
22/06/2018 (Fri) 10:00am ?? PST (UTC -7)

? OBJECTIVES | List of Objectives to complete during the week
The Pass Master | Assist a goal with a spanish player in 7 separate online seasons wins | Fàbregas FUTBall item (untradeable)
Festival of FUTBall | Score 10 goals Festival of FUTBall players in SB min. Professional difficulty
Belgium v England | Score 7 goals with Belgian players in online seasons | Two Rare Players Pack (untradeable)
Denmark v France | Score 6 goals with Danish players across any FUT game modes | Two Rare Players Pack (untradeable)
Attacking Options | Score 2+ goals in 12 separate matches | Premium Gold Pack (untradeable)
Towering Headers | Score a header in 4 separate matches | Two Rare Players Pack (untradeable)

WEEK 38
?️ RELEASE DATES & TIMES | When new FIFA 18 Weekly Objectives are refreshed
15/06/2018 (Fri) 07:00pm ?? GMT (UTC +2)
15/06/2018 (Fri) 06:00pm ?? GMT (UTC +1)
15/06/2018 (Fri) 01:00pm ???? EST (UTC -4)
15/06/2018 (Fri) 10:00am ?? PST (UTC -7)

? OBJECTIVES | List of Objectives to complete during the week
Portugal v Spain | Score a goal with a Spanish player in 4 separate online seasons wins | Prime Electrum Players Pack (untradeable)
Germany v Mexico | Assist a goal with a Mexican player in 4 separate SB wins | Jumbo Premium Gold Pack (untradeable)
Friendly Fire | Win 3 friendly seasons matches | Two Rare Players Pack (untradeable)
Squad Battles Masters | Win 4 SB matches on minimum professional difficulty | Comunidad kit (untradeable)
Legendary Assists | Assists 30 goals in SB matches on min. legendary difficulty | Prime Electrum Players Pack (untradeable)

WEEK 37
?️ RELEASE DATES & TIMES | When new FIFA 18 Weekly Objectives are refreshed
08/06/2018 (Fri) 07:00pm ?? GMT (UTC +2)
08/06/2018 (Fri) 06:00pm ?? GMT (UTC +1)
08/06/2018 (Fri) 01:00pm ???? EST (UTC -4)
08/06/2018 (Fri) 10:00am ?? PST (UTC -7)

? OBJECTIVES | List of Objectives to complete during the week
Path to Glory | Score 7 goals with PTG selected players in SB on min. legendary difficulty
International Friendlies | Play 4 friendly seasons matches | Two Rare Players Pack (untradeable)
Ultimate Difficulty | Win 4 SB matches on min. Ultimate difficulty | Small Prime Gold Players Pack (untradeable)
The Queen's Birthday | Score a goal with a player from the United Kingdom | Queen's Birthday kit (untradeable)
Comfortable Wins | Win 10 matches by two goals across any FUT game mode | Two Rare Players Pack (untradeable)

WEEK 36
?️ RELEASE DATES & TIMES | When new FIFA 18 Weekly Objectives are refreshed
01/06/2018 (Fri) 07:00pm ?? GMT (UTC +2)
01/06/2018 (Fri) 06:00pm ?? GMT (UTC +1)
01/06/2018 (Fri) 01:00pm ???? EST (UTC -4)
01/06/2018 (Fri) 10:00am ?? PST (UTC -7)

? OBJECTIVES | List of Objectives to complete during the week
ROW Encore | Win 6 daily knockout tournament matches | De Ligt TOTS item (untradeable)
Belgium v Portugal | Score a goal with a Portuguese player in 3 separate online single match wins | Two Rare Players Pack (untradeable)
France v Italy | Assist a goal with an Italian player in 3 separate online single match wins | Two Rare Players Pack (untradeable)
The Wall | Win 3 SB matches by 2 goals on minimum world class difficulty
Play to Give | Score 15 goals accross any FUT game modes this week | SETPACE kit 6

WEEK 35
?️ RELEASE DATES & TIMES | When new FIFA 18 Weekly Objectives are refreshed
25/05/2018 (Fri) 07:00pm ?? GMT (UTC +2)
25/05/2018 (Fri) 06:00pm ?? GMT (UTC +1)
25/05/2018 (Fri) 01:00pm ???? EST (UTC -4)
25/05/2018 (Fri) 10:00am ?? PST (UTC -7)

? OBJECTIVES | List of Objectives to complete during the week
ROW 10 | Score a goal with a Super Lig player in 7 separate online seasons wins | Gomis TOTS item (untradeable)
The Jewel | Score 8 goals using finesse shots in SB on min. world class difficulty | Dybala TOTS loan item
Ultimate Finisher | Score 7 goals using headers in SB on min. professional difficulty | Cavani TOTS loan item
Legendary Goals | Score 30 goals in SB on min. legendary dif. | Small Prime Gold Players Pack (untradeable)
Ligue 1 Conforama | Score a goal with a Ligue 1 player in 4 separate SB wins on min. legendary difficulty
Calcio A | Assist a goal with a Calcio A player in 3 separate online seasons wins


WEEK 34
?️ RELEASE DATES & TIMES | When new FIFA 18 Weekly Objectives are refreshed
18/05/2018 (Fri) 07:00pm ?? GMT (UTC +2)
18/05/2018 (Fri) 06:00pm ?? GMT (UTC +1)
18/05/2018 (Fri) 01:00pm ???? EST (UTC -4)
18/05/2018 (Fri) 10:00am ?? PST (UTC -7)

? OBJECTIVES | List of Objectives to complete during the week
ROW 20 | Score a goal with a Liga NOS player in 5 separate online seasons wins | Moussa Marega TOTS item (untradeable)
Goal Machine | Score 20 goals using Bundesliga players in SB on min. legendary difficulty
Friendly Seasons | Play 3 friendly seasons matches | Premium Electrum Players Pack (untradeable)
Attacking Support | Assist 10 goals using defenders in Squad Battles on min. world class difficulty
Ramadan Mubarak | Play 3 Squad Battles matches | Middle East Fursan kit (untradeable)
Record Breakers | Win 15 matches across any FUT game modes | IF Sane item on loan (untradeable)
Real Madrid v Liverpool | Score 5 goals with Real Madrid players in online seasons | Small Prime Electrum Players Pack (untradeable)

WEEK 33
?️ RELEASE DATES & TIMES | When new FIFA 18 Weekly Objectives are refreshed
11/05/2018 (Fri) 07:00pm ?? GMT (UTC +2)
11/05/2018 (Fri) 06:00pm ?? GMT (UTC +1)
11/05/2018 (Fri) 01:00pm ???? EST (UTC -4)
11/05/2018 (Fri) 10:00am ?? PST (UTC -7)

? OBJECTIVES | List of Objectives to complete during the week
ROW 30 | Score two or more goals with MLS players in 10 separate online seasons matches | Diego Valeri TOTS item (untradeable)
Assist King | Assist 12 goals using German players in SB | Toni Kroos TOTS item on loan (untradeable)
Top-Class | Score 8 goals using LaLiga TOTS players in online seasons | Small Prime Gold Players Pack (untradeable)
Hard-Fought | Win 9 online seasons matches by 3+ goals | Small Prime Gold Players Pack (untradeable)
Roma v Juventus | Score 7 goals using Roma players in online seasons | Hunter chemistry style (untradeable)
Timbers v Seattle | Score 5 goals using Portland Timbers in online seasons | Small Prime Electrum Players Pack (untradeable)
The Comeback | Score 15 goals using Calcio A players in SB on min. professional difficulty | Douglas Costa item on loan (untradeable)

WEEK 32
?️ RELEASE DATES & TIMES | When new FIFA 18 Weekly Objectives are refreshed
04/05/2018 (Fri) 07:00pm ?? GMT (UTC +2)
04/05/2018 (Fri) 06:00pm ?? GMT (UTC +1)
04/05/2018 (Fri) 01:00pm ???? EST (UTC -4)
04/05/2018 (Fri) 10:00am ?? PST (UTC -7)

? OBJECTIVES | List of Objectives to complete during the week
ROW 40 | Win 4 SB matches on min. world class difficulty | Domenico Criscito TOTS item (untradeable)
Blue Assists | Assist 10 goals using TOTS players in online seasons matches
Fine Form | Score 10 goals using players from England in SB on min. professional difficulty | Dele Alli loan TOTS item (untradeable)
Chelsea v Liverpool | Score 5 goals with Liverpool players in online seasons | Small Prime Electrum Players Pack (untradeable)
El Clásico | Assist 7 goals with Barcelona players in online seasons | Premium Electrum Players Pack (untradeable)

WEEK 31
?️ RELEASE DATES & TIMES | When new FIFA 18 Weekly Objectives are refreshed
27/04/2018 (Fri) 08:00pm ?? GMT (UTC +2)
27/04/2018 (Fri) 07:00pm ?? GMT (UTC +1)
27/04/2018 (Fri) 02:00pm ???? EST (UTC -4)
27/04/2018 (Fri) 11:00am ?? PST (UTC -7)

? OBJECTIVES | List of Objectives to complete during the week
ROW 50 | Win 4 SB matches on min. world class difficulty | Carlos López TOTS item (untradeable)
Blue Goals | Score 10 goals using TOTS players | Small Prime Electrum Players Pack (untradeable)
Blue Kit | Play 3 matches across any FUT game modes | TOTS kit (untradeable)
Galatasaray v Besiktas | Score 5 goals with Galatasaray players in online seasons | Small Prime Electrum Players Pack (untradeable)
Late Drama | Score 3+ goals using Calcio A defenders in SB on min. professional difficulty | Koulibaly loan item (untradeable)
Bronze Encore | Score 11 goals using players from EFL League Two in SB on min. professional difficulty | Akinfenwav 64 rated item (untradeable)

WEEK 30
?️ RELEASE DATES & TIMES | When new FIFA 18 Weekly Objectives are refreshed
20/04/2018 (Fri) 08:00pm ?? GMT (UTC +2)
20/04/2018 (Fri) 07:00pm ?? GMT (UTC +1)
20/04/2018 (Fri) 02:00pm ???? EST (UTC -4)
20/04/2018 (Fri) 11:00am ?? PST (UTC -7)

? OBJECTIVES | List of Objectives to complete during the week
Sixteen Matches | Play 16+ matches across any FUT game modes | FUT Swap Player (untradeable)
Going Pro | Win 2+ SB matches on min. professional difficulty | FUT Swap Player (untradeable)
Gorgeous Goals | Score 2+ goals using first time shots with French players
LaLiga Santander Debut | Score a goal using a LaLiga player on his debut match
Aerial Thread | Score 3+ headers using TOTW players from the PL on online seasons | Premium Electrum Players Pack (untradeable)

WEEK 29
?️ RELEASE DATES & TIMES | When new FIFA 18 Weekly Objectives are refreshed
13/04/2018 (Fri) 08:00pm ?? GMT (UTC +2)
13/04/2018 (Fri) 07:00pm ?? GMT (UTC +1)
13/04/2018 (Fri) 02:00pm ???? EST (UTC -4)
13/04/2018 (Fri) 11:00am ?? PST (UTC -7)

? OBJECTIVES | List of Objectives to complete during the week
Win Big | Win 10 matches by two goals across any FUT game modes | FUT Swap Player (untradeable)
Complete Midfielders | Score 5+ goals using midfielders | FUT Swap Player (untradeable)
Legendary | Win 3+ SB matches on min. Legendary difficulty | Premium Electrum Players Pack (untradeable)
Serial Winners | Score 6+ goals using Bundesliga players | Small Gold Players Pack (untradeable)
Genius | Score 3+ goals with Argentinian players in a single match | Two Players Pack (untradeable)

WEEK 28
?️ RELEASE DATES & TIMES | When new FIFA 18 Weekly Objectives are refreshed
06/04/2018 (Fri) 08:00pm ?? GMT (UTC +2)
06/04/2018 (Fri) 07:00pm ?? GMT (UTC +1)
06/04/2018 (Fri) 02:00pm ???? EST (UTC -4)
06/04/2018 (Fri) 11:00am ?? PST (UTC -7)

? OBJECTIVES | List of Objectives to complete during the week
FUT Swap Player | Play 15+ matches across any FUT game modes | FUT Swap Player (untradeable)
Professional Goals | Score 15+ goals in SB on min. professional difficulty | Small Gold Players Pack (untradeable)
The Big Matches | Win 3 daily knockout tournament matches | Premium Electrum Players Pack (untradeable)
Stunning Debut | Score 2 goals using an MLS player on their debut match | Two Players Pack (untradeable)
Good Technique | Score 10+ goals using first-time shots in online seasons | Small Prime Electrum Players Pack (untradeable)

WEEK 27
?️ RELEASE DATES & TIMES | When new FIFA 18 Weekly Objectives are refreshed
30/03/2018 (Fri) 08:00pm ?? GMT (UTC +2)
30/03/2018 (Fri) 07:00pm ?? GMT (UTC +1)
30/03/2018 (Fri) 02:00pm ???? EST (UTC -4)
30/03/2018 (Fri) 11:00am ?? PST (UTC -7)

? OBJECTIVES | List of Objectives to complete during the week
World Class | Win 2+ squad battles matches on minimum world class difficulty | Hunter chemistry style (untradeable)
Fine Performance | Score 3+ goals using a TOTW player in online seasons | Hunter chemistry style (untradeable)
Squad Performance | Score 3+ goals using a TOTW player in Squad Battles ion minimum professional difficulty | Shadow chemistry style (untradeable)
Daily Knockouts | Play 4 daily knockout tournament matches this week
Premier League Assists | Assist 7+ goals using players from the Premier League in online seasons
Bundesliga Goals | Score 7+ goals using players from the Bundesliga in squad battles

WEEK 26
?️ RELEASE DATES & TIMES | When new FIFA 18 Weekly Objectives are refreshed
23/03/2018 (Fri) 07:00pm ?? GMT (UTC +2)
23/03/2018 (Fri) 06:00pm ?? GMT (UTC +1)
23/03/2018 (Fri) 01:00pm ???? EST (UTC -4)
23/03/2018 (Fri) 10:00am ?? PST (UTC -7)

? OBJECTIVES | List of Objectives to complete during the week
FIFA 13 | Assist 7+ goals using through balls in online seasons | Electrum Players Pack (untradeable)
FIFA 14 | Score 7+ goals from crosses in online seasons | Electrum Players Pack (untradeable)
Sweet as a Nut | Score 5+ goals using Icons across any FUT game modes | EA Leather Ball (untradeable)
Win Two Battles | Win 2 squad battles matches this week
Deserved Win | Win 5+ games by at least two goals across any FUT modes

WEEK 25
?️ RELEASE DATES & TIMES | When new FIFA 18 Weekly Objectives are refreshed
16/03/2018 (Fri) 07:00pm ?? GMT (UTC +1)
16/03/2018 (Fri) 06:00pm ?? GMT (UTC +0)
16/03/2018 (Fri) 02:00pm ???? EST (UTC -4)
16/03/2018 (Fri) 11:00am ?? PST (UTC -7)

? OBJECTIVES | List of Objectives to complete during the week
Boys in Green | Score 10+ goals using players from Rep. Ireland | St Patricks Day Aiden McGeady Item
Ninth Anniversary | Win 9+ online matches this week | St Patricks Day David Meyler Item (untradeable)
Leprechauns | Score 10 downhard headers this week | St Patricks Day Harry Arter Item (untradeable)
Pot of Gold | Play 20+ matches across any FUT game modes | St Patricks Day Daryl Horgan Item (untradeable)
Two Friendlies | Play 2 friendly season matches
St Patricks Day | Score 3+ goals using players from the SSE Airtricity League | St Patricks Day Kit
Luck of the Irish | Score a goal off the woodwork in online single matches | St Patricks Day Seamus Coleman Item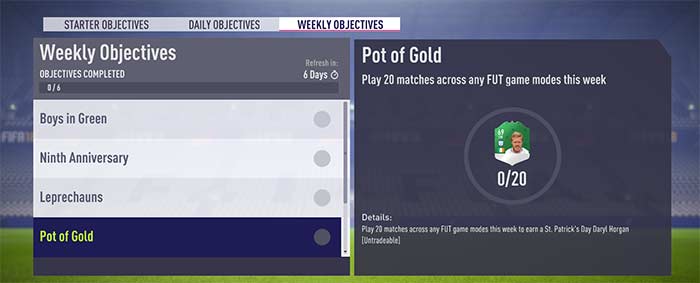 WEEK 24
?️ RELEASE DATES & TIMES | When new FIFA 18 Weekly Objectives are refreshed
09/03/2018 (Fri) 07:00pm ?? GMT (UTC +1)
09/03/2018 (Fri) 06:00pm ?? GMT (UTC +0)
09/03/2018 (Fri) 01:00pm ???? EST (UTC -5)
09/03/2018 (Fri) 10:00am ?? PST (UTC -8)

? OBJECTIVES | List of Objectives to complete during the week
Germany Debut | Score a goal using a German player on their debut match for your club in Online Seasons
Argentina Debut | Score a goal using an Argentinan player on their debut match for your club in Online Seasons
Spain Debut | Score a goal using a Spanish player on their debut match for your club in Online Seasons
Portugal Debut | Score a goal using a Portuguese player on their debut match for your club in Online Seasons
Belgium Debut | Score a goal using a Belgian player on their debut match for your club in Online Seasons
Norway | Score 5+ goals using players from Norway across any FUT game modes | Lusekofte kit (untradeable)
Attacking Mentality | Score 15+ goals in Online Seasons
Squad Battles Master | Win three squad battles matches by two or more goals

WEEK 23
?️ RELEASE DATES & TIMES | When new FIFA 18 Weekly Objectives are refreshed
02/03/2018 (Fri) 07:00pm ?? GMT (UTC +1)
02/03/2018 (Fri) 06:00pm ?? GMT (UTC +0)
02/03/2018 (Fri) 01:00pm ???? EST (UTC -5)
02/03/2018 (Fri) 10:00am ?? PST (UTC -8)

? OBJECTIVES | List of Objectives to complete during the week
Liga NOS Goals | Score 5+ goals using players from the Liga NOS in Online Seasons
Eredivisie Assists | Assist 5+ goals using players from Eredivisie in Squad Battles
Russian Premier League | Score 5+ goals using players from the Russian PL in Online Seasons
Super Lig Assists | Assist 5+ goals using players from Super Lig in Squad Battles
MLS Goals | Score 5+ goals using players from the MLS in Online Seasons
Mind Reader | Assist 3+ goals using threaded through balls across any FUT game modes
In Good Form | Win 3+ onlise seasons

WEEK 22
?️ RELEASE DATES & TIMES | When new FIFA 18 Weekly Objectives are refreshed
23/02/2018 (Fri) 07:00pm ?? GMT (UTC +1)
23/02/2018 (Fri) 06:00pm ?? GMT (UTC +0)
23/02/2018 (Fri) 01:00pm ???? EST (UTC -5)
23/02/2018 (Fri) 10:00am ?? PST (UTC -8)

? OBJECTIVES | List of Objectives to complete during the week
Premier League Assists | Assist 7+ goals using players from the Premier League in Online Seasons
Bundesliga Goals | Score 7+ goals using players from the Bundesliga in Squad Battles
Ligue 1 Assists | Assist 5+ goals using players from Ligue 1 in Online Seasons
Calcio A Goals | Score 5+ goals using players from Calcio A in Squad Battles
LaLiga Santander Goals | Score 5+ goals using low driven shots across any FUT Modes
Driven | Play 2+ Friendly Seasons matches this week
Attacking Line-Up | Buy 3+ attackers on the transfer market for at least 1500 coins (using Buy it Now)

WEEK 21
?️ RELEASE DATES & TIMES | When new FIFA 18 Weekly Objectives are refreshed
16/02/2018 (Fri) 07:00pm ?? GMT (UTC +1)
16/02/2018 (Fri) 06:00pm ?? GMT (UTC +0)
16/02/2018 (Fri) 01:00pm ???? EST (UTC -5)
16/02/2018 (Fri) 10:00am ?? PST (UTC -8)

? OBJECTIVES | List of Objectives to complete during the week
Play Eight | Play 8+ matches across any FUT game modes | Premium Gold Pack (untradeable)
Play Sixteen | Play 16+ matches across any FUT game modes | Premium Electrum Players Pack (untradeable)
Play Thirty Two | Play 32+ matches across any FUT game modes | Premium Gold Players Pack (untradeable)
Number Eight | Score 8+ goals using midfielders
Two Friendlies | Play 2+ Friendly Seasons matches this week

WEEK 20
?️ RELEASE DATES & TIMES | When new FIFA 18 Weekly Objectives are refreshed
09/02/2018 (Fri) 07:00pm ?? GMT (UTC +1)
09/02/2018 (Fri) 06:00pm ?? GMT (UTC +0)
09/02/2018 (Fri) 01:00pm ???? EST (UTC -5)
09/02/2018 (Fri) 10:00am ?? PST (UTC -8)

? OBJECTIVES | List of Objectives to complete during the week
Brazil | Score 5 goals using players from Brazil in online seasons | Special Brazil kit (untradeable)
Ten Goals | Score 10 goals with players from the Bunesliga
Play Fifteen | Play 15 matches across any FUT game modes
First-time Shots | Score 10 goals using first-time shots
Fit Squad | Apply 2 squad fitness consumables to your squad

WEEK 19
?️ RELEASE DATES & TIMES | When new FIFA 18 Weekly Objectives are refreshed
02/02/2018 (Fri) 07:00pm ?? GMT (UTC +1)
02/02/2018 (Fri) 06:00pm ?? GMT (UTC +0)
02/02/2018 (Fri) 01:00pm ???? EST (UTC -5)
02/02/2018 (Fri) 10:00am ?? PST (UTC -8)

? OBJECTIVES | List of Objectives to complete during the week
Premier League Debut | Score a goal using a Premier League player on their debut match
LaLiga Santander Debut | Score a goal using a LaLiga Santander player on their debut match
Premier League Goals | Score 10 goals using players from the Premier League
LaLiga Santander League Goals | Score 10 goals using players from LaLiga Santander
Play Ten | Play ten or more matches across any FUT game modes
Five Online Seasons | Play five or more Online Seasons matches this week

WEEK 18
?️ RELEASE DATES & TIMES | When new FIFA 18 Weekly Objectives are refreshed
26/01/2018 (Fri) 07:00pm ?? GMT (UTC +1)
26/01/2018 (Fri) 06:00pm ?? GMT (UTC +0)
26/01/2018 (Fri) 01:00pm ???? EST (UTC -5)
26/01/2018 (Fri) 10:00am ?? PST (UTC -8)

? OBJECTIVES | List of Objectives to complete during the week
Play Fifteen | Play 15 matches across any FUT game modes this week
Four Battles | Win 4 squad battles matches this week
In Good Form | Win 3 or more online seasons matches
Three Downward Headers | Score 3 goals using downward headers this week
Good Deals | Buy 3 or more players (using Buy Now) for at least 1500 coins each

WEEK 17
?️ RELEASE DATES & TIMES | When new FIFA 18 Weekly Objectives are refreshed
19/01/2018 (Fri) 07:00pm ?? GMT (UTC +1)
19/01/2018 (Fri) 06:00pm ?? GMT (UTC +0)
19/01/2018 (Fri) 01:00pm ???? EST (UTC -5)
19/01/2018 (Fri) 10:00am ?? PST (UTC -8)

? OBJECTIVES | List of Objectives to complete during the week
Play Eight | Play 8 matches across any FUT game modes | Gold Pack (untradeable)
Play Twenty | Play 20 matches across any FUT game modes | Jumbo Premium Gold Pack (untradeable)
Play 38 | Play 38 matches across any FUT game modes | Premium Gold Players Pack + Hunter style (untradeable)
Attackers | Buy 2 attackers (using Buy Now) for at least 8000 coins each | Two Players Pack
Midfielders | Buy 3 midfielders (using Buy Now) for at least 7000 coins each | Two Players Pack
Defenders | Buy 2 defenders (using Buy Now) for at least 6000 coins each | Two Players Pack
Marquee Signings | Buy 9 players (using Buy Now) for at least 6000 coins each | Premium Electrum Players Pack
Winning Mentality | Win 10 matches across any FUT game modes | Two Players Pack

WEEK 16
?️ RELEASE DATES & TIMES | When new FIFA 18 Weekly Objectives are refreshed
12/01/2018 (Fri) 07:00pm ?? GMT (UTC +1)
12/01/2018 (Fri) 06:00pm ?? GMT (UTC +0)
12/01/2018 (Fri) 01:00pm ???? EST (UTC -5)
12/01/2018 (Fri) 10:00am ?? PST (UTC -8)

? OBJECTIVES | List of Objectives to complete during the week
Pure Class | Score 10 goals using first-time shots | TOTY Kit (untradeable)
Win Two Battles | Win two or more squad battles matches this week
Play Fifteen | Play 15 matches across any FUT game modes
Open Space | Assist 10 goals using through balls
Fit Squad | Apply 2 squad fitness consumables this week

WEEK 15
?️ RELEASE DATES & TIMES | When new FIFA 18 Weekly Objectives are refreshed
05/01/2018 (Fri) 07:00pm ?? GMT (UTC +1)
05/01/2018 (Fri) 06:00pm ?? GMT (UTC +0)
05/01/2018 (Fri) 01:00pm ???? EST (UTC -5)
05/01/2018 (Fri) 10:00am ?? PST (UTC -8)

? OBJECTIVES | List of Objectives to complete during the week
Mind Reader | Assist 3 goals using threaded through balls
Two Friendlies | Play 2 friendly seasons matches this week
Deserved Win | Win 5 games by at least two goals across any FUT modes
Ten Online Seasons | Play 10 or more online season matches
Chemistry Experiment | Apply three or more chemistry styles consumables this week

WEEK 14
?️ RELEASE DATES & TIMES | When new FIFA 18 Weekly Objectives are refreshed
29/12/2017 (Fri) 07:00pm ?? GMT (UTC +1)
29/12/2017 (Fri) 06:00pm ?? GMT (UTC +0)
29/12/2017 (Fri) 01:00pm ???? EST (UTC -5)
29/12/2017 (Fri) 10:00am ?? PST (UTC -8)

? OBJECTIVES | List of Objectives to complete during the week
Ten Matches | Play 10 matches across any FUT game modes this week | Loan player rated 81-85 (untradeable)
Twenty Matches | Play 20 matches across any FUT game modes this week | Loan player rated 86-90 (untradeable)
Thirty Matches | Play 30 matches across any FUT game modes this week | Loan Icon (untradeable)
Seven Squad Battles | Play 7 or more Squad Battles matches this week | Premium Gold Pack (untradeable)
Finesse | Score 8 goals using finesse shots | Silver Pack (untradeable)
Attacking Line-Up | Buy 3 attackers worth at least 1500 coins each | Untradeable reward

WEEK 13
?️ RELEASE DATES & TIMES | When new FIFA 18 Weekly Objectives are refreshed
22/12/2017 (Fri) 07:00pm ?? GMT (UTC +1)
22/12/2017 (Fri) 06:00pm ?? GMT (UTC +0)
22/12/2017 (Fri) 01:00pm ???? EST (UTC -5)
22/12/2017 (Fri) 10:00am ?? PST (UTC -8)

? OBJECTIVES | List of Objectives to complete during the week
Pirlo Party | Assist three or more goals using lobbed through balls in Online Single Matches | Andrea Pirlo FUTmas item (untradeable)
Three Online Single Matches | Play 3 or more online single matches | Premium Gold Pack (untradeable)
Assisting for Fun | Assist 10 or more goals in online single matches | Two Players Pack (untradeable)
Play Ten | Play 10 or more matches across any FUT game modes | Premium Gold Pack + FUTMas kit (untradeable)
Play Twenty | Play 20 matches across any FUT game modes | Loan player rated 81-85 (untradeable)
Play Thirty | Play 30 matches across any FUT game modes | Loan player rated 86-90 (untradeable)
Solid Midfield | Buy four or more midfielders for at least 1000 coins (using buy it now)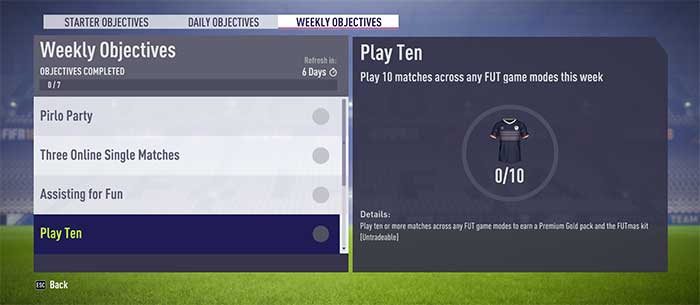 WEEK 12
?️ RELEASE DATES & TIMES | When new FIFA 18 Weekly Objectives are refreshed
15/12/2017 (Fri) 07:00pm ?? GMT (UTC +1)
15/12/2017 (Fri) 06:00pm ?? GMT (UTC +0)
15/12/2017 (Fri) 01:00pm ???? EST (UTC -5)
15/12/2017 (Fri) 10:00am ?? PST (UTC -8)

? OBJECTIVES | List of Objectives to complete during the week
A FUTmas Carroll | Score 10 goals in Online Single Matches this week | Andy Carroll FUTmas item (untradeable)
Just for Kicks | Play 3 online single matches | Electrum Players Pack (untradeable)
Scoring for Fun | Score 10 goals in online single matches | Premium Gold Pack (untradeable)
Six Squad Battles | Play 6 squad battles matches this week | Two Players Pack (untradeable)
Win Three Battles | Win 3 squad battles matches this week | FUTMas Elf Kit (untradeable)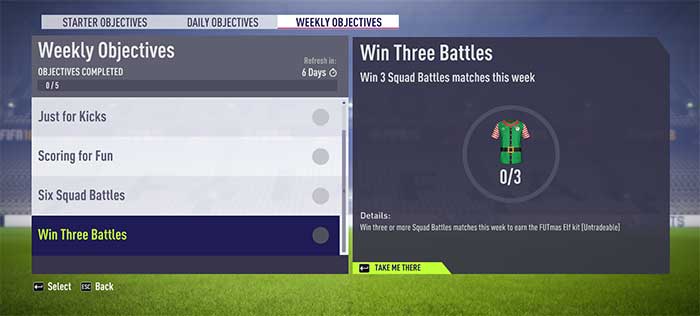 WEEK 11
?️ RELEASE DATES & TIMES | When new FIFA 18 Weekly Objectives are refreshed
08/12/2017 (Fri) 07:00pm ?? GMT (UTC +1)
08/12/2017 (Fri) 06:00pm ?? GMT (UTC +0)
08/12/2017 (Fri) 01:00pm ???? EST (UTC -5)
08/12/2017 (Fri) 10:00am ?? PST (UTC -8)

? OBJECTIVES | List of Objectives to complete during the week
Bundesliga Goals | Score 5 goals using players from the Bundesliga in Online Seasons
Ligue 1 Goals | Score 5 goals using players from Ligue 1 in Online Seasons
Play Ten | Play 10 matches across any FUT game modes
Five Online Seasons | Play 5 online seasons matches this week
Fit Squad | Apply two or more squad fitness consumables to your squad

WEEK 10
?️ RELEASE DATES & TIMES | When new FIFA 18 Weekly Objectives are refreshed
01/12/2017 (Fri) 07:00pm ?? GMT (UTC +1)
01/12/2017 (Fri) 06:00pm ?? GMT (UTC +0)
01/12/2017 (Fri) 01:00pm ???? EST (UTC -5)
01/12/2017 (Fri) 10:00am ?? PST (UTC -8)

? OBJECTIVES | List of Objectives to complete during the week
Brazil | Score 5 goals using players from Brazil in Online Seasons
Switzerland | Score 4 goals using players from Switzerland in Squad Battles
Denmark | Score 3 goals using players from Denmark
South Korea | Score 2 goals using players from South Korea
Thirty Goals | Score thirty or more goals across any FUT game modes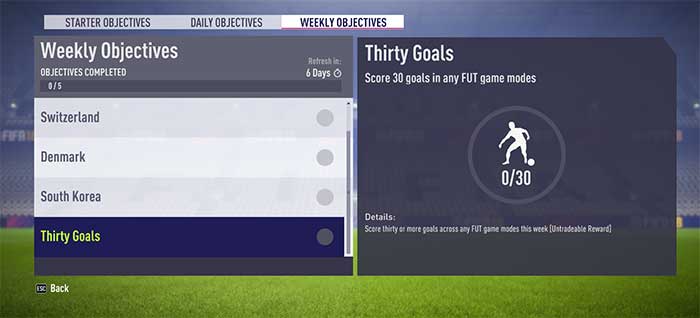 WEEK 9
?️ RELEASE DATES & TIMES | When new FIFA 18 Weekly Objectives are refreshed
24/11/2017 (Fri) 07:00pm ?? GMT (UTC +1)
24/11/2017 (Fri) 06:00pm ?? GMT (UTC +0)
24/11/2017 (Fri) 01:00pm ???? EST (UTC -5)
24/11/2017 (Fri) 10:00am ?? PST (UTC -8)

? OBJECTIVES | List of Objectives to complete during the week
Play Ten | Play 10 matches across any FUT game mode | Premium Gold Pack and a Black Friday kit (untradeable)
Play Twenty| Play 20 matches across any FUT game mode | Premium Electrum Players Pack (untradeable)
Play Thirty | Play 20 matches across any FUT game mode | Premium Gold Players Pack (untradeable)
Good Deals | Buy 3 or more players on the transfer market for at least 1500 coins (using Buy now)
Four Battles | win four or more Squad Battles matches
Three Downward Headers | Score three or more goals using headers across any FUT game modes
Lobbed Through Balls | Assist five or more goals using lobbed balls accross FUT game modes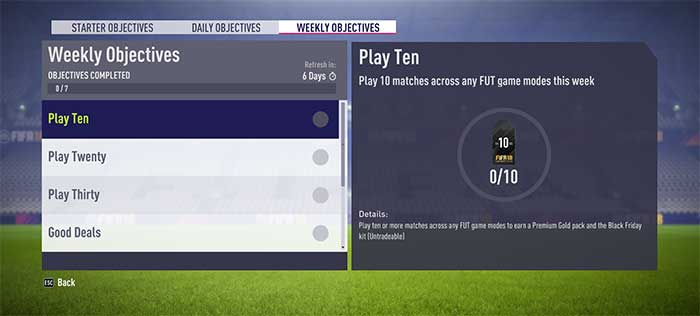 WEEK 8
?️ RELEASE DATES & TIMES | When new FIFA 18 Weekly Objectives are refreshed
17/11/2017 (Fri) 07:00pm ?? GMT (UTC +1)
17/11/2017 (Fri) 06:00pm ?? GMT (UTC +0)
17/11/2017 (Fri) 01:00pm ???? EST (UTC -5)
17/11/2017 (Fri) 10:00am ?? PST (UTC -8)

? OBJECTIVES | List of Objectives to complete during the week
Three Friendlies | Play three or more friendly seasons matches this week | Rainbow kit (untradeable)
In Good Form | Win three or more online seasons matches this week
First-time Shots | Score ten or more goals using first-time shots across any FUT modes this week
Ground Passes | Assist ten or more goals using ground passes across any FUT game modes this week
Solid Defence | Buy three or more Defenders for at least 1500 coins (using Buy Now) | Silver Pack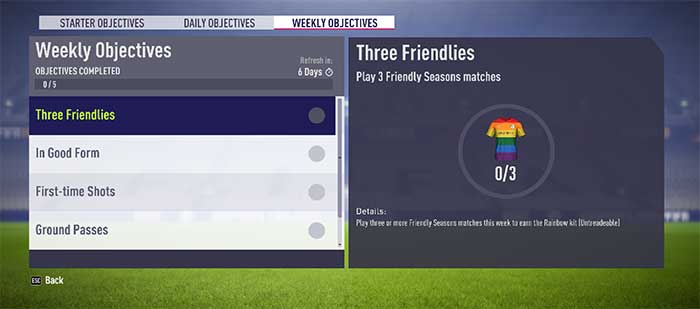 WEEK 7
?️ RELEASE DATES & TIMES | When new FIFA 18 Weekly Objectives are refreshed
10/11/2017 (Fri) 07:00pm ?? GMT (UTC +1)
10/11/2017 (Fri) 06:00pm ?? GMT (UTC +0)
10/11/2017 (Fri) 01:00pm ???? EST (UTC -5)
10/11/2017 (Fri) 10:00am ?? PST (UTC -8)

? OBJECTIVES | List of Objectives to complete during the week
Brazilian Goals | Score seven or more goals using finesse shots with Brazilian players | Special Effect kit
French Forwards | Score five or more goals using French attackers in Online Seasons
German Midfielders | Score ten or more goals using German Midfielders in Squad Battles this week
Killer Passes | Assist five or more goals using thwough balls with Spanish players across any FUT game mode
Solid Midfield | Buy four or more midfielders for at least 1000 coins (using Buy it Now) | Silver Pack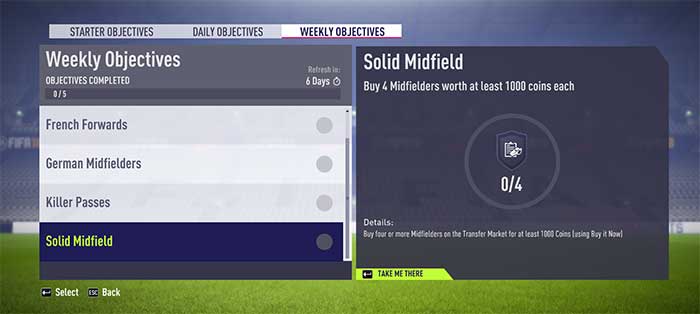 WEEK 6
?️ RELEASE DATES & TIMES | When new FIFA 18 Weekly Objectives are refreshed
03/11/2017 (Fri) 07:00pm ?? GMT (UTC +1)
03/11/2017 (Fri) 06:00pm ?? GMT (UTC +0)
03/11/2017 (Fri) 01:00pm ???? EST (UTC -4)
03/11/2017 (Fri) 10:00am ?? PST (UTC -7)

? OBJECTIVES | List of Objectives to complete during the week
Five Crosses | Score five or more goals from crosses across any FUT game mode | Stand Up to Cancer kit
Ten Online Seasons | Play ten or more online seasons matches this week
Attacking Mentality | Score fifteen or more goals in Online Seasons matches this week
Mind Reader | Assist three or more goals using threaded through balls across any FUT game mode
Attacking Line-up | Buy three or more attackers on the transfer market for at least 1500 coins (using Buy it Now)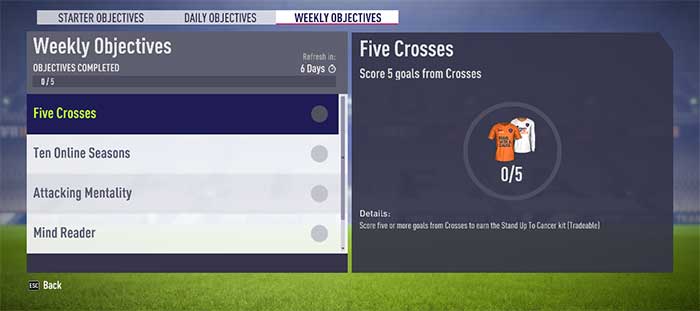 WEEK 5
?️ RELEASE DATES & TIMES | When new FIFA 18 Weekly Objectives are refreshed
27/10/2017 (Fri) 07:00pm ?? GMT (UTC +2)
27/10/2017 (Fri) 06:00pm ?? GMT (UTC +1)
27/10/2017 (Fri) 01:00pm ???? EST (UTC -4)
27/10/2017 (Fri) 10:00am ?? PST (UTC -7)

? OBJECTIVES | List of Objectives to complete during the week
Four Corners | Score four or more goals from corner kicks across any FUT game mode
Two Friendlies | Play two or more friendly seasons matches this week
Forty Goals | Score forty or more goals across any FUT game modes
Open Space | Assist ten or more goals using through balls across any FUT game mode
Survival of the Fittest | Apply seven or more player fitness consumables to your squad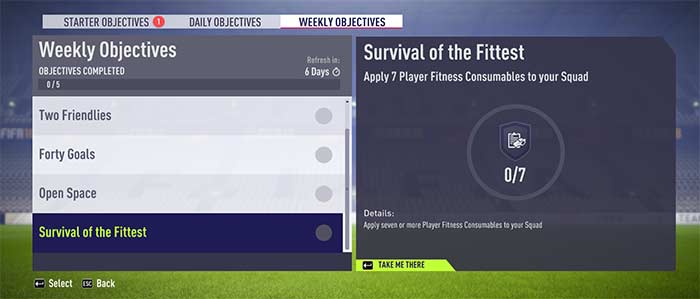 WEEK 4
?️ RELEASE DATES & TIMES | When new FIFA 18 Weekly Objectives are refreshed
20/10/2017 (Fri) 07:00pm ?? GMT (UTC +2)
20/10/2017 (Fri) 06:00pm ?? GMT (UTC +1)
20/10/2017 (Fri) 01:00pm ???? EST (UTC -4)
20/10/2017 (Fri) 10:00am ?? PST (UTC -7)

? OBJECTIVES | List of Objectives to complete during the week
Fear of Heights | Score thirteen or more goals using Headers | adidas KITH kit (tradeable)
Spooky Seasons | Play five or more online seasons matches this week
Scary Good | Buy five or more players on the transfer market for at least 1000 coins (buy it now) | Two players pack
Five Screamers | Score five or more goals using defenders | Ultimate Scream kit (untradeable)
Consumed by Fear | Apply twenty or more consumables this week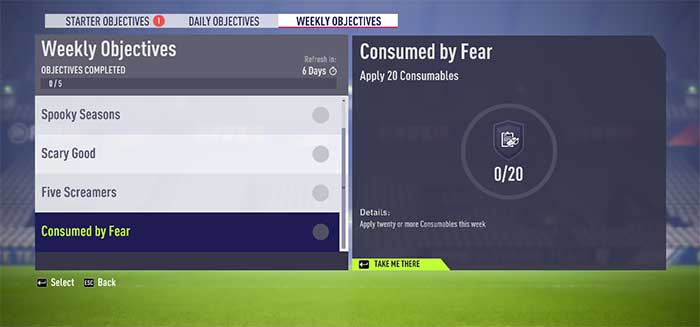 WEEK 3
?️ RELEASE DATES & TIMES | When new FIFA 18 Weekly Objectives are refreshed
13/10/2017 (Fri) 07:00pm ?? GMT (UTC +2)
13/10/2017 (Fri) 06:00pm ?? GMT (UTC +1)
13/10/2017 (Fri) 01:00pm ???? EST (UTC -4)
13/10/2017 (Fri) 10:00am ?? PST (UTC -7)

? OBJECTIVES | List of Objectives to complete during the week
C | Score 8 goals using finesse shots
Squad Battles Master | Win 3 squad battles matches by two goals
Driven | Score 5 goals using low driven shots
Assisted | Assist 15 goals this week
Chemistry Experiment | Apply 3 chemistry style consumables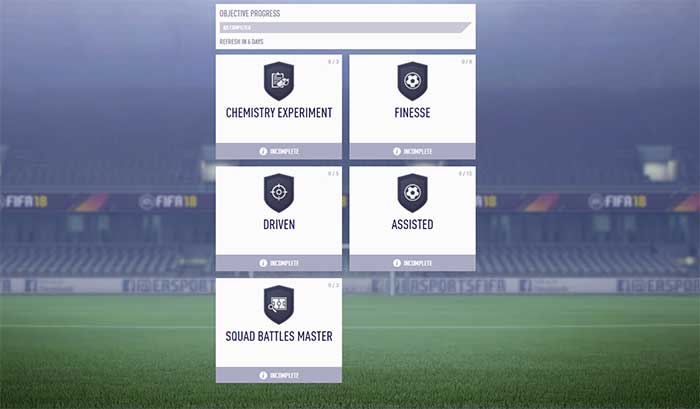 WEEK 2
?️ RELEASE DATES & TIMES | When new FIFA 18 Weekly Objectives are refreshed
06/10/2017 (Fri) 07:00pm ?? GMT (UTC +2)
06/10/2017 (Fri) 06:00pm ?? GMT (UTC +1)
06/10/2017 (Fri) 01:00pm ???? EST (UTC -4)
06/10/2017 (Fri) 10:00am ?? PST (UTC -7)

? OBJECTIVES | List of Objectives to complete during the week
Seven Squad Battles | Play 7 squad battles matches | 1,000 coins
Up to Eleven | Play 11 matches across any FUT modes | 1,200 coins
Staying Fit | Apply 5 squad fitness consumables to your squad | –
Deserved Win | Win 5 games by at least two goals across any FUT modes | 1,600 coins
Ten Assists | Assist 10 goals with players from the Bundesliga | Custom kit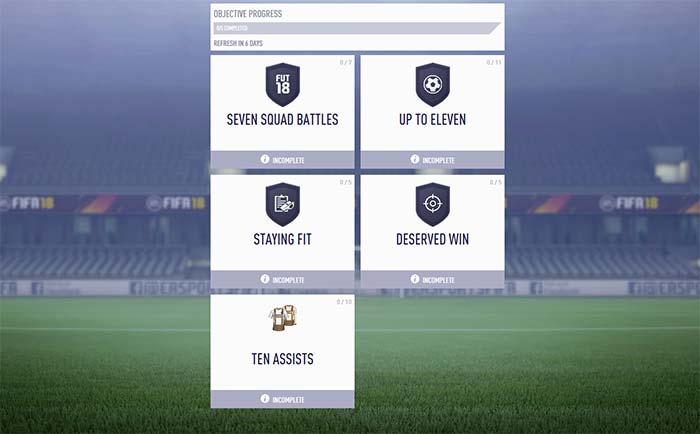 WEEK 1
?️ RELEASE DATES & TIMES | When new FIFA 18 Weekly Objectives are refreshed
29/09/2017 (Fri) 07:00pm ?? GMT (UTC +2)
29/09/2017 (Fri) 06:00pm ?? GMT (UTC +1)
29/09/2017 (Fri) 01:00pm ???? EST (UTC -4)
29/09/2017 (Fri) 10:00am ?? PST (UTC -7)

? OBJECTIVES | List of Objectives to complete during the week
Deal Master | Buy 15 players (using buy it now) on the Transfer Market | 1,000 coins
Play Ten | Play 10 matches in any FUT game modes | 1,000 coins
Thirty Goals | Score 30 goals in any FUT game modes | 1,400 coins
Midfielder Assists | Get 5 assists with midfielders in FUT | 1,600 coins
Squad Battles Intro | Play 4 Squad Battles matches | Ones to Watch kit