Check here the complete and always updated list of the FIFA 18 Winter Upgraded Cards. Find out the six batches with all the players and IF boosts of the FIFA 18 Winter Upgrades season, one for each league: Premier League, Bundesliga, LaLiga, Serie A, Ligue 1 and Rest of the World.

WINTER UPGRADES CALENDAR

?? Premier League | 23/02/2018 (confirmed)
?? Serie A | 25/02/2018 (confirmed)
?? Ligue 1 | 27/02/2018 (confirmed)
?? Bundesliga | 01/03/2018 (confirmed)
?? LaLiga | 03/02/2018 (confirmed)
? ROTW | 05/02/2018 (confirmed)



FIFA 18 Ratings Refresh
How FIFA 18 Winter Upgrades work

Different to what happens in other game modes, the players aren't automatically updated throughout the season according to their appearances in real life. Some may receive In Form cards, but most players remain with the characteristics they were given at the start of the season. In Ultimate Team, upgrades are made through the release of new cards in determined periods. The first one happens within the transition of one FIFA to another looking to reflect the player's evolution between two seasons. The second one, in February, rewards the players who stood out the most in the first half of the season with the release of new (improved) cards. That's exactly these FIFA 18 winter upgraded players cards that are being released now.
Based on what happened last year, these are the official rules we expect to see this year:
RULE 1
APPLICABILITY
Upgrades apply to new non-inform players found in packs. Non-IF players in your Club will not receive an upgrade.
RULE 2
UPGRADES
If an upgraded player's new OVR rating equals or surpasses his existing first in-form's rating, his IFs will get an upgrade.
2.1. An exception is made for lower rated players with significant upgrades.
2.2. Does not apply to Ultimate Scream items.
RULE 3
THE BOOST
If an upgraded player's new OVR rating does not equal or surpass his existing in-form's rating, his IFs will not get an upgrade.
3.1. However, if an upgraded player with an existing IF gets upgraded across Quality tiers (eg. Silver to Gold), his lower-quality IF will not get an upgrade. This preserves the in-form's high value.
3.2. There is also an extra rule that wasn't officially announced but that EA is using, about the IF upgrades:
If a NIF card is upgraded to 77, his IF card may be updated to 82
If a NIF card is upgraded to 78, his IF card may be updated to 82
If a NIF card is upgraded to 79, his IF card may be updated to 83
If a NIF card is upgraded to 80, his IF card may be updated to 83
If a NIF card is upgraded to 81, his IF card may be updated to 84
If a NIF card is upgraded to 82, his IF card may be updated to 84
If a NIF card is upgraded to 83, his IF card may be updated to 85
If a NIF card is upgraded to 84, his IF card may be updated to 86
If a NIF card is upgraded to 85, his IF card may be updated to 86
If a NIF card is upgraded to 86, his IF card may be updated to 87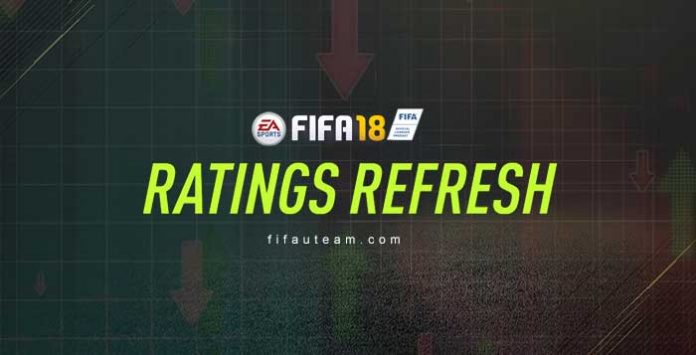 FIFA 18 Winter Upgraded Cards List
List of all FIFA 18 Winter Upgrades

Here it is the official list of confirmed FIFA 18 Winter Upgrades:
| NAME | POS | >OLD RTG | NEW RTG | UP | CLUB | LEAGUE | NEW IF |
| --- | --- | --- | --- | --- | --- | --- | --- |
| De Gea | GK | 90 | 91 | 1 | Manchester United | Premier League | 92 | 93 |
| Eden Hazard | LW | 90 | 91 | 1 | Chelsea | Premier League | 92 | 93 | 94 |
| Kevin De Bruyne | CAM | 89 | 91 | 2 | Manchester City | Premier League | 92 | 93 |
| David Silva | CAM | 87 | 89 | 2 | Manchester City | Premier League | 90 | 91 | 92 |
| Mats Hummels | CB | 88 | 89 | 1 | FC Bayern München | Bundesliga | 90 | 91 |
| Paulo Dybala | CAM | 88 | 89 | 1 | Juventus | Calcio A | 90 | 91 |
| Christian Eriksen | CAM | 87 | 88 | 1 | Tottenham Hotspur | Premier League | 89 | 90 |
| Edinson Cavani | ST | 87 | 88 | 1 | Paris Saint-Germain | Ligue 1 | 89 | 90 |
| Harry Kane | ST | 86 | 88 | 2 | Tottenham Hotspur | Premier League | 89 | 90 | 91 | 93 |
| N'Golo Kanté | CDM | 87 | 88 | 1 | Chelsea | Premier League | |
| Paul Pogba | CM | 87 | 88 | 1 | Manchester United | Premier League | 89 | 90 |
| Samir Handanovič | GK | 87 | 88 | | Inter | Calcio A | 89 | 90 |
| Coutinho | LW | 86 | 87 | 1 | FC Barcelona | LaLiga Santander | |
| Dries Mertens | CF | 86 | 87 | 1 | Napoli | Calcio A | 88 | 89 | 90 |
| Jordi Alba | LB | 85 | 87 | 2 | FC Barcelona | LaLiga Santander | 88 | 88 |
| Lorenzo Insigne | LW | 85 | 87 | 2 | Napoli | Calcio A | |
| Marc-André ter Stegen | GK | 85 | 87 | 2 | FC Barcelona | LaLiga Santander | 89 | 88 |
| Sergio Busquets | CDM | 86 | 87 | 1 | FC Barcelona | LaLiga Santander | |
| Azpilicueta | CB | 85 | 86 | 1 | Chelsea | Premier League | 87 | 87 |
| Casemiro | CDM | 85 | 86 | 1 | Real Madrid | LaLiga Santander | 88 | 87 |
| Filipe Luís | LB | 85 | 86 | 1 | Atlético Madrid | LaLiga Santander | |
| Ivan Perišić | LM | 84 | 86 | 2 | Inter | Calcio A | 87 |
| Mauro Icardi | ST | 84 | 86 | 2 | Inter | Calcio A | 87 | 88 |
| Miralem Pjanić | CM | 85 | 86 | 1 | Juventus | Calcio A | 87 | 88 |
| Ciro Immobile | ST | 82 | 85 | 3 | Lazio | Calcio A | 86 | 87 | 88 |
| Fernandinho | CDM | 82 | 85 | 3 | Manchester City | Premier League | 86 |
| Koke | CM | 84 | 85 | 1 | Atlético Madrid | LaLiga Santander | |
| Medhi Benatia | CB | 84 | 85 | 1 | Juventus | Calcio A | |
| Mohamed Salah | RW | 83 | 85 | 2 | Liverpool | Premier League | 86 | 87 | 89 | 90 |
| Morata | ST | 84 | 85 | 1 | Chelsea | Premier League | 87 |
| Nicolás Otamendi | CB | 83 | 85 | 2 | Manchester City | Premier League | 86 | 87 |
| Anthony Lopes | GK | 83 | 84 | 1 | Olympique Lyonnais | Ligue 1 | |
| Ederson | GK | 83 | 84 | 1 | Manchester City | Premier League | 86 |
| Fabinho | CDM | 83 | 84 | 1 | AS Monaco | Ligue 1 | |
| Iago Aspas | RW | 83 | 84 | 1 | RC Celta | LaLiga Santander | |
| Jonas | ST | 83 | 84 | 1 | SL Benfica | Liga NOS | |
| Joshua Kimmich | RB | 81 | 84 | 3 | FC Bayern München | Bundesliga | 88 | 87 | 85 |
| Kyle Walker | RB | 83 | 84 | 1 | Manchester City | Premier League | 84 |
| Kylian Mbappé | ST | 83 | 84 | 1 | Paris Saint-Germain | Ligue 1 | |
| Leroy Sané | LW | 82 | 84 | 2 | Manchester City | Premier League | 84 | 87 |
| Marquinhos | CB | 83 | 84 | 1 | Paris Saint-Germain | Ligue 1 | |
| Mattia Perin | GK | 83 | 84 | | Genoa | Calcio A | |
| Nabil Fekir | CAM | 82 | 84 | 2 | Olympique Lyonnais | Ligue 1 | 85 | 87 |
| Naldo | CB | 82 | 84 | 2 | FC Schalke 04 | Bundesliga | 87 | 85 |
| Nemanja Matić | CDM | 83 | 84 | 1 | Manchester United | Premier League | |
| Niklas Süle | CB | 83 | 84 | 1 | FC Bayern München | Bundesliga | |
| Parejo | CM | 82 | 84 | 2 | Valencia CF | LaLiga Santander | 85 |
| Raheem Sterling | RW | 82 | 84 | 2 | Manchester City | Premier League | 86 | 87 |
| Riyad Mahrez | RM | 83 | 84 | 1 | Leicester City | Premier League | |
| Roberto Firmino | ST | 83 | 84 | 1 | Liverpool | Premier League | |
| Stefan de Vrij | CB | 83 | 84 | 1 | Lazio | Calcio A | |
| Thomas Lemar | LM | 83 | 84 | 1 | AS Monaco | Ligue 1 | |
| Yacine Brahimi | LM | 82 | 84 | 2 | FC Porto | Liga NOS | 87 | 85 |
| Andrea Consigli | GK | 82 | 83 | | Sassuolo | Calcio A | |
| Anthony Martial | LM | 82 | 83 | 1 | Manchester United | Premier League | |
| Douglas Costa | LM | 82 | 83 | 1 | Juventus | Calcio A | |
| Florian Thauvin | RW | 82 | 83 | 1 | Olympique de Marseille | Ligue 1 | |
| Gabriel Jesus | ST | 81 | 83 | 2 | Manchester City | Premier League | |
| Giuliano | CAM | 81 | 83 | 2 | Fenerbahçe SK | Süper Lig | |
| Heung Min Son | LM | 82 | 83 | 1 | Tottenham Hotspur | Premier League | |
| Jonathan Viera | CM | 82 | 83 | 1 | UD Las Palmas | LaLiga Santander | |
| Juan Cuadrado | RM | 82 | 83 | 1 | Juventus | Calcio A | |
| Leon Goretzka | CM | 82 | 83 | 1 | FC Schalke 04 | Bundesliga | |
| Lukáš Hrádecký | GK | 81 | 83 | 2 | Eintracht Frankfurt | Bundesliga | |
| Mario Balotelli | ST | 82 | 83 | 1 | OGC Nice | Ligue 1 | |
| Oliver Baumann | GK | 82 | 83 | 1 | TSG 1899 Hoffenheim | Bundesliga | |
| Paulinho | CM | 81 | 83 | 2 | FC Barcelona | LaLiga Santander | |
| Pizzi | CM | 82 | 83 | 1 | SL Benfica | Liga NOS | |
| Quincy Promes | RM | 82 | 83 | 1 | Spartak Moscow | Russian League | |
| Raúl Albiol | CB | 82 | 83 | 1 | Napoli | Calcio A | |
| Rune Almenning Jarstein | GK | 82 | 83 | 1 | Hertha BSC | Bundesliga | |
| Saúl | CM | 82 | 83 | 1 | Atlético Madrid | LaLiga Santander | |
| Sebastian Giovinco | CF | 82 | 83 | 1 | Toronto FC | Major League Soccer | |
| Sergej Milinković-Savić | CM | 80 | 83 | 3 | Lazio | Calcio A | 83 | 86 |
| Timo Werner | ST | 82 | 83 | 1 | RB Leipzig | Bundesliga | |
| Adrien Rabiot | CM | 80 | 82 | 2 | Paris Saint-Germain | Ligue 1 | |
| Alex Telles | LB | 80 | 82 | 2 | FC Porto | Liga NOS | |
| Andreas Christensen | CB | 81 | 82 | 1 | Chelsea | Premier League | |
| Kingsley Coman | RM | 79 | 82 | 3 | FC Bayern München | Bundesliga | 83 |
| Luiz Gustavo | CDM | 80 | 82 | 2 | Olympique de Marseille | Ligue 1 | 85 |
| Malcom | RW | 79 | 82 | 3 | FC Girondins de Bordeaux | Ligue 1 | |
| Marcos Alonso | LWB | 81 | 82 | 1 | Chelsea | Premier League | |
| Sergi Roberto | RB | 81 | 82 | 1 | FC Barcelona | LaLiga Santander | |
| Simone Zaza | ST | 80 | 82 | 2 | Valencia CF | LaLiga Santander | |
| Thorgan Hazard | LM | 80 | 82 | 2 | Mönchengladbach | Bundesliga | |
| Wilfried Zaha | RM | 81 | 82 | 1 | Crystal Palace | Premier League | |
| Aleksandar Kolarov | LB | 79 | 81 | 2 | Roma | Calcio A | |
| Allan | CM | 80 | 81 | 1 | Napoli | Calcio A | |
| Anderson Talisca | CAM | 79 | 81 | 2 | Beşiktaş JK | Süper Lig | |
| Arrizabalaga | GK | 79 | 81 | 2 | Athletic Club | LaLiga Santander | |
| Bruno Fernandes | CAM | 77 | 81 | 4 | Sporting CP | Liga NOS | |
| Daniel Wass | CM | 80 | 81 | 1 | RC Celta | LaLiga Santander | |
| Leon Bailey | LM | 76 | 81 | 5 | Bayer 04 Leverkusen | Bundesliga | 85 |
| Manuel Fernandes | CAM | 80 | 81 | 1 | Lokomotiv Moscow | Russian League | |
| Marcel Sabitzer | CAM | 78 | 81 | 3 | RB Leipzig | Bundesliga | |
| Marcelo | CB | 79 | 81 | 2 | Olympique Lyonnais | Ligue 1 | |
| Marcus Rashford | LM | 79 | 81 | 2 | Manchester United | Premier League | 81 |
| Pau López | GK | 77 | 81 | 4 | RCD Espanyol | LaLiga Santander | |
| Phil Jones | CB | 79 | 81 | 2 | Manchester United | Premier League | |
| Sead Kolašinac | LWB | 80 | 81 | 1 | Arsenal | Premier League | |
| Stephan El Shaarawy | LW | 80 | 81 | 1 | Roma | Calcio A | |
| Alexandr Kokorin | ST | 78 | 80 | 2 | Zenit St. Petersburg | Russian League | |
| Ben Davies | LB | 78 | 80 | 2 | Tottenham Hotspur | Premier League | |
| Cenk Tosun | ST | 78 | 80 | 2 | Everton | Premier League | |
| Charles Aránguiz | CM | | 80 | 80 | Bayer 04 Leverkusen | Bundesliga | |
| Faouzi Ghoulam | LB | 79 | 80 | 1 | Napoli | Calcio A | |
| Geoffrey Kondogbia | CDM | 76 | 80 | 4 | Valencia CF | LaLiga Santander | |
| Gerard Moreno | ST | 78 | 80 | 2 | RCD Espanyol | LaLiga Santander | |
| Jesse Lingard | CAM | 78 | 80 | 2 | Manchester United | Premier League | |
| John Stones | CB | 79 | 80 | 1 | Manchester City | Premier League | |
| Leandro Paredes | CM | 77 | 80 | 3 | Zenit St. Petersburg | Russian League | |
| Lucas Leiva | CDM | 79 | 80 | 1 | Lazio | Calcio A | |
| Luis Alberto | CF | 77 | 80 | 3 | Lazio | Calcio A | 83 |
| Mariano | ST | 76 | 80 | 4 | Olympique Lyonnais | Ligue 1 | |
| Mark Uth | ST | 77 | 80 | 3 | TSG 1899 Hoffenheim | Bundesliga | |
| Milan Škriniar | CB | 74 | 80 | 6 | Inter | Calcio A | |
| Rodrigo | ST | 78 | 80 | 2 | Valencia CF | LaLiga Santander | |
| Salvatore Sirigu | GK | 79 | 80 | | Torino | Calcio A | |
| Šime Vrsaljko | RB | 79 | 80 | 1 | Atlético Madrid | LaLiga Santander | |
| Vincent Aboubakar | ST | 78 | 80 | 2 | FC Porto | Liga NOS | |
| Andreas Pereira | LM | 77 | 79 | 2 | Valencia CF | LaLiga Santander | |
| Bertrand Traoré | RW | 78 | 79 | 1 | Olympique Lyonnais | Ligue 1 | |
| Ciprian Tarusanu | GK | 77 | 79 | 2 | FC Nantes | Ligue 1 | |
| Diego Carlos | CB | 76 | 79 | 3 | FC Nantes | Ligue 1 | |
| Emmanuel Adebayor | ST | 78 | 79 | 1 | Medipol Başakşehir FK | Süper Lig | |
| Fernando | CDM | 77 | 79 | 2 | Galatasaray SK | Süper Lig | |
| Franco Cervi | LM | 78 | 79 | 1 | SL Benfica | Liga NOS | |
| Gonçalo Guedes | LM | 74 | 79 | 5 | Valencia CF | LaLiga Santander | |
| Harry Maguire | CB | 75 | 79 | 4 | Leicester City | Premier League | |
| Hirving Lozano | LW | 78 | 79 | 1 | PSV | Eredivisie | |
| Jefferson Farfán | RM | 78 | 79 | 1 | Lokomotiv Moscow | Russian League | |
| Joaquín | RM | 78 | 79 | 1 | Real Betis | LaLiga Santander | |
| Jordan Pickford | GK | 77 | 79 | 2 | Everton | Premier League | |
| Kenny Tete | RB | 77 | 79 | 2 | Olympique Lyonnais | Ligue 1 | |
| Matthias Ginter | CB | 78 | 79 | 1 | Mönchengladbach | Bundesliga | |
| Moussa Marega | ST | 77 | 79 | 2 | FC Porto | Liga NOS | |
| Péter Gulácsi | GK | 76 | 79 | 3 | RB Leipzig | Bundesliga | |
| Raphinha | LM | 76 | 79 | 3 | Vitória Guimarães | Liga NOS | |
| Simone Verdi | RW | 78 | 79 | 1 | Bologna | Calcio A | |
| Thomas Partey | CDM | 77 | 79 | 2 | Atlético Madrid | LaLiga Santander | |
| Aaron Mooy | CM | 77 | 78 | 1 | Huddersfield Town | Premier League | |
| Adrián | ST | 75 | 78 | 3 | RC Deportivo | LaLiga Santander | |
| Alexandr Selikhov | GK | 74 | 78 | 4 | Spartak Moscow | Russian League | |
| Alfreð Finnbogason | ST | 76 | 78 | 2 | FC Augsburg | Bundesliga | |
| André Almeida | RB | 76 | 78 | 2 | SL Benfica | Liga NOS | |
| Avilés Hurtado | LW | 75 | 78 | 3 | Monterrey | LIGA Bancomer MX | |
| Carlos Soler | RM | 76 | 78 | 2 | Valencia CF | LaLiga Santander | |
| Cristhian Stuani | ST | 76 | 78 | 2 | Girona FC | LaLiga Santander | |
| Cristian Tello | RM | 77 | 78 | 1 | Real Betis | LaLiga Santander | |
| Cristiano Piccini | RB | 76 | 78 | 2 | Sporting CP | Liga NOS | |
| David Neres | RW | 74 | 78 | 4 | Ajax | Eredivisie | |
| Elías Hernández | RM | 77 | 78 | 1 | Club León | LIGA Bancomer MX | |
| Enner Valencia | ST | 76 | 78 | 2 | Tigres U.A.N.L. | LIGA Bancomer MX | |
| Eric Maxim Choupo-Moting | LM | 77 | 78 | 1 | Stoke City | Premier League | |
| Gabriel Mercado | CB | 76 | 78 | 2 | Sevilla FC | LaLiga Santander | |
| Herrerín | GK | 76 | 78 | 2 | Athletic Club | LaLiga Santander | |
| James Tarkowski | CB | 73 | 78 | 5 | Burnley | Premier League | |
| Jean-Philippe Gbamin | CDM | 75 | 78 | 3 | 1. FSV Mainz 05 | Bundesliga | |
| Jiří Pavlenka | GK | 74 | 78 | 4 | SV Werder Bremen | Bundesliga | |
| Josef Martínez | ST | 76 | 78 | 2 | Atlanta United | Major League Soccer | |
| Karim Rekik | CB | 73 | 78 | 5 | Hertha BSC | Bundesliga | |
| Karl Toko-Ekambi | ST | 76 | 78 | 2 | Angers SCO | Ligue 1 | |
| Lucas Hernández | CB | 76 | 78 | 2 | Atlético Madrid | LaLiga Santander | |
| Marcel Halstenberg | LB | 75 | 78 | 3 | RB Leipzig | Bundesliga | |
| Mattia Caldara | CB | 76 | 78 | 2 | Atalanta | Calcio A | |
| Maximilian Philipp | LW | 77 | 78 | 1 | Borussia Dortmund | Bundesliga | |
| Odriozola | RB | 74 | 78 | 4 | Real Sociedad | LaLiga Santander | |
| Portu | ST | 75 | 78 | 3 | Girona FC | LaLiga Santander | |
| Presnel Kimpembe | CB | 76 | 78 | 2 | Paris Saint-Germain | Ligue 1 | |
| Romain Alessandrini | RM | 77 | 78 | 1 | LA Galaxy | Major League Soccer | |
| Ryan Babel | LM | 75 | 78 | 3 | Beşiktaş JK | Süper Lig | |
| Víctor Vázquez | CM | 76 | 78 | 2 | Toronto FC | Major League Soccer | |
| Yimmi Chará | RM | 76 | 78 | 2 | Junior FC | Liga Dimayor | |
| Alexey Miranchuk | CAM | 74 | 77 | 3 | Lokomotiv Moscow | Russian League | |
| Alireza Jahanbakhsh | RW | 75 | 77 | 2 | AZ | Eredivisie | |
| Allan Saint-Maximin | LM | 75 | 77 | 2 | OGC Nice | Ligue 1 | |
| Amine Harit | RW | 71 | 77 | 6 | FC Schalke 04 | Bundesliga | |
| Ashley Young | LB | 75 | 77 | 2 | Manchester United | Premier League | |
| Borja García | CM | 73 | 77 | 4 | Girona FC | LaLiga Santander | |
| Carlos Eduardo | CF | 75 | 77 | 2 | Al Hilal | Dawry Jameel | |
| Daler Kuzyaev | CM | 74 | 77 | 3 | Zenit St. Petersburg | Russian League | |
| Denis Zakaria | CM | 72 | 77 | 5 | Mönchengladbach | Bundesliga | |
| Emanuel Mammana | CB | 75 | 77 | 2 | Zenit St. Petersburg | Russian League | |
| Fabian Schär | CB | 75 | 77 | 2 | RC Deportivo | LaLiga Santander | |
| Federico Chiesa | RW | 75 | 77 | 2 | Fiorentina | Calcio A | |
| Germán Conti | CB | 75 | 77 | 2 | Colón de Santa Fe | Primera División | |
| Hans Vanaken | CAM | 75 | 77 | 2 | Club Brugge KV | Belgium Pro League | |
| Jonathan Calleri | ST | 75 | 77 | 2 | UD Las Palmas | LaLiga Santander | |
| Jordan Amavi | LB | 74 | 77 | 3 | Olympique de Marseille | Ligue 1 | |
| Jozy Altidore | ST | 76 | 77 | 1 | Toronto FC | Major League Soccer | |
| Juanmi | ST | 75 | 77 | 2 | Real Sociedad | LaLiga Santander | |
| Jürgen Locadia | ST | 76 | 77 | 1 | Brighton & Hove Albion | Premier League | |
| Léo Dubois | RB | 75 | 77 | 2 | FC Nantes | Ligue 1 | |
| Lucas Torreira | CM | 75 | 77 | 2 | Sampdoria | Calcio A | |
| Mariano Barbosa | GK | 75 | 77 | 2 | Villarreal CF | LaLiga Santander | |
| Maximiliano Gómez | ST | 70 | 77 | 7 | RC Celta | LaLiga Santander | |
| Nabil Dirar | RM | 76 | 77 | 1 | Fenerbahçe SK | Süper Lig | |
| Nathan Aké | CB | 75 | 77 | 2 | Bournemouth | Premier League | |
| Omar Kharbin | ST | 75 | 77 | 2 | Al Hilal | Dawry Jameel | |
| Philipp Max | LB | 74 | 77 | 3 | FC Augsburg | Bundesliga | |
| Pione Sisto | LW | 74 | 77 | 3 | RC Celta | LaLiga Santander | |
| Rodrigo | CM | 70 | 77 | 7 | Villarreal CF | LaLiga Santander | |
| Soslan Dzhanaev | GK | 75 | 77 | 2 | Rubin Kazan | Russian League | |
| Thomas Strakosha | GK | 74 | 77 | | Lazio | Calcio A | |
| Viktor Vasin | CB | 74 | 77 | 3 | CSKA Moscow | Russian League | |
| Abdou Diallo | CB | 68 | 76 | 8 | 1. FSV Mainz 05 | Bundesliga | |
| Alcalá | CB | 74 | 76 | 2 | Girona FC | LaLiga Santander | |
| Alex Iwobi | LM | 74 | 76 | 2 | Arsenal | Premier League | |
| Alexander Djiku | CB | 74 | 76 | 2 | Stade Malherbe Caen | Ligue 1 | |
| Andrew Robertson | LB | 75 | 76 | 1 | Liverpool | Premier League | |
| Ante Rebić | ST | 72 | 76 | 4 | Eintracht Frankfurt | Bundesliga | |
| Arthur Masuaku | LWB | 75 | 76 | 1 | West Ham United | Premier League | |
| Benjamin Pavard | CB | 72 | 76 | 4 | VfB Stuttgart | Bundesliga | |
| Chris Wood | ST | 74 | 76 | 2 | Burnley | Premier League | |
| Christian Atsu | LM | 75 | 76 | 1 | Newcastle United | Premier League | |
| Danilo | CM | 74 | 76 | 2 | SC Braga | Liga NOS | |
| Duško Tošić | CB | 74 | 76 | 2 | Beşiktaş JK | Süper Lig | |
| Enes Ünal | ST | 74 | 76 | 2 | Villarreal CF | LaLiga Santander | |
| Federico Di Francesco | LW | 73 | 76 | 3 | Bologna | Calcio A | |
| Haris Medunjanin | CM | 73 | 76 | 3 | Philadelphia Union | Major League Soccer | |
| Héctor Villalba | RM | 74 | 76 | 2 | Atlanta United | Major League Soccer | |
| Héldon | LM | 73 | 76 | 3 | Vitória Guimarães | Liga NOS | |
| Ignacio Scocco | ST | 74 | 76 | 2 | River Plate | Primera División | |
| Ivan Santini | ST | 74 | 76 | 2 | Stade Malherbe Caen | Ligue 1 | |
| Jamaal Lascelles | CB | 73 | 76 | 3 | Newcastle United | Premier League | |
| Joaquín Correa | LM | 73 | 76 | 3 | Sevilla FC | LaLiga Santander | |
| Jóhann Berg Guðmundsson | RM | 73 | 76 | 3 | Burnley | Premier League | |
| Juanpe | CB | 74 | 76 | 2 | Girona FC | LaLiga Santander | |
| Lee Jae Sung | CM | 74 | 76 | 2 | Jeonbuk Hyundai Motors | K LEAGUE Classic | |
| Liam Moore | CB | 74 | 76 | 2 | Reading | EFL Championship | |
| Marvelous Nakamba | CDM | 73 | 76 | 3 | Club Brugge KV | Belgium Pro League | |
| Michael Gregoritsch | CAM | 73 | 76 | 3 | FC Augsburg | Bundesliga | |
| Mikel Rico | CM | 74 | 76 | 2 | Athletic Club | LaLiga Santander | |
| Nico Elvedi | RB | 74 | 76 | 2 | Mönchengladbach | Bundesliga | |
| Ognjen Vranješ | CB | 69 | 76 | 7 | AEK Athens | Hellas Liga | |
| Pere Pons | CM | 72 | 76 | 4 | Girona FC | LaLiga Santander | |
| Régis Gurtner | GK | 71 | 76 | 5 | Amiens SC | Ligue 1 | |
| Richarlison | LW | 73 | 76 | 3 | Watford | Premier League | |
| Rômulo | RM | 74 | 76 | 2 | Hellas Verona | Calcio A | |
| Ronny Rodelin | ST | 73 | 76 | 3 | Stade Malherbe Caen | Ligue 1 | |
| Rúben Ribeiro | LM | 74 | 76 | 2 | Sporting CP | Liga NOS | |
| Santiago Ascacibar | CDM | 73 | 76 | 3 | VfB Stuttgart | Bundesliga | |
| Stefan Ristovski | RB | 74 | 76 | 2 | Sporting CP | Liga NOS | |
| Thiago Mendes | CDM | 74 | 76 | 2 | LOSC Lille | Ligue 1 | |
| Yu Kobayashi | ST | 73 | 76 | 3 | Kawasaki Frontale | Meiji Yasuda J1 | |
| Zakaria Labyad | CAM | 75 | 76 | 1 | FC Utrecht | Eredivisie | |
| Aden Flint | CB | 73 | 75 | 2 | Bristol City | EFL Championship | |
| Ahmed Hegazy | CB | 68 | 75 | 7 | West Bromwich Albion | Premier League | |
| Alaixys Romao | CDM | 74 | 75 | 1 | Olympiacos CFP | Hellas Liga | |
| Andre Blake | GK | 73 | 75 | 2 | Philadelphia Union | Major League Soccer | |
| Andrés Pérez | CDM | 74 | 75 | 1 | Deportivo Cali | Liga Dimayor | |
| Anthony Limbombe | LM | 73 | 75 | 2 | Club Brugge KV | Belgium Pro League | |
| Antonín Barák | CM | 72 | 75 | 3 | Udinese | Calcio A | |
| Arouna Koné | ST | 74 | 75 | 1 | Sivasspor | Süper Lig | |
| Bartosz Białkowski | GK | 73 | 75 | 2 | Ipswich Town | EFL Championship | |
| Bobô | ST | 74 | 75 | 1 | Sydney FC | Hyundai A-League | |
| Brandley Kuwas | RW | 73 | 75 | 2 | Heracles Almelo | Eredivisie | |
| Cho Hyun Woo | GK | 71 | 75 | 4 | Daegu FC | K LEAGUE Classic | |
| Christopher Schindler | CB | 73 | 75 | 2 | Huddersfield Town | Premier League | |
| Cláudio Ramos | GK | 71 | 75 | 4 | Tondela | Liga NOS | |
| Clinton Njie | ST | 73 | 75 | 2 | Olympique de Marseille | Ligue 1 | |
| Córdoba | LW | 70 | 75 | 5 | Athletic Club | LaLiga Santander | |
| Daniel Schwaab | CB | 74 | 75 | 1 | PSV | Eredivisie | |
| Dayot Upamecano | CB | 69 | 75 | 6 | RB Leipzig | Bundesliga | |
| Demarai Gray | LM | 74 | 75 | 1 | Leicester City | Premier League | |
| Dennis Diekmeier | RB | 74 | 75 | 1 | Hamburger SV | Bundesliga | |
| Diego | LM | 74 | 75 | 1 | Stade de Reims | Domino's Ligue 2 | |
| Diego González | CM | 74 | 75 | 1 | Racing Club | Primera División | |
| Diego Mariño | GK | 74 | 75 | 1 | R. Sporting | LaLiga 1 I 2 I 3 | |
| Diego Vera | ST | 74 | 75 | 1 | Colón de Santa Fe | Primera División | |
| Edwin Cardona | CAM | 74 | 75 | 1 | Boca Juniors | Primera División | |
| Emre Akbaba | CAM | 74 | 75 | 1 | Alanyaspor | Süper Lig | |
| Enis Bardhi | CAM | 74 | 75 | 1 | Levante UD | LaLiga Santander | |
| Felix Uduokhai | CB | 67 | 75 | 8 | VfL Wolfsburg | Bundesliga | |
| Frenkie de Jong | CM | 72 | 75 | 3 | Ajax | Eredivisie | |
| Giovani Lo Celso | CAM | 74 | 75 | 1 | Paris Saint-Germain | Ligue 1 | |
| Granell | CM | 73 | 75 | 2 | Girona FC | LaLiga Santander | |
| Guido Carrillo | ST | 74 | 75 | 1 | Southampton | Premier League | |
| Hany Mukhtar | CAM | 73 | 75 | 2 | Brøndby IF | Alka Superliga | |
| Haris Seferović | ST | 74 | 75 | 1 | SL Benfica | Liga NOS | |
| Harry Winks | CM | 72 | 75 | 3 | Tottenham Hotspur | Premier League | |
| Hermoso | CB | 72 | 75 | 3 | RCD Espanyol | LaLiga Santander | |
| Houssem Aouar | CM | 67 | 75 | 8 | Olympique Lyonnais | Ligue 1 | |
| Ihlas Bebou | RM | 70 | 75 | 5 | Hannover 96 | Bundesliga | 79 |
| Ike Opara | CB | 74 | 75 | 1 | Sporting Kansas City | Major League Soccer | |
| Ivan Cavaleiro | RW | 74 | 75 | 1 | Wolverhampton | EFL Championship | |
| Jakob Johansson | CDM | 74 | 75 | 1 | AEK Athens | Hellas Liga | |
| James Forrest | RM | 74 | 75 | 1 | Celtic | Scottish Premiership | |
| Jonas Svensson | RB | 74 | 75 | 1 | AZ | Eredivisie | |
| José Ángel | LB | 74 | 75 | 1 | SD Eibar | LaLiga Santander | |
| Júnior Caiçara | RB | 74 | 75 | 1 | Medipol Başakşehir FK | Süper Lig | |
| Justin Kluivert | LW | 73 | 75 | 2 | Ajax | Eredivisie | |
| Kai Havertz | RM | 73 | 75 | 2 | Bayer 04 Leverkusen | Bundesliga | |
| Karim Ansarifard | ST | 73 | 75 | 2 | Olympiacos CFP | Hellas Liga | |
| Kieran Tierney | LB | 74 | 75 | 1 | Celtic | Scottish Premiership | |
| Lasse Sobiech | CB | 74 | 75 | 1 | FC St. Pauli | Bundesliga 2 | |
| Lato | LB | 70 | 75 | 5 | Valencia CF | LaLiga Santander | |
| Laurent Depoitre | ST | 74 | 75 | 1 | Huddersfield Town | Premier League | |
| Lazaros Christodoulopoulos | LM | 74 | 75 | 1 | AEK Athens | Hellas Liga | |
| Léo Bonatini | ST | 74 | 75 | 1 | Wolverhampton | EFL Championship | |
| Marcel Tisserand | CB | 73 | 75 | 2 | VfL Wolfsburg | Bundesliga | |
| Matthias Ostrzolek | LB | 74 | 75 | 1 | Hannover 96 | Bundesliga | |
| Mbaye Leye | ST | 74 | 75 | 1 | KAS Eupen | Belgium Pro League | |
| Medrán | CM | 74 | 75 | 1 | D. Alavés | LaLiga Santander | |
| Miha Mevlja | CB | 74 | 75 | 1 | Zenit St. Petersburg | Russian League | |
| Mijat Gaćinović | CM | 72 | 75 | 3 | Eintracht Frankfurt | Bundesliga | |
| Mike Maignan | GK | 72 | 75 | 3 | LOSC Lille | Ligue 1 | |
| Moritz Bauer | RB | 70 | 75 | 5 | Stoke City | Premier League | |
| Mouctar Diakhaby | CB | 74 | 75 | 1 | Olympique Lyonnais | Ligue 1 | |
| Néstor Araujo | CB | 74 | 75 | 1 | Santos Laguna | LIGA Bancomer MX | |
| Nick Pope | GK | 68 | 75 | 7 | Burnley | Premier League | |
| Niclas Füllkrug | ST | 73 | 75 | 2 | Hannover 96 | Bundesliga | |
| Nico Schulz | LB | 74 | 75 | 1 | TSG 1899 Hoffenheim | Bundesliga | |
| Nicolò Barella | CM | 70 | 75 | 5 | Cagliari | Calcio A | |
| Osama Hawsawi | CB | 74 | 75 | 1 | Al Hilal | Dawry Jameel | |
| Oussama Assaidi | LM | 73 | 75 | 2 | FC Twente | Eredivisie | |
| Pablo Maffeo | RB | 71 | 75 | 4 | Girona FC | LaLiga Santander | 79 |
| Paulinho | CAM | 74 | 75 | 1 | FC Porto | Liga NOS | |
| Postigo | CB | 74 | 75 | 1 | Levante UD | LaLiga Santander | |
| Ravel Morrison | CAM | 74 | 75 | 1 | Club Atlas | LIGA Bancomer MX | |
| Roman Neustädter | CB | 73 | 75 | 2 | Fenerbahçe SK | Süper Lig | |
| Ryan Thomas | CM | 70 | 75 | 5 | PEC Zwolle | Eredivisie | |
| Ryota Morioka | CAM | 68 | 75 | 7 | RSC Anderlecht | Belgium Pro League | |
| Sacha Kljestan | CAM | 74 | 75 | 1 | Orlando City Soccer Club | Major League Soccer | |
| Salih Uçan | CM | 74 | 75 | 1 | FC Sion | Raiffeisen SL | |
| Salman Al Faraj | CM | 74 | 75 | 1 | Al Hilal | Dawry Jameel | |
| Saúl Berjón | LM | 73 | 75 | 2 | R. Oviedo | LaLiga 1 I 2 I 3 | |
| Serdar Aziz | CB | 74 | 75 | 1 | Galatasaray SK | Süper Lig | |
| Sérgio Oliveira | CM | 74 | 75 | 1 | FC Porto | Liga NOS | |
| Sofyan Amrabat | CM | 74 | 75 | 1 | Feyenoord | Eredivisie | |
| Souleymane Bamba | CB | 72 | 75 | 3 | Cardiff City | EFL Championship | |
| Sylvester Igboun | ST | 74 | 75 | 1 | FC Ufa | Russian League | |
| Tolga Ciğerci | CDM | 74 | 75 | 1 | Galatasaray SK | Süper Lig | |
| Tom Rogić | CAM | 74 | 75 | 1 | Celtic | Scottish Premiership | |
| Toño | LB | 74 | 75 | 1 | Levante UD | LaLiga Santander | |
| Waldemar Anton | CB | 73 | 75 | 2 | Hannover 96 | Bundesliga | |
| Wilmar Barrios | CDM | 74 | 75 | 1 | Boca Juniors | Primera División | |
| Wout Weghorst | ST | 73 | 75 | 2 | AZ | Eredivisie | |
| Yassine Bounou | GK | 71 | 75 | 4 | Girona FC | LaLiga Santander | |
| Youssef Ait Bennasser | CM | 72 | 75 | 3 | Stade Malherbe Caen | Ligue 1 | |
| Yusuf Yazıcı | CAM | 74 | 75 | 1 | Trabzonspor | Süper Lig | |
| Zainadine | CB | 74 | 75 | 1 | CS Marítimo | Liga NOS | |
| Carlos López | ST | 69 | 74 | 5 | Wisła Kraków | Ekstraklasa | |
| Ferland Mendy | LB | 68 | 74 | 6 | Olympique Lyonnais | Ligue 1 | |
| James Maddison | CAM | 69 | 74 | 5 | Norwich City | EFL Championship | |
| Paulinho | ST | 68 | 74 | 6 | SC Braga | Liga NOS | |
| Ruben Loftus-Cheek | CAM | 69 | 74 | 5 | Crystal Palace | Premier League | |
| Shoya Nakajima | LW | 67 | 74 | 7 | Portimão | Liga NOS | |
| Tomás Koubek | GK | 67 | 74 | 7 | Stade Rennais FC | Ligue 1 | |
| Bobby Reid | ST | 67 | 73 | 6 | Bristol City | EFL Championship | |
| Christian Luyindama | CB | 66 | 73 | 7 | Standard de Liège | Belgium Pro League | |
| Fabrício | ST | 67 | 73 | 6 | Portimão | Liga NOS | |
| Marius Wolf | RM | 67 | 73 | 6 | Eintracht Frankfurt | Bundesliga | |
| Maximilian Wöber | CB | 66 | 73 | 7 | Ajax | Eredivisie | |
| Mula | LM | 60 | 73 | 13 | Málaga CF | LaLiga Santander | |
| Raphael Branco | CB | 63 | 73 | 10 | Boavista FC | Liga NOS | |
| Cristian Benavente | CAM | 67 | 72 | 5 | Sporting Charleroi | Belgium Pro League | |
| Dani Calvo | CB | 64 | 72 | 8 | CD Numancia | LaLiga 1 I 2 I 3 | |
| George Saville | CM | 67 | 72 | 5 | Millwall | EFL Championship | |
| Guus Til | CAM | 67 | 72 | 5 | AZ | Eredivisie | |
| Kingsley Ehizibue | RB | 66 | 72 | 6 | PEC Zwolle | Eredivisie | |
| Ollie Watkins | LW | 66 | 72 | 6 | Brentford | EFL Championship | |
| Alexander Sørloth | ST | 69 | 71 | 2 | Crystal Palace | Premier League | |
| Alfredo Morelos | ST | 66 | 71 | 5 | Rangers FC | Scottish Premiership | |
| Davidson | LW | 65 | 71 | 6 | Chaves | Liga NOS | |
| Dener | CM | 63 | 71 | 8 | Portimão | Liga NOS | |
| Dominic Calvert-Lewin | ST | 65 | 71 | 6 | Everton | Premier League | |
| Florian Neuhaus | CM | 63 | 71 | 8 | Fortuna Düsseldorf | Bundesliga 2 | |
| Jack O'Connell | CB | 64 | 71 | 7 | Sheffield United | EFL Championship | |
| Leon Clarke | ST | 65 | 71 | 6 | Sheffield United | EFL Championship | |
| Michalis Bakakis | RB | 66 | 71 | 5 | AEK Athens | Hellas Liga | |
| Patrick Cutrone | ST | 65 | 71 | 6 | Milan | Calcio A | |
| Paul Coutts | CM | 66 | 71 | 5 | Sheffield United | EFL Championship | |
| Richard Windbichler | CB | 66 | 71 | 5 | Ulsan Hyundai Horang-i | K LEAGUE Classic | |
| Tom Trybull | CDM | 66 | 71 | 5 | Norwich City | EFL Championship | |
| Adrien Tamèze | CDM | 65 | 70 | 5 | OGC Nice | Ligue 1 | |
| Anton Zabolotnyy | ST | 65 | 70 | 5 | Zenit St. Petersburg | Russian League | |
| Clifford Aboagye | CM | 64 | 70 | 6 | Club Atlas | LIGA Bancomer MX | |
| Dennis Geiger | CM | 61 | 70 | 9 | TSG 1899 Hoffenheim | Bundesliga | |
| Dráusio | CB | 63 | 70 | 7 | CS Marítimo | Liga NOS | |
| Jonathan Bolingi | ST | 64 | 70 | 6 | Royal Excel Mouscron | Belgium Pro League | |
| Julian Quiñones | ST | 63 | 70 | 7 | Lobos B.U.A.P. | LIGA Bancomer MX | |
| Kevin Danso | CB | 65 | 70 | 5 | FC Augsburg | Bundesliga | |
| Lucas Possignolo | CB | 65 | 70 | 5 | Portimão | Liga NOS | |
| Mickaël Cuisance | CM | 61 | 70 | 9 | Mönchengladbach | Bundesliga | |
| Moise Kean | ST | 64 | 70 | 6 | Hellas Verona | Calcio A | |
| Murilo Freitas | LW | 64 | 70 | 6 | Tondela | Liga NOS | |
| Nana Opoku Ampomah | LM | 64 | 70 | 6 | Waasland-Beveren | Belgium Pro League | |
| Oleg Danchenko | RM | 63 | 70 | 7 | FC Anzhi Makhachkala | Russian League | |
| Pape Abou Cissé | CB | 65 | 70 | 5 | Olympiacos CFP | Hellas Liga | |
| Pedro Aquino | CDM | 65 | 70 | 5 | Lobos B.U.A.P. | LIGA Bancomer MX | |
| Philippe Sandler | CB | 64 | 70 | 6 | PEC Zwolle | Eredivisie | |
| Yang Han Been | GK | 63 | 70 | 7 | FC Seoul | K LEAGUE Classic | |
| Adama Mbengue | LB | 62 | 69 | 7 | Stade Malherbe Caen | Ligue 1 | |
| Alexis De Sart | CM | 64 | 69 | 5 | Sint-Truidense VV | Belgium Pro League | |
| Daniel De Silva | CAM | 64 | 69 | 5 | Central Coast Mariners | Hyundai A-League | |
| Darnell Fisher | RB | 62 | 69 | 7 | Preston North End | EFL Championship | |
| Fiete Arp | ST | 63 | 69 | 6 | Hamburger SV | Bundesliga | |
| Juan Camilo Hernández | ST | 64 | 69 | 5 | SD Huesca | LaLiga 1 I 2 I 3 | |
| Konstantinos Galanopoulos | CM | 63 | 69 | 6 | AEK Athens | Hellas Liga | |
| Lumor Agbenyenu | LB | 63 | 69 | 6 | Portimão | Liga NOS | |
| Mayron George | ST | 64 | 69 | 5 | Lyngby BK | Alka Superliga | |
| Ola Aina | RB | 63 | 69 | 6 | Hull City | EFL Championship | |
| Ryan Sessegnon | LB | 66 | 69 | 3 | Fulham | EFL Championship | |
| Weston McKennie | CM | 63 | 69 | 6 | FC Schalke 04 | Bundesliga | |
| Adrían Sporle | LB | 63 | 68 | 5 | Club Atlético Banfield | Primera División | |
| Arne Maier | CM | 63 | 68 | 5 | Hertha BSC | Bundesliga | |
| Ben Davies | CB | 63 | 68 | 5 | Preston North End | EFL Championship | |
| Dan-Axel Zagadou | CB | 63 | 68 | 5 | Borussia Dortmund | Bundesliga | |
| Dean Henderson | GK | 61 | 68 | 7 | Shrewsbury | EFL League One | |
| Filippo Romagna | CB | 63 | 68 | 5 | Cagliari | Calcio A | |
| Joe Williams | CDM | 60 | 68 | 8 | Barnsley | EFL Championship | |
| Juan José Narváez | CM | 63 | 68 | 5 | Córdoba CF | LaLiga 1 I 2 I 3 | |
| Kang Hyeon Mu | GK | 62 | 68 | 6 | Pohang Steelers | K LEAGUE Classic | |
| Merlin Tandjigora | CDM | 63 | 68 | 5 | CF Os Belenenses | Liga NOS | |
| Mikhail Lysov | LB | 62 | 68 | 6 | Lokomotiv Moscow | Russian League | |
| Patrick Burner | RB | 63 | 68 | 5 | OGC Nice | Ligue 1 | |
| Stefan Marinovic | GK | 63 | 68 | 5 | Vancouver Whitecaps FC | Major League Soccer | |
| Callum Connolly | CM | 61 | 67 | 6 | Ipswich Town | EFL Championship | |
| Choi Sung Keun | CM | 62 | 67 | 5 | Suwon Samsung | K LEAGUE Classic | |
| David von Ballmoos | GK | 60 | 67 | 7 | BSC Young Boys | Raiffeisen SL | |
| Ibrahima Konaté | CB | 61 | 67 | 6 | RB Leipzig | Bundesliga | |
| Liam Walker | LM | 62 | 67 | 5 | Notts County | EFL League Two | |
| Mehdi Bourabia | CM | 61 | 67 | 6 | Atiker Konyaspor | Süper Lig | |
| Rúben Vinagre | LWB | 60 | 67 | 7 | Wolverhampton | EFL Championship | |
| Bobby Grant | RW | 61 | 66 | 5 | Fleetwood Town | EFL League One | |
| Bryan Henning | CDM | 61 | 66 | 5 | FC Hansa Rostock | 3. Liga | |
| Nicolas Gavory | LB | 61 | 66 | 5 | Clermont Foot 63 | Domino's Ligue 2 | |
| Will Norris | GK | 61 | 66 | 5 | Wolverhampton | EFL Championship | |
| Antonino La Gumina | ST | 60 | 65 | 5 | Palermo | Calcio B | |
| Florent Muslija | RM | 60 | 65 | 5 | Karlsruher SC | 3. Liga | |
| George Honeyman | RM | 60 | 65 | 5 | Sunderland | EFL Championship | |
| Nico Granatowski | LM | 60 | 65 | 5 | SV Meppen | 3. Liga | |