The FIFA 19 Community TOTS was officialy announced. Discover who are the players who make part of the Most Consistent But Never IF Team of the Season, a squad picked by the FUT 19 community.
Like every year, FIFA 19 Community TOTS was the first one to be released. The MC Team of the Season is also known by 'Community TOTS' because it is chosen by the FIFA community.
FIFA 19 Community TOTS
This TOTS joins the players that played better the whole season but never had the luck of getting an IF card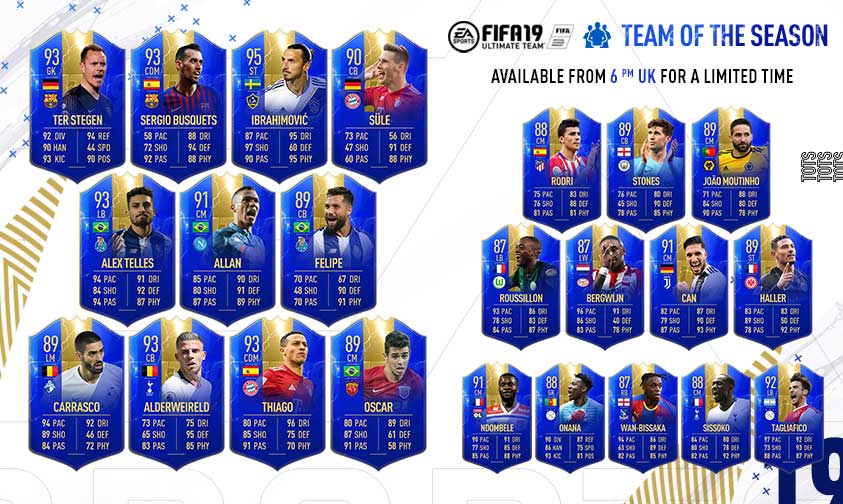 For the second time ever, the Community TOTS was decided via fan vote. There is only one squad which means that silver and bronze Most Consistent players were not released.
The Community TOTS is based on a shortlist of 104 players who performed consistently well throughout the season but did not receive a performance based in-form as of April 15. This squad must follow the following requirements:
✅ Exactly 23 players
✅ Max 4 from Same League
✅ At least 2 Goalkeepers
✅ At least 6 Defenders
✅ At least 6 Midfielders
✅ At least 3 Forwards
The Squad
STARTING ELEVEN
93 ?? GK: Marc-André ter Stegen (FC Barcelona) PACKS
93 ?? CB: Toby Alderweireld (Tottenham Hotspur) PACKS
90 ?? CB: Niklas Süle (FC Bayern München) PACKS
89 ?? CB: Felipe (FC Porto) PACKS
93 ?? LB: Alex Telles (FC Porto) PACKS
93 ?? CDM: Sergio Busquets (FC Barcelona) PACKS
93 ?? CDM: Thiago (FC Bayern München) PACKS
89 ?? CM: Óscar (Shanghai SIPG FC) PACKS
89 ?? LM: Yannick Carrasco (Dalian Yifang FC) PACKS
91 ?? CM: Allan (Napoli) PACKS
95 ?? ST: Zlatan Ibrahimović (Los Angeles Galaxy) PACKS

SUBSTITUTES
89 ??????? CB: John Stones (Manchester City) PACKS
87 ?? LB: Jérôme Roussillon (VfL Wolfsburg) PACKS
91 ?? CM: Emre Can (Juventus) PACKS
89 ?? CM: João Moutinho (Wolverhampton Wanderers) PACKS
88 ?? CM: Rodri (Atlético Madrid) PACKS OBJECTIVES
87 ?? LW: Steven Bergwijn (PSV) PACKS
89 ?? ST: Sébastien Haller (Eintracht Frankfurt) PACKS

RESERVES
88 ?? GK: André Onana (Ajax) PACKS OBJECTIVES
87 ??????? RB: Aaron Wan-Bissaka (Crystal Palace) PACKS
92 ?? LB: Nicolás Tagliafico (Ajax) PACKS
91 ?? CM: Tanguy Ndombele (Olympique Lyonnais) PACKS
88 ?? CM: Moussa Sissoko (Tottenham Hotspur) PACKS SBC
Release Times
? START
11/05/2019 (Sat) 03:00am ?? AEST (UCT +10)
11/05/2019 (Sat) 02:00am ?? JST (UCT +9)
10/05/2019 (Fri) 06:00pm ?? BST (UCT +1)
10/05/2019 (Fri) 02:00pm ?? BRT (UCT -3)
10/05/2019 (Fri) 01:00pm ?? EDT (UCT -4)
10/05/2019 (Fri) 01:00pm ?? EDT (UCT -4)
10/05/2019 (Fri) 10:00am ?? PDT (UCT -7)

? END
18/05/2019 (Sat) 03:00am ?? AEST (UCT +10)
18/05/2019 (Sat) 02:00am ?? JST (UCT +9)
17/05/2019 (Fri) 06:00pm ?? BST (UCT +1)
17/05/2019 (Fri) 02:00pm ?? BRT (UCT -3)
17/05/2019 (Fri) 01:00pm ?? EDT (UCT -4)
17/05/2019 (Fri) 01:00pm ?? EDT (UCT -4)
17/05/2019 (Fri) 10:00am ?? PDT (UCT -7)