A brand new FUT event is being released this year. The promo FIFA 19 Future Stars is based on hot young prospects, who are released in packs with upgraded ratings and stats.

FIFA 19 FUTURE STARS PROMO | PLAYERS | OFFERS


FIFA 19 Future Stars
A brand new FUT promotion
The brand new FUT event FIFA 19 Future Stars was officialy announced by Electronic Arts in its social channels.
FUT Future Stars is a curated list of the hottest, breakthrough young prospects and what they could potentially be in FUT if they lived up to the hype. It's not about young established stars who are starters or have played regularly for major clubs/countries. The criteria for FIFA 19 Future Stars is very straightforward:
1 Age 23 or younger
2 Not yet an established star
The ratings of these cards are based on the potential future ratings they may reach while on the top form of their professional careers. Inspired by the FIFA Database each FUT Future Stars' rating is based on what a player could become if they live up their hype and fulfill their potential in the future. No other FUT card features a so high upgrade as the FIFA 19 Future Stars cards do. Compared to their NIF items, the ratings may increase up to 20 points (!). Contrary to dynamic cards, these item do not change after being released. They are released in packs,d SBCs and Objectives with their unique ratings.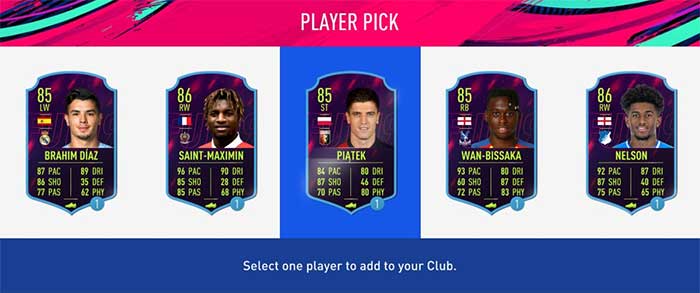 The FIFA 19 Future Stars cards are assigned to a very limited selection of 21 players and will be available in packs from Friday, January 18 (6pm UK time) to January 25, 2019. During this week, they replace the corresponding regular card. In other words, in the week a player gets his 'FlashForward' cards in packs, it is impossible to find his NIF card there. Throughout the event 6 more Future Stars will be available through SBCs and Objectives. The final Future Star will be decided by you, the FUT community. Fan's logging into FUT between 6PM UK Saturday 19th January & 6PM UK 21st January will get to decide who should become the Fan's Future Star by casting their vote in a special Player Pick.
FIFA 19 Future Stars Players List
The hot young prospects selected to this event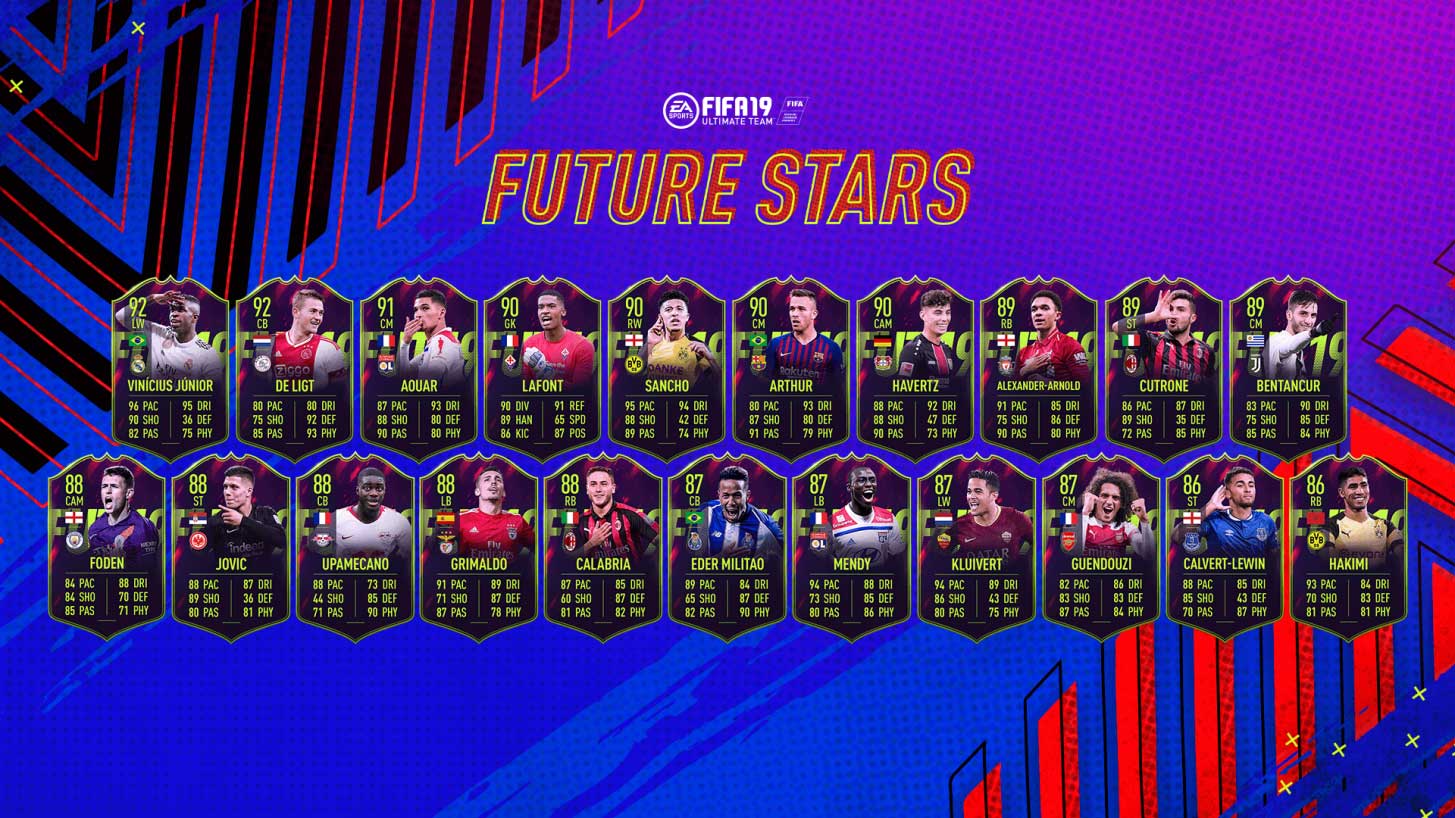 As explained, the FIFA 19 Future Stars squad feature young prospects who are not yet established as a star. Here is the complete list of players:
GOALKEEPERS
90 🇫🇷 GK: Alban Lafont (Fiorentina) PACKS

DEFENDERS
92 🇳🇱 CB: Matthijs de Ligt (Ajax) PACKS
88 🇫🇷 CB: Dayot Upamecano (RB Leipzig) PACKS
88 🏴󠁧󠁢󠁥󠁮󠁧󠁿 CB: Joe Gomez (Liverpool) SBC
87 🇧🇷 CB: Éder Militão (FC Porto) PACKS
89 🏴󠁧󠁢󠁥󠁮󠁧󠁿 RB: Trent Alexander-Arnold (Liverpool) PACKS
88 🇮🇹 RB: Davide Calabria (AC Milan) PACKS
86 🇲🇦 RB: Achraf Hakimi (Borussia Dortmund) PACKS
88 🇪🇸 LB: Grimaldo (SL Benfica) PACKS
87 🇫🇷 LB: Ferland Mendy (Olympique Lyonnais) PACKS

MIDFIELDERS
91 🇫🇷 CM: Houssem Aouar (Olympique Lyonnais) PACKS
90 🇳🇱 CM: Frenkie De Jong (Ajax) SBC
89 🇺🇾 CM: Rodrigo Bentancur (Juventus) PACKS
90 🇧🇷 CM: Arthur (FC Barcelona) PACKS
88 🇫🇷 CM: Ndombele Tanguy (Olympique Lyonnais) SBC
87 🇫🇷 CM: Mattéo Guendouzi (Arsenal) PACKS
90 🇩🇪 CAM: Kai Havertz (Bayer 04 Leverkusen) PACKS
88 🏴󠁧󠁢󠁥󠁮󠁧󠁿 CAM: Phil Foden (Manchester City) PACKS
90 🏴󠁧󠁢󠁥󠁮󠁧󠁿 RW: Jadon Sancho (Borussia Dortmund) PACKS
86 🇫🇷 RW: Allan Saint-Maximin (OGC Nice) SBC
87 🇨🇦 LM: Alphonso Davies (Bayern München) SBC
92 🇧🇷 LW: Vinícius Júnior (Real Madrid) PACKS
87 🇳🇱 LW: Justin Kluivert (AS Roma) PACKS

STRIKERS
89 🇮🇹 ST: Patrick Cutrone (AC Milan) PACKS
88 🇷🇸 ST: Luka Jović (Eintracht Frankfurt) PACKS
86 🏴󠁧󠁢󠁥󠁮󠁧󠁿 ST: Dominic Calvert-Lewin (Everton) PACKS
86 🇵🇹 ST: Rafael Leão (LOSC Lille) OBJECTIVES
86 🇧🇷 ST: Joelinton (TSG 1899 Hoffenheim) SBC
FIFA 19 Future Stars Offers
List of FFS Offers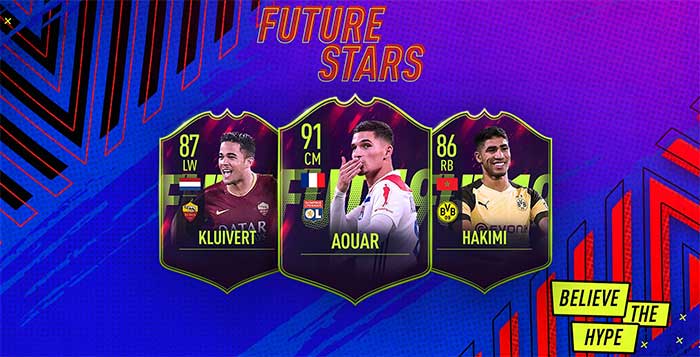 During the FFS event, there are several offers available, like promo packs available on the FUT store, special SBCs and themed objectives. We will publish them all on this page.
Promo Packs & Lightning Rounds

You can see the List of Promo Packs and Lightning Rounds available on the FUT 19 store here:
P Promo Pack or L Lightning Round | Name of the Pack | Release Date | Duration | Limit | IF/Special Cards Available in Packs
P 20k PRIME ELECTRUM PLAYERS PACK | 🇬🇧 25/01/2019 6PM | 🇺🇸 25/01/2019 1PM | 72 HOURS | LIMIT: 10 | TOTW 19
P 25k PREMIUM GOLD PLAYERS PACK | 🇬🇧 23/01/2019 6PM | 🇺🇸 23/01/2019 1PM | 48 HOURS | LIMIT: 10 | TOTW 19 + FUTURE STARS
P 45k PRIME GOLD PLAYERS PACK | 🇬🇧 23/01/2019 6PM | 🇺🇸 23/01/2019 1PM | 48 HOURS | LIMIT: 15 | TOTW 18 + FUTURE STARS
P 25k RARE GOLD PACK | 🇬🇧 22/01/2019 6PM | 🇺🇸 22/01/2019 1PM | 24 HOURS | LIMIT: 8 | TOTW 18 + FUTURE STARS
P 45k PRIME GOLD PLAYERS PACK | 🇬🇧 22/01/2019 6PM | 🇺🇸 22/01/2019 1PM | 24 HOURS | LIMIT: 10 | TOTW 18 + FUTURE STARS
P 35k MEGA PACK | 🇬🇧 21/01/2019 6PM | 🇺🇸 21/01/2019 1PM | 24 HOURS | LIMIT: 10 | TOTW 18 + FUTURE STARS
P 30k RARE ELECTRUM PLAYERS PACK | 🇬🇧 21/01/2019 6PM | 🇺🇸 21/01/2019 1PM | 24 HOURS | LIMIT: 15 | TOTW 18 + FUTURE STARS
P 55k RARE MEGA PACK | 🇬🇧 20/01/2019 6PM | 🇺🇸 20/01/2019 1PM | 24 HOURS | LIMIT: 10 | TOTW 18 + FUTURE STARS
P 25k RARE PLAYERS PACK | 🇬🇧 20/01/2019 6PM | 🇺🇸 20/01/2019 1PM | 24 HOURS | LIMIT: 10 | TOTW 18 + FUTURE STARS
P 125k ULTIMATE PACK | 🇬🇧 19/01/2019 8PM | 🇺🇸 19/01/2019 3PM | 21 HOUR | LIMIT: 4 | TOTW 18 + FUTURE STARS
P 35k MEGA PACK | 🇬🇧 19/01/2019 8PM | 🇺🇸 19/01/2019 3PM | 21 HOUR | LIMIT: 15 | TOTW 18 + FUTURE STARS
L 125k ULTIMATE PACK | 🇬🇧 19/01/2019 8PM | 🇺🇸 19/01/2019 3PM | 1 HOUR | GLOBAL LIMIT | TOTW 18 + FUTURE STARS
L 100k JUMBO RARE PLAYERS PACK | 🇬🇧 19/01/2019 7PM | 🇺🇸 19/01/2019 2PM | 1 HOUR | GLOBAL LIMIT | TOTW 18 + FUTURE STARS
L 50k RARE PLAYERS PACK | 🇬🇧 19/01/2019 6PM | 🇺🇸 19/01/2019 1PM | 1 HOUR | GLOBAL LIMIT | TOTW 18 + FUTURE STARS
P 30k RARE ELECTRUM PLAYERS PACK | 🇬🇧 19/01/2019 6PM | 🇺🇸 19/01/2019 1PM | 3 HOURS | LIMIT: 12 | TOTW 18 + FUTURE STARS
P 25k PREMIUM GOLD PLAYERS PACK | 🇬🇧 19/01/2019 6PM | 🇺🇸 19/01/2019 1PM | 24 HOURS | LIMIT: 15 | TOTW 18 + FUTURE STARS
P 55k RARE MEGA PACK | 🇬🇧 18/01/2019 9PM | 🇺🇸 18/01/2019 4PM | 21 HOURS | LIMIT: 10 | TOTW 18 + FUTURE STARS
P 50k RARE PLAYERS PACK | 🇬🇧 18/01/2019 9PM | 🇺🇸 18/01/2019 4PM | 21 HOURS | LIMIT: 10 | TOTW 18 + FUTURE STARS
P 45k PRIME GOLD PLAYERS PACK | 🇬🇧 18/01/2019 6PM | 🇺🇸 18/01/2019 1PM | 3 HOURS | LIMIT: 10 | TOTW 18 + FUTURE STARS
P 25k PREMIUM GOLD PLAYERS PACK | 🇬🇧 18/01/2019 6PM | 🇺🇸 18/01/2019 1PM | 24 HOURS | LIMIT: 15 | TOTW 18 + FUTURE STARS
Squad Building Challenges

You can see the List of the squad building challenges running or expired here:

ALLAN SAINT-MAXIMIN
🔢 2 Challenges
🔁 Non-Repeatable
📆 From January 25 6:00 pm to January 31 6:00 pm 🇬🇧, 2019
GROUP REWARDS
86 🇫🇷 RW: Allan Saint-Maximin, OGC Nice (FFS item)
1 FAN'S CHOICE FUT FUTURE
REQUIREMENTS
Min. FUT Future Stars Nominees Players: 1
Min. 1 OGC Nice Players
Min. 1 France Players
Number of Players in the Squad: 1
REWARDS
🎴 1 x Two Players Pack
2 FRANCE
REQUIREMENTS
Min. Team of the Week Players: 2
Min. 2 France Ligue 1 Players
Min. 3 France Players
Max 6 Players from the same League
Min. Team Rating: 85
Min. Team Chemistry: 70
Number of Players in the Squad: 11
REWARDS
🎴 1 x Jumbo Premium Gold Players Pack

FUTURE STARS CHALLENGE VIII
🔢 1 Challenge
🔁 Non-Repeatable
📆 From January 24 6:00 pm to January 25 6:00 pm 🇬🇧, 2019
REQUIREMENTS
Min. 1 France Ligue 1 Players
Min. Rare Players: 5
Max 4 Players from the same League
Min. Team Rating: 80
Min. Team Chemistry: 80
Number of Players in the Squad: 11
REWARDS
🎴 1 x Prime Gold Players Pack

ALPHONSE DAVIES
🔢 2 Challenges
🔁 Non-Repeatable
📆 From January 23 6:00 pm to January 30 6:00 pm 🇬🇧, 2019
GROUP REWARDS
87 🇨🇦 LM: Alphonso Davies, Bayern München (FFS item)
1 FC BAYERN
REQUIREMENTS
Min. Team of the Week Players: 2
Min. 2 Bayern München Players
Max 6 Players from the same League
Min. Team Rating: 85
Min. Team Chemistry: 75
Number of Players in the Squad: 11
REWARDS
🎴 1 x Rare Mega Pack
2 BUNDESLIGA
REQUIREMENTS
Min. 5 Germany 1. Bundesliga Players
Max 3 Players from the same Club
Min. Team Rating: 84
Min. Team Chemistry: 70
Number of Players in the Squad: 11
REWARDS
🎴 1 x Premium Gold Players Pack

FUTURE STARS CHALLENGE VII
🔢 1 Challenge
🔁 Non-Repeatable
📆 From January 23 6:00 pm to January 24 6:00 pm 🇬🇧, 2019
REQUIREMENTS
Min. 2 Germany Players
Exactly Gold Players
Min. Players from different Leagues: 3
Max 4 Players from the same Nation
Min. Team Chemistry: 70
Number of Players in the Squad: 11
REWARDS
🎴 1 x Premium Gold Players Pack

JOELINTON
🔢 1 Challenge
🔁 Non-Repeatable
📆 From January 22 6:00 pm to January 29 6:00 pm 🇬🇧, 2019
REQUIREMENTS
Min. 1 TSG 1899 Hoffenheim Players
Min. 1 Brazil Players
Max 5 Players from the same League
Min. Team Rating: 84
Min. Team Chemistry: 70
Number of Players in the Squad: 11
REWARDS
86 🇧🇷 ST: Joelinton, TSG 1899 Hoffenheim (FFS item)

FUTURE STARS CHALLENGE VI
🔢 1 Challenge
🔁 Non-Repeatable
📆 From January 22 6:00 pm to January 23 6:00 pm 🇬🇧, 2019
REQUIREMENTS
Min. Rare Players: 2
Min. Players from different Leagues: 3
Min. Players from different Nations: 3
Team Rating: Exactly 75
Team Chemistry: Exactly 100
Number of Players in the Squad: 11
REWARDS
🎴 1 x Player Pick Pack (Rare Top 9 Nation Players)

NDOMBELE TANGUY
🔢 3 Challenges
🔁 Non-Repeatable
📆 From January 21 6:00 pm to January 28 6:00 pm 🇬🇧, 2019
GROUP REWARDS
88 🇫🇷 CM: Ndombele Tanguy, Olympique Lyonnais (FFS item)
1 OLYMPIQUE LYONNAIS
REQUIREMENTS
Min. Team of the Week Players: 2
Min. 2 Olympique Lyonnais Players
Max 6 Players from the same League
Min. Team Rating: 85
Min. Team Chemistry: 70
Number of Players in the Squad: 11
REWARDS
🎴 1 x Jumbo Premium Gold Players Pack
2 FRANCE
REQUIREMENTS
Min. Team of the Week Players: 1
Min. 3 France Players
Min. Players from different Clubs: 3
Min. Team Rating: 85
Min. Team Chemistry: 70
Number of Players in the Squad: 11
REWARDS
🎴 1 x Mega Pack
3 84-RATED SQUAD
REQUIREMENTS
Min. 4 France Ligue 1 Players
Min. Players from different Clubs: 3
Min. Team Rating: 84
Min. Team Chemistry: 80
Number of Players in the Squad: 11
REWARDS
🎴 1 x Rare Electrum Players Pack

FUTURE STARS CHALLENGE V
🔢 1 Challenge
🔁 Non-Repeatable
📆 From January 21 6:00 pm to January 22 6:00 pm 🇬🇧, 2019
REQUIREMENTS
Min. 2 Italy Serie A Players
Exactly Gold Players
Max 5 Players from the same Club
Max 5 Players from the same Nation
Min. Team Chemistry: 85
Number of Players in the Squad: 11
REWARDS
🎴 1 x Premium Gold Players Pack

MIXED PLAYERS
🔢 1 Challenge
🔁 Non-Repeatable
📆 From January 20 6:00 pm to January 21 6:00 pm 🇬🇧, 2019
REQUIREMENTS
Exactly 1 Bronze Players
Exactly 1 Silver Players
Exactly 1 Gold Players
Min. Team Chemistry: 12
Number of Players in the Squad: 3
REWARDS
🎴 1 x Mixed Players Pack

81+ DOUBLE UPGARDE
🔢 1 Challenge
🔁 Non-Repeatable
📆 From January 20 6:00 pm to January 21 6:00 pm 🇬🇧, 2019
REQUIREMENTS
Rare Players: Exactly 11
Exactly Gold Players
Min. Team Chemistry: 50
Number of Players in the Squad: 11
REWARDS
🎴 1 x Two Rare Gold Players Plus Pack

FUTURE STARS CHALLENGE IV
🔢 1 Challenge
🔁 Non-Repeatable
📆 From January 20 6:00 pm to January 21 6:00 pm 🇬🇧, 2019
REQUIREMENTS
Exactly Silver Players
Max 4 Players from the same Nation
Team Chemistry: Exactly 100
Number of Players in the Squad: 11
REWARDS
🎴 1 x Player Pick Pack (Rare Players)

FUTURE STARS CHALLENGE III
🔢 1 Challenge
🔁 Non-Repeatable
📆 From January 19 6:00 pm to January 26 6:00 pm 🇬🇧, 2019
REQUIREMENTS
Min. 2 Spain Players
Max 3 Players from the same League
Min. Players from different Nations: 4
Min. Team Rating: 80
Min. Team Chemistry: 75
Number of Players in the Squad: 11
REWARDS
🎴 1 x Prime Electrum Players Pack

FRENKIE DE JONG
🔢 1 Challenge
🔁 Non-Repeatable
📆 From January 18 6:00 pm to January 25 6:00 pm 🇬🇧, 2019
REQUIREMENTS
Min. Team of the Week Players: 1
Min. 2 Ajax Players
Max 4 Holland Eredivisie Players
Min. Team Rating: 85
Min. Team Chemistry: 80
Number of Players in the Squad: 11
REWARDS
90 🇳🇱 CM: Frenkie De Jong, Ajax (FFS item)

FUTURE STARS CHALLENGE II
🔢 1 Challenge
🔁 Non-Repeatable
📆 From January 18 6:00 pm to January 19 6:00 pm 🇬🇧, 2019
REQUIREMENTS
Min. Rare Players: 3
Exactly Bronze Players
Max 6 Players from the same League
Team Chemistry: Exactly 100
Number of Players in the Squad: 11
REWARDS
🎴 1 x Mega Pack

FUTURE STARS CHALLENGE I
🔢 1 Challenge
🔁 Non-Repeatable
📆 From January 18 6:00 pm to January 19 6:00 pm 🇬🇧, 2019
REQUIREMENTS
Min. 2 England Players
Min. Rare Players: 4
Exactly Gold Players
Max 4 Players from the same Club
Min. 3 Players from the same League
Min. Team Chemistry: 85
Number of Players in the Squad: 11
REWARDS
🎴 1 x Player Pick Pack (Rare Positional Players)

JOE GOMEZ
🔢 5 Challenges
🔁 Non-Repeatable
📆 From January 18 6:00 pm to January 25 6:00 pm 🇬🇧, 2019
GROUP REWARDS
88 🏴󠁧󠁢󠁥󠁮󠁧󠁿 CB: Joe Gomez, Liverpool (FFS item)
1 ENGLAND
REQUIREMENTS
Min. Team of the Week Players: 1
Min. 4 England Players
Min. Team Rating: 85
Min. Team Chemistry: 80
Number of Players in the Squad: 11
REWARDS
🎴 1 x Prime Gold Players Pack
2 LIVERPOOL
REQUIREMENTS
Min. Team of the Week Players: 1
Min. 2 Liverpool Players
Min. 3 England Premier League Players
Min. Team Rating: 85
Min. Team Chemistry: 75
Number of Players in the Squad: 11
REWARDS
🎴 1 x Rare Mega Pack
3 PREMIER LEAGUE
REQUIREMENTS
Min. Team of the Week Players: 1
Min. 5 England Premier League Players
Max 3 Players from the same Club
Min. Team Rating: 84
Min. Team Chemistry: 80
Number of Players in the Squad: 11
REWARDS
🎴 1 x Mega Pack
4 84-RATED SQUAD
REQUIREMENTS
Min. Team of the Week Players: 1
Min. Team Rating: 84
Min. Team Chemistry: 80
Number of Players in the Squad: 11
REWARDS
🎴 1 x Jumbo Premium Gold Player Pack
5 85-RATED SQUAD
REQUIREMENTS
Min. Team of the Week Players: 1
Min. Team Rating: 85
Min. Team Chemistry: 80
Number of Players in the Squad: 11
REWARDS
🎴 1 x Rare Player Pack
Themed Objectives

You can see the List of Themed Objectives running or expired here:

🕰️
RELEASE DATES & TIMES
| When new FIFA 19 Weekly Objectives are refreshed
18/01/2019 (Fri) 07:00pm 🇩🇪 CET (UTC +1)
18/01/2019 (Fri) 06:00pm 🇬🇧 GMT (UTC +0)
18/01/2019 (Fri) 01:00pm 🇺🇸🇨🇦 EST (UTC -5)
18/01/2019 (Fri) 10:00am 🇺🇸 PST (UTC -8)
IMO
FUT Future Stars
🕹️
Win 14 online single matches using 11 Ligue 1 Conforma players
86
🇵🇹 Rafael Leão Future Stars item (untradeable)
IMO
Loan Vinícius Júnior
🕹️
Assist 7 goals using LaLiga Santander players on SB min. semi-pro difficulty
92
🇧🇷 Vinícius Júnior Future Stars item (10 matches-loan)
IMO
Future Goals
🕹️
Score in 3 separate online wins using FUT Future Stars
🎴
Two Rare Players Pack
(untradeable)