The FIFA 19 LaLiga Team of the Season was officially announced. Check out the TOTS from the Spanish main division, which includes players like Lionel Messi, Luís Suárez and Karim Benzema.
FIFA 19 LaLiga Team of the Season
This TOTS joins the players that played better the whole season in LaLiga.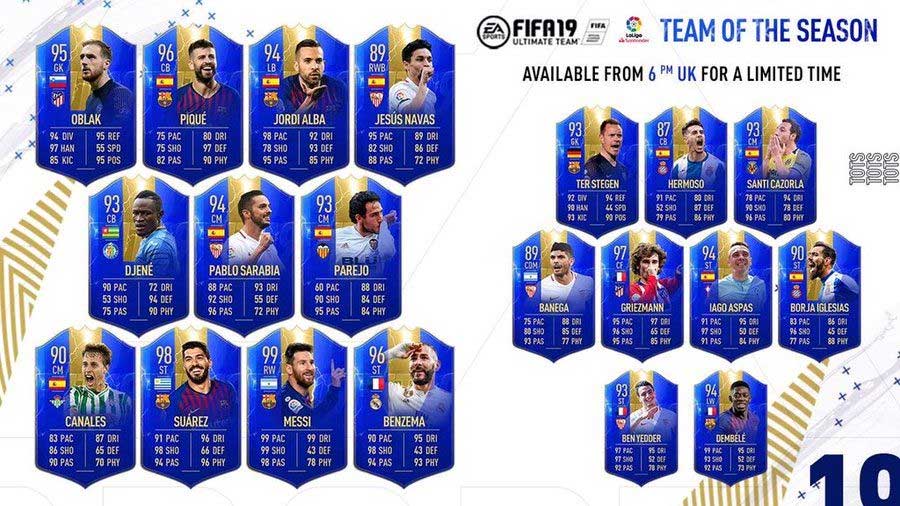 The La Liga Team of the Season is here! The most impressive players in Spain's top flight this season are being recognized with special TOTS player items. Did your favourites make the squad? From one of the greatest player in football history, Lionel Messi, to his teammate Luís Suárez, the La Liga TOTS is stacked with superstars. Upgrade your FUT squad with as many of these player items as possible, as they can only be found in packs for a limited time.
Don't forget the LaLiga items you can get exclusively via weekly objectives and via SBC.
The Squad
STARTING ELEVEN
95 ?? GK: Jan Oblak (Atlético de Madrid) PACKS
89 ?? RWB: Jesús Navas (Sevilla FC) PACKS
96 ?? CB: Gerard Piqué (FC Barcelona) PACKS
93 ?? CB: Dakonam Djené (Getafe CF) PACKS
94 ?? LB: Jordi Alba (FC Barcelona) PACKS
94 ?? CM: Pablo Sarabia (Sevilla FC) PACKS
93 ?? CM: Daniel Parejo (Valencia CF) PACKS
90 ?? CM: Canales (Real Betis Balompié) PACKS
99 ?? RW: Lionel Messi (FC Barcelona) PACKS
98 ?? ST: Luis Suarez (FC Barcelona) PACKS
96 ?? ST: Karim Benzema (Real Madrid) PACKS

SUBSTITUTES
93 ?? GK: Marc-André ter Stegen (FC Barcelona) PACKS
87 ?? CB: Hermoso (RCD Espanyol) PACKS
89 ?? CDM: Éver Banega (Sevilla FC) PACKS
93 ?? CM: Santi Cazorla (Villarreal CF) PACKS
97 ?? CF: Antoine Griezmann (Atlético de Madrid) PACKS
94 ?? ST: Iago Aspas (RC Celta) PACKS
90 ?? ST: Borja Iglesias (RCD Espanyol) PACKS

RESERVES
93 ?? ST: Wissam Ben Yedder (Sevilla FC) PACKS
91 ?? RW: Ousmane Dembélé (FC Barcelona) PACKS
89 ?? LB: Gayà (Valencia CF) OBJECTIVES
91 ?? ST: Cristhian Stuani (Girona FC) OBJECTIVES
00 Player to be announced SBC
00 Player to be announced SBC
Release Times
? START
01/06/2019 (Sat) 03:00pm ?? AEST (UCT +10)
01/06/2019 (Sat) 02:00am ?? JST (UCT +9)
31/05/2019 (Fri) 06:00pm ?? BST (UCT +1)
31/05/2019 (Fri) 02:00pm ?? BRT (UCT -3)
31/05/2019 (Fri) 01:00pm ?? EDT (UCT -4)
31/05/2019 (Fri) 01:00pm ?? EDT (UCT -4)
31/05/2019 (Fri) 10:00am ?? PDT (UCT -7)

? END
08/06/2019 (Sat) 03:00pm ?? AEST (UCT +10)
08/06/2019 (Sat) 02:00am ?? JST (UCT +9)
07/06/2019 (Fri) 06:00pm ?? BST (UCT +1)
07/06/2019 (Fri) 02:00pm ?? BRT (UCT -3)
07/06/2019 (Fri) 01:00pm ?? EDT (UCT -4)
07/06/2019 (Fri) 01:00pm ?? EDT (UCT -4)
07/06/2019 (Fri) 10:00am ?? PDT (UCT -7)