The FIFA 19 LATAM TOTS was announced. Discover the best players from Mexican, Argentinian, Colombian and Chilean leagues who make this Team of the Season.
FIFA 19 LATAM TOTS
This TOTS joins the players that played better outside Europe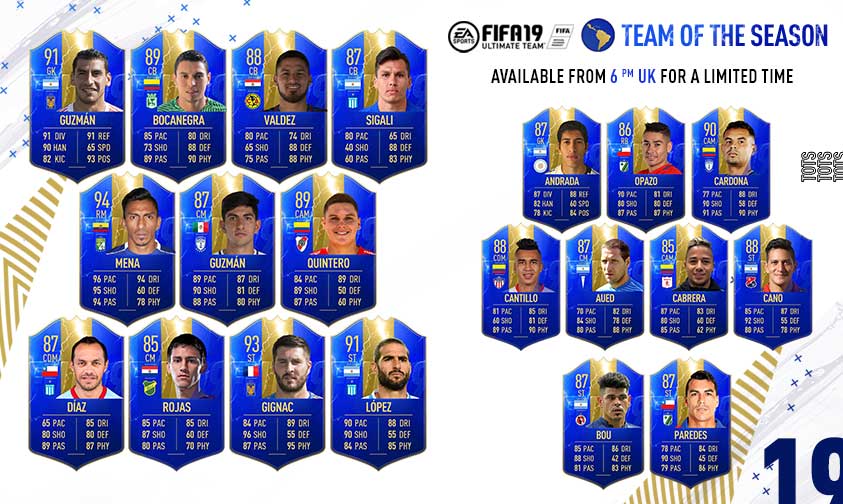 Some of the best performances in world football this season came from outside of the top European leagues. The FIFA 19 LATAM Team of the Season features a selection of the most inform players.
The Squad
STARTING ELEVEN
91 ?? GK: Nahuel Guzmán (Tigres U.A.N.L.) PACKS
89 ?? CB: Daniel Bocanegra (Atlético Nacional) PACKS
88 ?? CB: Bruno Valdez (América) PACKS
87 ?? CB: Leonardo Sigali (Racing Club de Avellaneda) PACKS
87 ?? CDM: Marcelo Díaz (Racing Club de Avellaneda) PACKS
87 ?? CM: Víctor Guzmán (Pachuca) PACKS
85 ?? CM: Matías Rojas (Defensa y Justicia) PACKS
89 ?? CAM: Juan Fernando Quintero (River Plate) PACKS
94 ?? RM: Ángel Mena (León) PACKS
91 ?? ST: Lisandro López (Racing Club de Avellaneda) PACKS
93 ?? ST: André-Pierre Gignac (Tigres U.A.N.L.) PACKS

SUBSTITUTES
87 ?? GK: Esteban Andrada (Boca Juniors) PACKS
88 ?? CDM: Víctor Cantillo (Junior de Barranquilla) PACKS
85 ?? CM: Yesus Cabrera (América de Cali) PACKS
90 ?? CAM: Edwin Cardona (Pachuca) PACKS
87 ?? ST: Esteban Paredes (CD Viñazur) PACKS
87 ?? ST: Gustavo Bou (Club Tijuana) PACKS
88 ?? ST: Germán Cano (Independiente Medellín) PACKS

RESERVES
86 ?? RB: Óscar Opazo (CD Viñazur) PACKS
87 ?? CM: Luciano Aued (Universidad Católica) PACKS
88 ?? CAM: Diego Buonanotte (Universidad Católica) OBJECTIVES
87 ?? ST: Marco Pérez (Deportes Tolima) SBC
Release Times
? START
15/06/2019 (Sat) 03:00pm ?? AEST (UCT +10)
15/06/2019 (Sat) 02:00am ?? JST (UCT +9)
14/06/2019 (Fri) 06:00pm ?? BST (UCT +1)
14/06/2019 (Fri) 02:00pm ?? BRT (UCT -3)
14/06/2019 (Fri) 01:00pm ?? EDT (UCT -4)
14/06/2019 (Fri) 01:00pm ?? EDT (UCT -4)
14/06/2019 (Fri) 10:00am ?? PDT (UCT -7)

? END
22/06/2019 (Sat) 03:00pm ?? AEST (UCT +10)
22/06/2019 (Sat) 02:00am ?? JST (UCT +9)
21/06/2019 (Fri) 06:00pm ?? BST (UCT +1)
21/06/2019 (Fri) 02:00pm ?? BRT (UCT -3)
21/06/2019 (Fri) 01:00pm ?? EDT (UCT -4)
21/06/2019 (Fri) 01:00pm ?? EDT (UCT -4)
21/06/2019 (Fri) 10:00am ?? PDT (UCT -7)