The managers are the most important staff cards of the game. Find out how you can use them with the help of our FIFA 19 Managers Cards Guide for FIFA 19 Ultimate Team.

FIFA 19 MANAGERS
ROLES | CONTRACT BOOST | CHEMISTRY BOOST | MANAGER'S CONTRACTS | IMPORTANCE | LIST



Roles
What FIFA 19 managers do?
Among the five types of staff cards, the FIFA 19 managers cards are clearly the most important ones. They develop two roles which take part on the main parts of the game. If you're an experienced player, the managers are the only staff cards that you really need to get. You can afford to ignore any of the other staff types if you know how to manage your squad well. Going without managers won't do you any good, though.
Manager cards have basically two functions:
1 Extend the players' contracts;
2 Contribute to individual chemistry.
Contracts Boost
How managers can help you with contracts?
As we've already said, all staff are responsible for increasing the efficiency of consumables. For managers, those are contracts. You just need to store the manager cards in "My Club" and let the system do the rest, it will automatically identify the amount of bonus you'll get for every contract applied according to how many of them you have.
Still don't get it? We'll explain in more detail. The contracts are positively influenced according to the managers a club has. Each manager card displays a contract bonus percentage. When you apply a contract, its effect is multiplied by the sum of the coefficients of all the managers your club has. No matter how many managers you have, the sum of their coefficients will stop at 50% of bonus, for that is why you should supervise them so you don't waste coins. When you reach 50% you should stop, unless you really need a manager with a specific nationality to affect one or a few players' chemistries. Also, check if you're buying managers that contribute with at least 1%. The non-rare silver and all bronze managers give no bonus.
| MANAGER'S CARDS | BOOST |
| --- | --- |
| GOLD RARE | 3-2% |
| GOLD COMMON | 1% |
| SILVER RARE | 0-2% |
| SILVER COMMON | 0% |
| BRONZE RARE | 1% |
| BRONZE COMMON | 0% |
When you are applying a contract, you can check how big is the current managers' boost of your club. You just need to look to the percentage that is shown in the 'Contract Bonus' card, as you can see in the image below. If you sum the coefficients of all the managers stored in 'My Club', you should get the same percentage.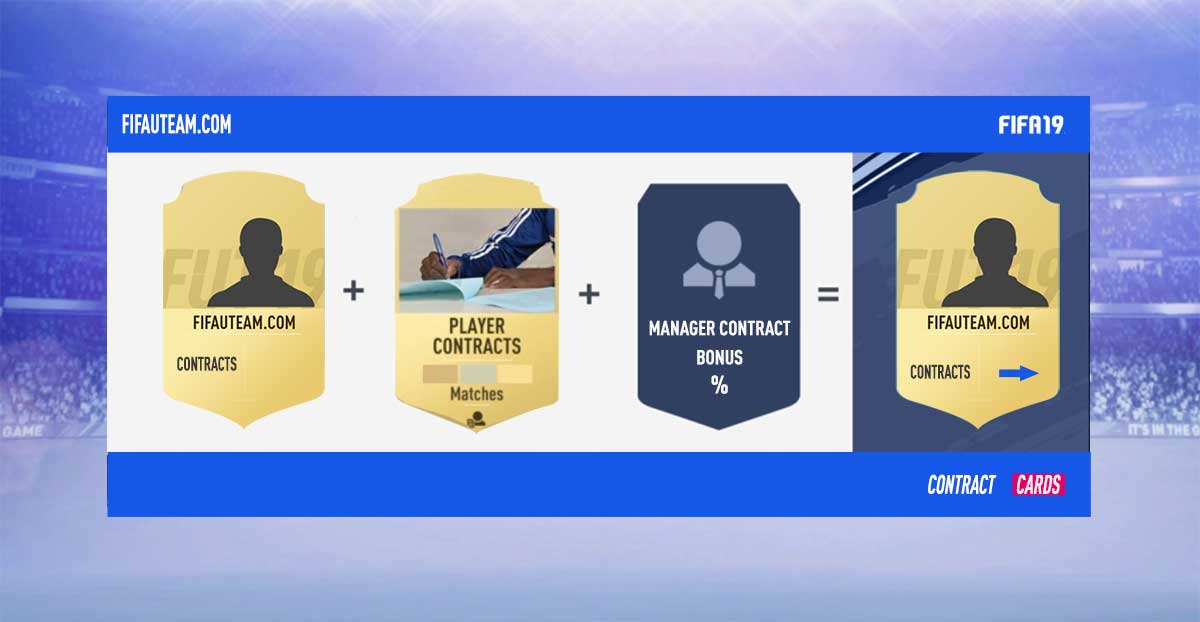 Chemistry Boost
How managers can help you with chemistry?
Manager's effect doesn't limit itself just for the most important consumables of the game. They're also crucial for defining the players' individual chemistries. The manager you choose for a squad can increase one point of individual chemistry for each player starting the match. On his limit, he can increase the squad's chemistry overall by 11 points, one for each player. That's pretty significant.
What determines if he gives a player bonus or not? Or if it is his nationality and league. If one of them match, the player gets one point. If not, he gets nothing. Even if they match both nationality and league, the bonus will never be more than one point. If the players already have maximum individual chemistry (10) there's no point on using a manager since there won't be anything to improve and you'll still be spending contracts.
For chemistry improvement, the process of choosing a manager should be done mainly according to nationality. Their league can be changed if you apply manager league consumables, in case you want it to match a player's, but you can't do the same for the nationality.
When you start looking for a manager to increase your squad's chemistry, don't follow the most frequent nationality in the team. What matters is giving bonus to the players that have lower chemistry. These are the ones you should pay attention to. Try having a manager with a nationality that benefits ones and a league that benefits others.
Managers' Contracts
What do you need to keep FIFA 19 managers in the game?
Other than nationality, league and bonus percentage, the manager cards also display another important information: the number of contracts. Just like the players, managers also spend contracts every match they participate. When they run out of contracts, you need to apply new ones so they can stay on the bench for the next match. The type of contracts they need also receive bonus according to the amount of manager cards you have in the club, including the one you're using. The rest of the managers don't spend contracts.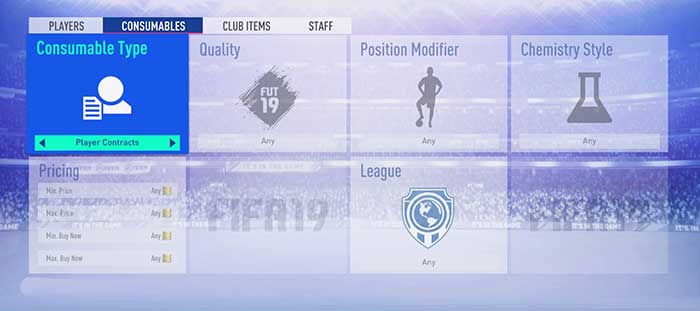 To buy contracts for managers go to Transfers – Search the Transfers Market – Consumables – Manager Contracts
Importance
Should I buy FIFA 19 Managers Cards?
In our opinion, managers are the only staff you should worry about.
If you were able to build a team where all players have 10 points of individual chemistry, you can dispense managers on the bench. But don't take this too seriously, because the budget associated to this is usually around 10 coins per match. If your squad's rotation implies on using managers with different leagues and nationalities, try switching managers from the bench to the ones you've got stored in your club according to what you need before starting a match. Remember that the manager's popularity and rarity doesn't make a difference when they go on the bench. All FIFA 19 managers are equal when they move to the squad, it doesn't even matter if you switch your gold manager to a bronze one, they'll influence the chemistry equally as long as their league and nationality are the same.
When talking about bonus for contracts, your objective should be to gather enough managers in order to reach the 50%. In this case it doesn't matter the nationality, league or the remaining contracts a manager has. If you already have your main manager and your goal now is to reach the 50% contract bonus, search in the market by managers running out of contract. They are usually cheaper and it doesn't make any difference to you. You should only focus on reaching the total 50% spending the less possible. This is where the calculation comes in. For this objective, buying popular managers won't make sense because they may cost way too much, you can use these coins to buy several other managers. Check, for example, if there are any rare silver managers cheaper than non-rare gold ones. The average total coins spent in order to reach 50% of contract bonus revolves around 8.000 coins, being its approximated return 30 coins per match. In a long term the managers will be able to spare you thousands of coins, except if you don't intend to play more than 250 matches, because in this case the investment won't be fulfilled. If you want to start saving your coins early, it's important that you start collecting managers as soon as possible. Although, it's also early when the game starts that they are more expensive, due to the immense demand and small supply. It's up to you to manage to buy these cards without spending much more than the average value we gave you.
FIFA 19 Managers Cards List
Every single manager included in the game
The complete list of FIFA 19 managers in FUT can be consulted below (sorted by bonus, country and name):
MANAGERS WITH BONUSES
3%
?? A. Holan
3%
?? A. Mohamed
3%
?? D. Simeone
3%
?? Eduardo Berizzo
3%
?? M. Poncherrino
3%
?? A. Khatskevich
3%
?? Tuca Ferretti
3%
?? M. Pellegrini
3%
??????? E. Howe
3%
??????? R. Hodgson
3%
??????? S. Dyche
3%
?? C. Puel
3%
?? J. Klopp
3%
?? C. Hughton
3%
?? D. Ballardini
3%
?? G. Gasperini
3%
?? G. Gattuso
3%
?? L. D'Anna
3%
?? M. Allegri
3%
?? M. Carrera
3%
?? M. Sarri
3%
?? S. Inzaghi
3%
?? S. Piolli
3%
?? P. Cocu
3%
?? Abel
3%
?? José Mourinho
3%
?? José Peseiro
3%
?? Marco Silva
3%
?? Nuno
3%
?? Rui Vitória
3%
?? S. Conceição
3%
?? Y. Semin
3%
?? S. Jokanovic
3%
?? Abelardo
3%
?? Aier Garitano
3%
?? Ernesto Valverde
3%
?? Eusebio
3%
?? Javi Garcia
3%
?? Javier Calleja
3%
?? José Bordalás
3%
?? Julen Lopetegui
3%
?? Marcelino
3%
?? Mendilibar
3%
?? Pablo Machín
3%
?? Paco López
3%
?? Pep Guardiola
3%
?? Quique Setién
3%
?? Rafa Benítez
3%
?? Rubi
3%
?? Unai Emery
3%
?? A. Avci
3%
?? F. Terim
3%
?? S. Gunes
3%
?? D. Wagner
3%
??????? M. Hughes
2%
?? A. Berti
2%
?? D. Osella
2%
?? G. Costas
2%
?? J. Cruz Real
2%
?? J. Pumpido
2%
?? J. Torrente
2%
?? L. Bernardi
2%
?? M. Palermo
2%
?? P. Troglio
2%
?? V. Gancharenko
2%
?? G. De Boeck
2%
?? M. Brys
2%
?? P. Maes
2%
?? Fábio Carille
2%
?? F. Bozán
2%
?? M. Riffo
2%
?? V. Rivero
2%
?? H. Bodhert
2%
?? J. Bernal
2%
?? O. Zambrano
2%
?? A. Schwartz
2%
?? H. Vogel
2%
?? K. Runjaic
2%
?? T. Fink
2%
?? T. Letsch
2%
?? G. Donis
2%
?? G. Stroppa
2%
?? E. Meza
2%
?? F. Palencia
2%
?? G. Vázquez
2%
?? B. Ingebretsen
2%
?? O. Solskjaer
2%
?? I. Mamtor
2%
?? P. Stokowiec
2%
?? Pedro Emanuel
2%
?? Silas
2%
?? M. rednic
2%
?? M. Sumudica
2%
?? Ramis
2%
?? Sandoval
2%
?? Vincente Moreno
2%
?? A. Alm
2%
?? J. Gustafsson
2%
?? J. Thelin
2%
?? O. Melkemichel
2%
?? S. Billborn
2%
?? L. Magnin
2%
?? B. Korkmaz
1%
?? Lito Vidigal
1%
?? B. Perolsa
1%
?? C. Biaggio
1%
?? D. Cocca
1%
?? D. Dabove
1%
?? E. Bauza
1%
?? E. Carboni
1%
?? E. Castilloza
1%
?? E. Coudet
1%
?? E. Domínguez
1%
?? F. Kudelka
1%
?? G. Alfaro
1%
?? H. Cristante
1%
?? J. Falcioni
1%
?? J. Vojvoda
1%
?? L. Garcero
1%
?? Leo Franco
1%
?? M. Pellegrino
1%
?? M. Russo
1%
?? N. Craviotto
1%
?? O. De Felippe
1%
?? P. Guede
1%
?? R. Díaz
1%
?? R. Zielinski
1%
?? S. Beccacece
1%
?? S. Origozo
1%
?? G. Djuricin
1%
?? H. Trottberger
1%
?? F. Dury
1%
?? F. Mazzu
1%
?? G. Verheyen
1%
?? H. Vanhaezebrouck
1%
?? M. Preud'homme
1%
?? P. Clement
1%
?? Y. Vanderhaeghe
1%
?? S. Susic
1%
?? Y. Haojian
1%
?? A. Gamero
1%
?? I. Leko
1%
?? N. Bjelica
1%
?? P. Vrba
1%
?? J. Thorup
1%
?? J. Trpisovsky
1%
??????? N. Warnock
1%
??????? S. Gerrard
1%
?? Álvaro Cervera
1%
?? C. Poulizac
1%
?? H. Bouloud
1%
?? J. Andilly
1%
?? L. Bardonnet
1%
?? M. Daulny
1%
?? M. Delafon
1%
?? Q. Moriau
1%
?? R. Egasse
1%
?? R. Peyras
1%
?? T. Urgel
1%
?? V. Bigault
1%
?? V. Bourva
1%
?? Y. Ravaisson
1%
?? A. Zorniger
1%
?? M. Rose
1%
?? U. Rosler
1%
?? M. Ouzounidis
1%
?? Z. Xenakis
1%
?? A. Andreazzoli
1%
?? C. Bucchi
1%
?? F. Grosso
1%
?? G. Caito
1%
?? L. Semplici
1%
?? M. Giampaolo
1%
?? R. Maran
1%
?? L. Douhou
1%
?? Mal Chin keng
1%
?? Sang. Ook Pan
1%
?? Soon Bok Nahm
1%
?? M. Konare
1%
?? D. Patiño
1%
?? G. Espinoza
1%
?? L. Tena
1%
?? M. Herrera
1%
?? R. Hernández
1%
?? R. Coolen
1%
?? W. Geert
1%
??????? B. Rodgers
1%
?? S. Solbakken
1%
?? D. Maidanez
1%
?? J. Cardozo
1%
?? Claúdio Braga
1%
?? Daniel Ramos
1%
?? Jorge Jesus
1%
?? Jorge Simão
1%
?? José Gomes
1%
?? José Mota
1%
?? Luís Castro
1%
?? Nuno Manta
1%
?? Pedro Caixinha
1%
?? Pedro Martins
1%
?? Pepa
1%
?? L. Boloni
1%
?? R. Lucescu
1%
?? D. Jabour
1%
?? I. Soliman
1%
?? M. Satter
1%
?? N. Bangura
1%
?? P. Barrso-Diene
1%
?? J. Puskarik
1%
?? Anquela
1%
?? B. San José
1%
?? Cristóbal
1%
?? Diego Martínez
1%
?? Etxeberria
1%
?? Imanol Idiakez
1%
?? Jagoba Arraste
1%
?? Júlio Velázquez
1%
?? López Garai
1%
?? Manolo Jiménez
1%
?? Míchel
1%
?? Muñiz
1%
?? Natxo González
1%
?? Pako Ayestarán
1%
?? Rúben Baraja
1%
?? Sergio González
1%
?? G. Seoane
1%
?? M. Koeller
1%
?? P. Moustiers
1%
?? R. Leirmannsberg
1%
?? S. Schneuzli
1%
?? B. Bektas
1%
?? E. Bulut
1%
?? E. Saglam
1%
?? I. Kartal
1%
?? I. Uzulmez
1%
?? K. Ozdes
1%
?? M. Bakkal
1%
?? R. Çalimbay
1%
?? S. Aybaba
1%
?? T. Tuna
1%
?? K. Seminenko
1%
?? D. Alonso
1%
?? D. Menendez
1%
?? Daniel Carreño
1%
?? G. Diaz
1%
?? G. Pelusso
1%
?? G. Sanguinetti
1%
?? J. Comesaña
MANAGERS WITHOUT BONUSES
0%
?? B. Hasi
0%
?? J. Aloisi
0%
?? K. Muscat
0%
?? M. Mulvey
0%
?? M. Rudan
0%
?? S. Corica
0%
?? T. Popovic
0%
?? C. Ilzer
0%
?? D. Kuhbauer
0%
?? E. Baumeister
0%
?? G. Baumgartner
0%
?? K. Daxbacher
0%
?? M. Schopp
0%
?? O. Glasner
0%
?? W. Grabherr
0%
?? F. Vercautern
0%
?? Y. Ferrera
0%
?? Ander Kaique
0%
?? Andrey Denão
0%
?? Breno Gutti
0%
?? Danilinho Fabian
0%
?? Davon Nascimento
0%
?? Jacsson Marlos
0%
?? Klever Lipe
0%
?? Lucao Eskerdinha
0%
?? Marcus Leandrão
0%
?? P. Dotchev
0%
?? Ricci Taffarel
0%
?? Romarzinho Alan
0%
?? Valdemir Liminha
0%
?? Welbinho Ricardo
0%
?? C. Deanman
0%
?? J. Vera
0%
?? M. Ponce
0%
?? D. Corredor
0%
?? J. Rodríguez
0%
?? L. Suárez
0%
?? R. Bedoya
0%
?? A. Kuhn
0%
?? B. Henriksen
0%
?? C. Norgaard
0%
?? D. Nielsen
0%
?? H. Pedersen
0%
?? J. Askou
0%
?? J. Michelsen
0%
?? K. Hjulmand
0%
?? M. Wieghorst
0%
?? T. Thomasberg
0%
??????? C. Powlson
0%
??????? C. Whitemarsh
0%
??????? D. Clitheroe
0%
??????? D. Rheadie
0%
??????? D. Selley
0%
??????? D. Snodin
0%
??????? G. Greythroat
0%
??????? G. Landsbury
0%
??????? I. Blankney
0%
??????? I. Burchnall
0%
??????? J. Haythwaite
0%
??????? M. Keynsham
0%
??????? M. Worplesden
0%
??????? O. Holdstock
0%
??????? P. Linnecor
0%
??????? V. Lambell
0%
??????? W. Joyce
0%
?? M. Lehkosuo
0%
?? M. Lehkosuo
0%
?? A. Ballier
0%
?? A. Pfulinger
0%
?? B. Wichlitzky
0%
?? C. Bierofka
0%
?? C. Neidhart
0%
?? C. Schromm
0%
?? C. Wollitz
0%
?? D. Thioune
0%
?? F. Gutmannsdorf
0%
?? H. Fieermann
0%
?? L. Mauerblum
0%
?? M. Antwerpen
0%
?? M. Babbel
0%
?? M. Frontzeck
0%
?? M. Hanemund
0%
?? M. Kranzmeister
0%
?? M. Kurz
0%
?? M. Maucksch
0%
?? M. Neidhart
0%
?? M. Schiele
0%
?? M. Zimmerman
0%
?? P. Seidler
0%
?? R. Rehm
0%
?? S. Heidelmann
0%
?? S. Hildmann
0%
?? S. Kramer
0%
?? S. Schnotzky
0%
?? T. Kopefler
0%
?? T. Ziegner
0%
?? U. Koschinat
0%
?? A. Giannikis
0%
?? E. Devitt
0%
?? J. Caulfield
0%
?? K. Long
0%
?? L. Buckley
0%
?? P. Asbaghi
0%
?? P. Maguire-Stevens
0%
?? R. Sarum
0%
?? S. Bradley
0%
?? S. Kenny
0%
?? S. Thiembleby
0%
?? A. Sormani
0%
?? G. Lettieri
0%
?? A. Itami
0%
?? C. Okazaki
0%
?? H. Matsushina
0%
?? K. Daini
0%
?? K. Fujiharu
0%
?? K. Fujiharu
0%
?? K. Inoki
0%
?? J. Lammers
0%
?? M. Ridenton
0%
??????? D. Magennis
0%
??????? G. Lyttle
0%
??????? K. Shiels
0%
??????? S. Robinson
0%
??????? T. Wright
0%
?? A. Bjorkan
0%
?? C. Michelsen
0%
?? D. Fagermo
0%
?? E. Horneland
0%
?? G. Bakke
0%
?? H. Berg
0%
?? K. Rekdal
0%
?? R. Deila
0%
?? S. Maalen
0%
?? F. Arce
0%
?? D. Dzwigala
0%
?? M. Brosz
0%
?? M. Probierz
0%
?? M. Stolarczyk
0%
?? T. Pawlowski
0%
?? W. Fornalik
0%
?? Lázaro Godão
0%
?? D. Isaila
0%
??????? E. Merrick
0%
??????? M. Canning
0%
??????? N. McCann
0%
?? A. Stanojevic
0%
?? Andrés Dantero
0%
?? Antonio Ardabal
0%
?? Edu Gandeano
0%
?? Emilio Mirellas
0%
?? Joaquín Narcero
0%
?? Joselu Barros
0%
?? Miguel Galdán
0%
?? Nando Candaval
0%
?? Paco Sebarra
0%
?? Rafa Gastiano
0%
?? Sebas Fargal
0%
?? Sergio Cerrión
0%
?? Vicente Restero
0%
?? A. Kjall
0%
?? J. Cedergren
0%
?? J. Lennartsson
0%
?? J. Lennartsson
0%
?? K. Bergstrand
0%
?? K. Bergstrand
0%
?? P. Winqvist
0%
?? R. Byqvist
0%
?? M. Decastel
0%
?? M. Schneider
0%
?? R. Weiler
0%
?? F. Al Jabal
0%
?? L. Ramos
0%
?? C. Calaway
0%
?? D. Rayhart
0%
?? J. Enochs
0%
?? R. Copse
0%
?? R. Hennigan
0%
?? T. Metheringham
0%
??????? G. Rhydderch