Learn everything about FIFA 19 Position Change Cards, including how they work, a list with all these cards and a guide to help you decide if you should use them or not.

FIFA 19 POSITION CHANGE CARDS
ROLES | LIST | IMPORTANCE



Roles
What FIFA 19 position change cards do?

One of the most important factors in team chemistry is if players are playing in their preferred positions or not. Although they could play in any position, the team's chemistry and the individual chemistry are strengthened if they are placed in the position printed on their cards or, at least, in a similar position. You can learn more about this subject here.
As it is not always possible to make these positions match, there are position cards that help you to solve this problem. These cards are equivalent to training to adapt players to a new position on the field.
The position cards allow you to change the preferred position of a player to the one that is printed on the card. For each card that you use, you can change a single player's position only once. Using several cards, you can change the player's position as many times as you want. Before applying a position card to a player to fix his position on the field, make sure that he already doesn't have maximum individual chemistry. If he does, you don't have to apply the position card
However, it is necessary to have in mind that the position's cards contain information about the old and the new position. If a player's favourite position doesn't match with the old position printed on the card, we cannot apply that card to him. It means, for example that you will never transform a right back into a right winger.
Each position card can only be applied to a player and the effect lasts until you apply a new position card on him. Sometimes, you need to apply several position cards to get the position you want. For example: to transform a CAM into a ST, you need to apply a CAM-CF card and then a CF-ST card.
The position cards can not be boosted by any staff.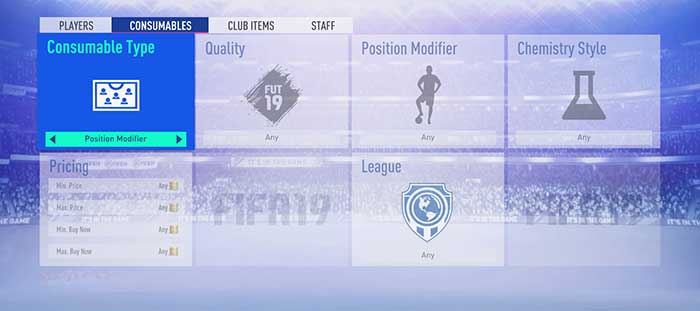 Follow this path to buy position change cards: transfers – consumables – position
List of FIFA 19 Position Change Cards
Every single position card included in FIFA 19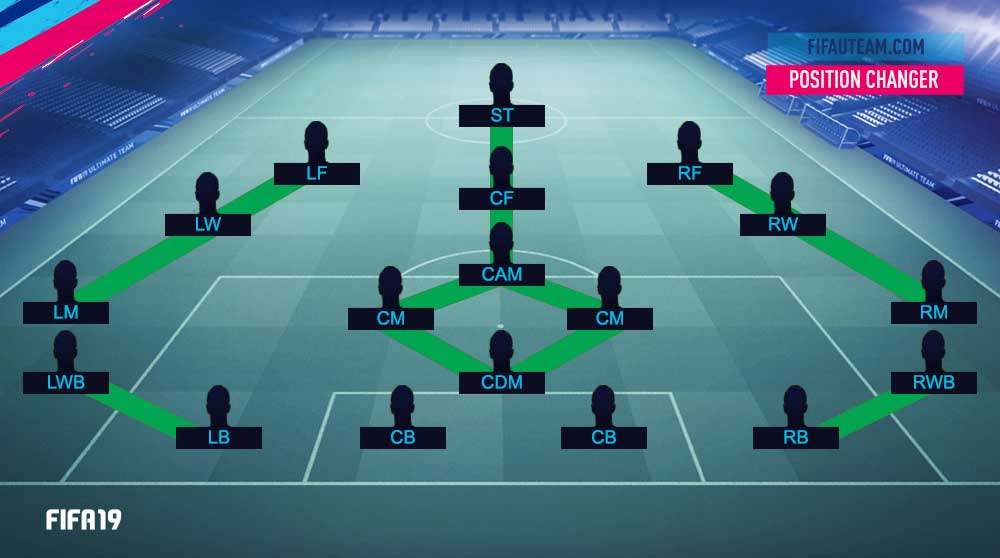 Click over the image to maximize it
Here are the sequences that you can make to change the preferred position of a player:
✔️ RB-RWB; RWB-RB
✔️ LB-LWB; LWB-LB
✔️ RM-RW-RF; RF-RW-RM
✔️ LM-LW-LF; LF-LW-LM
✔️ CDM-CM-CAM-CF-ST; ST-CF-CAM-CM-CDM.
All the position cards are shown in the following table:
| | | | |
| --- | --- | --- | --- |
| RB-RWB | RWB-RB | LB-LWB | LWB-LB |
| RM-RW | RW-RM | LM-LW | LW-LM |
| RW-RF | RF-RW | LW-LF | LF-LW |
| CDM-CM | CM-CDM | CM-CAM | CAM-CM |
| CAM-CF | CF-CAM | CF-ST | ST-CF |
Importance
Should I buy FIFA 19 Position Change Cards?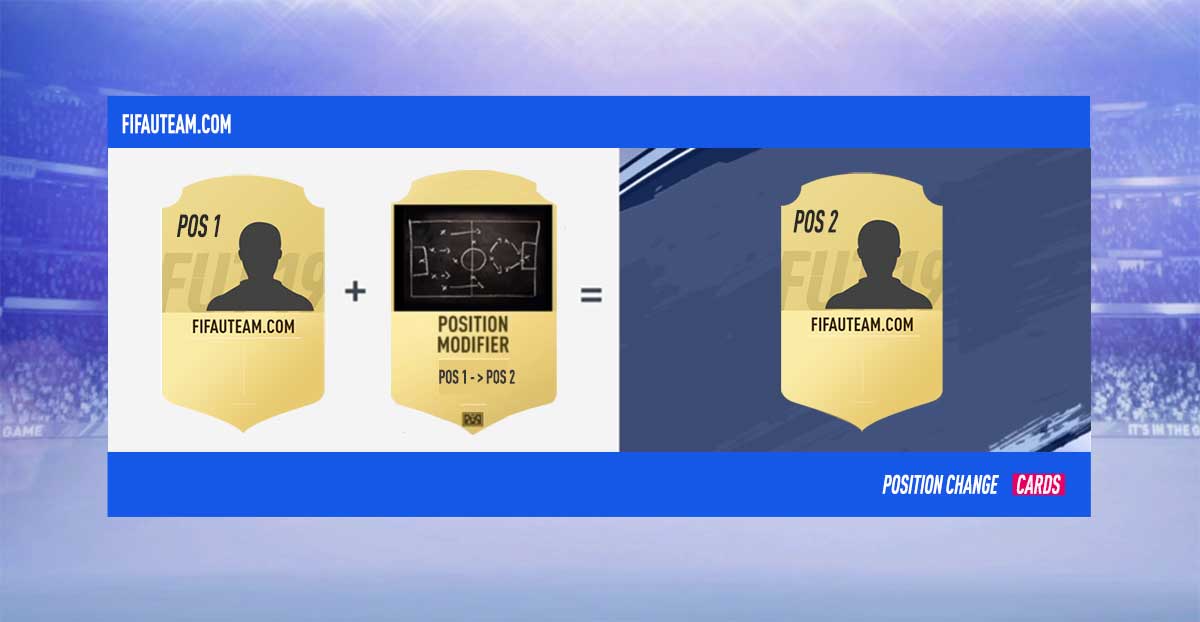 When a player is assigned to play in a strange position to himself, the chemistry is strongly affected. Independently of his connections with team mates, he will never have more than an individual chemistry of 4, which is very bad. However, it will also affect team chemistry.
If you bought or received a player with a different position from the one that he will play, apply him a position card in order to at least adapt him to a similar position (see the table of similar positions).
On the other hand, if your players already have an individual chemistry of 10, you should not waste coins with position cards. In these cases, they can play in the wrong position that it will not affect their performance.
If you want to apply a card or a sequence of position cards to a player you own, check which option is cheaper: buy the position card(s) and apply it on him; or go to the transfer market to sell your player card and buy another card of the same player but already in the desired position.
The CAM-CM, CM-CDM and ST-CF cards are usually the most popular ones.