In this page you can find everything about the FIFA 19 Premier League Player of the Month, including the nominees and winners of each month, their new FIFA 19 POTM cards, the vote results and the respective squad building challenges.

MONTH
2018 AUG SEP OCT NOV DEC
2019 JAN FEB MAR APR



You can access this page on the top bar navigation: Live > New Cards > POTM > Premier League
FIFA 19 Premier League Player of the Month
What is the FIFA 19 POTM?
Every single month, EA Sports makes a selection of the most in form Premier League players of the previous month. The award is decided by a combination of a public vote, counting for 10%, and those from a panel of Premier League experts and current club captains. The winner receives a FIFA 19 POTM card with boosted stats. Usually, EA also releases a new squad building challenge around the player of the month.
In this page you can check all the POTM nominees, the winners, the vote results, the SBCs, the release dates and the new FIFA 19 cards.
FIFA 19 Premier League Player of the Month – April
Premier League POTM of March


EARLY PREDICTIONS
?? Mohamed Salah ⚽⚽⚽⚽?️
??????? Jamie Vardy ⚽⚽⚽⚽⚽
??????? Callum Wilson ⚽⚽⚽?️?️?️
?? Ayoze Pérez ⚽⚽⚽⚽⚽
?? Diogo Jota ⚽⚽⚽?️
VOTES
? 30/04/2019 to 02/05/2019
WINNER
? The winner was announced on May 7
??????? Jamie Vardy (LEI)
Vardy has been in inspired form under new manager Brendan Rodgers. The Englishman scored in all but one of his appearances, including a brace against Arsenal, to move up to 18 goals this season.
Minutes Played: 359 | Goals: 5 | Assists: 0 | Total Shots: 16 | Passing Accuracy: 65%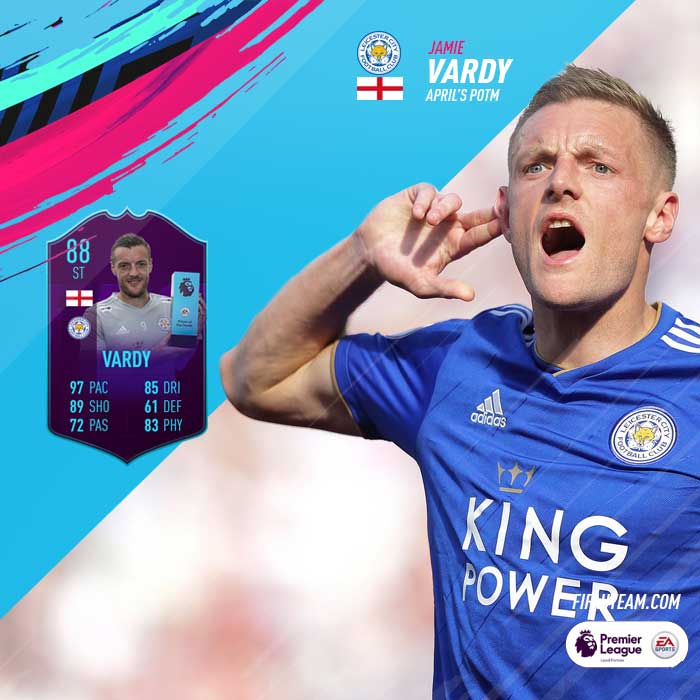 OTHER NOMINEES
?? Eden Hazard (CHE)
The Belgian's three goals and two assists included a stunning dribble and finish against West Ham United that also earned a nomination for the Carling Goal of the Month as Chelsea rose into the top four.
Minutes Played: 444 | Goals: 3 | Assists: 2 | Total Shot: 14 | Passing Accuracy: 90%
??????? Jordan Henderson (LIV)
Liverpool's captain led by example, scoring or assisting in three of his side's four matches as the title-chasers kept the pressure on Manchester City with a perfect April.
Minutes Played: 288 | Goals: 1 | Assists: 3 | Chances Created: 5 | Passing Accuracy: 87%
?? Aymeric Laporte (MCI)
The defender played every minute as the leaders secured a 100 per cent record in a month in which they faced Tottenham Hotspur and Manchester United. City conceded only once and kept four clean sheets with Laporte also getting an assist against Cardiff City.
Minutes Played: 450 | Tackles: 9 | Assists: 1 | Passing Accuracy: 91% | Clean Sheets: 4
?? Shane Long (SOU)
Long scored in three consecutive home matches and netted the fastest goal in Premier League history after only 7.69 seconds of Southampton's draw at Watford.
Minutes Played: 271 | Goals: 4 | Assists: 0 | Passing Accuracy: 53% | Total Shots: 9
?? Ayoze Perez (NEW)
Three of the Spaniard's league-leading five goals in April came in one match against Southampton as Newcastle United took one step closer to securing safety from relegation.
Minutes Played: 380 | Total Shots: 9 | Assists: 0 | Goals: 5 | Passing Accuracy: 68%
?? Mohamed Salah (LIV)
The Egyptian ended April with two goals and an assist against Huddersfield Town to go ahead in the race for the Golden Boot. His wonder strike versus Chelsea is also nominated for Carling Goal of the Month.
Minutes Played: 359 | Goals: 4 | Assists: 1 | Total Shots: 19 | Total Accuracy: 71%
?? Chris Wood (BUR)
Wood was involved in five of his side's seven goals in the month as Burnley ensured a fourth successive season of Premier League football at Turf Moor.
Minutes Played: 342 | Goals: 3 | Assists: 2 | Total Shots: 10 | Total Accuracy: 65%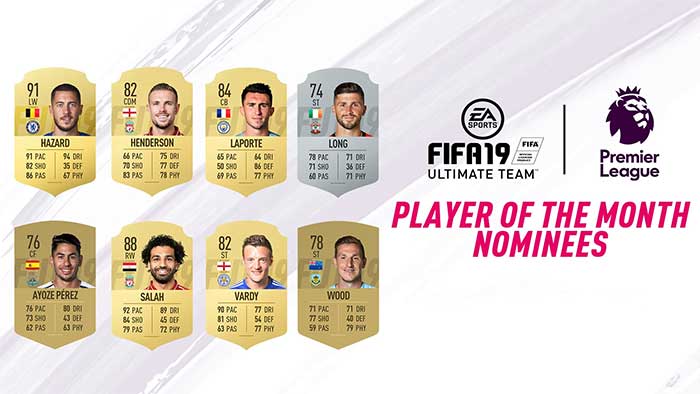 OUR COMMUNITY VOTE RESULTS
1 Mohamed Salah (37%)
2 Jamie Vardy (29%)
3 Ayoze Pérez (18%)
4 Other (16%)
FIFA 19 SQUAD BUILDING CHALLENGE


Available from 07/05/2019 to 21/05/2019
REQUIREMENTS AND REWARDS


VARDY SBC VARDY (LOAN)
FIFA 19 Premier League Player of the Month – March
Premier League POTM of March


EARLY PREDICTIONS
??????? Jamie Vardy ⚽⚽⚽⚽?️
?? Roberto Firmino ⚽⚽⚽?️
??????? Raheem Sterling ⚽⚽⚽
?? Sadio Mané ⚽⚽⚽
VOTES
? 05/04/2019 to 08/04/2019
WINNER
? The winner was announced on April 12
?? Sadio Mane (LIV)
The Senegalese winger continued his fine goalscoring form, netting twice against Burnley as well as the opener at Fulham to put himself in the race for the Golden Boot on 17 goals.
Minutes Played: 354 | Goals: 3 | Assists: 0 | Total Shots: 9 | Passing Accuracy: 81%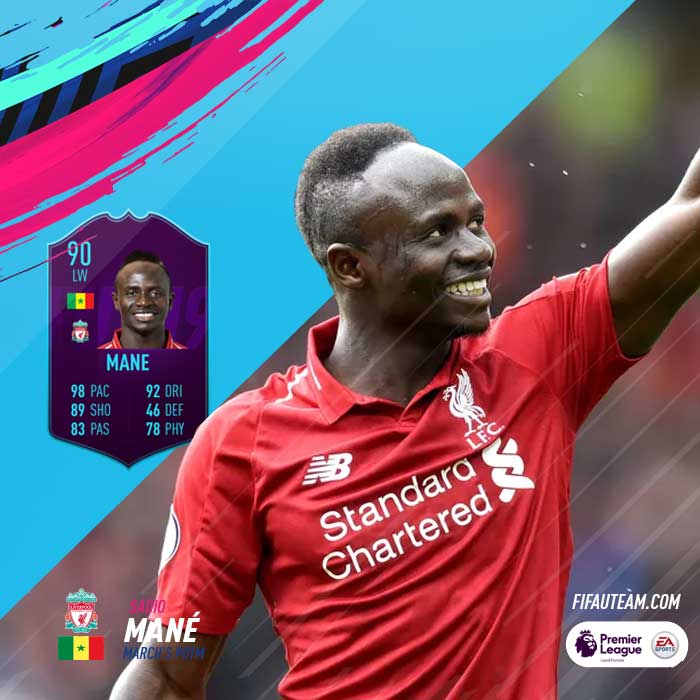 OTHER NOMINEES
?? Seamus Coleman (EVE)
Everton did not concede in the three matches Coleman played in March, including shutouts against Liverpool and Chelsea, and the right-back provided an assist for Bernard in the 2-0 win at West Ham United.
Minutes Played: 270 | Tackles: 3 | Assists: 1 | Clean Sheets: 3 | Passing Accuracy: 77%
??????? Andrew Robertson (LIV)
One of Liverpool's most consistent performers, Robertson continued to impress at both ends, providing his ninth assist of the season for Roberto Firmino against Tottenham Hotspur.
Minutes Played: 360 | Tackles: 6 | Assists: 1 | Clean Sheets: 1 | Passing Accuracy: 81%
?? Bernardo Silva (MCI)
The Portuguese played every minute in the Premier League for City in March, helping them to a perfect month while providing a goal and an assist in the 2-0 win over Fulham.
Minutes Played: 270 | Goals: 1 | Assists: 1 | Total Shots: 7 | Passing Accuracy: 88%
??????? Jamie Vardy (LEI)
Vardy was revitalised under Brendan Rodgers, continuing his habit of scoring the first goal of the new Leicester City manager's reign, before netting three more in the month and adding an assist.
Minutes Played: 352 | Goals: 4 | Assists: 1 | Total Shots: 11 | Passing Accuracy: 75%
??????? James Ward-Prowse (SOU)
Ward-Prowse continued to be the lynchpin of the Ralph Hasenhuttl-led revival, scoring two brilliant free-kicks and providing unrivalled energy to the Southampton team in midfield.
Minutes Played: 270 | Goals: 2 | Assists: 0 | Total Shots: 3 | Passing Accuracy: 78%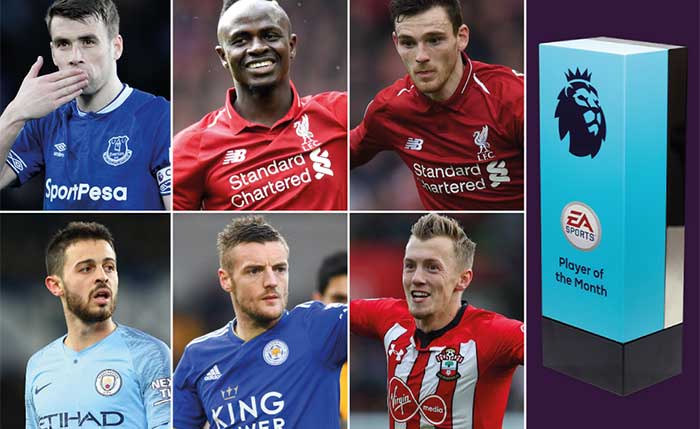 OUR COMMUNITY VOTE RESULTS
1 – (–%)
2 – (–%)
3 – (–%)
4 – (–%)
FIFA 19 SQUAD BUILDING CHALLENGE


Available from 12/04/2019 to 27/04/2019
REQUIREMENTS AND REWARDS


MANÉ SBC MANÉ SBC (LOAN)
FIFA 19 Premier League Player of the Month – February
Premier League POTM of February
EARLY PREDICTIONS
?? Sergio Agüero ⚽⚽⚽⚽⚽⚽
?? Paul Pogba ⚽⚽?️
??????? Raheem Sterling ⚽⚽?️
?? Wilfried Zaha ⚽⚽⚽?️
?? Ashley Barnes ⚽⚽⚽?️
?? Heung Min Son ⚽⚽
?? Gerard Deulofeu ⚽⚽⚽?️
VOTES
? 01/03/2019 to 04/03/2019
WINNER
? The winner was announced on March 08
?? Sergio Aguero (MCI)
The Argentinian scored hat-tricks in successive home matches against Arsenal and Chelsea before converting the decisive penalty in Manchester City's 1-0 home win over West Ham United.
Minutes Played: 311 | Goals: 7 | Total Shots: 15 | Chances Created: 2 | Passing Accuracy: 87%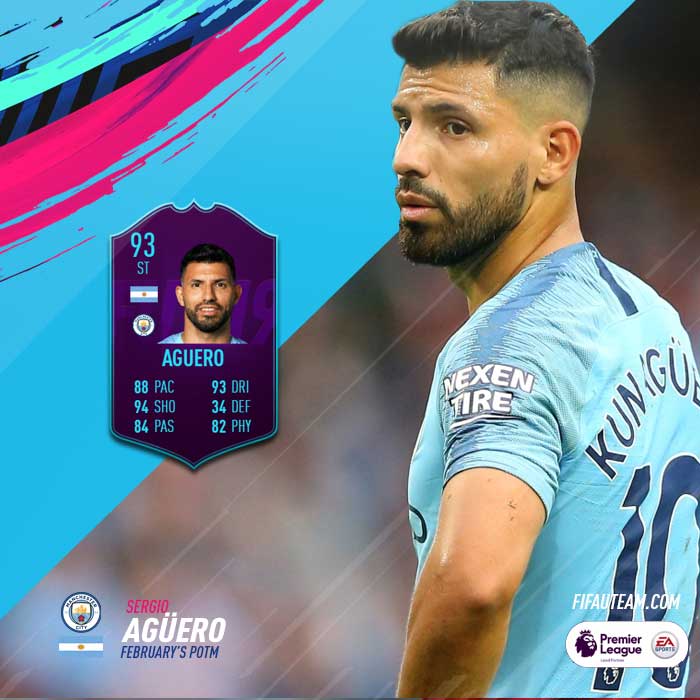 OTHER NOMINEES
?? Ashley Barnes (BUR)
The Burnley forward struck in three consecutive fixtures, including a stoppage-time equaliser against Southampton and an 83rd-minute winner against Tottenham Hotspur. In the 3-1 victory at Brighton & Hove Albion, Barnes scored one goal and set up another.
Minutes Played: 341 | Goals: 3 | Total Shots: 14 | Assists: 1 | Passing Accuracy: 53%
??????? Sean Longstaff (NEW)
The 21-year-old Academy graduate started all four of Newcastle United's matches, helping his side claim back-to-back victories over Huddersfield Town and Burnley, the latter match featuring the midfielder's first Premier League goal.
Minutes Played: 355 | Goals: 1 | Total Shots: 5 | Chances Created: 4 | Passing Accuracy: 83%
?? Sadio Mane (LIV)
The Liverpool forward scored four goals in four matches, including a double in a 5-0 home win over Watford, as the leaders maintained their title bid.
Minutes Played: 345 | Goals: 4 | Total Shots: 9 | Chances Created: 1 | Passing Accuracy: 76%
??????? Luke Shaw (MUN)
The left-back helped Ole Gunnar Solskjaer's side to three clean sheets in their four matches, and provided an assist for the opening goal in the 3-1 win at Crystal Palace.
Minutes Played: 360 | Assists: 1 | Passing Acc: 80% | Clearances: 13 | Clean Sheets: 3
?? Paul Pogba (MUN)
The left-back helped Ole Gunnar Solskjaer's side to three clean sheets in their four matches, and provided an assist for the opening goal in the 3-1 win at Crystal Palace.
Minutes Played: 344 | Goals: 2 | Assists: 2 | Chances Created: 6 | Passing Accuracy: 81%
?? Virgil van Dijk (LIV)
Liverpool only conceded one goal in February, thanks to their commanding centre-back, who also made an impact at the other end with two goals against Watford.
Minutes Played: 360 | Goals: 2 | Passing Acc: 89% | Clearances: 23 | Clean Sheets: 3
?? Wilfried Zaha (CRY)
The Palace forward scored three goals in three matches, with two coming in a 4-1 win at Leicester that helped to move Palace away from the relegation zone.
Minutes Played: 270 | Goals: 3 | Assists: 0 | Chances Created: 4 | Passing Accuracy: 78%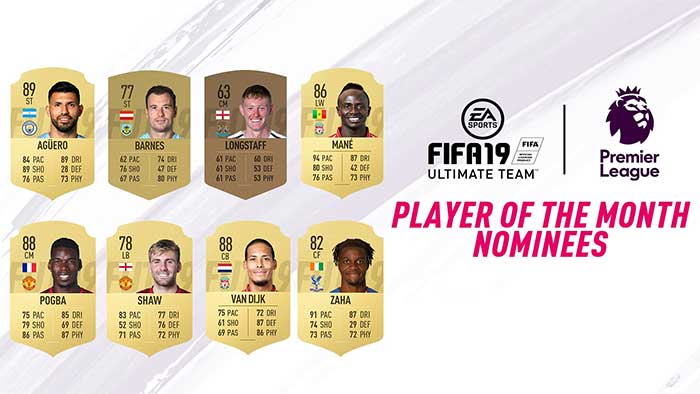 OUR COMMUNITY VOTE RESULTS
1 Sergio Agüero (56%)
2 Sadio Mane (14%)
3 Wilfried Zaha (7%)
4 Other (23%)
FIFA 19 SQUAD BUILDING CHALLENGE


Available from 08/03/2019 to 22/03/2019
REQUIREMENTS AND REWARDS


AGUERO SBC AGUERO SBC (LOAN)
FIFA 19 Premier League Player of the Month – January
Premier League POTM of January


EARLY PREDICTIONS
??????? Marcus Rashford ⚽⚽⚽
?? Leroy Sané ⚽⚽?️?️
?? Diogo Jota ⚽⚽⚽?️
?? Paul Pogba ⚽⚽?️
??????? James Ward-Prowse ⚽⚽⚽
?? Alexandre Lacazette ⚽⚽⚽
?? Mohamed Salah ⚽⚽⚽
VOTES
? 01/02/2019 to 04/02/2019
WINNER
? The winner was announced on February 08
??????? Marcus Rashford (MUN)
The young forward's strong form continued under his new caretaker manager as he scored three times, including the winners against Tottenham Hotspur and Brighton & Hove Albion.
Minutes Played: 356 | Goals: 3 | Assists: 0 | Total Shots: 21 | Passing Acc: 86%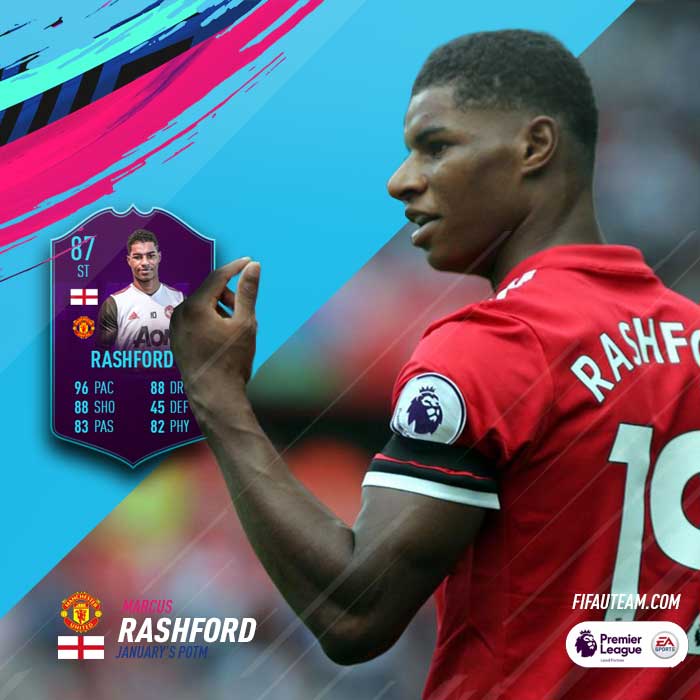 OTHER NOMINEES
??????? Tom Heaton (BUR)
The goalkeeper's return to Burnley's starting XI has inspired an improvement in form for the Clarets. A clean sheet at Watford, combined with heroics at Man Utd, helped to keep his team unbeaten in January.
Minutes Played: 360 | Passes: 124 | Passing Acc: 43% | Saves: 13 | Clean Sheets: 1
?? Joshua King (BOU)
The Cherries forward has been a livewire, his energy posing problems for defenders all month, and he has scored three times while creating eight chances.
Minutes Played: 360 | Goals: 3 | Assists: 1 | Total Shots: 14 | Passing Acc: 77%
?? Alexandre Lacazette (ARS)
The Arsenal forward has scored three times, including a fierce strike against Chelsea and the winner against Cardiff City.
Minutes Played: 323 | Goals: 3 | Assists: 0 | Total Shots: 13 | Passing Acc: 71%
?? Victor Lindelof (MUN)
Brought back into the Man Utd defence by Ole Gunnar Solskjaer, the Swede has been putting in his best defensive displays in a United shirt as well as scoring a vital late equaliser against Burnley.
Minutes Played: 360 | Goals: 1 | Tackle: 1 | Clean Sheets: 2 | Passing Acc: 89%
??????? James Ward-Prowse (SOU)
Restored to the starting line-up by Ralph Hasenhuttl, the English midfielder scored in three successive matches and was at the centre of Saints' unbeaten month.
Minutes Played: 360 | Goals: 3 | Assists: 0 | Total Shots: 7 | Passing Acc: 76%
OUR COMMUNITY VOTE RESULTS
1 Marcus Rashford (52%)
2 Alexandre Lacazette (25%)
3 Victor Lindelof (12%)
4 Other (11%)
FIFA 19 SQUAD BUILDING CHALLENGE


Available from 08/02/2019 to 22/02/2019
REQUIREMENTS AND REWARDS


RASHFORD SBC RASHFORD SBC (LOAN)
FIFA 19 Premier League Player of the Month – December
Premier League POTM of December


EARLY PREDICTIONS
?? Mohamed Salah ⚽⚽⚽⚽⚽⚽?️?️?️?️
?? Heung Min Son ⚽⚽⚽⚽⚽⚽?️?️?️
??????? Harry Kane ⚽⚽⚽⚽⚽⚽?️?️
??????? Marcus Rashford ⚽⚽⚽?️?️?️?️?️
?? Eden Hazard ⚽⚽⚽?️?️?️?️?️
?? Paul Pogba ⚽⚽⚽⚽?️?️?️
??????? Jesse Lingard ⚽⚽⚽⚽?️?️
VOTES
? 04/01/2019 to 07/01/2019
WINNER
? The winner was announced on January 11
?? Virgil van Dijk (LIV)
The heart of a Liverpool defence who conceded only three goals, Van Dijk also made the late winner v Everton and scored v Wolverhampton Wanderers.
Minutes Played: 630 | Goals: 1 | Assists: 1 | Clearances: 26 | Clean Sheets: 4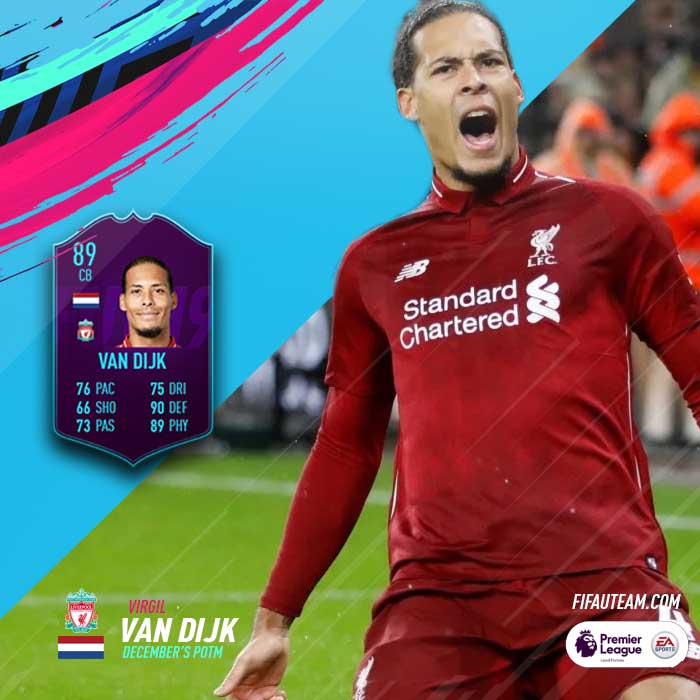 OTHER NOMINEES
?? Felipe Anderson (WHU)
Nominated for a second successive month, the Brazilian was at the heart of West Ham United's best-ever month in the PL, scoring four times and creating 13 chances as they won 15 points.
Minutes Played: 624 | Goals: 4 | Assists: 1 | Chances Created: 13 | Total Shots: 17
?? Eden Hazard (CHE)
The Belgian was directly involved in eight of the 10 goals Chelsea scored in December, scoring three and assisting five more.
Minutes Played: 622 | Goals: 3 | Assists: 5 | Chances Created: 19 | Total Shots: 19
??????? Harry Kane (TOT)
Kane was lethal in front of goal in December, scoring six times from only nine shots on target, while also creating two more goals for Tottenham.
Minutes Played: 543 | Goals: 6 | Assists: 2 | Chances Created: 5 | Total Shots: 19
??????? Marcus Rashford (MUN)
Consistent all month for Manchester United in different roles up front, Rashford claimed three goals while also providing five assists.
Minutes Played: 580 | Goals: 3 | Assists: 5 | Chances Created: 14 | Total Shots: 21
?? Mohamed Salah (LIV)
The month's top goal provider, scoring or assisting 10 in total, Salah helped Liverpool to seven wins in December.
Minutes Played: 550 | Goals: 6 | Assists: 4 | Chances Created: 19 | Total Shots: 18
?? Son Heung-min (TOT)
No player scored more than Son's six goals last month, creating three more for team-mates as Spurs claimed five wins.
Minutes Played: 515 | Goals: 6 | Assists: 3 | Chances Created: 10 | Total Shots: 21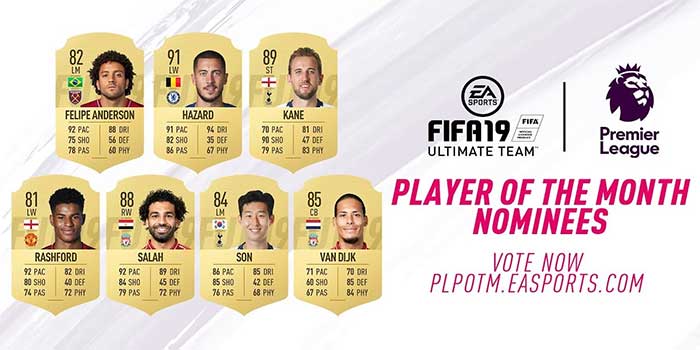 OUR COMMUNITY VOTE RESULTS
1 Virgil van Dijk (35%)
2 Mohamed Salah (29%)
3 Heung Min Son (27%)
4 Other (9%)
FIFA 19 SQUAD BUILDING CHALLENGE


Available from 11/01/2019 to 25/01/2019
REQUIREMENTS AND REWARDS


VAN DIJK SBC VAN DIJK SBC (LOAN)
FIFA 19 Premier League Player of the Month – November
Premier League POTM of November


EARLY PREDICTIONS
??????? Raheem Sterling ⚽⚽⚽?️?️?️
?? Leroy Sané ⚽⚽⚽?️?️
?? Sergio Aguero ⚽⚽?️?️
?? Felipe Anderson ⚽⚽⚽
?? David Silva ⚽⚽⚽
?? Aaron Mooy ⚽⚽
VOTES
? 04/12/2018 to 06/12/2018
WINNER
? The winner was announced on December 12
??????? Raheem Sterling (MCI)
As well as scoring three goals, the winger provided three more for his team-mates as he ran opposing defenders ragged.
Minutes Played: 254 | Goals: 3 | Assists: 3 | Chances Created: 7 | Passing Accuracy: 81%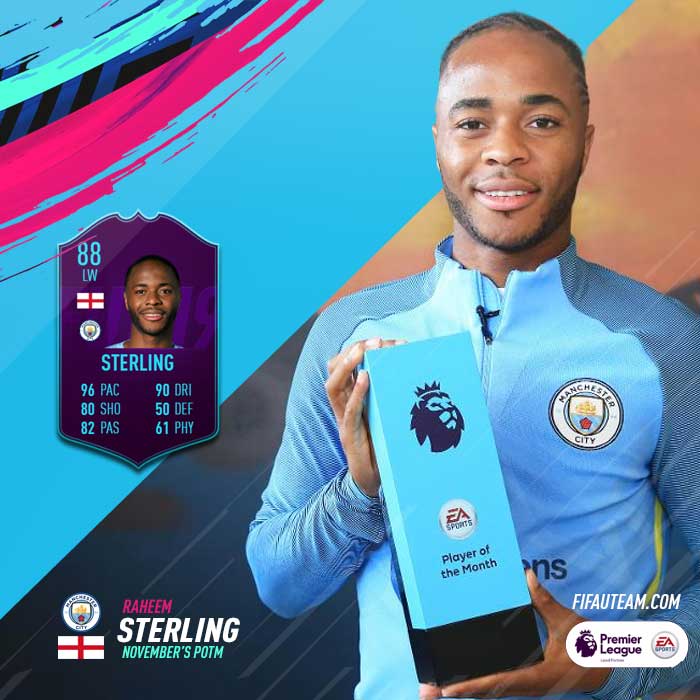 OTHER NOMINEES
?? Felipe Anderson (WHU)
The 25-year-old Brazilian starred for West Ham United, scoring three goals to earn the Hammers four important points.
Minutes Played: 248 | Goals: 3 | Assists: 0 | Chances Created: 2 | Passing Accuracy: 74%
?? Lucas Digne (EVE)
The Everton left-back has excelled in defence and attack, contributing to two clean sheets and creating eight chances.
Minutes Played: 270 | Clearances: 6 | Tackles: 9 | Chances Created: 8 | Passing Accuracy: 84%
??????? Andrew Robertson (LIV)
The marauding Liverpool left-back provided an assist and was part of a Liverpool defence who conceded only one goal.
Minutes Played: 270 | Assist: 1 | Tackles: 4 | Clearances: 4 | Passing Accuracy: 85%
?? Leroy Sane (MCI)
The Man City winger returned to the starting XI and contributed five goals, scoring three and providing two assists.
Minutes Played: 208 | Goals: 3 | Assists: 2 | Chances Created: 6 | Passing Accuracy: 86%
?? David Silva (MCI)
The Spaniard continued to be at the heart of Man City's midfield in a dominant moment for Pep Guardiola's side, scoring three goals and creating three chances.
Minutes Played: 251 | Goals: 3 | Assists: 0 | Chances Created: 3 | Passing Accuracy: 93%
?? Moussa Sissoko (TOT)
Ever-present in Tottenham Hotspur's three-match winning run, the Frenchman excelled in a central-midfield role.
Minutes Played: 270 | Goals: 0 | Tackles: 6 | Chances Created: 3 | Passing Accuracy: 87%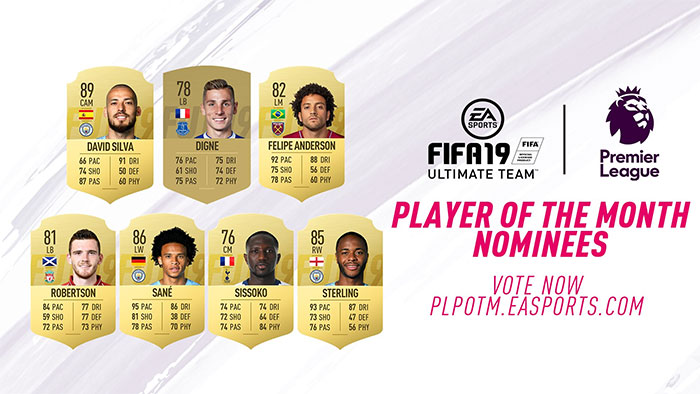 OUR COMMUNITY VOTE RESULTS
1 Raheem Sterling (36%)
2 Leroy Sane (22%)
3 Felipe Anderson (20%)
4 Other (22%)
FIFA 19 SQUAD BUILDING CHALLENGE


Available from 12/12/2018 to 26/12/2018
REQUIREMENTS AND REWARDS


STERLING SBC STERLING SBC (LOAN)
FIFA 19 Premier League Player of the Month – October
Premier League POTM of October


EARLY PREDICTIONS
?? Pierre-Emerick Aubameyang ⚽⚽⚽⚽⚽?️
??????? Ross Barkley ⚽⚽⚽?️?️?️
?? Anthony Martial ⚽⚽⚽⚽
??????? Callum Wilson ⚽⚽⚽?️?️
?? Héctor Bellerín ?️?️?️
VOTES
? 02/11/2018 to 05/11/2018
WINNER
? The winner was announced on November 09
?? Pierre-Emerick Aubameyang (ARS)
The month's top scorer with five goals, despite only one start, the Gabonese has had a big impact off the bench for Unai Emery.
Minutes Played: 135 | Goals: 5 | Assists: 1 | Chances Created: 1 | Passing Accuracy: 79%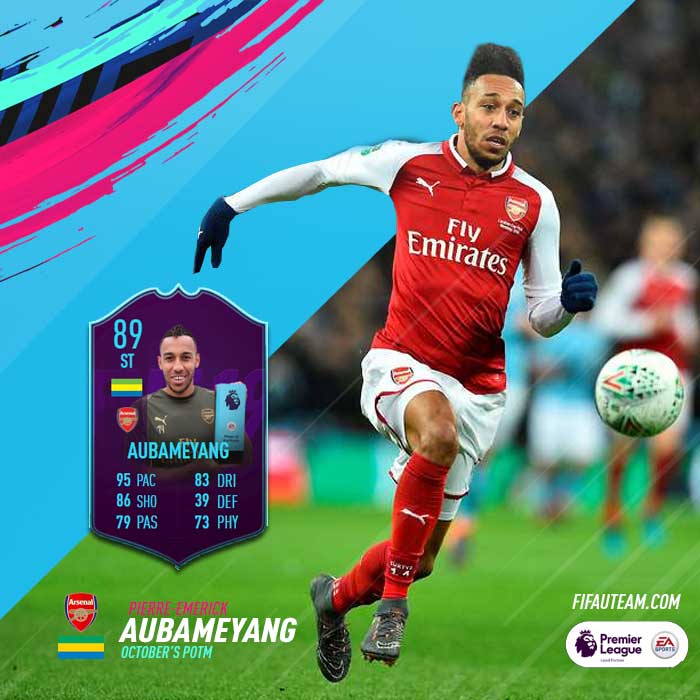 OTHER NOMINEES
??????? Ross Barkley (CHE)
Forcing his way into Maurizio Sarri's first team, no player was involved in more goals than Barkley's six in October.
Minutes Played: 192 | Goals: 3 | Assists: 3 | Chances Created: 5 | Passing Accuracy: 94%
?? Fernandinho (MCI)
No midfielder won more combined interceptions and tackles than the Brazilian's 17, with a goal and assist to add.
Minutes Played: 270 | Goals: 1 | Assists: 1 | Chances Created: 1 | Passing Accuracy: 85%
?? Anthony Martial (MUN)
The French forward has struck vital goals for United, including two at Chelsea and the winner against Everton.
Minutes Played: 264 | Goals: 4 | Assists: 0 | Chances Created: 7 | Passing Accuracy: 82%
?? Mathew Ryan (BHA)
The Australian made 17 saves last month to keep three clean sheets that earned three victories for the Seagulls.
Minutes Played: 270 | Saves: 17 | Clean Sheets: 3 | Clearances: 4 | Passing Accuracy: 40%
??????? Callum Wilson (BOU)
The forward is in a rich vein of form, scoring three times and assisting a further two goals as the Cherries claimed three wins.
Minutes Played: 360 | Goals: 3 | Assists: 2 | Chances Created: 7 | Passing Accuracy: 64%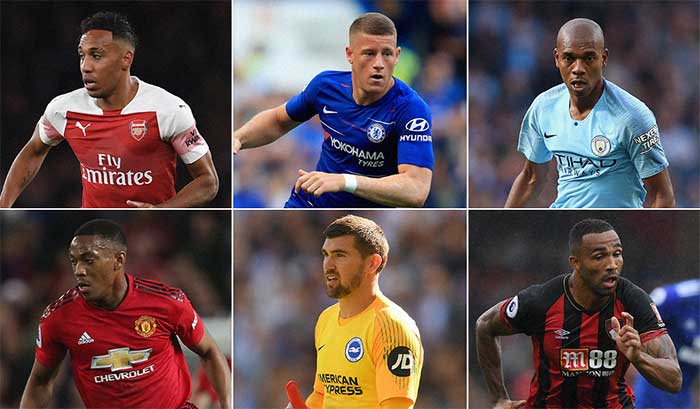 OUR COMMUNITY VOTE RESULTS
1 Pierre-Emerick Aubameyang (49%)
2 Ross Barkley (26%)
3 Anthony Martial (19%)
4 Others (06%)
FIFA 19 SQUAD BUILDING CHALLENGE


Available from 09/11/2018 to 23/11/2018
REQUIREMENTS AND REWARDS


AUBAMEYANG SBC AUBAMEYANG SBC (LOAN)
FIFA 19 Premier League Player of the Month – September
Premier League POTM of September


EARLY PREDICTIONS
?? Eden Hazard ⚽⚽⚽⚽⚽
??????? Raheem Sterling ⚽⚽⚽?️?️
?? Gylfi Sigurðsson ⚽⚽⚽
?? Alexandre Lacazette ⚽⚽?️?️
VOTES
? 05/10/2018 to 08/10/2018
WINNER
? The winner was announced on October 12
?? Eden Hazard (CHE)
The Belgian scored five goals, including a hat-trick against Cardiff City, as Chelsea maintained their unbeaten start to the season.
Minutes Played: 354 | Goals: 5 | Assists: 0 | Chances Created: 10 | Passing Accuracy: 85%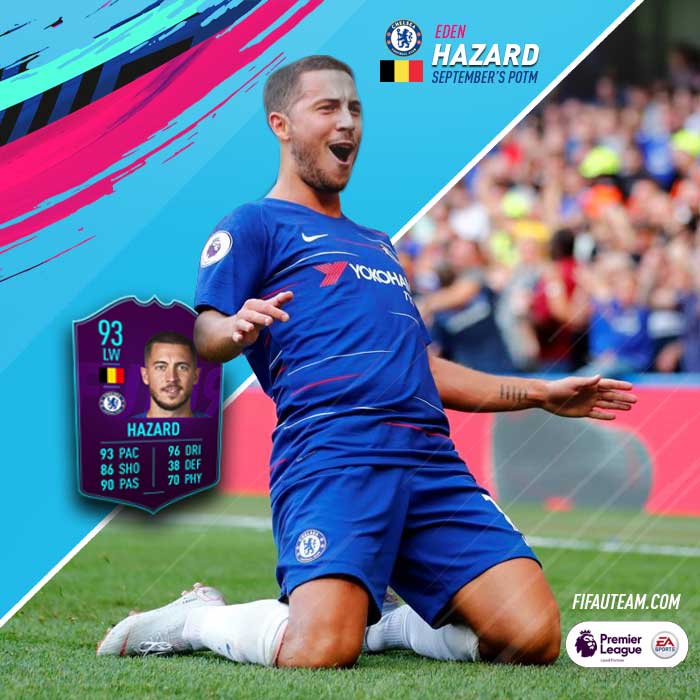 OTHER NOMINEES
?? Willy Boly (WOL)
The centre-back helped Wolverhampton Wanderers keep clean sheets in three of their four matches and remain unbeaten throughout September.
Minutes Played: 360 | Tackles: 5 | Interceptions: 10 | Clearances: 20 | Passing Accuracy: 83%
?? Alexandre Lacazette (ARS)
The French striker contributed two goals and two assists as Arsenal won all four of their fixtures last month.
Minutes Played: 360 | Goals: 2 | Assists: 2 | Chances Created: 6 | Passing Accuracy: 71%
??????? James Maddison (LEI)
Leicester City's summer signing provided a goal or an assist in all four of his matches, ending the month with two of each. He was rewarded with a call-up to the England squad this week.
Minutes Played: 343 | Goals: 2 | Assists: 2 | Chances Created: 13 | Passing Accuracy: 85%
?? Gylfi Sigurdsson (EVE)
The Icelander hit form scoring three goals, with two of them coming in a 3-0 home win over Fulham.
Minutes Played: 345 | Goals: 3 | Assists: 0 | Chances Created: 11 | Passing Accuracy: 77%
??????? Raheem Sterling (MCI)
The 23-year-old winger struck three times and laid on another two goals for his team-mates as Manchester City won all of their matches.
Minutes Played: 344 | Goals: 3 | Clean Sheets: 2 | Clearances: 12 | Passing Accuracy: 91%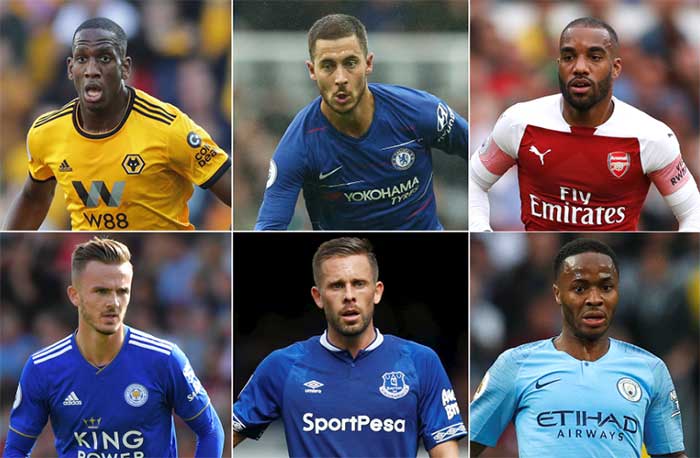 OUR COMMUNITY VOTE RESULTS
1 Eden Hazard (85%)
2 Raheem Sterling (05%)
3 Gylfi Sigurðsson (04%)
4 Other (06%)
FIFA 19 SQUAD BUILDING CHALLENGE


Available from 12/10/2018 to 09/11/2018
REQUIREMENTS AND REWARDS


HAZARD SBC HAZARD SBC (LOAN)
FIFA 19 Premier League Player of the Month – August
Premier League POTM of August


VOTES
? 31/08/2018 to 03/09/2018
WINNER
? The winner was announced on September 07
?? Lucas Moura (TOT)
The Brazilian has contributed three goals in a new central position for Spurs, including a double in a famous 3-0 win at Old Trafford.
Minutes Played: 248 | Goals: 3 | Assists: 0 | Total Shots: 5 | Passing Accuracy: 70%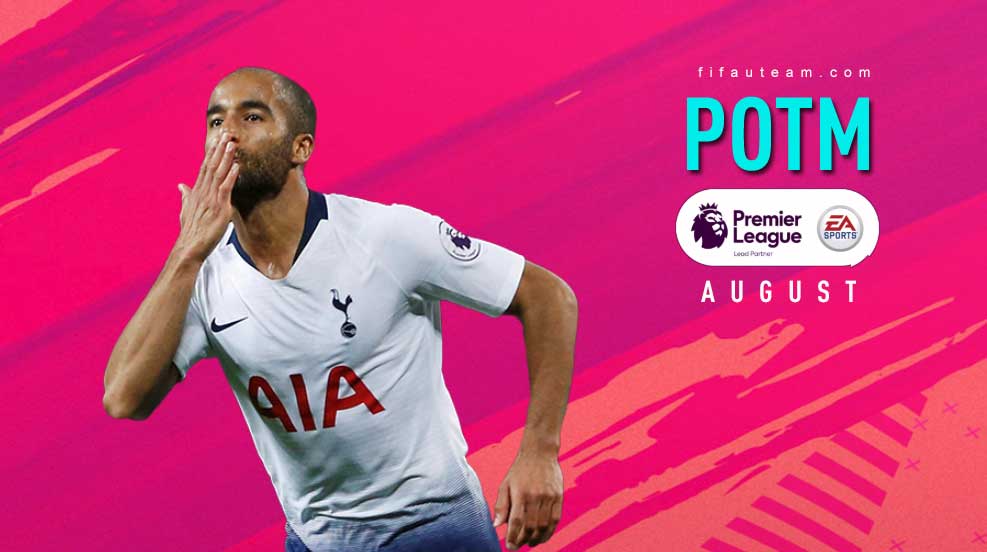 OTHER NOMINEES
?? Marcos Alonso (CHE)
The marauding Chelsea left-back has thrived under Maurizio Sarri, scoring once, providing an assist and earning a penalty.
Minutes Played: 270 | Goals: 1 | Assists: 1 | Clean Sheet: 1 | Passing Accuracy: 89%
?? Neil Etheridge (CAR)
The first Filipino to play in the Premier League, the Cardiff City goalkeeper stopped two penalties in his first two matches, while making nine saves in total.
Minutes Played: 270 | Saves: 9 | Clearances: 3 | Clean Sheets: 2 | Passing Accuracy: 32%
?? Sadio Mane (LIV)
The Liverpool forward has stepped up his goal contribution this season, scoring three times in the Reds' winning start to the campaign.
Minutes Played: 252 | Goals: 3 | Assists: 0 | Total Shots: 8 | Passing Accuracy: 77%
?? Benjamin Mendy (MCI)
The left-back has brought a new dimension to the champions' game with his runs down the left. No player has provided as many as his three assists.
Minutes Played: 270 | Clean Sheet: 1 | Assists: 3 | Clearances: 4 | Passing Accuracy: 86%
?? Roberto Pereyra (WAT)
Three goals of great quality from the Argentinian have helped Watford to win their opening three PL matches for the first time.
Minutes Played: 267 | Goals: 3 | Assists: 0 | Total Shots: 8 | Passing Accuracy: 79%
?? Virgil van Dijk (LIV)
The Dutchman has been authoritative at the back. With his help, Liverpool are yet to concede a goal.
Minutes Played: 270 | Goals: 0 | Clean Sheets: 3 | Clearances: 11 | Passing Accuracy: 94%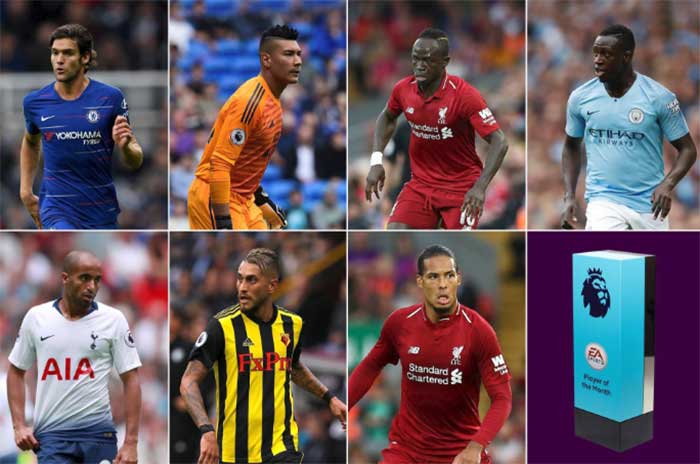 OUR COMMUNITY VOTE RESULTS
1 Lucas Moura (37%)
2 Sadio Mane (29%)
3 Roberto Pereyra (20%)
4 Other (14%)
FIFA 19 SQUAD BUILDING CHALLENGE


Available from 28/09/2018 to 12/10/2018
REQUIREMENTS AND REWARDS


LUCAS SBC LUCAS SBC (LOAN)