The FIFA 19 Premier League Team of the Season was officialy announced. Check out the TOTS from the English main division, which includes players like Bernardo Silva, Van Dijk and Aguero.
FIFA 19 Premier League Team of the Season
This TOTS joins the players that played better the whole season in the Premier League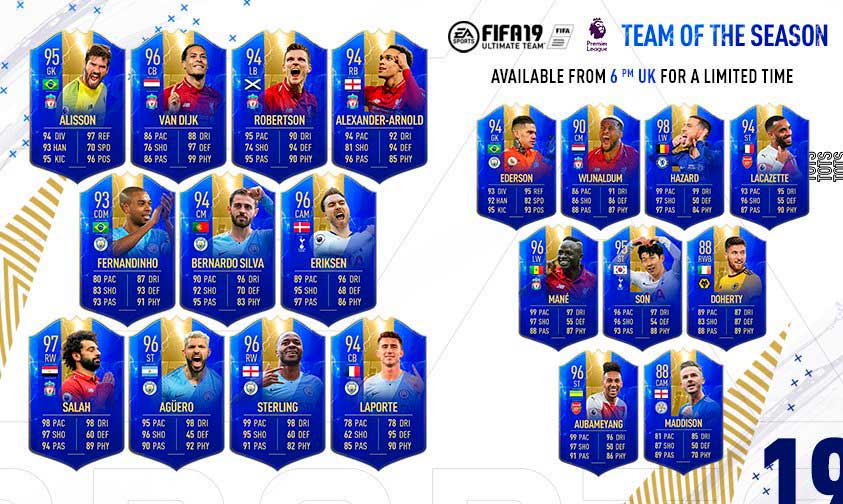 From the solid Liverpool centre back (and Player of the Year) Virgil Van Dijk to Manchester City's creative catalyst Bernardo Silva, the Premier League's TOTS is stacked with world-class players. Upgrade your FUT squad with as many of these player items as possible, as they will only be found in packs for a limited time (one week).
Don't forget the EPL items you can get exclusively via weekly objectives and via SBC.
The Squad
STARTING ELEVEN
95 ?? GK: Alisson (Liverpool) PACKS
96 ?? CB: Virgil van Dijk (Liverpool) PACKS
94 ?? CB: Aymeric Laporte (Manchester City) PACKS
94 ??????? RB: Trent Alexander-Arnold (Liverpool) PACKS
94 ??????? LB: Andrew Robertson (Liverpool) PACKS
93 ?? CDM: Fernandinho (Manchester City) PACKS
94 ?? CM: Bernardo Silva (Manchester City) PACKS
96 ?? CAM: Christian Eriksen PACKS
97 ?? RW: Mohamed Salah (Liverpool) PACKS
96 ??????? RW: Raheem Sterling (Manchester City) PACKS
96 ?? ST: Sergio Agüero (Manchester City) PACKS

SUBSTITUTES
94 ?? GK: Ederson (Manchester City) PACKS
90 ?? CM: Georginio Wijnaldum (Liverpool) PACKS
96 ?? LW: Sadio Mané (Liverpool) PACKS
98 ?? LW: Eden Hazard (Chelsea) PACKS
94 ?? ST: Alexandre Lacazette (Arsenal) PACKS
96 ?? ST: Pierre-Emerick Aubameyang (Arsenal) PACKS

RESERVES
90 ??????? LM: Ryan Fraser (Bournemouth) SBC
88 ?? CDM: Declan Rice (West Ham United) OBJECTIVES
88 ?? LB: Lucas Digne, Everton OBJECTIVES
88 ?? RWB: Matt Doherty (Wolverhampton Wanderers) PACKS
88 ??????? CAM: James Maddison (Leicester City) PACKS
95 ?? ST: Heung Min Son (Tottenham Hotspur) PACKS
Release Times
? START
18/05/2019 (Sat) 03:00pm ?? AEST (UCT +10)
18/05/2019 (Sat) 02:00am ?? JST (UCT +9)
17/05/2019 (Fri) 06:00pm ?? BST (UCT +1)
17/05/2019 (Fri) 02:00pm ?? BRT (UCT -3)
17/05/2019 (Fri) 01:00pm ?? EDT (UCT -4)
17/05/2019 (Fri) 01:00pm ?? EDT (UCT -4)
17/05/2019 (Fri) 10:00am ?? PDT (UCT -7)

? END
25/05/2019 (Sat) 03:00pm ?? AEST (UCT +10)
25/05/2019 (Sat) 02:00am ?? JST (UCT +9)
24/05/2019 (Fri) 06:00pm ?? BST (UCT +1)
24/05/2019 (Fri) 02:00pm ?? BRT (UCT -3)
24/05/2019 (Fri) 01:00pm ?? EDT (UCT -4)
24/05/2019 (Fri) 01:00pm ?? EDT (UCT -4)
24/05/2019 (Fri) 10:00am ?? PDT (UCT -7)