Who are the best FIFA 19 Serie A defenders? Let's find out good right-backs, left-backs and centre-backs to your team!

POSITIONS GK CB RB LB CDM CM CAM RM RW LM LW CF ST TEAMS






The Best FIFA 19 Serie A Centre-Backs
CB

A goalkeeper task is made easier if in front of him are quality central backs. Their function is to stop the opponent from getting dangerously close to your team's goal.
Chiellini is still the highest rated centre back playing in Italy.
HIGHEST RATED CENTRE BACKS

Giorgio Chiellini
89
Juventus
ITA
Kalidou Koulibaly
87
Napoli
SEN
Leonardo Bonucci
86
Juventus
ITA
Medhi Benatia
86
Juventus
MOR
Milan Škriniar
85
Inter
SVK
Kostas Manolas
85
Roma
GRE
Miranda
85
Inter
BRA
Stefan de Vrij
84
Inter
NED
Raúl Albiol
84
Napoli
ESP
Andrea Barzagli
84
Juventus
ITA
Daniele Rugani
82
Juventus
ITA
Alessio Romagnoli
82
Milan
ITA
Francesco Acerbi
82
Lazio
ITA
Federico Fazio
82
Roma
ARG
Marcano
82
Roma
ESP
Mattia Caldara
80
Milan
ITA
Nicolas Nkoulou
80
Torino
CAM
Mateo Musacchio
80
Milan
ARG
Ştefan Radu
80
Lazio
ROM
Germán Pezzella
79
Fiorentina
ARG
On a centre back, two attributes assume particular importance on their performance: defending and physical, which represents strength, stamina, aggression and jumping.
A player with good at defending will have an easier chance of dispossessing the opponent and avoid him reaching your box.
It's the case of Chiellini and Barzagli. It's really hard to get past them.
CENTRE BACKS WITH BEST DEFENDING

Giorgio Chiellini
Juventus
ITA
91
Andrea Barzagli
Juventus
ITA
89
Kalidou Koulibaly
Napoli
SEN
88
Miranda
Inter
BRA
88
Leonardo Bonucci
Juventus
ITA
87
Medhi Benatia
Juventus
MOR
87
Milan Škriniar
Inter
SVK
87
Kostas Manolas
Roma
GRE
86
Stefan de Vrij
Inter
NED
86
Raúl Albiol
Napoli
ESP
86
Daniele Rugani
Juventus
ITA
85
Francesco Acerbi
Lazio
ITA
85
Federico Fazio
Roma
ARG
85
Alessio Romagnoli
Milan
ITA
84
Ştefan Radu
Lazio
ROM
84
Marcano
Roma
ESP
83
Mattia Caldara
Milan
ITA
83
Mateo Musacchio
Milan
ARG
83
Cristian Zapata
Milan
COL
82
Andrea Masiello
Atalanta
ITA
81
The physical attribute shows the old heading capability but also how likely the players are to win game with their body. This is a crucial attribute when looking for the best centre back.
In this chapter, Koulibaly is who stand out.
CENTRE BACKS WITH BEST PHYSICAL

Kalidou Koulibaly
Napoli
SEN
86
Medhi Benatia
Juventus
MOR
85
Federico Fazio
Roma
ARG
83
Omar Colley
Sampdoria
GAM
83
Giorgio Chiellini
Juventus
ITA
82
Milan Škriniar
Inter
SVK
82
Kostas Manolas
Roma
GRE
82
Juan Jesus
Roma
BRA
82
Sebastian De Maio
Bologna
FRA
81
Leonardo Bonucci
Juventus
ITA
80
Francesco Acerbi
Lazio
ITA
80
Alessio Romagnoli
Milan
ITA
79
Marcano
Roma
ESP
79
Nikola Maksimović
Napoli
SRB
79
Cristian Zapata
Milan
COL
77
Filip Helander
Bologna
SWE
77
Miranda
Inter
BRA
76
Stefan de Vrij
Inter
NED
76
Bastos
Lazio
ANG
76
José Luis Palomino
Atalanta
ARG
76
Defending and heading may be useless against fast opponents. It's necessary to fight fire with fire. No one likes feeling impotent when seeing you get overrun by extremely fast players. Even though, in a way, centre backs aren't that fast, every team needs one of these players with a high pace attribute.
Manolas is clearly the fastest centre back playing in the Serie A.
CENTRE BACKS WITH HIGHEST PACE

Kostas Manolas
Roma
GRE
83
Juan Jesus
Roma
BRA
77
Martín Cáceres
Lazio
URU
76
Bastos
Lazio
ANG
75
Kalidou Koulibaly
Napoli
SEN
72
Milan Škriniar
Inter
SVK
72
Medhi Benatia
Juventus
MOR
70
Mateo Musacchio
Milan
ARG
70
Lorenzo Tonelli
Sampdoria
ITA
70
Omar Colley
Sampdoria
GAM
70
Giorgio Chiellini
Juventus
ITA
69
Ştefan Radu
Lazio
ROM
69
Nicolas Nkoulou
Torino
CAM
69
Miranda
Inter
BRA
68
Stefan de Vrij
Inter
NED
68
Andrea Barzagli
Juventus
ITA
68
Marcano
Roma
ESP
68
Giancarlo González
Bologna
COS
68
Vitor Hugo
Fiorentina
BRA
68
Wallace
Lazio
BRA
68
Giorgio Chiellini is our first choice for this position. He is the one with the best defending stats. The Juventus' defender is the most expensive of all centre backs in Serie A but there are many other high-quality options. Most of the times the big question is to decide who will partner with Chiellini? Koulibaly is stronger but Manolas is faster, making him a better option if you already have a slow CB in your team, like Bonucci. The Italian defender is the most balanced CB in this league but needs someone fast playing next to him.
The Italian football is known by its defensive and tactical style. It's no surprise to find great defenders for amazing prices. You don't need a good budget to build a strong defensive line in this league.

TOP 10 CENTRE-BACKS
01 89 ?? Giorgio Chiellini
02 87 ?? Kalidou Koulibaly
03 85 ?? Kostas Manolas
04 86 ?? Medhi Benatia
05 85 ?? Milan Škriniar
06 86 ?? Leonardo Bonucci
07 85 ?? Miranda
08 84 ?? Stefan de Vrij
09 84 ?? Andrea Barzagli
10 78 ?? Juan Jesus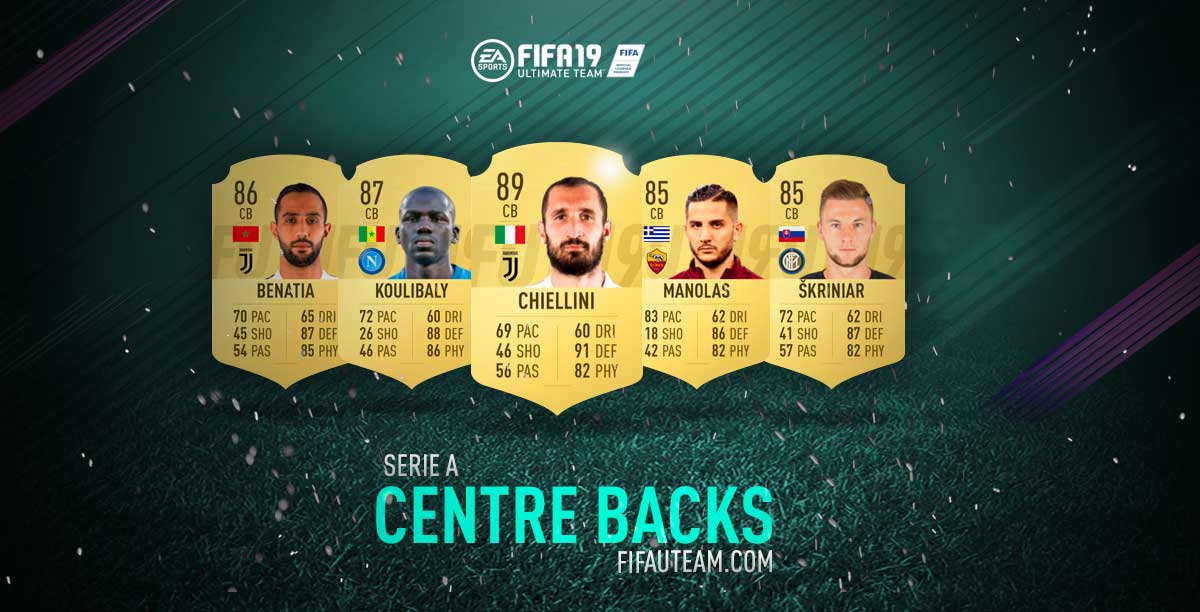 Best FIFA 19 Serie A Centre-Backs

The Best FIFA 19 Serie A Right Backs
RB RWB

Full backs have the role of troubling the job of wingers. In addition, good full backs also support their team mates on offensive manoeuvres.
Florenzi is the most popular right backs playing in Serie A.
HIGHEST RATED RIGHT BACKS

Alessandro Florenzi
82
Roma
ITA
Elseid Hysaj
81
Napoli
ALB
João Cancelo
81
Juventus
POR
Šime Vrsaljko
81
Inter
CRO
Mattia De Sciglio
78
Juventus
ITA
Ignazio Abate
78
Milan
ITA
Dušan Basta
78
Lazio
SRB
Davide Calabria
77
Milan
ITA
Lorenzo De Silvestri
77
Torino
ITA
Rick Karsdorp
76
Roma
NED
Kévin Malcuit
76
Napoli
FRA
There are very important attributes for any right back: defending and pace.
Since they're defenders they should have good defending capacities. This reduces a team's risk of conceding.
In Italy, no other right back defends as well as Hysaj and Vrsaljko.
RIGHT BACKS WITH BEST DEFENDING

Elseid Hysaj
Napoli
ALB
79
Šime Vrsaljko
Inter
CRO
78
João Cancelo
Juventus
POR
77
Mattia De Sciglio
Juventus
ITA
77
Dušan Basta
Lazio
SRB
77
Lorenzo De Silvestri
Torino
ITA
77
Alessandro Florenzi
Roma
ITA
76
Ignazio Abate
Milan
ITA
76
Davide Calabria
Milan
ITA
76
Rick Karsdorp
Roma
NED
72
Kévin Malcuit
Napoli
FRA
72
A flanked game tends to be faster than a game based in the middle of the field. The players that fill these spaces are obligated to be fast, both penetrating defensive and attacking moves of the team. Pace is one of the most important requirements for a good full back. Even in FIFA 19.
João Cancelo is the fastest one.
RIGHT BACKS WITH BEST PACING

João Cancelo
Juventus
POR
88
Rick Karsdorp
Roma
NED
87
Alessandro Florenzi
Roma
ITA
84
Kévin Malcuit
Napoli
FRA
84
Elseid Hysaj
Napoli
ALB
81
Šime Vrsaljko
Inter
CRO
81
Ignazio Abate
Milan
ITA
81
Davide Calabria
Milan
ITA
79
Mattia De Sciglio
Juventus
ITA
77
Dušan Basta
Lazio
SRB
74
Lorenzo De Silvestri
Torino
ITA
72
Florenzi and Cancelo are the best choices for who needs good Serie A right backs. Šime Vrsaljko and Elseid Hysaj are also valid offers if you don't want to spend so much coins.

TOP 10 RIGHT-BACKS
01 81 ?? João Cancelo
02 82 ?? Alessandro Florenzi
03 81 ?? Šime Vrsaljko
04 81 ?? Elseid Hysaj
05 76 ?? Rick Karsdorp
06 76 ?? Kévin Malcuit
07 78 ?? Ignazio Abate
08 78 ?? Dušan Basta
09 78 ?? Mattia De Sciglio
10 77 ?? Davide Calabria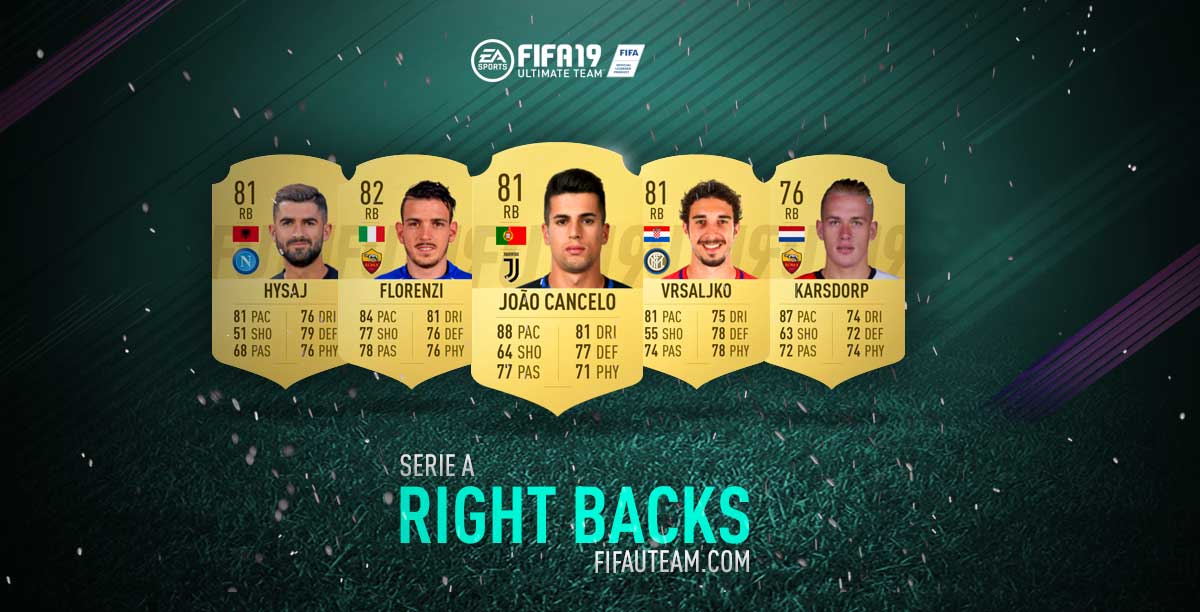 Best FIFA 19 Serie A Right Backs

The Best FIFA 19 Serie A Left Backs
LB LWB

Left backs have exactly the same role of their team mates on the other flank. In other words, they try to make a winger's job hard and participate in the team's offensive manoeuvres.
On the Serie A, there is a left back that stand out more than the other ones: Alex Sandro.
HIGHEST RATED LEFT BACKS

Alex Sandro
86
Juventus
BRA
Aleksandar Kolarov
82
Roma
SRB
Faouzi Ghoulam
81
Napoli
ALG
Domenico Criscito
81
Genoa
ITA
Ricardo Rodríguez
80
Milan
SUI
Kwadwo Asamoah
79
Inter
GHA
Mário Rui
78
Napoli
POR
Cristian Ansaldi
78
Torino
ARG
Dalbert
76
Inter
BRA
Riza Durmisi
76
Lazio
DEN
Luca Antonelli
76
Empoli
ITA
Danilo D'Ambrosio
76
Inter
ITA
Cristiano Biraghi
75
Fiorentina
ITA
Davide Santon
75
Roma
ITA
Besides being the highest rated LB, Alex Sandro is also the one who defends better in this league.
LEFT BACKS WITH BEST DEFENDING

Alex Sandro
Juventus
BRA
82
Aleksandar Kolarov
Roma
SRB
81
Domenico Criscito
Genoa
ITA
80
Faouzi Ghoulam
Napoli
ALG
78
Ricardo Rodríguez
Milan
SUI
78
Kwadwo Asamoah
Inter
GHA
78
Luca Antonelli
Empoli
ITA
77
Danilo D'Ambrosio
Inter
ITA
77
Cristian Ansaldi
Torino
ARG
74
Cristiano Biraghi
Fiorentina
ITA
74
Davide Santon
Roma
ITA
74
Mário Rui
Napoli
POR
72
Dalbert
Inter
BRA
71
Riza Durmisi
Lazio
DEN
71
Dalberto is faster than any other left back.
LEFT BACKS WITH BEST PACING

Dalbert
Inter
BRA
91
Alex Sandro
Juventus
BRA
85
Mário Rui
Napoli
POR
84
Riza Durmisi
Lazio
DEN
81
Cristian Ansaldi
Torino
ARG
78
Cristiano Biraghi
Fiorentina
ITA
78
Domenico Criscito
Genoa
ITA
77
Faouzi Ghoulam
Napoli
ALG
77
Kwadwo Asamoah
Inter
GHA
77
Ricardo Rodríguez
Milan
SUI
73
Davide Santon
Roma
ITA
73
Luca Antonelli
Empoli
ITA
72
Danilo D'Ambrosio
Inter
ITA
72
Aleksandar Kolarov
Roma
SRB
71
Alex Sandro is, in our opinion, the best left back playing in Serie A. He's fast, good dribbler and defends well. He is an amazing player.
If pace is all you need, then Dalbert may be who are looking for. Ghoulam and Mário Rui are also decent choices but they are much slower.

TOP 10 LEFT-BACKS
01 86 ?? Alex Sandro
02 76 ?? Dalbert
03 81 ?? Faouzi Ghoulam
04 78 ?? Mário Rui
05 81 ?? Domenico Criscito
06 79 ?? Kwadwo Asamoah
07 82 ?? Aleksandar Kolarov
08 78 ?? Cristian Ansaldi
09 80 ?? Ricardo Rodríguez
10 76 ?? Riza Durmisi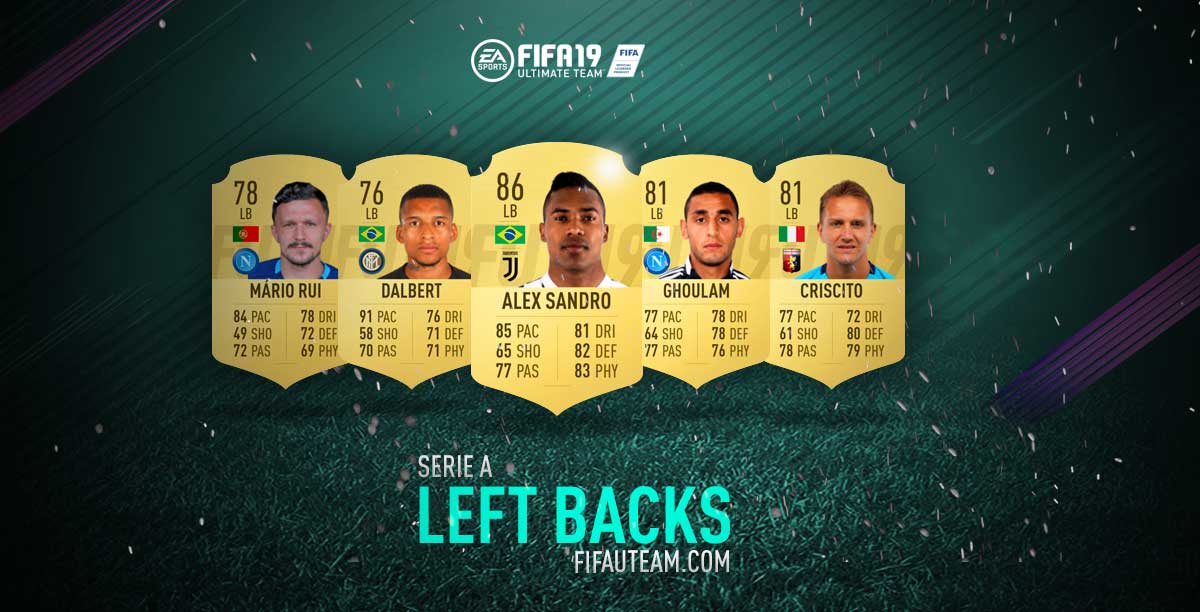 Best FIFA 19 Serie A Left Backs