Who are the best FIFA 19 Serie A forwards? Let's find out good centre forwards and strikers to your team!

POSITIONS GK CB RB LB CDM CM CAM RM RW LM LW CF ST TEAMS






The Best FIFA 19 Serie A Centre Forwards and Strikers
CF ST

The forwards are the players on which fall the most responsibility of scoring goals.
The transfer of Cristiano Ronaldo to Italy had a huge impact in Serie A. He is the world's most popular player.
HIGHEST RATED FORWARDS

Cristiano Ronaldo
94
Juventus
POR
Gonzalo Higuaín
88
Milan
ARG
Mauro Icardi
87
Inter
ARG
Ciro Immobile
87
Lazio
ITA
Dries Mertens
87
Napoli
BEL
Edin Džeko
85
Roma
BOS
Mario Mandžukić
84
Juventus
CRO
Alejandro Gómez
84
Atalanta
ARG
Andrea Belotti
82
Torino
ITA
Simone Zaza
82
Torino
ITA
Luis Alberto
82
Lazio
ESP
Josip Iličić
81
Atalanta
SVN
Arkadiusz Milik
80
Napoli
POL
Fabio Quagliarella
80
Sampdoria
ITA
Lautaro Martínez
79
Inter
ARG
Duván Zapata
78
Atalanta
COL
Giovanni Simeone
78
Fiorentina
ARG
Leonardo Pavoletti
78
Cagliari
ITA
Kevin Lasagna
77
Udinese
ITA
Felipe Caicedo
77
Lazio
ECU
Patrick Cutrone
77
Milan
ITA
Patrik Schick
77
Roma
CZ
Roberto Inglese
77
Parma
ITA
Rodrigo Palacio
77
Bologna
ARG
To score goals shooting is necessary. If either by foot or head, the most important attribute for a forward are: shooting, heading and pace.
Most goals are scored with the foot so good shooting is a necessary attribute for a forward.
The best forwards are the ones that best shooting: Ronaldo and Higuaín.
FORWARDS WITH BEST SHOOTING

Cristiano Ronaldo
Juventus
POR
93
Gonzalo Higuaín
Milan
ARG
87
Ciro Immobile
Lazio
ITA
87
Mauro Icardi
Inter
ARG
85
Edin Džeko
Roma
BOS
85
Fabio Quagliarella
Sampdoria
ITA
85
Dries Mertens
Napoli
BEL
83
Arkadiusz Milik
Napoli
POL
83
Josip Iličić
Atalanta
SVN
82
Andrea Belotti
Torino
ITA
81
Simone Zaza
Torino
ITA
81
Mario Mandžukić
Juventus
CRO
78
Duván Zapata
Atalanta
COL
78
Luis Alberto
Lazio
ESP
77
Lautaro Martínez
Inter
ARG
77
Mirco Antenucci
SPAL
ITA
77
Alejandro Gómez
Atalanta
ARG
76
Giovanni Simeone
Fiorentina
ARG
76
Khouma Babacar
Sassuolo
SEN
76
Leonardo Pavoletti
Cagliari
ITA
75
Roberto Inglese
Parma
ITA
75
Jump, strength and stamina are the ingredients to the new physical attribute, very important when we are analysing the best forwards: jump to score with the head; strength to dispute the ball with the opponents; and stamina to sprint in direction of goal at any time of the game.
Zaza, Mandžukić and Belotti are the strikers with the highest phsysicality stat.
FORWARDS WITH BEST PHYSICAL

Simone Zaza
Torino
ITA
86
Mario Mandžukić
Juventus
CRO
85
Andrea Belotti
Torino
ITA
84
Lautaro Martínez
Inter
ARG
81
Andreas Cornelius
Atalanta
DEN
81
Felipe Caicedo
Lazio
ECU
80
Łukasz Teodorczyk
Udinese
POL
80
Cristiano Ronaldo
Juventus
POR
79
Andrea Petagna
SPAL
ITA
79
Duván Zapata
Atalanta
COL
78
Ciro Immobile
Lazio
ITA
76
Alberto Paloschi
SPAL
ITA
76
Leonardo Pavoletti
Cagliari
ITA
75
Gonzalo Higuaín
Milan
ARG
74
Arkadiusz Milik
Napoli
POL
74
Edin Džeko
Roma
BOS
73
Giovanni Simeone
Fiorentina
ARG
73
Mauro Icardi
Inter
ARG
72
Roberto Inglese
Parma
ITA
71
Patrick Cutrone
Milan
ITA
71
Khouma Babacar
Sassuolo
SEN
71
Depending on the style of play and formation, having good shooting and heading may not be enough for a striker. Especially in games that privilege counter-attack, pace is a very important attribute.
Cristiano Ronaldo and Alejandro Gómez are the fastest strikers in Serie A.
FORWARDS WITH BEST PACE

Cristiano Ronaldo
Juventus
POR
90
Alejandro Gómez
Atalanta
ARG
90
Dries Mertens
Napoli
BEL
89
Kevin Lasagna
Udinese
ITA
88
Gregoire Defrel
Sampdoria
FRA
87
Francesco Caputo
Empoli
ITA
87
Lautaro Martínez
Inter
ARG
83
Ciro Immobile
Lazio
ITA
82
Gianluca Lapadula
Genoa
ITA
81
Simone Zaza
Torino
ITA
79
Andrea Belotti
Torino
ITA
79
Mauro Icardi
Inter
ARG
78
Giovanni Simeone
Fiorentina
ARG
78
Patrick Cutrone
Milan
ITA
76
Rodrigo Palacio
Bologna
ARG
76
Felipe Vizeu
Udinese
BRA
75
Rodrigo Javier De Paul
Udinese
ARG
74
Gonzalo Higuaín
Milan
ARG
73
Luis Alberto
Lazio
ESP
73
Patrik Schick
Roma
CZ
73
Alberto Paloschi
SPAL
ITA
73
Obviously, Cristiano Ronaldo is the best striker but only a few can pay for his price. Hopefully, this league has at least three other amazing strikers: Higuaín, who is a goal machine; Mertens, is faster, has a bad header but plays a lot for the team; and Immobile, who is a kind of mix of the other two.
For lower budgets, there are also quality options like Icardi or Alejandro Gómez.


TOP 10 STRIKERS
01 94 ?? Cristiano Ronaldo
02 87 ?? Dries Mertens
03 87 ?? Ciro Immobile
04 88 ?? Gonzalo Higuaín
05 87 ?? Mauro Icardi
06 84 ?? Alejandro Gómez
07 82 ?? Andrea Belotti
08 82 ?? Simone Zaza
09 79 ?? Lautaro Martínez
10 84 ?? Mario Mandžukic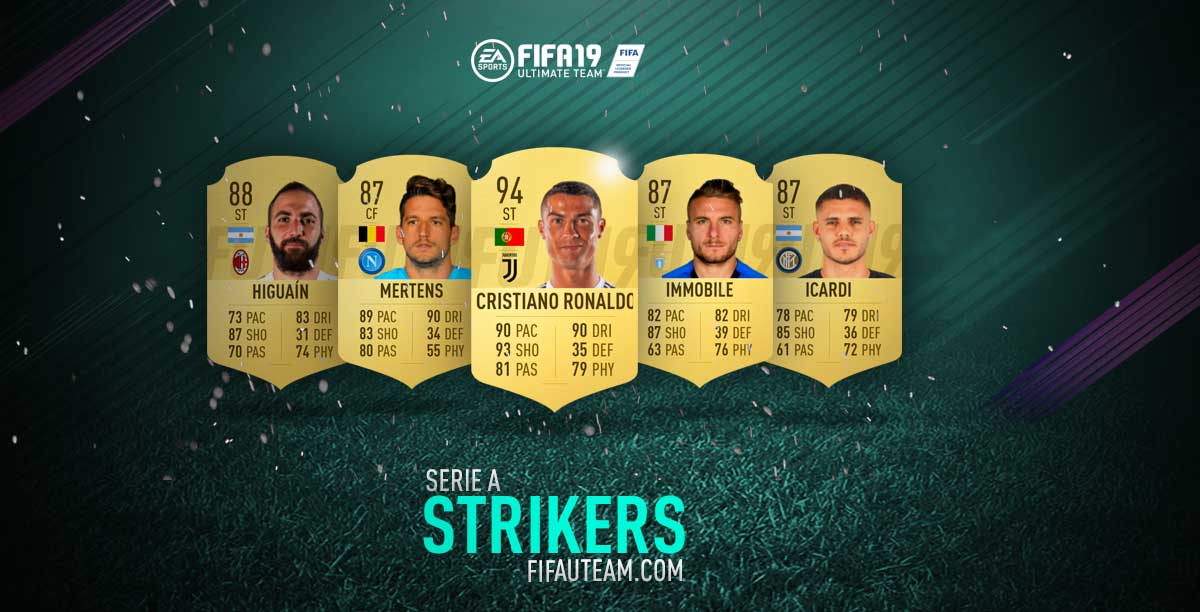 Best FIFA 19 Serie A Centre Forwards and Strikers