The FIFA 19 Serie A Team of the Season was officialy announced. Check out the TOTS from the Italian main division, which includes players like Cristiano Ronaldo, Kalidou Koulibaly and Dries Mertens.
FIFA 19 Serie A Team of the Season
This TOTS joins the players that played better the whole season in the Serie A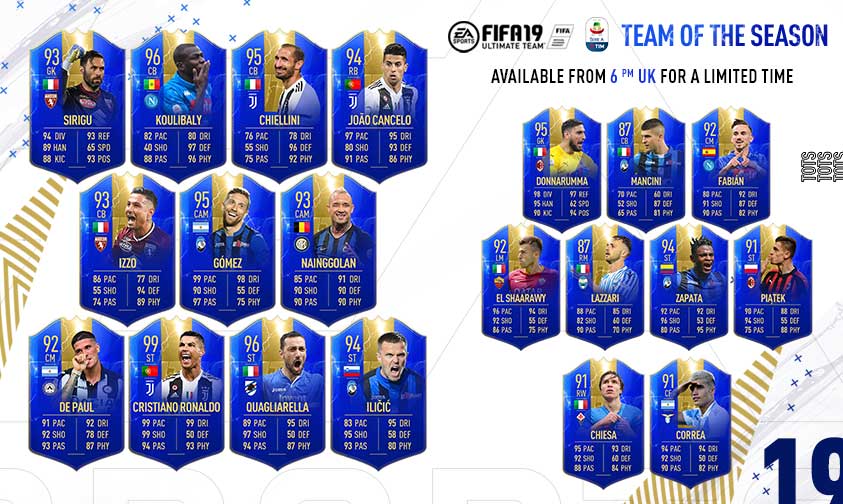 From world superstar Cristiano Ronaldo to the solid centre back Koulibaly, the Serie A TOTS is stacked with world-class players. Upgrade your FUT squad with as many of these player items as possible, as they will only be found in packs for a limited time.
Don't forget the Serie A items you can get exclusively via weekly objectives and via SBC.
The Squad
STARTING ELEVEN
93 ?? GK: Salvatore Sirigu (Torino) PACKS
96 ?? CB: Kalidou Koulibaly (Napoli) PACKS
95 ?? CB: Giorgio Chiellini (Juventus) PACKS
93 ?? CB: Armando Izzo (Torino) PACKS
94 ?? RB: João Cancelo (Juventus) PACKS
92 ?? CM: Rodrigo Javier De Paul (Udinese) PACKS
95 ?? CAM: Alejandro Gómez PACKS
93 ?? CAM: Radja Nainggolan (Inter) PACKS
99 ?? ST: Cristiano Ronaldo (Juventus) PACKS
96 ?? ST: Fabio Quagliarella (Sampdoria) PACKS
94 ?? ST: Josip Iličić (Atalanta) PACKS

SUBSTITUTES
95 ?? GK: Gianluigi Donnarumma (Milan) PACKS
87 ?? CB: Gianluca Mancini (Atalanta) PACKS
92 ?? CM: Fabián (Napoli) PACKS
87 ?? RM: Manuel Lazzari (SPAL) PACKS
92 ?? LM: Stephan El Shaarawy (Roma) PACKS
94 ?? ST: Duván Zapata (Atalanta) PACKS
91 ?? ST: Krzysztof Piątek (Milan) PACKS

RESERVES
91 ?? RW: Federico Chiesa (Fiorentina) PACKS
91 ?? CF: Joaquín Correa (Lazio) PACKS
91 ?? RW: Suso (Milan) OBJECTIVES
87 ?? CAM: Nicolò Zaniolo (Roma) OBJECTIVES
95 ?? ST: Dries Mertens (Napoli) SBC
Release Times
? START
08/06/2019 (Sat) 03:00pm ?? AEST (UCT +10)
08/06/2019 (Sat) 02:00am ?? JST (UCT +9)
07/06/2019 (Fri) 06:00pm ?? BST (UCT +1)
07/06/2019 (Fri) 02:00pm ?? BRT (UCT -3)
07/06/2019 (Fri) 01:00pm ?? EDT (UCT -4)
07/06/2019 (Fri) 01:00pm ?? EDT (UCT -4)
07/06/2019 (Fri) 10:00am ?? PDT (UCT -7)

? END
15/06/2019 (Sat) 03:00pm ?? AEST (UCT +10)
15/06/2019 (Sat) 02:00am ?? JST (UCT +9)
14/06/2019 (Fri) 06:00pm ?? BST (UCT +1)
14/06/2019 (Fri) 02:00pm ?? BRT (UCT -3)
14/06/2019 (Fri) 01:00pm ?? EDT (UCT -4)
14/06/2019 (Fri) 01:00pm ?? EDT (UCT -4)
14/06/2019 (Fri) 10:00am ?? PDT (UCT -7)