FIFA 19 Swap Deals are back! Earn great rewards by exchanging FUT Swap Players in special Squad Building Challenges throughout the season. Let's find out how it works, the list of Swap Deals players and its rewards.

FIFA 19 SWAP DEALS
THE EVENT | RULES | SWAP DEALS PLAYERS AND REWARDS


MONTH
2018 OCT NOV DEC
2019 JAN FEB MAR APR MAY JUN JUL AUG

FIFA 19 Swap Deals
What is this event?
Will you cash in early or wait patiently to get even better rewards? The fate of your squad is up to you in FUT Swap Deals, a FIFA Ultimate Team event that helps players upgrade their squads in fresh ways.
First introduced during the FIFA 18 Ultimate Team season, FUT Swap Deals is back for FUT 19. And this year, Swap Deals will come back throughout the season to provide more opportunities to upgrade your FUT squad. You get to pick how you want to build your squad through Swap Deals, and you'll get plenty of chances to do it over the course of the season.
Swap Deals Player items can be earned for a limited time through a variety of ways, including but not limited to Squad Building Challenges, Objectives, and Squad Battles. Swap Deals Player items have the same ratings as the player's base FUT item, just with a different design.
During each Swap Deals period, the Swap Deals Player items can be exchanged for Swap Deals Reward items via special Squad Building Challenges. All Swap Deals SBCs are available for the entire period and have progressively more valuable Reward items in exchange for more FUT Swap Player items,
Confused? Let's clarify:
How long this event takes?
📅 The FIFA 19 Swap Deal event runs throughout the season.
How to win swap deals items
✔️ Specific Squad Building Challenges
✔️ Specific Objectives
✔️ Specific Squad Battles campaigns
What you can do with the swap deals items
♼ You can keep with them or use them to complete specific SBCs in order to get special rewards.
FIFA 19 Swap Deals Cards Rules
How the FIFA 19 Swap Deals Cards Work

Electronic Arts introduced in FIFA 18 a brand new themed card. These cards are assigned to a selection of players and released throughout the event. These are the rules of these items:
RULE 1
AVAILABILITY
FIFA 19 Swap Items cards become available for a limited time. You can earn them by playing various FUT modes, including Squad Battles, SBCs and select Objectives.
1.1. They are not available in packs or in the transfer market.
1.2. All Swap Deals SBCs are available with a range of progressively more valuable rewards in exchange for more FUT Swap items.
RULE 2
RATINGS AND STATS
The Swap Deals items are special untradeable FUT items with the same rating as the player's basic item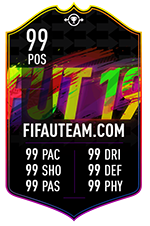 FIFA 19 Swap Deals Card
Swap Deals Players and Rewards
Complete list of FIFA 19 Swap Deals items and rewards for each month
With limited FUT Swap Player items available during FUT Swap Deals periods, you won't be able to get everything — so choose your FUT Swap Deals Rewards wisely!


AUGUST
August 01 – August 31
SWAP DEALS PLAYERS
27/08/2019 ⏰ 2 days
01 61 🏴󠁧󠁢󠁷󠁬󠁳󠁿 CB: Joe Rodon, Swansea City
Squad Building Challenge
⭕ Requirements
Min. 1 England EFL Championship Players
RARE Players: Exactly 10
Exactly Gold Players
Min. Players from different Clubs: 4
Max 6 Players from the same Nation
Min. Team Chemistry: 75
Number of Players in the Squad: 11
23/08/2019 ⏰ 7 days
01 61 🇺🇸 GK: Jonathan Klinsmann, FC St. Gallen
Weekly Objective
Score a goal using United States players in 3 separate Squad Battles wins on min. Pro difficulty
23/08/2019 ⏰ 7 days
01 59 🇧🇪 LW: Ilias Chair, Queens Park Rangers
Weekly Objective
Score 5 goals using Belgian players in Rivals matches
19/08/2019 ⏰ 7 days
01 61 🇩🇪 CB: Jannes Vollert, Hallescher FC
Squad Battles
You need to reach Silver 3 tier
16/08/2019 ⏰ 7 days
01 61 🏴󠁧󠁢󠁷󠁬󠁳󠁿 CB: Kyle Howkins, Newport County
Weekly Objective
Score 12 goals using English players in Rivals matches
13/08/2019 ⏰ 2 days
01 61 🇩🇪 LB: Thore Jacobsen, 1. FC Magdeburg
Squad Building Challenge
⭕ Requirements
Min. 2 Germany Players
RARE Players: Exactly 10
Max 6 Players from the same League
Min. Team Rating: 79
Min. Team Chemistry: 75
Number of Players in the Squad: 11
09/08/2019 ⏰ 7 days
01 61 🇩🇪 CAM: Sam Schreck, FC Groningen
Weekly Objective
Score in 2 separate Rivals matches using an Eredivisie player
09/08/2019 ⏰ 7 days
01 61 🏴󠁧󠁢󠁥󠁮󠁧󠁿 ST: Shayon Harrison, Tottenham Hotspur
Weekly Objective
Assist 5 goals using English players in Rivals
05/08/2019 ⏰ 7 days
01 61 🇪🇸 CM: Genaro, Sevilla FC
Squad Battles
You need to reach Silver 3 tier
02/08/2019 ⏰ 7 days
01 61 🇹🇷 CAM: Atalay Babacan, Galatasaray SK
Weekly Objective
Win 3 Squad Battles matches on min. Professional difficulty using a squad with a max rating of 78
02/08/2019 ⏰ 7 days
01 61 🇺🇸 ST: Jeremy Ebobisse, Portland Timbers
Weekly Objective
Score 10 goals using MLS players in Rivals matches
02/08/2019 ⏰ 7 days
01 61 🇫🇷 RB: Yan Valery, Southampton
Weekly Objective
Score using French players in 3 separate Rivals wins
01/08/2019 ⏰ 2 days
01 61 🏴󠁧󠁢󠁷󠁬󠁳󠁿 CB: Cian Harries, Swansea City
Squad Building Challenge
⭕ Requirements
Min. 1 Wales Players
Min. 1 England EFL Championship Players
RARE Players: Exactly 9
Exactly Gold Players
Max 6 Players from the same Club
Min. Team Chemistry: 75
Number of Players in the Squad: 11
01/08/2019 ⏰ 31 days
01 61 🇺🇸 ST: Sylvanus Nimely, Spartak Moskva
Available for free

SWAP DEALS REWARDS
09 95 🇧🇷 CDM: Fabinho, Liverpool (Swap item)
08 93 🇩🇰 ST: Yussuf Poulsen, RB Leipzig (Swap item)
07 93 🇬🇷 CB: Kostas Manolas, Napoli (Swap item)
06 88 🇫🇷 CM: Wylan Cyprien, OGC Nice (Swap item)
05 90 🇵🇹 CM: Renato Sanches, FC Bayern München (Swap item)
04 94 🇧🇪 GK: Thibaut Courtois, Real Madrid (Swap item)
03 90 🇧🇪 RW: Adnan Januzaj, Real Sociedad (Swap item)
03 90 🇮🇹 ST: Kevin Lasagna, Udinese (Swap item)
02 90 🇨🇮 CF: Wilfried Zaha, Crystal Palace (Swap item)
02 90 🇸🇳 LW: M'Baye Niang, Stade Rennais FC (Swap item)

10 🎴 Prime Icon Player Pack (highest OVR version of an Icon)
05 🎴 Ultimate Pack
03 🎴 Rare Mega Pack
01 🎴 Jumbo Premium Gold Pack



JULY
July 04 – July 31
SWAP DEALS PLAYERS
25/07/2019 ⏰ 2 days
01 60 🇭🇷 GK: Fabijan Buntić, FC Ingolstadt 04
Squad Building Challenge
⭕ Requirements
Min. 2 Croatia + Germany Players
Min. RARE Players: 10
Min. Players from different Clubs: 4
Max 6 Players from the same League
Min. Team Rating: 79
Min. Team Chemistry: 75
Number of Players in the Squad: 11
22/07/2019 ⏰ 7 days
01 60 🇯🇵 RM: Keito Nakamura, Gamba Osaka
Squad Battles
You need to reach Silver 3 tier
19/07/2019 ⏰ 7 days
01 60 🇸🇪 LW: Petar Petrović, IF Brommapojkarna
Weekly Objective
Score at least 2 goals with Swedish players in 3 separate Squad Battles wins on min. Pro difficulty
19/07/2019 ⏰ 7 days
01 60 🇪🇸 ST: Jesús Jiménez, Górnik Zabrze
Weekly Objective
Score 10 goals using Spanish players in Rivals matches
19/07/2019 ⏰ 7 days
01 60 🇰🇲 LM: Mohamed Youssouf, AC Ajaccio
Weekly Objective
Assist 10 goals using Silver players in Squad Battles on min. Pro difficulty
15/07/2019 ⏰ 7 days
01 60 🇦🇹 CDM: Osarenren Okungbowa, SKN St. Pölten
Squad Battles
You need to reach Silver 3 tier
12/07/2019 ⏰ 7 days
01 60 🇳🇴 RB: Øyvind Alseth, Ranheim Fotball
Weekly Objective
Win 3 SB matches using a squad with specified requirements
Gold Players: Max. 2| Silver: Min. 6 | Bronze: Min.3 | Min. difficulty: Professional
12/07/2019 ⏰ 7 days
01 60 🇫🇷 ST: Romain Armand, Gazélec Ajaccio
Weekly Objective
Score 10 goals using French Players in Rivals matches
09/07/2019 ⏰ 2 days
01 60 🇮🇹 CB: Gabriele Corbo, Bologna
Squad Building Challenge
⭕ Requirements
Min. 2 Italy Players
Min. RARE Players: 10
Max 4 Players from the same Nation
Min. Team Rating: 79
Min. Team Chemistry: 75
Number of Players in the Squad: 11
05/07/2019 ⏰ 2 days
01 60 🏴󠁧󠁢󠁥󠁮󠁧󠁿 CB: Lloyd Jones, Plymouth Argyle
Squad Building Challenge
⭕ Requirements
Min. 2 England Players
RARE Players: Exactly 11
Exactly Gold Players
Max 6 Players from the same League
Min. Team Chemistry: 60
Number of Players in the Squad: 11
05/07/2019 ⏰ 7 days
01 60 🇩🇪 CB: Tobias Fleckstein, Holstein Kiel
Weekly Objective
Assist 15 goals using Eredivisie players in Squad Battles on min. Professional difficulty
05/07/2019 ⏰ 7 days
01 60 🏴󠁧󠁢󠁥󠁮󠁧󠁿 CB: Harrison Heath, Minnesota United FC
Weekly Objective
Win 4 Squad Battles matches using a squad with a max rating of 82 on min. World Class difficulty
05/07/2019 ⏰ 7 days
01 60 🇨🇲 CM: Christian Zock, FC Sion
Weekly Objective
Assist using Brazilian players in 5 separate Rivals matches
04/07/2019 ⏰ 27 days
01 60 🇦🇺 RB: Aaron Calver, Sydney FC
Available for free

SWAP DEALS REWARDS
14 91 🏴󠁧󠁢󠁥󠁮󠁧󠁿 ST: Marcus Rashford, Manchester United (FUTTIES item)
12 94 🇨🇴 CB: Davinson Sánchez, Tottenham (FUTTIES item)
09 90 🇧🇪 RB: Thomas Meunier, Paris Saint-Germain (FUTTIES item)
07 93 🇩🇪 CB: Jérôme Boateng, FC Bayern (FUTTIES item)
04 91 🇳🇱 LM: Quincy Promes, Ajax (FUTTIES item)
03 90 🇩🇰 CM: Daniel Wass, Valencia CF (FUTTIES item)

10 🎴 Mid Icon Player Pack (second lowest OVR version of an Icon)
05 🎴 Ultimate Pack
03 🎴 Rare Mega Pack
01 🎴 Jumbo Premium Gold Pack



JUNE
June 06 – June 30
SWAP DEALS PLAYERS
24/06/2019 ⏰ 2 days
01 60 🇸🇦 GK: Abdullah Al Saleh, Ettifaq FC
Squad Building Challenge
⭕ Requirements
Min. 1 Poland Players
Min. 1 Saudi Arabia Players
Min. RARE Players: 10
Max 4 Players from the same Club
Min. Players from different Leagues: 3
Min. Team Rating: 80
Min. Team Chemistry: 80
Number of Players in the Squad: 11
21/06/2019 ⏰ 7 days
01 60 🇩🇪 RB: Junior Ebot-Etchi, Sportfreunde Lotte
Weekly Objective
Assist 10 goals using Silver players in SB on min. Pro difficulty
21/06/2019 ⏰ 7 days
01 60 🇦🇹 CB: Stefan Perić, FC Wacker Innsbruck
Weekly Objective
Win 3 SB matches using a squad with specified requirements
Egypt Players: Min. 1 | Senegal Players: Min. 3 | Nigeria Players: Min. 3 | Semi-Pro or higher
21/06/2019 ⏰ 7 days
01 60 🇨🇳 CDM: Qi Tianyu, Shandong Luneng Taishan
Weekly Objective
Score using Flashback players in 3 separate Rivals matches
17/06/2019 ⏰ 7 days
01 60 🏴󠁧󠁢󠁳󠁣󠁴󠁿 CM: Conor McGrandles, Milton Keynes Dons
Squad Battles
You need to reach Silver 3 tier
14/06/2019 ⏰ 7 days
01 60 🇲🇽 LM: Alex Zendejas, Guadalajara
Weekly Objective
Win 4 Squad Battles matches using a squad with a max rating of 70 on min. Pro difficulty
14/06/2019 ⏰ 7 days
01 60 🇯🇵 CB: Daichi Inui, Sagan Tosu
Weekly Objective
Assist using TOTW players in 3 separate Rivals wins
12/06/2019 ⏰ 2 days
01 60 🇵🇱 GK: Łukasz Budziłek, Pogoń Szczecin
Squad Building Challenge
⭕ Requirements
Min. 1 Poland Players
RARE Players: Exactly 11
Exactly Gold Players
Min. Players from different Clubs: 3
Min. Players from different Leagues: 3
Min. Team Chemistry: 85
Number of Players in the Squad: 11
10/06/2019 ⏰ 7 days
01 60 🇦🇷 LB: Claudio Bravo, Banfield
Squad Battles
You need to reach Silver 3 tier
07/06/2019 ⏰ 7 days
01 60 🇰🇷 ST: Kim Gyeong Min, Jeonnam Dragons
Weekly Objective
Assist 10 goals using MLS players in Squad Battles on min. Professional difficulty
07/06/2019 ⏰ 7 days
01 60 🏴󠁧󠁢󠁥󠁮󠁧󠁿 ST: Luke Charman, Accrington Stanley
Weekly Objective
Win 4 Squad Battle matches using a squad with a max rating of 80 on min. World Class difficulty
07/06/2019 ⏰ 7 days
01 60 🇸🇮 CDM: Dejan Vokic, Benevento
Weekly Objective
Score using TOTS players in 3 separate Rivals matches
06/06/2019 ⏰ 2 days
01 60 🇫🇷 CDM: Jean-Clair Todibo, FC Barcelona
Squad Building Challenge
⭕ Requirements
Min. 1 player from France
Max. 4 Same League
Exactly 11 Rare Players
Exactly 11 Gold Players
Min. 85 Team Chemistry
Players in the Squad: 11
06/06/2019 ⏰ 24 days
01 60 🇨🇻 RM: Kenny Rocha Santos, AS Saint-Étienne
Available for free

SWAP DEALS REWARDS
14 90 🇩🇪 CAM: Leroy Sané, Manchester City (FUT Birthday item)
12 90 🇧🇷 LB: Alex Sandro, Juventus (Headliner item)
08 89 🇦🇹 RM: David Alaba, FC Bayern (FUT Birthday item)
06 92 🇭🇷 CM: Luka Modric, Real Madrid (TOTW item)
03 87 🇧🇷 CB: Marquinhos, Paris Saint-Germain (TOTW item)

14 🎴 Mid Icon Player Pack (second lowest OVR version of an Icon)
10 🎴 Bundesliga TOTS Player
05 🎴 Liga NOS TOTS Player
04 🎴 Rare Mega Pack
02 🎴 Electrum Players Pack
01 🎴 Jumbo Premium Gold Pack



MAY
May 02 – May 31
SWAP DEALS PLAYERS
27/05/2019 ⏰ 2 days
01 60 🇳🇱 CB: Tim Siekman, FC Emmen
Squad Building Challenge
⭕ Requirements
Min. 2 Netherlands Players
Min. RARE Players: 10
Min. Players from different Leagues: 3
Max 4 Players from the same Nation
Min. Team Rating: 79
Min. Team Chemistry: 80
Number of Players in the Squad: 11
20/05/2019 ⏰ 7 days
01 60 🇨🇮 CAM: Hamed Koné, Neuchâtel Xamax
Squad Battles
You need to reach Silver 3 tier
17/05/2019 ⏰ 7 days
01 60 🇵🇱 GK: Artur Krysiak, FK Bodø/Glimt
Weekly Objective
Score 8 goals using Silver players in SB on min. Semi-Pro difficulty
17/05/2019 ⏰ 7 days
01 60 🇯🇵 CF: Yuto Suzuki, Kawasaki Frontale
Weekly Objective
Assist 10 goals using players from the United States in SB on min. Pro difficulty
17/05/2019 ⏰ 7 days
01 60 🇺🇸 ST: Ayo Akinola, Toronto FC
Weekly Objective
Score using Flashback players in 3 separate Rivals matches
14/05/2019 ⏰ 2 days
01 60 🇫🇷 GK: Bobby Allain, Dijon FCO
Squad Building Challenge
⭕ Requirements
Min. 1 Scotland Players
Min. 2 France Players
Min. RARE Players: 10
Max 5 Players from the same League
Min. Players from different Nations: 4
Min. Team Rating: 78
Min. Team Chemistry: 80
Number of Players in the Squad: 11
10/05/2019 ⏰ 7 days
01 60 🇦🇹 RM: Dominik Frieser, LASK
Weekly Objective
Score twice in 7 separate matches
10/05/2019 ⏰ 7 days
01 60 🇩🇪 LM: Dennis Chessa, KFC Uerdingen 05
Weekly Objective
Win 3 SB using a squad with 7 Mexican players on min. Semi-Pro difficulty
10/05/2019 ⏰ 7 days
01 60 🇯🇵 CM: Naoki Yamada, Urawa Red Diamonds
Weekly Objective
Score using TOTW players in 3 separate Rivals wins
06/05/2019 ⏰ 7 days
01 60 🇸🇪 CM: Adam Andersson, BK Häcken
Squad Battles
You need to reach Silver 3 tier
03/05/2019 ⏰ 7 days
01 60 🇮🇪 RB: John Dunleavy, Sligo Rovers
Weekly Objective
Score twice in 8 separate online matches
03/05/2019 ⏰ 7 days
01 60 🇨🇴 RW: Victor Arboleda, Portland Timbers
Weekly Objective
Score using Dutch players in 3 separate Rivals wins
02/05/2019 ⏰ 2 days
01 60 🏴󠁧󠁢󠁥󠁮󠁧󠁿 LWB: Chris Stokes, Bury
Squad Building Challenge
⭕ Requirements
Min. 1 England Players
Min. RARE Players: 10
Min. Players from different Clubs: 6
Max 6 Players from the same League
Min. Team Rating: 77
Min. Team Chemistry: 80
Number of Players in the Squad: 11
02/05/2019 ⏰ 30 days
01 60 🇸🇦 RM: Hamed Al Maqati, Al Hazem
Available for free

SWAP DEALS REWARDS
14 93 🇺🇾 ST: Luís Suárez, FC Barcelona (TOTW item)
12 88 🏴󠁧󠁢󠁥󠁮󠁧󠁿 CB: Kyle Walker, Manchester City (FUT Birthday item)
07 91 🇨🇴 CAM: James Rodríguez, FC Bayern (TOTW item)
05 88 🇵🇹 RB: João Cancelo, Juventus (TOTW item)
03 83 🇫🇷 LM: Jonathan Bamba, LOSC Lille (TOTW item)

14 🎴 Base Icon Player Pack
10 🎴 Ultimate Pack
08 🎴 Jumbo Rare Players Pack
04 🎴 Rare Mega Pack
02 🎴 Premium Gold Players Pack
01 🎴 Jumbo Gold Pack



APRIL
Apr 01 – Apr 30
SWAP DEALS PLAYERS
25/04/2019 ⏰ 3 days
01 60 🏴󠁧󠁢󠁳󠁣󠁴󠁿 LWB: Callum McFadzean, Bury
Squad Building Challenge
⭕ Requirements
Min. 1 Scotland Players
Min. RARE Players: 10
Min. Players from different Clubs: 6
Max 6 Players from the same League
Min. Team Rating: 77
Min. Team Chemistry: 80
Number of Players in the Squad: 11
22/04/2019 ⏰ 7 days
01 60 🇫🇮 RB: Boris Rotenberg, Lokomotiv Moskva
Squad Battles
You need to reach Silver 3 tier
19/04/2019 ⏰ 7 days
01 60 🇳🇱 GK: Jasper Schendelaar, AZ
Weekly Objective
Score twice in 8 separate wins
19/04/2019 ⏰ 7 days
01 60 🇮🇹 CF: Giulio Bizzotto, Cittadella
Weekly Objective
Score using an Italian player in 4 separate Rivals matches
19/04/2019 ⏰ 7 days
01 60 🇨🇳 RB: Shan Pengfei, Dalian Yifang
Weekly Objective
Play 14 online matches
15/04/2019 ⏰ 2 days
01 60 🇳🇬 ST: Fejiri Okenabirhie, Shrewsbury Town
Squad Building Challenge
⭕ Requirements
Min. 1 England Players
Min. 1 Nigeria Players
Min. RARE Players: 10
Max 5 Players from the same Nation
Min. Team Rating: 75
Min. Team Chemistry: 80
Number of Players in the Squad: 11
12/04/2019 ⏰ 7 days
01 60 🇮🇹 GK: Francesco Rossi, Atalanta
Weekly Objective
Win 8 online matches
12/04/2019 ⏰ 7 days
01 60 🇫🇷 CM: Roli Pereira de Sa, FC Nantes
Weekly Objective
Score using a UEFA Champions League Rare player in 4 separate wins across any FUT game modes
08/04/2019 ⏰ 7 days
01 60 🇺🇸 CB: Modou Jadama, Portland Timbers
Squad Battles
You need to reach Silver 3 tier
05/04/2019 ⏰ 7 days
01 60 🇵🇱 ST: Filip Piszczek, Cracovia Kraków
Weekly Objective
Play 13 online matches
05/04/2019 ⏰ 7 days
01 60 🇩🇪 RB: Eric Weeger, TSV 1860 München
Weekly Objective
Win 7 matches by two goals
05/04/2019 ⏰ 7 days
01 60 🇨🇴 CB: Martin Payares, Independiente Santa Fe
Weekly Objective
Score using Colombian players in 3 separate Rivals wins
01/04/2019 ⏰ 2 days
01 60 🇯🇵 RM: Takaki Fukumitsu, Cerezo Osaka
Squad Building Challenge
⭕ Requirements
Min. 1 Japan Players
Min. RARE Players: 10
Max 6 Players from the same League
Min. Team Rating: 74
Min. Team Chemistry: 80
Number of Players in the Squad: 11
01/04/2019 ⏰ 30 days
01 60 🇳🇴 RM: André Sødlund, Odds BK
Available for free

SWAP DEALS REWARDS
14 90 🇧🇷 CAM: Douglas Costa, Juventus (FUT Birthday item)
12 90 🇫🇷 ST: Antoine Griezmann, Atlético de Madrid (Team of the Group Stage item)
07 87 🇧🇪 CDM: Thomas Meunier, Paris Saint-Germain (FUT Birthday item)
06 86 🏴󠁧󠁢󠁳󠁣󠁴󠁿 LB: Andrew Robertson, Liverpool (TOTW item)
05 87 🇩🇪 ST: Timo Werner, RB Leipzig (TOTW item)
03 87 🇨🇮 RM: Nicolas Pépé, LOSC Lille (TOTW item)

14 🎴 Base Icon Player Pack
10 🎴 Ultimate Pack
08 🎴 Jumbo Rare Players Pack
04 🎴 Rare Mega Pack
02 🎴 Premium Gold Players Pack
01 🎴 Jumbo Gold Pack



MARCH
Mar 01 – Mar 31
SWAP DEALS PLAYERS
23/03/2019 ⏰ 3 days
01 60 🇪🇸 GK: David Gil, Cádiz CF
Squad Building Challenge
⭕ Requirements
Min. 1 Chile Players
Min. 2 Spain Players
Min. RARE Players: 8
Min. Players from different Nations: 3
Min. Team Rating: 76
Min. Team Chemistry: 80
Number of Players in the Squad: 11
18/03/2019 ⏰ 7 days
01 60 🇦🇹 GK: Raphael Sallinger, TSV Hartberg
Squad Battles
You need to reach Silver 3 tier
15/03/2019 ⏰ 7 days
01 60 🇬🇭 LWB: Clinton Antwi, FC Nordsjælland
Weekly Objective
Score using German players in 3 separate Rival matches
15/03/2019 ⏰ 7 days
01 60 🇯🇵 CAM: Haruya Ide, Gamba Osaka
Weekly Objective
Assist using a UEFA Champions League player in 4 separate wins
15/03/2019 ⏰ 7 days
01 60 🇵🇱 CB: Igor Łasicki, Wisła Płock
Weekly Objective
Win 4 SB matches on min. Professional difficulty using 11 Chinese Super League (CSL) players
11/03/2019 ⏰ 2 days
01 60 🇨🇭 RB: Dragan Mihajlovic, FC Lugano
Squad Building Challenge
⭕ Requirements
Min. 2 Switzerland Players
Min. RARE Players: 8
Min. Players from different Leagues: 3
Min. Team Rating: 76
Min. Team Chemistry: 80
Number of Players in the Squad: 11
08/03/2019 ⏰ 7 days
01 60 🇧🇪 LM: Moustapha Bokoum, AS Béziers
Weekly Objective
Score twice in 6 separate online wins
08/03/2019 ⏰ 7 days
01 60 🇨🇳 CM: Zhang Xiaobin, Jiangsu Suning
Weekly Objective
Score using Argentinian players in 3 separate Rival matches
04/03/2019 ⏰ 7 days
01 60 🇲🇽 RM: Víctor Rodríguez, Club América
Squad Battles
You need to reach Silver 3 tier
01/03/2019 ⏰ 7 days
01 60 🇹🇷 ST: Muhammed Balcılar, Çaykur Rizespor
Weekly Objective
Score in 3 separate Friendly Seasons matches
01/03/2019 ⏰ 7 days
01 60 🇸🇪 CM: William Kurtovic, Sandefjord Fotball
Weekly Objective
Score twice in 9 separate wins
01/03/2019 ⏰ 7 days
01 60 🇩🇪 CDM: Patrick Posipal, SV Meppen
Weekly Objective
Play 10 online matches
01/03/2019 ⏰ 2 days
01 60 🇨🇱 LB: Felipe Saavedra, Curicó Unido
Squad Building Challenge
⭕ Requirements
Min. 1 Chile Players
Min. RARE Players: 8
Max 6 Players from the same League
Min. Team Rating: 74
Min. Team Chemistry: 80
Number of Players in the Squad: 11
01/03/2019 ⏰ 31 days
01 60 🏴󠁧󠁢󠁮󠁩󠁲󠁿 RB: Liam Donnelly, Motherwell
Available for free

SWAP DEALS REWARDS
14 88 🏴󠁧󠁢󠁥󠁮󠁧󠁿 CAM: Phil Foden, Manchester City (Future Star item)
12 86 🇪🇸 ST: Diego Costa, Atlético de Madrid (Scream item)
10 85 🇩🇪 CM: Leon Goretzka, Bayern München (OTW item)
08 84 🇧🇷 CAM: Hulk, Shanghai SIPG (TOTW item)
06 87 🇪🇸 RM: Suso, AC Milan (OTW item)
04 81 🇫🇷 RWB: Kenny Lala, RC Strasbourg (OTW item)

01 🎴 Silver Players Pack
02 🎴 Premium Electrum Players Pack
05 🎴 Rare Mega Pack
09 🎴 Jumbo Rare Players Pack



FEBRUARY
Feb 01 – Feb 28
SWAP DEALS PLAYERS
20/02/2019 ⏰ 3 days
01 60 🏴󠁧󠁢󠁳󠁣󠁴󠁿 GK: Ryan Fulton, Hamilton Academical
Squad Building Challenge
⭕ Requirements
Min. 1 Scotland Premiership Players
Min. RARE Players: 7
Min. Players from different Nations: 3
Min. Team Rating: 76
Min. Team Chemistry: 80
Number of Players in the Squad: 11
18/02/2019 ⏰ 7 days
01 60 🇦🇺 GK: Daniel Margush, Adelaide United
Squad Battles
You need to reach Silver 3 tier
15/02/2019 ⏰ 7 days
01 60 🇩🇪 GK: André Poggenborg, Fortuna Köln
Weekly Objective
Win 6 matches by two goals
15/02/2019 ⏰ 7 days
01 60 🏴󠁧󠁢󠁥󠁮󠁧󠁿 RB: Tennai Watson, AFC Wimbledon
Weekly Objective
Score in 7 separate online matches
15/02/2019 ⏰ 7 days
01 60 🏴󠁧󠁢󠁥󠁮󠁧󠁿 ST: Sam Surridge, Oldham Athletic
Weekly Objective
Score in 2 separate friendly seasons matches
11/02/2019 ⏰ 2 days
01 60 🏴󠁧󠁢󠁳󠁣󠁴󠁿 ST: Craig Wighton, Heart of Midlothian
Squad Building Challenge
⭕ Requirements
Min. 2 Scotland Players
Min. RARE Players: 7
Min. Players from different Leagues: 3
Min. Team Rating: 75
Min. Team Chemistry: 80>
Number of Players in the Squad: 11
08/02/2019 ⏰ 7 days
01 60 🇨🇴 CAM: Yeison Guzmán, Envigado
Weekly Objective
Win 8 online matches
08/02/2019 ⏰ 7 days
01 60 🇬🇭 RW: Evans Mensah, HJK Helsinki
Weekly Objective
Score using Brazilian players in 4 separate Rivals wins
05/02/2019 ⏰ 2 days
01 60 🇨🇴 CDM: Iván Rojas, Envigado
Squad Building Challenge
⭕ Requirements
Players from Colombia: Min 1
Same League Count: Max 6
Rare Players: Min 7
Squad Rating: Min 74
Team Chemistry: Min 80
Players in the Squad: 11
03/02/2019 ⏰ 7 days
01 60 🇩🇪 LM: Michael Kessel, Fortuna Köln
Squad Battles
You need to reach Silver 3 tier
01/02/2019 ⏰ 7 days
01 60 🇦🇺 LB: Nick Cowburn, Newcastle Jets
Weekly Objective
Score twice in 10 wins
01/02/2019 ⏰ 7 days
01 60 🇵🇱 ST: Maciej Górski, Korona Kielce
Weekly Objective
Play 15 online matches
01/02/2019 ⏰ 7 days
01 60 🇦🇺 RB: Louis Fenton, Wellington Phoenix
Weekly Objective
Win 4 Rivals matches by 2 goals
01/02/2019 ⏰ 30 days
01 60 🇺🇿 CM: Fozil Musaev, Júbilo Iwata
Available for free

SWAP DEALS REWARDS
14 86 🇪🇸 RM: Gerard Deulofeu, Watford
10 84 🇹🇷 CDM: Okay Yokuşlu, RC Celta de Vigo
08 84 🇨🇭 LWB: Steven Zuber, VfB Stuttgart
06 84 🇧🇷 CB: Juan Jesus, AS Roma
04 84 🇧🇪 ST: Michy Batshuayi, Valencia CF (TOTW item)

01 🎴 Silver Players Pack
02 🎴 Electrum Players Pack
07 🎴 Rare Mega Pack
12 🎴 Jumbo Rare Players Pack


JANUARY
Jan 01 – Jan 31
SWAP DEALS PLAYERS
26/01/2019 ⏰ 2 days
01 60 🇳🇴 GK: Jonathan Rasheed, BK Häcken
Squad Building Challenge
⭕ Requirements
Players from Norway: Min 1
Nationalities: Min 3
Rare Players: Min 5
Squad Rating: Min 76
Team Chemistry: Min 80
Players in the Squad: 11
21/01/2019 ⏰ 7 days
01 60 🏴󠁧󠁢󠁥󠁮󠁧󠁿 RB: Taylor Moore, Southend United
Squad Building Challenge
You need to reach Silver 3 tier
18/01/2019 ⏰ 7 days
01 60 🏴󠁧󠁢󠁷󠁬󠁳󠁿 GK: Michael Crowe, Preston North End
Weekly Objective
Score using Belgian players in 4 separate Rivals
18/01/2019 ⏰ 7 days
01 60 🏴󠁧󠁢󠁥󠁮󠁧󠁿 GK: Joe Lumley, Queens Park Rangers
Weekly Objective
Score in 17 separate matches
18/01/2019 ⏰ 7 days
01 60 🇩🇪 LM: Luca Marseiler, SpVgg Unterhaching
Weekly Objective
Score twice in 10 separate online matches
14/01/2019 ⏰ 2 days
01 60 🇩🇪 CAM: Lukas Daschner, MSV Duisburg
Squad Building Challenge
⭕ Requirements
Min. 3 Germany Players
Min. Rare Players: 5
Min. Players from different Leagues: 3
Min. Team Rating: 75
Min. Team Chemistry: 80
Number of Players in the Squad: 11
11/01/2019 ⏰ 7 days
01 60 🇯🇵 CDM: Kazuki Fukai, Hokkaido Consadole Sapporo
Weekly Objective
Win 10 matches by two goals
11/01/2019 ⏰ 7 days
01 60 🇹🇷 RB: Onur Ural, Kasımpaşa
Weekly Objective
Score in 3 separate friendly seasons matches
07/01/2019 ⏰ 7 days
01 60 🇩🇪 CB: Maxim Leitsch, VfL Bochum 1848
Squad Battles
You need to reach Silver 3 tier
04/01/2019 ⏰ 7 days
01 60 🇫🇷 CB: Corentin Jacob, Stade Brestois 29
Weekly Objective
Score in 15 separate matches
04/01/2019 ⏰ 7 days
01 60 🇳🇬 LM: Bright Osayi-Samuel, Queens Park Rangers
Weekly Objective
Win in 5 Rivals matches
04/01/2019 ⏰ 7 days
01 60 🇲🇽 ST: Diego Chávez, Tiburones Rojos de Veracruz
Weekly Objective
Win 10 online matches
01/01/2019 ⏰ 2 days
01 60 🏴󠁧󠁢󠁥󠁮󠁧󠁿 RB: Jack Stacey, Luton Town
Squad Building Challenge
⭕ Requirements
Min. 2 England Players
Min. Rare Players: 5
Max 8 Players from the same League
Min. Team Rating: 74
Min. Team Chemistry: 80
Number of Players in the Squad: 11
01/01/2019 ⏰ 30 days
01 60 🇸🇪 LM: Filip Sachpekidis, Kalmar FF
Available for free

SWAP DEALS REWARDS
03 84 🇪🇸 ST: Lucas Pérez, West Ham United
03 84 🇨🇮 RW: Maxwel Cornet, Olympique Lyonnais
06 83 🇳🇱 RW: Quincy Promes, Sevilla FC (OTW item)
07 84 🇩🇪 RB: Danny da Costa, Eintracht Frankfurt
09 84 🇦🇷 ST: Lautaro Martínez, Inter
14 87 🇧🇪 CM: Moussa Dembélé, Tottenham Hotspur

01 🎴 Silver Players Pack
02 🎴 Electrum Players Pack
07 🎴 Rare Mega Pack
12 🎴 Jumbo Rare Players Pack



DECEMBER
Dec 03 – Dec 31
SWAP DEALS PLAYERS
21/12/2018 ⏰ 7 days
01 60 🇪🇸 CM: Javi Pérez, Real Valladolid
Weekly Objective
Score twice in 7 separate Rivals wins
21/12/2018 ⏰ 7 days
01 60 🇺🇸 GK: Patrick McLain, Chicago Fire
Weekly Objective
Score using Bundesliga players in 4 separate Rivals matches
21/12/2018 ⏰ 7 days
01 60 🇳🇬 RB: Sincere Seth, Yeni Malatyaspor
Weekly Objective
Win 15 matches across any FUT game mode
18/12/2018 ⏰ 2 days
01 60 🇩🇪 LB: Arne Sicker, Holstein Kiel
Squad Building Challenge
⭕ Requirements
Min. 3 Germany Players
Min. Rare Players: 4
Min. Players from different Nations: 3
Min. Team Rating: 75
Min. Team Chemistry: 80
Number of Players in the Squad: 11
17/12/2018 ⏰ 7 days
01 60 🇧🇪 GK: Arnaud Bodart, Standard Liège
Squad Battles
You need to reach Silver 3 tier
14/12/2018 ⏰ 7 days
01 60 🏴󠁧󠁢󠁥󠁮󠁧󠁿 RB: Chris Odoi-Atsem, D.C. United
Weekly Objective
Score in 14 matches
14/12/2018 ⏰ 7 days
01 60 🏴󠁧󠁢󠁥󠁮󠁧󠁿 RB: Johan Andersson, Djurgårdens IF
Weekly Objective
Score using Ligue 1 Conforama players in 4 separate Rivals matches
10/12/2018 ⏰ 2 days
01 60 🇨🇭 CM: Michel Aebischer, BSC Young Boys
Squad Building Challenge
⭕ Requirements
Players from Switzerland: Min 2
Leagues: Min 3
Rare Players: Min 4
Player Level: Exactly Gold
Team Chemistry: Min 80
Players in the Squad: 11
07/12/2018 ⏰ 7 days
01 60 🇬🇭 CM: Emmanuel Besea, Frosinone
Weekly Objective
Score using LaLiga Santander players in 4 separate Rivals wins
07/12/2018 ⏰ 7 days
01 60 🏴󠁧󠁢󠁥󠁮󠁧󠁿 ST: Sam Cosgrove, Aberdeen
Weekly Objective
Score twice in 10 wins
07/12/2018 ⏰ 7 days
01 60 🇲🇽 LB: Cristian Calderón, Atlas
Weekly Objective
Win 12 online matches
03/12/2018 ⏰ 7 days
01 60 🇫🇮 RM: Serge Atakayi, Rangers
Squad Battles
You need to reach Silver 3 tier
03/12/2018 ⏰ 3 days
01 60 🇸🇦 LB: Hamad Al Mansour, Al Nassr
Squad Building Challenge
⭕ Requirements
Players from Saudi Professional League: Min 2
Rare Players: Min 4
Squad Rating: Min 74
Team Chemistry: Min 80
Players in the Squad: 11
03/12/2018 ⏰ 1 day
01 60 🇲🇽 RB: Carlos Villanueva, Necaxa
Available for free
SWAP DEALS REWARDS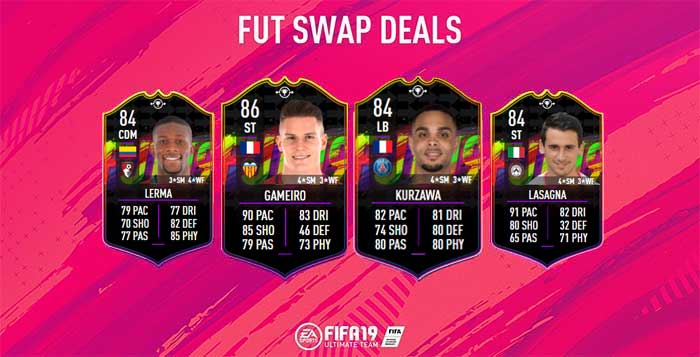 04
84
🇮🇹 ST: Kevin Lasagna, Udinese
06
84
🇨🇴 CDM: Jefferson Lerma, Bournemouth
09
84
🇫🇷 LB: Layvin Kurzawa, Paris Saint-Germain
14
86
🇫🇷 RW: Kévin Gameiro, Valencia CF
01
🎴
Silver Players Pack
02
🎴
Electrum Players Pack
05
🎴
Mega Pack
07
🎴
Rare Mega Pack
12
🎴
Jumbo Rare Players Pack

NOVEMBER
Nov 05 – Nov 30
SWAP DEALS PLAYERS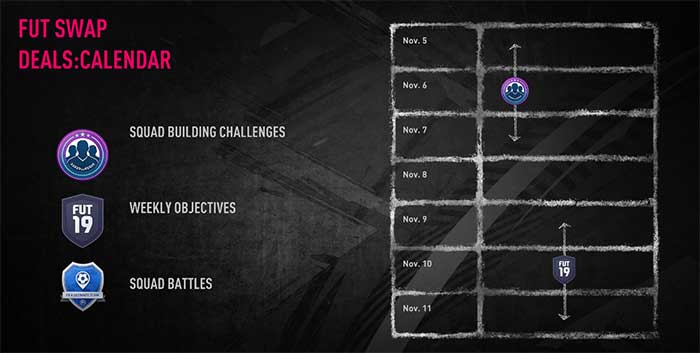 23/11/2018 ⏰ 7 days
01 60 🇹🇷 GK: Faruk Cakir, Medipol
Weekly Objective
Win 8 online matches
23/11/2018 ⏰ 7 days
01 60 🏴󠁧󠁢󠁥󠁮󠁧󠁿 CM: Daniel Barlaser, Accrington Stanley
Weekly Objective
Score 30 goals in Rivals
23/11/2018 ⏰ 7 days
01 60 🇷🇺 CDM: Khetag Khosonov, CSKA Moskva
Weekly Objective
Score using Spanish players in 3 separate Rivals
20/11/2018 ⏰ 3 days
01 60 🇲🇪 ST: Meris Skenderovic, TSG 1899 Hoffenheim
Squad Building Challenge
⭕ Requirements
Players from Bundesliga: Min 2
Nationalities: Min 3
Rare Players: Min 2Player Level: Exactly Gold
Team Chemistry: Min 80
Players in the Squad: 11
19/11/2018 ⏰ 7 days
01 60 🇩🇪 GK: Luca Plogmann, Werder Bremen
Squad Battles
You need to reach Silver 3 tier
16/11/2018 ⏰ 7 days
01 60 🏴󠁧󠁢󠁥󠁮󠁧󠁿 RB: Darnell Johnson, Leicester City
Weekly Objective
Play 10 matches across any online FUT game modes
16/11/2018 ⏰ 7 days
01 60 🏴󠁧󠁢󠁥󠁮󠁧󠁿 RB: Tyler Reid, Swansea City
Weekly Objective
Score 2 goals in 7 separate wins
16/11/2018 ⏰ 7 days
01 60 🇹🇷 CDM: Gokay Guney, Galatasaray
Weekly Objective
Play 3 online single matches
12/11/2018 ⏰ 3 days
01 60 🇧🇪 CM: Stephane Omeonga, Genoa
Squad Building Challenge
⭕ Requirements
Min. 2 Belgium Players
Min. 2 Italy Serie A Players
Min. Rare Players: 2
Min. Team Rating: 79
Min. Team Chemistry: 75
Number of Players in the Squad: 11
12/11/2018 ⏰ 7 days
01 60 🇹🇷 ST: Ahmethan Kose, Fenerbahçe
Squad Battles
You need to reach Silver 3 tier
09/11/2018 ⏰ 7 days
01 60 🇦🇷 CDM: Julian Chicco, Buenos Aires
Weekly Objective
Win 10 matches by two goals from November 9 to November 16
09/11/2018 ⏰ 7 days
01 60 🇪🇸 LB: Sergi Alamo, Girona FC
Weekly Objective
Score 20 goals in Rivals from November 9 to November 16
05/11/2018 ⏰ 3 days
01 60 🏴󠁧󠁢󠁥󠁮󠁧󠁿 RB: Jamie Sterry, Newcastle United
Squad Building Challenge
⭕ Requirements
Players from England: Min 2
Rare Players: Min 2
Squad Rating: Min 74
Team Chemistry: Min 65
Players in the Squad: 11
05/11/2018 ⏰ 1 day
01 60 🇨🇴 ST: Juan José Calero, Club León
Available for free
SWAP DEALS REWARDS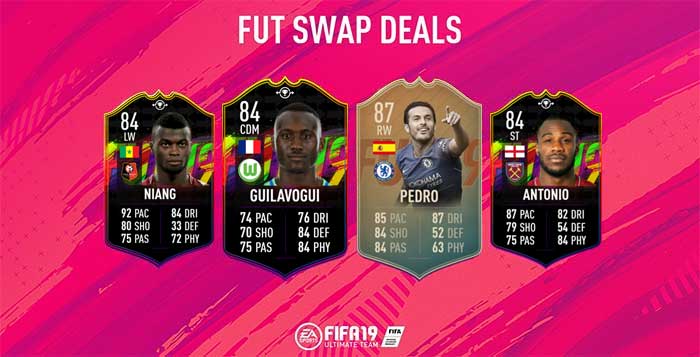 04
84
🇸🇳 LW: M'Baye Niang, Stade Rennais
04
84
🇫🇷 CDM: Josuha Guilavogui, VfL Wolfsburg
07
84
🏴󠁧󠁢󠁥󠁮󠁧󠁿 ST: Michail Antonio, West Ham United
14
87
🇪🇸 RW: Pedro, Chelsea (
Flashback item
)
01
🎴
Silver Players Pack
02
🎴
Electrum Players Pack
05
🎴
Rare Electrum Players Pack
09
🎴
Rare Mega Pack
13
🎴
Jumbo Rare Players Pack

OCTOBER
Oct 06 – Nov 02
SWAP DEALS PLAYERS
01/11/2018 ⏰ 3 days
01 74 🇪🇸 RB: Zaldúa, Real Sociedad
Squad Building Challenge
29/10/2018 ⏰ 1 day
01 69 🇫🇷 CB: Dan-Axel Zagadou, Borussia Dortmund
Daily Objective
Score 3 goals in 2 separate squad battles wins on min. professional difficulty level
26/10/2018 ⏰ 7 days
01 74 🏴󠁧󠁢󠁥󠁮󠁧󠁿 CB: Jack Stephens, Southampton
Weekly Objective
wWin 4 rivals matches
25/10/2018 ⏰ 3 days
01 70 🏴󠁧󠁢󠁥󠁮󠁧󠁿 ST: Dominic Solanke, Liverpool
Squad Building Challenge
20/10/2018 ⏰ 7 days
01 72 🇮🇹 CM: José Mauri, AC Milan
Daily Objective
Win 2 matches by 2 goals
19/10/2018 ⏰ 7 days
01 74 🇷🇸 RM: Lazar Marković, Liverpool
Weekly Objective
Score twice in 5 separate rivals matches)
16/10/2018 ⏰ 3 days
01 69 🇮🇹 LW: Cristiano Lombardi, Lazio
Squad Building Challenge
15/10/2018 ⏰ 7 days
01 68 🇪🇸 CAM: Sergio Gómez, Borussia Dortmund
Squad Battles
Finish the week on gold 3 or higher
Awarded on Oct 22
12/10/2018 ⏰ 7 days
01 69 🏴󠁧󠁢󠁥󠁮󠁧󠁿 ST: Sam Gallagher, Southampton
01 71 🇪🇸 ST: Jon Bautista, Real Sociedad
Weekly Objective
Win 8 matches by two goals; score in 5 separate rivals matches
09/10/2018 ⏰ 3 days
01 66 🇧🇷 GK: Daniel Fuzato, AS Roma
Squad Building Challenge
08/10/2018 ⏰ 7 days
01 73 🇵🇹 LB: Kevin Rodrigues, Real Sociedad
Squad Battles
Finish the week on gold 3 or higher)
Awarded on Oct 15
07/10/2018 ⏰ 3 days
01 66 🇪🇸 CDM: Pedro Chirivella, Liverpool
Squad Building Challenge
06/10/2018 ⏰ 1 day
01 66 🇩🇪 CDM: Dženis Burnić, Borussia Dortmund
Daily Objective
Win 3 division rivals matches
SWAP DEALS REWARDS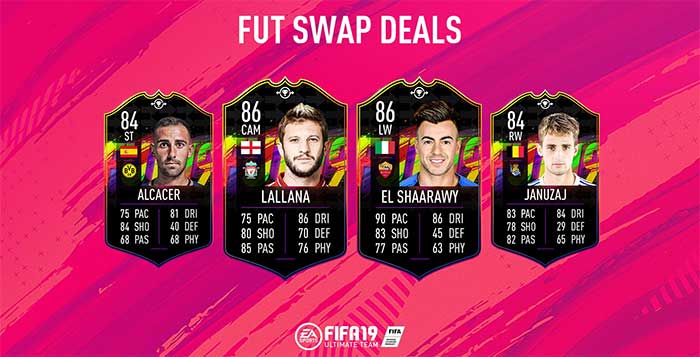 03
84
🇧🇪 RW: Adnan Januzaj, Real Sociedad
03
84
🇪🇸 ST: Paco Alcácer, Borussia Dortmund
12
86
🏴󠁧󠁢󠁥󠁮󠁧󠁿 CAM: Adam Lallana, Liverpool
12
86
🇮🇹 LW: El Shaarawy, AS Roma
01
🎴
Premium Silver Pack
04
🎴
Prime Mixed Players Pack
06
🎴
Premium Gold Players Pack
08
🎴
Mega Pack
10
🎴
Prime Gold Players Pack