The FIFA 19 Team of the Year features the eleven best players of 2018. Find out who won a very very special blue TOTY card. These are the most desirable IF cards of the whole game.
FIFA 19 Team of the Year
The Best Players of 2018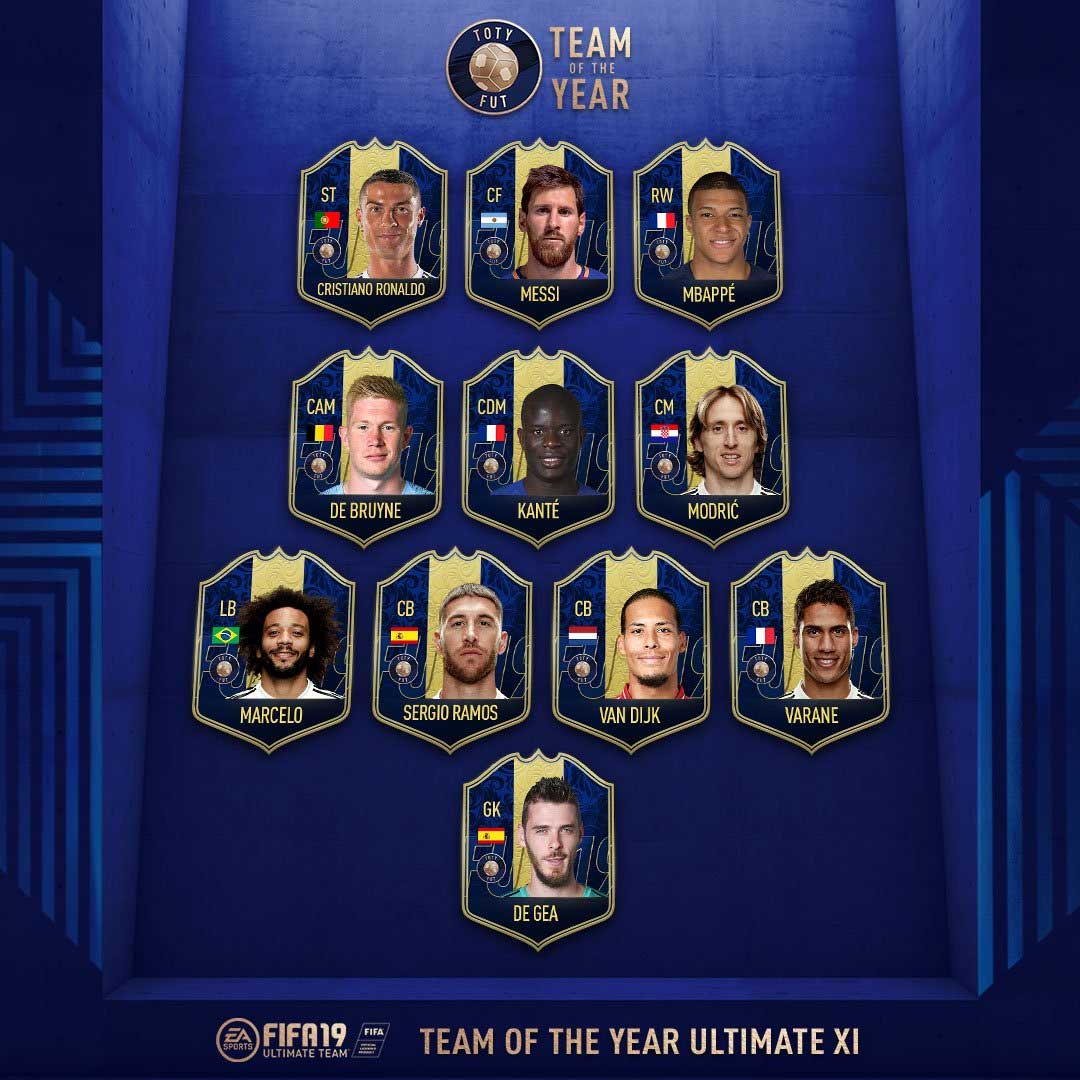 There were 55 nominees but only eleven could win. Let's find out who were considered the best players of 2018.
Each one of the eleven FIFA 19 Team of the Year players were released in a very special blue card with improved attributes on a very limited edition.
Here are the eleven players chosen to the FIFA 19 Team of the Year:
GOALKEEPERS
97 ?? GK: David De Gea, Manchester United

DEFENDERS
95 ?? CB: Virgil van Dijk, Liverpool
96 ?? CB: Raphaël Varane, Real Madrid
97 ?? CB: Sergio Ramos, Real Madrid
94 ?? LB: Marcelo, Real Madrid

MIDFIELDERS
99 ?? CM: Luka Modrić, Real Madrid
96 ?? CDM: N'Golo Kanté, Chelsea FC
97 ?? CAM: Kevin De Bruyne, Manchester City

STRIKERS
99 ?? ST: Cristiano Ronaldo, Juventus
99 ?? CF: Lionel Messi, FC Barcelona
97 ?? RW: Kylian Mbappé, Paris Saint-Germain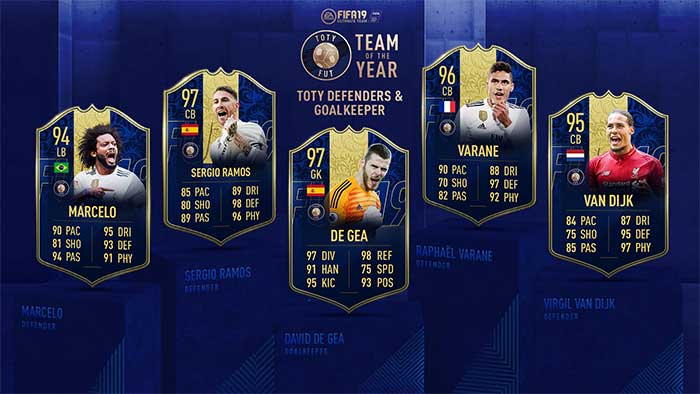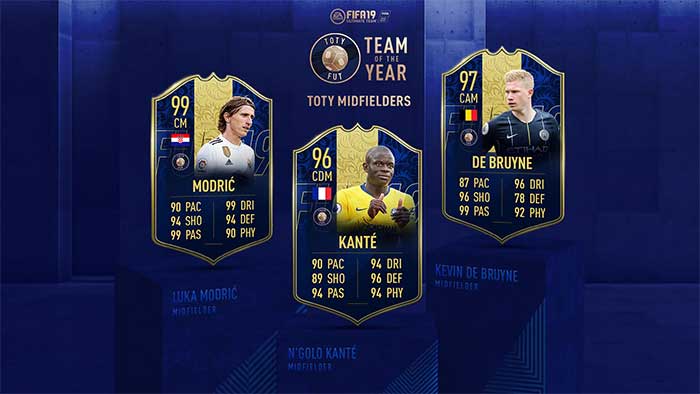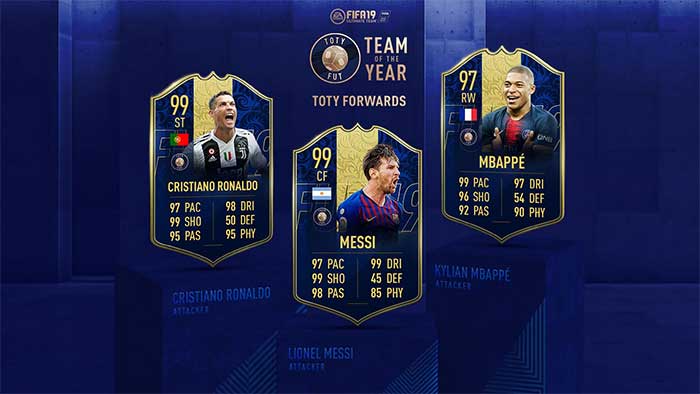 97 DAVID DE GEA
?? Spain | Manchester United | Premier League | GK
The Spanish international has become a vital member of the United squad in recent seasons, and he played an important role in their league.
95 VIRGIL VAN DIJK
?? Netherlands | Liverpool | Premier League | CB
Van Dijk uses his Physical rating to boss opponents around, collapsing any sense of personal space they had when they entered his domain. Combined with an excellent Defending rating, Van Dijk is the archetypal modern center back—and he's in the prime of his career.
96 RAPHAEL VARANE
?? France | Real Madrid | LaLiga | CB
As if it weren't impressive enough that Varane has been a regular starter in Real Madrid's backline since he was 20, the big center back has also been a staple for the French national team since he was first capped in 2013. With plenty of challengers for his position, Varane must continue earning clean sheets for Madrid if he hopes to earn them for his country, too.
97 SÉRGIO RAMOS
?? Spain | Real Madrid | LaLiga | CB
One of the most decorated defenders in history, Ramos' versatility and uncanny football intelligence have made him key to Real Madrid's successes for more than a decade.
94 MARCELO
?? Brazil | Real Madrid | LaLiga | LB
Another decade-long mainstay for Real Madrid's defense, Marcelo is a balanced fullback; on top of his incredible tackling and 1-on-1 defending, speed and technical ability make him a nightmare for opposing defenders.
99 LUKA MODRIC
?? Croatia | Real Madrid | LaLiga | CM
Perhaps the best Croatian footballer in history, Modrić has made a name for himself in Madrid as a hard-working, multi-talented midfielder that can adapt to any tactic or opponent. Whether attacking behind the forwards or controlling the play from a deeper position, Modrić is a midfield marvel.
96 N'GOLO KANTÉ
?? France | Chelsea FC | Premier League | CDM
A paragon of the old school central midfielder archetype, Kanté can do just about anything. Whether intercepting a dangerous attack, making a last-ditch tackle at the edge of the box, or squeezing an inch-perfect pass through the defense, Kanté is the type of player everyone wants on their team.
97 KEVIN DE BRUYNE
?? Belgium | Manchester City | Premier League | CAM
A prominent member of the greatest talent pool in Belgium national team history, De Bruyne is also one of the sport's most complete midfielders. From creating chances to defending to scoring crucial goals, De Bruyne can seemingly do anything.
99 CRISTIANO RONALDO
?? Portugal | Juventus | Serie A | ST
It's nearly impossible to say anything about Cristiano Ronaldo without dipping into hyperbole. Undoubtedly one of the greatest players of all time, Ronaldo is still breaking records—many of them his own. The Real Madrid attacker has won countless individual, club, and international trophies, a tally to which he's surely going to add to in the future.
99 LIONEL MESSI
?? Argentina | FC Barcelona | LaLiga | CF
The only current player who gets and deserves as much effusive hype and praise as Ronaldo, the Argentine wizard's talent and skill on the ball have few equals in footballing history. Like Ronaldo, Messi often gets a similar free attacking role—he's too good to pin down to one position. He continues to lead his club's front line fearlessly, racking up plenty of goals and assists along the way.
97 KYLIAN MBAPPÉ
?? France | Paris Saint-Germain | Ligue 1 | RW
As if commanding a massive transfer fee as a teenager wasn't enough, Mbappé showed off what Paris Saint-Germain saw in him last season and during the 2018 World Cup. Mbappé never hesitates to show off his Pace and Dribbling ratings, bombarding the right wing every chance he gets.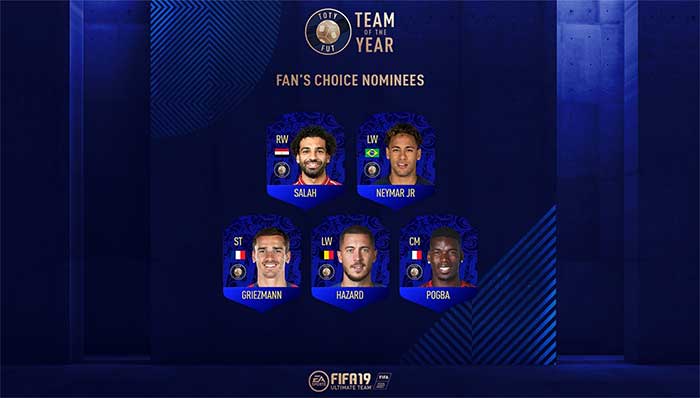 The 12th TOTY player was chosen entirely by the community, with online and in-game votes combined. Voting ended on January 10. The winner was announced and released in packs on January 11.
?? Mohamed Salah, Liverpool
?? Neymar JR, Paris Saint-Germain WINNER
?? Paul Pogba, Manchester United
?? Eden Hazard, Chelsea FC
?? Antoine Griezmann, Atlético Madrid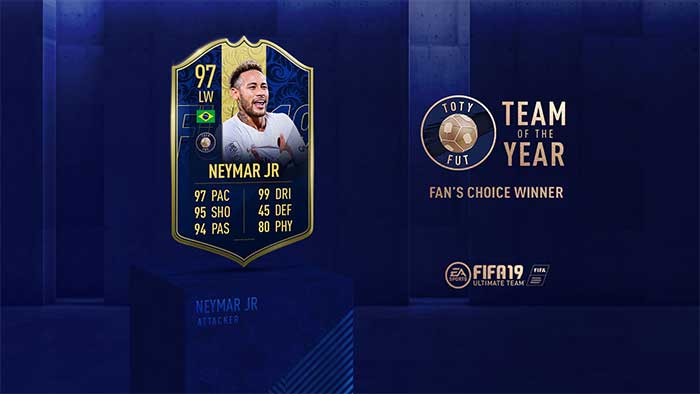 Learn more about FIFA 19 Team of the Year clicking here.
These TOTY cards will be available into packs on the following days:

GOALKEEPERS AND DEFENDERS CONFIRMED
From 10/01/2019 06:00am to 11/01/2019 06:00am ?? NZST (UTC +12)
From 10/01/2019 05:00am to 11/01/2019 05:00am ?? AEDT (UTC +11)
From 10/01/2019 03:00am to 11/01/2019 03:00am ?? JST (UTC +9)
From 10/01/2019 02:00am to 11/01/2019 02:00am ?? CST (UTC +8)
From 10/01/2019 02:00am to 11/01/2019 02:00am ?? SGT (UTC +8)
From 09/01/2019 11:30pm to 10/01/2019 11:30pm ?? IST (UTC +5:30)
From 09/01/2019 09:00pm to 10/01/2019 09:00pm ?? MSK (UTC +3)
From 09/01/2019 08:00pm to 10/01/2019 08:00pm ?? EET (UTC +2)
From 09/01/2019 07:00pm to 10/01/2019 07:00pm ?? CET (UTC +1)
From 09/01/2019 07:00pm to 10/01/2019 07:00pm ?? CET (UTC +1)
From 09/01/2019 07:00pm to 10/01/2019 07:00pm ?? CET (UTC +1)
From 09/01/2019 07:00pm to 10/01/2019 07:00pm ?? CET (UTC +1)
From 09/01/2019 06:00pm to 10/01/2019 06:00pm ?? WET (UTC +0)
From 09/01/2019 06:00pm to 10/01/2019 06:00pm ?? GMT (UTC +0)
From 09/01/2019 04:00pm to 10/01/2019 04:00pm ?? BRST (UTC -2)
From 09/01/2019 01:00pm to 10/01/2019 01:00pm ?? EST (UTC -5)
From 09/01/2019 01:00pm to 10/01/2019 01:00pm ?? EST (UTC -5)
From 09/01/2019 10:00am to 10/01/2019 10:00am ?? PST (UTC -8)

MIDFIELDERS CONFIRMED
From 09/01/2017 06:00am to 10/01/2017 06:00am ?? NZST (UTC +12)
From 09/01/2019 05:00am to 10/01/2019 05:00am ?? AEDT (UTC +11)
From 09/01/2019 03:00am to 10/01/2019 03:00am ?? JST (UTC +9)
From 09/01/2019 02:00am to 10/01/2019 02:00am ?? CST (UTC +8)
From 09/01/2019 02:00am to 10/01/2019 02:00am ?? SGT (UTC +8)
From 08/01/2019 11:30pm to 09/01/2019 11:30pm ?? IST (UTC +5:30)
From 08/01/2019 09:00pm to 09/01/2019 09:00pm ?? MSK (UTC +3)
From 08/01/2019 08:00pm to 09/01/2019 08:00pm ?? EET (UTC +2)
From 08/01/2019 07:00pm to 09/01/2019 07:00pm ?? CET (UTC +1)
From 08/01/2019 07:00pm to 09/01/2019 07:00pm ?? CET (UTC +1)
From 08/01/2019 07:00pm to 09/01/2019 07:00pm ?? CET (UTC +1)
From 08/01/2019 07:00pm to 09/01/2019 07:00pm ?? CET (UTC +1)
From 08/01/2019 06:00pm to 09/01/2019 06:00pm ?? WET (UTC +0)
From 08/01/2019 06:00pm to 09/01/2019 06:00pm ?? GMT (UTC +0)
From 08/01/2019 04:00pm to 09/01/2019 04:00pm ?? BRST (UTC -2)
From 08/01/2019 01:00pm to 09/01/2019 01:00pm ?? EST (UTC -5)
From 08/01/2019 01:00pm to 09/01/2019 01:00pm ?? EST (UTC -5)
From 08/01/2019 10:00am to 09/01/2019 10:00am ?? PST (UTC -8)

FORWARDS CONFIRMED
From 08/01/2019 06:00am to 09/01/2019 06:00am ?? NZST (UTC +12)
From 08/01/2019 05:00am to 09/01/2019 05:00am ?? AEDT (UTC +11)
From 08/01/2019 03:00am to 09/01/2019 03:00am ?? JST (UTC +9)
From 08/01/2019 02:00am to 09/01/2019 02:00am ?? CST (UTC +8)
From 07/01/2019 02:00am to 09/01/2019 02:00am ?? SGT (UTC +8)
From 07/01/2019 11:30pm to 08/01/2019 11:30pm ?? IST (UTC +5:30)
From 07/01/2019 09:00pm to 08/01/2019 09:00pm ?? MSK (UTC +3)
From 07/01/2019 08:00pm to 08/01/2019 08:00pm ?? EET (UTC +2)
From 07/01/2019 07:00pm to 08/01/2019 07:00pm ?? CET (UTC +1)
From 07/01/2019 07:00pm to 08/01/2019 07:00pm ?? CET (UTC +1)
From 07/01/2019 07:00pm to 08/01/2019 07:00pm ?? CET (UTC +1)
From 07/01/2019 07:00pm to 08/01/2019 07:00pm ?? CET (UTC +1)
From 07/01/2019 06:00pm to 08/01/2019 06:00pm ?? WET (UTC +0)
From 07/01/2019 06:00pm to 08/01/2019 06:00pm ?? GMT (UTC +0)
From 07/01/2019 04:00pm to 08/01/2019 04:00pm ?? BRST (UTC -2)
From 07/01/2019 01:00pm to 08/01/2019 01:00pm ?? EST (UTC -5)
From 07/01/2019 01:00pm to 08/01/2019 01:00pm ?? EST (UTC -5)
From 07/01/2019 10:00am to 08/01/2019 10:00am ?? PST (UTC -8)

FULL SQUAD CONFIRMED
From 11/01/2019 06:00am to 15/01/2019 06:00am ?? NZST (UTC +12)
From 11/01/2019 05:00am to 15/01/2019 05:00am ?? AEDT (UTC +11)
From 11/01/2019 03:00am to 15/01/2019 03:00am ?? JST (UTC +9)
From 11/01/2019 02:00am to 15/01/2019 02:00am ?? CST (UTC +8)
From 11/01/2019 02:00am to 15/01/2019 02:00am ?? SGT (UTC +8)
From 10/01/2019 11:30pm to 14/01/2019 11:30pm ?? IST (UTC +5:30)
From 10/01/2019 09:00pm to 14/01/2019 09:00pm ?? MSK (UTC +3)
From 10/01/2019 08:00pm to 14/01/2019 08:00pm ?? EET (UTC +2)
From 10/01/2019 07:00pm to 14/01/2019 07:00pm ?? CET (UTC +1)
From 10/01/2019 07:00pm to 14/01/2019 07:00pm ?? CET (UTC +1)
From 10/01/2019 07:00pm to 14/01/2019 07:00pm ?? CET (UTC +1)
From 10/01/2019 07:00pm to 14/01/2019 07:00pm ?? CET (UTC +1)
From 10/01/2019 06:00pm to 14/01/2019 06:00pm ?? WET (UTC +0)
From 10/01/2019 06:00pm to 14/01/2019 06:00pm ?? GMT (UTC +0)
From 10/01/2019 04:00pm to 14/01/2019 04:00pm ?? BRST (UTC -2)
From 10/01/2019 01:00pm to 14/01/2019 01:00pm ?? EST (UTC -5)
From 10/01/2019 01:00pm to 14/01/2019 01:00pm ?? EST (UTC -5)
From 10/01/2019 10:00am to 14/01/2019 10:00am ?? PST (UTC -8)