Do you want to know who are the FIFA 19 TOTY nominees who have the chance to receive a Team of the Year blue card? If you answered yes, keep reading.

POSITIONS
GOALKEEPERS | DEFENDERS | MIDFIELDERS | FORWARDS


FIFA 19 TOTY Nominees Introduction
What are the FIFA 19 TOTY Nominees?
For the second time, the Team of The Year will be voted on by a carefully curated list of media, athletes and EA SPORTS FIFA community members. This collective of ballot recipients has been chosen to represent the millions of EA SPORTS FIFA players all over the world. Each team will be selected from a shortlist of 55 players, nominated by EA SPORTS for their real-world performance in 2018. Custom-built ballot boxes will be delivered to each recipient on January 7, containing all 55 of the nominee player items. Each vote will consist of three attackers, three midfielders, four defenders, and one goalkeeper in a 4-3-3 formation. Each ballot recipient will cast their vote by posting a photo of their team on social media. The ballots submitted by this group will account for 60% of the final vote. The remaining 40% of the votes will be cast by EA SPORTS. The final Team of the Year will be announced starting on January 7, with special TOTY player items available in packs for a limited time in FIFA 19 Ultimate Team and FIFA Mobile.
The shortlist is divided in four categories:
5 goalkeepers
20 defenders
15 midfielders
15 forwards
FIFA 19 TOTY Nominees List
Who are the 55 Team of the Year shortlist players?
GOALKEEPERS
Will be chosen one out of 5 goalkeepers to the final FIFA 19 Team of the Year
?? Alisson Becker, Liverpool
?? Thibaut Courtois, Real Madrid
?? David de Gea, Manchester United
?? Hugo Lloris, Tottenham Spurs
?? Jan Oblak, Atlético Madrid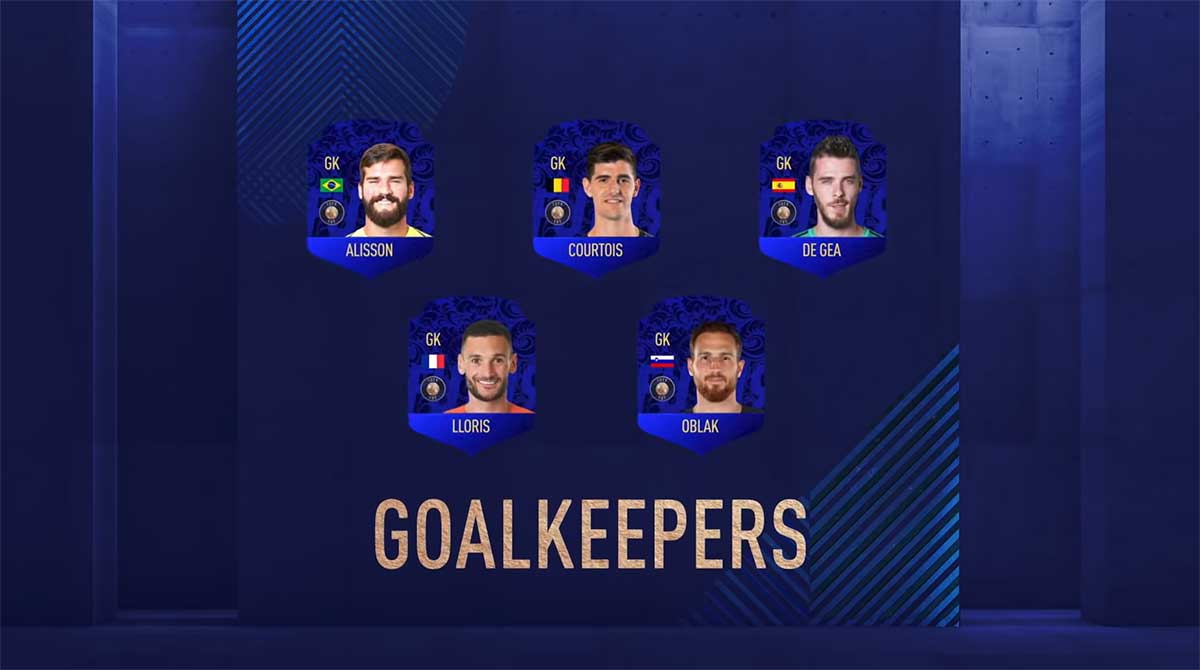 DEFENDERS
Will be chosen 4 out of 20 defenders to the final FIFA 19 Team of the Year
?? Jordi Alba, FC Barcelona
?? Dani Carvajal, Real Madrid
?? Giorgio Chiellini, Juventus
?? Diego Godín, Atlético Madrid
?? Lucas Hernández, Atlético Madrid
?? Mats Hummels, FC Bayern München
?? Joshua Kimmich, FC Bayern
?? Kalidou Koulibaly, Napoli
?? Dejan Lovren, Liverpool
?? Kostas Manolas, AS Roma
?? Marcelo, Real Madrid
?? Sergio Ramos, Real Madrid
?? Thiago Silva, Paris Saint-Germain
??????? Kieran Tripper, Tottenham Hotspur
?? Samuel Umtiti, FC Barcelona
?? Virgil van Dijk, Liverpool
?? Raphaël Varane, Real Madrid
?? Jan Vertonghen, Tottenham Hotspur
?? Šime Vrsaljko, Inter
??????? Kyle Walker, Manchester City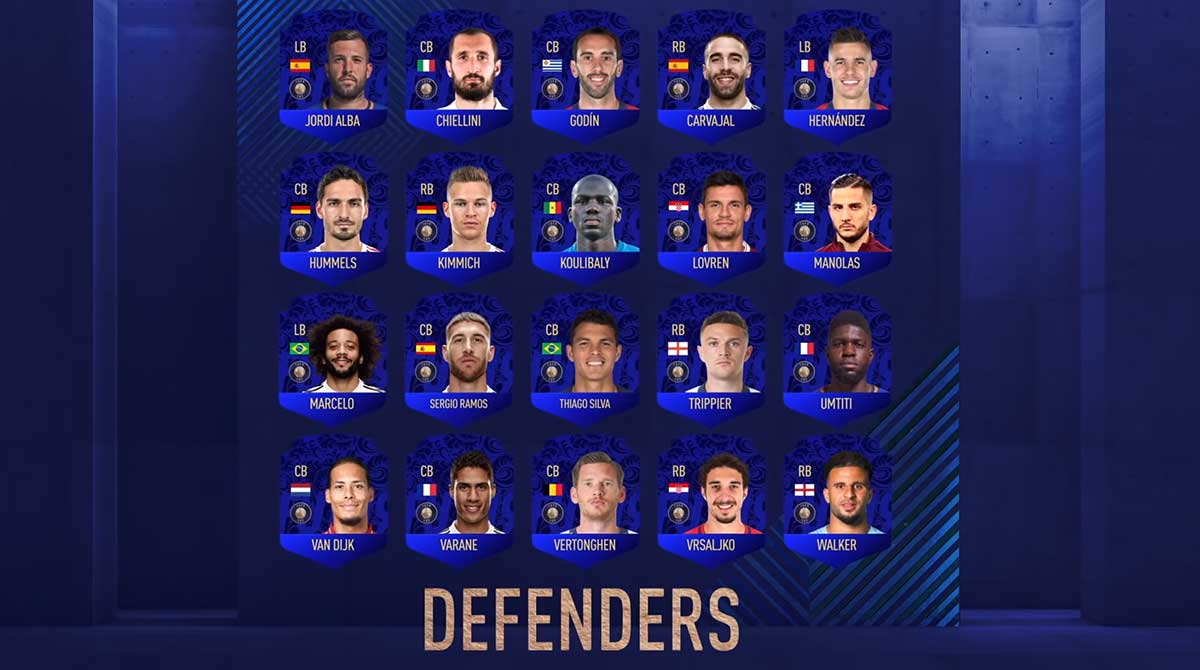 MIDFIELDERS
Will be chosen 3 out of 15 midfielders to the final FIFA 19 Team of the Year
?? Sergio Busquets, FC Barcelona
?? Casemiro, Real Madrid
?? Kevin De Bruyne, Manchester City
?? Fernandinho, Manchester City
?? Isco, Real Madrid
?? N'Golo Kanté, Chelsea FC
?? Toni Kroos, Real Madrid
?? Blaise Matuidi, Juventus
?? Luka Modrić, Real Madrid
?? Ivan Perišić, Inter
?? Paul Pogba, Manchester United
?? Ivan Rakitić, FC Barcelona
?? Marco Reus, Borussia Dortmund
?? David Silva, Manchester City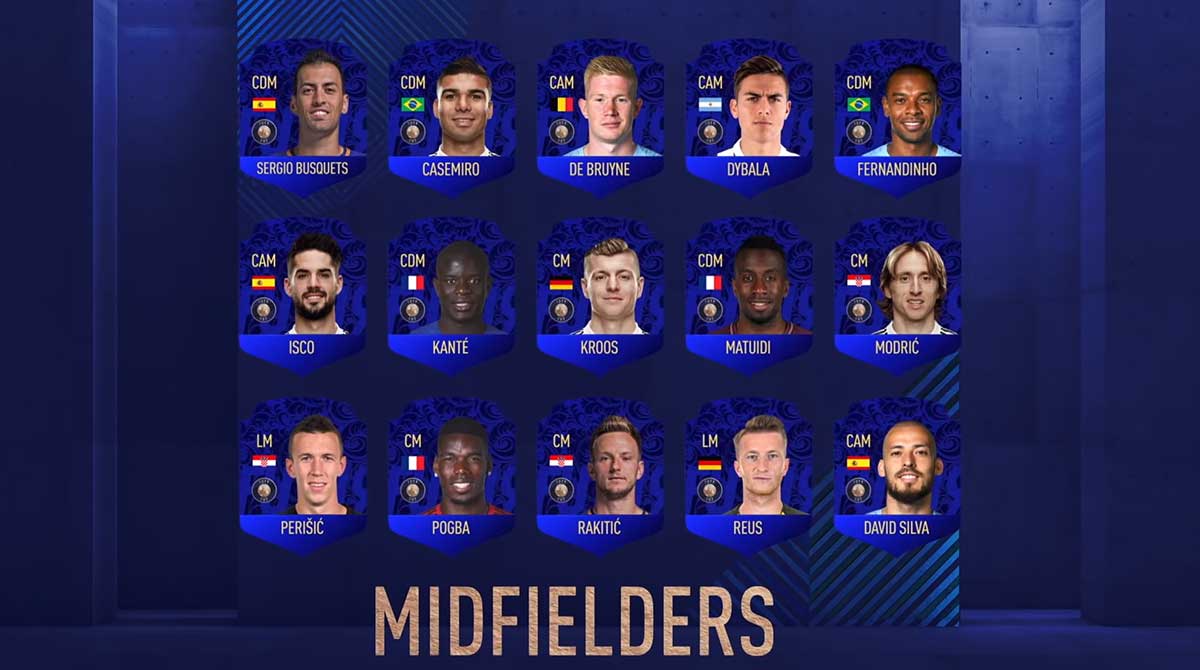 FORWARDS
Will be chosen 3 out of 15 forwards to the final FIFA 18 Team of the Year
?? Sergio Agüero, Manchester City
??????? Gareth Bale, Real Madrid
?? Edinson Cavani, Paris Saint-Germain
?? Antoine Griezmann, Atlético Madrid
?? Eden Hazard, Chelsea FC
??????? Harry Kane, Tottenham Hotspur
?? Robert Lewandowski, FC Bayern München
?? Mario Mandžukić, Juventus
?? Sadio Mané, Liverpool
?? Kylian Mbappé, Paris Saint-Germain
?? Lionel Messi, FC Barcelona
?? Neymar JR, Paris Saint-Germain
?? Cristiano Ronaldo, Juventus
?? Mohamed Salah, Liverpool
?? Luis Suárez, FC Barcelona